Introduction
A large number of companies eagerly employing IT outsourcing services isn't a novelty in the market. In fact, for some business owners, outsourcing is an only way to implement business plans they have in mind without huge expenses. Expansion of the staff in a traditional way is cumbersome – one must face the need to pay increased taxes, rent additional working space, and cover all the workspace organization costs. Thus the tendency of more and more business people to look for cheaper labor. One of the top countries where you can find really experienced IT specialists with reasonable service pricing is Belarus.
Let's discuss why this country is in such a demand in the aspect of IT outsourcing and compare it with another place that provides dedicated experts for foreign projects as successfully – Ukraine.
Belarus IT Outsourcing Markets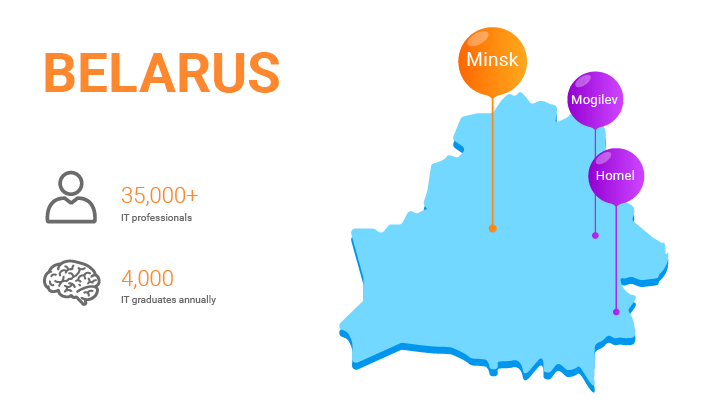 Despite Belarus being in friendly relations with its closest neighbors, the vast majority of local IT specialists prefer to work for the markets of the USA, Canada, Australia, EU countries, and Great Britain. There's a pretty mundane reason for that — foreign clients simply offer quite high rates per 1 man-hour, which is, relatively, higher than those their compatriots get.
We'll try to simply explain why that is exactly Belarus can be rightly regarded as an advanced country for the search of IT talents with the following theses:
All-around government support.

The government of Belarus strongly supports and pushes forward the development of an IT industry in the country: the companies registered in its territory are aided with tax privileges, which makes it pretty accessible for certain establishments to handle legal fees. Moreover, many local universities adopt an increasing number of IT-related subjects and majors to educate qualified future IT experts. Thus, this year, in the aspect of IT Outsourcing Markets Belarus has gained over 3000 new IT professionals who can already occupy junior positions (or middle positions if they started working being students).

Global credibility

Belarus has been holding firm positions in the global list of top 30 best countries for IT outsourcing since 2012. Rightly so, in part, due to the fact even back in the USSR times, Minsk – the capital of Belarus – used to be a kind of a 'technological center' where hundreds of computer system experts lived and worked. The times have changed, but the Belarusians' passion for digital technologies has remained the same. It's technical majors that are most demanded the country's universities.

Furthermore, there are dozens of IT trainings being concurrently held in Belarusian administrative centers. As a rule, real developers educate new specialists using materials similar in nature to what they are going to deal with in the field.

Reasonable prices

As we've already mentioned, workers from Belarus and some other Eastern European countries offer potential employers such profitable rates that many clients decide to establish constant professional cooperation. Thus, the average rate of a local IT expert fluctuates between $25-50 per hour, which is utterly lower than the rates issued by the similarly qualified workers from Western Europe, USA, Canada, and Australia. Certain business owners will try to go farther to save as much as possible. As a result, they usually go for developers from India or Mexico who, according to practice, with an increasing tendency fail deadlines and don't handle fulfilling all project requirements (DISCLAIMER: we are not talking about every IT company working on the territory of India or Mexico; the percentage ratio of a number of incompetent IT experts to a total number of experts is just much higher there than in Belarus).

High level of self-management

Any entrepreneur puts their project to certain risks working with remote experts. The full control over distant workflow is hardly possible. This issue will be occurring regularly if there is no dedicated manager watching over and coordinating the work of remote team members. Fortunately, Belarus has achieved pretty efficient advancements in this aspect. You're unlikely to find there companies where employees work only when there's a chance to work. As for the methodologies of Software Development Belarus repeats the Western methods (scrum, kanban, etc.) with the staff hierarchy that implies constant workflow. All in all, despite the long distance and remoteness, Belarusian IT companies have all the rights to be reliable and responsible candidates for project outsourcing.

Comfortable time zone.

Belarus is situated in the GMT+3 time zone, which allows connecting with clients based in the USA, for example, without any difficulties.
Comparable analysis of Belarusian and Ukrainian IT expert markets
Belarus and Ukraine are constant competitors in the aspect of getting a hold of Western clients' deals. In order to stay objective, we compare the IT market of the two countries by the crucial criteria.
A number of available experts

Currently, there are 35,000 qualified specialists working in the Belarus IT Market in total and the number keeps on growing. This isn't such a significant number for Ukraine, however, there are 166,000 experts.

Service price range

On average, as we've mentioned above, Belarusian professionals get $25-50 per hour. The rates are similar, though not identical in Ukraine.

A level of expertise

There aren't as many IT establishments in Belarus as in Ukraine. On one hand, owners had a chance to perfect workflows and competency standards in such conditions. On the other hand, the competitiveness factor makes programmers get up and study new development technologies and approaches individually. So, from the perspective of scalability, performance, and correspondence with the 'here and now', Ukrainian solutions are still quite better.
To sum up all the mentioned above, we can safely say that Ukraine is a less risky option for searching outsourcing opportunities. With other options, there are more chances for out-of-date technologies and methods to be involved in your project implementation.
Summary
Belarus is among the most demanded countries from the point of view of reasonably priced IT labor power. Belarusian specialists work with large-scale commercial solutions financed by entrepreneurs from the USA and EU countries increasingly frequently. This, in turn, explicitly indicates how many 'beautiful minds' with no less 'beautiful' ideas there are in this country.  
However, exploring further the topic of Software Outsourcing Belarus also demonstrates certain disadvantages. For instance, there are a little more over 30 thousand IT specialists in the country against Ukrainian 166,000 experts. Moreover, due to the absence of tough local competition, Belarusian companies aren't focused fully on the enhancement of employee qualification. So if you need a technologically advanced, scalable solution at a reasonable price, consider Ukrainian developers as your trusted assistants in the implementation of your business idea.