Short Intro
Everyone likes music. Life pace is getting faster and faster, however, there's often no time to go through the list of music tracks choosing the ones you like and sorting them into playlists to hear later.
Instead, people go for online music streaming services and get their favorite music in a matter of clicks. Modern powerful smartphones and high-speed Internet further listening to music online.
In the music streaming sphere, the number of users is expected to grow to 1,400.7m by 2022. Impressive, right?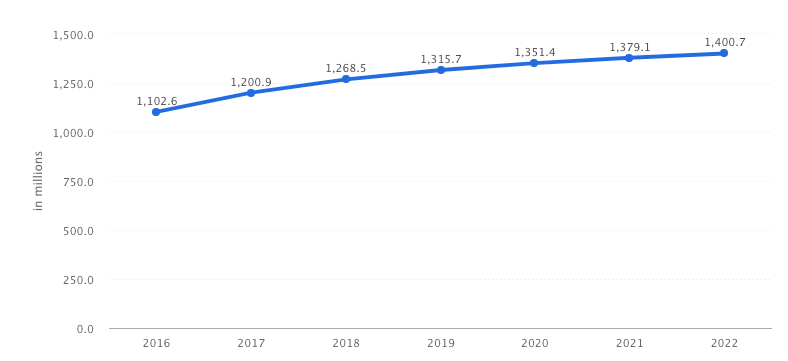 Music streaming business is definitely on the rise. Speaking about revenue, music streaming is one of the few industries where the revenue is growing faster than the number of users. It's said to amount to $14,786m by 2022. That's even more impressive than 1+m users!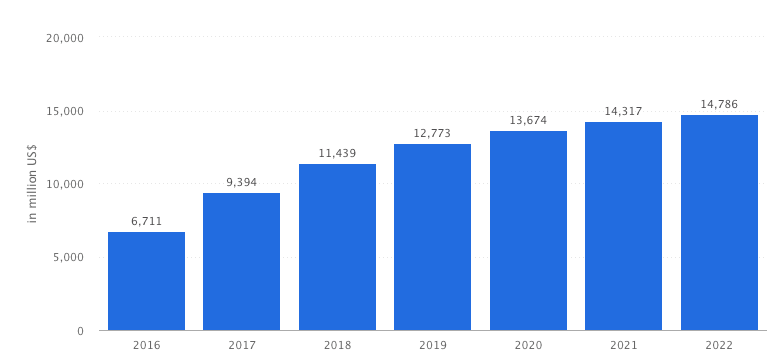 What Is Pandora App?
Pandora isn't an average music streaming app. It thoroughly picks up and mixes tracks based on user preferences. In fact, there is a long story behind Pandora. The app can be traced back to 1999 when a Genome project was started. The aim of the project was to analyze myriads songs and define criteria to group tracks. 25 professional musicians were sitting days and nights listening to songs and analyzing them according to 400 different criteria including harmony, lyrics, rhythm, form, and many others to compose a unique library for Pandora.
The main app's USP is thoroughly picked music tracks that users should like. And how can a mobile app achieve that? It's a well-built workflow. As soon as users create accounts, they have to pick up their favorite genres, artists, and songs that form a core for their radio. Then Pandora searches for songs or artists and mixes up an ideal playlist.
The system utilizes a more advanced search algorithm not that one that any movie site uses to offer the movies you might love. Pandora analyzes not only likes but also dislikes you've put to compile your ideal playlist. That's how the app suggests you a song that is likely to become one of your favorites.
Pandora vs. Spotify vs. Apple Music or How Pandora Scores Big
To understand why users choose Pandora, let's have a look at the differences between the most popular music streaming services.
| | | | |
| --- | --- | --- | --- |
| | Apple Music | Spotify | Pandora |
| Monthly Price | $10 | $10 | $10 |
| Free Trial | Free version with ads 3 months | 3 months for $1 | Free version with ads 2 months |
| Search option | + | + | – |
| Offline mode | + | + | – |
| Buy a song | + | + | + |
| Number of songs | 45m+ | 35m+ | 30m+ |
| New discoveries | + | – | + |
| Availability | Available in dozens of countries and territories | Available in dozens of countries and territories | U.S New Zeland Australia |
Want to build a Spotify-like app instead of following the success formula of Pandora?
What Stands Behind Pandora's Success?
It's no easy to achieve success with an app when there happen to be a lot of big players like Apple Music, Spotify, Google Music, etc. Let's have a quick look at what has helped Pandora to become one of the top online music streaming apps.
Personalization
Pandora Music App is one of those apps that can predict what users want at a specific moment.
Brands
Pandora is a great channel for reaching users' attention while they're listening to their favorite songs.
Free app
Limited features that allow users to fall in love with Pandora Music App.
Premium features
In order to enjoy the ads-free experience, users can upgrade to Premium versions.
How to Create Pandora Music App: 5 Things You Should Consider
If you don't know anything about app development, you have to consider the following things that may cause some difficulties.
1. License
Streaming music isn't cheap. Even such music streaming giants like Spotify and Pandora find streaming music all over the world quite expensive. Before going for app development, you should spot the area where your app will be available.
2. Streaming
The other important question is what streaming technologies should your use while developing a mobile app. There are lots of technologies that can help you implement streaming services. In other words, there are numerous options. The choice depends on many factors such as streaming speed, platforms you're going to reach, and etc. Anyway, the architecture of your radio streaming app depends on the technology you choose.
Want to find out what live streaming is and how to develop your own live streaming app? Check out our latest entry.
3. Design
The design really matters for every project. When it comes to music streaming apps, the design is what you should think of first. If your app is out-of-date and primitive, no one will use it. Hence, no matter how brilliant your app idea is, it'll fail. At IDAP, our designers are working their fingers to the bones to create awesome UIs and flawless UX experiences. Need more inspiration? Check out the design we've worked out for Kusc, a radio streaming app for iOS and Android.
4. Monetization
There are dozens of ways to earn money off the app even if it's free. You can take advantage of in-app ads, in-app purchases or subscription. You can find more information on how to make money with your app in our article.
5. Recommendation algorithm
A recommendation engine is a heart of any music streaming app. It carefully picks up songs for a user to listen. Once it makes up a bad mix, a user is likely to delete the app. And as you remember, Pandora utilizes a unique recommendation engine that analyzes songs according to 400 criteria.
Finally, How Many Cups of Coffee Does Pandora Cost?
Really, you should give up drinking coffee. To find out how much it cost to develop an app like Pandora, you need to define its functionality.
To develop a top-notch radio streaming app, you need to hire a professional team consisting of:
1 x Project Manager
1 x QA Engineer
2-3 x Mobile Developers
1 x Backend Developer
2 x UX/ UI Designers
Having talked to our project managers, I've found out that a Pandora-like app definitely needs:
| | |
| --- | --- |
| Feature | Time required to develop |
| User registration | 23 hours |
| Search | 25 hours |
| Social features | 93 hours |
| In-app purchases | 40 hours |
| Backend | 412 hours |
| Design | 155 hours |
| Total | 748 hours |
Summary
It takes around 748 hours to develop an app like Pandora. But you should remember that these figures are only ballpark. It may take more or less.
Let's find out how much it costs to build a Pandora-like app. Assuming that the average development rate is $35/ hour, we'll get $26,180.
The price really depends on the features and app complexity. These are ROM figures. The development costs may range between $20k to $150k. Contact us to get your free estimate of your Pandora-like app right now.