The global supply chain is in trouble. No, it's not 2020 when strict pandemic restrictions damaged it. And even not 2021, when buyers couldn't buy gifts during the holiday season. It's about 2022 and the war between russia and Ukraine in the center of Europe. This horrible event in the middle of crucial routes on the Silk Way caused another supply chain collapse and made companies change their newly built business processes again.

Here we're going to explore the results of the russian invasion of Ukraine regarding the supply and how enterprises can withstand the burden they face. Scroll down to explore details.
Note: On February 24, 2022, russia performed a full-scale invasion of Ukraine, causing war at the center of Europe. This horrible event led to a shift in geopolitics and global business processes, as well as drove new supply chain issues businesses faced.

The russia-Ukraine war: supply chain disruption it caused
Ukraine and russia significantly affect the global supply chain because of their geographic locations, large territories, and the crucial products they deliver to various countries worldwide. Ukraine is famous, mainly due to its grain production. Deloitte reports that Ukraine and russia account for more than 25% of the world's trade in wheat and for more than 60% of global sunflower oil and 30% of global barley exports.

Moreover, russia was also one of the biggest exporters of natural resources such as oil and gas. The lack of these components because of the war led to a shocking 8.5%-inflation. For end consumers, it means rising prices for everything from groceries to facilities. For supply chain companies, it's about higher delivery and supplementary costs. Bad news – the prices won't go back to normal.

Two more reasons that stopped the global supply chain are sanctions against russian businesses and the boycott of russian companies. Following Dun & Bradstreet, about 241K of businesses worldwide rely on Ukrainian suppliers and 374K – on russian. The majority is located in the US, Canada, Italy, and Australia.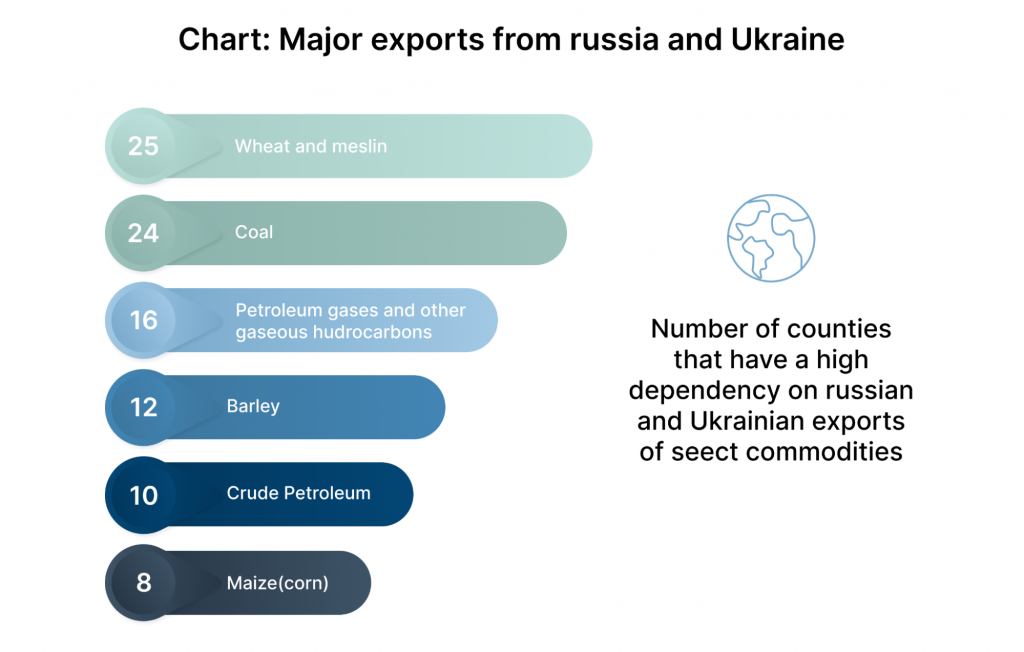 Foreign enterprises had relations with russian suppliers and manufacturers earlier. Meanwhile, now it's bad manners since any financial transactions with russia mean more missiles fired and people killed. Of course, this approach damages the russian economy, bringing us closer to the end of this war. But, it also works in reverse.

On the other hand, companies cooperating with Ukrainian suppliers also feel difficulties since Ukrainian enterprises can't provide stable obligation fulfillment because of force-majeure conditions. Manufacturers find it challenging to work because of blackouts and damage to critical infrastructure. For suppliers, delivering is arduous because of dangerous situations and local restrictions. Therefore businesses are looking for new partners on a tight schedule to cover an urgent demand.

Last but not least, the market needs more key supply chain specialists. Companies can't find experts in the area of trucking, and it makes them fight for each employee, particularly by increasing the remuneration. It is not a direct consequence of the war. We inherited it from COVID-19. Meanwhile, talents can be involved in the war as soldiers, which makes the shortage of personnel even more palpable.

Following discussions, supply chain constraints will probably ease in 2023. But before, businesses should implement backup plans to stay afloat and ensure stable operations regardless of high prices, lack of resources, and unpredictable geopolitical situations.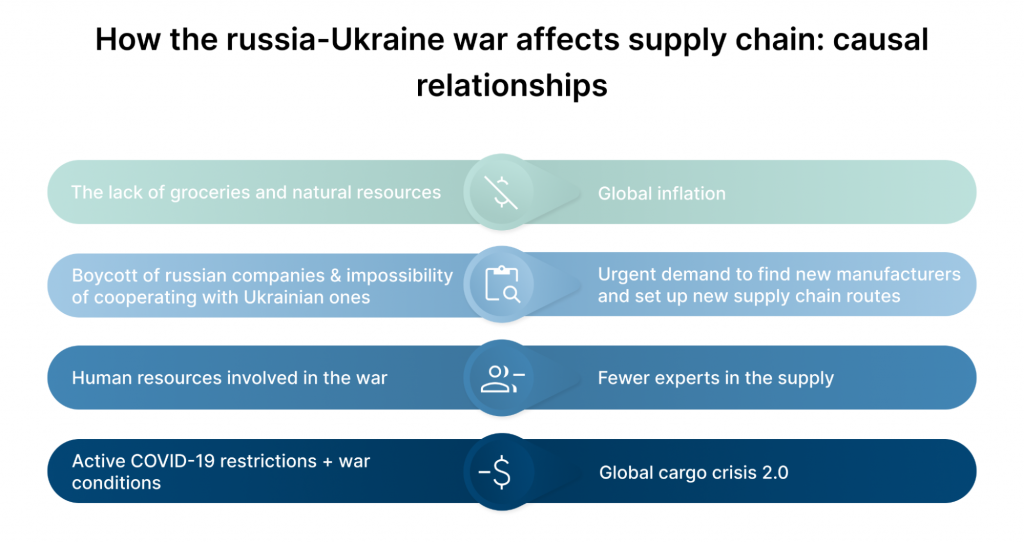 Related: How are Retailers Doing This Holiday Season: General Overview

Top 5 ways how companies can withstand negative outcomes of Ukraine war impact on supply chain
Opt for onshoring and nearshoring. Pandemic crisis and war conditions make companies go back home and create national or regional closed production cycles from manufacturing to distribution. These obstacles can turn into benefits for businesses and the public sectors since it's easier to manage the supply chain locally and better not to be dependent on global geopolitical situations.

Find various raw material providers. It would be better to diversify raw material sources to make sure that in any case they will be available. Earlier, we described the same trend in outsourcing software development, where clients involve several vendors to one project. 

Set up risk management measures. Boycott of russian business should be a driver for companies to boost risk management procedures and make them more strict. Enterprises need to make sure that they are cooperating with reliable contractors.

Optimize MRO. Supply chain companies should pay more attention to maintenance, repair and operating (MRO) to cut costs, prevent downtimes and ensure more or less stable work.

"When companies make MRO materials management a top priority, they are more likely to control their inventory and other supply chain processes, increasing agility and improving revenue and margins."



Paul Noble
Founder, and CEO, Verusen
Implement predictive analytics. Even advanced and well-built data models couldn't predict the pandemic and war. But now, this background will make it easier to get ready for any unexpected conditions since software can analyze the input considering it from the new point of view. Therefore, businesses need to implement innovations like 5G and IoT to access Big Data and create accurate predictions based on its analysis.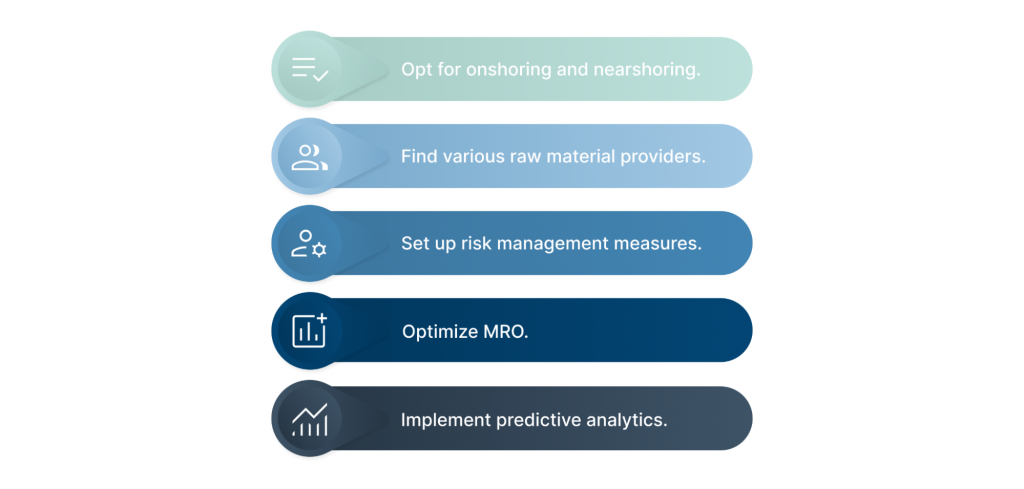 Related: Technology in Supply Chain Management: How Innovation Boosts The Industry

Summary
The russia-Ukraine war supply chain issues disclosed lots of business weaknesses in this area companies should work on. Therefore each challenge is an opportunity first. Nobody knows how this conflict will end, but we hope the Ukrainian people will win and do it faster than expected. Meanwhile, companies need to get ready for some new challenges in the supply chain. Start your anti-crisis journey with predictive analytics implementation. If you're looking for a way to get a custom application for this purpose – involve IDAP. Contact our sales team to explore how we can support your business development regardless of obstacles.