In 2011, Marc Andreessen wrote that "software is eating the world" to convey his prediction concerning software companies disrupting traditional industries. Today, we know that he wasn't far from the truth. We observe more and more major traditional businesses and industries running on software and being delivered as online services, including agriculture, movies, and even national defense. Many of these businesses are Silicon Valley-style entrepreneurial technology companies—but not only.

Custom software development is no longer for big tech companies with budgets and people. Or for sectors that want to digitalize most of their operations. Small and medium companies can also benefit from this software-oriented shift. They can build custom mobile or web apps, CRM systems, or other digital products without investing in in-house teams. How? By leveraging the offshore software development model.
What is offshore software development?
Offshore software development means that an organization hires a dedicated software development team to develop a custom software product for it. Companies can also adopt the offshore business model to complement their existing development teams with specific professionals to help them carry out the project. These could be Project Managers, UX Designers, or Quality Assurance (QA) Engineers.
The term "offshore" refers to a significant distance between the client's and the offshore development team's locations. Consequently, the distance makes it possible for both client and the team to work in different time zones.
How does offshore development differ from outsourcing?
The main difference between IT outsourcing and offshore software development lies in location. In the case of outsourcing, this term usually refers to hiring a company that is located in the same country as the client. Offshore developers, on the other hand, most often are based in overseas countries. Typically, these countries are (among others) Ukraine, Poland, and India.
Why you should outsource software development
If the software is eating the world, then offshore software development spreads as quickly as a fire. Software application development is the most frequently outsourced IT service. Around 60% of companies outsourcing it in part or in full come from the US and Canada. As for the market, it is currently valued at $92.5bn worldwide.

Related: Essential IT Outsourcing Statistics: Latest Trends Showcased

What does offshore software development owe its popularity? Let's go through the main benefits of this model.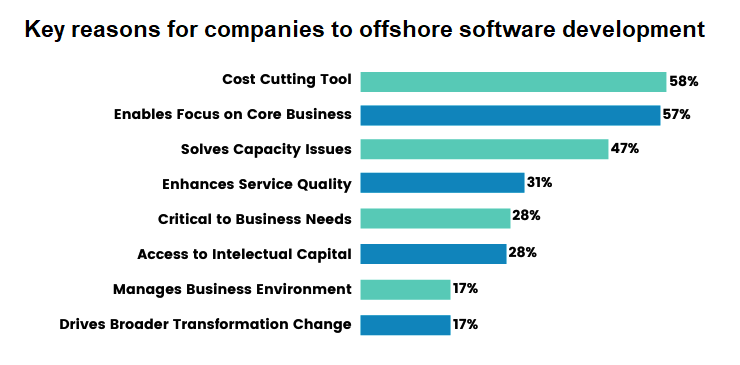 Reduces software development cost
More than ever, today's organizations operate with tight finances. By hiring an experienced, outsourcing software development company, they can reduce their development fees. Not can they eliminate the costs that would otherwise be spent on HR and recruitment, but the offshore software development teams typically cost less than salaried in-house developers.
Brings in rich experience and expertise
Offshore software development teams usually offer various services. They can build web apps, hybrid and native mobile apps, CRM systems, and many other custom software products. 

Moreover, offshore teams often deliver projects for small and enterprise-level companies, where both have different goals and needs. So the bottom line is that, usually, you can expect your offshore development partner to be able to advise you on the development steps and choose the best tech stack for the job.
Saves development and recruitment time
Time is money, and money is something you want to save. By hiring an offshore software development team, on the one hand, you can spare yourself the long-lasting hunting for professionals with the right skills and cultural fit. On the other, drawing from their knowledge and experience, the offshore team can help you deliver your product faster to the market than your competition.
Gives access to the right talent
There is a significant shortage of talent in the IT sector that has been going on for a while, making position filling a real struggle. Not only do offshore software development teams solve this problem, but organizations can source them almost instantly (as already mentioned above). Consequently, offshore teams enable companies to start their software development faster, reduce mistakes, and deliver a quality product.
What IT services can you offshore?
With increasing technological advancements and a focus on remote working, many services can be offshored today. Most common examples of such jobs in the IT sector include software development (mobile and web apps), web development, software testing, UX design, and project management.

The best part is that you can hire entire teams to develop a product for you. Or only selected professionals to temporarily aid your existing team and help them deliver a product.

We build custom digital solutions for startups and enterprise-level organizations. Get in touch with our experts to talk about your product idea.

When to offshore software development
Offshore software development can be just the solution for your organization to consider when you want to develop a new product to stay competitive in the market, but you have no in-house team to do it for you. Or when you want to implement a new app within your organizational structures to improve the workflow and efficiency but your teams lack the necessary know-how.

But these are not the only situations you may find yourself in, and you could use support from offshore specialists. Other situations include:
You are on a tight budget
Not every startup, or an SMB company can readily afford to build the in-house team and maintain it in the long run. Therefore, the offshore software development solution can help them develop a quality product while remaining on a budget.
You need expertise
The brightest and most innovative minds do not always have the right skills to bring their vision to life. An offshore model fixes that problem. You can hire a reliable offshore partner that will offer business, managerial, and technical support so much needed for product development.
Your operational costs are getting too high
Engineers are one of the most highly-paid workforces in the world today. The average salary of a software engineer in the US is roughly $120.000. With employee wages accounting for more than half of the fixed costs of an average business, hiring local talent can cost organizations dearly. But that is not everything.

Companies often offer various benefits on top of the regular salary, such as gym cards and private health insurance. These all, when coupled with the sheer payroll costs, can make your operational costs skyrocket. Instead, you can offshore the software development team to save a significant amount of money but without compromising the quality of the final output.
Challenges of offshore software development
While offshore software outsourcing does bring substantial benefits, there are also some drawbacks worth mentioning.
Difference in timezones
Since offshore developers are typically located in remote locations means that there will be a time difference between them and you. Therefore, communication between you and the offshore team may take a bit longer. However, many offshore vendors are flexible and will do their best not to make the timezone factor an issue.
Risky management
Communication is crucial for successful cooperation between your team and the offshore team. As face-to-face meetings are not always possible, you must agree on project requirements, milestones, progress reports, testing, and other necessary documentation before you launch your project.

Moreover, please keep in mind that many offshore software development teams are familiar with Agile practices. It means they will keep you up-to-date with their progress, report roadblocks, and manage their tasks in project management software. They are also used to working with a popular collaboration tool that connects local but remote and offshore teams and helps them work better together.
Handling sensitive data
Compared to managing an in-house team, you have little authority over how the offshore vendor manages sensitive information about your company and/or customers. However, offshore software development partners like the IDAP Group facilitate open communication to avoid misunderstandings and distrust.

Related: The Pros and Cons of Outsourcing Your Software Development
How to hire the best offshore software developers?
When you decide to hire an offshore software development team, you might want to know how you can go about it. After all, you surely want to work with a reliable partner who can offer much more than just a lower price when compared to your local market.

Given the sheer amount of vendors located nearly all over the globe, the selection process might seem daunting. However, there are a few tips we can give which we hope will help you hire a reliable and suitable team for your company.
Check reviews and portfolio
The process of hiring an external vendor is very similar to hiring a new employee. You check their resume, cover letter, and, if applicable, a portfolio of works. These days, you can look up nearly any meaningful company online to find customer reviews. As an example, one of such websites is Clutch.co where you can search for the offshore vendor's profile to learn more about it.
Browse the vendor's website
The other source of your knowledge is the vendor's website. Not only will you find more information about the company, like their approach and mission, but also a portfolio of completed apps and other solutions.

Moreover, what you may also pay particular attention to is knowledge sharing. Many companies these days do it through their blog. Not every company blog, however, is being maintained and populated with new posts regularly. Therefore, this could also be a sign of whether the potential vendor for your organization stays active and works on establishing themselves as a knowledgeable partner.
Secure your digital product idea
Regardless of who will develop a software solution for you, the idea and product are yours and should remain yours. Therefore, find out with your potential vendor whether they would be willing to sign up the Non-Disclosure Agreement (NDA) to avoid intellectual property leaks.

Looking for a reliable and transparent vendor? Contact us for your free consultation and project estimation.

Best locations for offshore software development
Considering a high global demand for IT experts, many countries worldwide have gradually become the preferred outsourcing destination. But which one is the best country for offshore software development? Here's a shortlist of the top countries for offshore IT services. 
Ukraine
If we talk about Eastern Europe, Ukraine is hands-down one of the best countries for offshore software development. They are the home of the top IT engineers in the world who have adapted to work with distributed colleagues and remote clients very well. And if you are worried that the current situation in Ukraine could impact your project's success, please note that the Ukrainian vendors operate as usual and continue delivering their quality services.

Related: Why Israeli Companies Outsource to Ukraine
Poland
Poland and Ukraine go hand in hand regarding offshore IT services. This country houses skilled engineers who, just like Ukrainians, can freely communicate in English with their clients. Polish outsource companies have experience with working with international clients and delivered numerous digital products currently in use on the global market.
India
India is also a great choice for companies looking to develop their product at lower rates. The Indian engineers are well-educated and speak English. The country itself is also a much larger and significantly more populated destination than the two we have previously mentioned. Therefore, the offshore IT services market is much larger, which could make finding the most suitable company more difficult and time-consuming.

Related: Outsourcing Mobile App Development to India. Yay or Nay? 
Cost of hiring the best offshore software development team
Many offshore software development vendors offer affordable and flexible prices. In return, you get a high-quality product as if you have had it developed in your organization's country.

For comparison, please take a look at the table below.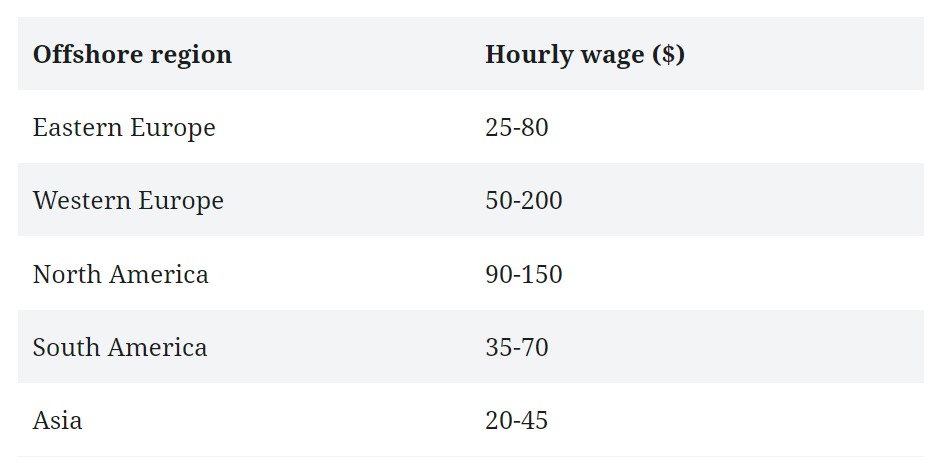 These are the estimates. Please keep in mind that the price can be influenced by the number of people involved in your project; product complexity; technology stack used for development; as well as the duration of the software development lifecycle.

Additionally, you may also find offshore vendors that provide business and technical consulting for free to ensure the final product you will get is exactly what you want.

Related: How Much Does It Cost to Develop a Custom Application?
Summary
Custom software development is a strong trend that will continue to grow in the coming years. In response to that, companies look for opportunities to develop their own products for internal use or for the market. Whichever it is, they can turn to reliable and trusted offshore software development vendors like the IDAP Group to help them build just the solution they need. Contact us to learn how you can leverage our team of highly skilled software developers (and other professionals) for your company's benefit.