Introduction
Does outsourcing software development services to Ukraine still cost just peanuts? What are the top locations for software outsourcing in Ukraine? The answers to the above questions and other useful information on software development outsourcing companies in Ukraine you can get in our latest article.
Let's Get Started
Over the past decade, Ukraine has gained global recognition as a premier destination for software development outsourcing. ed
In 2018, Global Outsourcing listed 18 Ukrainian software development outsourcing companies among the best outsourcing companies in Eastern Europe. But that's not the only award Ukraine has received. Recently, Gartner and Outsourcing Journal have marked Ukraine as one of the top destinations for software outsourcing.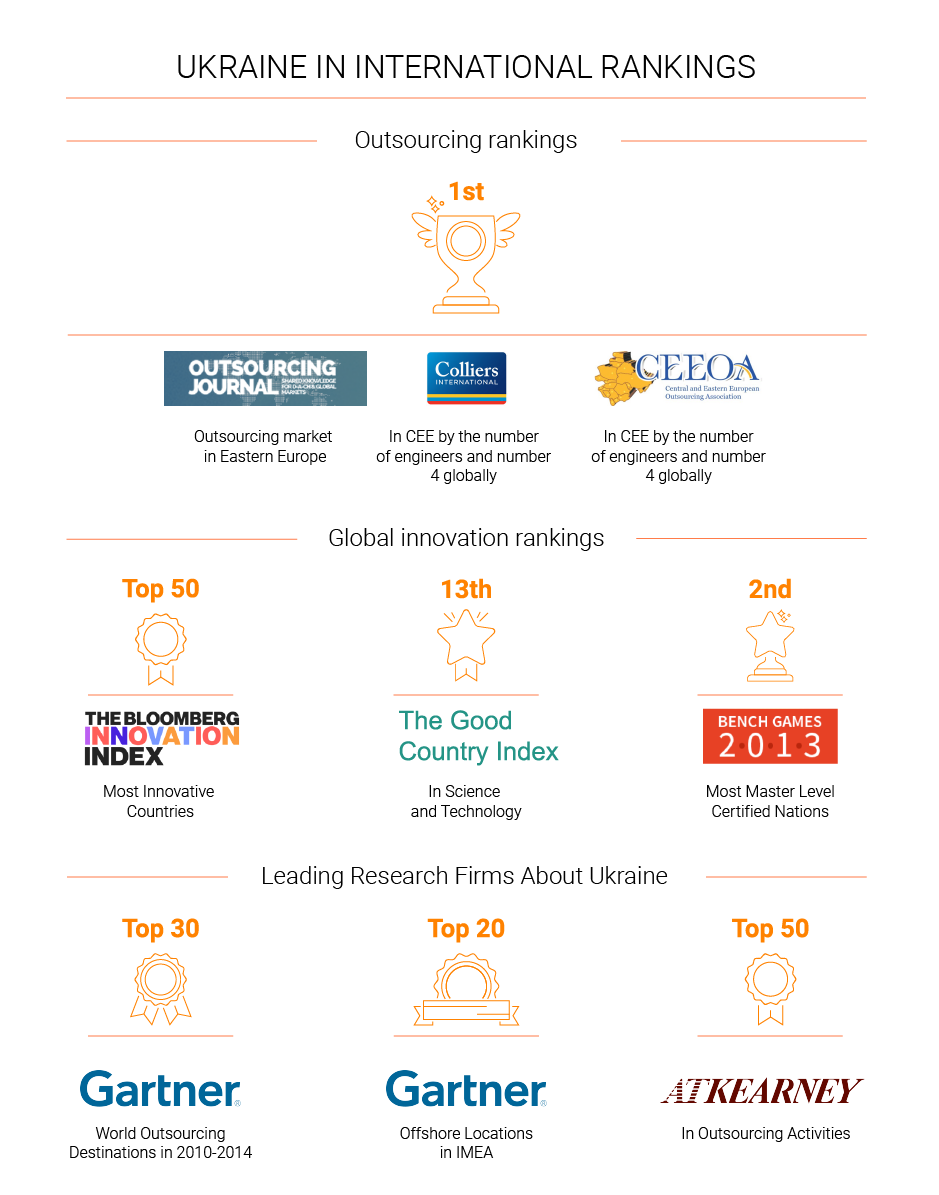 Ukrainian IT Market in Numbers
The Ukrainian IT market is showing stable growth year in and year out. According to PwC analysis, Ukrainian IT market has been recently increased by 2.5 times. In 2011-2015, it was increased by 150%, and it's predicted to reach $5.7 billion by 2020.
166,000 developers
11,932 IT companies
$1,256 billion industry value
Market focus: USA
$34-64/hour average rate for software development
$25-149/hour average rate for app development
+27,000 newcomers to IT in 2017
40% speak English fluently
Top three programming languages: Java, JavaScript, C#.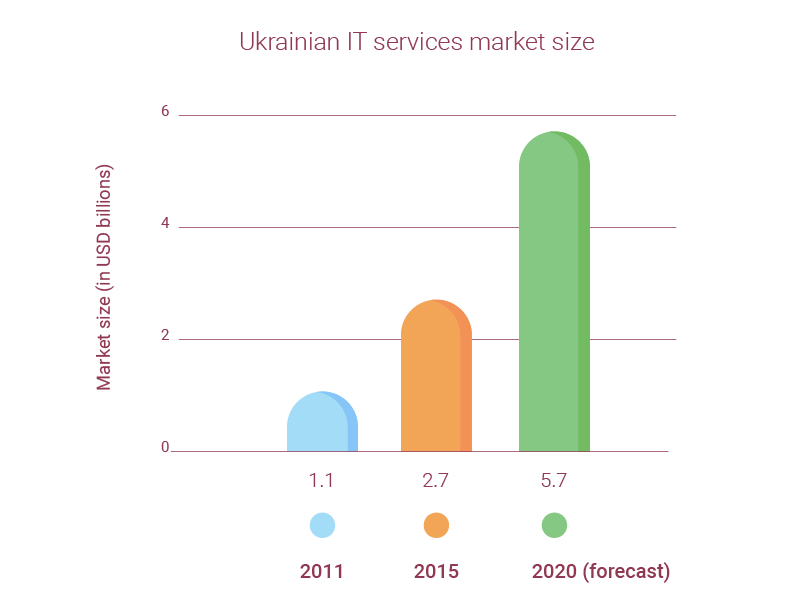 Despite the growing number of startups in Ukraine, outsourcing takes the lion's share of the Ukrainian IT sector. In 2017, Ukraine has shown an 18% growth in computer and information services. According to the European Business Association (EBA), the IT industry takes third place in the export structure. Thus, we may say that Ukraine is becoming "Silicone Valley" of Eastern Europe. Along with outsourcing, Ukraine has become home to over 100 R & D subsidiaries of global companies from a variety of industries including software development, the blockchain, gaming, and ecommerce.
Pinned Locations for Software Outsourcing in Ukraine
Do you know how many developers live and work in Ukraine? And we do know. StackOverflow has already counted the developers and found out that there are 166k software developers in Ukraine. This accounts for 35% of the Central and Eastern Europe pool. Around half of the Ukrainian developers are currently employees in software development outsourcing. This means the vast majority of Ukrainian software development companies are exporting IT services.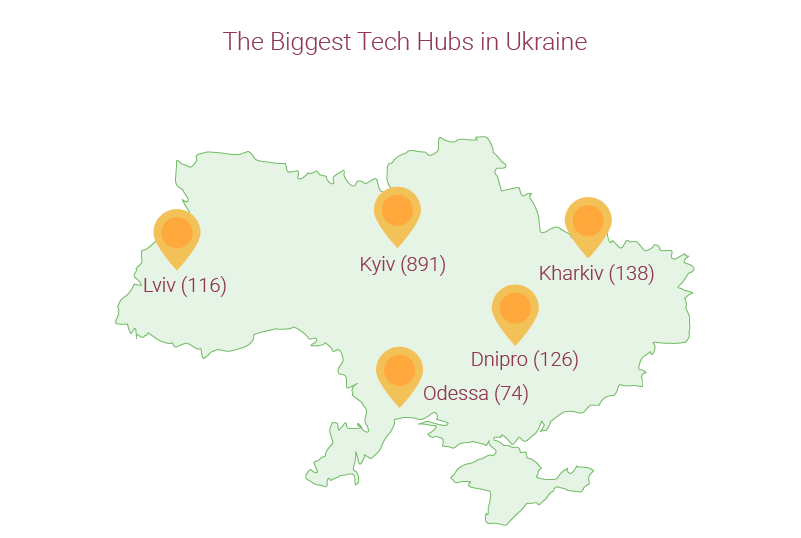 Tech Hubs in Ukraine: The Big Five
Among the biggest IT Hubs in Ukraine, you can find Kyiv, Kharkiv, Lviv, Dnipro, and Odessa according to Mappedinua. Let's look at each of the IT hubs in Ukraine a little bit closer.

1. Kyiv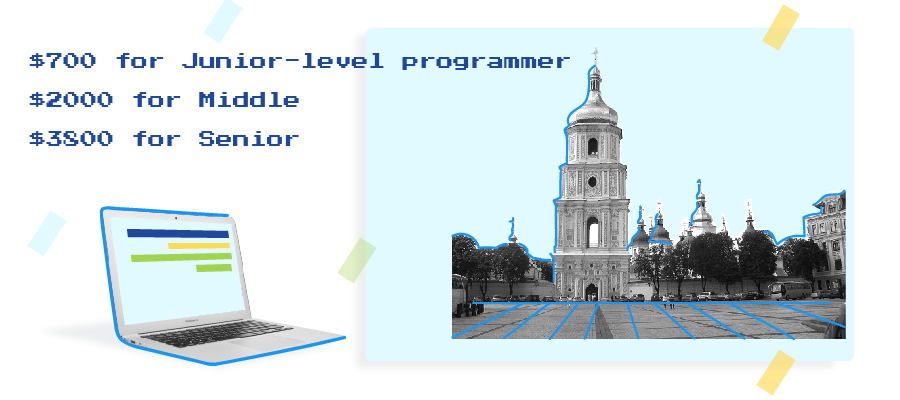 As you can see from the Kyiv hosts the major part of software development companies. And that's happened due to a large number of reasons not just because Kyiv is the capital of Ukraine. First of all, Kyiv has a favorable location and it's easy to reach from any part of the world. Also, it's really important when it comes to any long-lasting projects since that's quite hard to control the process.

Alongside with easy and comfortable traveling, Kyiv human resources also have the highest English language literacy among all the other regions. According to a recent survey conducted by IT Ukraine Association, Ukraine accommodates about 159,000 software engineers. Various sources inform that from 40% to 50% out of all the Ukrainian developers live and build their careers in Kyiv. Meanwhile, the average labor pool growth here in the last few years amounts to 19% yearly. This percentage, which is beyond impressive, is motivated by two key factors: the high quality of local technical universities and the huge amount of job openings from IT companies with headquarters in Kyiv. The average monthly salaries in the region divide as follows:
$700 for Junior-level programmer;
$2000 for Middle;
$3800 for Senior.
It would be unfair to limit the IT industry in Kyiv to one focus, as it's very diverse and unique in its own way. The most prominent sector here is IT outsourcing presented by such companies as EPAM, SoftServe, Luxoft, GlobalLogic, Ciklum, Infopulse, DataArt, ELEKS, Intellias, Netcracker, and lots of others. Of course, it isn't the only one direction in local information technology, there are also product IT companies developing some worldwide famous solutions (Terrasoft, Grammarly, etc.) and app developing studious like IntellectSoft, AgileEngine, and IDAP. The most spread business areas Kyiv IT companies are working in are telecom, finance, e-commerce, traveling, healthcare, IoT, online gaming, big data, machine learning, blockchain, and enterprise software.
2. Kharkiv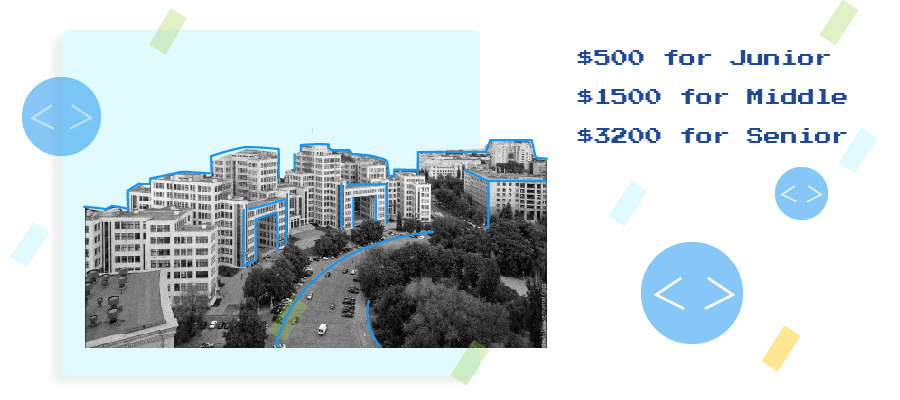 Kharkiv is the second in population city after the capital of Ukraine, and, naturally, it takes the second place on the software development arena on the country. It is also known as a city of students — Kharkiv is filled in with the bunch of prestigious universities, and five of them dedicated to technical studies and sciences. These educational institutions release more than 2,000 tech graduates yearly adding to the IT human resources of the region.

For market-leading software development companies, having an office in Kharkiv is a common practice. Namely, such outsourcing giants as EPAM, GlobalLogic, NIX Solutions, and Ciklum among others run their errands in Kharkiv alongside with other offices throughout Ukraine. A foremost reason for that would be slightly lower monthly rates of the local software engineers that do not compromise their impressive skill set. According to DOU, average salaries of Kharkiv programmers are as follows:
$500 for Junior-level employee;
$1500 for Middle;
$3200 for Senior.
Out of all Ukrainian IT professionals (125k of people as for the end of 2018), more than 22,000 people live and build their careers in Kharkiv forming the $803 million worth local IT market. Kharkiv developers aren't limited to a certain technology, vice versa, you can find teams and developers skilled in some unique programming languages and frameworks. However, even such a relatively big number of local human resources couldn't cover the demand in 2018. According to MC.Today, there were more than 3,000 software development-related job openings with a twice lower number of applicants within the city. Another drawback of Kharkiv for potential outsourcing clients from abroad is an absence of direct flights to many cities, like New York, London, Paris, Munich, and Amsterdam among many others.

3. Lviv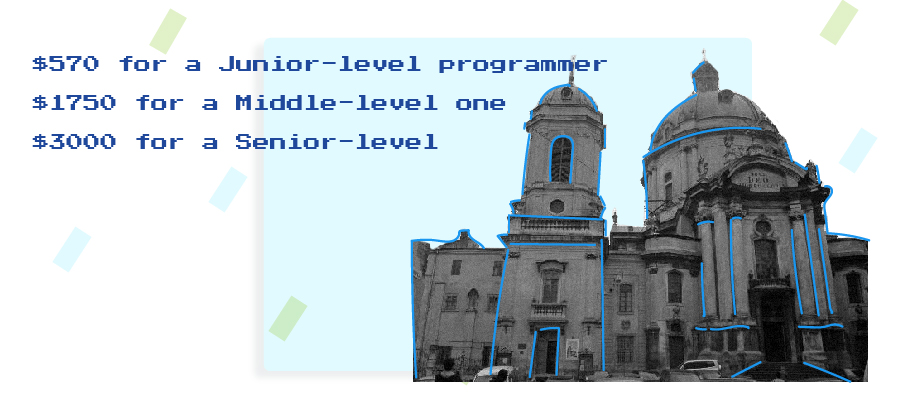 Lviv is a rising technical hub in Ukraine and another attractive outsourcing destination within the country. This is also a very popular tourist spot and a well-known location throughout Europe, which adds points to this city on the IT outsourcing arena as well. The historical context of this city proves that Lviv citizens have more of a Western mindset rather than Sovietic one and are used to communicating with foreigners.

As for 2018, more than 200 IT companies have their offices in Lviv. 90% of them work in the IT outsourcing sector, while the rest 10% create their own programming products. Out of all the outsourcing enterprises, the half of them distribute their services to the US, 35% — to European countries and the UK, 8% work for Canadian entrepreneurs, and 5% contract with Asian countries and Israel. Only 2% of Lviv tech companies distribute their expertise within the country. A relatively high percentage of companies sealing the deal with European countries can be explained by Lviv's neighboring location (Lviv is located on the West of Ukraine, closely to Polish borders). Lots of global airlines conduct direct flights to Lviv from European capitals and even smaller cities.

According to data gathered by DOU, Lviv IT market employs about 20k of programming specialists. An average monthly salary of local software engineers corresponds to the following numbers:
$570 for a Junior-level programmer;
$1750 for a Middle-level one;
$3000 for a Senior-level employee.
The largest software development companies in Lviv are well-known on the global IT arena SoftServe, EPAM, GlobalLogic, ELEKS, Ciklum, and N-iX that established their offices in Lviv in addition to many other big cities within the country. Generally speaking, Lviv is probably the most promising and enthusiastic tech hub in Ukraine so far. Citizens there truly care for bringing up IT community in the region, which has been proved multiple times by changes people bring to higher education and events. Lviv National Polytechnic University has recently introduced a new Data Science major alongside with a few other courses dedicated to technical studies that have no substitute in any other cities within Ukraine. Also, Lviv IT cluster hosts numerous annual events like conferences and hackathons for developers and entrepreneurs who'd like to dive into local IT segment.

4. Dnipro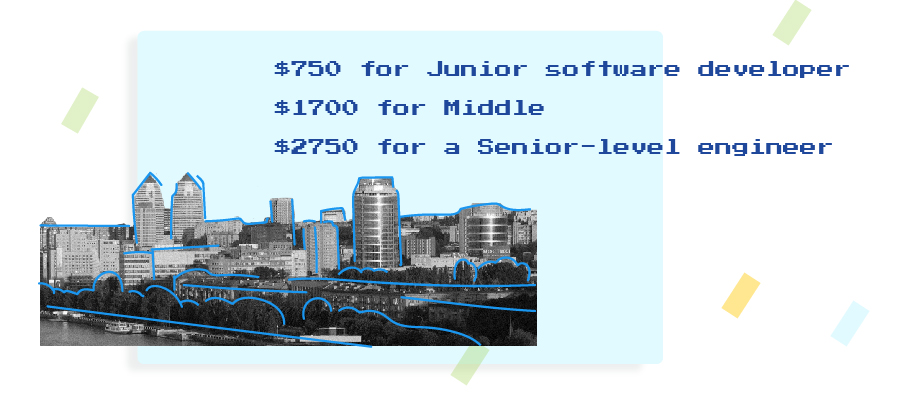 Dnipro is the fourth in population city in Ukraine and also the fourth spot in our list of Ukrainian tech hubs. It is located in the Eastern part of Ukraine and has over one million of citizens, 8k of which are software development professionals. Although this number is drastically lower than the IT labor pool in the first three cities we discussed above, Dnipro comes with a number of great advantages for Western entrepreneurs.

First and foremost, 40% of all the software engineers in Dnipro have a senior-level qualification. Due to the smaller amount of human resources, Dnipro's professional environment isn't as competitive as, let's say, in Kyiv or Kharkiv. At the same time, it has all the benefits of bigger cities — comfortable infrastructure, decent level of living, easy traveling by plane or trains. These are some of the key reasons experienced software developers choose to settle down in Dnipro and build their career there.

As for 2018, there are about 170 IT companies in Dnipro. In addition to already working 8,000 professionals, local universities and private educational establishments add to Dnipro IT cluster about 2,000 tech graduates annually. Here, smaller companies of 50-100 workers prevail, however, however, some of the IT outsourcing giants have their offices in Dnipro as well, including DataArt, Luxoft, SoftServe, and Daxx. Average salaries per month of work are as follows:
$750 for Junior software developer;
$1700 for Middle;
$2750 for a Senior-level engineer.
As you can see, the smaller scope of the city comparing it to other three above doesn't really make it a much cheaper option. Again, this is due to years of experience and prominent technical expertise of most of the local developers. Dnipro is well-known in the country (and even beyond its borders) for its technical contribution to finance, banking, healthcare, and automotive industries. Java, .NET, C++, Oracle, JavaScript are amongst the top most spread technologies in Dnipro.

5. Odessa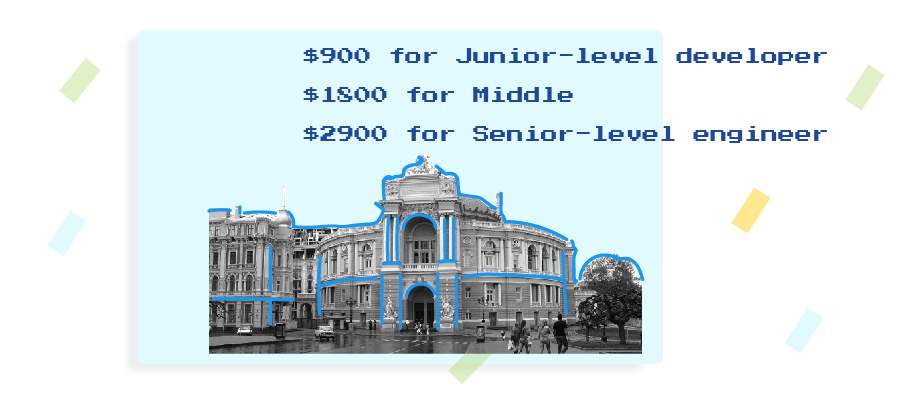 Odessa is the last but definitely not least on our list of pinned locations for IT outsourcing in Ukraine. It is one of the biggest cities in the country and is among the top three most known tourist attractions alongside with Lviv and Kyiv. Odessa is located on the Black Sea seaside which positively affects its climate, trading relations with the bordering countries, and even the lifestyle its citizens live.

As DOU reports, Odessa's IT labor pool accounts for 6000 people. There are also 150 software development companies in this city. Among these 150 are such famous names as Luxoft, Lohika, Provectus, Ciklum, DataArt, etc. The average monthly salaries in this region for software development services stay in the range as follows:
$900 for Junior-level developer;
$1800 for Middle;
$2900 for Senior-level engineer.
Although the number of software engineers is relatively small, comparing to let's say the capital of Ukraine, the range of industries local companies are working in is actually quite impressive. A few massive companies develop projects in the automotive industry and banking, while a lot of other slightly smaller companies dedicate their work to enterprise solutions, mobile apps development, big data projects, gambling, traveling, healthcare, UI/UX design, and so on. Software product IT companies are focused on cybersecurity, telecommunications, web browsers (e. g., Opera Software Ukraine and Yandex Ukraine), augmented reality solutions, and diverse mobile applications. Odessa is also known for a few internet marketing studios, like Netpeak and Adtelligent (ex. VertaMedia). Within Ukraine, there is a popular opinion of Odessa being the most welcoming city for IT startups.

IT Industry Focus in Ukraine: From eCommerce to Telecom
According to Clutch.co, Ukraine outsources software development services in the spheres of ecommerce, enterprise, and finance. However, local developers aren't limited to those three spheres. They build top-notch software solutions for healthcare, travel, tech, telecom, and education as well.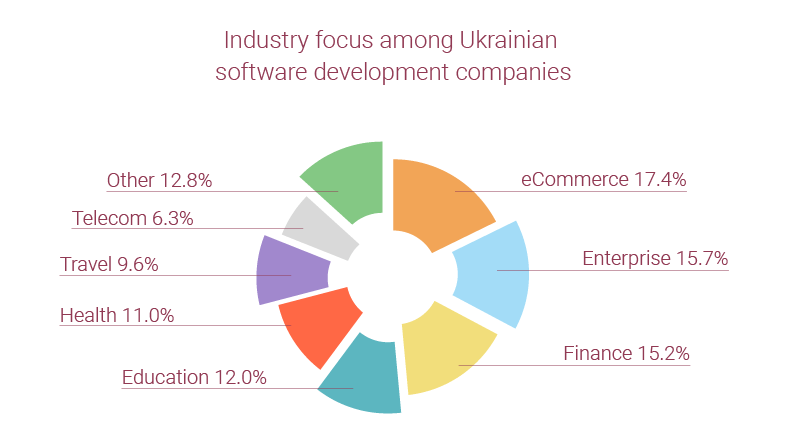 Industry focus of Ukrainian software development companies
Generally speaking, the software development in Ukraine bases on six areas of expertise:
software engineering;
QA testing;
testing automation;
research & development;
application support;
architecture.
These are the top activities mastered by Ukrainian IT professionals which attract lots of foreign entrepreneurs to this country every year. Less spread, but still well-known around the globe are Ukrainian professionals in spheres of web design, IT consulting, and cybersecurity. State Statistics Service of Ukraine reports that currently, there are approximately 2000 software development companies in Ukraine, and about the same amount of enterprises working in the interconnected business areas like science and telecom. As for the software development services solely, the vast majority of companies (nearly 98%) are export-oriented. Among them, more than a half of companies are targeted to the United States as potential client base, while others distribute their services to the UK, Canada, Western Europe, and Israel.
IT industry in Ukraine is very welcoming when it comes to learning new technologies and adapting them to already existing stack for more efficient results with a project. Here are the most popular programming languages in Ukraine in 2018 as reported by DOU: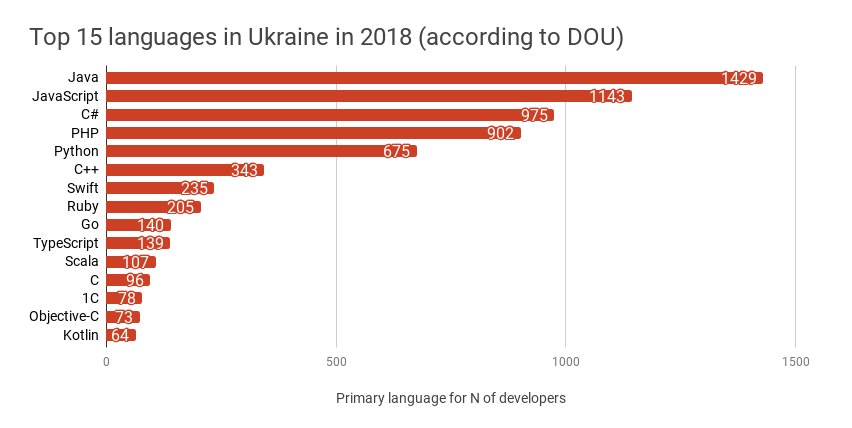 At IDAP, we feel at ease with any business industry. Our developers have extensive expertise in building custom apps taking advantage of a wide range of modern technologies. Check out our portfolio to find out what we've already built.
Software Development Arena in Ukraine: Most Honorable Mentions
As we have already mentioned above, Ukraine secured its positions on the global IT outsourcing map years ago and today it is amongst the top most trusted outsourcing destinations worldwide. This was also proved in the recent Global Outsourcing 100® rating by IAOP, where 18 positions out of a hundred were taken by Ukrainian IT companies. So, let's move from abstract to a particular list of the top outsourcing companies of Ukrainian origin or those who have offices within the country.
Top IT Outsourcing Companies in Ukraine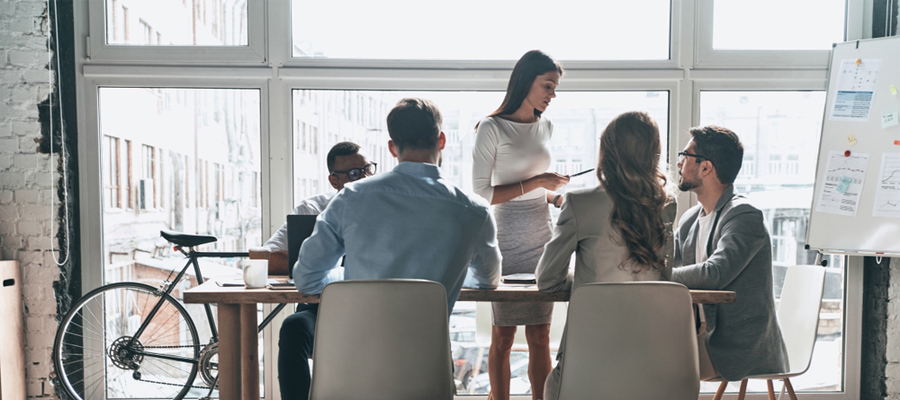 #1 SoftServe
SoftServe is one of the largest IT companies in Ukraine with headquarters in Lviv and offices throughout the country. It employs more than 5,500 people that are skillful in software development, architecture, project management, and business analytics. The most voluminous projects under development in SoftServe now belong to AI and customer support areas. They offer full-cycle creation of a software product with further support and updates.
#2 Ciklum
Ciklum is a huge international IT outsourcing enterprise that teams up about 340,000 people around the globe, including six Ukrainian offices as well. Its key competence lies in Big Data, IoT, and enterprise software solutions. Ciklum was founded in 2002 and since then has been working on building a high-end profile on the IT outsourcing arena.
#3 Infopulse
Infopulse is another large software development company with 7 offices throughout the country and 27 years of experience in IT outsourcing. In addition to Ukrainian offices, they also locate several parts of their team in Western Europe. Currently, Infopulse employs 1,900+ people. Areas of expertise of this company includes AI, AR/VR, Big Data, Blockchain, Cloud, Data Science, IoT, and other emerging technologies.
#4 ELEKS
ELEKS is an IT company that uses dedicated team engagement model to distribute full-cycle software development services around the globe. More than 1,400 IT experts are currently working at ELEKS's delivery and sales offices located in Europe, the US, and Canada. Their primary specifications are product development, tech consulting, and R&D.
#5 EPAM
Although EPAM was founded in Belarus 25 years ago, it has R&D offices in the five biggest Ukrainian cities which obviously makes it an important player on the field of IT outsourcing in Ukraine. Their expertise area includes enterprise software for market giants (e. g., Salesforce automation software for Procter & Gamble), CRM, and e-commerce among others. This company generated $1,45 billion revenue in 2017.
#6 Miratech
Miratech is a Ukrainian outsourcing company with headquarters in Kyiv that was founded in 1989. Over the years, they have expanded the team to 700+ members and opened their offices not only in numerous cities within the country, but in Poland, Spain, Slovakia, and the United States. The US office of Miratech is located in Washington, D.C. They focus on developing turn-key enterprise software products and organize their work by the Dedicated Team engagement model.
Ukrainian Mobile App Development Companies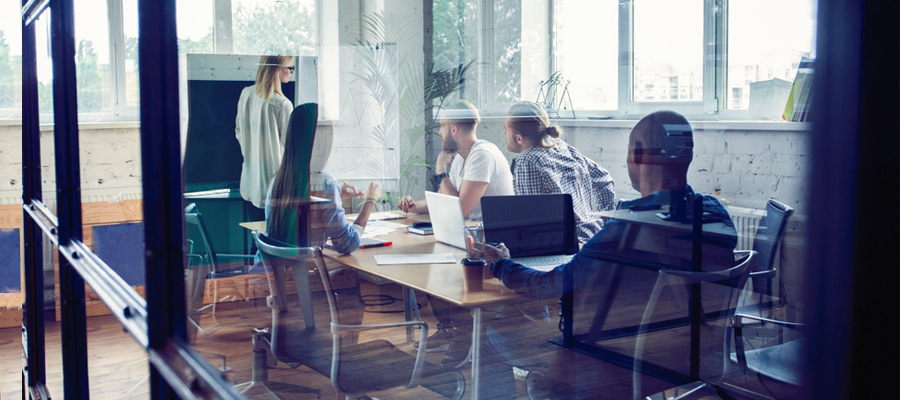 #1 Intellectsoft
Started in 2007 as an app development company, Intellectsoft has grown into an IT enterprise with an impressively diverse area of expertise on board. Currently, this company employs around 350 people in their offices around the globe, namely in Norway, Belarus, Ukraine, the UK, and the United States. Intellectsoft is well-known for its software solutions with Blockchain, IoT, AI, and VR.
#2 Cleveroad
Quite young, but still a remarkable player on the Ukrainian app development market. Cleveroad was funded in 2014 and since than its team, which currently accounts for 140+ members, has been polishing their skills of mobile application development. Opting for the native app development, Cleveroad is focused on web, iOS, and Android applications. As for 2019, their track record includes more than 170 completed projects in live streaming, OTT, Big Data, Amazon Web Services, eCommerce, and Blockchain.
#3 IDAP
IDAP is a software development company founded in Ukraine 6 years ago and specializing in mobile software creation. Currently, it has 70+ employees working in two offices: headquarters in Kyiv and a smaller R&D center in Kryvyi Rih. Having successfully delivered more than 200 projects, IDAP team has secured their positions on the app development market of the country and beyond its borders. Area of expertise includes live media streaming, enterprise software, business process management, AI, and Big Data among others. Included in Clutch Top 1000 B2B app development companies.
#4 Yalantis
Yalantis is a Ukrainian mobile software development company located in Dnipro. Started in 2008, it transformed from an iOS-only app creation startup to the high-end software development company with an impressive track record. They provided more than 200 US brands with software solutions, not counting their clients outside the United States. Business niches that Yalantis' clients operate in include travel, healthcare, logistics, marketplace, and real estate among others.
#5 AgileEngine
AgileEngine is an app development company with offices located in Ukraine, Argentina, and the US (Washington, DC). This company opts for building long-term relations with their clients, so despite being on the market for 15 years, they collected a record of 19 business clients and 26 apps developed. Currently, AgileEngine team accounts for 64 engineers. Their portfolio includes such a unique software solutions as self-service analytics tool and data visualization tool for agricultural field works. Other than that, AgileEngine is exceptionally skilled when it comes to eCommerce, IoT, and enterprise software.
Product Software Companies in Ukraine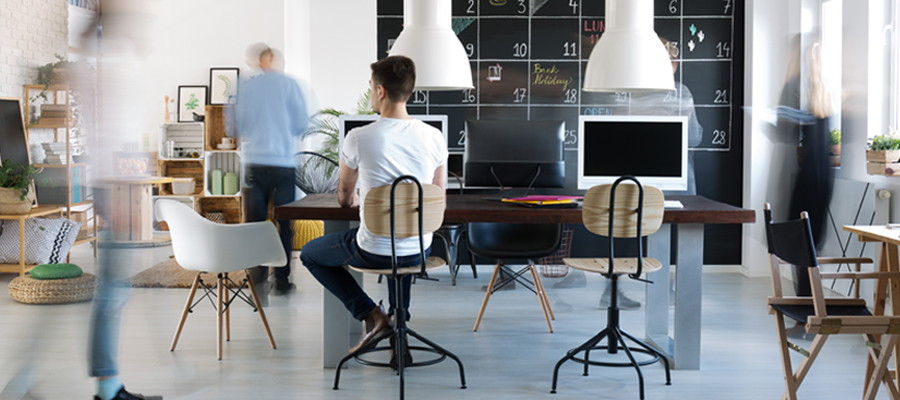 #1 Grammarly
Grammarly is an Inc. 500 company that creates AI-powered products, namely — the most popular online editing software in the world. Headquarters of this company is located in San Francisco, the other two offices are in New York and Kyiv. Grammarly products account for 15 million unique users daily.

#2 Terrasoft
Terrasoft was founded back in 2002 as a tech startup that managed to grow into the leading developer of CRM systems and other software products related to business process automation. Its most known and spread product is bpm'online — enterprise software that branch off to three modifications for different purposes (marketing, sales, and service). By now, the company employs more than 650 people in their offices located worldwide, including Boston, Moscow, and Kyiv among others.

#3 Readdle
Readdle is a product IT company that specializes in creating iOS applications. It was founded in 2007 and since then, Readdle apps were downloaded from the App Store more than 50 million times globally. Their team consists of 85 members who are working at the offices in Kyiv and Odessa. The most famous Readdle products are PDF Expert, Spark, Scanner Pro, and Fluix.
#4 MacPaw
MacPaw is another iOS app development studio headquartered in Kyiv. Currently it has more than 80 experts on board. Software products developed by MacPaw made this company well-known globally, namely in the US and Canada where Apple devices run the gadget market. MacPaw authored CleanMyMac, a utility app for macOS optimization, Gemini 2, application that detects and removes duplicate files in the device's storage, and Hider 2, a program that encrypts and hides personal data inside the device.

#5 CyberVision
CyberVision is a software integration and development company with R&D offices in Europe and the United States. Having spent more than 20 years on the market, CyberVision team polished their skills in mobile apps development, telecommunication, Big Data, and Internet of Things. The core software product of this company is an open-source IoT middleware platform called Kaa. It allows to use all the benefits of IoT through a ready-made solution.

#6 Skylum
Skylum (earlier known as MacPhun) is a software development company that specializes in creating Mac apps for photographers. Products released by Skylum team gained global recognition and popularity, alongside with more than 15 million loyal users. Their most remarkable applications include Luminar, Aurora HDR, and Creative Kit. Offices are located in Kyiv and Bellevue.

Outsourcing Business Models
Some of the most popular business models used by Ukrainian software development companies are:
Project-based outsourcing
It's a classic business model for most of the outsourcing companies. Project-based outsourcing means that you entrust your partner the whole project from A to Z. Such developers work on several projects at a time. Usually, clients don't have access to the development team and communicate through either a project manager or a particular person.
Outstaffing
Outstaffing is similar to hiring a remote employee. This person will carry out all the job duties for your company being officially employed by an outsourcing company. The latter is an official employer and is responsible for hiring and managing of software developers who are a part of your in-house team. As a rule, outstaffed teams are either managed by your in-house employee or you can outstaff remote managers as well.
Dedicated teams
The following business model is considered to be one of the most reliable forms of software development outsourcing. This means that a dedicated team of developers will work exclusively on your project. And this allows developers to work more productively since they're focused on a single project. Dedicated teams can work as a part of your company and you have more control over the development process when compared to the models mentioned above. At IDAP, we take advantage of a dedicated team business model to deliver top quality apps for any business spheres. It helps us not just build apps, but develop business solutions to cure your pains and streamline your business processes. You can find more information on our working process here.
6 Reasons Why US Startups Outsource Software Development to Ukraine

#1. Lots of world-famous tech giants pick Ukraine
Offering access to a huge pool of talented software engineers and coders for moderate annual costs, Ukraine became a home for over a hundred of R&D subsidiaries of global tech giants like Opera Software, Samsung, Adobe, Oracle, Ubisoft, and Wargaming.
Of course, the majority of them have found home in Kyiv, but as Ukrainian economy stabilizes, these corporations open more and more offices around the country recognizing its potential. And it's not surprising since the country is widely known for the high number of Unity3D developers, C++ engineers, JavaScript, Scala and Magento coders.
#2. One of the most promising startup scenes
Ukraine is a place for creative ideas with all available means for their prompt development and market debut. Quite a number of innovative startups present a solid proof for this statement.
Let's just remember Looksery, an application that does a facial modification of photos and videos in real time, that was acquired by Snap Inc. for $150 million. Currently, the project continues to grow, having offices in San Francisco, US, Ukraine and Russian Federation.
Or Petcube? A set of camera and mobile app finally offered a solution for dog-owners whose pets suffer when they are away.
Or Grammarly? It's a super useful tool for checking spelling and grammar that has spread around the world like a plague, only in a good sort of way.
Basically, the Ukrainian tech community knows how to make great, and what's more important – valuable – products.

#3. A well-developed market of software development companies for hire

As mentioned earlier, 18 Ukrainian outsourcing companies have made it to a hundred of the carefully picked Global Outsourcing firms in 2018.
Hence, the, being only the top of the iceberg, as there are more than 1K tech companies in the country that offer a wide range of IT-related services from a full-cycle software development and deployment, to business analysis, consulting, and post-development support.
Moreover, according to the latest survey of the DOU.ua, the largest Ukrainian platform and community of professional software developers, and other specialists occupied in IT field, there are about 130K IT professionals in Ukraine right now. They have a vast tech expertise in various industries (e.g. fintech, healthcare, gaming, automating, manufacturing, managing, IoT, and AR/VR software development). As this number continues to grow, more and more companies consider outsourcing their projects to Ukraine.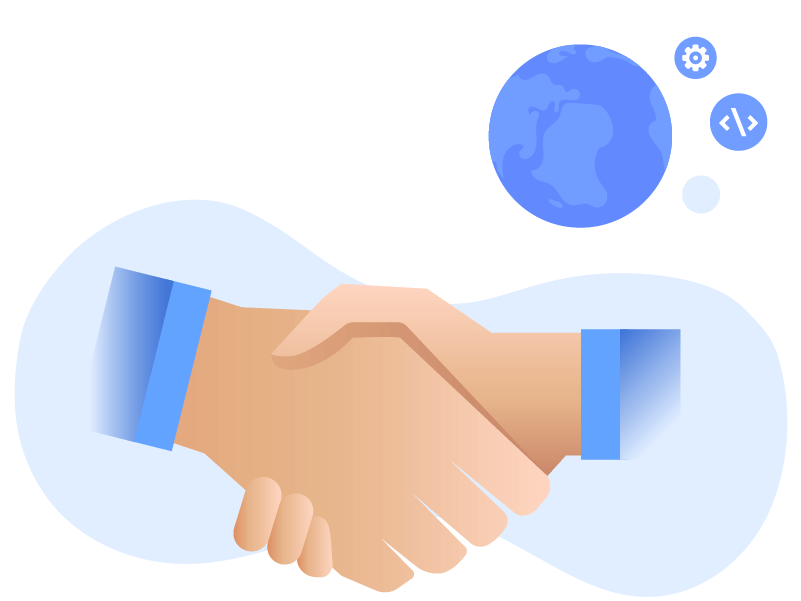 #4. Local offices in the US and Western Europe

It's pretty common for Ukrainian outsourcing companies to have a local presence in the United States and Western Europe to offer clients a more comfortable means of communication with their development team in Ukraine. Instead of flying out to another country, here you will have a nearby solution for your problem.

Aside from just being a more convenient option, you can also rest save about losing a hold of developers or someone stealing your idea since your business partnership will be established under the jurisdiction of the USA.
Therefore, it's pretty unlikely that an outsourcing company you choose to work with here would go M.I.A.

#5. Affordable hourly rates with great quality of code

More often than not startups and established business decide to outsource to Ukraine based because the development of a product in the US would cost several times more than outsourcing it to Ukraine with the same quality of received code.
For example, iOS developer with 5 years experience will cost you around $30K annually in Ukraine, which is 3 times lower than hiring one in the US, not to mention the fee for company service.
However, rates for IT-services can differ according to the company, their location within the country, seniority of developers working on your project, and type of technology they use. On average, an hourly rate of Ukrainian developer would cost you $25-50.
Despite that the cost of hiring a Ukrainian developer is lower if compared to western countries, the quality of developed products is not compromised. That's why the country has managed to become a leader on the global outsourcing arena in such a short amount of time.
#6 Great location and English proficiency

Ukraine is just 1 hour ahead of European Countries, and 7 hours ahead of East Coast. It makes it a great choice for nearshoring software development, as the time difference is not as critical as it would be with India or China.
Also, Ukrainian specialists have a good level of English proficiency. Companies provide free English classes and speaking clubs to improve it further. All in all, nearly 57% of Ukrainian developers have a near to fluent English, which is also great for communication with clients.
Therefore, Ukraine would be a better choice if communication is critical.
Summary
We've talked so much about the Ukrainian IT market in Ukraine. It has lots to offer not to mention brilliant developers and pioneering technologies. Ukraine creates a favorable environment for software outsourcing providing a wide range of software development services at a decent price. It's high time you started looking for your outsourcing partner in Ukraine. 
However, it's not so easy to find your best partner, but we can help you make the right decision. If you have any questions about Ukrainian outsourcing, drop us a line and we'll contact you asap.