Intro
The possibility of reaching out to highly skilled software developers while saving some production costs is the essence of IT outsourcing. No wonder business owners are constantly exploring outsourcing destinations and trying to detect the most efficient out of them.

Although the Asian region (India, Pakistan, and other neighboring countries) has been the top outsourcing destination for over a decade, some entrepreneurs find cultural mismatch and time zone difference uncomfortable, which inspired them to start looking for more convenient solutions in the nearshore zone, Eastern Europe in particular.

This article is going to survey the two leading European destinations for IT outsourcing — Ukraine and Poland — in order to find out which peculiarities of software development each of these countries has.
Overview of IT Industry in Ukraine and Poland
#1. Ukraine
General info

Population: 42,5 Million
Total area: 603,628 km2
Currency: hryvnia
GDP: $150,000B
Time zone: EET (UTC+2)

IT hubs:

Kyiv
Kharkiv
Lviv
Odessa
Dnipro
Ukraine has been the leading IT outsourcing destination for years now, and the demand for Ukrainian developers isn't going to decrease anytime soon. Reasons for that are their cost-effectiveness, programming expertise, and relatively good English literacy skills among other benefits. Currently, the IT industry there employs 130,000 specialists having various yet narrow technical expertise. 

According to industry forecasts, this number is going to proliferate, and by 2020 there will be about 240,000 IT professionals in Ukraine. Such rapid growth is easily explained by how promising, prestigious, and dynamic the IT field in Ukraine is. There are also some benefits in terms of working environment: from access to cutting-edge technology to flexible hours in the majority of offices.

Since jobs in the IT field are amongst the best-paid careers, 35% of Ukrainian graduates choose to study IT-related subjects in universities. In general, the level of education in Ukraine is beyond impressive — it ranks fourth in the world in the number of citizens with a degree of higher education and has a literacy rate of 100% amongst younger generations.

Determined orientation towards information technology and solid educational background explain why Ukraine has secured its leading position in the list of IT outsourcing locations.

The recognition of Ukraine as an IT outsourcing option has started long ago, and such market giants as eBay, Skype, Boeing, and Bosch were the first to discover the potential of Ukrainian professionals. Samsung Electronics, NetCracker, Siemens, Magento, Gameloft, and Huawei have opened their R&D centers in Ukraine, and we believe this list will rapidly grow in the near future.

80% of Ukrainian application and web development services are exported to the US, and the rest is mostly contracted to European business owners. Regardless of local bureaucracy and complexity of all the legal issues related to software development, numerous Ukrainian IT companies gained their reputable status worldwide and about 20 of them were included in the 2018 release of The Global Outsourcing 100 list.

To make a generalized summary, Ukraine boasts:
Around 200,000 IT specialists available for hire;
About 25,000 IT graduates entering the labor market each year;
Ranking 43rd in the EF English Proficiency Index.
#2. Poland
General info

Population: 38 Million
Total area: 312,679 km2
Currency: zloty
GDP: $600,000B
Time zone: CET (UTC+1)

IT hubs:

Warsaw
Krakow
Poznan
Wroclaw
Tri-city
Poland is another very popular spot for Western entrepreneurs to outsource IT activities. Developers there have not only solid technical skills, but also the western mindset and great command of the English language, which makes US and European business owners consider hiring Polish devs in the first place.

By now, the IT industry in Poland has about 160,000 employees, which is more than 1.7% of the world IT market. About 80% of the services are distributed to businesses based in Western Europe, although the vast majority of application and web developers eventually collaborate with local companies as well.

Poland offers a great range of IT-related courses at local universities, which was formed due to the high demand for schooling in the field of technology — about 75,000 Polish graduates annually apply to computer science faculties. Around 15,000 IT university graduates enter the labor market yearly, and 95% of them say they speak English fluently.

The most prestigious educational entities in Poland are AGH University of Science and Technology in Kraków, Poznan University of Technology, and the Wrocław University of Technology. It's not only local applicants who want to study there, these institutions also attract foreign graduates, especially from Ukraine and Russia.

Although software development in Poland is an in-demand job, the wage difference between IT professionals and other fields, like business, trade, real estate, and others, is not that huge as it is in Ukraine. The average salary that a typical IT company in Poland offers its developer is approximately $2300 per month, while the average salary in Poland considering other fields is about $1300.

Overall, the economy in Poland is far more stable than in Ukraine; being a member of the EU Poland has positioned itself towards constant economic growth, which positively impacts the level of life there and decent salaries demonstrate that as well. However, even if the average IT salary in Poland is higher than it is in Ukraine, app and software development cost is drastically lower comparing it to the US and Western Europe.

Companies that have already discovered the IT outsourcing potential of Poland include HP, Microsoft, and IBM among others.

To sum up what the country brings to the table when it comes to IT outsourcing to Poland:
About 300,000 IT specialists available for hire;
Over 15,000 IT graduates entering the market each year;
Ranking 13th in the EF English Proficiency Index.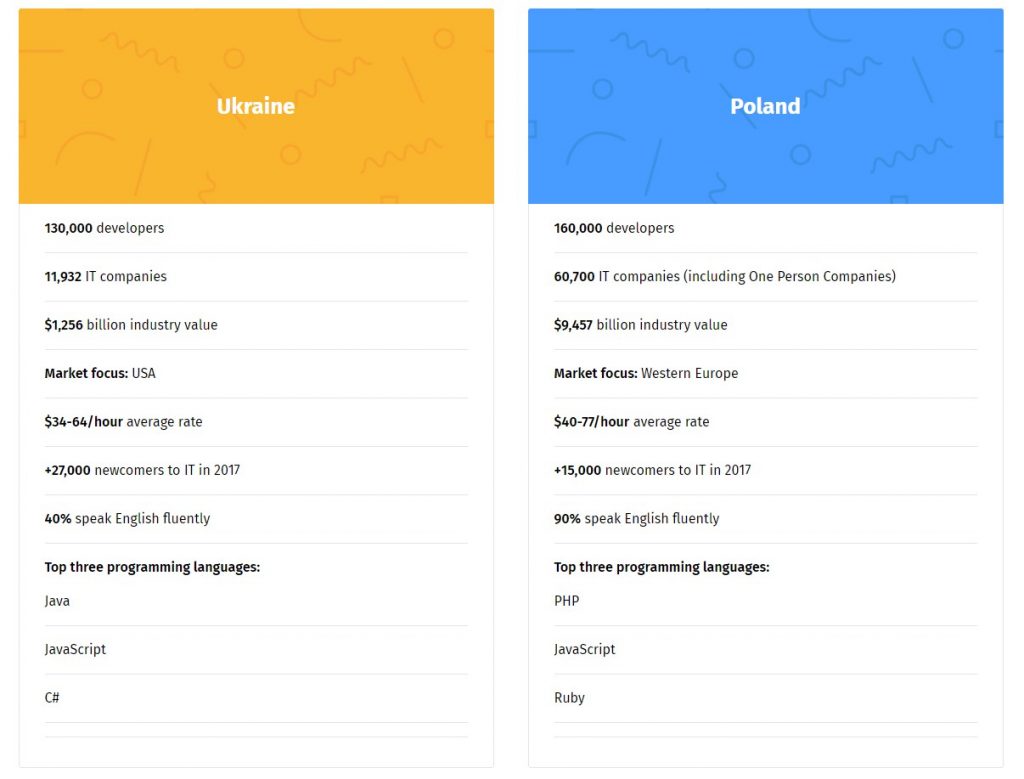 General Specifics of Outsourcing to Poland vs Ukraine
Before jumping into the comparison of professional labor markets in the countries, let's take a look at the general specifics of each in terms of outsourcing opportunities and conveniences.
#1. Geography
Ukraine
Ukraine is the largest and most conveniently situated country in Europe. It takes a couple of hours at the most to fly to Ukraine from most EU capitals. On top of that, most trips are visa-free. In particular, if you're from anywhere in Europe, the USA, or Canada, you can forget about a visa stay in Ukraine for up to 90 days.

All that is a huge advantage for everybody looking to outsource work to this highly-demanded business destination. Easily reaching and connecting with the main local IT hubs (Kyiv, Kharkiv, Lviv, Dnipro, and Odessa) certainly makes things easier for EU-, US-, and Canada-based businesses.
Poland
Poland is among the largest economies in Europe, fueled by the population of over 38 million residents. EU membership of the country opens access to government funds and helps handle the issues of unemployment and weak infrastructure efficiently. The major advantage of Poland outsourcing is economic and political stability.

Another essential benefit is the proximity to many other European countries. And when it comes to the distance from United States, the time difference between Poland and New York is only 6 hours.

IT outsourcing-focused city destinations include Krakow, Warsaw, Wroclaw, Poznan, and Tricity (Gdansk, Gdynia, Sopot).
#2. Pool of IT outsourcing companies & specialists
Ukraine
The total number of available IT specialists in Ukraine went over 180,000 in 2019. It is now well over 200,000 talents. IT outsourcing companies make up the largest share of the Ukrainian IT services market. Over 1,500 Ukraine-based companies provide IT services as their primary specialization.

As the demand for IT professionals grows, universities are more focused on graduating more students with computer science degrees. There are also tons of specialized IT courses and internship programs offered by many software development companies available, which makes it easy for people to transition their careers and become IT professionals.
Poland
Poland has the largest working population in Central Europe, made up mostly of people under the age of 34. 279,800 specialists is the total number of IT specialists for 2018. Most of them live and work in Warsaw and Krakow.

At that, the competition in the local labor market is much fiercer than in other European countries. For instance, tech giants such as Google, Amazon, and Microsoft have large R&D centers in Poland where they try to employ the top IT experts.
#3. Politics and local culture
Ukraine
The IT outsourcing industry is so demanded and rapidly growing also due to the cultural traits similar to those they have in Western countries. Ukrainians are European at the core, they are open-minded, tolerant, inquisitive, and determined.

As you may know, Ukraine is currently going through an armed conflict with Russia. That shouldn't put you off, however, as the country is totally safe for outsourcing software development, with the largest IT centers being absolutely peaceful.
Poland
Poles are also Europeans with mentality and values pretty close to Western traits. Smooth communication with an outsourced software development Poland-based team is guaranteed. Compared to other popular IT outsourcing destinations such as India, the country has a close political and social affinity with Western Europe and North America.

The Polish government contributes significantly to the support of the IT sector, introducing numerous business-aiding reforms. It also contributes to the creation of an investment-friendly environment. As a business center, the country offers attractive tax incentives, low inflation, and stable GDP.
#4. IT industry climate
Ukraine
Information and communication technologies have become the third largest export services industry in Ukraine, accounting for over 20% of all Ukrainian service exports.

The USA and Western European countries are the largest export markets for Ukrainian IT outsourcing companies. In terms of key industries, Ukrainian IT service providers mainly specialize in eCommerce, telecommunications, data management, cloud, gaming, media, fintech, and healthcare.

In 2019, Ukraine was ranked 20th in the AT Kearney global services ranking and outstripped other IT outsourcing countries in Eastern Europe, such as Poland, Romania, Latvia and Hungary.
Poland
The Polish market for IT services is growing steadily. The AT Kearney Global Location Index for 2019 ranked Poland as the 24th most attractive IT outsourcing destination, 4 positions lower than in Ukraine. The country is also ranked 9th in Tholons' Top 100 Outsourcing Destinations.

The ease of doing business ranking puts Poland in 33rd position, as it offers favorable conditions for foreign investors. No wonder such corporate giants as Google, Microsoft, IBM, and others didn't pass on opportunities of software outsourcing to Poland.
Polish vs Ukrainian Developers: Skills Comparison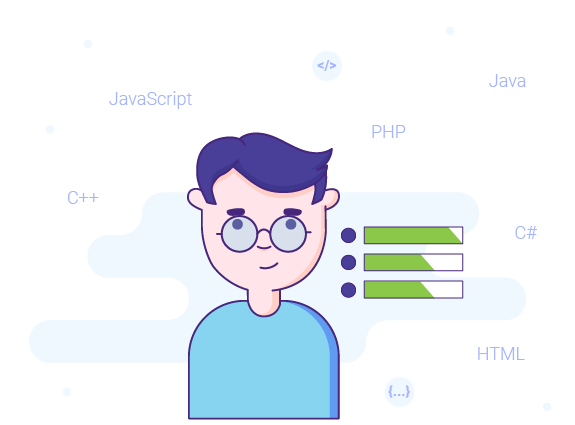 #1. Hard Skills
As the survey conducted by dou.ua in 2017 reports, the most prevalent programming languages in Ukraine include Java, JavaScript, and C#. The top three is followed by slightly less popular PHP, Python, and Ruby. Ukrainian IT sector also employs a decent amount of skillful developers with solid knowledge of Swift and Objective-C. Less in-demand yet still accessible are devs with Scala, C, and 1C expertise.

A distinctive feature of Ukrainian IT professionals is that they sincerely thrive on innovation. Such recently released programming languages as Kotlin and Go have already entered the list of twenty most used programming languages.

On the contrary, the Polish IT sector is just starting to build its expertise in the use of such cutting-edge technologies.

According to trends.builtwith.com, the most distributed programming languages in Poland are PHP, JavaScript, and Ruby. Java is a little less popular, yet still, a very large share of Polish IT specialists offers strong MS stack expertise, primarily with hands-on experience of C# and less frequently with other .NET languages. Not as widely spread but still used by a lot of companies are Python, HTML, C++, XML, CSS, Swift, and Perl.

Generally speaking, the Ukrainian IT sector is concentrated around single user-oriented software development, while Polish devs gravitate towards the development of enterprise software products. However, the labor forces of both countries thoroughly keep abreast of ongoing trends and changes in the IT field, thereby adapting their skills and expertise to the market demands.
#2. Soft Skills
Fruitful collaboration is impossible with insufficient communication and understanding between all contracting parties. As opposed to long-distant offshore regions, European citizens are way more similar to Western people in terms of mentality. In Ukraine, as well as in Poland, quality of the delivered service and respectful attitude to the client are amongst the top priorities of every reputable IT outsourcing company.

Local devs also have no problem with the implementation of various project management methodologies from Agile to Kanban or Waterfall in their operations. What differs these two markets is the fact that the vast majority of Ukrainian IT services (de facto, more than 80%) is delivered to the Western countries, most frequently to the US. Meaning, the Western region is the key focus of the IT sector in Ukraine.

Meanwhile, the Polish IT industry distributes a decent share of programming services to local entrepreneurs and positions their companies to suit Polish business owners.
#3. English Literacy
A separate word should be said about the command of English in Polish vs Ukrainian programmers. In terms of bilingual employees, Ukraine is far behind Poland, where more than 90% of devs speak English well enough for professional use and 30% offer German-speaking skills as well. As reported by n-ix.com, only 40% of Ukrainian IT professionals have an advanced level of English, however, the level of English in top IT outsourcing companies is drastically higher than in smaller enterprises.



Summary
So, where to ultimately go when the need for high-quality, smoothly-going outsourcing services appears?
Low labor cost and top-notch quality of programming solutions are two key reasons why Eastern Europe has become the leading outsourcing destination for the US, Central Europe, and the UK. Both countries under our review have strong intellectual potential and offer a great number of skilled IT professionals. 
Ukraine tops Poland in taxation and wages, as Ukrainian devs' expertise is just as high as it is of Polish programmers for a lower price. Also, the technology range seems to be a bit wider in Ukraine. Nevertheless, Poland also has a lot to offer, for example, stronger English speaking skills in developers, a more stable economy, and government transparency. 
If you are looking for outsourcing solutions that would benefit your business, these two countries are definitely worth your attention. For more options of nearshore application and web development, read our overview of software development outsourcing companies in Ukraine.