Introduction
While desktop spendings continue to show steady growth year by year, the share of online retail sales through the mobile medium has increased nearly twice as much by the end of 2016. The cause of that is the seamless process that customers experience at every tap of the screen.
Mobile platforms provide tools for studying and gaining the through-and-through understanding of customer journey. Marketing specialists can finally grasp what influences the decisive moment of making a purchase. All this knowledge is a must for engineering a smooth user experience that wins hearts and minds of prospects while increasing brand's revenue.
Just the ability to access a business and its product through the medium carried in the right back pocket of Levis' is enough to choose it over any other thing present on the market.
Read on if you are still chewing over the need to get a mobile app and try to find out what e-commerce app development consists of.
Let's begin our journey into application creating with a little detour to the requirements for a development of an e-commerce app. Is it really that easy to dive into app making or there are some traps and pitfalls on the way?

Things to take care of:
#1. Security
The initial idea of all e-commerce apps is to give users ability to buy goods by tapping on the screen of their smartphone. The first and foremost element that should be considered is the security of user's private data. E-commerce applications require plenty of confidential information in the process of making a purchase (e.g. shipping and billing address, card number, CVV code, email) so its protection from harm has to be your primary concern.
How is a new application going to guarantee the safety of users' private data? And what mechanisms can be used to prevent it from falling into the hands of cybercriminals?
If you fail to assure users of the absolute safety of their personal info, it creates the risk that app will never get to the top.
#2. Stability
Instability and crashes is a no-go for a mobile e-commerce app. Making the app stable should be on the list of top priorities if you plan on returning the investments and raise sales volumes. In general, users prefer to not waste their time on apps that are not consistent or well-balanced.
Of course, creating a perfect product without any difficulties or bugs is hardly possible. It is necessary to carry out quality assurance tests, receive feedback from customers, regularly release fixed updates and continue to slowly improve the app step by step.
#3. Scalability
Scalability is app's potential to handle the growing amount of work. As application gains popularity, it compiles more users and more requests to handle.
The scalable application can maintain or even improve its efficiency as load continues to increase. Meaning that an average response time, a number of requests proceeded per second and so on would continue to increase by demand proportionally.
#4. Style
Creating an app for a myriad of platforms calls for a top-notch design that answers the requirements of both Android and iOS, and can satisfy their users. You should consider the demands of these operating systems and capacities of different devices that support them. Application's design plays a significant role in reaching the top charts of app stores.
It has to be visually attractive and intuitive in use. Remember, users are lazy and impatient. Anyone would get annoyed by a slow app that is hard to figure out.
Offer several payment methods
Now, e-commerce applications are all about sales and specials. Payment is the valuable feature people are after. For the sake of supplying users with a safe and easy-to-use payment system, it is necessary to add a payment gateway and processor into the app.
You wonder what a payment gateway is? In short, it's a connected service that allows charging your customers credit cards while they make purchases online. Usually, such payment gateway is provided either by a bank or a particular financial service provider. Payment gateway acts as a mechanism that connects your application to the acquiring bank by transferring the information back and forth.
What should one pay attention to when deciding on a payment gateway? Take a look at a couple of options you have here.

#1. Integrate a gateway API
There is quite a number of payment gateways that can be successfully integrated into the e-commerce platform of your choice. This way users will be able to submit their payment information into the form inside your app without any redirections or outside services.
However, while it is the simplest way for a user, it is not the most safest. The information about credit cards, payment, secret passwords will be stored on your company's servers, so to omit data leakage and fraud you will have to take security precaution measures to comply with Payment Card Industry standards. As far as small or even middle-sized businesses are concerned, this is the least cost-effective solution.

#2. Using the services of payment gateway providers like Stripe or Braintree
Stripe and Braintree have a PCI LEVEL 1 Service Providers certification – the highest level of existing certification system. These guys are going to deal with a majority of delicate issues concerning payments and data safety.
By integrating any of these payment gateways, the payment information of your customers will be transmitted directly to the payment systems' servers. The only thing on your hands is to fill in their questionnaires.

Brief summary of the e-commerce mobile app development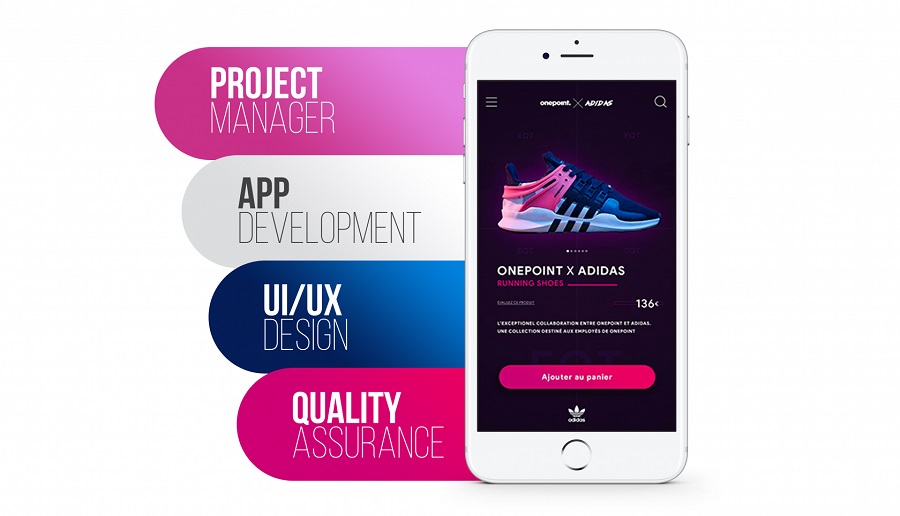 When all preparation steps have been made and decided upon, it is time to move further to the application building. Next, we will cover what kind of team and technologies are required for e-commerce.
The perfect team for app creation consists of:

Project Manager

UI/UX Designer

iOS Developer

Android Developer

Backend Developer
Quality Assurance Tester
Key features that need to be implemented in the app on the stage of an MVP are:
Authorisation
Provide users a choice whether they should register through email, phone number or a social media account;
User profile
This feature will consist of user's personal information (email, name and surname, shipping address, buying history, wish-list);
Feed
Add a list of offered items based on user's preferences that can be updated in real time to retain their interest;SearchA search bar where user can type in what they look for and filter the results by brand, color, size, season, model, and so on;
Payment system
Online support
Users can get confused with size-charts, delivery methods or just have trouble placing an order. It is necessary to add an online chat or a call center to support the app;
Rate, comment, and review
Users rely on each others' opinion in making a decision whether to go for a product online, as there is no way to try it on or see a color in real life. Adding a rating system for goods and a comment section to give feedback on offered goods/services is going raise the truthfulness to your business.
Order tracking (optional)
This feature gives users information on the status of their delivery.
Each stage of the app making needs some time, and that is also going to affect the final sum. App development is all about planning and time scheduling. You can't just come to the vendor's office with your own schedule and budget. The total cost of an application heavily depends on the human hours it takes to make.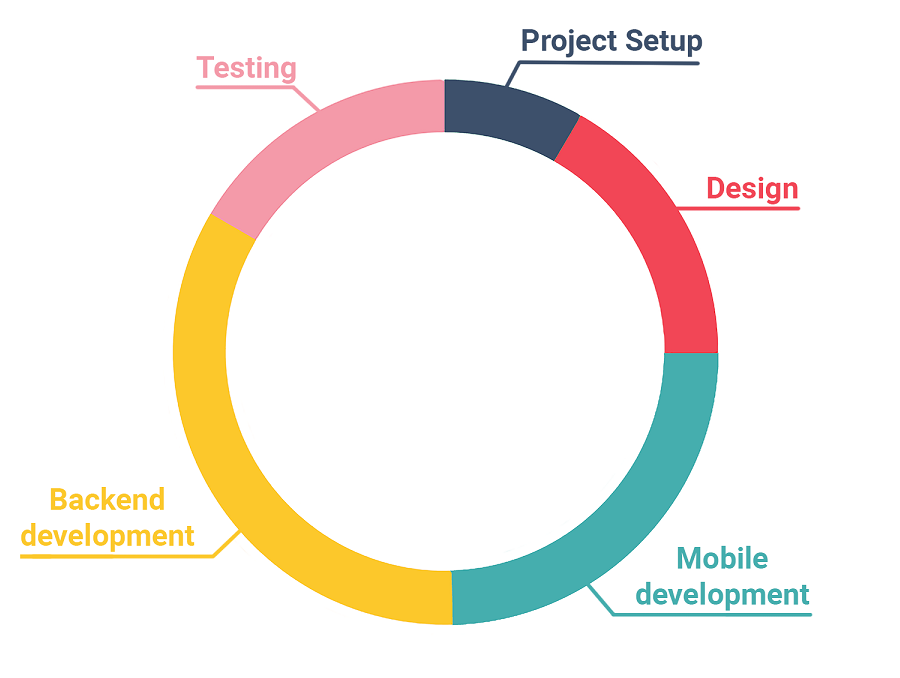 The draft time plan for the app development is going to look like this: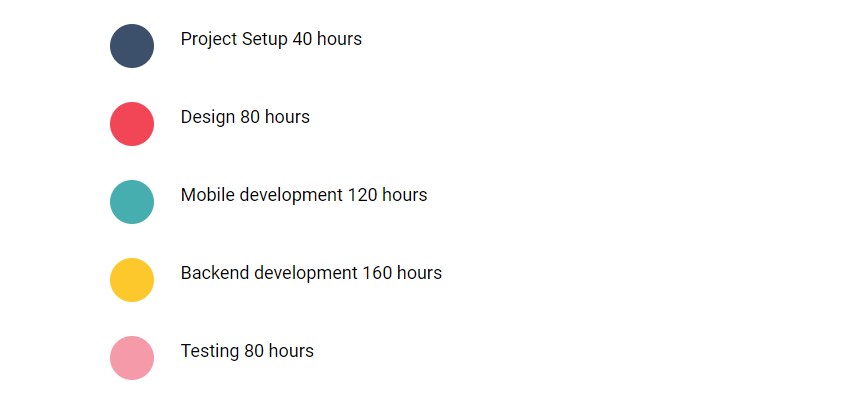 The most time-consuming features to develop are:

Feed 10 hours (can be more or less depending on the UI's complexity);

Integrating payment system 40 hours;

Customer support chat 16 hours;
In total, developing an app for e-commerce may take up to 500-600 hours depending on the number of features and their difficulty. Software development process has to be well-planned to avoid hidden costs, unnecessary re-dos and unwanted time expenses.
IDAP provides proper planning for every project we deal with, no matter how big or small it is. Our project managers diligently study your business needs and offer tech solutions to meet them. Especially if you have strict money and time limits.
Summary
The work does not stop after the app is officially introduced to the audience. The application has to be improved, fixed, and regularly updated to match new versions of operating systems. The development of user-centric approach urges businesses to create the best user experiences possible to stay on top.
If this article did not fully satisfy your curiosity and you have some questions regarding the making of an e-commerce application, please contact us. We will be able to assist you with our experience and tech expertise in creating custom solutions for small to middle companies and enterprises.