What makes more business sense:
Do it in-house or outsource?
That's the question many business decision-makers are facing these days. Maybe you're one of them—since you're here looking for outsourcing examples.
In this post, you'll learn what common tasks companies outsource and what benefits they're getting from this investment.
Go to sections:
See IT outsourcing examples done by IDAP.
What Is Outsourcing?
Outsourcing is a business practice of hiring an outside company or individual contractor to carry out tasks and projects that were previously done in-house. Companies choose to outsource to reduce costs and fill in the talent gap.
The Deloitte data suggests these five main goals of companies that use outsourcing.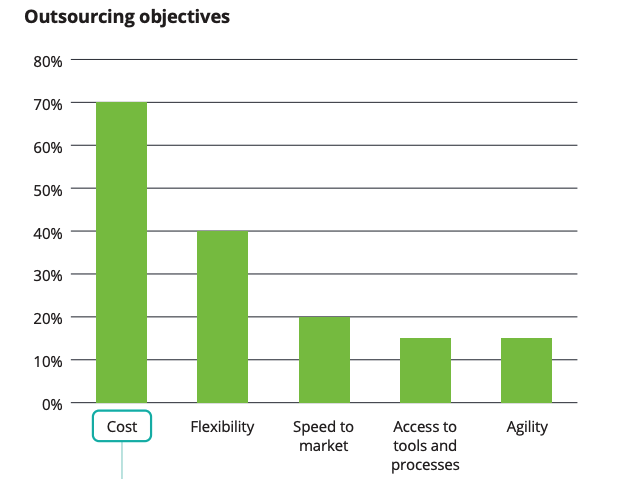 Businesses can outsource services onshore (within their home country), nearshore (to a neighboring country), or offshore (to countries located in different time zones and even continents). Offshore outsourcing is the one arrangement producing the most significant cost savings.
Basics of outsourcing:
Agreement on the transfer of certain scope of work
The term of the contract must be at least a year (long-term cooperation)
Only secondary functions can be transferred to the outsourcer
The possibility to relegate some business processes
Advertising, office and warehouse cleaning, and website development are the best examples of outsourcing. Most business owners delegate authority to outsourced specialists when it comes to bookkeeping, maintenance, and recruitment. This helps enterprises to focus most of their resources on the main activity.
Outsourcing Examples
1. IT Services
IT outsourcing means that a business transfers a part of IT-related tasks to a third-party contractor to save costs. Basically, this means having those tasks done by others while controlling all the processes fully.
The most common outsourced IT tasks are:
Website development
Application development
Cybersecurity tasks
Maintenance and tech support
IT infrastructure
Getting started with IT outsourcing is easy. Just find a software development outsourcing company (reviews platforms like Clutch are a perfect place for that), check reviews, and get in touch.
Our own company, IDAP, is also an outsourcer of web and mobile software development (we're rated 4.9 stars on Clutch 😉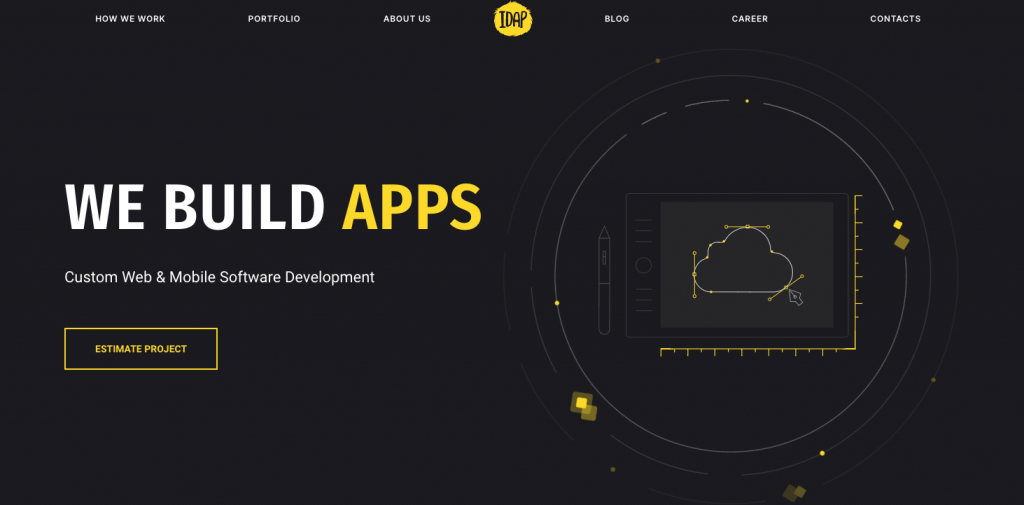 The examples of outsourcing in IT are everywhere:
Starbucks outsources cybersecurity tasks
Slack uses third-party vendors for their app design
WhatsApp has outside contractors for iOS app development
Although the companies on this list are quite big, IT outsourcing is affordable for small businesses. After all, the purpose of this business strategy is to get high-quality work for lower budgets.
---
Dive deeper:
---
2. Customer service
Customer service outsourcing means a company uses outsourcing services to help out with answering phone, live chat, email, or social media messaging support.
Benefits of hiring external support providers:
Availability. You can hire support agents in the time zones of your choice to make sure that your business is more available to customers
Flexibility. More support agents means that a company can handle more service requests and even after-hours support
Professionalism. You can get access to highly trained and experienced customer support agents from all around the globe
Customer service is a great example of outsourcing also because it's easily affordable for most businesses.
For example, if we look at outsourced customer support companies on Clutch, we'll see that you can hire a top-rated contractor for as little as $1,000.

3. Accounting
Outsourcing in accounting involves the transferring of an organization's functions and bookkeeping. Its financial side is the most complicated aspect of business processes.
The partnership between the enterprise and outsourcer depends on the volume and nature of the required services. The goal is the ability to manage several business processes at the same time. The leader needs to have knowledge and experience in this sphere.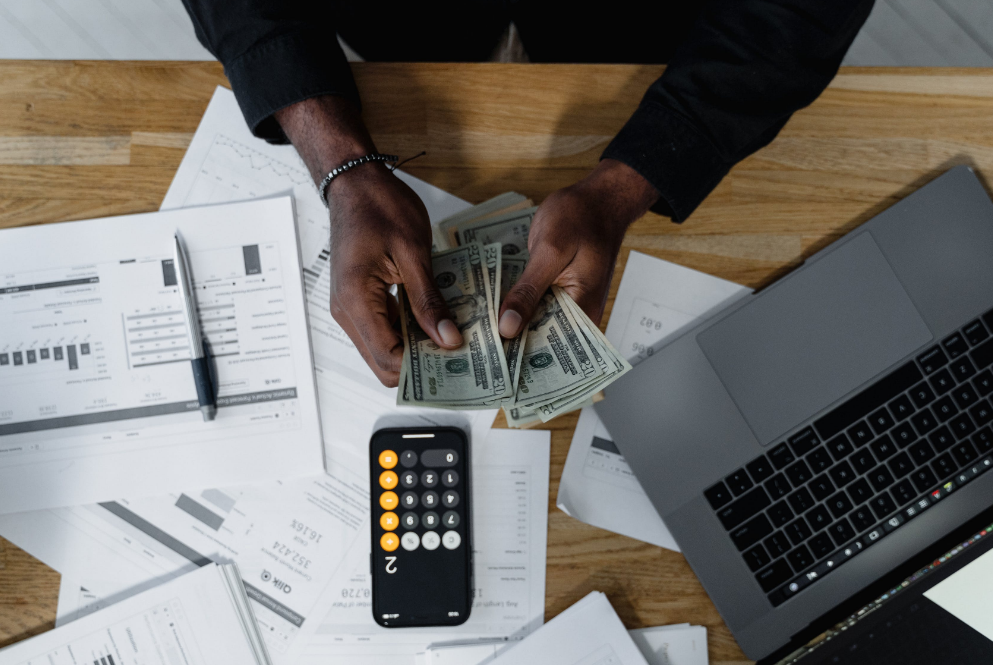 Small firms need easily and narrowly focused accounting services to transfer these functions to a third-party company. It allows businesses to save on installing and updating accounting software, staff salaries, and taxes.
4. Legal services
Outsourcing legal services means using both local and foreign lawyers and law professionals to perform tasks such as document reviews, legal compliance, non-substantial court appearances, and others.
Law offices provide outsourcing services in different aspects of business legal support. They can help you in labor, corporate, and tax law, as well as provide legal support in court. International law companies can help you with foreign economic activity and exchange regulation.
Here's a promo video from a Poland-based outsourcing agency for you to learn more about what these businesses help with.
5. HR (Talent Acquisition)
HR or talent acquisition outsourcing happens when a company hires an outside contractor to manage some or all of its HR processes. Those processes include recruiting, payroll processing, managing employee perks, and more.
Let's take talent acquisition for example.
In this case, an external HR professional will take care of:
Creating and posting job ads
Finding qualified candidates online
Contacting candidates and setting up interviews
Taking part in interviews together with in-house HR professionals
Many HR outsourcing companies also do a lot of networking, so they can find a qualified candidate quickly. As a result, companies save tons of time and get the employees they need.
Data shows that outsourcing will become more and more popular in the future. In fact, it's projected that the global HR outsourcing market will reach $45 billion by 2027.
6. Manufacturing
This type of outsourcing is actively used by huge enterprises that have large production capacities. For instance, all the automotive industry's global brands successfully transfer various functions to highly specialized firms.
Outsourcing in production allows the enterprise to focus most of its resources on creating and improving quality services or products. It is crucial because of new technologies that appear, changes in priorities in the sales market, and conditions of extreme competition.
H&M, one of the biggest fashion retailers in the world, gives us an example of outsourcing manufacturing. The company does not own its production facilities—it rents them in 50+ countries.
Here are the top 10 countries with the most suppliers (blue in the image) and factories (black) of the company.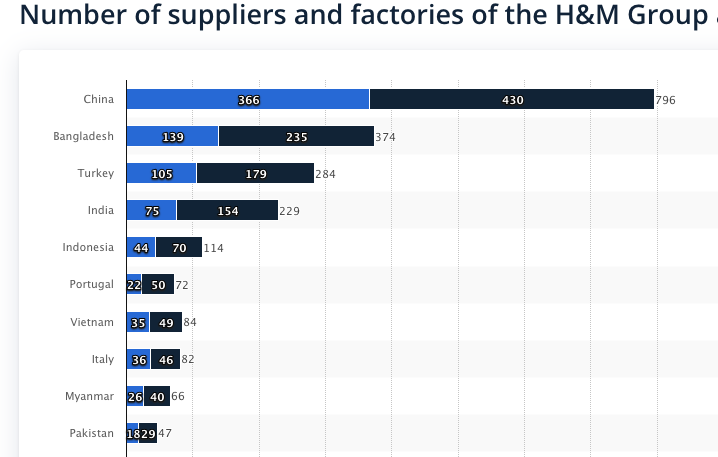 You can also see the full list of supplies on H&M's website.
7. Logistics
Many years ago, enterprises had to invest a lot of money into preparing and maintaining large staff responsible for coordinating transport and warehouse processes. Nowadays, you don't need to maintain a special transport department. The only thing you need to do is to contact a logistics company.
And many choose to do so. The best proof is the fact that the global logistics outsourcing market is now worth $986 billion.
Logistics outsourcing companies have the opportunity to deliver your goods anywhere in the world. You can use the services of railway, car, ship, and air logistics. This type of outsourcing delegates most transport operations to other companies. It significantly reduces costs and simplifies business process management.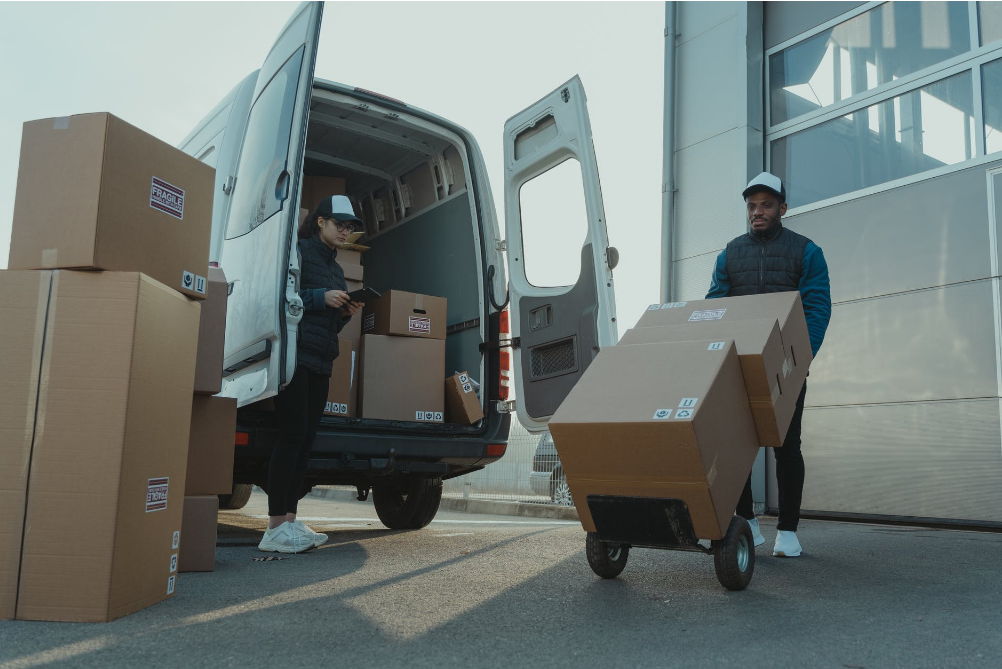 Logistic companies can provide not only transportation services but stock storage too. You don't have to search and rent warehouses and worry about the safety of your products.
Choosing the best logistics operator requires paying attention to their reviews, service prices, and execution rate. The efficiency of interaction between customers and logistics companies depends on many factors. You have to consider product features, the amount of freight traffic, and delivery frequency.
8. Marketing
Outsourcing marketing is a process of hiring third-party employees or agencies to do or oversee marketing activities. Marketing is one of the most common examples of outsourcing because businesses will always want to promote themselves in professional and unique ways.
Examples of outsourced marketing activities:
Content writing
Managing social media accounts
Creating advertising campaigns
Carrying out market research
Doing email marketing
Making the entire marketing strategy
Influencer marketing
Outsourcing email marketing, for example, can help a company ensure that emails they send are consistent, relevant, personalized, and comply with spam laws. In turn, that helps to build good customer relationships and get sales.
9. Cleaning services
Question:
Have you ever seen business centers located in skyscrapers?
Then you have probably seen window washers hanging in the air and cleaning hundreds of windows. That is one of the best examples of cleaning service outsourcing.
But of course, the range of services that can be outsourced is much wider (source: TOH):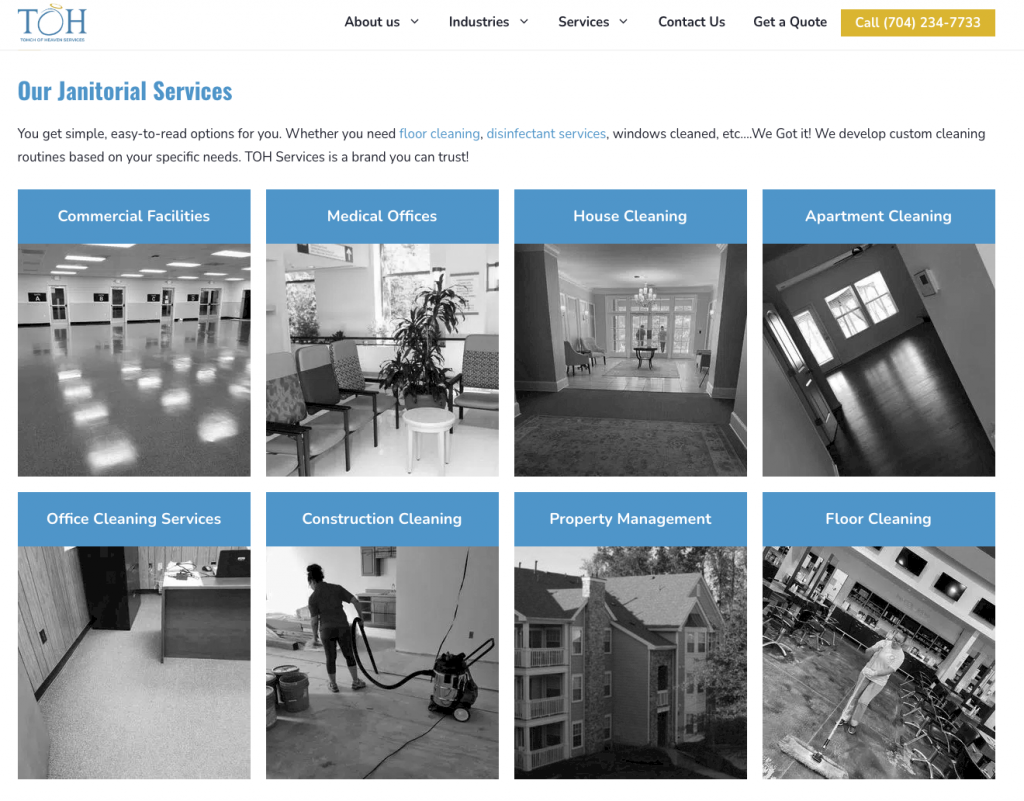 Owners of small shops, supermarkets, huge business centers, beauty salons, and pharmacies are clients of cleaning outsourcing companies since they are convenient and professional. Cleaning firms perform many functions: from searching and training personnel to organizing and controlling the work process.
10. Business Development & Sales
Why outsource something as important as business development and sales? Well, with so many projects on their plate, business owners find it tough to keep their companies moving in the right direction (and their sales pipelines full).
In the case of sales outsourcing—
Making this decision makes sense when you want to build your sales pipeline faster. For example, maybe you want a highly trained professional(s) to put your product in front of more clients or reach new markets.
Outsourcing sales also includes lead generation, research of new markets, and contacting clients and meeting with them. That's why this outsourcing example is especially helpful for companies with small sales teams.

Summary
As you can see, outsourcing examples are everywhere—and for a good reason. Although there are some drawbacks of outsourcing, this strategy can help companies of all sizes focus on the most important activities instead of routine tasks.
Our own company, IDAP Group, specializes in software development outsourcing services. We can build top-quality apps, websites, and software for any business (as proven by our reviews) for a price that suits your business.