Try to type the title of this article into Google search. You will see advertisements for courses and articles with long lists of skills that the reference PM must have to defeat all the dragons on the project, save all the princesses, and quietly stand aside when clients pay tribute to the campaign's success. Meanwhile, here you'll find everything you should know about the Project Manager's activity and approaches from a practical perspective. Read on to explore details.

Related: Why Project Managers are Driving Software Development Process: 101 Guideline for Business Leaders
How to become a good PM through the eyes of a client
Well, there are no questions – we open articles, in the title of which there will definitely be 10+ points that you need to be equal to. What is usually said there: an ideal PM understands everything in a second, rallies the team, reduces communication to a minimum of time, writes documentation with one hand, writes a letter to the client with additional sales with the other, juggles risks with his left foot, checks Jira with his right foot and follows the team with one eye. Well, to top it off, they are understanding, in the past, full-stack developers had an adamant nervous system and would answer around the clock.

Basically, it's an IT version of Batman and Kowalski with a bunch of plans as accurate as a Swiss watch. With all this, they will be the soul of the whole company and will have the individuality and uniqueness of a snowflake, easily becoming a cog in the complex mechanism of a large corporation. You see – nothing complicated.

Okay, speaking seriously, a lot is really expected from an ideal PM:

a bunch of different theoretical knowledge
risk management/human and a bunch of other types of management,
confident team play
foresight, and many more
Is it justified? If it's valued, your salary is adequate – of course. Is it possible to demand this from a person who is just starting their journey in IT – no. Well, you can if you want that person to immediately burn out and never go a step further into the field of non-technical specialists.

Here we can find a danger of such articles because a beginner PM or someone who evaluates their abilities will think this is too much and go further. In fact, they could become an excellent specialist, but the overstated bar did its dark deed.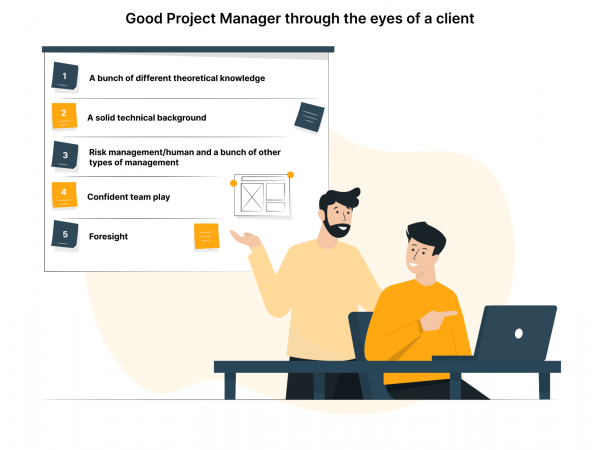 Related: Communication Strategy for Project Management: How PMs should work with clients
How to become a good Project Manager through the eyes of a Project Manager
I remember taking part in the presentation of the PM course for beginners and talking about what it was like to be a PM, what I faced, and what I wished I had known beforehand and shared everything I thought was important. After my speech, one person later wrote me some gratitude words because they realized this was not for them, although they considered the possibility of working in this position. Not that a person has lost much, but at the speed of our life, two months of training, an indefinite time to look for a job, and at least half a year of actual experience for someone could be, if not fatal, then critical.

I remember asking my colleagues, who conducted my interviews, why they chose me. With a minimum of technical knowledge, they took me mainly because of:
the flexibility of mind
openness to dialogue
the ability to find an approach to a person
Therefore, to be a good PM, you need to be a person first — a person who can separate work and everyday life. Often, we, PMs, have to stand at our own throats and go against our own opinion – the last word is up to the client, no matter how much you want to make the product better – it is not yours. You can be a friend to the client, not agreeing on one feature, arguing, or screaming, but after that, go quietly and drink beer together after the call.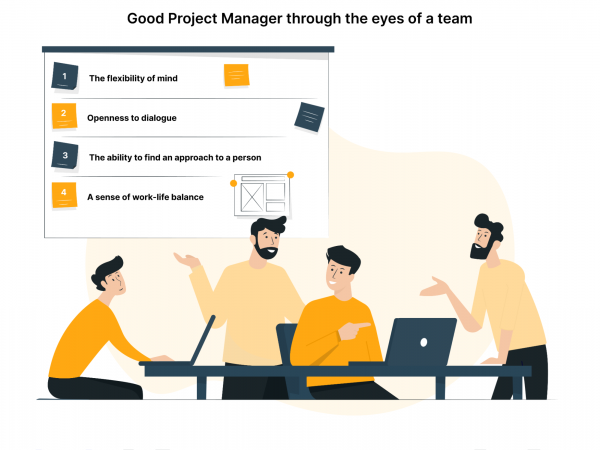 The same with teamwork; communication here is a separate song. Accordingly, the flexibility of the mind and the nervous system in this profession is simply necessary. Touch with people is also a must-have because you spend 60-70% of all your time in communication, and you can't be angry, nervous, rude, and behave according to your mood because you are a professional and follow the rules of ethics.

We can talk for hours about what will make you a good PM, and trust me, a good half of one PM's deductions will cause butthurt in several others. I rewrote the part about the PM three times through the eyes of the PM, and it was very expressive because it is pretty challenging to complete everything in one article, and there is always a question – what is more important?
Related: About Project Management Role Firsthand: Confession of a Project Manager

Summary
When wondering if you can become a good PM, ask yourself: are you ready to interact closely with people? If not, it doesn't matter if you want to be a manager in IT, advertising, architecture, or something else. If you don't know how, don't like, or even don't want to work with people, the PM is definitely not for you, and you will not become a good PM. And if you love all this, you have everything to become a good PM.
Looking for more details about the Project Management role in software development? Contact our team to get a deeper understanding.