The digitalization of industrial organizations has long been lagging behind retailers and B2B companies. But the recent 2020 pandemic has, in a way, forced many industries to adopt more digital solutions to reach customers and continue delivering services without compromising safety. In the 2020 survey, as many as 97% of the respondents stated the pandemics sped up the industrial digitalization in their organizations.

In the end, those who do not evolve, get out of the business. Therefore, digitalization has become an imperative for all organizations in order to stay ahead of new customer demands and technology trends. So let's talk about industrial digitalization in more detail and find out why it is important more than ever and how different industrial sectors are leveraging digital technologies.
What is digitalization in industries?
Industrial digitalization, also called digital transformation, digitalization, or digitization, is the process of integrating digital tools, workflows, and approaches into every aspect of the business within an organization. Organizations from every industry and vertical can adopt this process to become more agile, efficient, and value-driven.

Digital transformation is often aligned with Industry 4.0, Industrial IoT (Internet of Things), smart manufacturing, Artificial Intelligence (AI), Augmented and Virtual Reality, Big Data, robotics, and machine learning (ML). However, digitalization goes beyond the plain adoption of digital tools. This process also affects other aspects of the business, including the people, processes, and technologies.

That is why industrial digitalization can be regarded as a radical rethinking of how the people work in every department; a shift that transcends traditional roles and causes everyone to accept continuous changes and to work in a more connected way across the entire organization. The goal is to introduce a fundamental change in how an organization functions and how it interacts with its customers. While the result is a significant improvement in business performance.
What are the 4 main areas of industrial digitalization?
If your organization is planning to launch an industrial digitalization project, then there are four main areas to consider.
Main Areas of Industrial Digitalization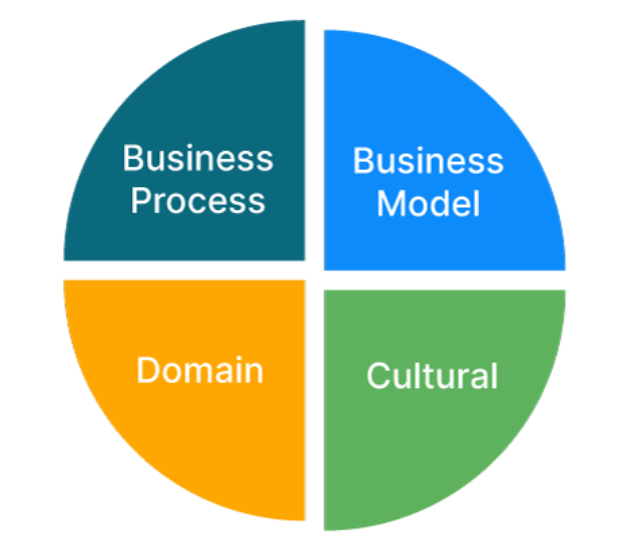 1. Business process transformation
Process transformation focuses on the "how" of getting things done. Therefore, with regards to digitalization, it involves the use of digital technologies to automate and improve existing business processes.

It could improve such business processes as data entry through automation; decision making with the help of the AI; and manual operations (e.g., HR operations, procurement, supply chain, and sales) with the business process automation.
2. Business model transformation
Business model transformation is similar to business process transformation but aims to introduce changes on a much bigger scale than just processes—the whole business model. The business model transformation process requires leaders to rethink how the digital tools of today can help them reshape the model of how their organizations create and deliver value for their companies.

Business model transformation can take brick and mortar businesses online; get closer to customers with mobile apps; replace snail mail with email automation; or change the way consumers order and have delivered their food.

3. Cultural transformation
Cultural transformation can be the most challenging business transformation activity. That is because the change in corporate culture is typically driven by the personalities of leaders and how employees are rewarded and recognized. It also takes longer than any other type of transformation, partly because it is more difficult to translate cultural transformation concepts into action.
4. Domain transformation
Domain transformation takes place when one organization manages to effectively transition from one industry domain into another. Amazon, for example, has expanded services by launching its own streaming platform (Amazon Prime) and Amazon Web Services (AWS)—both of which belong to two different domains.
The benefits of the industrial digitalization
What is so special about industrial digitalization that makes it so valuable to the industrial and manufacturing sectors? The key benefits of this rapidly-evolving cluster of digital technologies include the following:

Increases cross-organizational cohesion by facilitating communication between departments.
Decentralizes production through the facilitation of mobility and remote communication.
Builds a better employer brand that attracts new talent, and fosters recognition and interest among the specialists.
Creates greater operational efficiency through the use of data and automation.
Reduces operational costs as a result of time and staff reduction.
Enables better use of data thanks to AI, analytics, and machine learning.
Opens the door to new business opportunities and revenue streams and thus makes the companies more competitive.
Speeds up the response rate to changes in demand in the market.
Which industries are most affected by digitalization?
There are countless opportunities in many industries for implementing new technologies to radically improve everything ranging from products to production systems. The industries that are most prone to industrial digitalization include:
Education
Education was already moving toward digitalization before Covid-19. But it really picked up the pace after the pandemic broke out and millions of children around the world were left out of the classroom.

Industrial digitalization in this particular domain could make better use of data collected from tests to enable help teachers to create more personalized lesson plans for each student. Other technologies, such as AR/VR (Augmented Reality/ Virtual Reality) would allow schools and other educational institutions to take students on virtual class trips to every corner of Earth and space.
Healthcare
Healthcare is one of the leading domains when it comes to industrial digitalization. Hospitals and medical facilities are becoming smarter by incorporating AI to diagnose conditions and assist with surgeries. Some of them are adopting blockchain technology to promote better medical file access and security. Moreover, wearable devices along with the expansion of telemedicine services are significantly changing the way that patients receive care.

Related: Healthcare Mobile App Development Is a Future For Your Hospital

There is also a significant increase in mental health startups that provide support to people suffering from anxiety, depression, and other mental disorders. Additionally, a wide range of mobile apps and workout streaming platforms provide users with personalized exercises and meal plans to help them stay healthy.
Transportation
Data is crucial for the digital transformation of the transportation industry. Drivers can use it to determine the most efficient shipping routes and the transportation companies to monitor potential safety hazards. Other technologies, such as 3D scanners are essential for shipping companies that want to track packages in transit.

The next decades will likely turn autonomous vehicles and deliveries by drone into a reality making the transportation sector much different than it is today. There are many other industrial digitalization initiatives on the rise. A relatively new approach called MaaS (Mobility as a Service) proved to be very helpful during the pandemic outbreak. For example, aggregator apps to help plan journeys that would comply with the social distancing requirements. Moreover, mobility systems such as ride-hailing and bike-sharing highly increase people's mobility within cities.

Related: How To Build A Transportation Management System
Manufacturing
Digital transformation has taken over the entire manufacturing industry. Such concepts as IoT (Internet of Things) and AI enabled many factories to become "smart factories." Smart factories automate tasks that otherwise would need to be done manually, thus increasing efficiency and reducing the number of errors. The IoT devices collect data which is later on analyzed and fed to the system to speed up the production process and increase the production output.

Related: Five Smart Uses of IoT Apps in Manufacturing

The latest manufacturing trends utilize 3D printing which allows companies to scale up the need for critical equipment (e.g. medical equipment like respirators and face masks) with the increased demand.
Finances
With regard to industrial digitalization in financial services, mobile-based payments are only the beginning. The broad implementation of Artificial Intelligence in this sector helps to provide fast and accurate customer service; conduct wealth management; and detect financial fraud. Some institutions also utilize blockchain technology for additional monetary security. In general, the sheer rise of the FinTech sector proves that the adoption of digital technology is progressing well in the financial industry.

Related: Artificial Intelligence In Financial Services: 6 Improvements of A Lifetime
Retail
Although the brick and mortar stores still exist and attract many consumers, shopping activities have largely moved online. Even grocery stores have joined the eCommerce ranks. Nowadays, there are more than a handful of leading shopping platforms available enabling new small business owners to open their online stores in no time.
With platforms like WooCommerce or Shopify, virtually anyone can become a seller and reach global customers with their goods.Whether you choose WooCommerce or Shopify, having seamless WooCommerce hosting can provide you with a reliable and efficient platform to manage your online store and serve your customers.

Furthermore, similarly to other industries undergoing digitalization, physical stores are also getting smarter. The IoT technology, mobile apps, and a smart customer management system, enable consumers to buy their groceries without the need for traditional check-out through the cashier or self-service machines. There are also fashion retailers experimenting with 3D scanning technologies to provide bespoke clothing to their customers.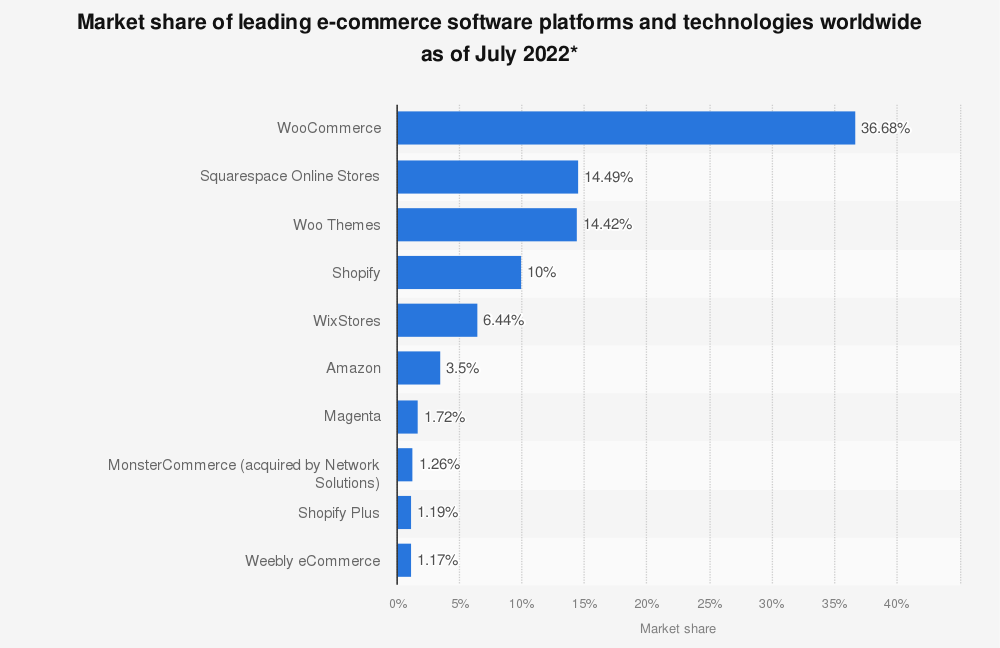 Summary
The adoption of modern technology has triggered numerous industries to evolve through industrial digitalization. Thanks to this, they became more efficient and competitive in the marketplace. 
You too can embrace the opportunities that digitalization brings and we can help you with that. Whether you are thinking about a custom mobile or web app, starting an eCommerce business, or launching a startup, our dedicated professionals can help you maximize your chances for success in today's ever-evolving digital world. Contact us to make your first step into the future!