If you're a restaurant owner, having an online presence is a vital element of building a successful business in today's digital world. A website can help customers find your establishment more easily, offer menu information and, and even provide the opportunity to order food online. But with so many options out there, how do you know which one is best for your restaurant?
We have compiled a list of the 15 best restaurant websites based on the following aspects: usability, design, attention to details, and unique features that restaurants use to stand out of the crowd and attract more diners. Here are the best restaurant websites of 2023:
Top Restaurant Websites of 2023
As the culinary landscape continues to evolve, it's essential for restaurants to not only provide top-notch cuisine but also have a well-designed website that represents their brand. In 2023, the best restaurant websites are those that provide a seamless user experience, showcase dynamic visuals, and offer valuable information.
1. Bandits in NYC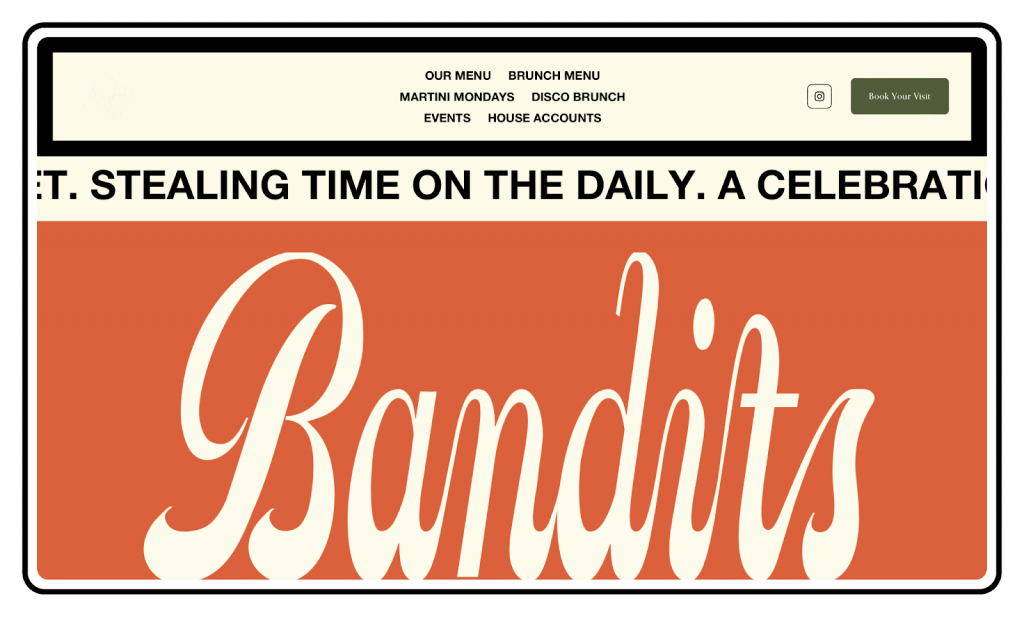 Bandits in NYC has a website that's as bold and playful as its name suggests. From the bright color scheme to the cartoon-like imagery, the website embodies the restaurant's irreverent approach to southern cuisine. The website also offers easy-to-use online ordering and delivery options.
2. Rare Bird
Rare Bird Rooftop Bar in Nashville, TN, has a website that captures the essence of the city, featuring images of local landmarks and musicians. The website also boasts an impressive virtual tour, inviting customers to explore the rooftop bar before they even arrive.
3. Bull & Last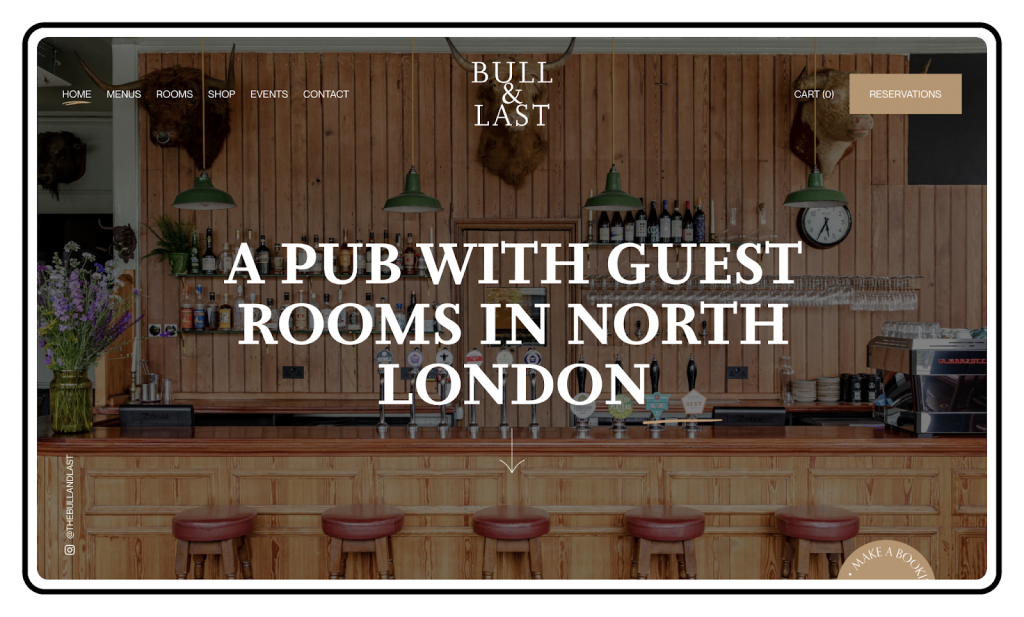 Bull & Last in London, UK, takes a minimalistic approach to website design, featuring a monochromatic color scheme and easy-to-use navigation. The website highlights the restaurant's commitment to local and seasonal ingredients, as well as its in-house butchery program.
4. King
King Restaurant has a website that's all about showcasing their culinary prowess, featuring stunning images of their cuisine and a detailed menu. The website also includes a blog section that provides insight into the restaurant's creative process and dedication to sustainability.
5. Anton's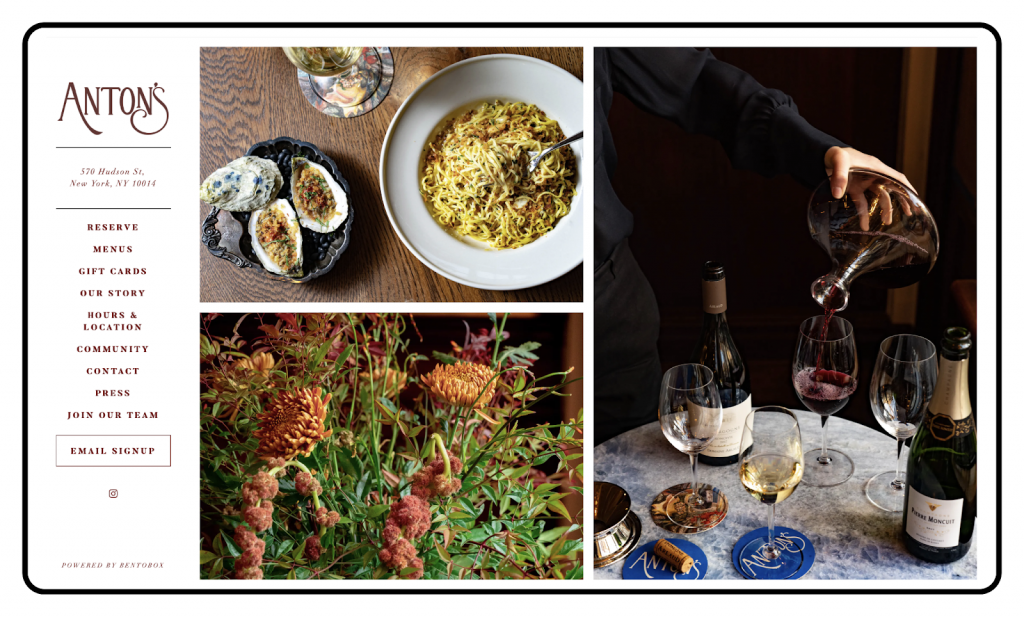 Anton's in NYC has a website that's as sleek and sophisticated as its cuisine. The homepage features muted colors and an elegant slideshow of Anton's dishes. The website also includes information about the restaurant's private dining options and seasonal menus, all of which reflect Anton's commitment to excellence.
6. Friends & Family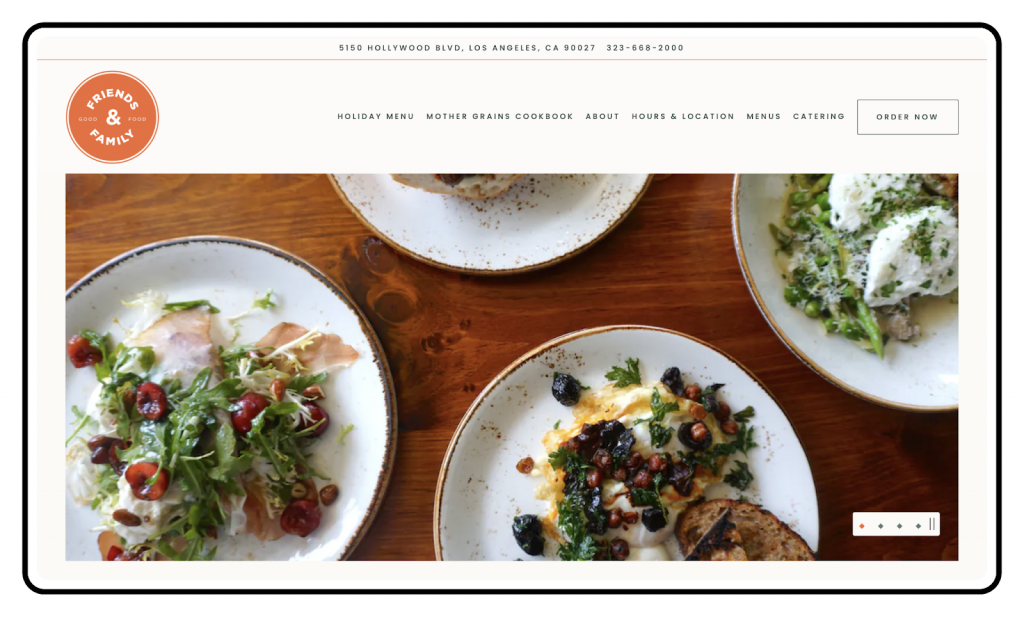 Friends & Family in Los Angeles, CA, has a website that's all about community, featuring user-generated content in the form of customer photos and reviews. The website also includes an online store, allowing customers to purchase Friends & Family merchandise and take a piece of the brand home with them.
7. Big Gay Ice Cream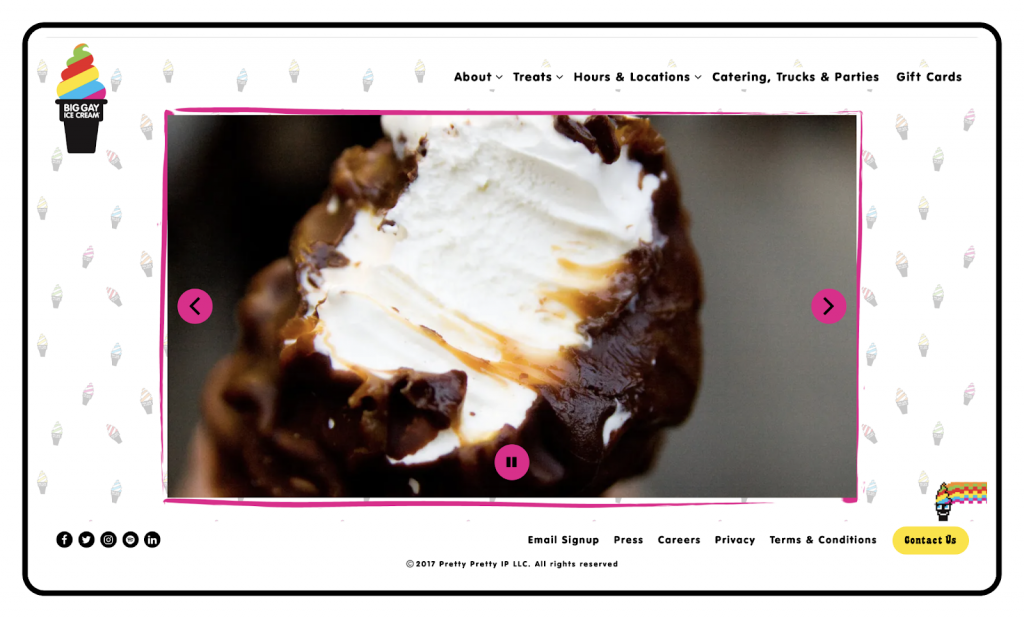 Big Gay Ice Cream, with locations in both NYC and Philadelphia, has a website that captures the quirky, irreverent spirit of the brand. From the playful color scheme to the humorous copy, the website embodies Big Gay Ice Cream's commitment to making their customers smile. The website also features a real-time queue tracker, so customers know exactly when they can expect their ice cream fix.
8. Roman's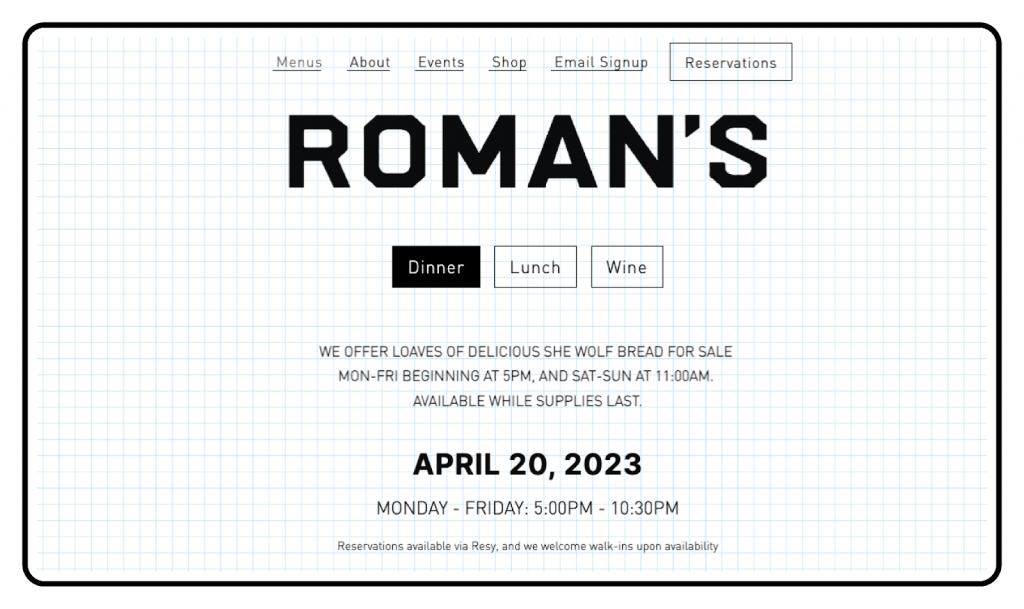 Roman's in NYC has a website that's simple, yet bold. The home page features a striking image of the restaurant's exterior and a clear call to action for reservations. The website also includes links to the restaurant's sister establishments, highlighting the breadth of experience offered by the company.
9. Colletta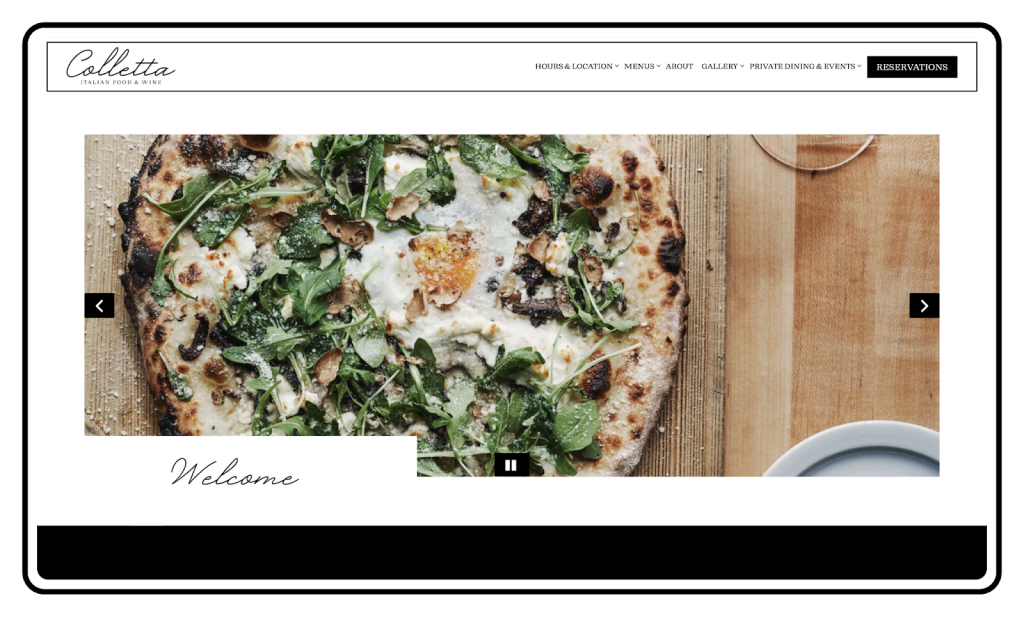 Colletta in Alpharetta, GA, has a website that exudes elegance and sophistication. The homepage features a sweeping image of the restaurant's interior, setting the stage for a memorable dining experience. The website also includes details about Colletta's extensive wine collection, private dining options, and an easy-to-use reservation system.
10. High Street Deli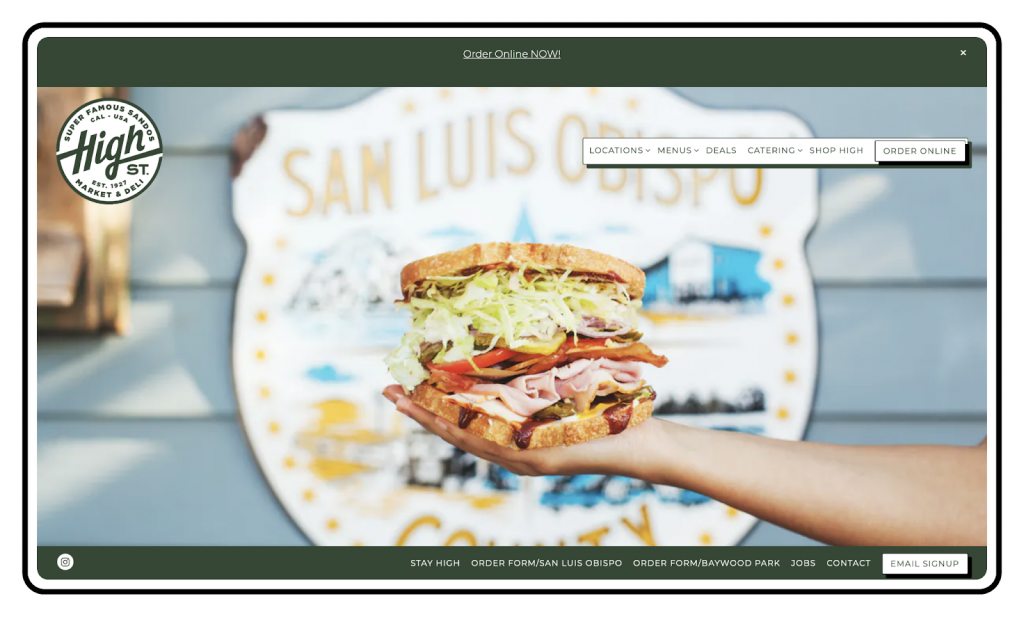 High Street Market & Deli website is all about community. The website prominently features a section called "Famiglia" (Italian for family) that showcases the team behind the market and their dedication to locally-sourced ingredients. Additionally, the website serves as a resource for customers with a comprehensive menu and catering options.
11. Federalist Pig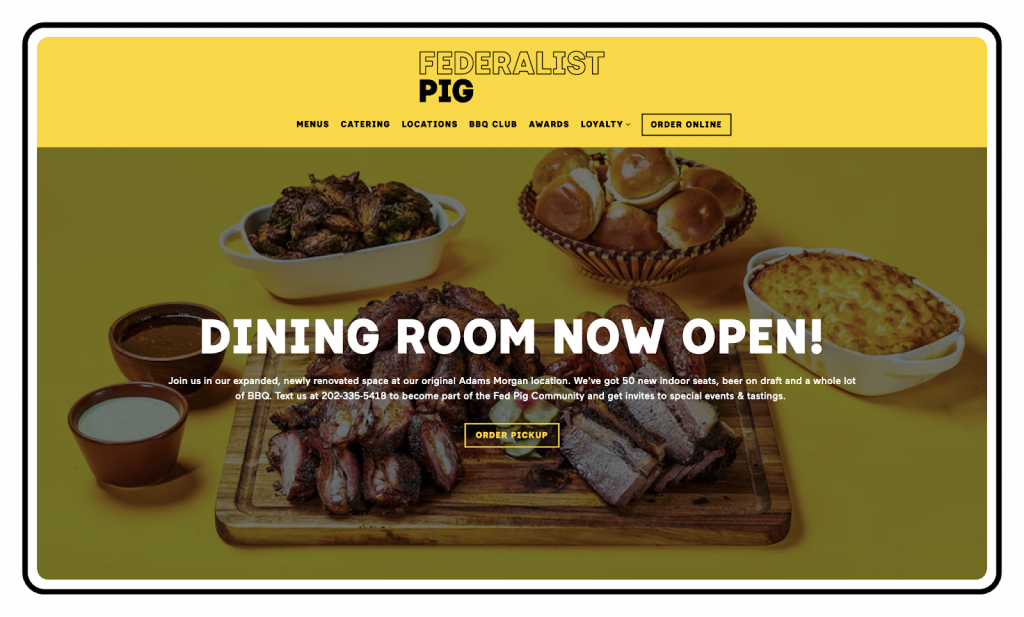 Federalist Pig in Washington, DC, takes a more vintage approach to their website design, reminiscent of an old-school BBQ joint. The site features a whimsical pig character, which serves as a mascot and one of several playful elements that create a memorable user experience. The website also offers an easy-to-use online ordering system, making it convenient for customers to get their BBQ fix.
12. The Original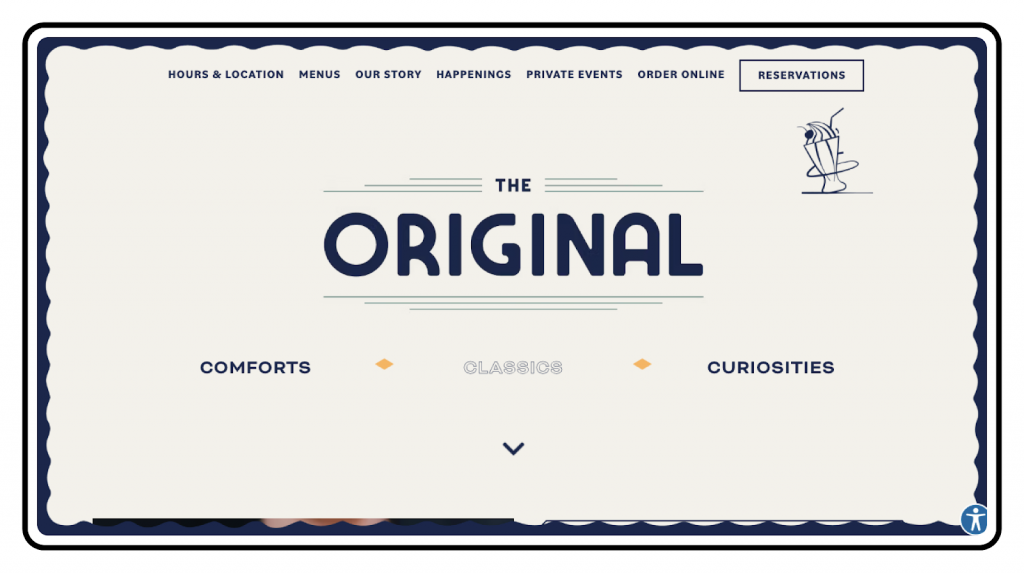 Denver's The Original has a charming website that embodies the restaurant's rustic-chic vibe. From the moment users arrive on the homepage, they are greeted with a playful animation that leads to immersive images of the restaurant's farm-to-table cuisine. Beyond the visuals, the website provides in-depth information about the menu, events, and catering options.
13. SONA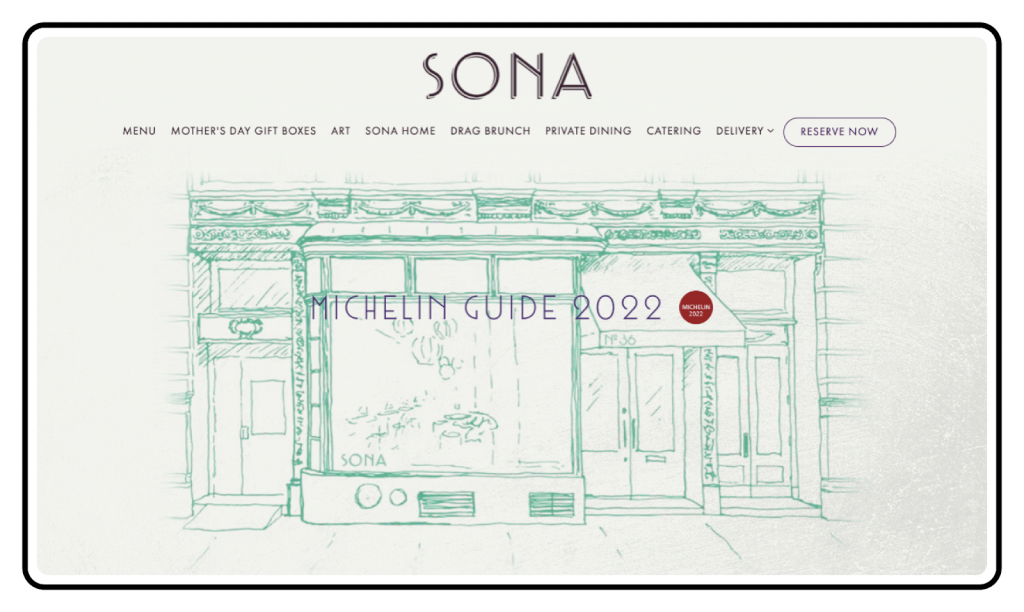 SONA in New York, NY, boasts a sleek and sophisticated design. The website uses a minimalist color palette with bold typography, inviting users to explore the menu, location, and reservation options with ease. The stripped-down layout highlights SONA's commitment to simple, yet refined, offerings.
14. Damian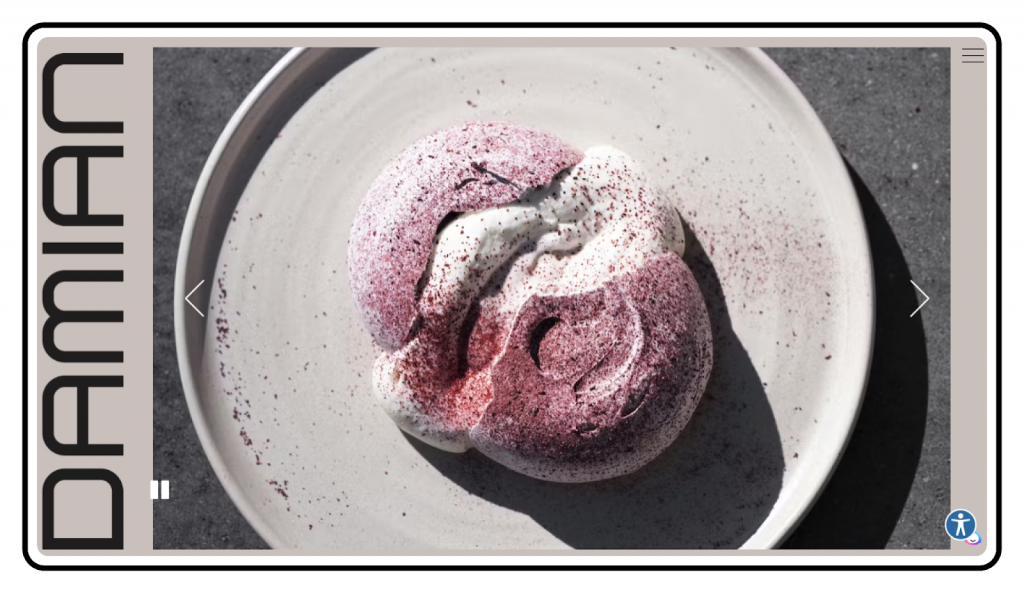 Damian's website is a true testament to its minimalistic and elegant approach. The desktop version features a bold 'Damian' on the left-hand side, proudly showcasing their brand identity. The restaurant's interior is also displayed, highlighting their stunning minimalist aesthetic. The website's user-friendly features, such as effortlessly scrolling through the site's sections, make it easy for guests to navigate and find the information they need. The focus on Mexican culture and seasonality is reflected in every aspect of the site, from the stunning visuals to the detailed information provided.
15. Diner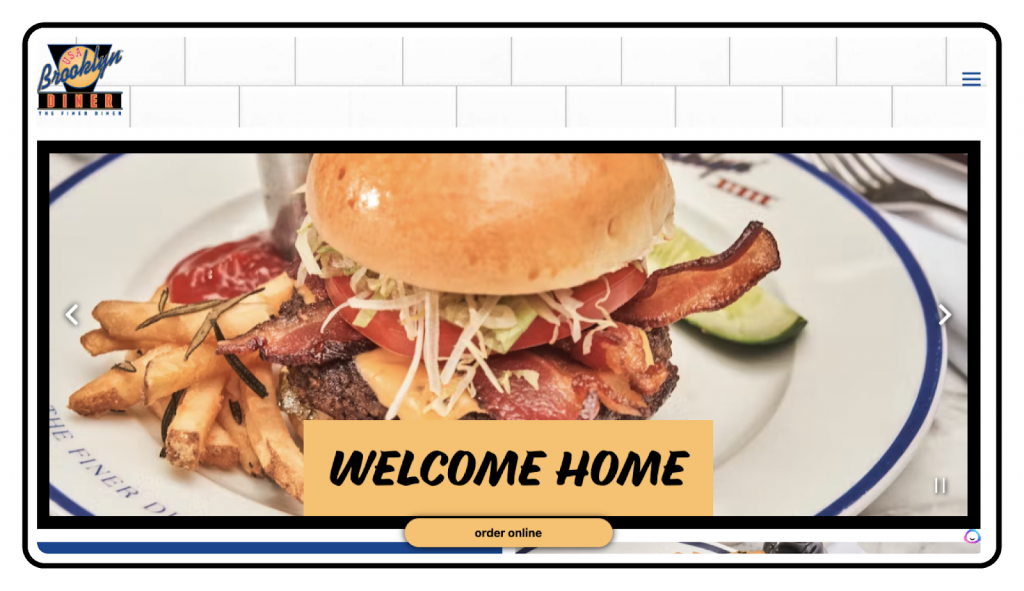 Located in the bustling borough of Brooklyn, Diner is one of those few dining destinations that has truly stood the test of time. And their website? It's the perfect shade of minimalist chic.
But what makes Diner's website stand out from the rest? For starters, their full-bleed images aren't just there for show. They actually give you a glimpse into the unique dining experience that awaits you inside. But Diner isn't just all about looks. They also know how to make online ordering a breeze. With a prominent "Online Ordering" button, visitors to their website can easily place orders for pickup and delivery directly from the comfort of their own homes (or wherever they happen to be).
Custom website development for restaurants. Drive more diners and revenues with a unified and branded online presence.
Key elements of restaurant websites
As a restaurant owner, you know that great food isn't enough to keep customers coming back time and time again. A killer website is crucial to grabbing customers' attention and keeping them engaged with your brand. So, what are the top 10 elements of great restaurant websites?
Updated contact information
First and foremost, your website should clearly display your address, phone number, business hours, and any other relevant contact information. Make it easy for customers to find you.
Establishing a robust social media presence is a must-have for modern businesses. Ensure that your restaurant's website contains direct links to all of your social media profiles.
93% of people view menus online before deciding to dine out, so your restaurant menu should be the centerpiece of your website. Make it navigable and ensure all the information is up-to-date. And please, no more PDFs!
Nearly two-thirds of diners prefer to order directly from restaurants, so including buttons for your direct online ordering system on your website can drive significant revenue.
Add additional revenue streams to your business by allowing customers to purchase gift cards and merchandise online.
Loyalty program information
If you have a loyalty program or reward system, make sure the information is clearly displayed on your website. This can incentivize customers to return and dine with your establishment again.
Stay in touch with your guests and boost your business by collecting customer emails, even without a loyalty program. Add user-friendly email sign-up forms on your website and use them to send newsletters, promotions, or any other relevant information that benefits your customers. With this easy and effective strategy, you can enhance your customer relationships and grow your business.
Let the culinary delights on your menu do the talking by including high-quality photos of your dishes, drinks, and restaurant ambiance.
No one can tell your restaurant's unique story like you. Share interesting tidbits about your establishment's history or brand to give customers a glimpse into your world.
In today's mobile-first world, a mobile-optimized website is a must. Ensure that your website is mobile-friendly and responsive so customers can easily access it on their phones and tablets.
A great restaurant website is more than just a few pictures and menu items thrown onto a page. It's a hub for your brand and a way to connect with your customers. So make sure to incorporate these essential elements into your website design and watch your restaurant thrive, and IDAP can help you with building an eye-catching website!
How to create a restaurant website
There are several ways to get your restaurant's online presence up and running, but if you want a site that will truly thrive, we recommend hiring a web development agency. Here are three ways to create a restaurant website, and why hiring an agency is the best option.
Option #1: The DIY Approach
If you're feeling tech-savvy and have some design skills up your sleeve, creating a restaurant website yourself might be the way to go. There are various website builders out there to choose from, which make it easy to create a basic site without any coding knowledge. However, keep in mind that the burden will still be on your shoulders, and the final product may not turn out as professional as you hoped.
Option #2: Freelancers
Hiring a freelance web designer or developer comes with its pros and cons. It may be cheaper than hiring in-house specialists, but in the long run, it can cost you a few times more than partnering with a web development company. Moreover, be prepared for some management responsibilities and potential communication hiccups. Hiring different freelance website developers and designers can be a mixed bag, and the final result may not be exactly what you envisioned.
Option #3: Web Development Agencies
Ah, the holy grail of website creation options! Hiring a web development agency takes all the burden off your shoulders and helps you thrive. You just need to brief a project manager on the exact look and features you need for your restaurant website, and they'll take care of the rest.
You can sit back, relax, and focus on running your business while the pros work their magic behind the scenes. Plus, with their experience and skillset, you can be sure they'll deliver a site that stands out from the rest.
All in all, each option has its pros and cons. But if you're looking for a professional and hassle-free way to create a restaurant website, hiring a web development agency is the way to go. Your website will not only look great but it'll be optimized for customer engagement and lead generation, thanks to the agency's expertise.

Summary
Having an efficient website is essential for business success in the restaurant industry. If you'd like to acquire best-in-class restaurant website design and development, contact us today! We would love to help build an online presence that will make your brand stand out from your rivals.