Intro
The first step towards outsourcing software development is finding the perfect location, which requires a lot of thoughts and careful consideration of all available options.
Lately, we've noticed that companies began preferring nearshore locations like Eastern Europe, instead of the offshore ones like China or India. It is explained by the almost unnoticeable difference in hourly rates, nearly identical time-zones, and shared cultural values.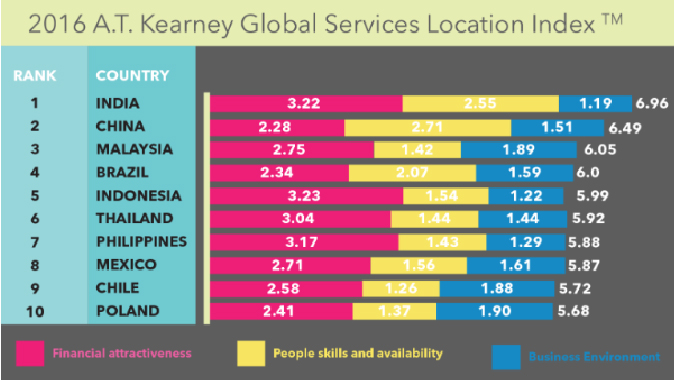 India, one of the leading IT outsourcing destinations in the world often catches the attention of both investors and software developers looking to find an outsourcing project to work on. That's why we have decided to shed some light on how's Indian IT is doing in 2019.
Indian IT in Numbers & Facts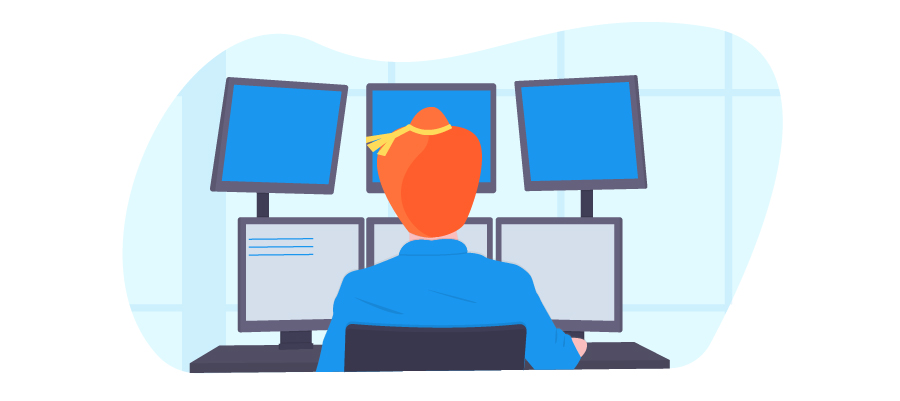 $177 billion revenue in the following year.
Holds 55% of global IT outsourcing share.
Services distributed to the US (62%), UK (17%), Europe (11%), Asia Pacific (8%) and the rest 2% to the rest of the world.
$20 to $35 average hourly rates for software development services.
Works with about 95 countries all over the globe.
Has brought almost 8% in Indian GDP during the 2017-2018 years.
Domestic IT industry market size equals to $41 billion, while IT export has brought $126 billion in the recent year.
The expected IT industry growth equals to $350 billion by 2025.
IT industry holds 37% share in all venture investments in India.
It is also expected the industry to add about 100k jobs by the end of 2019.
Biggest IT hubs in the country: Bangalore, Hyderabad, Chennai, Mumbai.
Indian IT: How's It Going in 2019?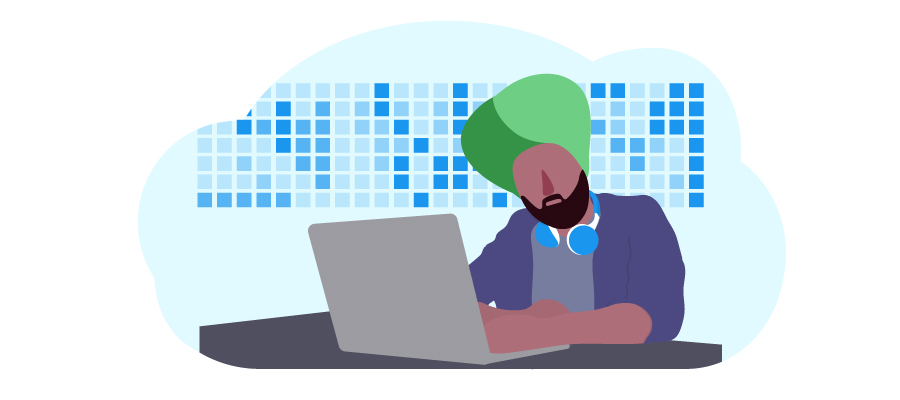 Since the early 2000s, the Indian ICT industry continues demonstrating stable growth rates every year. Local ICT sector comprises the following branches: Information Technology-enabled Services (ITeS), IT hardware production, Software as a Service (SaaS) distribution, and classic software development as we all know it. Although most people associate global IT hardware production with China, India is also a remarkable player in the Asia-Pacific region. Companies like IBM, Dell, and Hewlett Packard chose India as their R&D destination years ago. Experts estimate local demand for electronics to reach $400 billion by 2020, thereby admitting India has transformed from an agricultural country to a powerful technology-centered economy. What add points to India as an outsourcing destination, is that the government actively supports business initiatives aimed at attracting foreign investors and popularizing IoT ecosystems and IT hardware development. Global investors operating in banking & finance, eGovernance, insurance, and telecom are the most frequent clients of Indian software development companies. Such a boost of IT sector in India within the last two decades brought positive changes to the local talent pool creating career and education opportunities for Indian youngsters.

Information technology industry as a whole and IT outsourcing, in particular, took a crucial part in India's way of securing a prestigious position on the global map. NASSCOM, an Indian non-profit industry association, reports that in the following 2019 year, IT BPO has shown 6.1% growth and already reached $177 billion revenue, $136 billion out of this sum belongs to exported software development services. Growth-driving technologies in Indian IT include:
Internet of Things
Robotics
Business process automation
Cloud
Blockchain
AR & VR
As for now, lots of software development companies of Indian origin have a presence in more than 50 countries and work with Fortune 500 clients on a regular basis. The latest report conducted by NASSCOM we've already referred to has recorded that currently, Indian IT employs 4.14 million specialists. Typical hourly rates there range from $20 to $35, however, bigger companies might charge higher figures.
Top IT Outsourcing Companies in India
Marlabs
Marlabs is a large IT company that provides digital technology solutions and digital transformation support to businesses. Founded in 1996. Headquartered in New Jersey, US, Marlabs also has offices all over the world including Canada and Germany. The biggest number of employees are located in India. You can find Marlabs teams working in Bangalore, Mysore, Kochi, and Pune. Currently, the company employs 2300 people globally. As for the tech focus, Marlabs software engineers specialize in digital product engineering, digital automation, AI and cognitive platforms, enterprise analytics, cloud, and digital security. Marlabs company isn't limited to any business sector, however, they are most experienced in digital services for healthcare, banking, finance, airlines, energy, manufacture, and even government. Hourly rates or average project budget is not disclosed on the company's website.
QBurst
QBurst is an IT product development and consulting company that focuses on technology platforms development with the use of new-generation tech stack. The company was founded in 2004 and now employs more than 1300 people from software engineers to UX designers, QA specialists, project managers, and business analysts. QBurst has an impressive track record of 1200 completed projects and a stable positive reputation on the digital services market. Approximate hourly rate of one QBurst software engineer is $25-$49 and the budget for a project starts from $5k. The company's portfolio includes projects in CRM development, mobile applications, cloud-based solutions, and big data analytics.
Netsmartz
Netsmartz is a full-cycle software development company founded in 1999. Having been 20 years on the market, the company gathered a team of 1000+ members, that includes about 600 ICT certified software engineers. The company has also completed more than 2000 projects as for 2019. Netsmartz's headquarters is in Rochester, US, but you can also find their subsidiary offices throughout the US, in India, Singapore, and Norway. In terms of services, the company's key competencies are mobile app development and cloud architecture. Hourly rate of Netsmartz team is typical for the region and equals to $25-$49. The minimal budget for a project starts from $25,000.
RapidValue
RapidValue is a software development company of Indian origin specializing in mobile solutions, Omni-channel, IoT, and cloud software. Usually, RapidValue clients are large enterprises looking for long-term digital transformation projects. The company was founded in 2009 and now employs about 450 people working in 10 offices globally including in the US, UK, and India. An hour of work of a software developer from RapidValue would cost you typical $25-$49 depending on project complexity and the total budget per projects starts from $25,000.
MetaDesign Solutions
MetaDesign Solutions is a multi-service IT company of a smaller scope compared to those we've already mentioned, however, they offer a huge variety of services and have gained global recognition throughout the years on the digital market. Founded in 2007, MetaDesign Solutions has grown into a 300-member team and opened offices in the US, Canada, Europe, and Australia (in addition to the Indian office). The minimal required budget for a project starts from $1k, which makes this company attractive for those who are looking for short-term projects of a smaller scope. Services include mobile and web development, enterprise solutions, cloud architecture, Adobe plugins, game development, and software testing.
Key Advantages of Outsourcing to India

Low Rates for App Development
One of the primary reasons why businesses outsource app development to offshore countries is low rates. India as one of the most popular outsourcing countries offers the lowest rates for development services.
When compared to the USA, Indian developers can build a mobile app three times cheaper according to the research data provided by Statista. It means that entrepreneurs will have more money to spend on marketing or improvements. But the next question coming is the quality of the app developed in India.


Large Pool of Skill Sets
Though the U.S. is the global center of the IT universe, India becomes the world's fastest-growing market for app development services. In 2017 India exceeded the U.S. in the number of software developers. India is predicted to have 5.2 million software developers in the nearest future according to the latest Global Developers Population and Demographic Study by Evans Data.

Unmatched Development Flexibility
Businesses often provide a vast array of services to their clients. However, carrying out all additional service in-house requires a huge investment of both time and money. Besides, there is also the risks that your business requirements may be changed and the app development project may be scaled up or down.
Such scalability requires huge investments. Thanks to outsourcing to offshore companies, you'll get the ability to adjust the project while developing it. Most Indian app development companies offer a wide range of services including design, Android and iOS app development, Web app development, etc.

Saved Time and Efforts
As a rule, different software projects need different skill sets. Thus the need for app developers varies as the technology changes. So hiring a new team for a particular project would be hilarious since once the project is completed, they won't have anything to do.
While outsourcing to India or any other destination, you'll get a million-to-one chance to get a mobile app and save your time for more important tasks.
Challenges of IT Industry in India
Alongside with large talent pool and popularity around the globe, India still faces a lot of challenges with software development services distribution. In case the idea of working with a distant team located in India has already got into your mind, be ready to face the following issues:
Sometimes, it's too much
A huge number of people working in Indian IT, from QA analysts to software engineers and project managers, makes it hard to filter the market offers easily. You're going to spend weeks if not months looking for the perfect fit for your project and the risk of being overwhelmed with plenty of applications from not so qualified teams might take its place as well.
Not so investor-friendly taxation
India is known for complicated taxation policy compared to other popular outsourcing destinations like Ukraine, Philippines, and Czech Republic among others. Although the Indian economy is a powerful player on the international arena, it still wears a developing country tag. This means that rapid economic growth, especially in certain sectors like agriculture, technology, and manufacture, also comes with unstable regulations that can turn taxes into an unplanned splurge.
Indefinite Proof
There is no guarantee that a company will provide post-release support of your project since it may go out of business. Try to collect as many information about your outsourcing company as you can. Look through app development platforms like Clutch or AppFutura.
Cultural Differences
While outsourcing to offshore countries, you may face some cultural differences. When working with Indian developers, there may be language barriers burdening the communication and mutual understanding. Both parties may have different perspectives on how the work should be done or what functions the app should have. Thus, there are high chances to get what you haven't asked for.
Hard to Control
It's hard to track and control the development process when you have around 7,500 miles between the U.S. and India. In order to streamline a development process, you'll need to hire a project manager to control the project. As a result, it increases the costs required to build a mobile app.
Intellectual Property Piracy
When outsourcing to India, you should be aware of piracy. Piracy is pretty widespread when it comes to mobile app development. Developers can just copy the code written by other engineers.
Unreliable infrastructure
Unfortunately, even in 2019 India still lacks proper infrastructure everywhere other than in a few largest cities within the country. This results in unstable electricity and internet connection, poor logistics, and land acquisitions among others.
Summary
The most important aspect of outsourcing your software project is the company you choose with their location being the top of the iceberg. 
It's perfectly okay to start with a location on your search for a perfect outsourcing team, but as you proceed, look closely at what particular companies have to offer, check out their portfolios, go through reviews, and study how they approach projects. When you weigh all the pros and cons, you can make a well-thought decision. To minimize the risks associated with outsourcing to India, make sure you do the research well. Looking for an offshore outsourcing partner is especially challenging when you can't visit their office or talk face-to-face.
If you look for a company that values client's opinion but at the same time cares about the project's quality and success, the IDAP team is just right for you. Contact us!