Let's talk about IT outsourcing trends.
So far, 2023 has been quite a ride. Despite the global economic slowdown, most businesses have made response plans to emerge as strong as ever. And—they see IT outsourcing as one of the best ways to get there.
Hire a reliable outsourcing partner for your IT needs. Over successful 200 product. Veteran teams dedicated only to your project.

---
Related resources:
---
IT outsourcing trends
Market is growing
Cybersecurity is as critical as ever
Cost reduction stays the top traditional IT outsourcing goal
Increased talent demands for outsourcing partners
The new reality in the Eastern European IT outsourcing market
Small businesses are expected to outsource to be able to grow in 2024
More companies invest in AI outsourcing to stay competitive
1. The market keeps growing
Summary: The global IT outsourcing market will grow by $9.6 billion until the end of 2023.
Even though 2023 has not exactly been the easiest year so far, the global IT outsourcing market keeps growing. From the last year's value of $117.6 billion, we now expect this market to hit $124.5 billion by the end of 2023.
Factors driving this IT outsourcing trend:
Rising cybersecurity threats. Most companies don't have enough resources and talent to detect, respond, and monitor cybersecurity issues 24/7
The need to test and adopt AI solutions. AI is an IT outsourcing trend of its own, and more companies are turning to external partners to help with exploring use cases 
Profits of global 2000 companies are rising, requiring more support. The 2000 largest companies (according to Forbes ranking) generated $4.4 trillion in profits in 2023 so far—and 92% of them use outsource a wide range of IT operations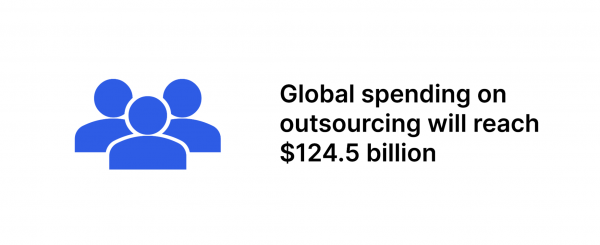 2. Cybersecurity is as critical as ever
Summary: Over 80% of business executives say they outsource cybersecurity tasks in 2023. This technology outsourcing trend is highly likely to stay beyond this year.
Deloitte's Global Outsourcing report found that the vast majority of businesses continue to prioritize cybersecurity, which also means a lot of tasks go to external partners. One major reason why cybersecurity remains a major trend is that businesses view cyber threats as the number one challenge they face in achieving strategic development goals.
Only about 19% of businesses manage to tackle all cybersecurity challenges in-house, according to the same report: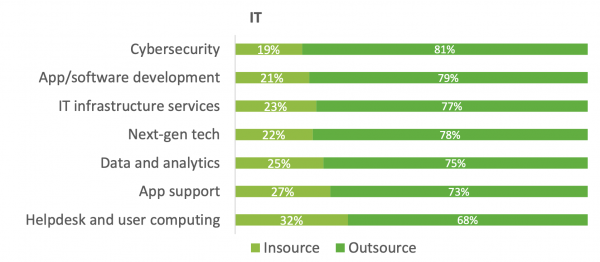 3. Cost reduction remains the top goal for traditional IT outsourcing
Summary: Companies that outsource IT operations in the traditional way (meaning that the delegated tasks are mostly simple and repetitive) remain focused on overall cost reduction.
According to this IT outsourcing trend, 57% of business executives whose companies outsource repetitive, non-strategic IT tasks want to cut costs first and foremost. The biggest benefit for them comes in the form of reduced employee expenses.
Taking full advantage of this business model also requires sufficient capabilities of IT outsourcing partners to manage remote dedicated teams and HR-related tasks.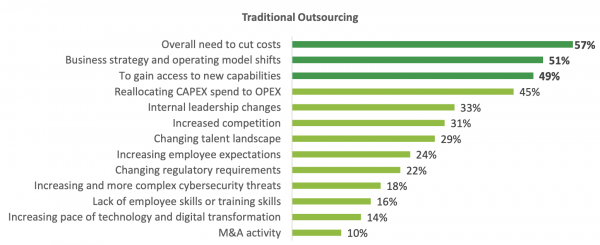 ---
Dive deeper:
---
4. Increased talent demands
Summary: Talent wars are raging, and businesses need their IT outsourcing partners to be able to hire and retain the best employees.
Among the many reasons why businesses around the world are struggling to meet their strategic goals, a few major ones are workforce-related: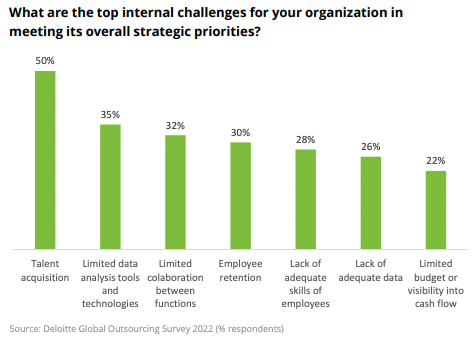 So, with talent acquisition and retention being as hard as ever, businesses that outsource IT operations require their partners to be able to deliver in these areas.
That often means that an IT outsourcing partner should be able to provide a dedicated team assembled specifically for the client's project. Any changes and substitutions in that team should be handled by the partner, which is expected to keep the project going according to the pre-agreed schedule.
---
Related:
---
5. The new reality in the Eastern European IT outsourcing market
Summary: The illegal and unprovoked invasion of Ukraine by russia caused a slowdown in the overall IT outsourcing market in the region; Ukrainian IT companies continue to deliver despite tough conditions.
The Russian-Ukrainian war changed conditions in the Eastern European IT outsourcing market. It led to two crucial shifts affecting its development and operation in 2023.
First of all, most consumers who cooperated with Russian and Belorussian software development providers started looking for new reliable IT partners in other countries, like Ukraine, Poland, and Bulgaria. 
It seems that this IT outsourcing trend will stay with us, at least for a few years. So, Eastern European suppliers have already changed their strategies to boost offerings for new potential customers.
The next factor is that businesses working with Ukrainian vendors were surprised that force-majeure conditions are just a section in a contract for local developers. In most companies, the war didn't affect overall productivity.
Following IT Ukraine Association's research, none of the surveyed IT companies performed a complete relocation abroad. It means that Ukrainian vendors are staying on-site, demonstrating flexibility in the face of unexpected events.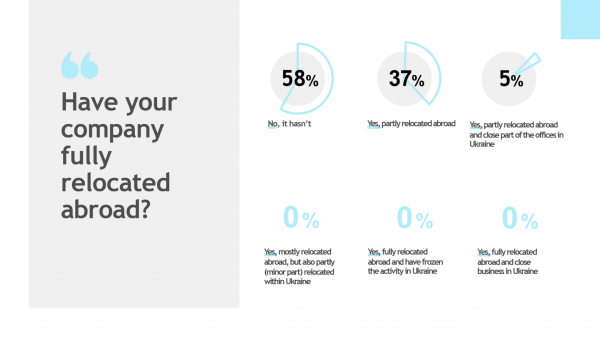 ---
Related resources:
---
6. Small businesses are expected to outsource more to grow in 2024
Summary: Over 60% of small businesses are concerned with the recession, they see outsourcing as one of the best ways to grow and differentiate in 2024.
Small businesses are looking for new, cost-effective ways to innovate, break into new markets, and differentiate themselves from the competition. With most of them lacking sufficient in-house resources, they're expected to outsource these tasks.
A Clutch survey found that 64% of small businesses are planning for growth and laying out potential recession response plans. Outsourcing IT features are a part of those plans, with about 22% of the survey respondents saying they will hire outsourcing companies to support their IT projects: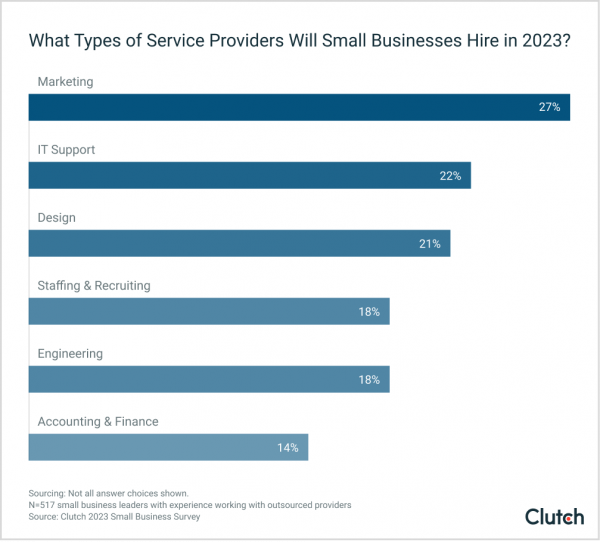 7. More companies invest in AI outsourcing to stay competitive
Summary: Businesses turn to outsourcing as a way to really use all the capabilities of AI to quicken digital transformation, increase efficiency, and get outside expert knowledge
AI has so much value for businesses, both small and large. With the recent increase in business interest and the popularity of AI tools (think ChatGPT), the adoption of this technology is accelerating across industries.
Here's proof:
The demand for AI development companies rose 514% YoY on Clutch (a business service finding platform)
Over 80% of small business owners think that AI will disrupt their businesses in the next five years
The vast majority of businesses in the UK and Ireland are actively investing and using AI already and will need support in the future (see below)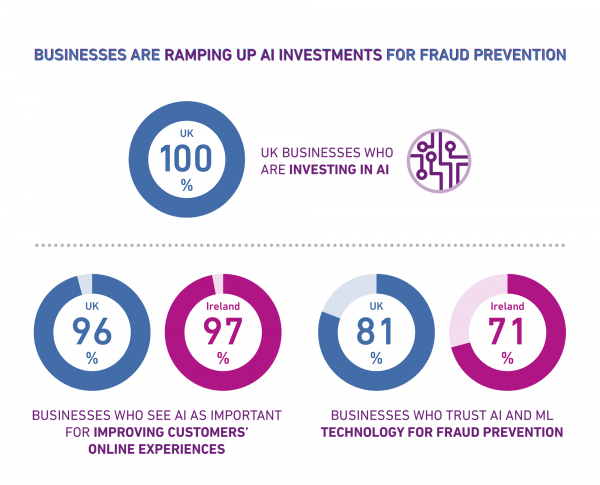 ---
Related:
---
Summary
IT outsourcing trends show a quickly-developing landscape with businesses getting ready to achieve their strategic goals. Whether it's taking care of cybersecurity, building an app or a website, or something else, outsourcing will remain a proven way to grow in 2023 and beyond.
If you're looking for a reliable IT partner to grow your business, get in touch with us. IDAP has been partnering with businesses from various industries for over a decade, and we're ready to make your next IT project a reality.