The supply chain industry goes through the hardest time over decades. The COVID-19 collapse was just the beginning. Now, businesses suffer from the russian invasion of Ukraine and its geopolitical consequences.

Following Statista, in April 2022, the global supply chain pressure index increased because of these force-majeure reaching a score of 3,41. Now, its condition is better since the pressure index was only 1,47 points as of August 2022.

As seen, each crisis has room for opportunities and development. So, companies use the chance to overcome obstacles by implementing emerging technologies in supply chain management.

Here you'll discover what innovations help businesses stay afloat and how managers use technologies like IoT and Machine Learning to save a competitive advantage regarding the supply chain.
Global supply chain pressure index from January 2000 to August 2022
Related: TOP 10 Logistics and Supply Chain Applications
Emerging Technologies in Supply Chain Management Make It Closer to the Complete Recovery
The supply chain crisis 2021-2022 got the name "Cargo Ship Crisis" because of shocking shipment delays that led to a rise in prices and a shift in global consumption. Companies couldn't predict the pandemic, and strict government restrictions affected the speed of delivery. Therefore, customers faced a shortage of goods, especially during the holiday season of 2021.
Following Bloomberg, the Cargo Ship Crisis made retailers less generous during the last Black Friday when the average discount was only 24%. Rob Garf, the VP of Salesforce.com, shared, "If consumers see 25% off, they should feel really good about that."

The next avalanche for supply chain businesses was the russian-Ukrainian war, breaching stable partnerships and changing routes. Now, companies worldwide are looking for new suppliers in a rush to ensure goods turnover. Meanwhile, this panic didn't take much time since the previous pandemic experience made enterprises mature and ready for unexpected challenges. According to Insider, the supply chain crisis is getting better and will affect the pricing in a positive way.

So, what helped companies overcome two severe blows in the short term? The answer is in the digital transformation journey accelerated by highly-competitive and crisis conditions. Businesses changed their approach to development strategies, making them flexible. They also focused on implementing various technologies, like robotics, the digital twin, etc. The core aim was to reduce risks and prepare companies for challenges.


"Given today's volatile and disruptive environment, supply chain organizations must become more flexible, and the solution is digitalization."


Dwight Klappich,
VP Analyst, Gartner
Impact of Technology on Supply Chain Management: Facts & Use Cases
Internet of Things
IoT became the main lifebuoy for supply chain companies since this technology creates a basis for adopting other innovations, like AI and ML. The Internet of Things applications aim to ensure seamless connectivity between devices, provide accurate real-time data and make centralized management possible.

Businesses used devices by different vendors to track grocery storage, weather, traffic conditions, vehicles operation, etc. The availability of accurate information allowed them to make quick decisions relevant to each situation. In other words, IoT allowed business leaders to keep the supply chain under control and respond to challenges timely.
Predictive Analytics
The next thing crucial for the supply chain industry is predictive analytics created based on information collected from IoT devices. It's usually hard to build 100% accurate data models that predict events like coronavirus restrictions. But the Internet of Things makes it possible. Following Gartner, through 2024, 50% of supply chain companies will invest in apps that support AI and advanced analytics capabilities.

Companies can develop an in-house software ecosystem to process terabytes of data to get relevant predictions. However, because of the time-consuming and costly process and strict government requirements on data protection, this option is not affordable for each business. It provides room for businesses like TransVoyant, focused on supporting the supply chain field with data received from IoT devices: starting from smartphones and ending with satellites.

Predictive analytics in the supply chain helps solve issues before they arise. This approach lets enterprises know which vehicle needs a repair, what weather conditions they face in a month, or how big the customs traffic jam will be. The knowledge lets companies be flexible and change the scenarios of actions when needed. Precisely this ability helped businesses to cope with the pandemic and war crises.
Digital Twin
Another demanded technology in the supply chain is the digital twin (DT), a virtual copy of real equipment, process, department, or even human. Following Allied Market Research, the global digital twin industry was valued only at $6.5 billion in 2021 but is projected to grow to $125.7 billion by 2030.

This innovation is also a result of IoT usage. Real-time data collected from connected devices help enterprises see the bigger picture and create an exact, dynamic copy of routes, employees, and supply chain processes. So, how can technology improve supply chain management?

The digital twin ensures the transparency and visibility of the supply chain
It allows validating ideas without risks using a prototype of real processes
The DT simplifies the decision-making by providing immediate responses to issues
Digital twins optimize business & management processes in the supply chain
Machine Learning
Machine Learning (ML) helps supply chain businesses to make their equipment more intelligent and responsive. The technology allows devices to act following various scenarios depending on the situation without previous settings. The previous experience is the base for equipment capable of choosing the most reasonable way to solve further issues.

ML makes it possible to speed up the shipping process by taking care of goods' quality. Among the widespread Machine Learning use cases in the supply chain domain are:

1. Digitized quality check process
Enterprises use intelligent hardware to reduce manual work and the risk of human error. They entrust the quality check to machines capable of detecting any damages owing to the image recognition feature. Consequently, it helps companies to fulfill the delivery obligations under partners properly.

2. Fraud prevention
Based on real-time data and relevant algorithms, devices can analyze the supply chain process and notify managers in case of any deviation. ML helps to track goods movement, location, and storage. Such transparency helps businesses to prevent fraud and deliver items of needed quality and quantity.
3. Elimination of a last-mile issue
The last-mile delivery is always the most expensive for companies. Meanwhile, they need to provide it to retain clients and ensure an excellent customer experience. Machine Learning can analyze delivery addresses and optimize routes to help enterprises kill two birds with one stone: achieve timely shipping and cut costs.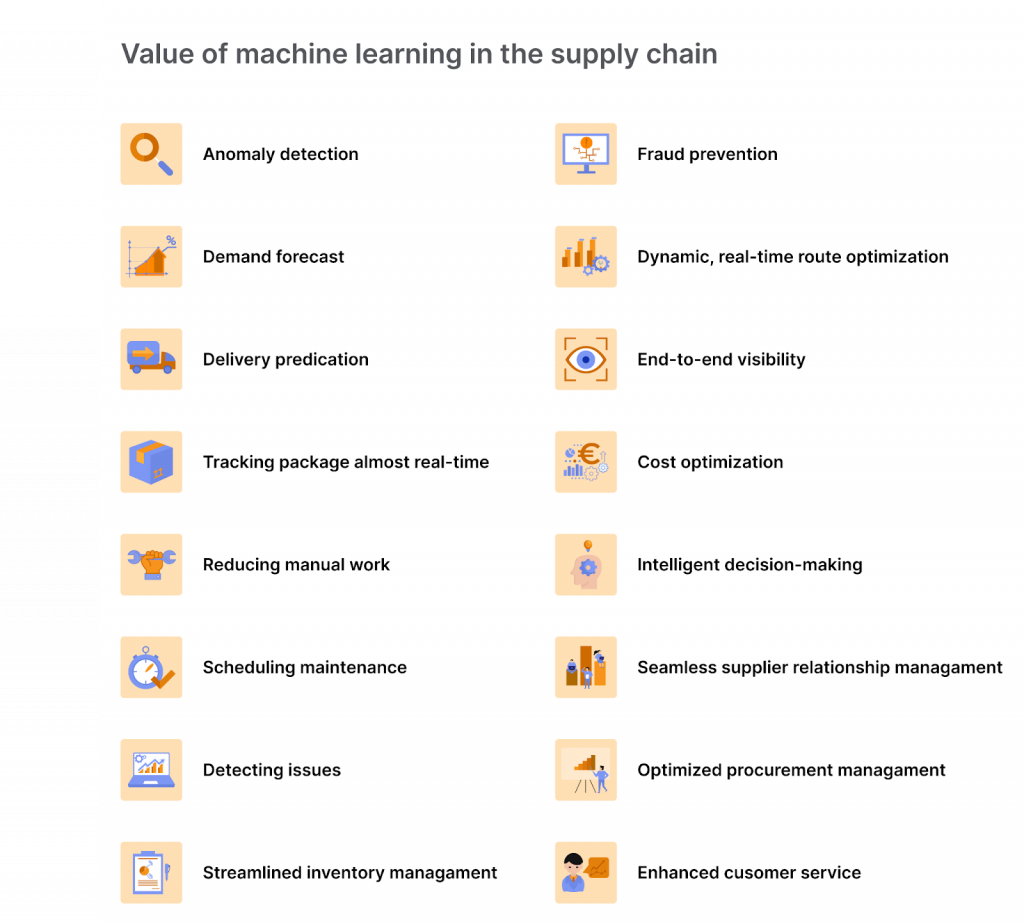 Related: How Machine Learning Can Enhance the Supply Chain

Robotics
Smart autonomous vehicles and drones we used to hear about are robots allowing supply chain companies to optimize the delivery process and make it efficient. The robotics approach helps enterprises reduce human intervention and cut overall operating costs. Most companies now announce new ways of delivery using this technology because of its capabilities to supercharge customer experience and make businesses more sustainable. Some enterprises even transform their business models considering this trend as a promising field of investment. For example, recently, Amazon acquired supply chain robotics provider Cloostermans. Fun fact: the company has already had 520 000 robotic drive units worldwide and continues to increase their amount to ensure core delivery benefits it provides, such as a 30-minute delivery.
Summary
The future of information technology in supply chain management is pretty straightforward. Innovation is the engine of the development process in this field. So it will drive its evolution for a long time. Don't miss the opportunity to make your supply chain business mature and flexible enough to withstand the obstacles in our dynamic world. Involve the IDAP team to make your digital transformation journey faster and design robust apps supporting the technologies you need to do beyond the competition in the supply chain industry.