Google may have given up on Cardboard, but many people haven't.
The headset remains a good tool to experience virtual reality, so app stores still have plenty of apps for Google Cardboard. If you're looking for some to try, you're in the right place.
In this post, you'll find 20 best VR apps for Google Cardboard, based on user ratings. It's going to be our final update, but we'll check for app availability once in a while. 
These are the best-rated apps compatible with Google Cardboard.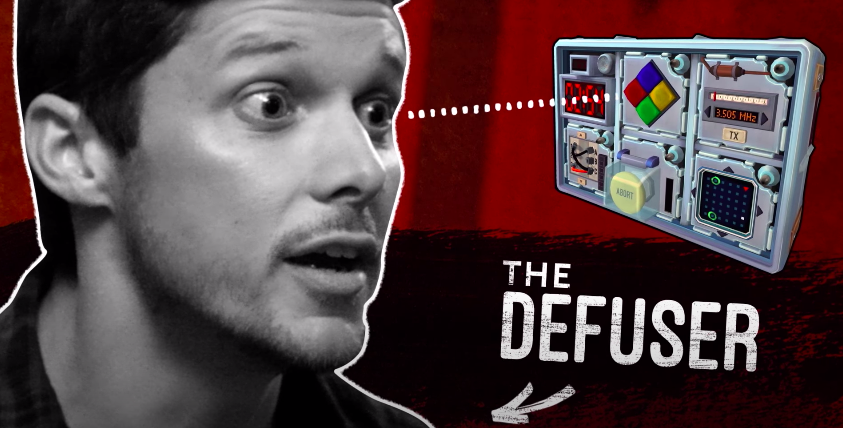 Would you trust your friends with helping you defuse a bomb?
Well, in this game, you'll have to!
Your friends will have the manual to diffuse the bomb but they can't see the damn thing. So, the diffuser will have to get the instructions from them to keep the bomb from going off.
Keep Talking and Nobody Explodes is a perfect party game—fast-paced, exciting, and loud. It's perfect even for two people, and you can play it both with or without Google Cardboard.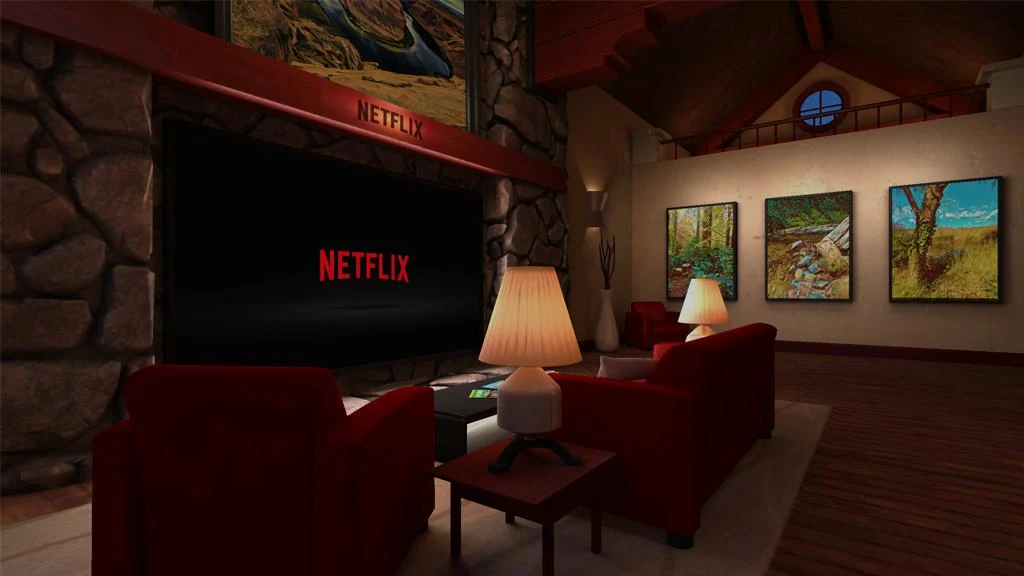 If you want to take your Netflix experience to the next level…
Then how about trying to watch your favorite shows on a massive screen in a virtual living room?
If this sounds good, try the official Netflix app for Google Cardboard that makes it possible. People love the experience (the app has a 5.0-star rating on Google Play and over a million installs), so the app is definitely worth trying.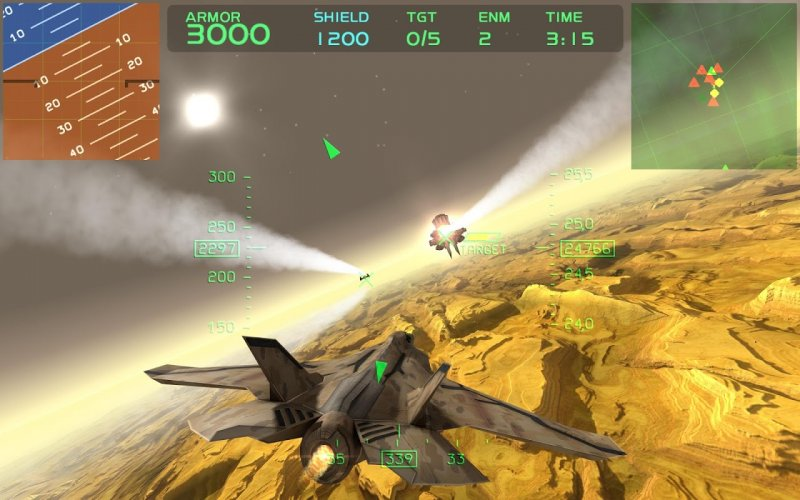 Great graphics. Lots of action. Good storyline.
This is what this flight combat action game app for Google Cardboard is all about. You get to fly many missions on futuristic fighter jets while hitting targets all over the place—perfect for fans of arcade-style shooters.
Reviews from users suggest excellent controls, frequent additions of new missions, and awesome multiplayer mode. Since this is a premium version, the game costs $2.49, but the Google Play rating of 4.5 stars proves it's worth the money.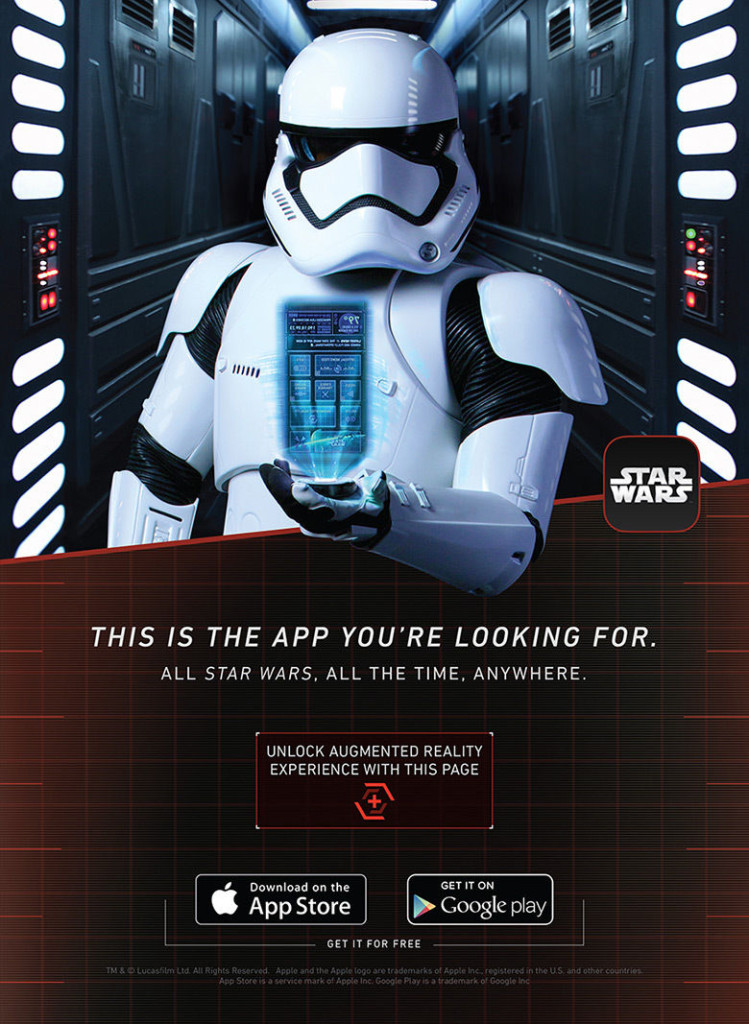 Your official source of content from a galaxy far, far away.
Besides movie news, sound effects, selfie features, and other goodies, the Star Wars app has a VR feature. User reviews suggest the overall good experience with this free Cardboard app, with some saying it's "a must-have" for Star Wars Fans.
One of my personal favorite features is the Force Trainer. It'll teach you to deflect shots (with audio and visual clues, of course), so it might be quite useful should you ever engage in a battle with some unfriendly stormtroopers.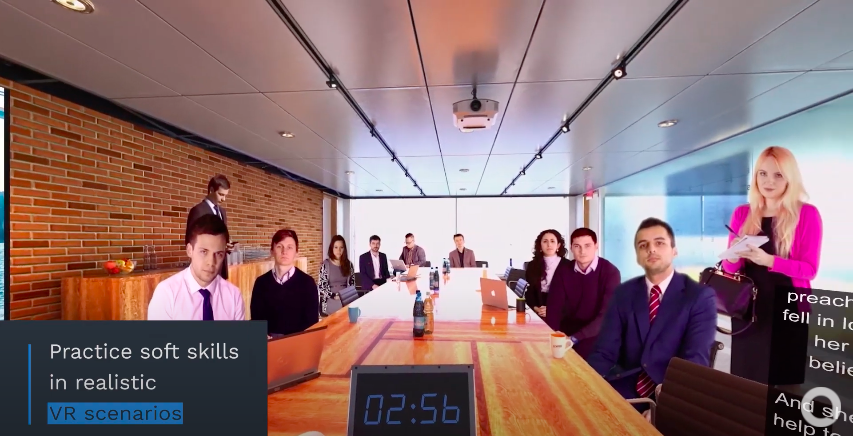 Have a fear of public speaking?
You're not alone. Reports suggest that public speaking anxiety affects up to 73% of the American population. Helping them to become more confident is the goal of this top-rated app for Google Cardboard.
The idea is to give you a VR course on public speaking. This means making speeches in different realistic situations (press conferences, business meetings, interviews, etc.). Your audience is digital avatars behaving just like real people.
What you'll love about this Google Cardboard app is analytics. After each speech, you get useful analytics like eye contact rating to help you improve.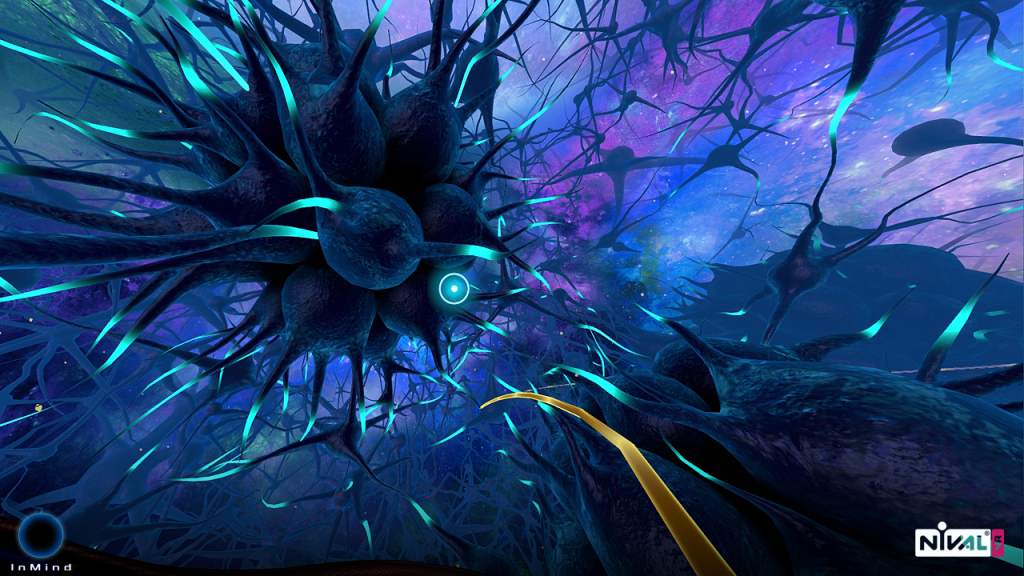 Healthcare is a popular area in VR app development, and this free Google Cardboard app is an excellent example. InMind VR allows you to travel inside the brain to learn about various mental health disorders.
According to game developers, their goal was to introduce players to the weird and amazing workings of the human brain. Indeed, the experience is quite unique thanks to the engaging and attractive visuals, and will definitely motivate you to learn more about mental health.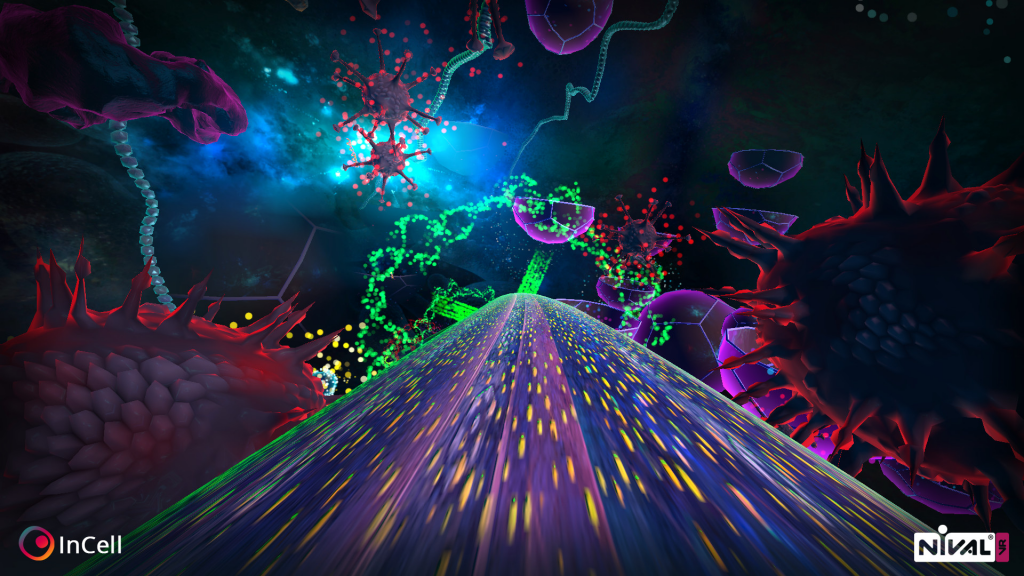 Wanna be an Ant-man-like hero?
Try this Google Cardboard game. You're to be shrunk to tiny proportions, but, this time, the scientist will inject you into a human being sick with influenza to cure their symptoms.
Our mission: save cells from destruction. To achieve the goal, we're gonna race through them and apply the vaccine directly. The players also get introduced to cell biology, which also makes this Cardboard app a great idea to engage kids in science.
This best VR game for Google Cardboard comes from the developers of InMind VR.
Want to take a field trip?
With Google Arts & Culture, you can travel beyond museums. You can survey Namibian deserts, dive to the bottom of the Mariana Trench, roam the forests of Madagascar, and explore thousands of more fascinating places.
With the recent shutdown of Google Expeditions, a bunch of educational VR tours has been transferred from there to Arts & Culture. So, it's perfect for taking you on a virtual trip almost anywhere.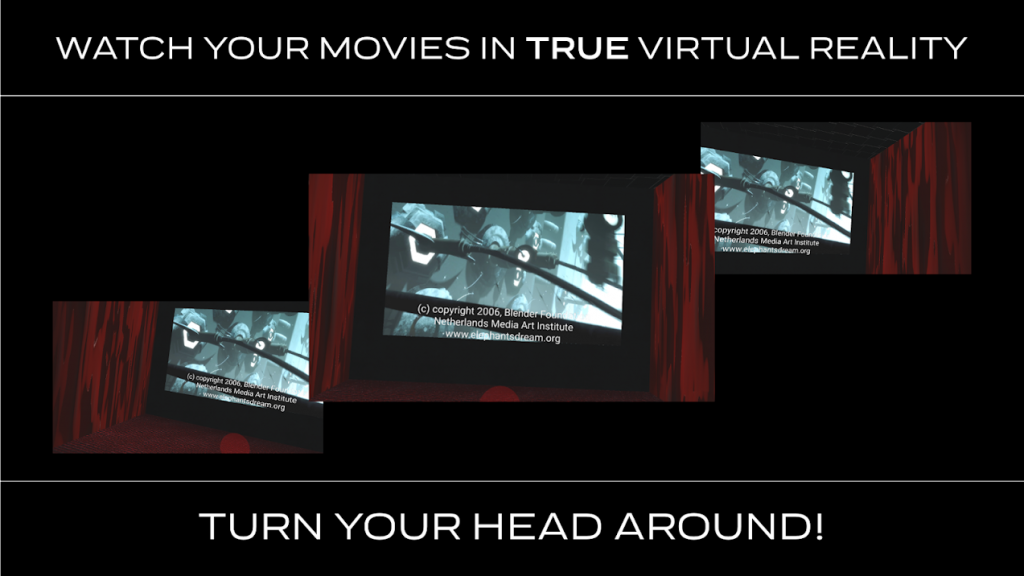 Like to enjoy watching your movies in an immersive environment? This is the best free VR app for Google Cardboard for the purpose.
With over a million installs and a 4.5-star rating, this media player can be your virtual cinema. The app supports plenty of formats, including panoramic 360° and 180° movies. On top of that, there are no ads and user data collection.
The most interesting fact: this free Cardboard app was developed by one person in his spare time. Very well done!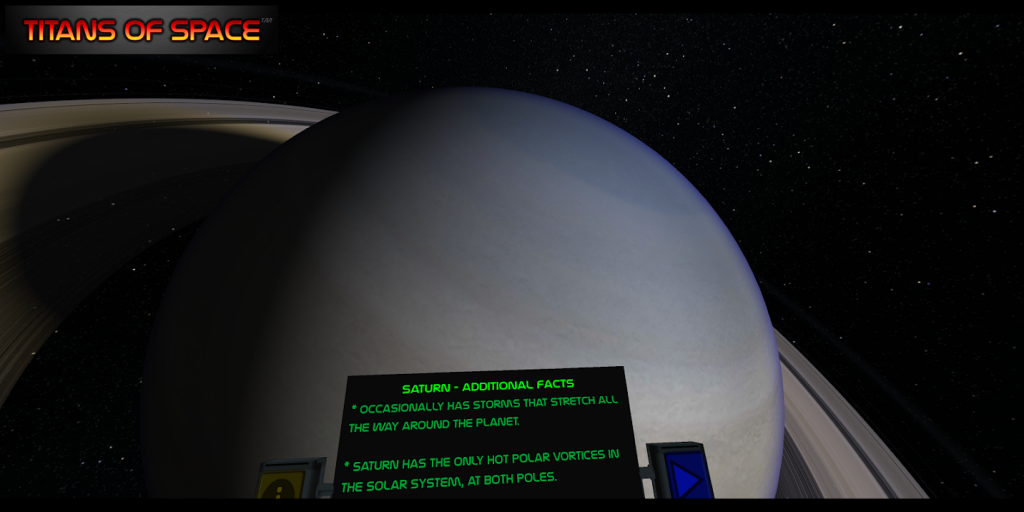 Space travel!
Titans of Space will take you on a journey across the Solar System and beyond. You'll learn interesting facts about our cosmic neighborhood, all while traveling in a state-of-the-art spaceship.
This is the best VR app for Google Cardboard in the educational category, boasting a 4.3-star rating from 11,000+ users. They are generally happy with the experience and praise the realistic visuals and controls.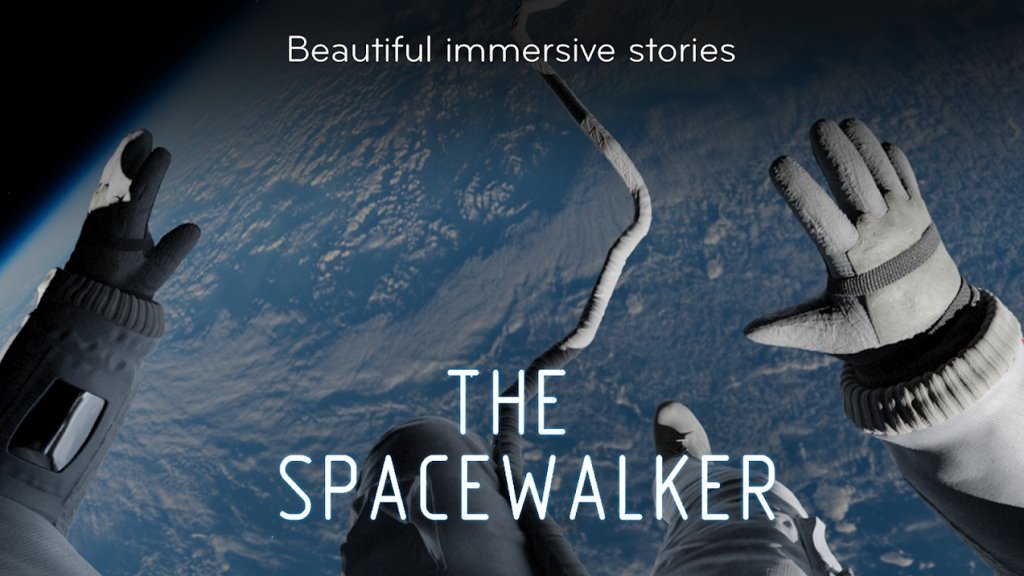 Within is one of the best Google Cardboard apps because of several reasons.
First, it offers the biggest library of immersive stories—from music videos to award-winning documentaries. Second, the quality of content is amazing, as the developers handpick experiences from the best creators. And third, it's free, which means you'll enjoy the content with no ads or charges.
So, if you're looking for a quick VR escape from reality, this cardboard app should be just enough.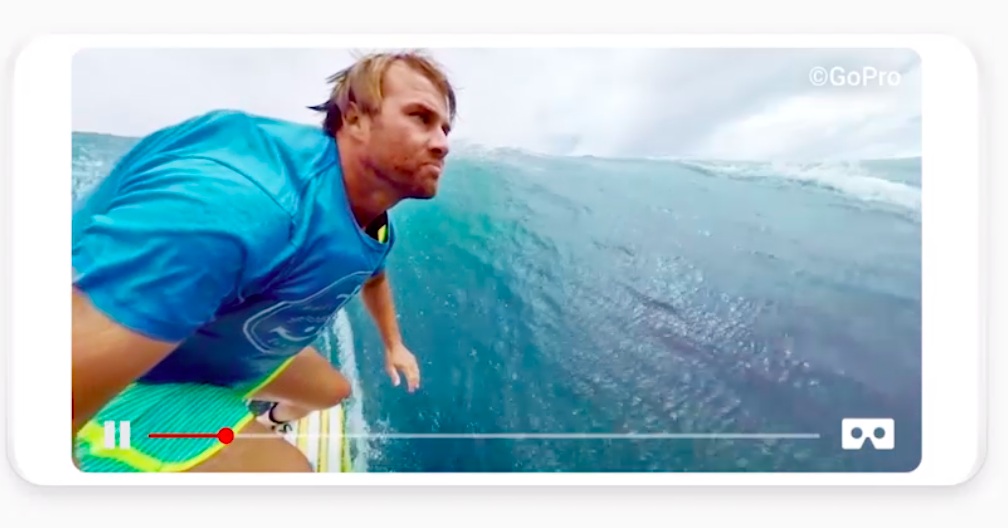 The name says it all: you can watch 360 videos from YouTube. Google has faced some criticism for the amount of bugs in previous versions, but now the app seems to be working properly.
You can also enjoy some cool features like voice search and spatial audio. Together with the great quality of the video, they give a truly immersive experience.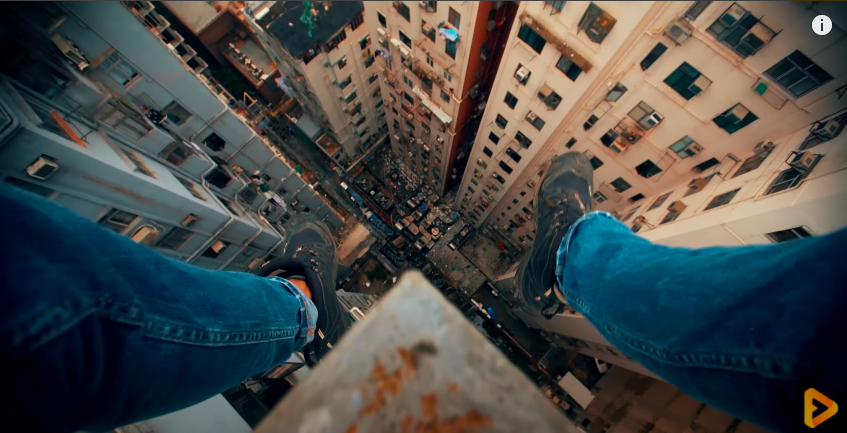 Besides a million experiences and top video quality, you should consider this VR game for Google Cardboard because it even lets you earn money.
Here's how: use the built-in Fulldive browser, and the developers reward you with points that can be exchanged for bitcoin, ethereum, and other cryptocurrencies. So, if you're up for some VR experience + earning some crypto, check out this Google Cardboard app.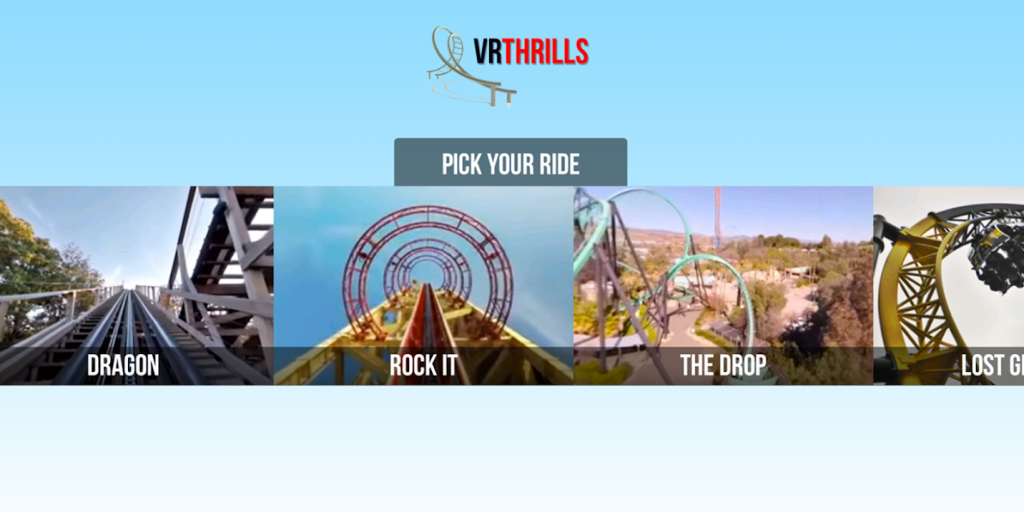 Like roller coasters?
If yes, then try this app. You'll get plenty of ride choices from all over the world, both in 3D and recorded video formats. Also, you can enjoy custom rides created by thousands of other players and give them a ranking.
You can even build your own roller coaster in the latest version of this best Google Cardboard app. That's right, you can ride your own rollercoaster and even get views and reviews from other players.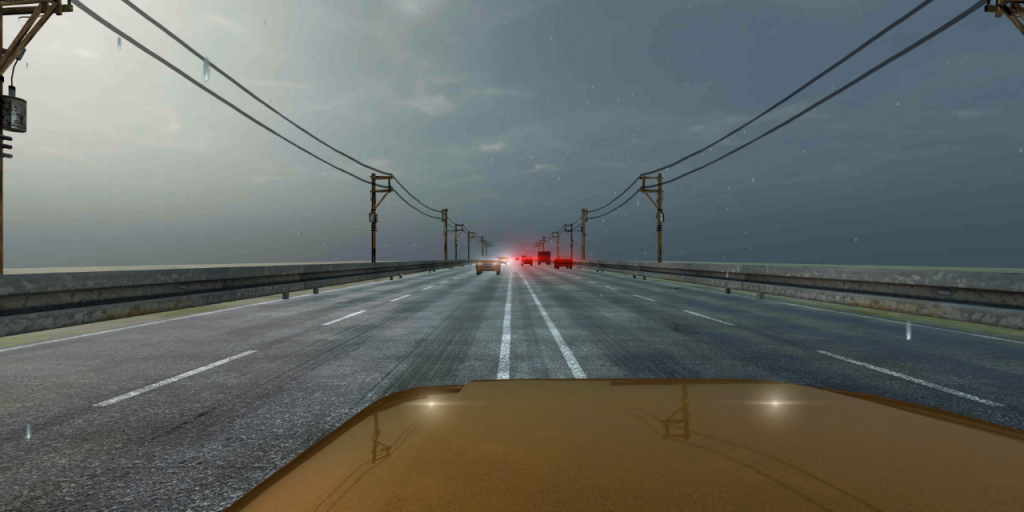 Roller coasters are fun, but—
If you'd like to try something else, this VR version of traffic racer might be a good idea. According to user reviews, it's a fun yet challenging distraction, as it can be tough to pass through the highway with lots of cars on it.
You can also choose among three modes (day, night, and rain) and enjoy different cars. The physics are quite realistic, so the game will make you feel like driving for real.
Time to go to the moon!
Join the Apollo 15 mission, walk the surface of the moon, and see the Earth like never before. Then, get on the lunar rover and get a better view of the surroundings by driving around.
This is the best VR app for Google Cardboard if you want to experience the historic moon landing in an awesome way. All that, without having to worry about the lunar dust eating away entire layers of your spacesuit boots.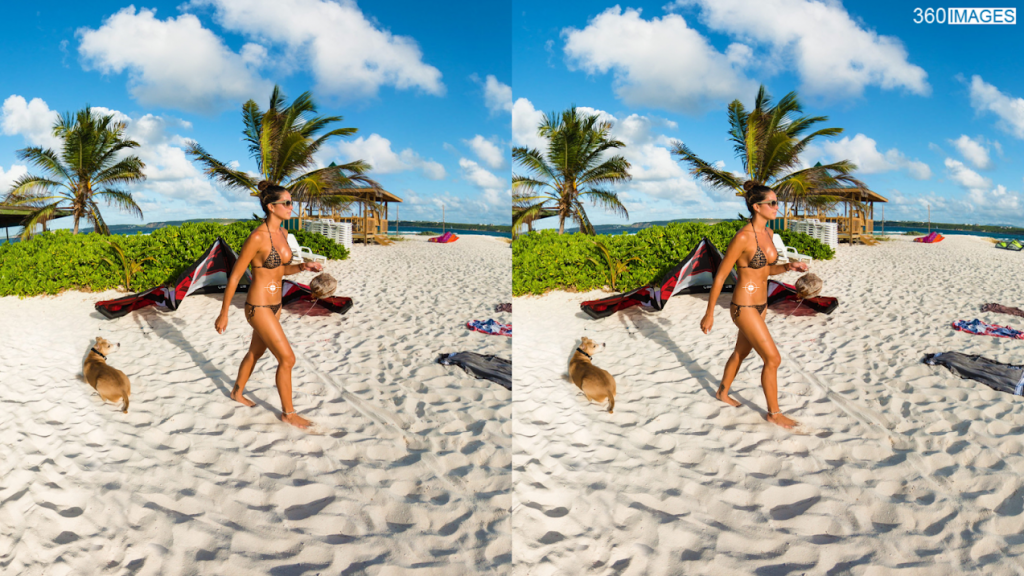 Feel like you need a vacation?
Get into the vacation mood with this free Google cardboard app. Visit the beautiful Caribbean islands and enjoy the scenery without leaving your home.
The app won't replace the vacation, but it can be quite a fun distraction. Besides, if you want to visit the Caribbean islands, you might get a better idea of which one is the best for your trip. So, have a look around and get some virtual sun!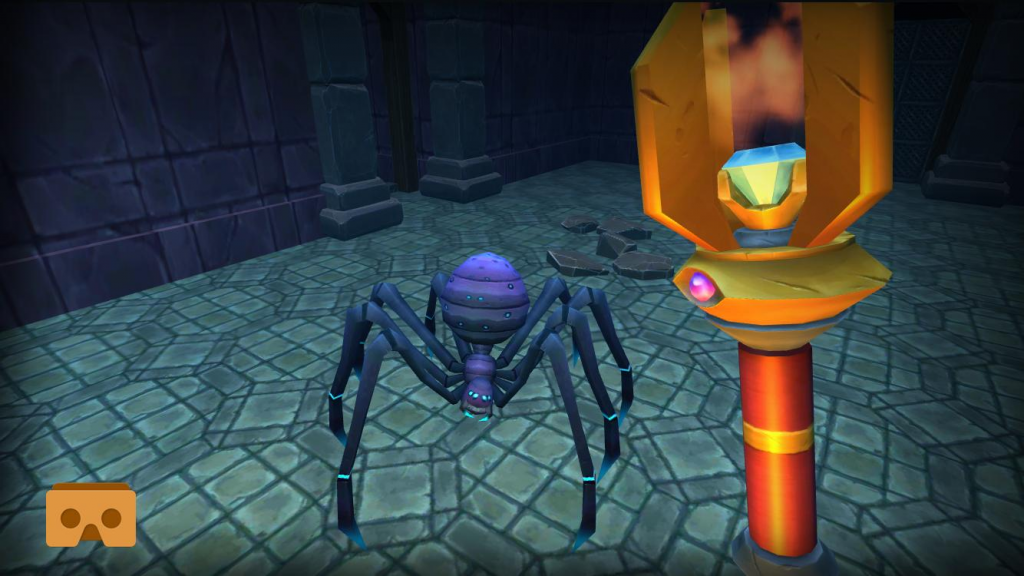 The fans of puzzles, this one's for you.
Get ready to enter the ancient dungeons with magical creatures. You'll have to solve plenty of puzzles to advance, and it's not going to be easy!
Besides puzzles, you'll also meet quite a few dangerous enemies along the way. The most dangerous one, however, awaits you at the very end of your adventure. But no worries, the game will provide you with weapons to defeat them all.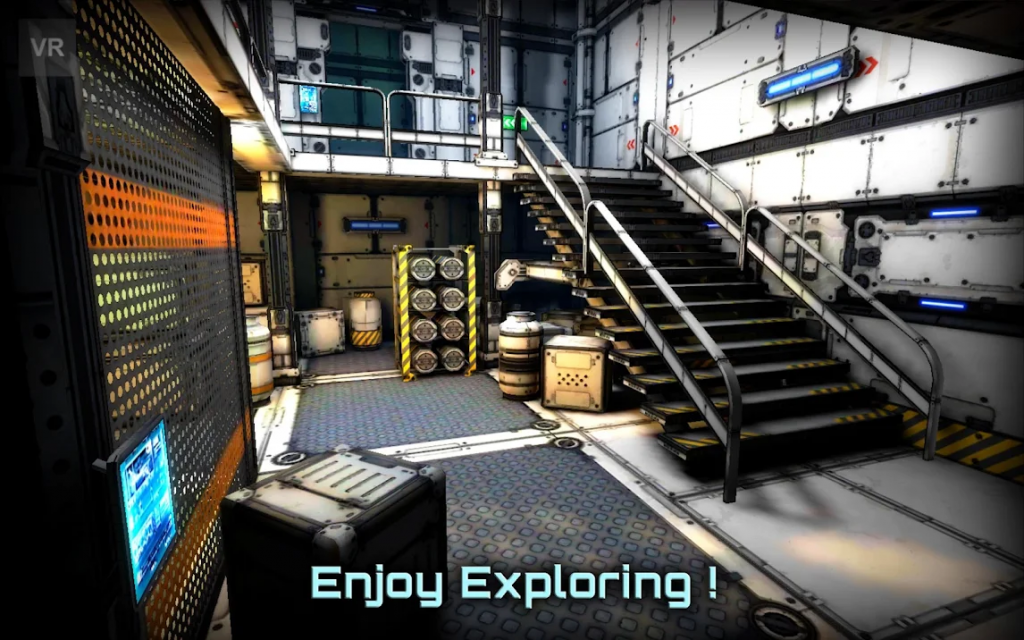 The space theme is popular with the best VR games for Google Cardboard, but this one puts a different spin on it. This time, you'll be given an entire spaceship to explore. No objectives, or enemies, or maps—just a pure job of exploring.
The app is highly rated by Android users, and we totally get it—how often do you get a spaceship all to yourself?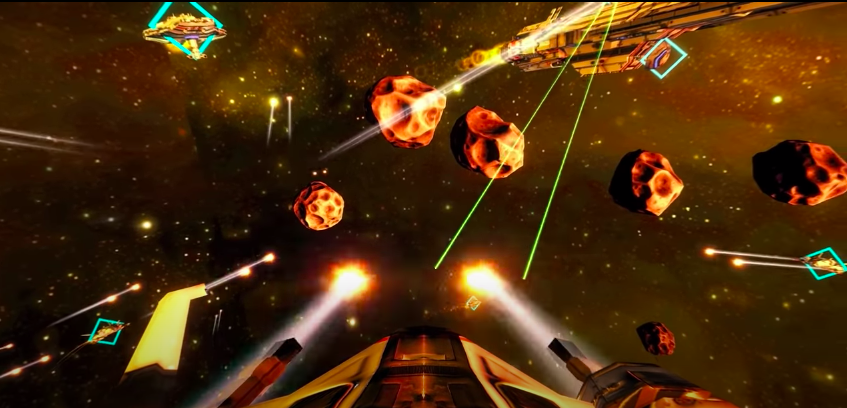 Now, we have a first-person shooter on our list of the best VR Cardboard apps. You'll get your own space fighter jet and join others in intense fights at the edge of the universe. Defeating those waves of enemy ships takes some skill, so your gaming skills will be tested for sure.
Although Minos Starfighter VR is a paid app for Google Cardboard, user reviews suggest it's worth the buck (literally, the game costs a bit more than one dollar). We found a 4.7-star rating on Google Play Store from 600+ users and plenty of compliments.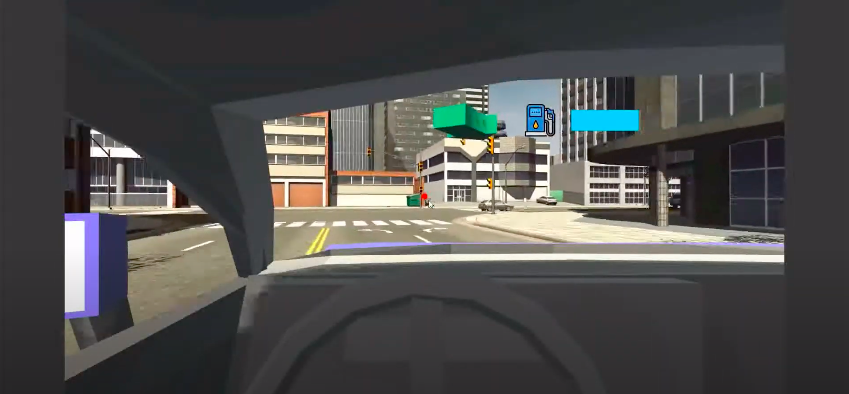 Want to learn traffic rules safely?
Try this app. It's perfectly optimized for comfortable "driving" with a Google Cardboard device. You'll get a real sense of driving a car in VR (the app scores 5 stars as proof), and there's plenty of traffic to help you learn about different situations.
Whether you're getting ready for a driving test or just want to practice, this app should be a good idea. Pawel Patrzek, the developer, is regularly adding new features and optimization improvements, and is known for great VR apps.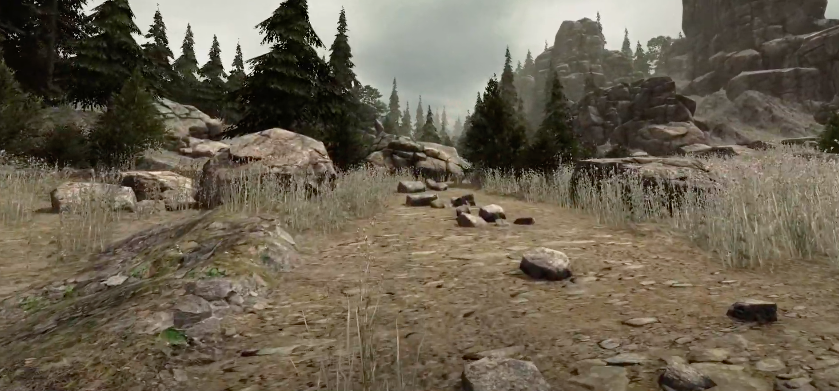 Spending time in nature is a proven method to improve health and well-being.
If hiking in the wilderness is not an option for you right now, how about the next best thing? In this best VR app for Google Cardboard, you're invited for a virtual walk in a beautiful area.
You can listen to the sounds of the forest and enjoy mountain views, all without leaving your home. And the best thing is that you only need a cardboard to play this free game.

Summary
Here you go, the best VR apps for Google Cardboard.
Although Google has given up on the VR experience for mobile phones, there's still plenty of great apps to enjoy. The technology is not going away anytime soon, and these apps prove its ability to engage people.
If you have an idea of a VR app for Android or iOS, drop us a line. We're a full-service app development company with over 200 projects completed for businesses.