Introduction
The number of smartphone users has reached 2.32 billion users in 2017. Following the user growth, the global revenue from applications has risen by 35%, finishing the year with over $60 billion, according to a new report from SensorTower.
The report has considered all forms of monetization from a simple one-time payment app to subscriptions and in-app purchases. Taking in mind that mobile market is not going to stop developing any time soon, it might still not be too late to jump on the train.
Surely, chances to raise profits right away are pretty low for those of you who plan to enter the app market for the first time or just have an idea for a brand-new application. Thus, getting some head-ups about mobile monetization models in advance would be more than enough.
For the sake of this article we have reviewed the most realistic ways for making money off mobile apps, so check it out.

What mobile platform makes more money for developers?
The first step of application's monetization strategy begins with deciding on a platform (or platforms) for mobile app development.
To discover the most profitable platform we decided to focus on the selection of developers that get more than $5,000 a month with an app. According to that report, developers make the most on apps for iOS with App Store (27% of developers earn more than $5K per month), that they do with Android apps on Google Play, where the index of app devs with over $5K of monthly income is 16%.
Despite Google Play having more worldwide app downloads, App Store makes twice as many profits. Specifically, Sensor Tower estimated their annual revenue in 2017 at $38.5 billion vs. $20.1 billion for Google Play.
Why is that? Mainly due to Apple's higher standards for app's quality and the greater purchasing power of their users.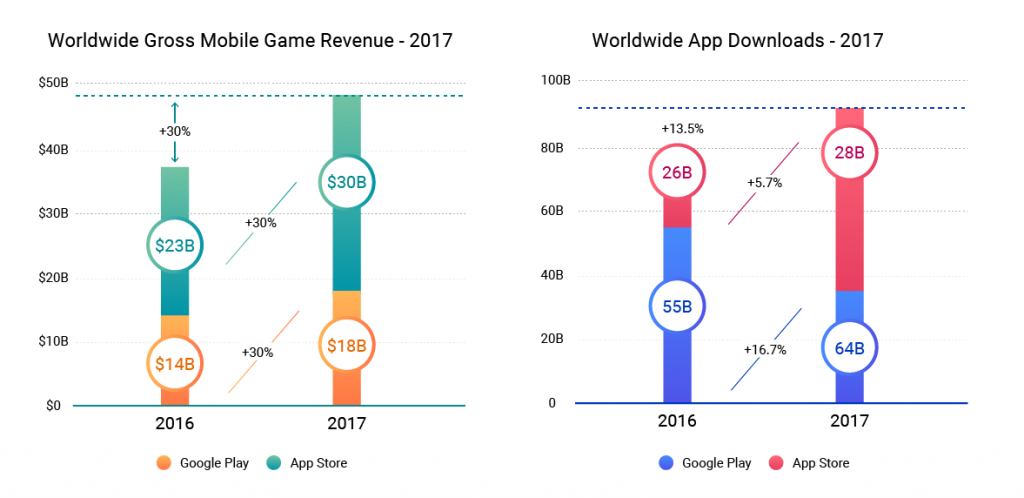 SWhat apps are the most profitable?
Last year the global app revenue reached $58.7 billion, out of which $48.3 billion were made on mobile games.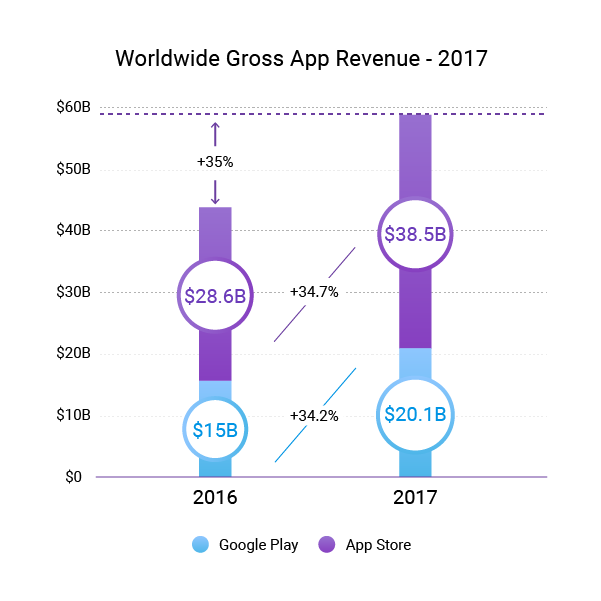 SMoreover, according to Statista, the game application is the most popular category on the App Store by the number of available apps.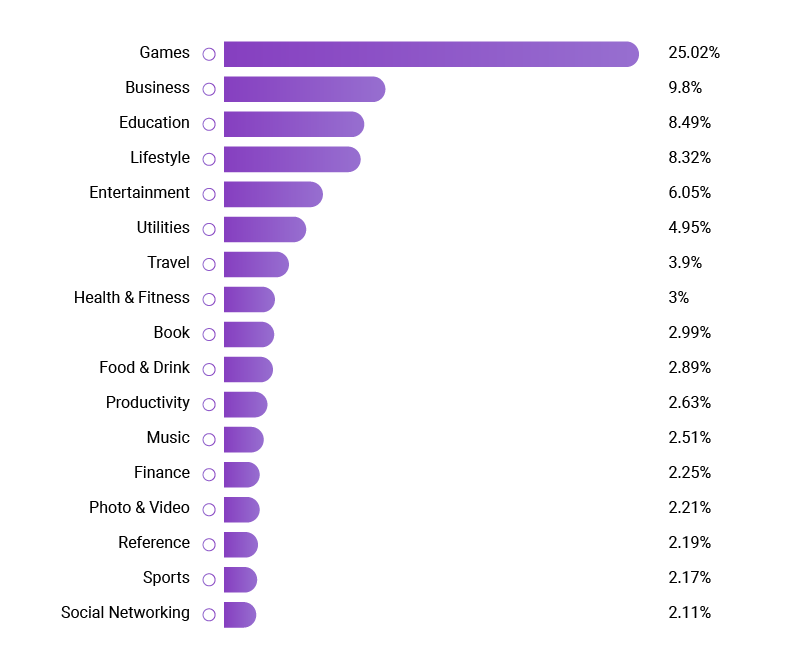 Just for the record, daily revenue of such games as Candy Crush and Clash of Clans have accounted for $2,2 million and $1.6 million respectively. The question is – how do gaming apps generate so much revenue since most gaming apps are free?
Well, while they are free, indeed, these apps offer lots of in-app purchases or go with ads. Ads is a simple solution. Thus Apple bans apps with a huge amount of promoted content like pop-ups or short videos.
In turn, developing an engaging game with in-app purchases and a premium version is rather challenging. Apps developers have to create a truly engaging product that makes a user feel the need for buying some virtual goods to continue playing.
A success story of gaming applications doesn't mean that game is the only one app type that can make a lot of money. Another example is a virtual shopping app by Kim Kardashian that brought in $100 million from in-app purchases in 2014.
This fact serves as a proof that app type only doesn't define the profitableness your product. The crucial element of app lucrativeness is the right choice for an app monetization model.

How to choose the best monetization model?

No matter which business strategy you follow, you should come up with the solution for app monetization model before launching your product in the market. Luckily enough, there is a wide range of revenue sources for mobile applications.
Referring to the recent survey of mobile app developers, the following models of app monetization tend to be the most profitable for business:
Advertising

In-app purchasing

Subscriptions

To choose the most optimal solution for a monetization model, you have to weigh up all pros and cons of each approach to making money with an app.
In-app advertising
Advertising is one of the most popular sources of revenue which helps mobile apps stay afloat in the market. In fact, the type of in-app advertising also affects the profit margins. The following forms of advertising tend to be the most lucrative in the app market.
Rewarding Video
This type of the in-app advertising is mostly used in game applications. This ad format is beneficial both for app developers and users, as it offers a special bonus (e.g., coins, extra health) for watching a video ad to the end.
Interstitial Ad
It is a full-screen ad that covers the whole interface of an application until a user closes it. As a rule, interstitial ads are placed at some transition points in the app flows (e.g., between activities, during a pause in a game, or when a game is over).
Banner Ad
Usually, it is a small rectangular advertisement placed on the top or the bottom of the app interface.
Native Ad
This kind of ads is explicitly built to fit the specifics of a platform. In most cases, users perceive native ads as a part of app content.
In-app advertisement pros and cons:
A free app with the embedded advertisement is the simplest way to build an extensive customers' base and make money right off the bat.

There is a broad range of monetization platforms to any taste and budget, such as AdMob, Unity Ads, Chartboost, Apple iAd.

It is quite a challenging task for an ad to be apparent and at the same time not annoying for users.

In-app purchasing
An in-app purchase is a channel for selling physical along with virtual products.
In game applications, users make in-app purchases to get access to some additional features or content, such as virtual money, extra lives, restricted levels, special characters, and ammunition, etc.
In-app purchasing pros and cons:
Help deepen user's engagement with an app

Compliant with most e-сommerce programs

Can be restricted by app markets.

Subscriptions
Subscription is a quite widespread monetization model where user pays on the the weekly, monthly or annual basis for accessing the app's content or features.
To lure in more users, developers always go with a free trial to grant users access to the content for free for some limited time. After trying it out, users have to start paying to continue using the service. It is worth noting that the trial time should be sufficient enough to engage a user.
Subscriptions pros and cons:
Increase session lengths;

When successful, generate repeating revenue streams;

Regularly require fresh content to be worth paying.
Summary
Sure enough, it can be tough to decide on the best monetization strategy, as there are so many options to choose from. If you are not sure about what your app needs,
contact us
for a consultation.