Closed stores, half-empty parking lots, and thinning crowds of shoppers.
This is the future that many people predict for shopping malls in our digital era.
But must it be the case for all shopping centers?
Of course not.
Those who innovate with digital technologies will stay relevant for decades to come. In fact, a mall operator can increase revenues by 20% if they use analytics and digitization, as suggested by Mckinsey research.
How to start with that, you ask?
Creating a custom application is a good way. It can help you meet all customer needs in a way that makes the shopping experience memorable, positive, and frictionless.
In this post, you'll learn how a custom application can help your shopping mall and see examples of successful apps.
Go to content:
Build an app for your shopping mall.
What is a Shopping Mall App?
A shopping mall app is a mobile application that provides a virtual platform for users to manage their experience in a shopping mall (navigating, shopping, parking, etc.). These apps help mall tenants increase their visibility and sales potential while enhancing the overall shopping experience for customers.
Shopping mall apps are a lucrative business idea due to its ability to attract and retain customers, generate revenue through commissions or partnerships with retailers, and create a digital ecosystem that enhances the shopping mall's value proposition.
Benefits of Developing a Shopping Mall App
Developing a custom app for a shopping mall has a lot of benefits for both mall tenants and customers.
Benefits for shopping mall operators
Enhanced visibility. By being featured within the app, tenants can showcase their products, promotions, and offerings to a broader audience. This heightened exposure can lead to improved foot traffic and higher sales opportunities for tenants.
Improved shopper engagement. Through features like push notifications, loyalty programs, and tailored deals, tenants can connect with customers on a deeper level. Also, features such as in-app messaging and feedback forms facilitate direct communication
Data-driven analytics. By collecting and analyzing data on customer behavior and preferences, you can gain insights into customer trends and overall mall performance. You can use these insights to make informed decisions, optimize tenant mix, allocate resources effectively, and create new revenue streams.
Benefits for mall visitors
Convenience: The shopping mall app can provide shoppers with a convenient experience by allowing them to explore stores within the mall in one place.
Personalized experiences: The app can offer personalized recommendations based on the shopper's preferences, previous purchases, and browsing history.
Exclusive deals: Shoppers can gain access to exclusive discounts, promotions, and special offers available only through the app. These can make their shopping trips more cost-effective and rewarding.
Easy mall navigation: Features such as interactive maps, store directories, and real-time information can make it easier for shoppers to navigate the mall, locate specific stores or items, and plan their shopping itinerary efficiently.
Easier payments: The app can facilitate secure transactions for services like parking, allowing shoppers to make payments directly within the app. This eliminates the need to use ticket machines.
Notifications and updates: Shoppers receive timely notifications about sales, new arrivals, special events, and relevant updates from their favorite stores. This ensures they don't miss out on any opportunities or promos happening within the mall.
Other app categories:

10 Best Car Rental Apps for iOS and Android

Healthcare Mobile App Development: Guide & Examples
Features of Shopping Mall Apps
Based on our experience, these features enhance the shopping experience, make it more convenient and personalized:
Interactive Map
An interactive map that provides a visual representation of the mall layout, highlighting store locations, restrooms, elevators, parking areas, and other amenities. Users can navigate the mall easily and find the desired stores or facilities.
Related: How to build a navigation app
Searchable store directory
A searchable directory of all the stores within the shopping mall that allows users to search for specific brands or product categories.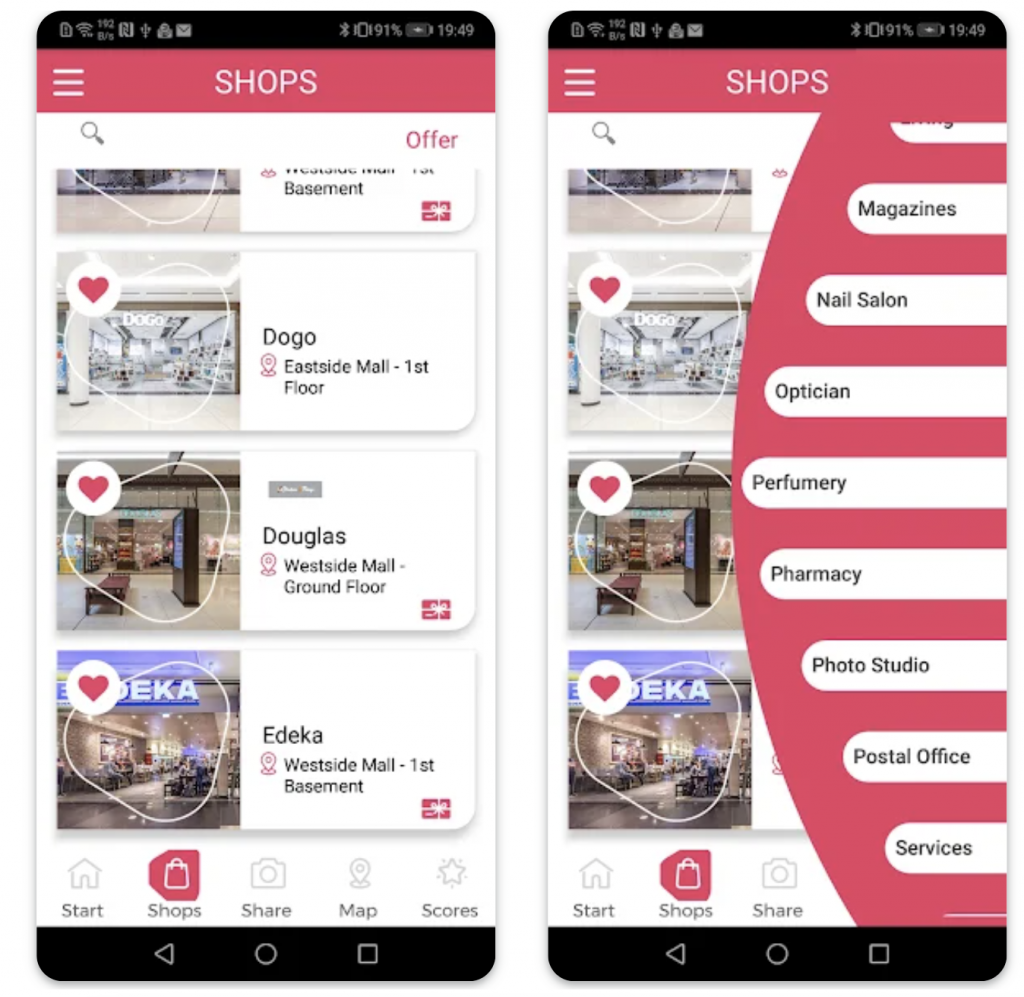 Did you know?Shopping malls in China already allocate up to 40% of their floor area to food courts after analyzing the data on visitor engagement.
Personalized recommendations
Using data analytics and user preferences, the app provides personalized product recommendations based on the user's shopping history, preferences, and browsing behavior.
Exclusive deals and coupons
The app should showcase exclusive discounts, promotions, and offers available within the shopping mall. Users can access and redeem these special deals, ensuring they get the best value for their purchases.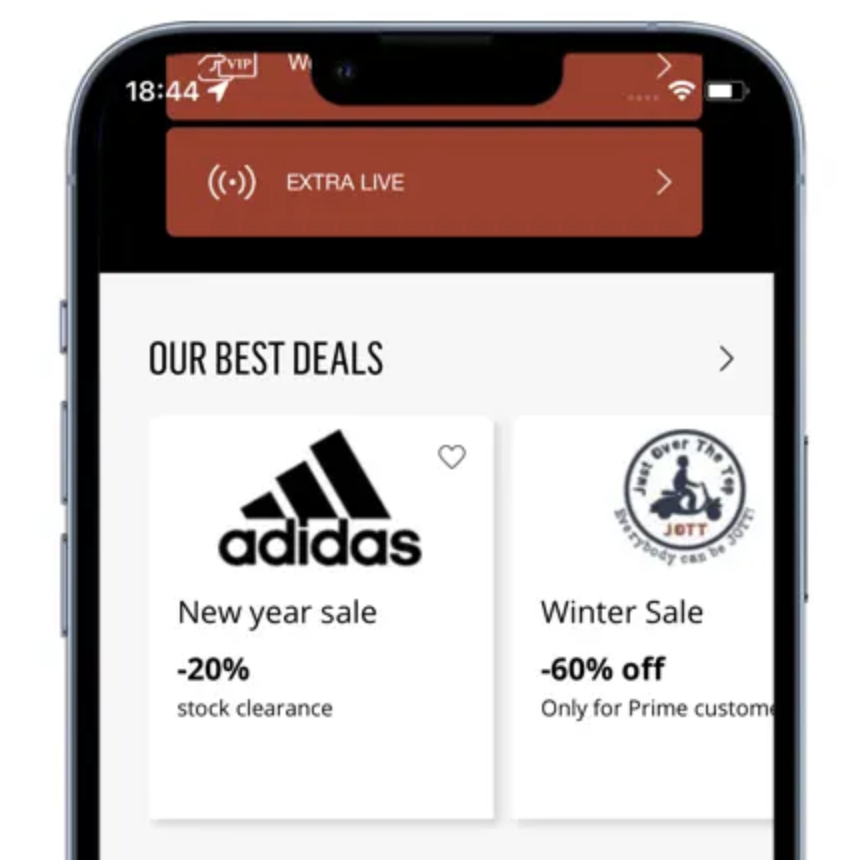 Push notifications
The app should send push notifications to users, informing them about upcoming sales, new product arrivals, exclusive offers, and events happening within the mall. These notifications keep users engaged and informed about the latest happenings.
Loyalty program
Integration of loyalty programs within the app enables shoppers to earn points, redeem rewards, and access special privileges based on their purchases. This feature encourages customer loyalty and repeat visits to the mall, like the popular Skywards Miles program from the Dubai Mall app:
Social sharing
Users should be able to share their shopping experiences, purchases, and reviews on social media platforms directly from the app. This feature (like the one from Mall of Berlin app below) helps create buzz, generates user-generated content, and promotes the mall and its stores to a wider audience.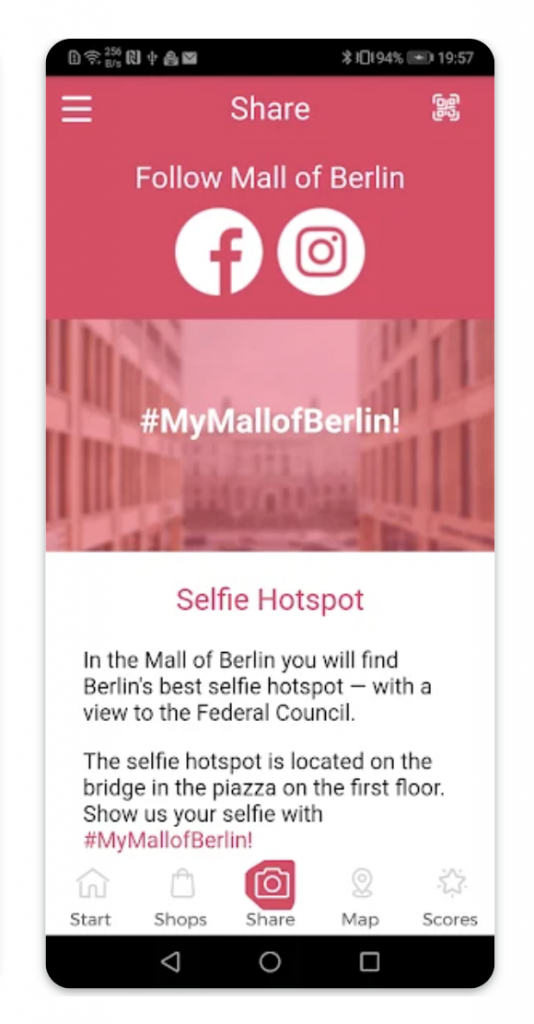 Event calendar
An event calendar showcasing upcoming events, sales, fashion shows, workshops, and other activities within the shopping mall. Users can plan their visits based on the events they are interested in and stay engaged with the mall's offerings.
Parking assistance
Integration with parking systems to provide real-time information on parking availability, rates, and guidance to the nearest parking spaces. This feature helps users navigate the parking facilities more efficiently and reduces the hassle of finding a parking spot.
Need a different app idea for your business? See these 30+ App Ideas for Startups
Examples of Shopping Mall Apps
Westfield is one of the world's largest shopping mall operators, with 30+ centers in the U.S. alone. Their app has versions for each country they're represented in, and has been downloaded over 100,000 times on Android devices alone.

This one is a shopping companion and a guide to 200+ malls owned by the Simon Group. Released only two years ago, the app has already been downloaded over one million times by Android users.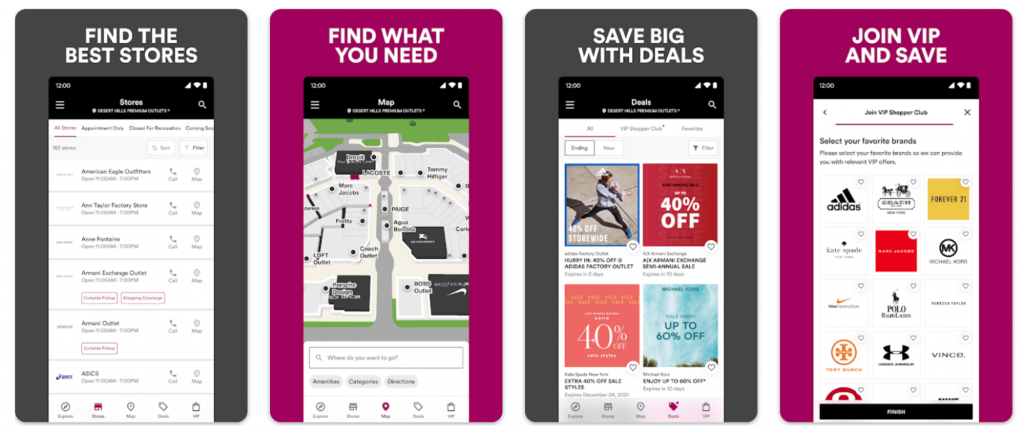 Emaar Square Mall is the largest shopping center in Turkey, with a retail space of about ​​138,000 square meters on 6 floors. It is home to over 400 stores, 52 restaurants visited by thousands of people every day. The Android version of the app has been downloaded over 10,000 times.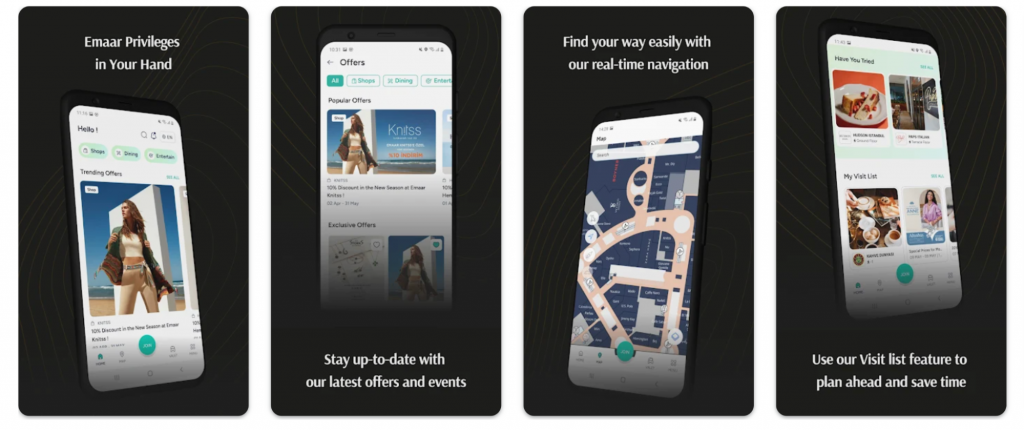 Dive deeper:

Mobile eCommerce App Development Guide

What is the Best Language for Mobile App Development?
How Much Does a Shopping Mall App Cost?
Depending on the features, building a fully functional shopping mall application can cost anywhere between $50,000 and $150,000.
Let's break down the cost by the most important stages in the mobile app development process:

You can also contact us to get a more accurate estimate.
Learn more: Custom mobile app development cost [detailed guide]
IDAP's Shopping Mall App Development Expertise
If you're looking for an experienced IT partner to help you create a high-quality application for your shopping mall, consider us. IDAP Group has been in the business of developing apps for over a decade and can assist you with a project of any difficulty.
In fact, let me share one of the relevant projects we completed.
Shopping mall app case study
Client: River Mall
Area: 140,000 m²
Number of stores: 200 stores, 55 of them fashion boutiques
Location: Kyiv, Ukraine
Parking facilities: Two-level underground parking and external six-level parking for 1,320 cars.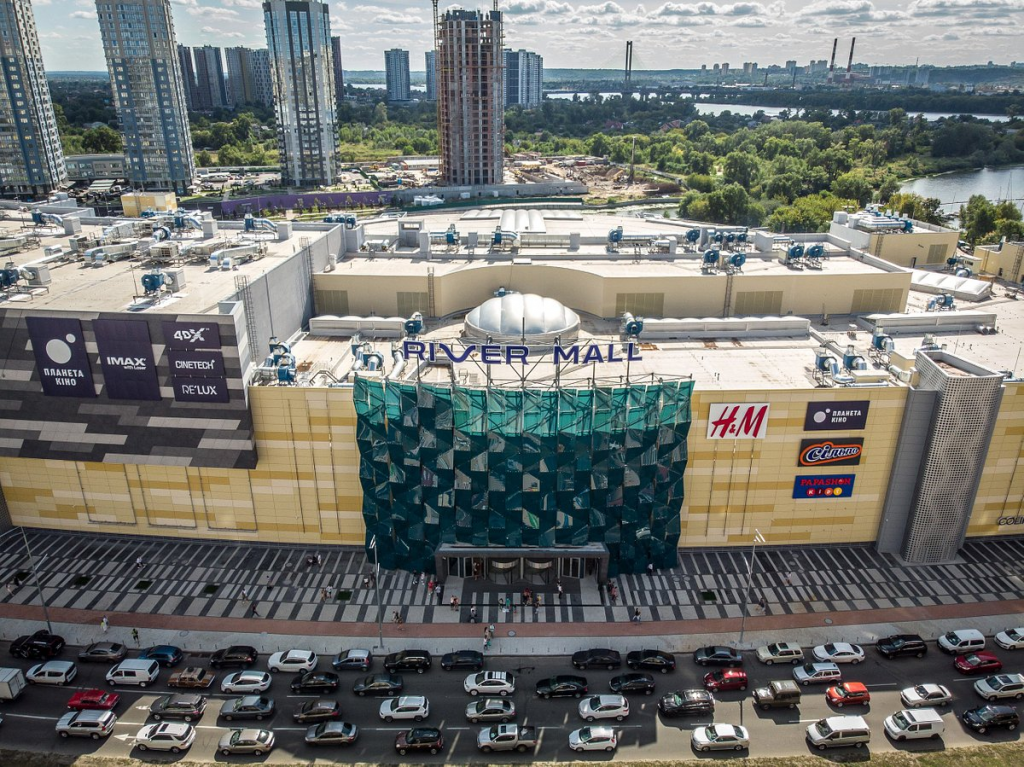 Key features of the app:
Searchable store directory with categories
Navigation and turn-by-turn directions within the mall
Built-in parking payment system
Push notifications with marketing messages
News feed with promos from mall shops
Technology:
React JS, PhP, Node JS, Kotlin, Swift.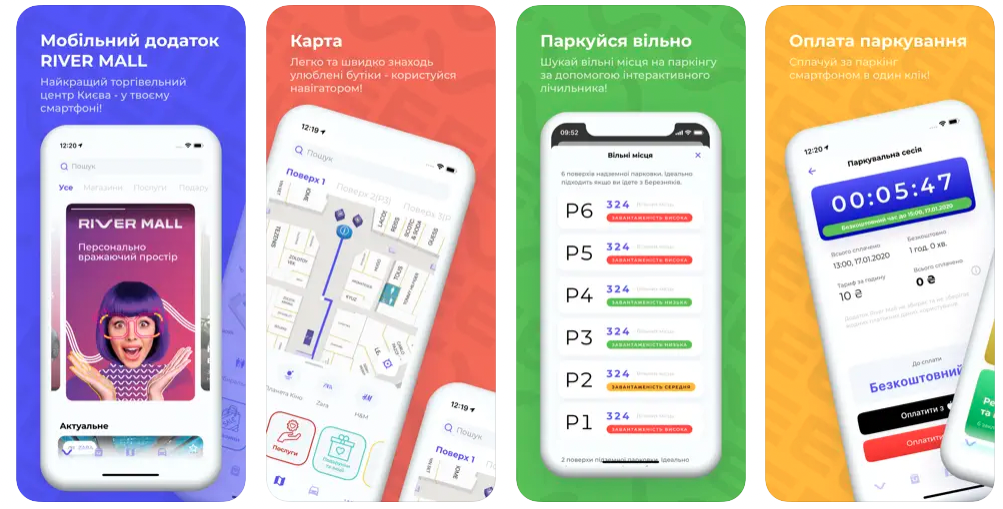 Get more info about this case study: River Mall app development project
See more projects by IDAP: Our portfolio
Summary
With the increasing reliance on mobile devices, having a well-designed and feature-rich shopping mall app is essential for attracting and retaining customers, driving sales, and staying competitive in the market.
If you're interested in developing a custom app for your shopping center, get in touch with us. We specialize in mobile app development and have built over 200 apps.