Looking for the best clothing apps to update your wardrobe?
If yes, then we have a great list for you.
Below, you'll find ten top-rated clothing apps to help you hunt for the best fashion for unbeatable prices. They have discounted branded items, streetwear, shoes, bags, or any other fashion item you might need. We also included advice from previous customers to make the best choice.
So, without further ado, here are the 10 best clothing apps for fashion hunters.
1. SHEIN
Rating: 4.7 (Google Play); 4.7 (App Store)
SHEIN is one of the highest-rated online clothing apps. You can buy almost everything, from women's and kid's clothing to wigs and kitchen tools. Also, expect to find regular sales and discounts (reviews confirm it's a great cheap clothes app). And here's a catch: you can get points for daily sign-ins, writing reviews, and adding photos—users say they were able to accumulate up to $20 just for being active in the app.
What shoppers say:
Quality of clothes is usually great
Returns for US customers are free
Generous with coupons, discounts, and sales
Customer support is helpful and response times are short
Be sure to read reviews and see photo reviews before buying
Get SHEIN
2. Amazon Fashion
Rating: 4.4 (Google Play); 4.8 (App Store)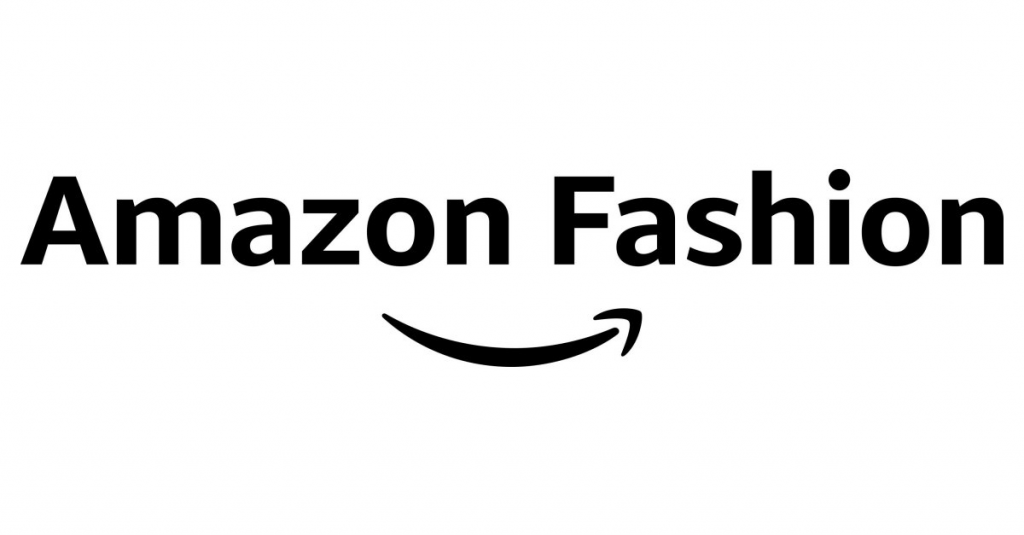 Amazon is obviously a huge name in online retail, and its fashion department has plenty of interesting things to offer. You can find what is easily the largest selection of clothing for men, women, and children, so it's worth a try. Most shoppers are satisfied with the quality, although many recommend buying only the highest-reviewed items.
What shoppers say:
Consider ordering items with high reviews only
You can find any clothing item you can possibly want
Returns are problematic sometimes
Searching for clothes is easy thanks to numerous filters and categories
Read reviews carefully before choosing an item
Get Amazon app
3. ThredUP
Ratings: 4.3 (Google Play); 4.7 (App Store)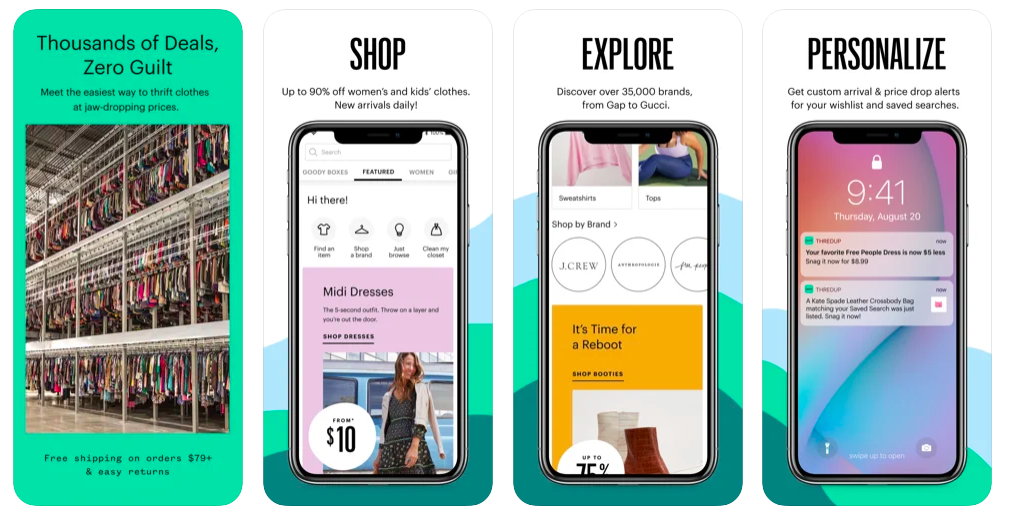 ThredUP is the rising star of designer clothes apps. This service accepts designer clothing mostly, so you can find plenty of items from LOFT, Banana Republic Outlet, GAP, Ralph Lauren, Cremieux, and others. The quality control is quite strict, with most customers reporting great conditions of the items they received. So, if you're after some high-end finds for women and kids, this clothing app should be on your list.
What shoppers say:
App is easy to use and the variety is great
Sending clothes to ThredUP is easy, fast, and free
Plenty of sales and discounts (Orders over $79 get free shipping)
Do your best to inspect clothes via photos and descriptions to get the best quality
Indicate the real names of items you send to ThreUP to avoid having an inspecting person not recognizing their real value
Download ThredUP for Android/iOS
4. Poshmark
Ratings: 4.0 (Google Play); 4.7 (App Store)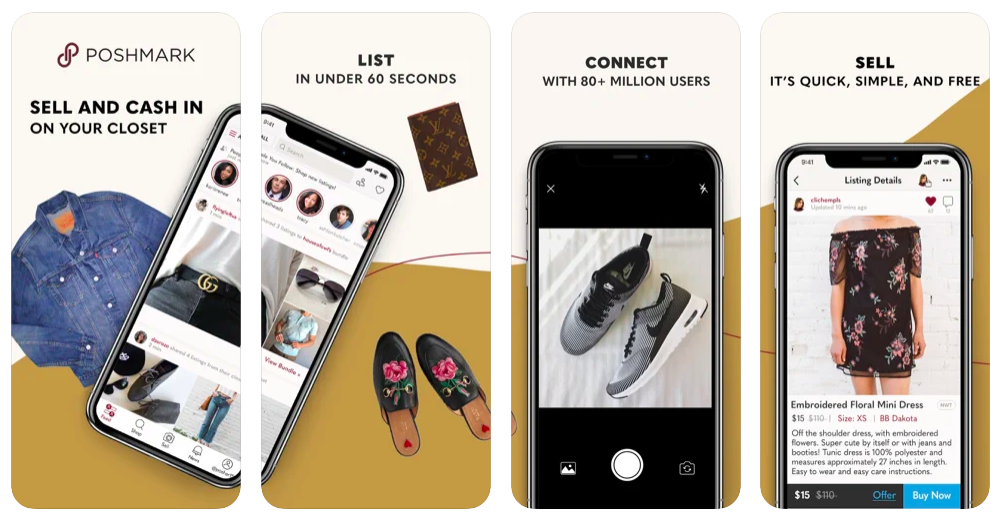 Poshmark is a popular clothing app where you can buy new and secondhand items for men, women, and kids. There's also a great selection of home products. If you're a seller, you can use this clothes app for a side hustle and earn money by listing your products (it's free). Buyers will also find pretty much anything when it comes to clothing.
What shoppers say:
Plenty of item categories to choose from (over 9,000 brands represented)
If you bought an item, the seller has 7 days to ship your order, which is kinda long
Fees are higher for sellers compared to other apps for clothes
Always check buyer/seller reviews and their average time to ship orders to avoid waiting
Carefully check branded items when browsing the site because clothing is sometimes mistagged
Get Poshmark
5. Zulily
Ratings: 4.1 (Google Play); 4.8 (App Store)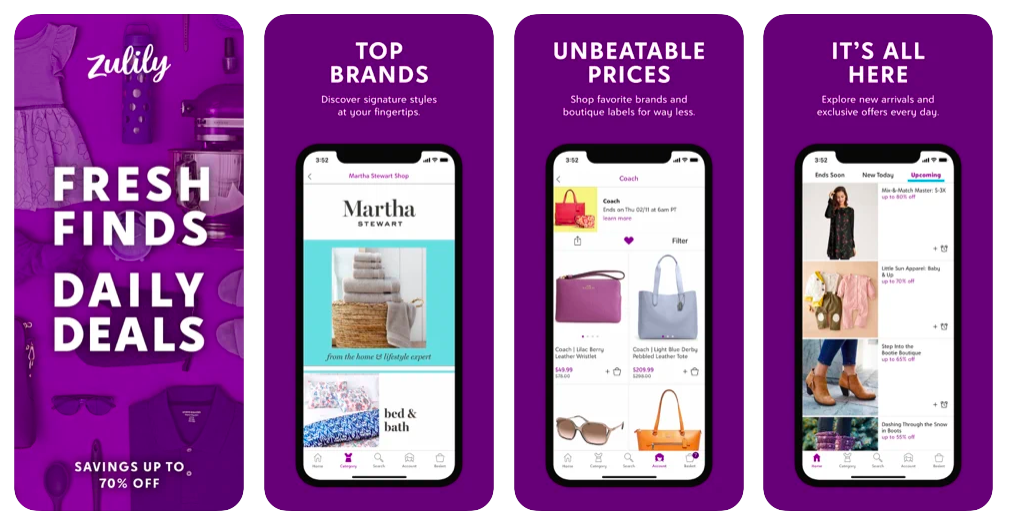 Zulily is one of the best shopping apps for clothes for the entire family. You'll find plenty of fresh, daily deals with nice discounts on authentic branded items. The prices are also great, with many customers saying they bought branded clothing for cheaper prices even compared to Amazon and Walmart. For example, some reviews say customers got items for $17, and they came with $40 price tags attached.
What shoppers say:
Plenty of regular sales and discounts up to 70%
Useful product categories, collections, and recommendations
You can set up notifications to get updated when daily and limited-time sales begin
Don't buy something you need to use now because shipping often takes over a week (some customers report waiting four weeks)
Check out sales in the morning to find the best deals because great discounted items will be mostly sold out after lunch
Get Zulily for Android/iOS
6. Rent The Runway
Ratings: 4.8 (App Store)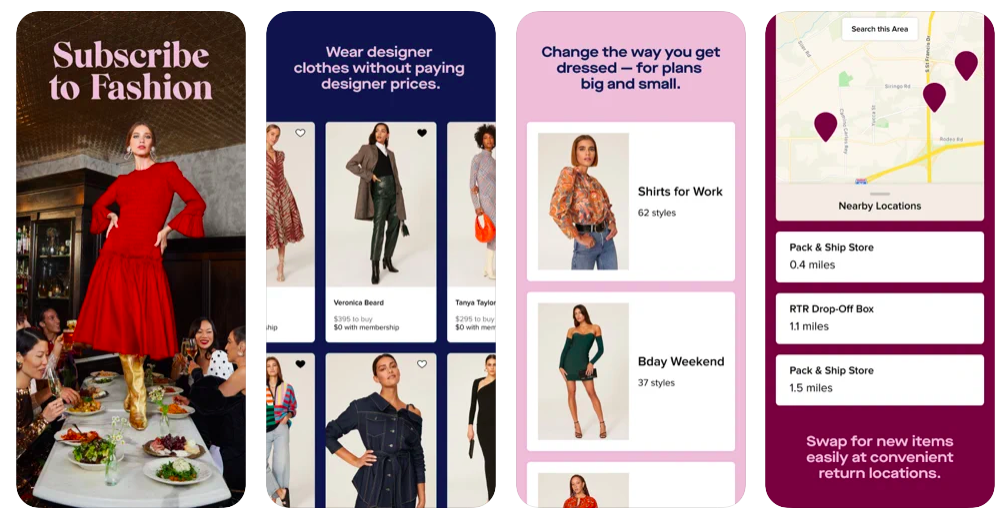 Want to wear designers clothing but your closet is filled with flimsy tanks, cheap button-downs, and old jeans? Then consider giving Rent the Runway a try. It's an app for cheap designer clothes that offers subscription plans for fashion lovers (a pretty novel idea that got the company coverage in news like Business Insider.) You can order designer clothes from their vast collection (at lower prices than in stores) and swap them for new styles as often as you want.
What shoppers say:
Choose between subscriptions of 4, 8, or 16 new items per month
Change the items you ordered for new ones whenever you prefer
Buy items you want to keep forever
Dry cleaning and free shipping are free on all rentals
Many shoppers have problems reaching customer service quickly
Download Rent The Runway for iOS
7. OfferUp
Ratings: 4.0 (Google Play); 4.8 (App Store)

OfferUp is a large marketplace where you can also shop clothes online. This app was designed for local deals, so you can look for nearby buyers and sellers very easily thanks to a great search option. The selection of clothes is a bit smaller compared to fashion shopping apps, but you can still find plenty of interesting options.
What shoppers say:
App gives new product listings daily, so plenty of choices
Always read reviews of buyers before making a purchase
As a seller, you can have your clothing picked up and shipped
Chat option is very useful to get more details about items before buying
Very easy to find buyers thanks to a huge user base (the app has over 50 million downloads)
Download OfferUp
8. ASOS
Ratings: 4.7 (Google Play); 4.9 (App Store)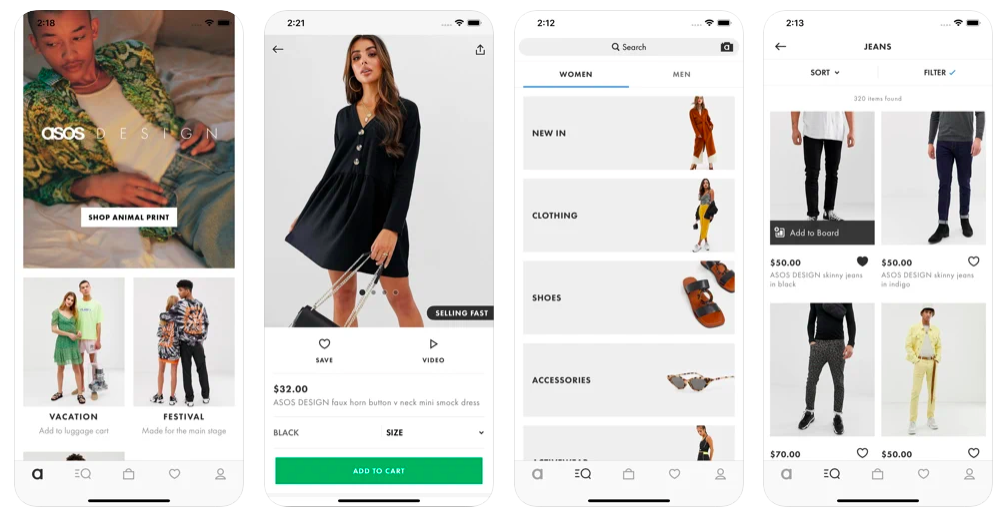 ASOS is one of the best clothing apps because of daily deals, plenty of branded items, super easy search, and good customer service. You can shop for clothing, shoes, accessories, and other fashion items easily thanks to product categories and filters inside the app. If you're looking for a cheap designer clothes app, this might be the one, as customers report finding many branded items.
What shoppers say:
Amazing range of fashion products for men and women
Delivery is generally fast and product quality is good
You can get notifications about sales and re-stocks
Shopping cart holds items for one hour only (so make sure to bookmark if not ready to buy)
Some shoppers experience problems reaching out to customer support but most say service is great
Download ASOS for your Android or iOS
9. H&M
Rating: 4.8 (Google Play); 4.8 (App Store)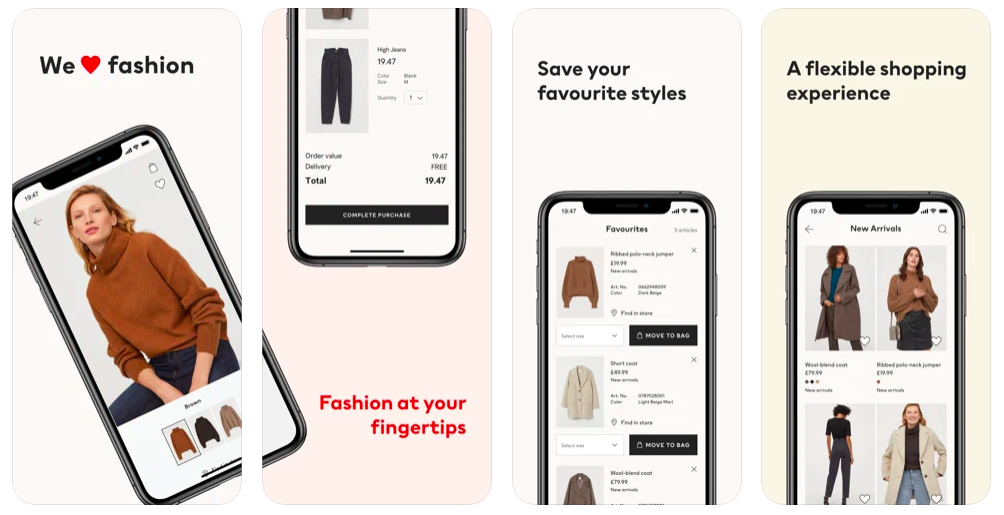 Despite the popularity of fashion apps, H&M still remains a go-to destination for buying clothes online. In fact, this fashion clothing app is the highest rated on this list, providing great quality items and excellent customer service. But the most important thing—the app is constantly updated with fresh styles, great deals, and inspirational social media posts from H&M customers.
What shoppers say:
Super easy search thanks to product categories
Regular sales and bonuses for customers are good
Shipping is mostly problem-free but sometimes takes weeks
Push notifications are useful to get updates about the latest collections and sales
App has many clothing items that may not yet be available in brick-and-mortar stores
Download H&M app
10. Zappos
Rating: 4.6 (Google Play); 4.9 (App Store)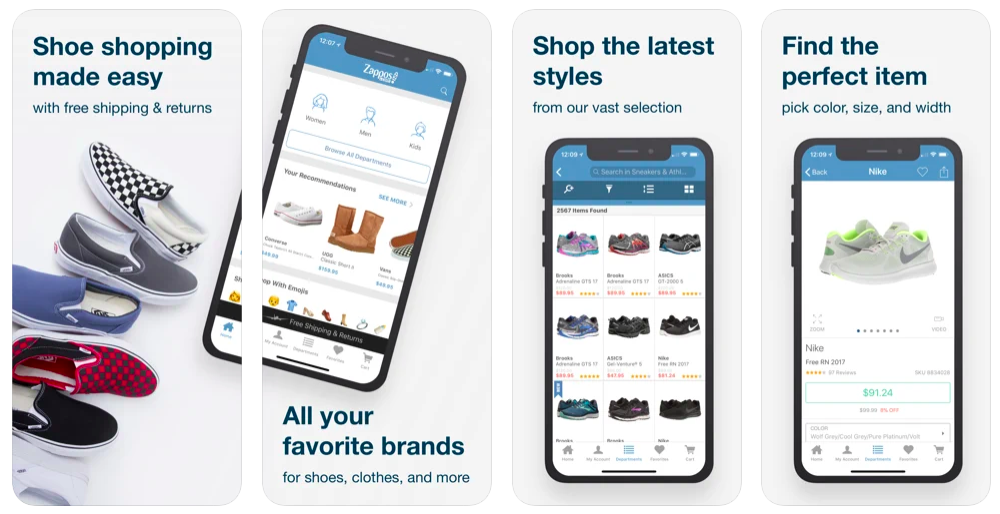 Looking for the latest and trendy shoes? Zappos is one of the best clothing apps to find them. You'll find an impressive range of shoes from hundreds of brands for every budget, including Timberland, The North Face, Under Armour, and others. Zappos is also a great fashion shopping app, with thousands of branded clothes, boots, coats, and other items for women, men, and kids available.
What shoppers say:
Great selection of branded clothing and boots
Good bonus system for regular customers
Very polite and professional customer service
Pictures of shoes are superior compared to other clothing apps
Prices are rarely cheaper compared to online stores but shipping and returns (including return shipping) are free
Get Zappos for your Android or iOS device
Summary
We hope you found this list of the best clothing apps useful to find new styles for good prices. These apps have the best user reviews, so they will certainly be helpful to find stylish fashion products for the entire family.
If you're someone considering a clothing app as an idea for your future business, feel free to get in touch with us. We're a team of web development professionals ready to help you make this business idea a reality.