Entertainment apps that can keep you busy for hours.
If that's what you're interested in…
Scroll down to see the best entertainment apps for:
Playing games
Watching movies
Getting funny pics and memes
Listening to podcasts/audiobooks
Making friends from all over the world
And more!
Besides the usual suspects like Netflix and YouTube, you'll also find rising stars and lesser-known great apps for entertainment.
More than 200 successful projects. A 4.9-star rating from clients. Hire us to build you a great entertainment app.
Entertainment Apps
Netflix
Netflix remains the top entertainment app choice for streaming TV and movies in 2021. This streaming service offers thousands of documentaries, shows, original series, movies, and other content—in excellent quality.
Users love this entertainment app because it's super fast and has no ads. Also, you can download content for offline viewing, which is useful. This year, Netflix won 44 Emmys, beating other popular entertainment apps, including Disney+ and HBO Max.
Download Netflix: Google Play Store | App Store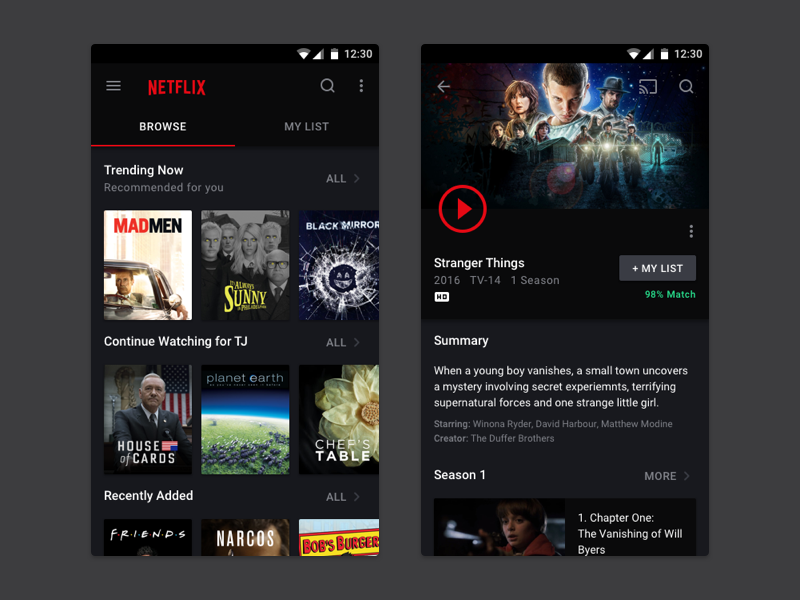 Amazon Prime Video
This entertainment app needs no introduction. Prime Video is awesome for binge-watching movies, original series, and shows, and the content library is updated constantly. You can keep all your favorite content in one place easily, too.
This streaming service is included with an Amazon Prime membership for $12.99 a month, but you can also buy a subscription to this entertainment app for $9/mo. There's a 30-day free trial, too, to give you a taste of this video streaming app.
Download Amazon Prime Video: Google Play Store | App Store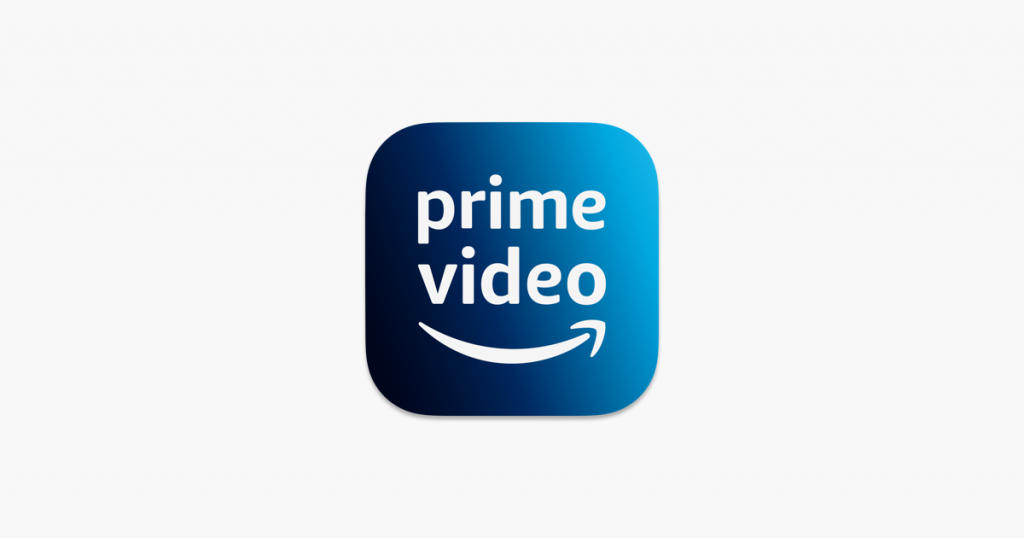 Tubi – Free Movies & TV Shows
Looking for a free alternative to paid streaming services? Check out Tubi. This is the top entertainment app with the largest video content library you can watch for free, legally. No credit cards, no subscription, nothing—as long as you're okay with sitting through some ads.
Tubi is the best-rated entertainment application for both Android and iOS (4.7 stars on Google Play and 4.6 on the App Store). Users say it's got an impressive selection of movies and TV shows, and the video quality is excellent.
Download Tubi: Google Play Store | App Store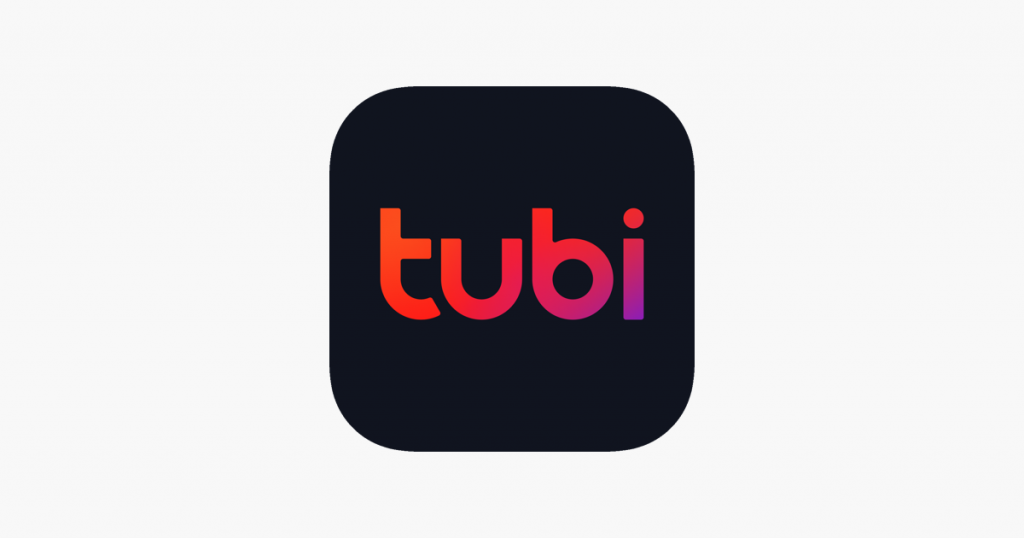 Disney+
Why choose Disney when there are Netflix and other entertainment apps for streaming? For starters, you get almost the same content for $8, which is cheaper. Plus, Disney also makes amazing original shows (The Mandalorian, Lokki, etc.), so you'll be able to watch the latest exclusive content.
So, if you like Marvel, Star Wars, National Geographic, and, of course, Disney, this entertainment app should be a great option. You can get it for your Android or iOS device—the app works perfectly on both.
Download Disney+: Google Play Store | App Store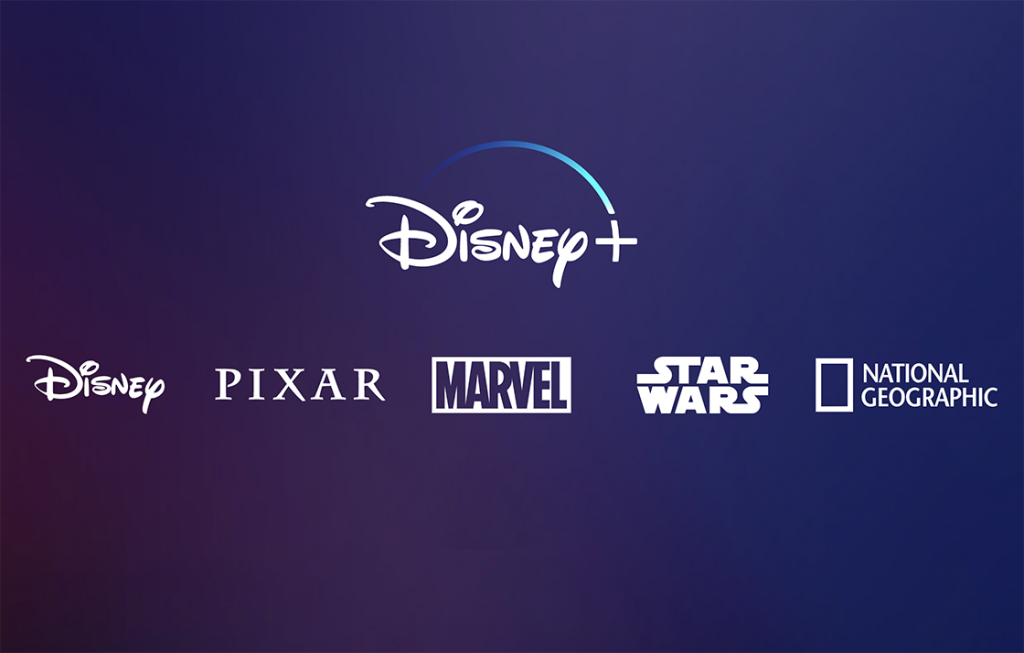 Clubhouse
Want to talk about your favorite TV show or other interests with people from around the world? Check out Clubhouse—this voice-only entertainment app has thousands of conversation rooms and discussions on plenty of topics.
You can join the conversation, listen to others, or host your own discussion. Users claim to have found real friends, professional advice, new knowledge, and even job offers. So, next time you feel like talking, this free entertainment app could be the way to go.
Download Clubhouse: Google Play Store | App Store
Pluto TV
Don't mind ads as long as you can watch movies? Pluto TV was made for you, then. This application for entertainment has a good selection of movies and shows you can watch for free, no subscription is required.
Content is available via 250 virtual "channels," including Star Trek, NFL, and CBS News (see this article for channel recommendations). Users say this entertainment app works well on both Android and iOS and is a great alternative to paid streaming apps.
Download Pluto TV: Google Play Store | App Store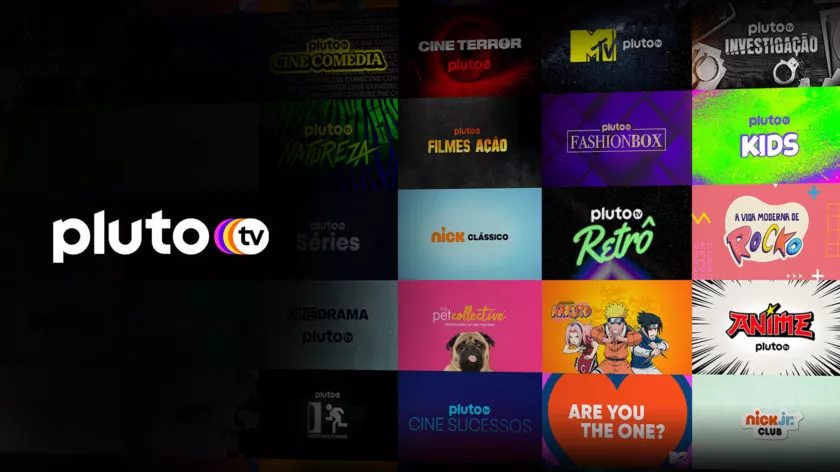 Xbox Game Pass
People call this entertainment app a Netflix for gaming. And that's exactly what it is: for just $10 a month, you get access to a bunch of games to play on your device. So, yeah, it's an obvious choice for people whose idea of entertainment apps involves gaming.
Users say this top entertainment app is an awesome way to play on Android and iOS devices without turning on Xbox. The gameplay is amazing even through the cloud, so you'll enjoy your favorite games just as you would with a console or a computer.
Download Xbox Game Pass: Google Play Store | App Store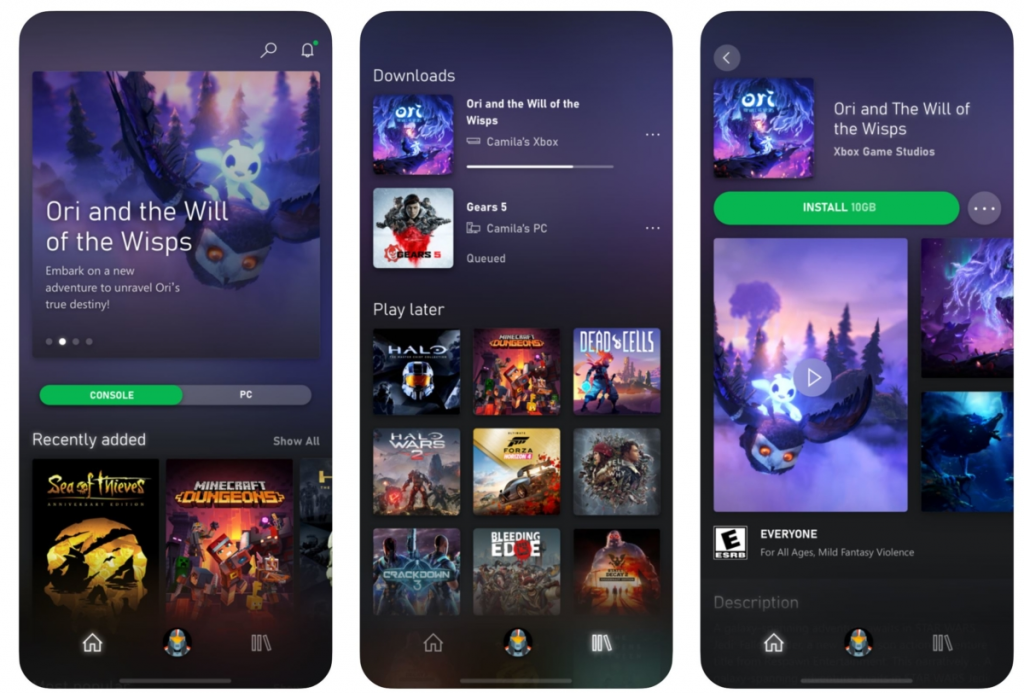 Google Play Games
This is a go-to entertainment app for gamers. It has thousands of games for you to choose, and many of them don't require installation. From action to puzzles, you'll find your next favorite game to play on your phone.
Interesting features like scoreboards and game recordings also make Google Play Games a top application for entertainment. And you can play many games offline, too!
Download Google Play Games: Google Play Store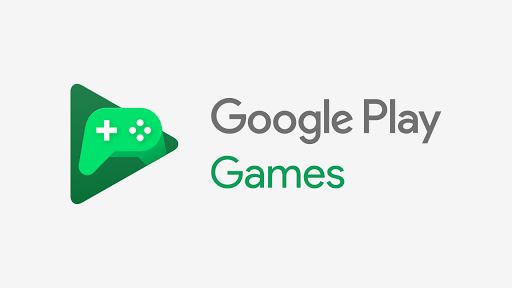 HBO Max
There can never be enough entertainment apps for streaming. HBO Max is here because it is home to 13,000+ hours of quality entertainment: popular movies, must-see TV series, exclusive originals, and more.
This streaming app also has great parental controls, which makes it a must-have app for entertainment for the whole family. Just set up your preferences and the content will get personalized accordingly.
Download HBO Max: Google Play Store | App Store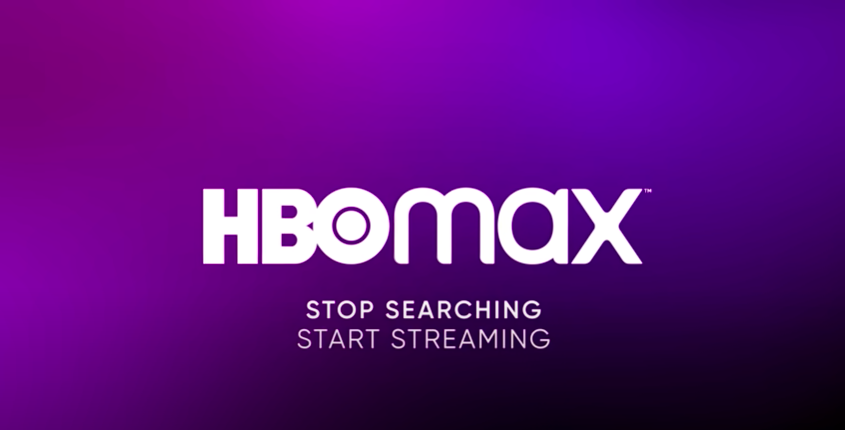 Anywhere between $100 to $10,000.

That's how much you can make with an app as quickly as several months after release. Here's how much you need to make that possible: How Much Does it Cost to Develop an App?
YouTube TV
Watch YouTube often? Then you might like its cable-free live TV app. Already, millions are enjoying its 70+ channels on their smartphones and TVs using this easy-to-use and familiar-looking entertainment app.
Although the monthly price for the service is $64.99, you get plenty of benefits in return. You can have 6 accounts in one household, which should be enough for all smartphones and TVs. Also, this top entertainment app allows you to record videos with no storage space limits.
Download YouTube TV: Google Play Store | App Store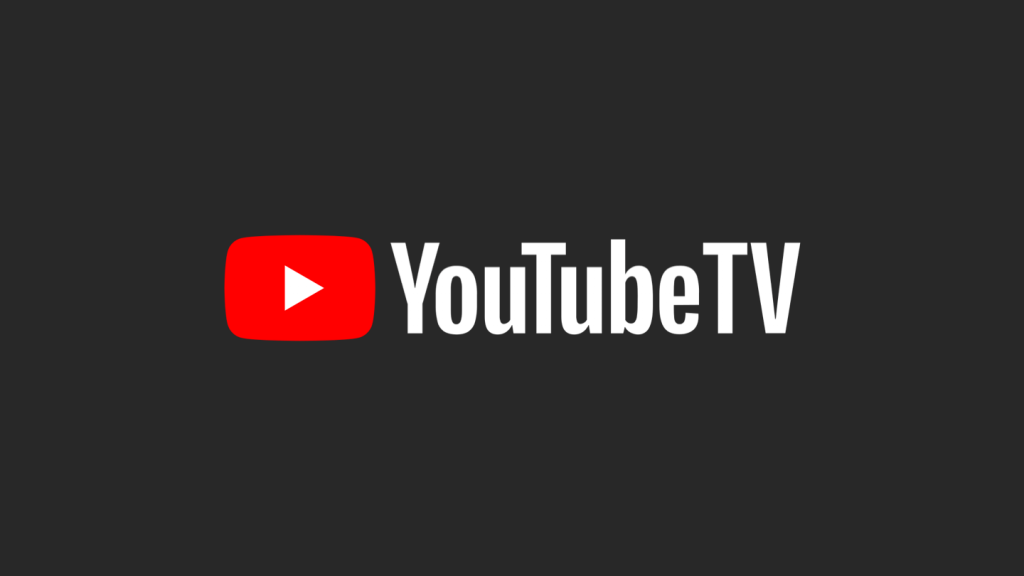 TikTok
Don't you just love to binge watch TikTok videos? The dances, the trends, the tricks… Just like that TikTok may soon be replacing YouTube as the most popular platform. Already, users in the U.S. are spending more time on TikTok than YouTube, and numbers of downloads are suggesting tremendous popularity.
We get why TikTok became the best entertainment app: it's entirely based on interactive and fun videos. This format makes the app extremely appealing for young users because it's just pure entertainment. Proof: U.S. users spend 60 minutes on the app every day.
Download TikTok: Google Play Store | App Store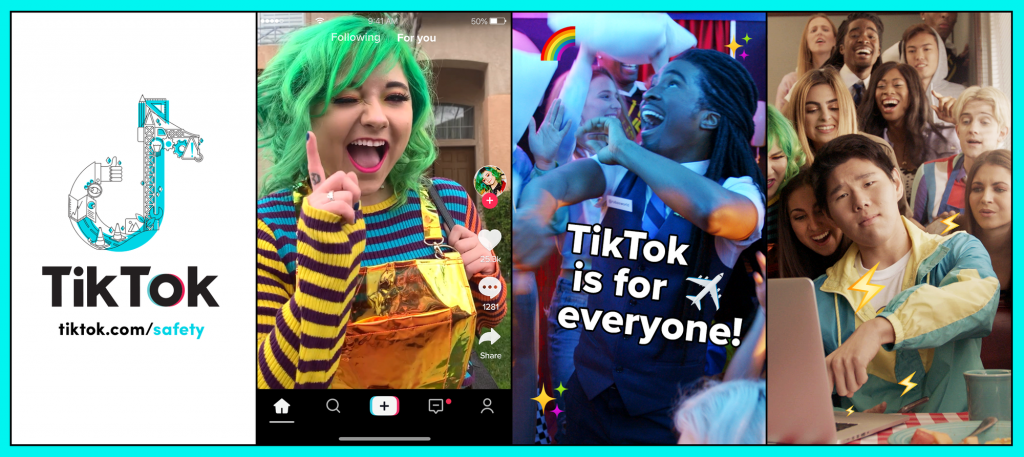 Hulu
About 37% of Millennials choose this entertainment app to watch movies and TV on their Android and iOS devices. Indeed, Hulu is perfect for those who'd like to keep watching the latest TV shows but don't feel like buying an HD antenna or a cable. 
The app gives access to most major network and cable shows plus plenty of original content, for $64.99 a month. If that's a bit expensive, go for the plans with ads, which costs just $6.99 a month.
Download Hulu: Google Play Store | App Store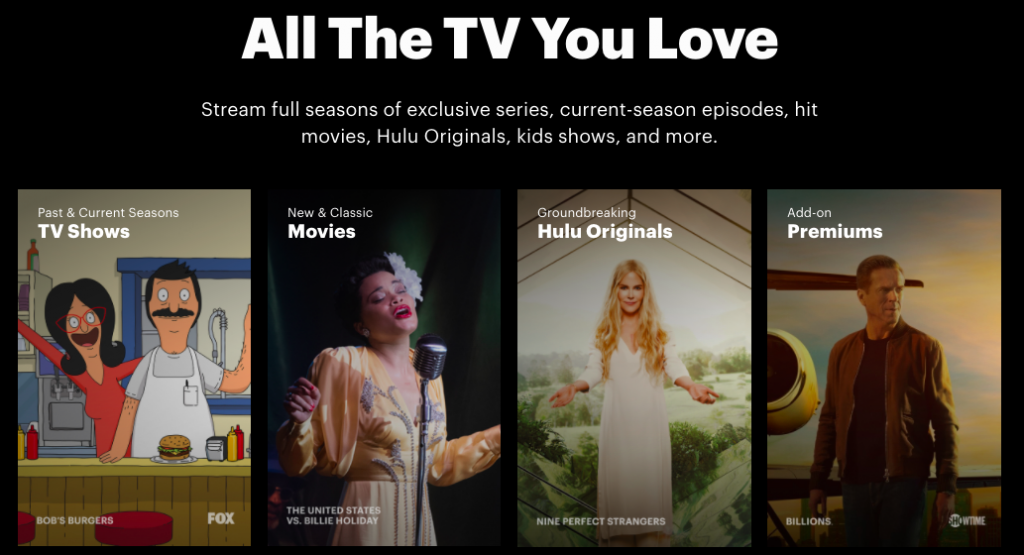 IMDb
You've surely come across IMDb if you're a movie fan to watch trailers and get information about favorite actors… And now your experience will get only better because the service is available as an app for iOS and Android.
Inside the app, you can discover new movies, watch classics, get personalized content recommendations, read breaking news from the industry, and even buy tickets from your device. A must-have entertainment app for movie fans, indeed.
Download IMDb: Google Play Store | App Store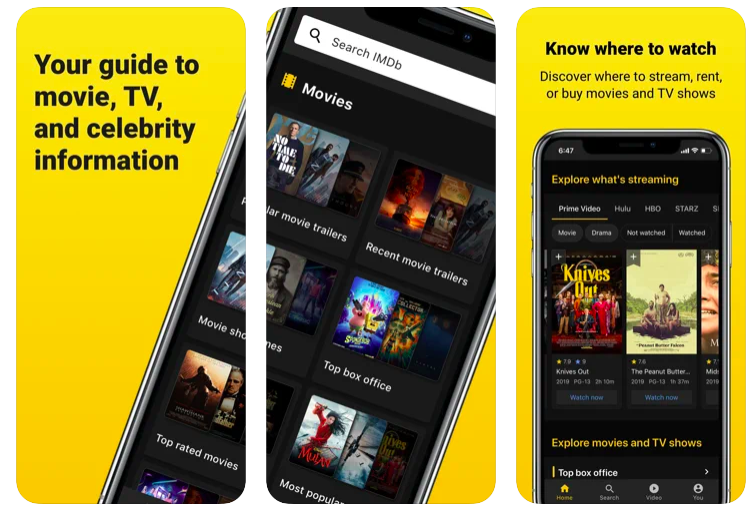 Goodreads
This top entertainment app is created for book enthusiasts and has millions of books, a great recommendation system, and community features. It's basically a search engine for books, which you can also use to rate content and leave your reviews.
If you want to get access to the new releases, find great options for daily reading, or get connected to like-minded book fans, Goodreads is the best entertainment app. Great ratings from Android and iOS users are the best proof of that.
Download Goodreads: Google Play Store | App Store
Google Play Books
Google Play Books comes next on our list of entertainment apps for reading fans. There are millions of books and audiobooks to enjoy, nicely categorized by genre, rating, and other filters. And you can create your own library to save the items you love the most.
Google Play Books is one of the oldest on this list of entertainment apps. Last year, it turned 10, which is an impressive accomplishment, considering it has gone through some rough patches like suspending signups for new publishers.
Download Google Play Books: Google Play Store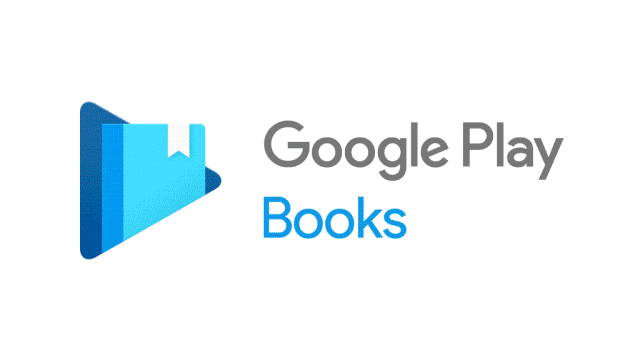 Audible
Love audiobooks?
Audible offers more than 200,000 titles, featuring classics, bestsellers, and new releases. You also get podcasts, original content, meditation programs, sleep tracks, and more. Searching for titles and genres is easy, and the app works well on mobile: no buffering or bugs.
The subscription costs $7.95 but you can try for free for 30 days. You won't be disappointed: this entertainment app offers the best experience for fans of audiobooks.
Download Audible: Google Play Store | App Store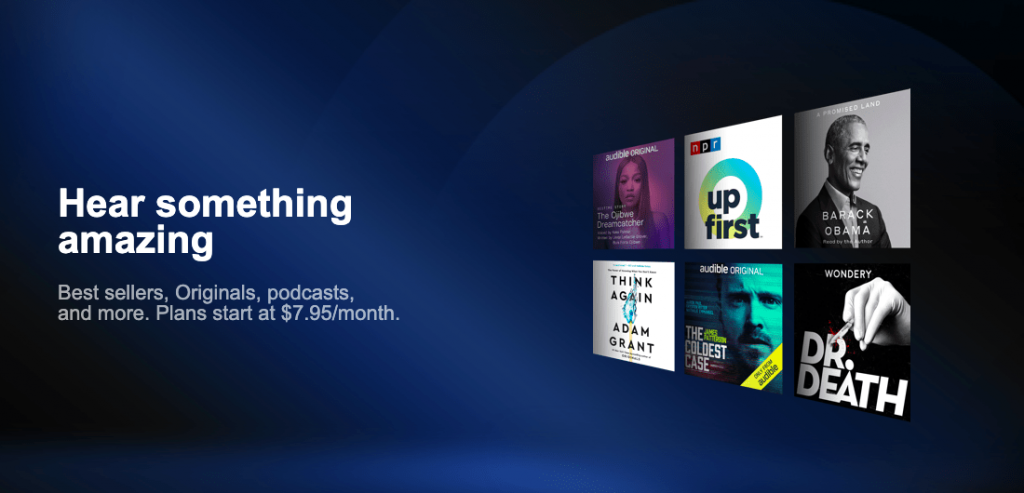 9GAG: Funny GIF, Meme & Video
The best way to describe this best entertainment app?
"LOL Pics & GIFs search engine."
9GAG offers unlimited fun with millions of pics and videos posted by users from all over the world. So, if you want to see a few (or a hundred) funny pics or memes to brighten your mood—9GAG should be your go-to entertainment app.
Download 9GAG: Google Play Store | App Store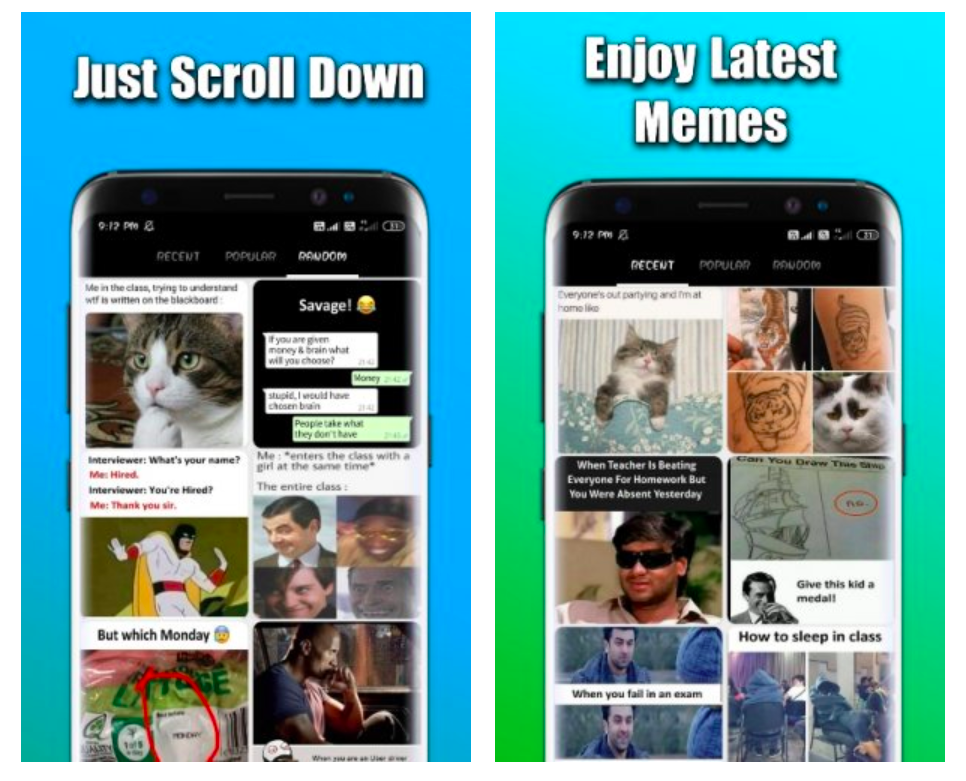 iFunny
"iFunny's users are 146% happier than baby koalas." That's how the creators of iFunny describe the benefits of this entertainment application. But they really back up their words—iFunny is one of the most entertaining apps for fans of funny memes, videos, and GIFs.
Not only can you enjoy a huge collection of hilarious content, but also like, comment, share, and subscribe to favorite content creators. Just be careful: some content in this entertainment app is rated Mature 17+.
Download iFunny: Google Play Store | App Store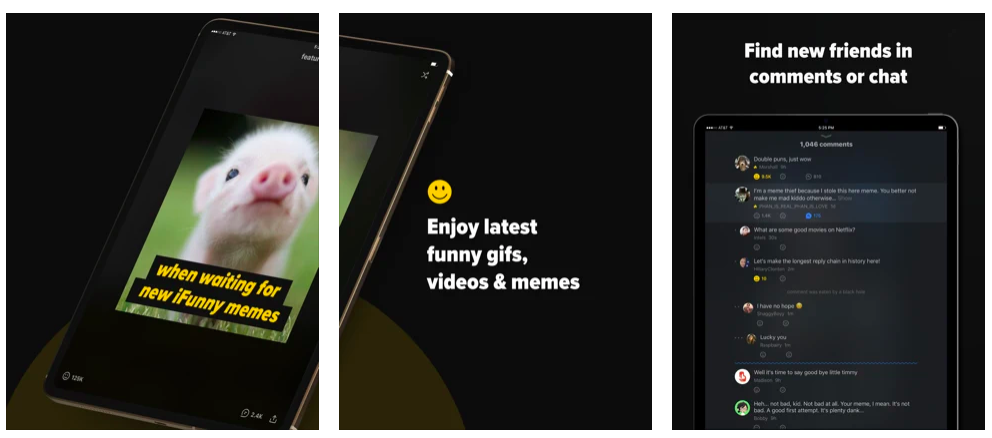 Want to see other popular apps from other categories?

Here are our top picks:
Peacock TV
Looking for the best free entertainment apps? Peacock TV is worth checking out. You can watch a large collection of movies, TV channels, and originals… For free!
The collection is updated constantly and the quality is fantastic. That's why this top entertainment app has overwhelmingly positive reviews from Android and iOS users, and gets "the best free streaming service" title from CNet.
Download Peacock TV: Google Play Store | App Store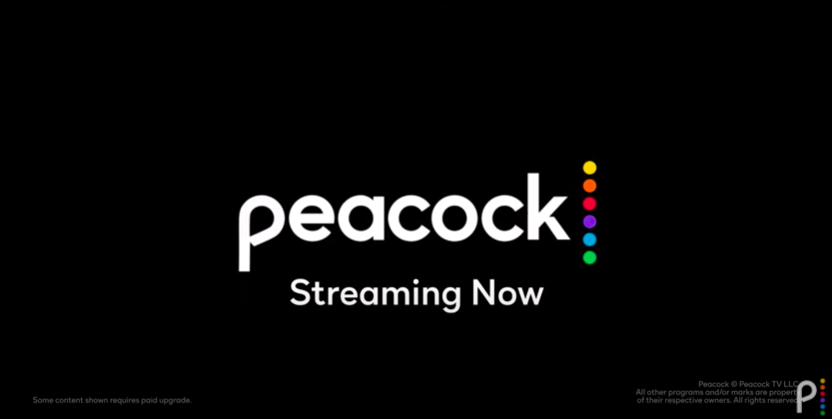 Paramount+
Paramount+ is a top entertainment app that has content for everybody.
Let me give you some examples. Families with children will love the treasure trove of Nickelodeon content inside the app. Movie and documentary fans will get a huge library of both older and current titles. Sports fans will appreciate the access to CBS coverage of NFL, NCAA, and other major leagues.
Download Paramount+: Google Play Store | App Store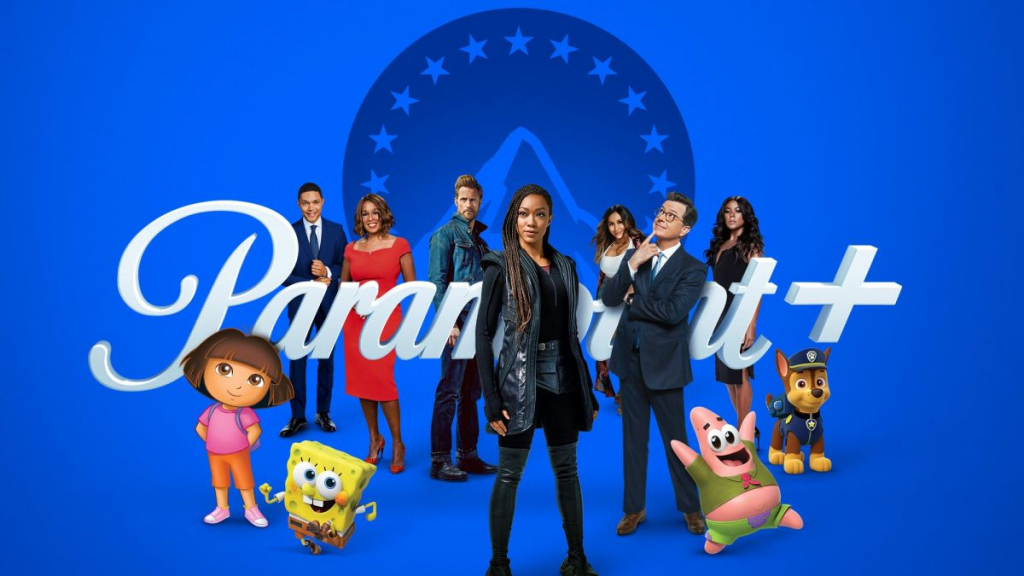 Summary
Here you go, the 20 best entertainment apps in the game right now.
Streaming services continue to dominate in this area, with Netflix, Amazon Prime, Disney, and HBO Max being enjoyed by tens of millions. But if your idea of entertainment also includes gaming, Google Play Games has you covered. Add some social media and funny content to the mix with TikTok, 9GAG, and Clubhouse, and you're all set.