Introduction
Nowadays mobile technologies influence every sphere of life. And farming along with rural development is no exception at all. Laptops, tablets, and smartphones have become the main tools not only of app developers but farmers as well. Farmers are making agriculture smarter. They spend most of their time working on laptops or tablets and programming their activities instead of working in the fields like their fathers and grandfathers did.
Mobile technologies simplify farming activities. In the last few decades, it was hardly possible to track and manage work in the fields. To cultivate such large areas was both difficult and time-consuming. The automatization of routine farming activities contributes to better management and increased efficiency.
There is a wide number of reasons why mobile solutions are becoming more and more popular today not only among farming giants but also small family-owned farms. In this article, we're going to discuss how mobile technologies are changing farming and rural development.
Farming of the Future
By 2050, U.S. farmers will need to increase food production to feed a growing world population. Along with farm consolidation, the agriculture industry is becoming smarter to produce more food in the same fields. But the ever-growing demand for food drives the need for more outside labor and more advanced technologies.
Nowadays, lots of agricultural companies have stepped up their efforts to apply IoT or mobile solutions to tackle routine tasks like weather monitoring or auto-guidance of watering. Moreover, high-tech solutions like robots are expected to ease farming and rescue the mankind from the famine. Dairy farmers have already implemented robotic milkers as a substitute for human labor. Moreover, farmers can control the process of milking and track the amounts of milk with their smartphones.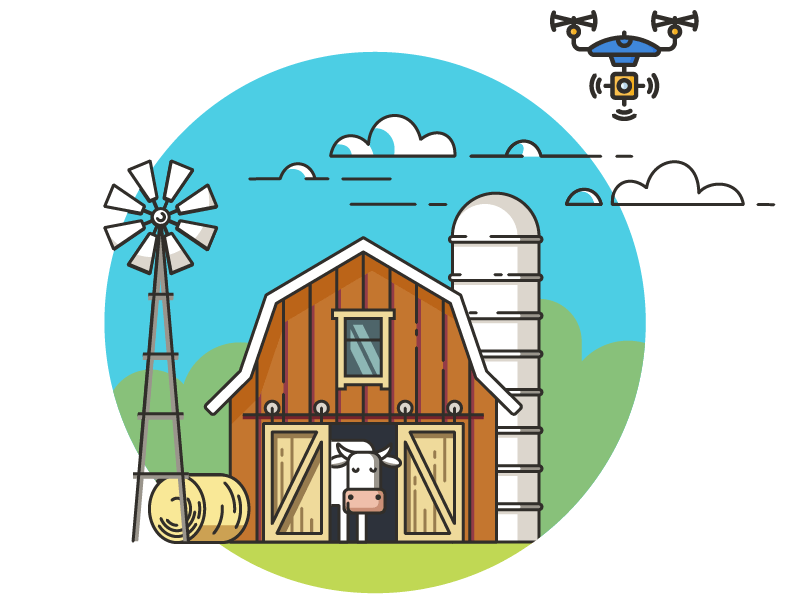 With that said, farm equipment manufacturers are prototyping and testing robotic tractors and sprayers to handle fieldwork without drivers. Currently, lots of modern field machinery are equipped with the electronics to control operations with minimal human intervention. However, there are some legal issues that burden the work of driverless tractors and sprayers.
While robots are still the future of farming, drones are poised for a boom in farm usage. In the next decade, the drone industry for agriculture will generate around 100k jobs all over the U.S. and around $82 billion of revenue according to a Bank of America Meril Lynch Global Research report.
As farming relies more on complex equipment and robots, this drives the need to develop software to manage all that machinery. It doesn't mean that farms don't need any apps today since they aren't using driverless tractors or robots. On the contrary, lots of farms already have some mobile apps to coordinate the work and even predict the weather.
What Can Mobile Apps Do for the Farming Industry?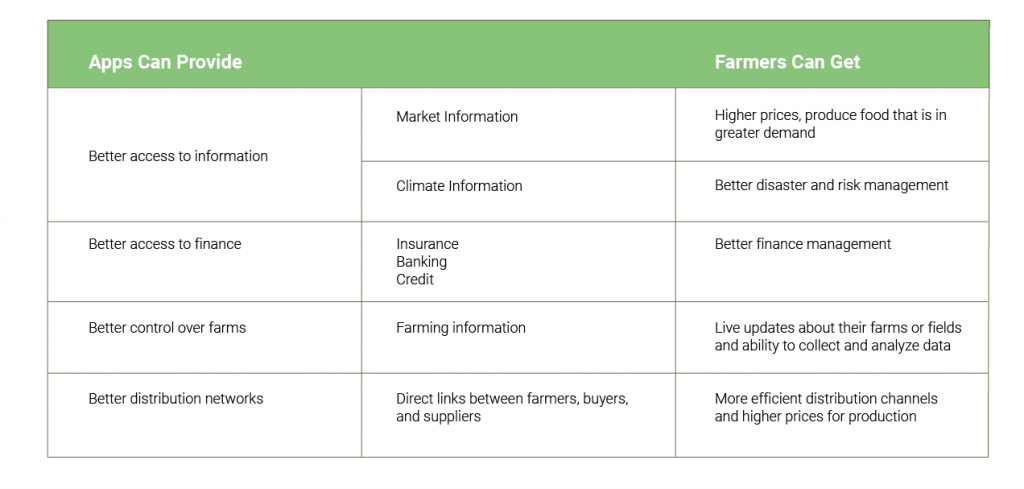 Types of Mobile Apps for Farming and Rural Development
Though farming is more focused on hands-on work, it has a tremendous amount of potential for innovations and change. While manual labor still takes the largest portion of agricultural work, apps for farming can streamline all these processes and make the work more efficient. Here are four ways mobile apps can make your farm smarter.
For Livestock Management. Livestock management takes both time and effort, especially when there are thousands of animals to keep track of. It's essential to minimize disease and distress to keep animals healthy. Also, farmers need to group animals and keep track of daily look-for activities. With all of these pieces, it's hard to keep everything in mind or on paper. Apps can ease all these processes by giving farmer access to modern tools. For examples, livestock management apps can keep track of the cattle and provide up-to-date information on a flock or herd including medical data.
For Inspection Management. There are several obligatory inspections that should be done on farms for safety reasons in the U.S. As a rule, the agency can do all those inspections. But there are lots of other tests that farms should be managed themselves. The policies are constantly changing and farmers have to be aware of changes in advance. With all those moving pieces, it's hardly possible to keep manual checklists. Apps are here to save the day. With mobile apps, farmers can automate their inspections and create digital checklists to streamline the preparations.
For Field Farmers. With simple mobile apps like time trackers. farmers can determine output more accurately, use field machinery more efficiently, and optimize field work. Moreover, there are mobile apps that can help monitor and predict the weather and disease along with their impact on fields and different crops. Field mapping has also become popular among farmers. With its help, they can draw and project maximum output.
For Crop Farmers. A lot of any crop farmer's work is manual and apps simply cannot replace it. However, mobile apps can help crop farmers become more hands-off. Farmers can check and monitor the soil conditions in a few clicks. They can keep tabs on pesticides and herbicides to maximize their harvest. Moreover, the apps can even remind crop farmers when it's time to fertilize the soil or apply pesticides.
Summary
As farming is still our main source of food, we have to make it more effective to triple the output and feed everyone on the Earth. Using various mobile and web apps for agriculture is a primary step towards smart farming. Mobile applications for agricultural and rural development offer innovative, dynamic, and interdisciplinary services. These new services could raise incomes and create more opportunities for farmers. At IDAP, we can build your own farming app taking advantage of our understanding of agribusiness and top-notch developer skills. We'll find an appropriate app solution to get your farming business up.