50+ million installs.
$580+ billion in annual revenues.
Those are just some impressive facts about the most popular apps. People love apps, and we're willing to use them for almost anything. But some apps get more love than others, and we tried to find them.
We hope this list of popular mobile apps will inspire you to come up with your own app idea. Or, at least give you a sense of what worked for the most successful tech companies.
In this post:
Most popular Android and iOS apps 
Tips on how to develop a popular mobile app
Not here for the most popular apps? Check these instead:
The Most Popular Apps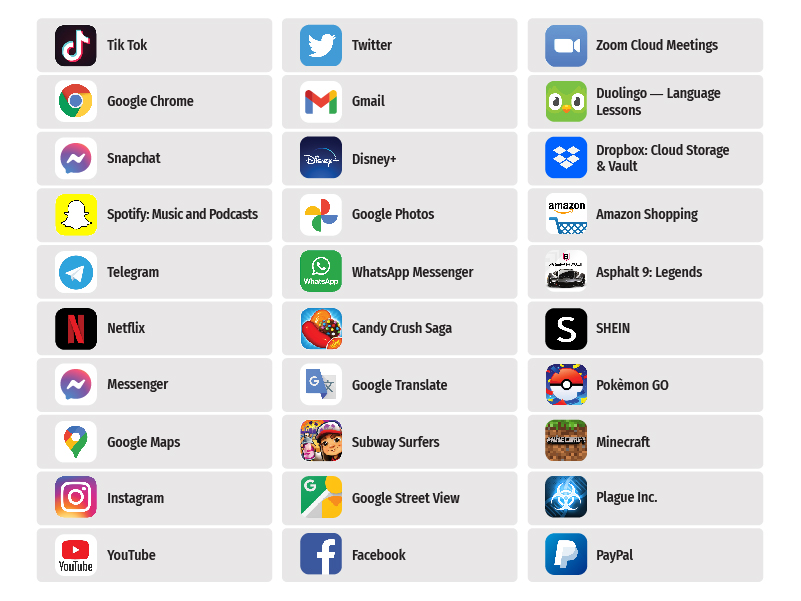 1. Tik Tok
Installs: 1+ billion (Android)
User reviews: 42 million (Android) 813 (iOS)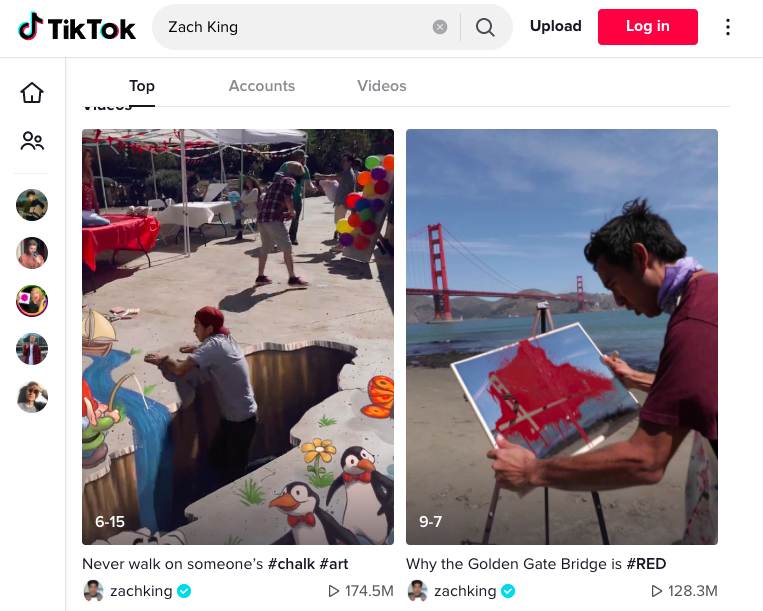 TikTok's popularity exploded back in 2018 when it became the most downloaded app on the App Store and surpassed YouTube, Instagram, and WhatsApp. It's been all success since then, with people of all ages embracing trendy dances and challenges. Now, the platform boasts 1 billion monthly active users and continues to grow fast.
Why Tik Tok is popular:
Easier and more convenient to use
Gives the best ability to go viral fast
Appeals to the younger generations' short attention span
Download:
2. Google Chrome
Installs: 1+ billion (Android)
User reviews: 34 million (Android) 124.5K (iOS)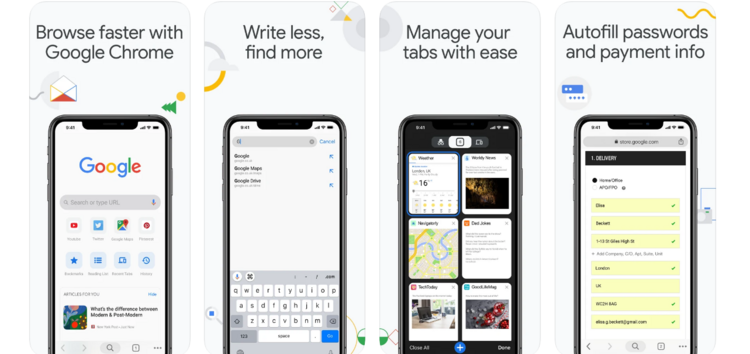 Chrome is the world's most popular browser app. People love its simplicity, speed, extensions, and overall reliability—features we commonly associate with all Google apps. Chrome's user base is about 2.65 billion—that's 35.8% of the mobile search market.
Why is Google Chrome a popular app?
Loads websites fast
Very clean and minimalist design
Plenty of useful extensions for individuals and businesses
Download:
3. Snapchat
User reviews: 27+ million (Android), 916K (iOS)
Installs: 1+ billion (Android)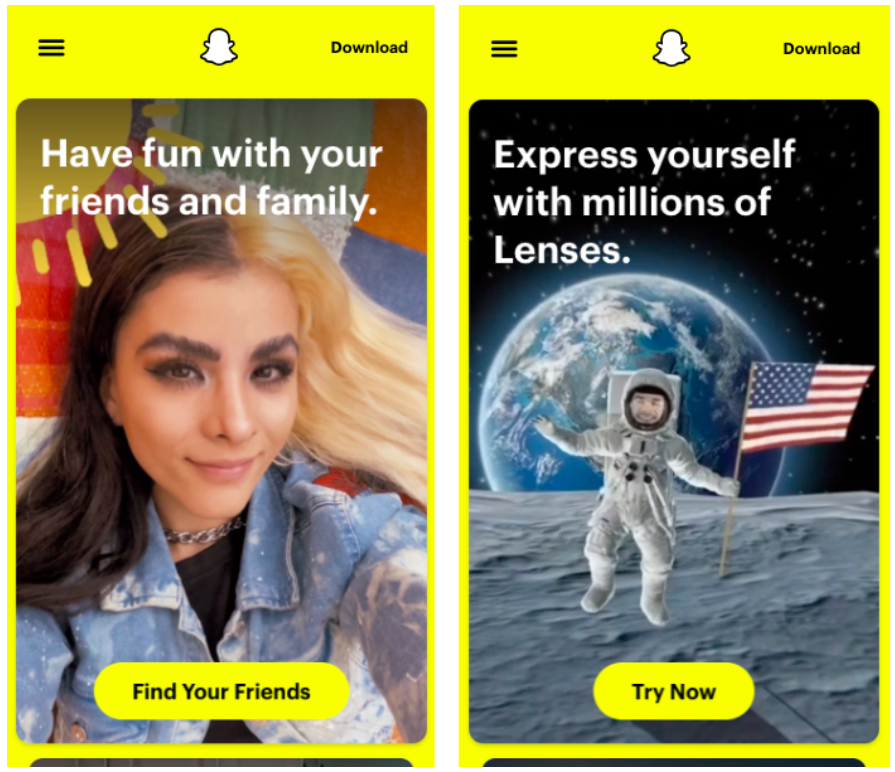 "Snapchat is dying out."
Many of us have read the rumors about this popular app's decline in users and revenues. So, what is Snapchat doing here? Well, actually, the number of Snapchat active daily users is increasing (it's 306 million now), and 63% of these people open the app every day.
Why Snapchat is popular:
Plenty of filters
Creative features like drawing and stickers
Augmented reality-based special effects and sounds
Download:
4. Spotify: Music and Podcasts
Installs: 1+ billion (Android)
User reviews: 24 million (Android), 19+ million (iOS)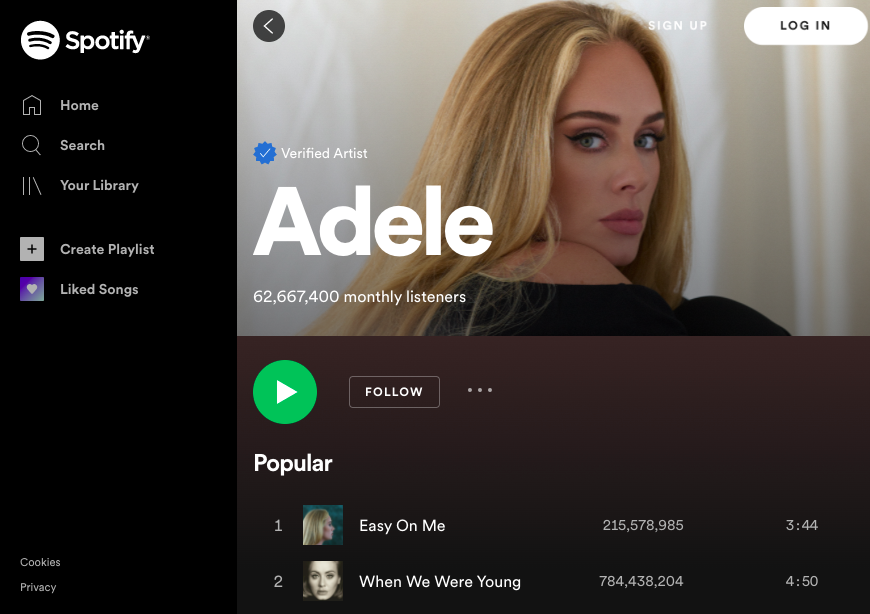 The most popular app for streaming music? That's this one.
With Spotify, you can stream music without paying and stay updated on the latest releases from favorite artists. A strong focus on user experience and low pricing for premium plans are also major reasons why Spotify is one of the most used mobile apps.
Why is Spotify a popular app?
Easy search for favorite artists, videos, and songs
You can listen to millions of songs and podcasts for free
Useful features like artist following and sharing music with friends
Download:
5. Telegram
Installs: 1+ billion (Android)
User reviews: 8 million (Android), 127.6K (iOS)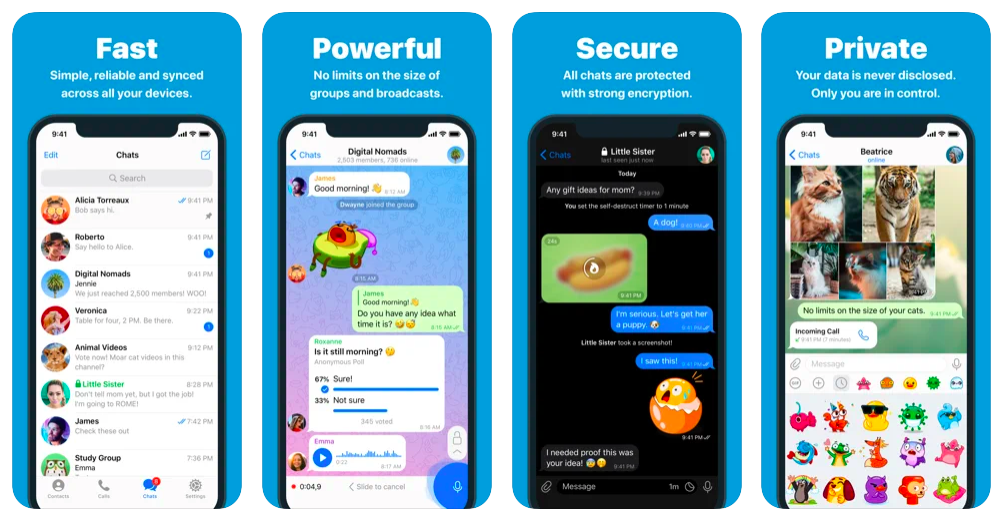 Powerful data protection. Self-destructive chats. No ads.
That's Telegram—one of the world's most downloaded apps with 500+ million active users. Designed to provide people with a secure and safe app to communicate with others, Telegram has become more of an "anti-Facebook" in terms of regulations and data protection.
Why Telegram is a popular mobile app:
App is 100% free and has no ads
Functionality: group chats, video chats, file and sticker sharing
Encryption makes it safer than Facebook Messenger and WhatsApp
Download:
6. Netflix
Installs: 1+ billion (Android)
User reviews: 12+ million (Android), 297K (iOS)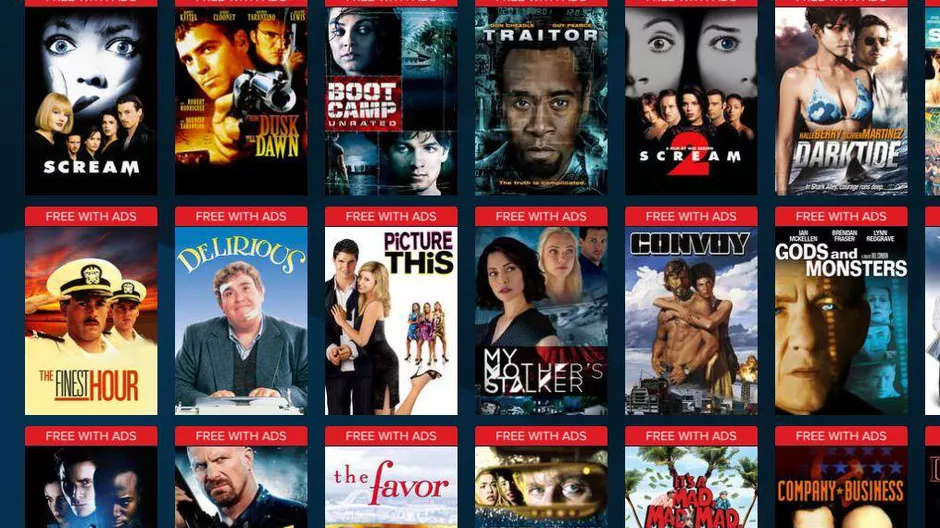 Netflix is the best streaming service that has something for everyone. Despite the higher cost compared to other top streaming apps ($13.99 for a Standard plan with HD videos), the service remains extremely popular. Reasons? There are plenty.
Why Netflix is a popular app:
High-quality, popular original TV series
The biggest library of TV shows and movies
Excellent functionality: ad-free streaming, personalized content, offline downloads
Download:
7. Messenger
Installs: 5+ billion (Android)
User reviews: 80+ million (Android), 1.3+ million (iOS)
Until this year, Facebook was the world's most downloaded app. Despite being overtaken by TikTok, the 10-year-old Messenger is still a go-to communication app for hundreds of thousands of Facebook users.
Why Messenger is popular:
Free chat, audio & video calls
Very easy to chat and exchange files
Business features (chat with customers, chatbots)
Download:
8. Google Maps
Installs: 5+ billion (Android)
User reviews: 14+ million (Android), 12.4+ million (iOS)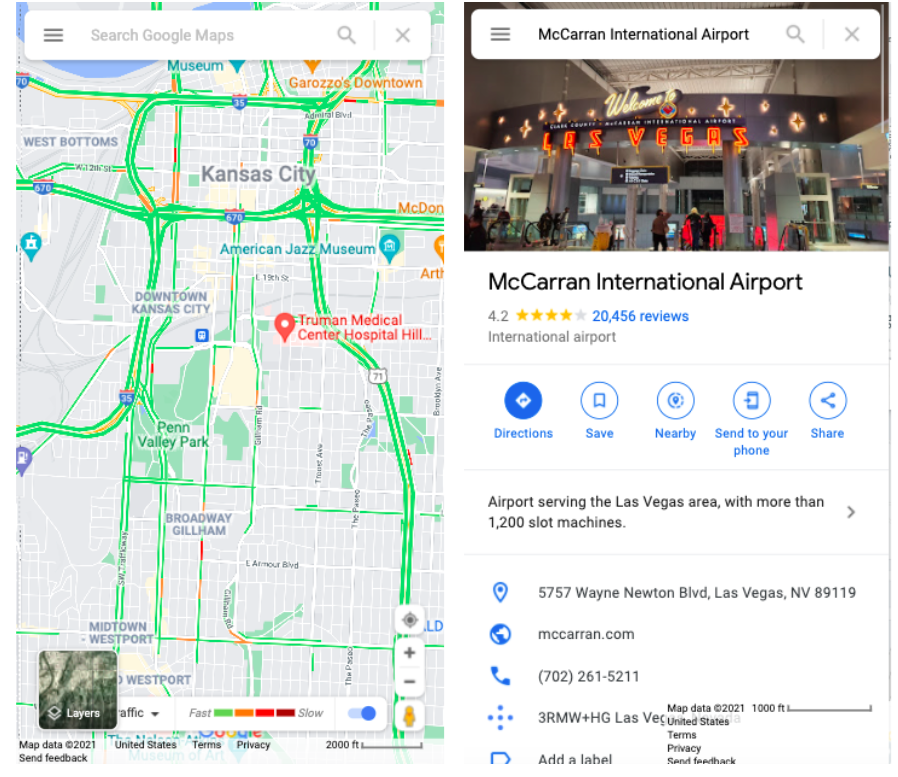 Top-rated local restaurants. The nearest dry cleaning service. The fastest road to the national park. Google Maps is the best companion in these (and thousands more) situations, providing directions, tips, and even real-time traffic updates. It's the most comprehensive navigation service, period.
Why Google Maps is popular:
Excellent GPS navigation
The richest and the latest map data in the world
Perfect for both driving and exploring unfamiliar areas
Download:
9. Instagram
Installs: 1+ billion (Android)
User reviews: 126+ million (Android) 22 million (iOS)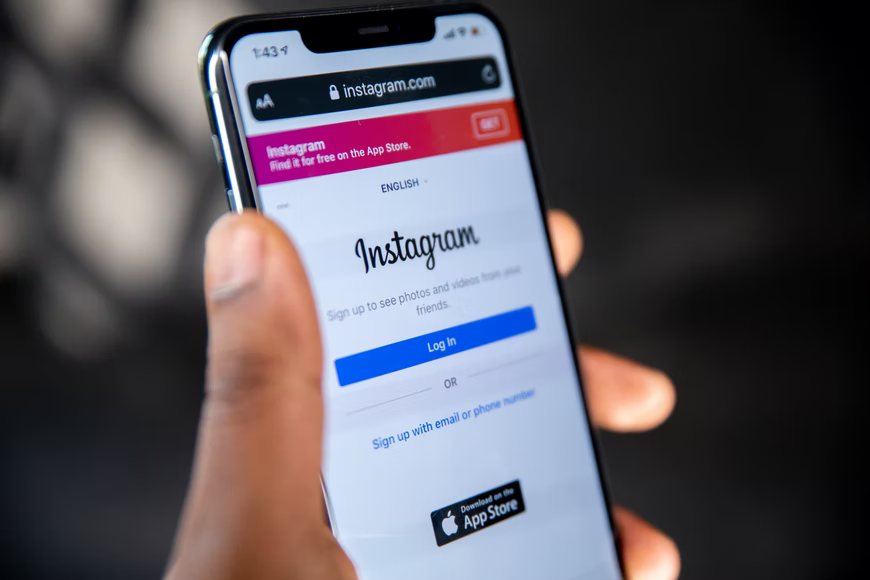 Instagram-worthy situations can happen at any time. If you have the Instagram app on your phone, then your followership will reward you nicely with comments and likes and make your day. People (and businesses) are into that. That's why Instagram continues to be one of the most popular mobile apps ever.
Why Instagram is a successful app (according to users):
Extreme user-friendliness (simple, intuitive interface)
Constant updates and new, engaging features
Image-first orientation (people prefer visuals over texts)
Download:
10. YouTube
Installs: 10+ billion (Android)
User reviews: 125+ million (Android), 23 million (iOS)
Youtube is the most popular video sharing app, and no other can overtake it anytime soon. Every minute, users from around the world upload more than 100 hours of video to the platform, so we won't run out of fresh content, too. No surprise YouTube is as popular as ever (92% of U.S. users go watch content on the platform at least once weekly).
YouTube is one of the biggest apps in the world because it:
Is free to use for everyone
Has the largest collection of quality video content
Provides incredible content variety: instructional, entertainment, news, movies, and more.
Download:
11. Twitter
Installs: 1+ billion (Android)
User reviews: 18+ million (Android), 5.3+ million (iOS)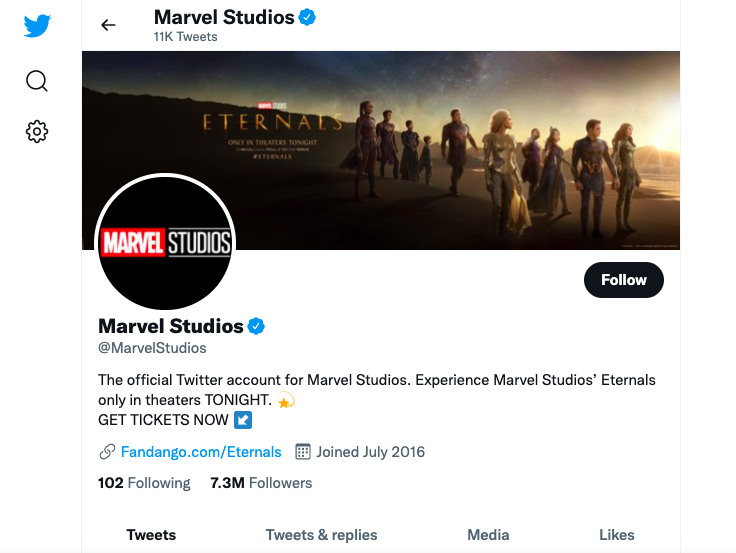 "I'm gonna star in a new Marvel movie!"
"Patriots win and advance to the Super Bowl!"
"My lunch was bad, let's tell the entire world about it!"
Athletes, actors, reporters, and ordinary folks. Twitter is a platform that allows people from all walks of life to get information to others as efficiently as possible. A strict verification process also makes the platform one of the most trustworthy and safest social networking apps.
Why Twitter is a popular app:
Great micro-blogging platform for quick content sharing
Easy to use, find like-minded people, and personalize the content feed
Marketing uses: business promotion, reputation monitoring, crisis response, activism, etc.
Download:
12. Gmail
Installs: 5+ billion (Android)
User reviews: 10+ million (Android) 367K (iOS)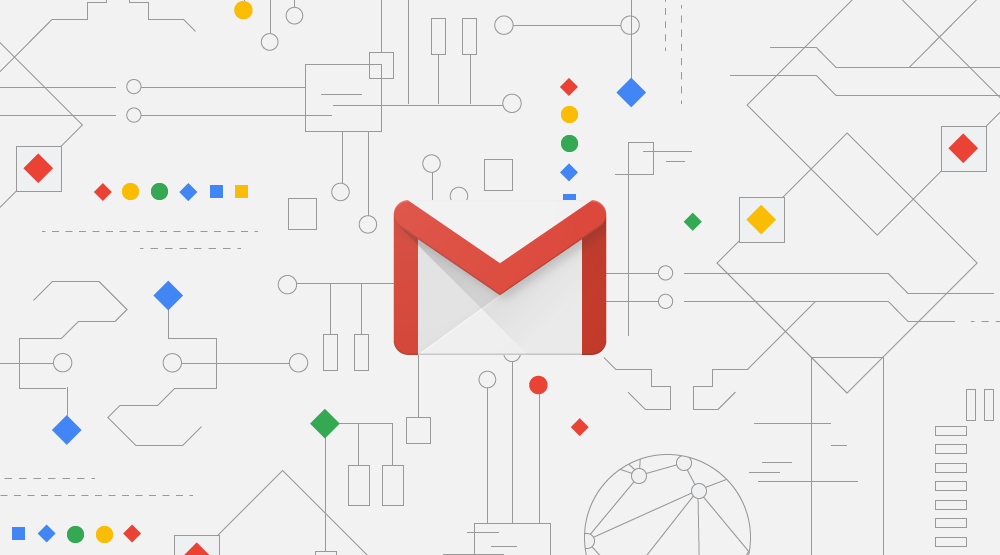 No list of popular apps is complete without Gmail. This free email service broke all kinds of records, including most downloads and users in the Google Play store. Success secret? Pre-installation of Android definitely helps, but the app really has both basic and advanced features down.
Why Gmail is a top mobile app:
Free and reliable email app that includes 15 GB of free storage
Designed to be used by both businesses and individuals
Powerful anti-spam and data protection features
Download:
13. Disney+
Installs: 1+ billion (Android)
User reviews: 1.3+ million (Android), 271K (iOS)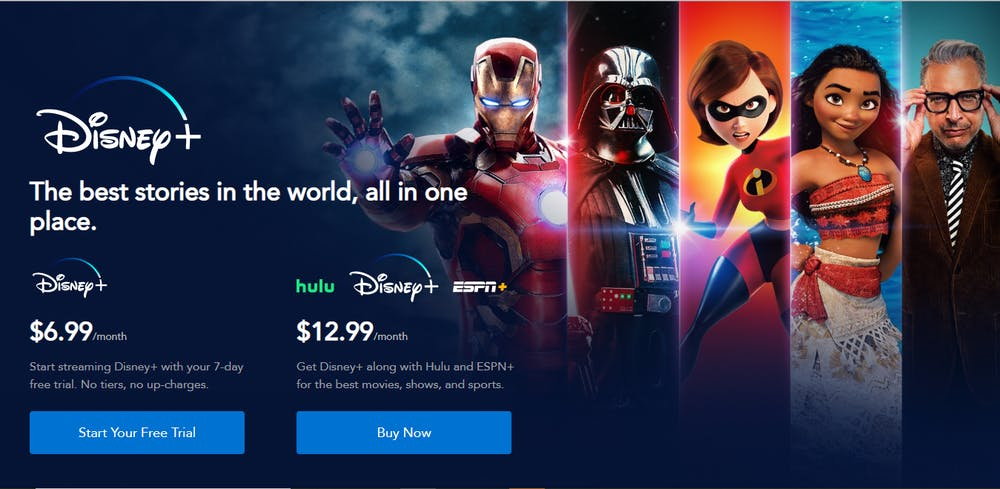 More than 50% of Americans now use some kind of streaming app, with many choosing Disney. For $8 a month, people can watch new content in a simple app. Now, Disney+ is well on the way to becoming the biggest player in streaming with $16.9 billion in annual revenues and 116 million subscribers.
Why Disney+ is a popular application:
Super "clean" and easy to use
Wide catalog of popular movies and TV (Marvel, Disney, Pixar, etc.)
Readily available theatrical releases without ads, for a low monthly price
Download:
14. Google Photos
Installs: 5+ billion (Android)
User reviews: 39+ million (Android), 329K (iOS)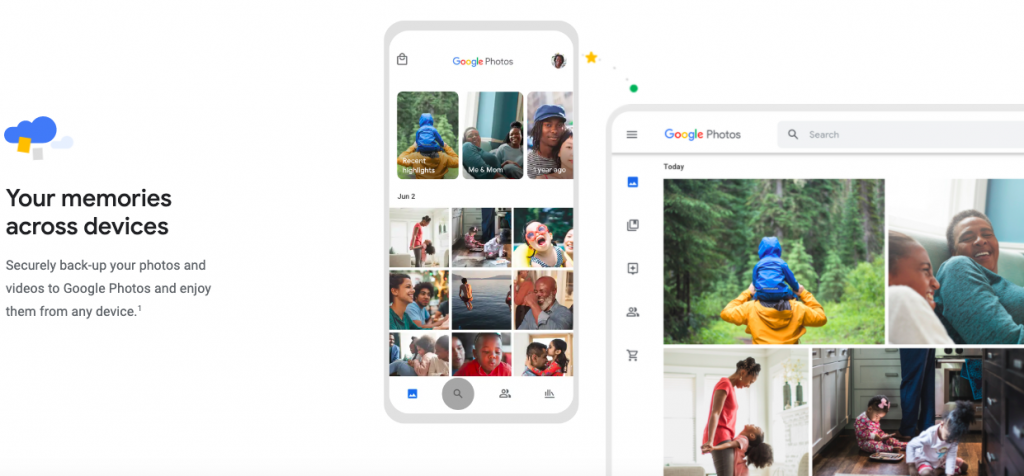 A secure cloud for storing tons of photos forever…
Well, that's the main value of this popular app from Google. Pre-installation on Android devices also helps, but we should give credit when it's due: Google Photos is amazing for image storage. Changes might be coming, though: the app's unlimited storage feature ended on June 1, 2021, but had no effect on the user base so far.
Why Google Photos is a popular app:
No effect on image quality and resolution
Secure, fast, and reliable storage from Google
Plenty of free space to back up photos (15 GB since June 2021)
Download:
15. WhatsApp Messenger
Installs: 5+ billion (Android)
User reviews: 148+ million (Android) 9.2+ million (iOS)
WhatsApp is the world's most popular messaging app in 2021, delivering over 100 billion messages per day. People around the world love WhatsApp because it resembles SMS texting services, which is something many are used to. Besides, with all the stickers, statuses, and groups, this popular app became almost a way of life for many.
Why WhatsApp is popular:
Extremely easy to use, user-friendly, and feature-rich
End-to-end encryption increases the security of user data
Designed for easy communication for both businesses and consumers
Download:
Video chat is a huge reason why WhatsApp is popular. The market for video calling apps is predicted to grow from $6.28 billion in 2021 to $12.99 billion in 2028.

But how does a business go about developing a video app?

Find answers here: How to Develop a Video Chat App
16. Candy Crush Saga
Installs: 1+ billion (Android)
User reviews: 32+ million (Android) 2.2+ million (iOS)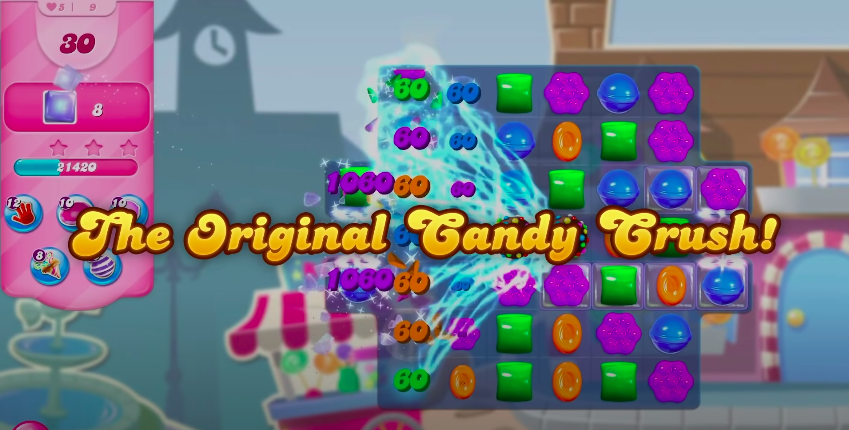 Candy Crush is a legendary puzzle game. How's that for an opinion? One of the best-reviewed apps (4.6 stars on Google Play and 4.7 App Store), this 9-year-old franchise is a go-to boredom killer for millions. The Wall Street Journal recently wrote the app made an estimated $1 billion in sales in 2020 alone.
Why Candy Crush Saga is popular:
Incredibly simple and rewarding game plan
Constantly updates: the game gets up to 45 new levels every week
Strong game fundamentals: scarcity, increasing difficulty, and a sense of accomplishment
Download:
17. Google Translate
Installs: 1+ billion (Android)
User reviews: 8+ million (Android) 66.7K (iOS)
As with many other things, Google is the best with translations. Google Translate is easily the world's most used app for breaking down language barriers. And rightfully so: you can translate texts, speech, and even text on pics taken with a camera, in 108 languages. So, next time you're abroad, just take a pic of the menu to get a translation in seconds.
Why Google Translate is a successful app:
Convenience: you can use your camera for instant translation
Easiness: you can translate languages by typing, even offline
Functionality: translate handwriting, SMS messages, and speech
Download:
Clean, easy to use, and user-friendly.

Those are the attributes of the most successful apps.

This rule doesn't apply to all websites, though. With these 25 Weird Websites to Cure Boredom, for example, you can slap a person with an eel or watch a corn dog rain.
18. Subway Surfers
Installs: 1+ billion (Android)
User reviews: 36+ million (Android) 1.3+ million (iOS)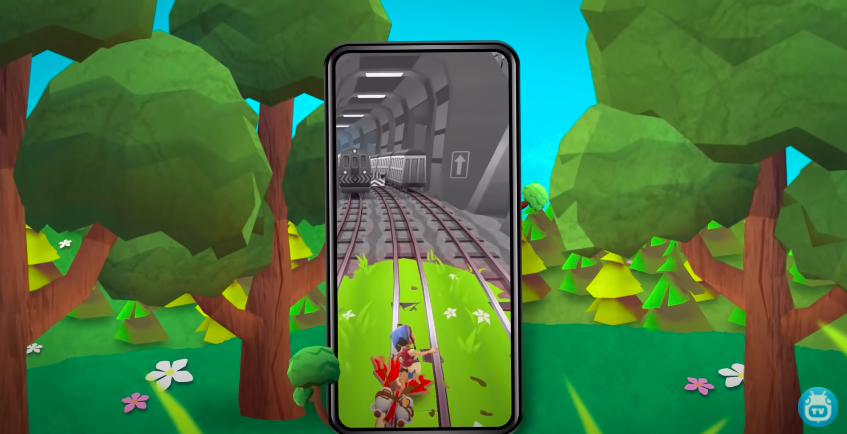 Source: Google Play store screenshot
Subway Surfers remains one of the most downloaded games ever. What makes this app stay popular? Well, you're a teen rebel running from the police and collecting tons of valuable stuff—what's not to love? But seriously, defying the rules in an endless game with an increasing speed is a great plan that many can enjoy.
Why is Subway Surfers a popular app?
Simple controls, simple gameplay, and extreme replayability
Game keeps increasing pace to make the escape more difficult
Endless running games are popular because of the challenge and simplicity
Download:
19. Google Street View
Installs: 1+ billion (Android)
User reviews: 2+ million (Android) 4.8K (iOS)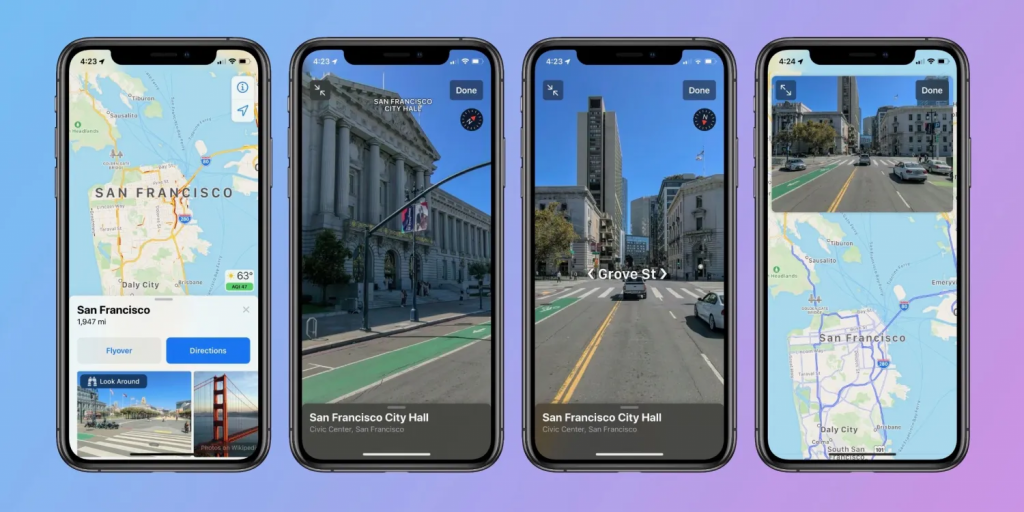 No surprise Google Street View is here. Millions use this popular app to get accurate routes for vehicles like cars and bikes, and explore unfamiliar areas. Google claims that Street View covers over 98% of places people inhabit, which, translated into miles, is equal to 41 trips to the moon and back.
Why Google Street View is a top app:
Helpful for travel and exploration
Allows to visit places like museums, galleries, and natural wonders
Most accurate and comprehensive street view app in the world
Download:
20. Facebook
Installs: 5+ billion (Google Play)
User reviews: 122+ million (Google Play), 1.2+ million (App Store)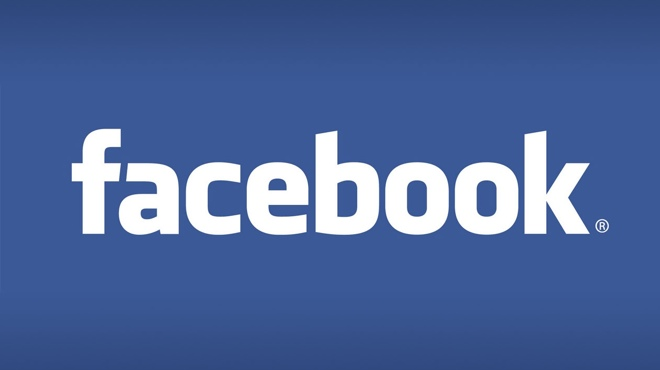 Here's what's so interesting about Facebook—
The app has the lowest ratings among popular apps on this list (2.6 and 2.2 stars) and suffers from a huge reputation blow after a recent internal document leak. Also, Facebook changed its name to Meta, which caused a lot of confusion among users. So, the future of this popular app is as unclear as ever.
Why Facebook is a popular application:
Easy and free to use
Serves as a go-to source for content related to people's interests
Extremely personalized browsing experience with engaging features
Download:
21. Zoom Cloud Meetings
Installs: 500+ million (Android)
User reviews: 3.2 million (Android), 2.1 million (iOS)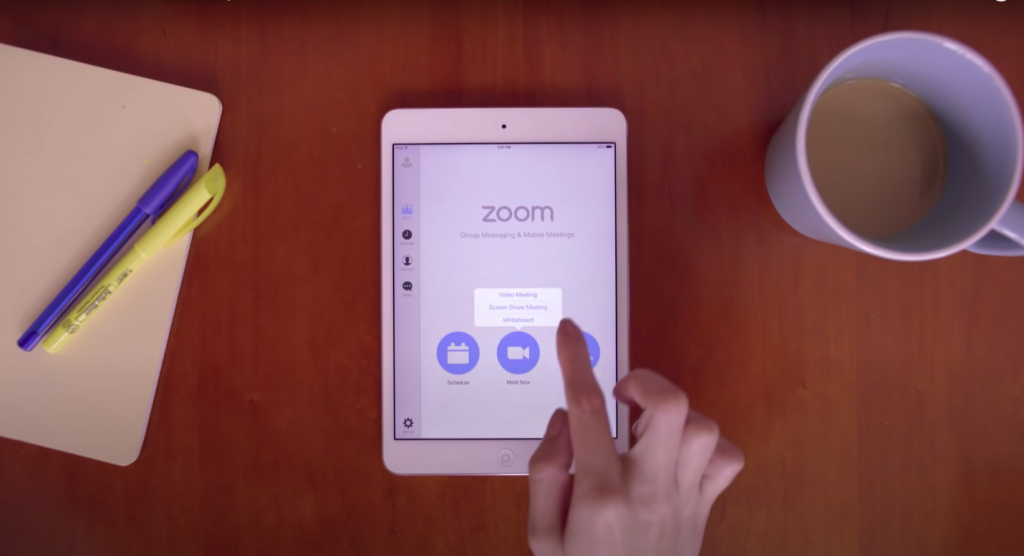 Zoom became Google of video conferencing when the pandemic started, capitalizing on the competitors' main weakness: complexity. Compared to Skype, Webex, and other apps, Zoom is more dependable and easier to use. To this day, the app continues strong growth, proving how a nimble startup can surpass much larger competitors.
Why Zoom is a popular app:
Super easy setup, onboarding and usage
App was designed for both businesses and consumers
Company was able to capitalize on the stagnation in the market
Download:
Also have an app idea to combat market stagnation?
Get in touch with us. We are a full-service software development company that can turn your idea into a dominant market leader.
22. Duolingo — Language Lessons
Installs: 100+ million (Android)
User reviews: 11+ million (Android), 1.3 million (iOS)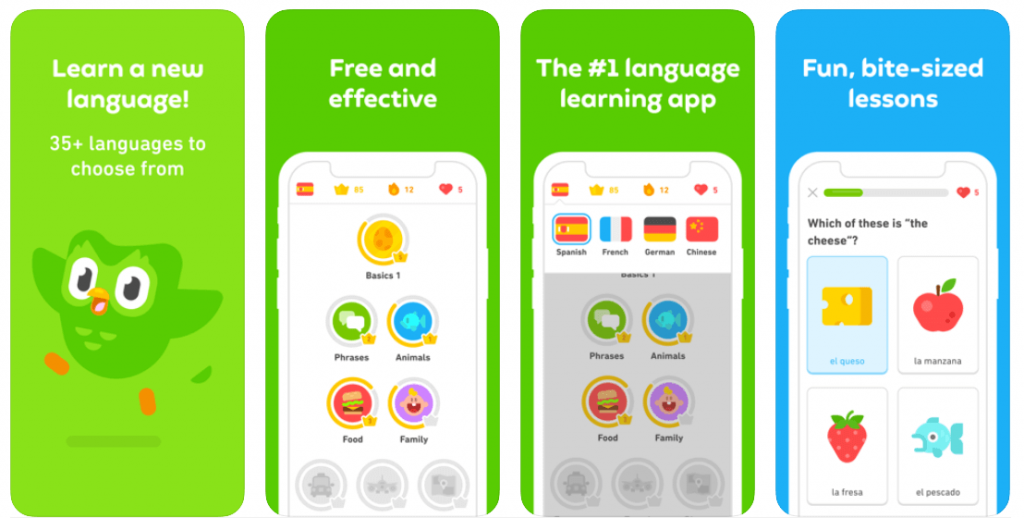 Duolingo is the world's most downloaded education app. The app makes learning simple with fun, quick lessons, playful rewards, and personalized progress tracking. Besides, the effectiveness of this popular app is proven by a scholarly study. That's why Duolingo has a version for schools, too.
Why Duolingo is the most downloaded language app:
It's free to use
You can practice writing, speaking, reading, and listening
Plenty of incentives for learners (contests, special events, points)
Download:
23. Dropbox: Cloud Storage & Vault
Installs: 1+ billion (Android)
User reviews: 2.1+ million (Android), 238.1K (iOS)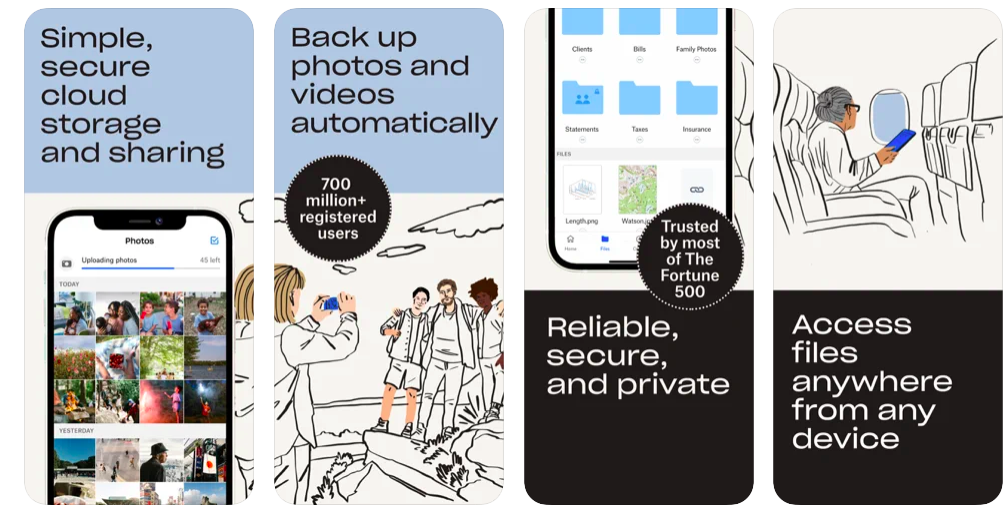 Dropbox is winning the race for the best online file storage service. Despite the intense competition from Google Drive, this app seems to be providing better value for the money. How exactly? With easier file sharing, saving, and syncing, say reviews.
Why Dropbox is one of the most used apps:
2 GB of free storage
Extremely reliable security and safety measures
Excellent file sharing features (file passwords, sharing codes)
Download:
24. Amazon Shopping
Installs: 500+ million (Android)
User reviews: 2.5 million (Android), 4.6+ million (iOS)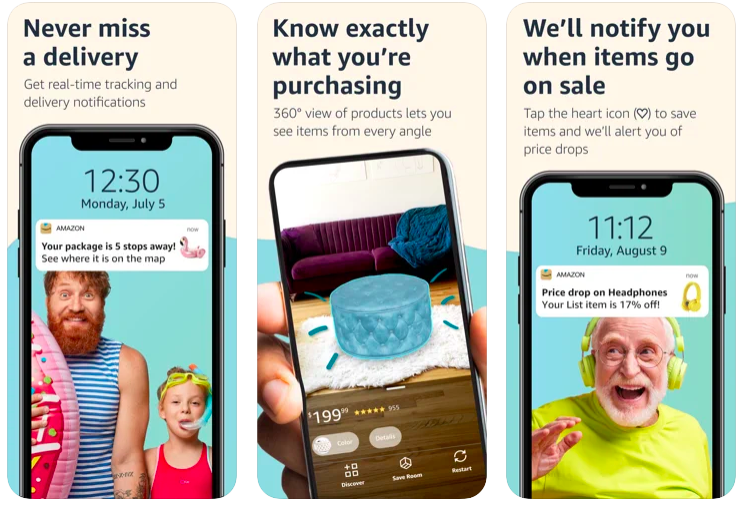 Almost 80% of smartphone users made a purchase with their devices. Amazon is the leader in the industry of mobile commerce, having made $5 billion in sales through its official mobile apps. We totally get it: the app is great, and offers the same experience as desktop.
Why Amazon is one of the best ecommerce apps:
Easy search and buying from Amazon
Useful notifications (shipment updates, Prime Day deals)
Plenty of app-only benefits (discounts, free shipping, and others)
Download:
25. Asphalt 9: Legends
Installs: 50+ million (Android)
User reviews: 2.2+ million (Android), 831K (iOS)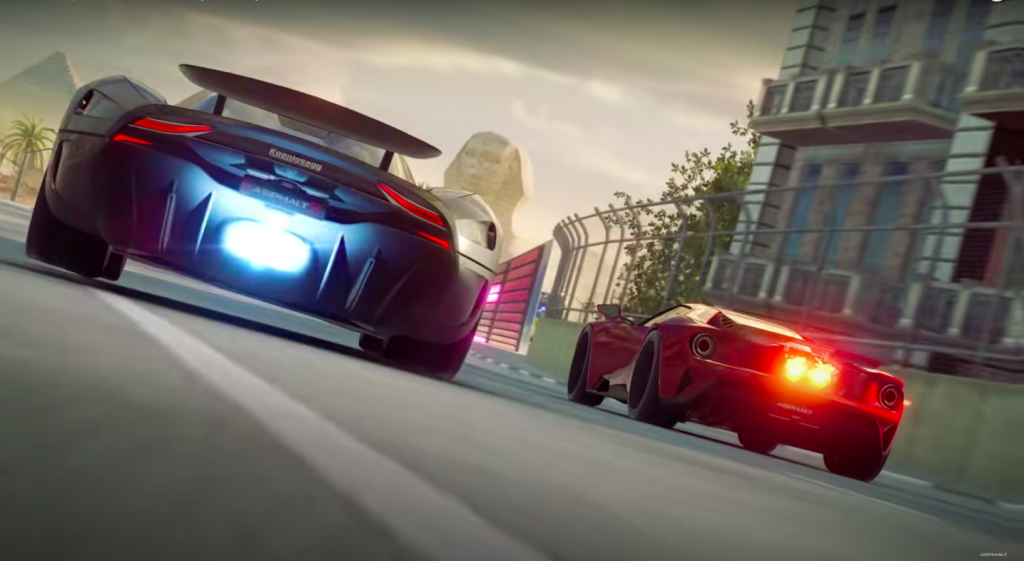 Asphalt offers a fine driving experience for gamers using Android and iOS. It's one of the best-looking racing games ever, with stellar graphics, realistic controls, and a console-quality racing experience. And, of course, you can drive cool cars and while listening to Axwell and Ingrosso, Papa Roach, and Noisia—doesn't get better than that.
Why Asphalt 9 is a popular mobile game:
Brings console-quality arcade racing experience to mobile
Impressive graphics, visuals, and post-process effects
Plenty of race cars and challenging races
Download:
26. SHEIN
Installs: 100+ million (Android)
User reviews: 2.6+ million (Android), 596.3K (iOS)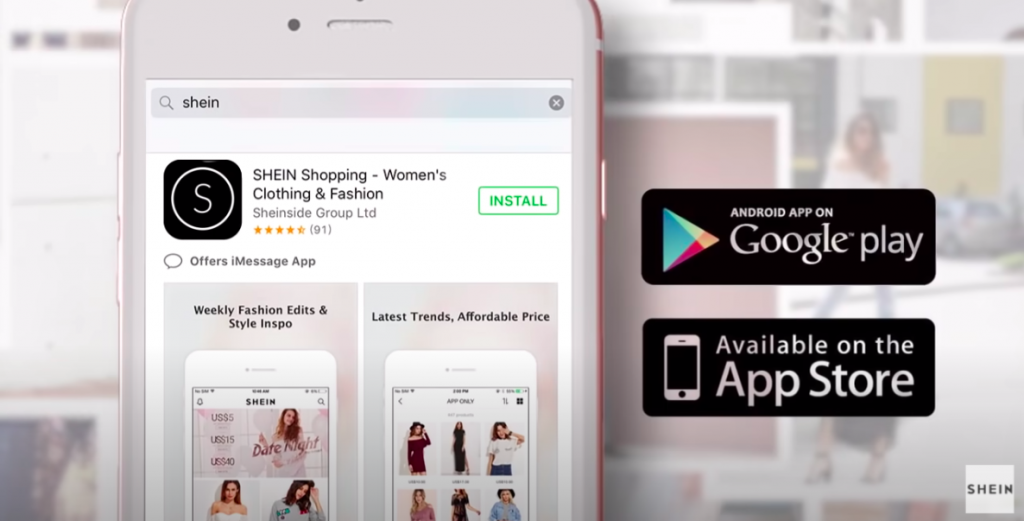 Image source: screenshot from the app's trailer on the Google Play Store
SHEIN is the largest online-only clothing business. No other company comes close to adding almost 3,000 new styles to the app every week, often at much lower prices than most competitors. Thanks to that, SHEIN's app overtook Amazon as the most downloaded shopping app in the U.S. (it took #2 spot as teens' favorite shopping site).
Why SHEIN is a popular app:
Very easy to use and search for styles
Regular product range updates + performance improvements
Useful notifications for shopping (sales announcements, discounts, promotions)
Download:
27. Pokémon GO
Installs: 100+ million (Android)
User reviews: 14+ million (Android), 384.5K (iOS)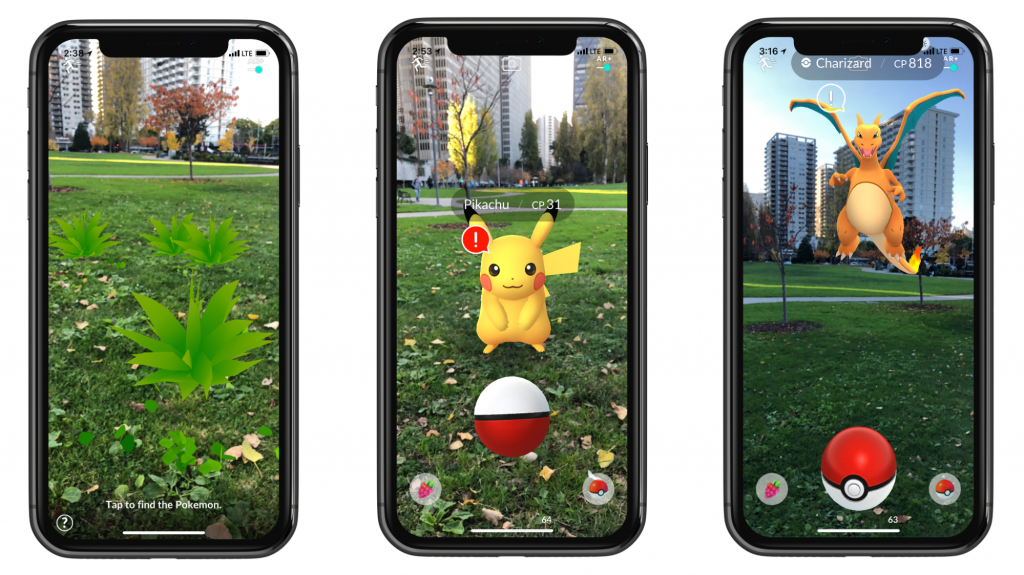 Pokémon GO is a game that broke many records. Only a week after the release, this popular app was downloaded 15 million times. Just three weeks after that, Pokémon GO generated $207 million—three times the revenue of Candy Crush Saga.
Why Pokémon GO is a popular game:
Unique, outside-the-box AR experience
Opportunity to search for Pokémon characters in teams
Millennial players report nostalgia and reminder of happy memories of playing Pokémon on Nintendo a decade ago
28. Minecraft
Installs: 10+ million (Android)
User reviews: 4.3+ million (Android), 498.6K (iOS)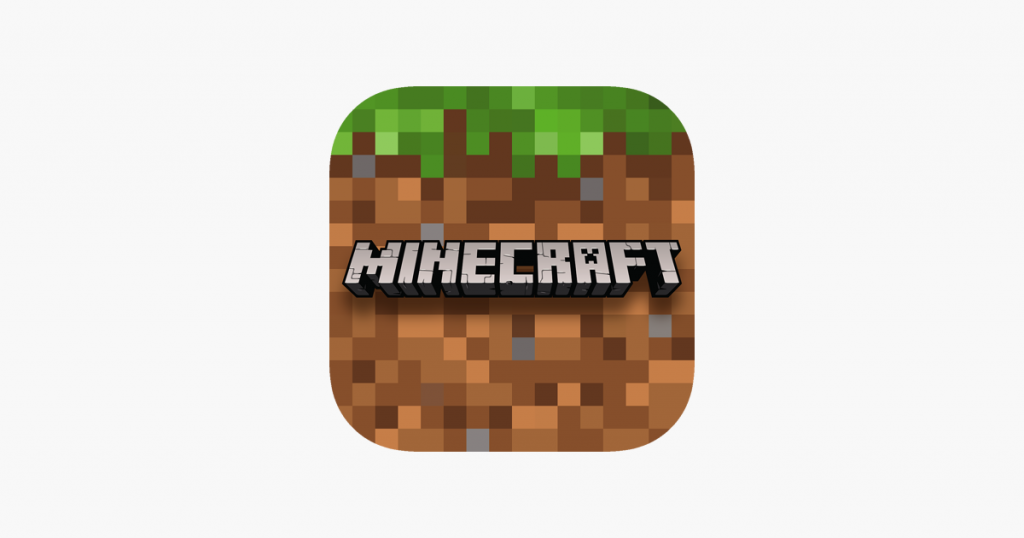 Minecraft is one of the most popular games of all time because of its unique mix of features. The game breaks many basics of popular games like quality graphics to bring players an experience where everyone faces the same exact thing.
Why Minecraft is a successful app:
Game has no limits
Very group- and family-friendly
Incredibly quirky and unique graphics
Download:
29. Plague Inc.
Installs: 100+ million (Android)
User reviews: 3.6+ million (Android), 124.7K (iOS)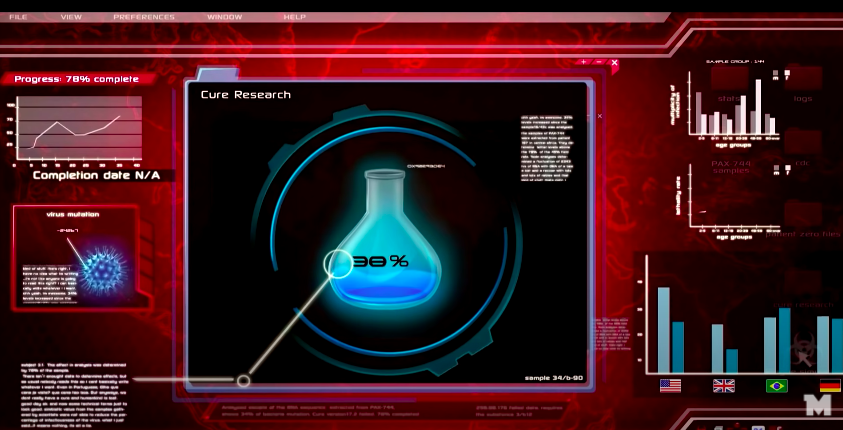 The name says it all: players can infect the world with a virus and eradicate the human race. While Plague Inc. gives us a disturbing variation of the world we live in now, this popular app also engages us on serious public health topics. Interesting fact: Plague Inc. skyrocketed to the top of App Store paid apps after the pandemic started in China.
Why Plague Inc. is a popular app:
Unique game idea
Carefully thought-out strategy is required to win
Realistic scenarios and situations (outbreak management, pandemic evolvement)
Download:
30. PayPal
Installs: 100+ million (Android)
User reviews: 2.2+ million (Android) (iOS)
PayPal remains the most popular app when it comes to money transfers. It's available in over 200 countries, 20 currencies, and doesn't require a credit card to send money. Plus, there's that history and name recognition as a trusted payment partner.
PayPal is popular because:
Fast and secure money transactions
Reasonable transfer fees (2.5% plus a fixed fee)
Easy to transfer money to up to 20 people at once
Download:
Summary
After seeing this list of the most popular apps, one thing is clear: A mobile app is a great business idea.
With the number of mobile apps and their users steadily rising, it makes sense to consider an app as a business investment. An app can become a source of competitive advantage for both new and existing businesses by giving their customers an easy way to engage.
But how to make an app that has a good chance to become popular?
Well, a good starting point is to look at features and best practices from the most used apps we're just reviewed.
Here are our insights:
Make your app easy to set up and use
Solve a specific problem for a specific group of users
Ensure the highest level of user data security
Add engaging features to keep users coming back
Update regularly to make the app as competitive as possible
Nail these and your app can become a magnet for users, conversions, and revenues.
The only thing left:
Find a reliable team of app developers.
I'd love to say that IDAP Group is a great partner for app development… 
But let me cite these facts instead:
IDAP has a 4.9-star (out of 5) rating on Clutch.co
We have helped 200+ businesses develop applications
We can build mobile apps of any complexity and technology
Feel free to request a free consultation with us.
Also, check out our portfolio (including B2B ecommerce apps, medical social networks, radio streaming apps, dating apps, and others).