Introduction
Nowadays, most people on Earth (68% to be exact) cannot imagine their lives without at least one mobile device — smartphone or tablet. Obviously, without the appropriate mobile software a smartphone would be nothing more than just a piece of metal or plastic. That's why the market of mobile applications continues to grow, and its growth won't stop anytime soon, just like human needs. The days when we had to visit stores to buy something, go to the bank for financial operations, ask strangers for directions, and even call to order a transport or food are long gone. And we do not miss them! Now, owning a smartphone you can carry out all the listed above actions (and hundreds if not thousands of other ones) in just a few finger taps. No wonder entrepreneurs immediately realized that apps could benefit businesses as effectively as users. This simple conclusion quickly transformed the apps market from an unsteady investment field into a huge industry with a $188 billion value as estimated by 2020.
So, what does it take to create an app? How much does it cost to develop an app and launch it? And what stands behind the industry-leading apps like Instagram, Tinder, and Uber? Read further to get all of your questions answered.
Approximate App Development Cost
The data-driven resource that explores IT industry Clutch reports that an average price to create an application is $171,450. Meanwhile, results given by most online app cost calculators vary from $200,000 to $350,000 for apps with diverse functionality. Software development companies name the price range between $100,000 and $500,000. This might look like small businesses couldn't afford to launch an app, but it is not actually true. A basic app with just a few features values from $10,000 to $50,000. You can start small and decide whether your business would benefit from further investments in the particular app.

Cost of Creating A Mobile App in Different Countries
In a nutshell, an entrepreneur who needs software development expertise but doesn't want to hire a full-time team of programmers has a single way out: outsourcing. Thousands of companies worldwide provide app creation services, all you have to do is to choose one and get the work started. Of course, the more options are there, the harder it is to decide, so we recommend narrowing down the list of choices to one particular zone or country first.
Regionalization occurs not only in the world economy, but in the global IT industry as well. Every region has its own economic conditions that influence pricing policy, and you have to explore those thoroughly before even thinking to start a collaboration. With IT outsourcing, rules like "higher price — better product" are not always valid; what seems affordable for you, might be a fortune for an app development company in the offshore zone.

So, how much do custom software development cost actually differ worldwide? Take a look at these numbers for clearer image:
The most expensive region by now is North America (the USA and Canada) with its $20-$250 hourly rate for Android and iOS applications development.
Australia follows North America with slightly lower charges from $35 to $150 per hour of work.
UK developers work for the similar to Australia rate — $35 to $175 hourly.
Prices for application development in South America (Brazil, Mexico, Argentina, etc.) ranges between $25 and $120 per hour.
Eastern Europe, quite a popular outsourcing destination now, offers mobile development services for $20-$110. The two leading destinations here are Ukraine and Poland with $34-$64 and $40-$77 hourly rates respectively.
The cheapest option by now is the offshore zone with India being its leader and charging $10 to $75 per hour of work. Meanwhile, Indonesian app developers charge $20 at max.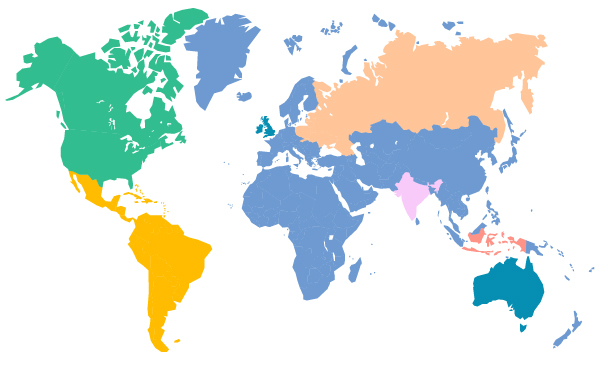 What else can influence the budget of your project is the platform — most likely iOS or Android — you are going to settle up with. This will be defined by your target audience and their location, for example iOS is leading in the US (64% of active users), while Android is more popular globally. If your budget can afford it, get a couple of versions of your application that would work equally smooth on iOS, Android, and web. This will guarantee you the highest number of users. Check out the recent prices for iOS vs. Android app development compared: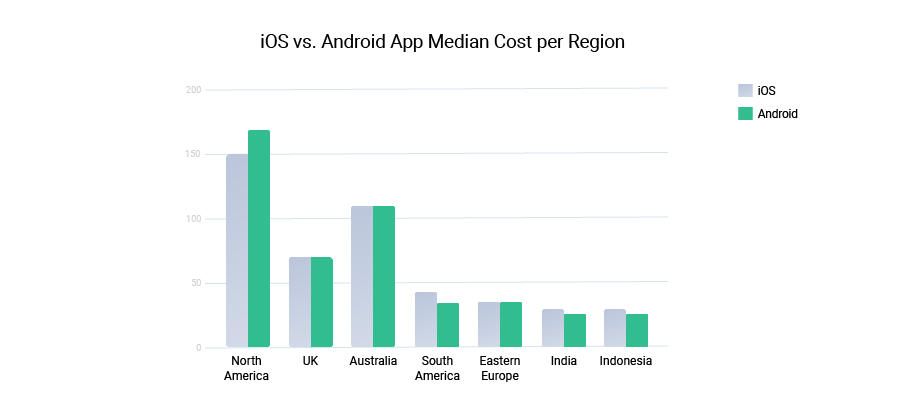 The Cost of A Development Team to Build An Application
Even if you view your future app as something tiny and extremely easy to create, you have to realize that a comprehensive application (no matter how basic is its functionality) cannot be developed by a single person. Do not fool yourself by thinking that you would save some money if hiring only a programmer and dismissing UI/UX designer, project manager, and QA engineer at the very least. As they say, buy it right or buy it twice — who would like to use an app written in a clean, high-quality code, but with an unattractive and cheesy design? Or how long would a user keep a constantly bugging and shutting down app installed on his smartphone? In 2018, when the market of mobile apps has literally millions of offers, entrepreneurs have the only way of going big or going home with their new launches. So, instead of getting a product with low user value, choose to collaborate with a full-cycle team that is able to deliver great results for your money.

A basic team needed for an app development consists of one project manager, one software engineer, one UI/UX designer, and one QA engineer. For more complex projects it can be extended by hiring a project manager, 2-4 programmers, one back-end developer, 2 UI/UX designers, QA engineer, and a system administrator. To find out the duties of every team member, look through the table below:
Project manager

Designs and applies app development standards, manages the production, develops the project scope analyzing all the risks and pitfalls. Acts as a liaison between the team and the client.

Software Engineer

Writes the code of an app, recommends future application upgrades, performs bug fixing, documents the development process for further work on the product.

Back-end developer

Plans and develops the server-side logic and architecture of an application. Integrates these parts with the user interface elements created by software engineers.

UI/UX Designer

Creates the layout for a future app and defines how an app is going to look like, as well as how users will interact with it.

QA Engineer

Follows up every stage of the development process, tests the performance of an app and ensures its smooth and stable performance.
Factors Affecting App Development Price
First and foremost, thing to realize when thinking about an app launch, is that the needed budget is impossible to calculate once for all before the development process starts. Not only the app is quite a dynamic product that has to correlate with user behavior and market needs, there also plenty of factors that influence the app cost. Let's take an in-depth look at the four essential factors that will define the cost of a potential application:
1. Software development team
We can't stress enough how important is to collaborate with the right people who share the same professional values and have the necessary technical skills. Responsible software engineers should be your top priority if you want to end up with a high-quality product, so you have to take recruiting process seriously. For those who do not want to hire in-house developers on the permanent basis IT outsourcing is the one and only way out. To outsource app development, you can choose either to hire a freelancer or to reach for an IT outsourcing company that would take care of your project at all stages, from planning to post-production updates. When choosing which way to go, an entrepreneur also has to pick an engagement model — contracting basis of collaboration that defines the working process.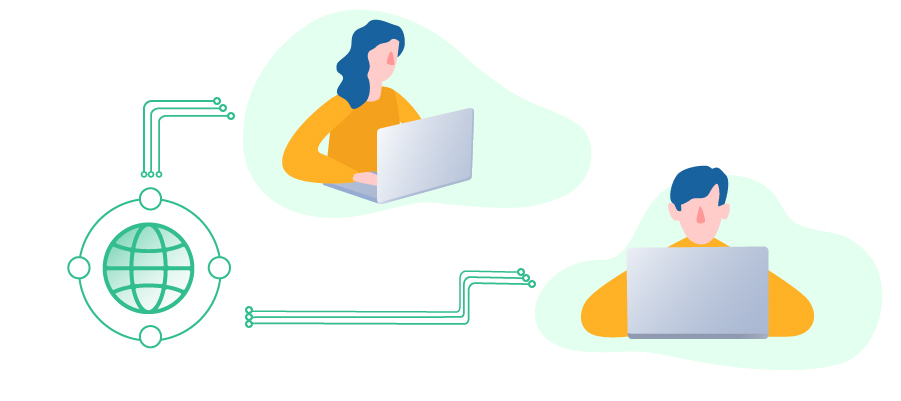 2. Application platform
After you've chosen one operating system over another (or haven't and decided to go for both), you need to determine the way your app will be built. We are talking about cross-platform and native development. If you have not heard these two terms before, check out these basic definitions. A native app is a kind of software perfectly tailored to the architecture of a single operating system, meaning if it's a native Android application, it won't run on iPhone or iPad, but its performance on an Android device will be seamless. And a cross-platform program is a type of app that is developed for all the operating systems (iOS, Android, and web to perform on any browser) simultaneously, which brings cost-effectiveness, yet compromises the stability of work. The conclusion here is simple: if you can afford it, always go for the native app development.
3. App functionality and type
The essence of any application lies in its unique set of features. It is up to you to decide what your app will be capable of, how users will interact with it, and what value it will have at the end of the day. Mobile software can be divided into types depending on what they do and categories depending on how complex they are. Throughout the years we spent on the market of mobile apps, we came up with the following app typification:
List-based app

This is a basic kind of application that is used to link up users with information. The examples of such apps are Wikipedia app, New York Post for Phone, multiple recipes applications, and so on — the user basically opens it to read/browse pictures and that's it. It's functionality usually ends with filtering the information by subject.

Database app

This type of mobile apps exists to enter, retrieve, and sort the information. The first examples of database-driven applications were airline reservations and electronic medical recorders. Now, with the boost of e-commerce, one of the most popular kinds of database mobile programs are shopping apps that allow user to log in, browse the big range of items applying multiple filters, add products to the virtual shopping cart, proceed with the payment, and track the shipping. As you can see, this type of app has a more sophisticated feature set already, yet it is still not as complex as in the applications described below.

Dynamic app

Dynamic applications are linked to an online server, as opposed to static ones that require basically nothing but the smartphone to perform. We do not talk about static apps separately since due to their limited capabilities the vast majority of apps nowadays are at least somehow dynamic — they connect with various platforms and programs through APIs (application programming interfaces) and retrieve the needed data about users. For example, Evernote platform partners with LinkedIn and utilizes its API to identify the users.

Games

Beyond question, mobile games are the hardest type of app to develop. They have to provide users with an unforgettable experience and shock them with realistic graphics and aesthetics. Although the development of a game for smartphone is pricy, the mobile gaming industry reached $50.4 billion revenue in 2017 and it's not going to lose its position anytime soon. Sounds like a promising investment option, doesn't it?
Regardless of the type, any of the described above programs can be simple, moderate or complex. The main difference between these categories lies in the time a team would spend on development. A simple app can be developed in as soon as 300 working hours due to its basic feature set. An application of moderate complexity usually takes from 500 to 800 hours, which include development of various interactive elements like chats, in-app financial operations, and API support. Lastly, complex applications take 800+ working hours to develop due to their diverse functionality that oftentimes include custom graphics and animation.
Post-Launch Support and The Price to Develop An App
The post-production part of a mobile app development deserves a separate thought. You have to realize that expenses do not end with an app launch. The most obvious parallel we can draw here is welcoming a newborn: the birth is the very beginning, just like the release of an application. Your app has to grow and evolve together with user needs, updates in operating systems, market trends, and new discoveries in the world of technologies (which happen every other day or so). These factors form the need to continue the development process and release timely updates so that your app wouldn't become old-fashioned in a few months.

If your app is something more complex than just a to-do list or calendar, you should think through the in-app user support. Live chat with a helping hand on the other side will add to positive user experience and increase customer loyalty and engagement limiting the risks for users. To discover the need of user support you have to properly test the app on independent focus groups and record all the issues new users have with the UI of your application. It might seem perfect to you, yet a single person (or a few) cannot say for all the public.

As we came across the subject of testing the app, we have to remind you about the headache for any development team — bug fixing. Regardless of how thoroughly QA engineers have performed testing, it is almost impossible to detect all the bugs without real users having access to the application. To eliminate the risks, we recommend you to consider the release of beta version of an app to make sure the final version on your app performs smoothly.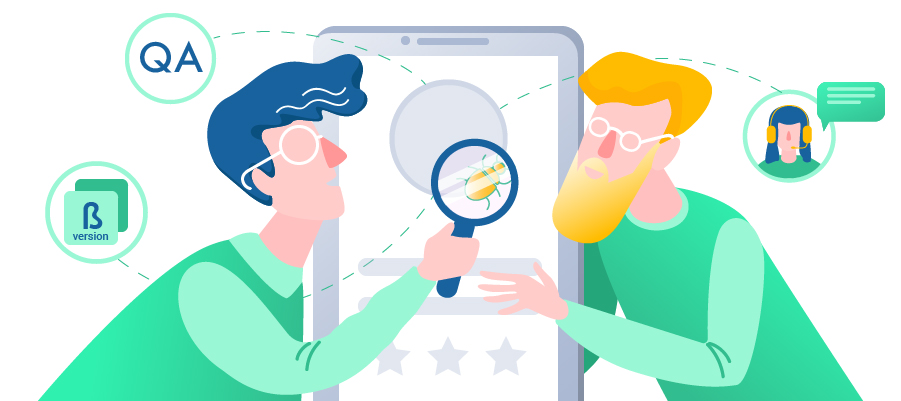 Summary
Although initially it seems that the new app launch is almost too hard to take, trust us it's not. Yes, it does have its pitfalls and hidden risks, but these are easily overcome if you are surrounded by the right people. Human resources have always been and continue to remain the most valuable assets of any industry, and app development is no exception. If the team shares similar professional objectives and consists of true enthusiasts of what they do, the product released with reflect this bringing the ultimate user value to your software. An entrepreneur who decided to enter the mobile apps market has a lot of choices to make, from the outsourcing destination to specific features of a future application. If this confused you anyhow, or you do not feel yourself competent enough in all the aspects of outsourcing app development, our expertise is only a click away.