In this guide, I'll cover everything you need to know about app monetization.
From the best app monetization strategies to potential revenues and everything in between, you'll find out how top performers are making money with mobile apps.
What you'll learn:
What is mobile app monetization?
How much you can earn with app monetization
How to monetize a mobile app: 5 common strategies
Over 200 successful projects. A verified 4.9-star rating from clients. Hire us to build you a top-grossing app.
Not here to learn about how to monetize an app? Check these instead:
What is App Monetization?
Mobile app monetization is the process of making money with an app. You can convert users into revenues using different app monetization strategies, including ads, paid subscriptions, in-app purchases, and others.
A proper mobile app monetization depends on your product's category. For example, gaming apps are better suited for in-app purchases while language learning apps can generate profits with both paid subscriptions and ads.
How Much Money Can You Make With a Mobile App?
The overall spending on in-app purchases, paid plans, etc., is supposed to hit $693 billion by the end of 2021. The top 1,000 most popular apps, though, manage to earn around $3,500 every day on average. But the profitability also depends on the app category.
I've crunched some numbers to give you an idea:
Deezer: about $3,000/mo on average, for both versions, in Poland (Free, in-app purchases).
BetterMe: Health Coaching app: about $200,000/mo for the Android version (Free, in-app purchases, 10M+ installs according to the Google Play store data).
Race Master 3D-Car Racing app: about $5,000/mo (Free, in-app purchases, 10M+ installs on Android devices).
So, it's reasonable to expect a monthly revenue of several thousand dollars if you build a quality, engaging app.
But here's the catch—
The amount you'll make with your app monetization strategy depends on how many people use your product.
So, for your app to truly flourish, it's critical to know what makes your target users tick. Many of your competitors never accomplish that—in fact, 42% of apps fail because of a lack of market need.
That's why I recommend you check out:
But before that—
Let's learn how to monetize a mobile app.
App Monetization Strategies
Whether you've created a paid or a free mobile app, you need a monetization strategy to ensure that the project is profitable. Here are the most common—and effective—app monetization strategies.
1. Free app with in-app purchases
In this app monetization strategy, downloading and using the app is free. But users can buy extra features with in-app purchases for real money. This is a popular way to monetize gaming apps, where users are invited to buy extra lives, weapons, coins, levels, etc.
The best way to leverage in-app purchases is to strategically offer them in situations where users might need them the most. For example, if a player is stuck on a certain level in a game, they can buy a weapon to complete it easier.
To monetize your app with this model, plan some premium features, levels, or in-app perks people can use for a premium experience.
Example:
Forest, a productivity app that helps users go phone-free by planting "trees," offers team competitions and useful personal performance stats as a premium.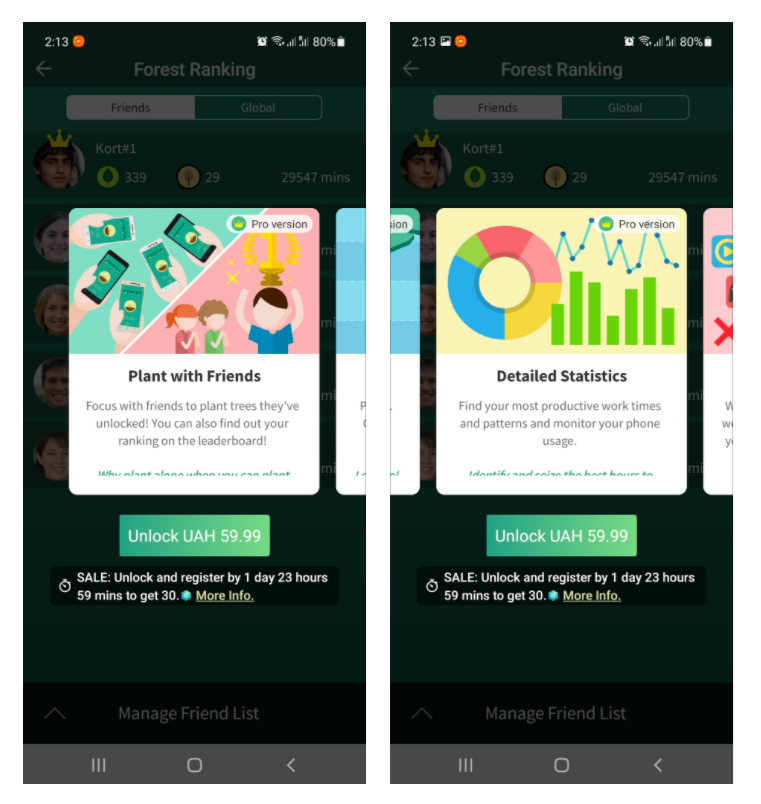 2. In-app advertising
One of the best ways to monetize an app is with advertising. It's simple: sell advertisers some ads within your app through a mobile ad network. The more times ads are shown to users, the more money you make.
In-app advertising stays a popular way of monetizing mobile apps because it allows keeping the product free. Besides, there are plenty of advertisers (brands, solo entrepreneurs, etc.) looking for promotion opportunities.
But how exactly is an ad displayed in an app?
There are several types of ads:
Overlay ads. Also used at natural pause points, these ads look like website pop up examples and often contain buttons with outbound links.
Banner ads. Small ads that are shown either at the top or at the bottom of the screen, containing some promotional text and an image. Banners can cause user frustration because they can cover app content or interfere with navigation.
Full-screen ads. Shown at natural pause points (like finishing a level in a game), these ads cause the least frustration in users.
Are ads a good way to monetize your app?
Well, the global in-app advertising market is worth $168.12 and is supposed to reach $544.93 in 2028. Many businesses believe they can achieve better targeting by advertising within apps, so consider this app monetization method for sure.
Even the most popular apps in the world use ads.
Example:
Duolingo, one of the world's leading language learning apps, uses both video and image-based full-screen ads (see below). They're only shown at natural pauses, so user frustration is minimal.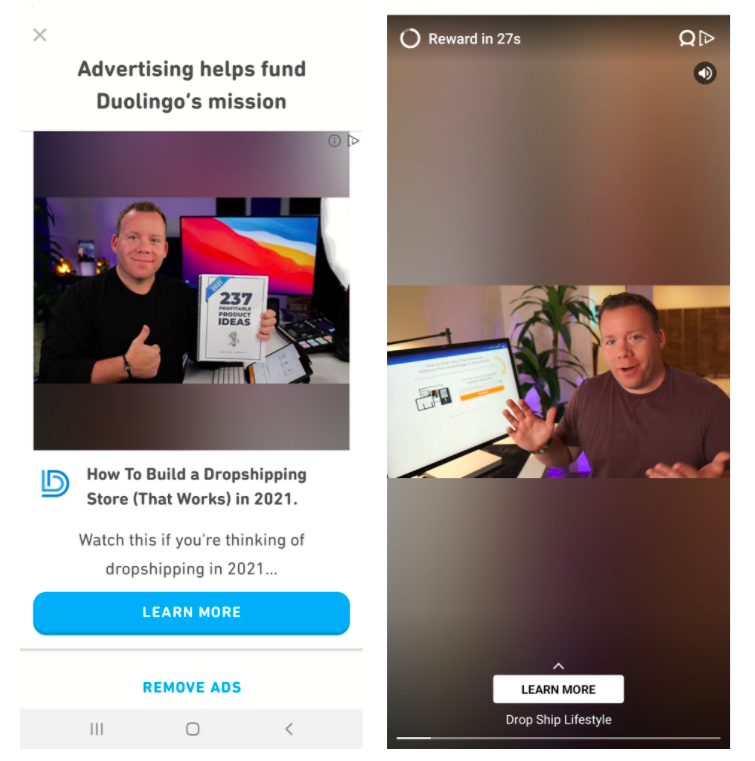 3. Paid app version
With this app monetization method, you offer a free app with a paid subscription plan. The free version has a basic set of features, so the user must upgrade to get the advanced ones. It's the most popular method to monetize a mobile app.
Using this app monetization has many benefits. For example, the basic version allows people to experience the functionality of the app, enabling them to recognize its value. Also, the free users are a potential user base for in-app advertising.
Example of this mobile app monetization method:
Duolingo offers a Plus plan, which unlocks new language learning exercises, progress tracking, unlimited hearts, and no ads. Note that the users can also try Plus for free.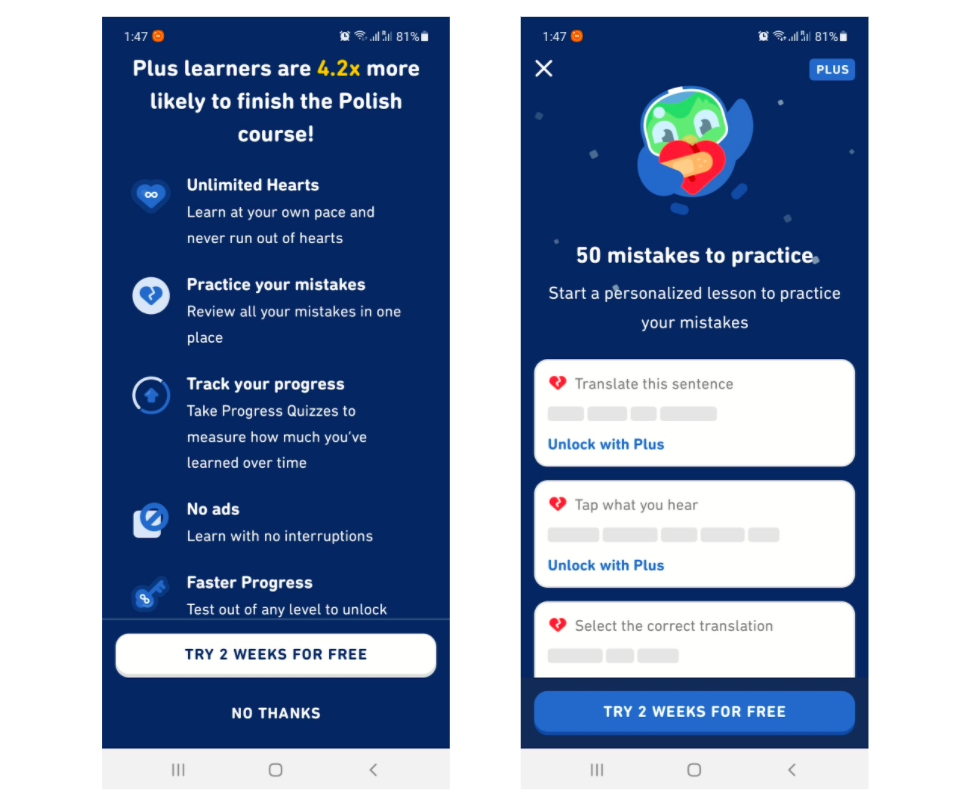 4. Paid-only app
This one makes apps available only in the paid version. Only about 3% of Android apps are paid-only, making it the least common app monetization model. But that doesn't mean it's not effective, of course.
The paid-only app monetization option can be viable for apps that offer unique value. In other words, if the product has some unique functionality or solves a problem no other app can tackle, then monetizing the app this way can be effective.
Example:
The Olympia Pro app offers professional, unique training sessions for $22.99.

Does this app monetization method work?
Judge for yourself—the app has:
1,079+ user reviews
4.4 rating on Google Play store
100,000+ installs on Android devices
That's pretty good.
The success recipe here is simple: provide something unique and highly valuable to a specific group of people. If the app makes it easy for them to achieve specific goals, then getting high returns is possible with good marketing.
5. Partnerships with other app publishers
Once your app acquires an appreciable number of users, other app publishers might reach out with sponsorship offers. This means promoting their own apps inside your own, to help them get more users.
To use this mobile app monetization option, you need to have a plan. Besides having a large base of app users, you also need to ensure that other businesses are targeting the same people.
Before building your app:
Define your target audience
Determine what types of companies have the same audience
Create a marketing plan to appeal to that target group of users
Following these steps will give you a good chance to attract partnership and sponsorship offers from other businesses. Also, you can ask those who contact you to promote your app, too, where appropriate.
Example of this app monetization strategy:
SHEIN teamed up with Snapchat to facilitate downloads of its clothing app. The brand created full-screen video ads (see below) for Snapchat's Millennial and Gen Z users to showcase fashion items they can buy.
The results were extraordinary, as SHEIN received:
20% higher return on investment vs the planned goal
50% lower cost per purchase vs. other marketing channels
30% lower cost per signup vs. other marketing channels.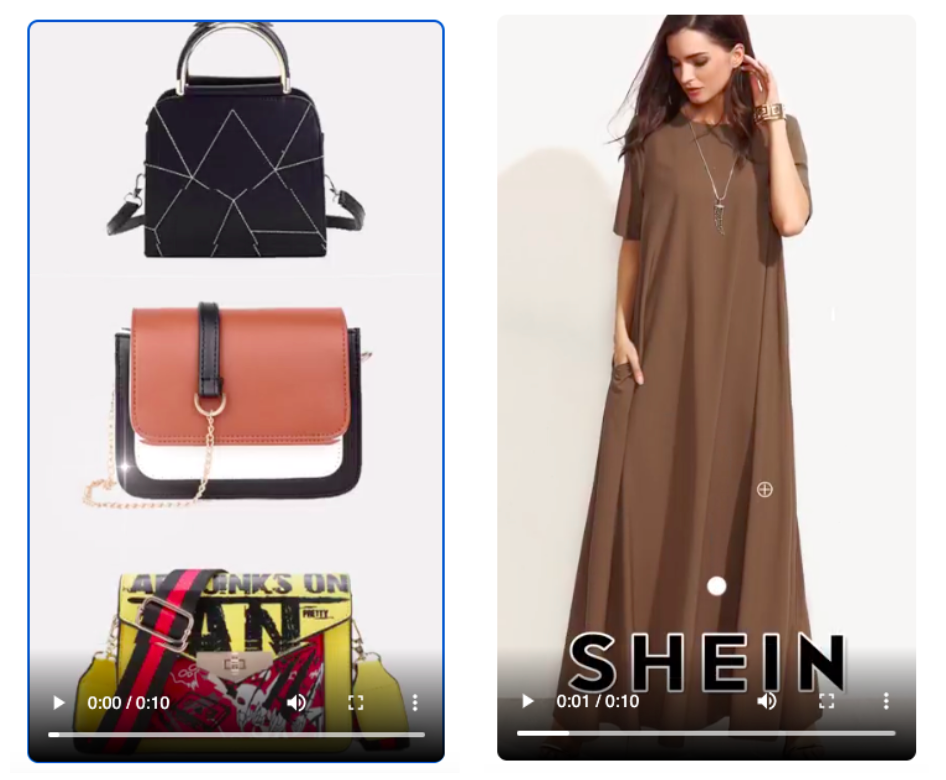 SHEIN's Android app has been downloaded over 100 million times, making it one of the top clothing apps in the world.
More fashion apps: 10 Best Clothing Apps for Fashion Lovers
Summary
The number of active users.
That's the most important thing that defines how much money you can earn with your chosen mobile app monetization method. So, creating an engaging product is a critical goal to achieve to maximize the chance of nice returns.
If you need professional advice on your app idea or a team of reliable developers to create your software product—
Feel free to drop us a line.
We can help you create a project plan and guide you through the development process to create an app you need.
Here's our portfolio just in case 😉