"What are types of websites I can create?"
These questions cross the mind of many folks who think about creating a website. Are you one of them? If yes, then let's choose the right type of website for you.
The easiest way to do that: review the most popular types of websites and go from there. That's why we're giving you 10 different types of websites with examples.
Click to view:
Most Popular Types of Websites
1. Blog
A blog is a regularly updated informational website about one or multiple topics. The typical blog website content includes text, photos, and videos created or sourced by the website's owner. Blogs can be used both for personal use or to pursue business goals.
Why create this type of website?
People use blogs for all kinds of reasons, from keeping a diary of their daily activities to educating others about certain topics. The most common reasons include:
Share knowledge and become an expert
Attract visitors and turn them into leads
Benefit from selling ad space
Create an online community of followers
Pinch of Yum is an example of a successful blog website created for business purposes. Lindsay, the owner, is a full-time blogger who shares various recipes with her audience. Note ad banners displayed throughout the blog—that's a common way to make money for bloggers.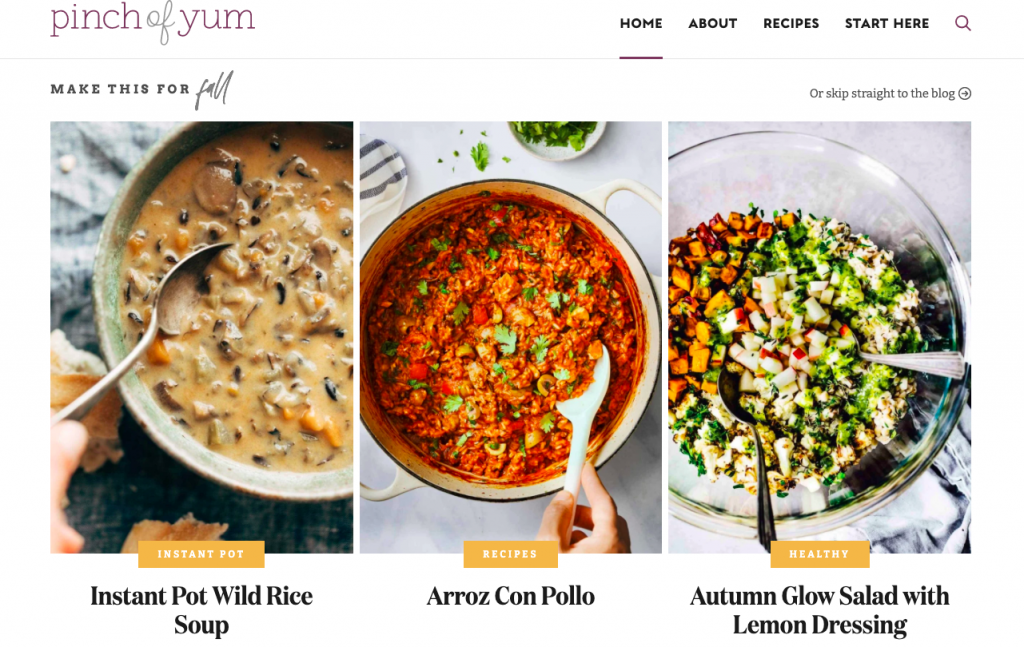 2. Business Website
A business website is a site that represents a company. It's a way for businesses to share information about themselves, describe products or services they're selling, get orders via a booking system, and quote reviews from happy clients. Commonly, business websites are created by companies that don't provide services online.
Why start this type of website?
Let people know about your business
Boost company awareness
Help potential customers find your company easier
Receive orders for products/services online
New Jersey Cleaning Services is an example of this type of website. It's a clear reflection of the company and its values. Right away, the homepage explains the value proposition with "Let Us Clean Your House," and proposes to read reviews to establish credibility.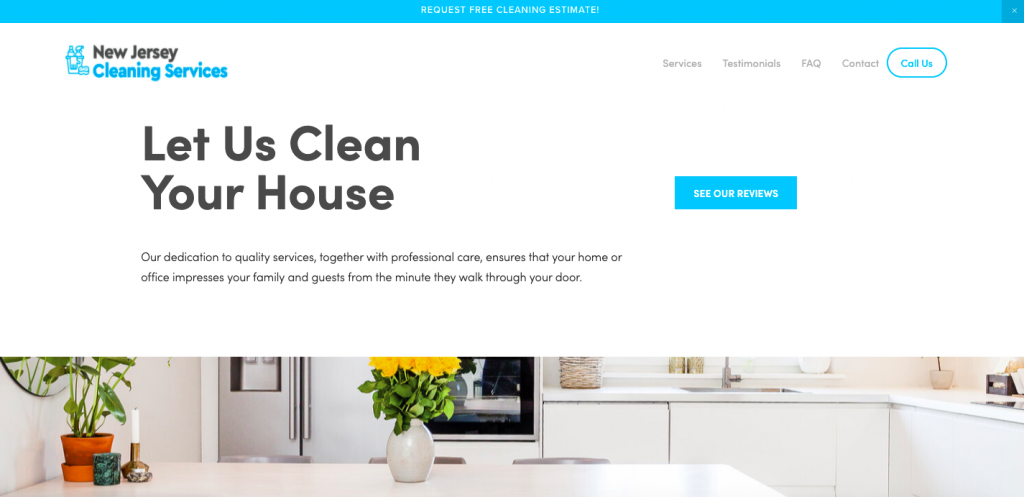 3. Ecommerce Website
An ecommerce website is a site that allows selling products and services. Often called online stores, they have product categories and pages, payment functionality, and branding-related content. It's one of the most popular types of websites, with some estimates suggesting a whopping 24 million sites across the globe.
Choose this website type to:
Build a unique brand
Sell products and services online
Connect with both domestic and international customers
An example of this website type? See Notiq. This simple online store prominently displays product information and encourages exploration and conversion with numerous CTA (call-to-action) buttons. Plus, the nice, elegant design reinforces branding in a cool way.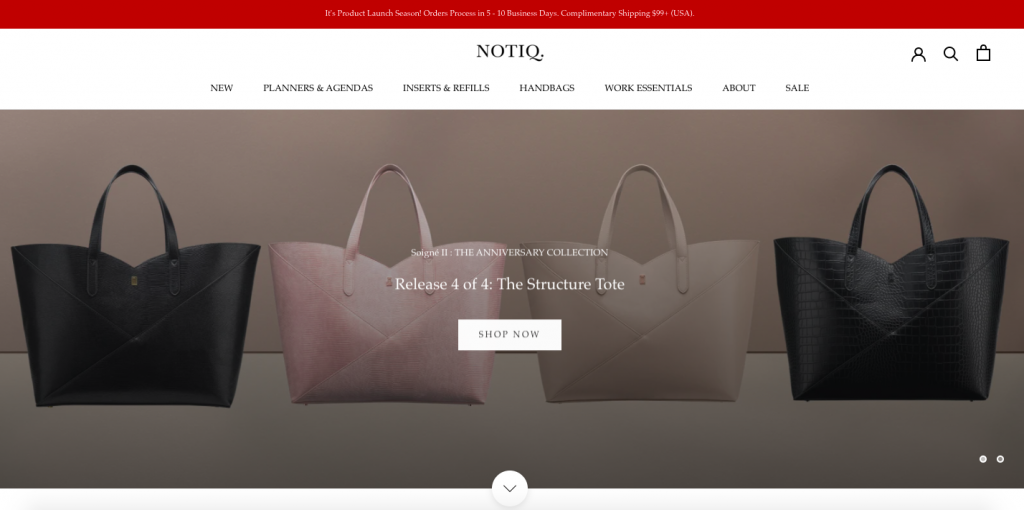 "Isn't a business and an ecommerce website the same thing?"
Not quite.
Ecommerce websites allow visitors to buy products online. Businesses websites, on the other hand, are used mostly by service businesses whose clients often pay after the service has been provided. This means their goal is to enable visitors to place service requests rather than buy them immediately.

4. Personal Website
This type of website is created to represent and promote a person. Those persons can be actors, comedians, internet personalities, and other people who have appreciable professional achievements. That's why personal websites are good for one's career.
Why you should choose this website type:
Share information about your expertise and skills
Make it possible for people from all over the world to contact you
Showcase your work, achievements, and give proof of your abilities
Nick Offerman is an awesome example of this website type. Nick is a known American actor and author, and he uses his personal website to showcase his works, update fans on upcoming events featuring himself, and share a portfolio.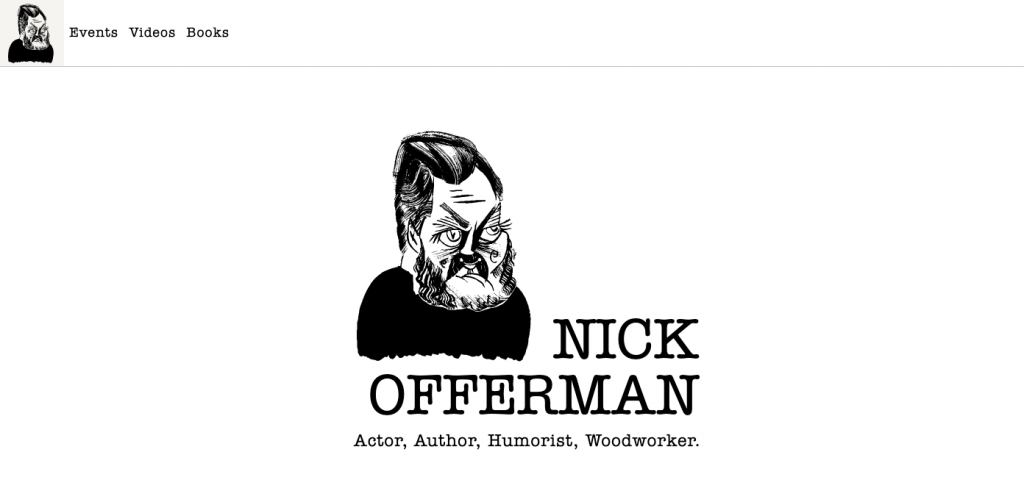 5. Nonprofit Website
This is the kind of website whose purpose is to share awareness of a nonprofit organization and convince people to support a cause. A website is a great way for nonprofits to connect to and get donations from potential donors. That's why a good nonprofit website is focused on explaining the organization's mission as well as the impact made by donors.
Why choose this website type?
Accept donations from people from all over the world
Share awareness of your organization and cause more effectively
Provide proof of financial transparency, achievements, and credible partners
Charity: Water is an excellent example of this website type. The site has a simple donation form and emphasizes the impact made by donors. Simple and effective navigation makes it easy to learn about the global water crisis and get involved. Compelling images and videos also tell a story of how the organization battles the problem.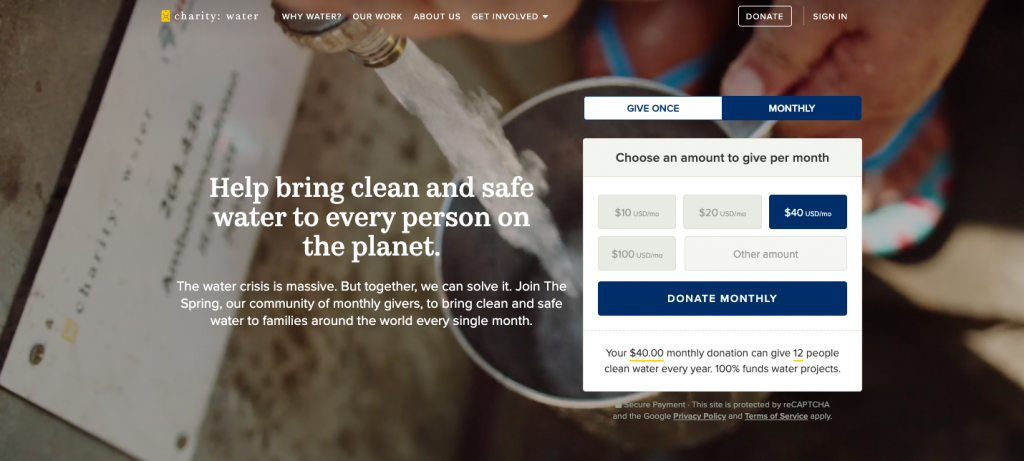 6. Event Website
Event websites share detailed information about the event and build anticipation. That's why a good event website has engaging content (videos, info about participants' achievements, impressive facts, etc.). This kind of website became a must for raising awareness of major events, selling tickets, and providing updates to attendees.
Event website type is created for:
Weddings
Art festivals
Tourist tours
Music festivals
Professional conferences
Check out the Influencer Marketing Show's website for an example. It's got everything a good event website needs: lots of helpful info, ticket buying feature, quotes from attendees, social media links, sponsors, and benefits of participating. And look at that visual—makes you feel like being at the event right now.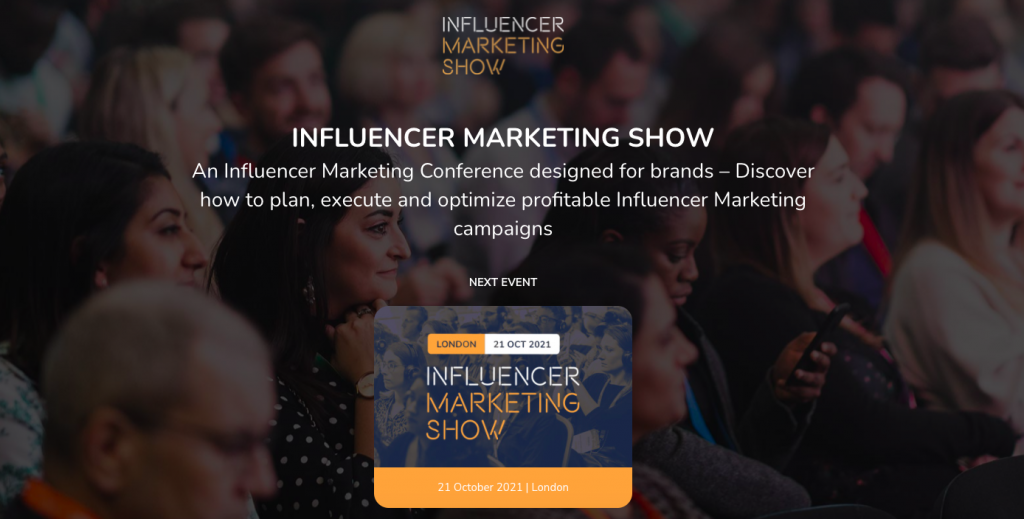 7. Mass Media Website
Also called informational, this kind of website contains regularly updated content on current affairs, sports, politics, and business. The main purpose of such websites is to act as a reliable source of information for the public. Starting this type of website means creating and publishing fresh content consistently.
How to monetize this type of website:
Focus on content quality and relevance
Build a consistent content production routine
Sell ad subscriptions to advertisers (especially local)
CNN is one of the famous examples of this type of website. It's a go-to source for both local and international news for millions of people. Quality content, daily updates, and interesting topics are the reason why CNN gets 100+ million unique visitors every month.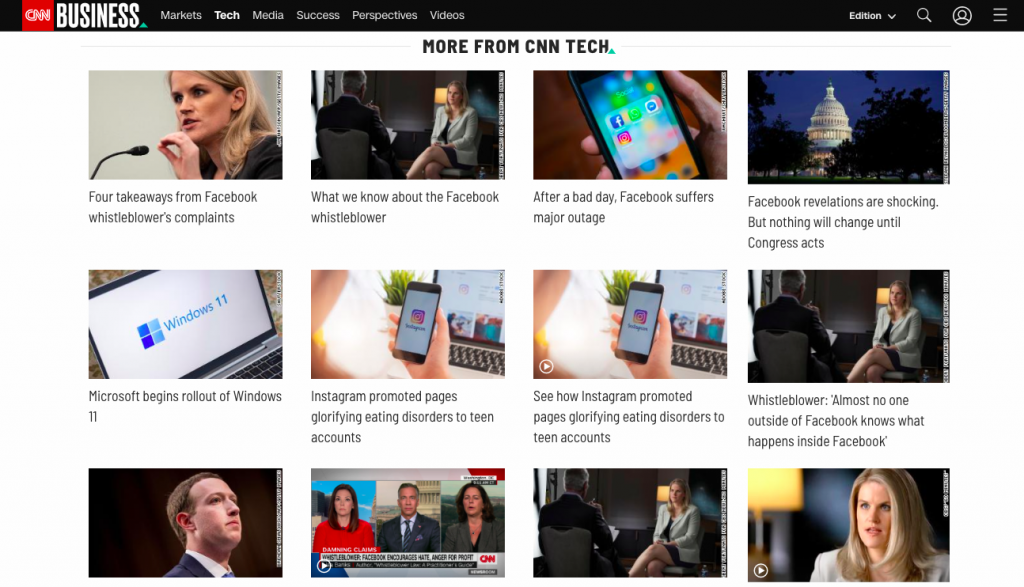 8. Classifieds Website
Undoubtedly one of the most popular categories of websites, classifieds are online platforms where people buy and sell things. These websites are portals for sellers to market their products to potential buyers who can view classified listings and contact sellers. Most often, this type of website is reserved for customized and used items.
Steps to build a classified ads website:
Choose a market niche/s for ads (services, for sale, jobs, etc.)
Provide user account functionality to create ads
Ensure visitors can look for ads with an easy search feature
Employ anti-fraud measures to block robots, spam, and scammers
Monetize the website by selling ad space and premium user subscriptions
Craigslist is the most popular website with classified ads. A veteran in this website category (it's been around since 1995), Craigslist still gets 55 million unique monthly visitors and about $1 billion in revenues.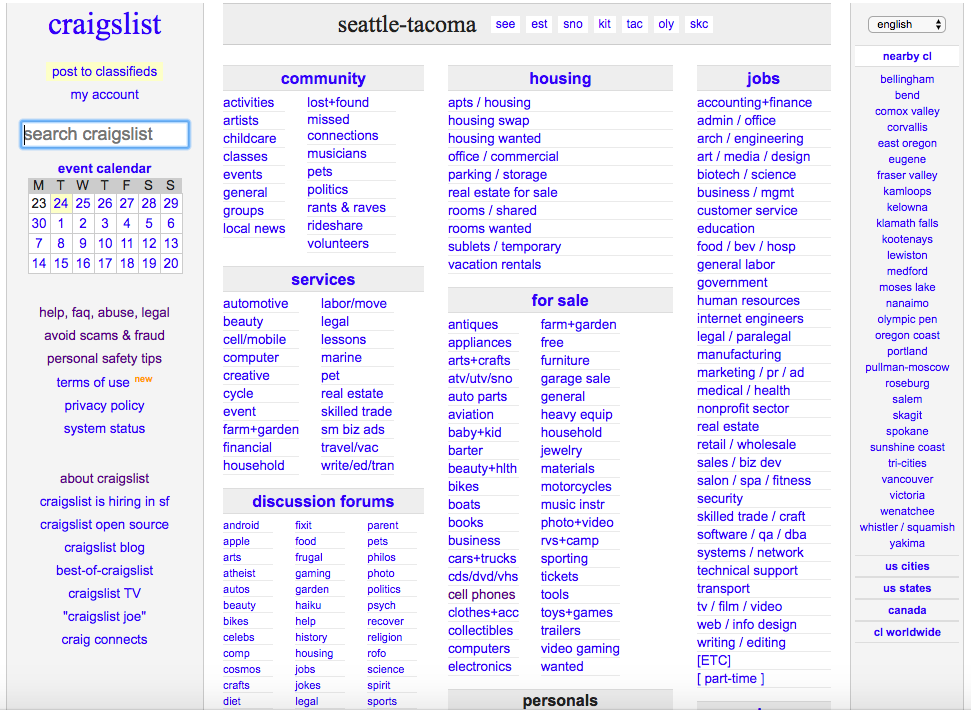 A mobile app is a must for engaging more people for classified ad websites. Craiglist's Android app, for example, has over 5 million downloads.

Useful guides on app development:
9. Online Forum
Forums are online discussion boards. They allow people to ask and answer questions about topics they're interested in, thus acting as a place to interact, often for like-minded people. You can create a forum for either a specific area of topics (history, tech, business, etc.) or everything.
Best design practices for forums:
Simple, user-friendly interface
Quick and hassle-free user registration
Robust discussion features (commenting, voting, liking, user reputation, etc.)
Quora is an example of a forum website type. It's a go-to destination for online discussions for over 200 million people, bringing its owners about $8 million in annual revenue. Most of that money comes from advertisements.
10. Video Streaming Website
This website is a platform that hosts streams. Due to the pandemic, many people turned to video streaming for entertainment, turning it into a $50+ billion market. Netflix, a popular video streaming service, has added 25 million new users in the first half of 2020 alone. That's why creating a video streaming website is one of the hottest business ideas right now.
Best features of this website type:
Built-in video player
Robust content search feature
Library with videos, divided into categories
User registration for personalization and payments
Interaction features like comments and social media shares
Hulu is a good example of a video streaming website. Intuitive navigation, simple user controls, and a large library of videos are the strengths of the company, which is now the third most popular streaming service in the U.S.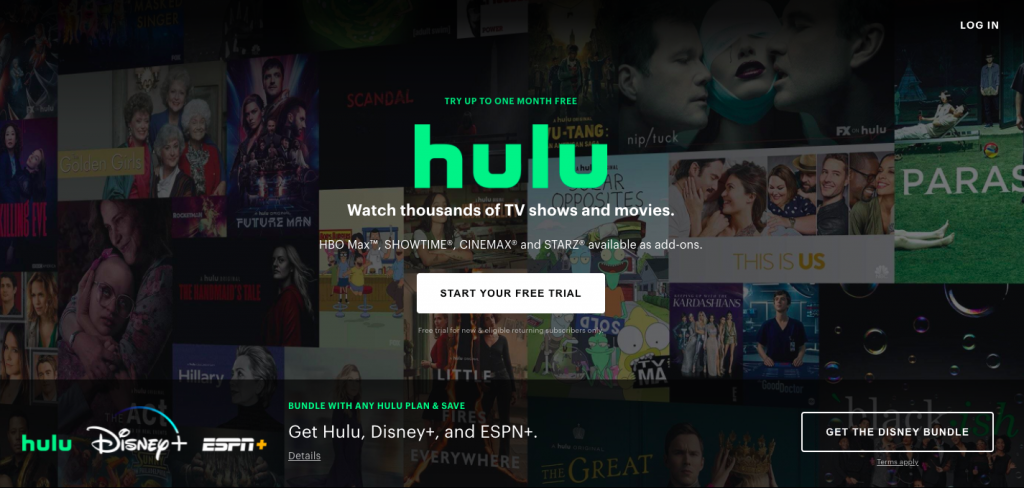 Does streaming sound interesting? If yes, dive in these great reads:
How to Create a Website
The best ways to create a website are website builders and custom website development. Both options are really popular, but one might work better than the other for certain projects. That's why let's check out the pros and cons below to help you make a decision.
Website builders
Website builders are apps for creating websites without coding. Anyone can use them, and create a website within hours.
Pros
Cheap (prices start from $12 per month)
Easy to use without experience thanks to drag-and-drop editors
Ready-made templates for different types of websites
Cons
Builders have basic and limited functionality
Unoriginal website designs that many others have
Limited customer support for users of basic subscriptions
Transaction fees up to 3% for orders made via the website
No advanced SEO and marketing features for business growth
Custom website development
Custom web development involves using professionals trained to create various kinds of websites from scratch according to the client's requirements.
Pros
More unique and impressive website designs
Customized features that other websites don't have
More effective security features to protect data
Professional support from highly skilled developers and designers
Cons
More expensive compared to builders
Require more time to develop a ready-to-use website
If you need advice with choosing—
Website builders are fine for personal websites, simple event websites, and basic ecommerce stores. They're cheap, easy to use, and good for web design of decent quality.
Web developers are better for complex ecommerce, business, mass media, and classifieds websites. Since they can develop functionalities, such websites will be more unique, functional, and secure. So, such websites are better suited to fuel business growth.
Resources on custom website development:
Summary
A website is the easiest way to show the world what your business is about. Regardless of the kind of business or project you have, there's a perfectly suitable website type to represent it. We hope this guide was a good intro to different types of websites, and, more importantly, it helped you understand what kind of site is best for your project.
Need professional help with creating a custom website?
That's where we can help you.
Feel free to get in touch with us or check out our portfolio.