Thinking about starting a small venture?
We've put together the best small business ideas for men to start this year.
You'll find a compilation of the most profitable, budget-friendly small business ideas men engage themselves in. Also, we've added interesting success stories and detailed tips.
Small Business Ideas For Men
1. Sawmilling Business
The sawmills and wood preparation industry gives record paychecks and salaries (up to $30/hr), yet fails to attract workers. A recent Washington Post analysis found that wood demand exploded in 2021, but there's a lack of sawmills to provide the supply. That's why lumber prices are soaring.
Starting a sawmilling business is a way to cash in on those high prices. This is exactly what Dave Boyt, a pro sawyer and an owner of a portable sawmill (and the person in the image below). He runs this business part-time, which means a lot of flexibility, and is satisfied with the income, too (Boyt's fee averages around $0.35 per board foot). Make sure to check his detailed Hobby Farms article for insights into this small business idea.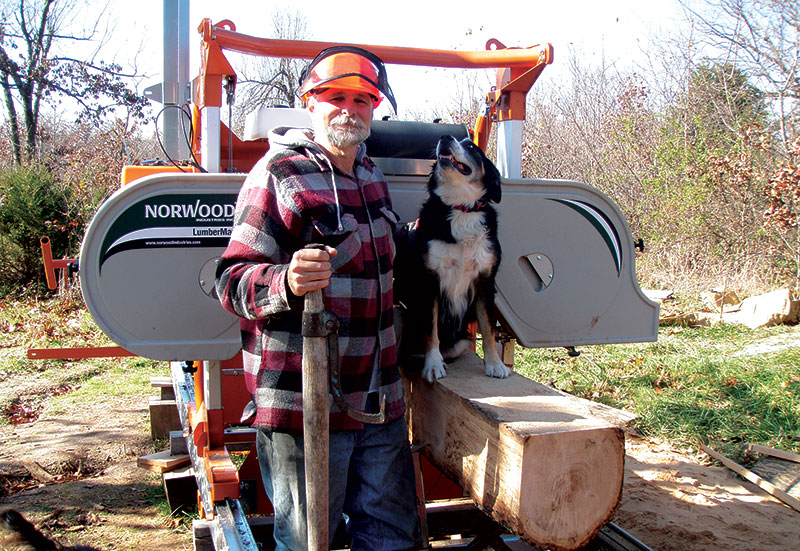 How profitable is this business idea for men?
Exactly how much you can earn is up to you. Due to the current labor shortage and high prices, you can charge anywhere between $20 and $70 per hour (but the price also depends on the expenses and materials worked).
How to start a sawmilling business?
Buy a sawmill (consider getting a cheaper portable one)
Get a certification or permit if needed (requirements vary by state)
Promote your business with signs, brochures, a website, and on social media
Things to know before choosing this idea:
Knowledge of operating a mill is required
You can run this business as a one-man operation, from home
Sawmills can cost between $3,000 for simple units to $80,000 production machines
You'll have to get extra equipment like blades (those cost around $25 each)
Huge revenue opportunities due to the current labor shortage and high lumber prices
What kind of website does your startup need? An online store, business, or personal? Check out these 10 Common Types of Websites to get an answer.
2. Blogging
As a kid, Kevin O'Leary cooked and baked alongside his mom. Then, he took a course in cooking and realized that the craft was a great way to express himself. Fast forward to today, he is the owner of Kevin Is Cooking, a cooking blog packed with awesome recipes.
Just like O'Leary, many men have gone to become food bloggers. The reason is simple: starting a blog is easy, and you can work both part-time and full-time. But the best thing is that you get to write about something you love (because blogging can be about anything). Cooking, watches, car repair, fashion, home & DIY, you name it.
How much can I make as a blogger?
This small business idea for men can bring anywhere between $500 and $3,000 in their first year. Bloggers monetize blogs in multiple ways (sponsored posts, brand ambassadorships, and on-blog advertising are some of the most common). Also, if you have enough expertise, you can create and sell courses to get extra profits.
How to start blogging:
Pick a niche and a name
Build a website (either with a blogging platform or custom website development)
Create and publish quality content on a consistent basis
Promote your blog with guest posts on other websites, online ad campaigns, etc.
Things to know before choosing this idea:
You need to have expertise in a certain area
Be ready to write and edit a lot
Basic expertise in website management and SEO is required
3. Tree Trimming Service
It's a great small business idea for men because, well, there will never be a lack of trees needing professional attention. In fact, two out of three backyard owners say they're likely to hire a service to help them take care of trees, shrubs, and other woody plans. That's why the residential tree service industry is booming.
Training and certification requirements vary by state, but what matters is the willingness to do hard work. Josh Skolnick, the CEO of Monster Tree Service, is a great example. He began by mowing lawns and then added tree removal services. When folks in his neighborhood saw that he successfully removed a tree that was blocking the driveway of one of his neighbors, offers started pouring in. On that day alone, he sold $20,000 worth of work (and got paid $2,500 for that first tree removal project).
How profitable is this business idea for men?
The U.S. Bureau of Labor Statistics suggests the annual wage of a tree service worker varies between $27,510 and $64,520. Arborists Near Me, a popular listing website for tree service companies, claim most businesses are doing at least $500,000 a year. Also, various sources report that urgent projects like storm work pay up to $50 an hour.
How to start a tree trimming service:
Buy or lease work and safety equipment
Get proper training from a credible authority
Spread the word about your service (with local advertising and a website
Focus on highly paid services (tree trimming is fine, but you can make more money doing tree removal, emergency care, and root removal, for example)
Things to know before choosing this idea:
You'll need to get training to perform the job safely
Good physical condition is needed
Certification for tree removal and other works might be required
Tree service startup costs can reach $50,000
4. Vacation Rental
Do you have an extra bedroom in your house? Or maybe just a spare room you wanted to turn into a gym but never did? Or a summer house where you seldom go? If you answered yes to any of these questions, then this small business idea for men could work for you.
The idea is simple: just rent that place to travelers using sites like Airbnb. Here's an inspiring success story: Evan Kimbrell decided to rent his San Francisco home and now makes between $6,000 and $11,000 monthly. Obviously, he quit his 9-to-5 job and even made an online course to teach to make up to $250 per night renting a single room. Check out the video for his insights on using Airbnb.
How profitable is this small business idea for men?
Hosts can get anywhere between $50 and $500 even for a single room (depending on the property's location). If you rent an entire place, you can make between $500 and $5,000 per month.
How to start renting your place:
Register on sites like Airbnb
Comply with guidelines and requirements
Talk to an insurance agent if necessary
Things to know before choosing this idea:
You'll have to follow the guidelines of renting sites
Some commission and fees are involved (Airbnb charges 3% per booking)
You can earn extra by offering local experiences for travelers
5. Freelance Content Writing
Many websites are struggling to produce quality content on a consistent basis. This is a problem because the content is something they need to rank high on Google. So, there's a great opportunity for those who like writing about different topics.
Tom Gerencer is a great example of a freelance writer running his business alone. In his interviews, Gerencer says that even beginners can make great content if they learn the basics of online research and value-focused writing. So, if you like researching and writing, this small business idea could make a difference for you.
How profitable is this business idea for men?
Beginner freelance content writers charge around $50 for a 1,000-word post. Once you get more experience and learn the business, you can make anywhere between $100 and $500 for the same project. Or, you can also choose to charge per hour (freelance writers charge from $20 to $50/hr).
How to start a freelance writing business?
Get content writing training (you can find free courses online)
Register on freelance job boards like Upwork and Freelancer.com
Apply for projects, win over clients, and deliver great work
Things to know before choosing this idea:
Good language, writing, and research skills are required
You might have to learn the basics of SEO
You can write about something you know about
6. Online Store Selling Mismatched and Fun Socks
Perhaps unusual, but still one of the most promising small business ideas for men. The global socks market was worth $43.6 billion in 2020 and is expected to grow at 6.3% between 2021 and 2026. Besides, studies showed that people wearing outlandish clothing are often perceived by others as more creative, brilliant, and successful. This appeals to many.
That's why examples of successful businesses selling creative socks are everywhere. Voyce Threads is one of them. Started by Drew Shaw, an elementary school teacher who got the idea from a children's book character who wore mismatched socks. He sells his products for $16 per pair and donates a lot of profits to multiple charities.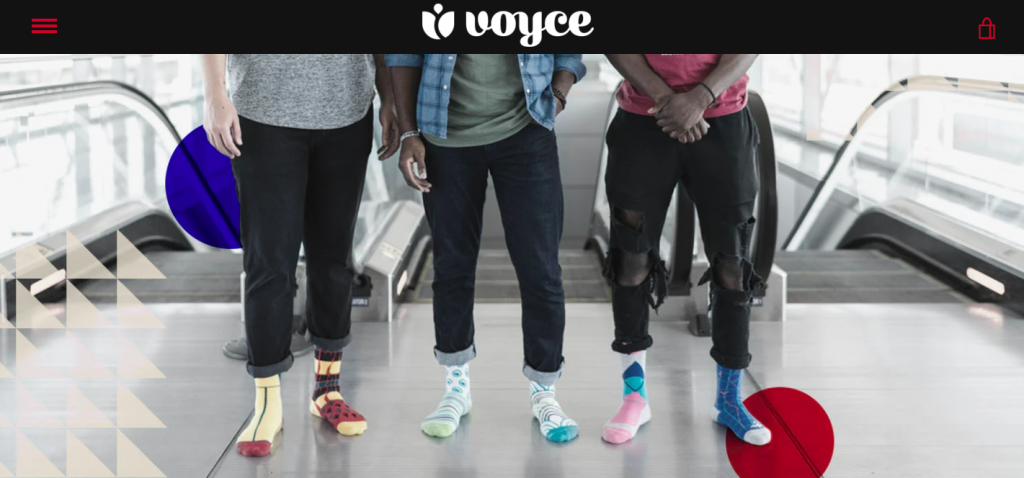 How profitable is this business idea for men?
Running a socks store can be very profitable. Typical margins in the niche are around 60%, so your profits can be as high as $10 per pair. So, if you sell 50 pairs a day at an average profit of $7, you'd make $350. Also, you can make pop culture and limited edition collections and get your profits even higher.
How to start an online socks store:
Make a business plan
Design products and manufacture them
Create an online store and promote your business
Things to know before choosing this idea:
Strong business plan is required
You can sell a wide range of products
Many creative designs are needed for products
Reliable, quality product maker is a must
Little startup costs + you can run the store from home
7. Self-Service Car Wash
This small business idea for men has always remained relevant. Governments all over the world have lifted restrictions for car washes, so it's possible to start this business as long as you follow the local COVID-19 regulations.
Choosing to start a car wash also has many advantages for new entrepreneurs. Opening a car wash has a comparably low cost (starting at about $15,000) and you get plenty of opportunities to sell extra services. Besides, self-service washes require little staff and maintenance. Get more insights from an actual owner of a car wash:
How profitable is this business idea for men?
A self-service car wash with extra services can make between $10 and $30 per client. So, if your wash serves 100 cars a day at an average price of $20, you'll make $2,000 in gross profits per day.
Essential steps to starting a car wash business:
Get all the necessary permits (they differ from state to state)
Buy all the equipment and tools required for cleaning
Rent a space for your future car wash
Things to know before choosing this idea:
Startup costs might exceed $10,000
Strong, detailed business plan is required
Many opportunities to get more profits with extra services
8. Moving Company
With real estate prices rising, many Americans are on the move—even despite the pandemic. In fact, 2020 saw over 7 million households move (mostly from large metropolitan areas to more affordable places). Needless to say, movers were—and still are—in great demand. Consequently, the salary of a non-managerial worker in the industry rose by 14% in 2021.
With so many people choosing to move, starting a moving company is a sound small business idea for men. The demand is clearly exceeding the supply here, so you can jump on this opportunity and win big. Let's hear from Max Maher, a person whose Skinny Wimp Moving Company grew from $,5000/mo to $165,000/mo in revenues in just two years.
How profitable is this business idea for men?
Standard costs are $30 per mover, and you make money from each project. A one- or two-man team can get profits of over $50,000 per year. The profits are tied to the range of services you offer, so there are chances to increase the cash flow even more.
How to start a moving business:
Buy or lease a van and moving equipment
Obtain all licenses and transportation permits
Get a good insurance
Build a website to accept customer requests online
Promote your business both online and offline
Things to know before choosing this idea:
Job involves a lot of demanding physical work
Offer basic moving services first (no extra fees or storage)
Register your moving vehicle with your local department of transportation
Speed is your opportunity because labor shortage causes many competitors to operate slowly, which reduces client satisfaction
9. Pet Wash
Pet adoptions have been on the rise, partly because people need to reduce their stress levels due to the pandemic. Many owners prefer to clean their pets somewhere else, which makes a pet wash a good idea for men who love animals. The industry figures support this: the pet grooming market is projected to increase by almost 9% by the end of this year.
Starting a pet wash is fairly easy. You need to have the space, a bit of simple equipment (tubs, ramps, washing stations, etc.), and a genuine fondness for animals. For an example of a successful pet wash business, check out Wag N Wash. It's a network of pet wash businesses whose website contains many best practices in the industry.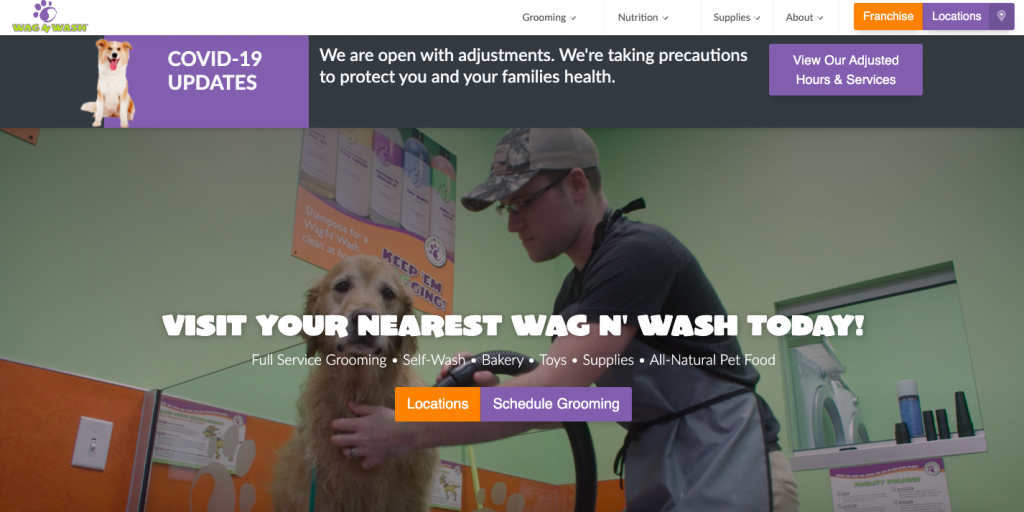 How profitable is this business idea?
A pet wash business can be very profitable. The abovementioned Wag N Wash charges $16 for a basic self-wash and $20 for the "Ultimate" wash (includes extras like shampoo, conditioner, skin moisturizer, and leave-in coat shiner). Combined with extra services like regular nail trim and food, you can potentially make around $40 with every client.
How to start a pet wash business:
Purchase a proper insurance
Get a proper space and cleaning equipment
Buy supplies such as shampoos and towels
Take all necessary precautions and follow local COVID-19 guidelines (state-by-state guidance can be found here)
Things to know before choosing this idea:
Great business idea for men who love animals
Involves a lot of daily physical work
Good opportunity to provide a wide range of services (washing, self-washing, grooming, nail trimming, and even sell pet food and toys)
Can be started as a one-man operation, even from home (the most important thing is to have appropriate space with access to proper plumbing and other utilities)
10. Local Private Tour Guide
Do you live in or near a historical area? Or maybe you're a history fan? If yes, you can become a tour guide and help small groups of tourists learn about your city/area/state. A great way to succeed with this small business idea is to come up with tours that stand out from the pack. This means creating an original tour guide and focusing on things others are not.
For inspiration and an example of a great tour business, check out The Freedom Trail. It's an organization that arranges tours to America's most prominent historic sights in the New England area. One great idea they had is to dress up both tour guides and participants into period clothes.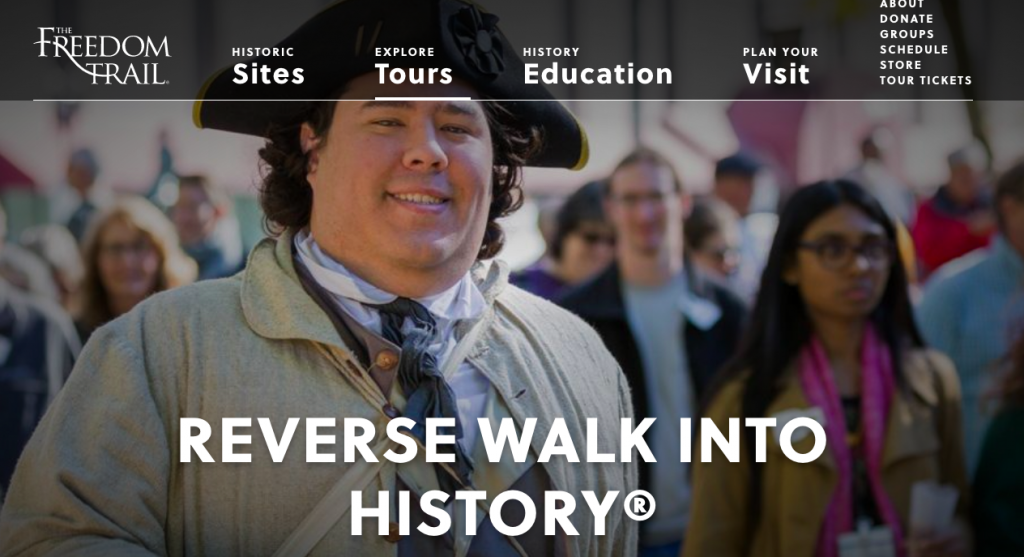 How profitable is this business idea for men?
Being a tour guide isn't the most profitable small business idea but you can still make good money (especially during peak tourist seasons). As a beginner, you might want to start with about $10 per adult and work your way up. Professional guides who offer great tours with special experiences and inclusions charge up to $400 per participant.
How to start a tour guide business?
Learn all the necessary knowledge you need to provide tours
Study competitors for the best practices
Create tour plans and scripts (come up with something unique to differentiate yourself)
Do test runs before your first tour
Things to know before starting a tour guide business:
Very little startup costs
Great business idea for men who love history
You need great organizational, planning, and speaking skills
Follow the local COVID-19 guidelines and policies during tours
Creative and out-of-the-box thinking is required when things don't go according to plan
11. Microbrewery
The forces keeping us inside are starting to dissipate, so microbreweries are back again on the list of small business ideas for men. The industry has seen many closures due to the pandemic, which gives new businesses a good chance to grow fast. People are increasingly going to their local pubs and restaurants, so having one more cool option is always good.
Kansas-based Willcott Brewing Co. is a good example of success. The company started brewing in the middle of 2021 and has already sold over 1,000 cases of beer. Also, more than 50 local restaurants and stores sell Willcott's brews. Reasons for such success? Delicious craft beers and good relationships with the local community, according to Sean Willcott, the owner.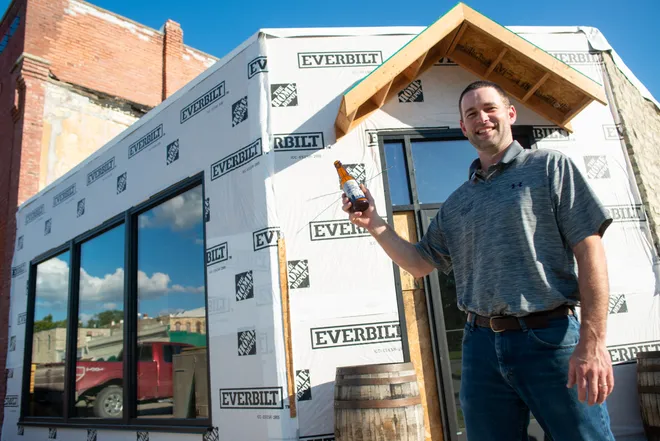 Sean Willcott in front of Willcott Brewing Co. location before opening. Source: The Topeka Capital Journal
How profitable is a microbrewery?
This small business idea can be very profitable, bringing up to hundreds of thousands of dollars in annual revenues. Besides taprooms, it's also possible to sell your products in local supermarkets and restaurants and even offer merch.
How to start a microbrewery:
Obtain necessary permits and licenses
Purchase brewery equipment
Learn how to brew craft beer
Find a sufficient space for a brewery
Design beer labels and packaging
Things to know before opening a microbrewery:
Thorough market analysis is a must
Physically demanding work like lifting and cleaning is involved
Basic understanding of beer brewing processes like fermentation is required
Being a brewer is more than a full-time job (fermentation is a 24/7 process that doesn't care about your weekend plans)
Opening costs can range from as low as $200,000 to upwards of $1.5 million (but you can minimize them by choosing to become a nano brewery, a business that makes less than 15,000 barrels of beer per year).
Insight: Online alcohol sales have increased by 234% since the pandemic, which makes websites a must for beverage brands. Contact IDAP for a consultation from our web development professionals.
12. Virtual Sandwich Shop
Another small business idea for men who love cooking. A virtual sandwich shop is a business that offers takeout and delivery without third-party delivery services. The idea is simple: you set up a kitchen, a website, promote your business, and fulfill orders.
Denver-based Old School Heroes is a good example. Tom Concannon, the owner, was originally planning a brick-and-mortar sandwich stop when the pandemic changed his plans. Instead, he decided to take a chance on the virtual kitchen concept (all ordering takes place online with delivery and pick up).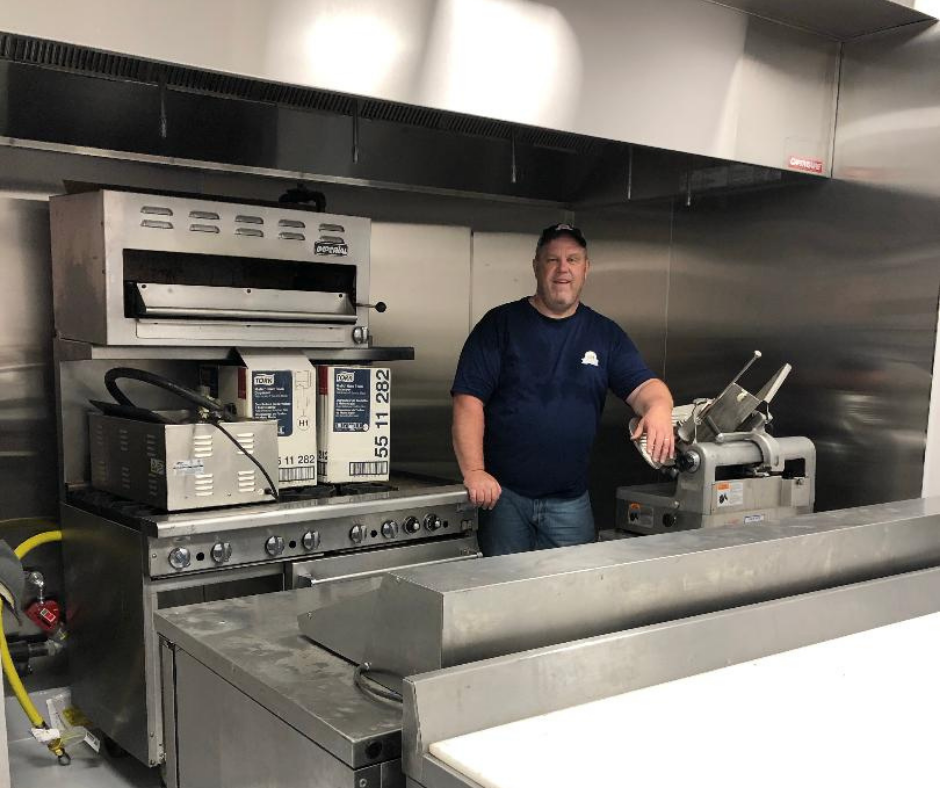 Tom Concannon inside his virtual kitchen. Source: Old School Heroes Facebook page
How profitable is this small business idea for men?
A sandwich shop can be very profitable. Even a small deli can make up to $20 million a year by selling sandwiches, drinks, and some extra products.
How to start a virtual sandwich shop:
Get all necessary permits and licenses
Find space for your virtual kitchen
Buy commercial kitchen equipment
Build a website and/or an ordering app
Promote your business extensively
Things to know before opening a virtual sandwich shop:
Check your local competition to find differentiation opportunities
Develop menu and recipes (professional expertise required)
Sufficient space and kitchen equipment are needed
Startup costs for this small business idea can begin at $50,000
Insight:
Give your customers an app for quick ordering. With 92% of Americans planning to continue ordering food online after the pandemic, businesses are creating apps to achieve sustained growth.

Example:
California-based Mr. Sandwich increased sales by $2.2 million after adding a mobile app as a sales channel. Since July 7, 2021, 100,000+ customers have downloaded the app on Android alone (the app also is rated 4.5 and 4.8 on Google Play and App Store, respectively).
Source: Potbelly Sandwich Shop, Facebook
Consider creating a mobile app to streamline ordering at your food shop. Feel free to get in touch with us to discuss your mobile app idea—we have lots of experience in creating apps for startups and small businesses.
13. Mobile Mechanic Service
A mobile mechanic repairs vehicles in clients' locations, so there's no need for them to go to a car shop. This convenience made mobile mechanics a trend in the automotive industry and an excellent small business idea for men. So, if you have expertise in repairing cars, consider this opportunity.
Here are some supporting numbers. The Bureau of Labor Statistics suggests that 69,000 new auto technician jobs will be created this year. This stat is supported by Google: there has been a 50% increase in "mobile mechanic" searches since 2019. If this idea sounds good, here are pro marketing tips for your future mobile mechanic service.
How profitable is this small business idea for men?
Although car mechanics earn $21.18 per hour on average, mobile mechanics charge around $50 per hour. With a good benchmark for a profit of about 20%-30%, even beginner mobile mechanics can make up to $50,000 annually.
How to start a mobile mechanic service?
Buy essential equipment for repairs
Create a website for your business
Promote your business both online and offline
Things to know before opening a mobile mechanic service:
Expertise in car repair is required
Startup cost vary between $10,000 and $50,000
Complex repairs can be done from home
Can be operated part-time
14. Leaf Tea Store
Selling tea is a great business idea for men because this product is always popular and loved. Especially in recent years, the health benefits of tea have risen in popularity, contributing to a fast-growing, $232 billion tea market. So, why not sell tea online?
Because of high market saturation, try finding a niche like premium teas (this segment in particular is missing in many states). Check out competitors and come up with a unique range of flavorful and aromatic teas to differentiate yourself. For more info, check out this video below with helpful step-by-step instructions.
How profitable is this business idea for men?
Margins for selling loose leaf tea products can reach up to 80% of the price. Added with low startup investments, a tea store is a budget-friendly small business idea for men. The profitability depends on the product range and marketing, but it's possible to make several thousands of dollars in sales even right from the start.
How to start a leaf tea store?
Obtain all necessary permits
Purchase a food business insurance
Find a quality leaf tea supplier online
Create an online store
Promote your business
Things to know before opening a tea store:
Reliable supplier of quality tea is a must
Serious competition in the industry
Low startup costs starting at about $3,000
Business idea for men who want to work from home
15. Appliance Repair
Dishwashers, dryers, fridges, clothes dryers, and other household appliances make our lives easier every day, but they also break. In most cases, the replacement is too costly, so people turn to appliance repair specialists.
That's why fixing appliances is a good business idea for men if you're good at that. The demand for these services is high but there's not enough companies to meet it (simply because there are very few formal schools). So, the profit margin is high (especially with larger items like fridges) and opportunities to grow are great. If you're interested in learning more, this video from Appliance Guy Picker has tips and advice for starters.
How profitable is this small business idea for men?
The demand for appliance repair services is high, so this business can be very profitable within a short period of time. The Appliance Guy, for example, charges $75 per service call + parts (but he mentions that the call charge can reach $120). You can charge a flat rate for a service call or get paid hourly—the choice is yours.
How to start an appliance repair business?
Ensure you have the necessary skills (appliance repair training is available)
Procure the right equipment and tools
Build a website and promote your business
Things to know before opening this business:
Low startup investments
Expertise in appliance repair is required
No need to have an expensive college degree
You can set your own schedule
Summary
Now, it's over to you. We hope these small business ideas for men were helpful to give you insights and inspiration to take the next step towards starting your company. Wishing you all the best on your entrepreneurial journey!
Once again, here are 15 small business ideas for men:
Sawmilling business
Blogging business
Tree Trimming Service
Vacation rental
Freelance content writing
Fun socks store
Self-service car wash
Moving company
Pet wash
Local private tour guide
Microbrewery
Virtual sandwich shop
Mobile mechanic service
Leaf tea store
Appliance repair business
Have another online business idea? Get in touch with us if you'd like to make a custom app, customer relationship system (CRM), or software of any kind.