Introduction
Today, having a web presence is a must for every functioning business. This is especially true if it strives to stand out from the crowd of similar services/products and raise customer awareness. Thus, sometimes having only a website fails to satisfy the needs of clients and provide proper insights into the business.
Every day more and more users switch to mobile devices. According to the latest KPCB report by Mary Meeker, by the end of 2016, the share of mobile traffic (51%) has finally outpaced the desktop (42%). If there is a perfect time to consider building a custom application – it's now.
But it doesn't mean jumoing into panic-mode and hunting for developers as a full-time job. Not all businesses can afford an in-house team of software engineers, and some simply don't need it.
Instead, one of the best and most top priority solutions would be to outsource your app development. In this article we're going to thoroughly cover the process of looking for and hiring a mobile app development company.

Decide on the type of mobile application development you actually need
Before plowing headlong into the quest for the holy mobile app developers, consider the kind of application you want.
You have decided on getting yourself an application. What's next? Is it going to be for iOS, for Android, or for both? On the one hand, iOS apps bring twice as much more revenue as Android. On the other, Android holds 80.7% of the global smartphone market share. We've outlined the ups and downs of each:

Pros and Cons of iOS App Development
Pros
High app revenue
Dedicated user base
Excellent E-commerce results
Consistent on all Apple devices
Firmer / less buggy
Cons
Pros and Cons of Android App Development
Pros
Bigger market share
Wider demographics
Easy publication process
Has to be suitable for a variety of devices
High ad revenue
Fewer requirements for development
Cheap featuring on Google Play
Cons

Fragmentation
More potential bugs
Has to be suitable for a variety of devices
Longer development process

Aside from developing an app separately for each OS, there's an option for cross-platform development. Over the past few years a set of toolkits for multiplatform app development has emerged (Rhodes, PhoneGap, Titanium, Corona). And while they allow for creating an app that will comfortably run on iPhone, BlackBerry, Windows and Android, the functionality of the app is going to be pretty limited.
Such a solution is good for a simple app that connects to the web and brings info back to the user's phone. However, in the case of heavy database access and intense calculating processes, it's going to be horrible.
Moreover, there's currently no acceptable solution for a cross-platform support of a graphically rich app, like a game or a video editor. As a result, the app like this is going to work on two absolutely different platforms, but its functionality and design will not be the best.
Functionality of mobile application

You want to develop and launch a mobile application. Wait! Are are you sure it's going to answer the user's needs? For the sake of your future app's success, and your revenue streams, we recommend considering the following:
1. UI/UX Design
The main feature of the mobile application is the convenient user interface. Maybe it's tough to predict all aspects of the app in the beginning, but once you brainstorm all aspects, it'll be so-so-so worth it. Your clients won't have a reason to switch to another app.
No matter what the app's purpose may be, the simpler you put it the better. Let the client enjoy the easy-to-use software, and they will stay with you.

2. Performance index
Loading speed and data transmission are vital for a happy user. He or she won't wait for your app to catch up.
3. Security
Is your app going to require personal data? What kind of data will it be (names, dates of birth, card numbers)? How will it be stored? It's one of the essential questions to cover when you start discussing the project with managers.
4. Analytics
Consider the mechanisms for proper data acquisition and management. Receiving accurate insights allows for studying user behavior and improving the service.
5. Social Media Integration
Create a smooth sharing process for other people to get acquainted with you. When your devotees share your news and posts, potential clients will receive their 'recommendations'. Therefore, the customer base will grow organically.
6. Support and updates
If you aim to build a long-standing app, you have to see how it will be supported and updated. Operating systems and mobile devices continue to progress, and your app should not drag behind if you want it to be used by a vast audience.
How to find app developers?

A Short Overview of the Key IT-Outsourcing Countries and Rates
Just about every country in the world has its own share of freelance app developers and outsource software development companies, but there is no way we will be able to cover all of them. Rather than that, we're going to cover the most common locations of software development companies, and how much it costs to hire from them.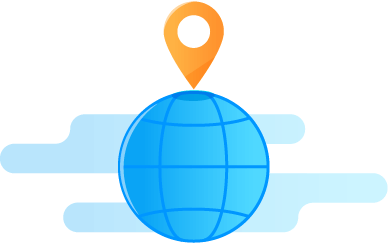 As of today, these are:
North America
Western Europe
Eastern Europe
Asia-Pacific
1. North America
North America is rightfully considered to be the third biggest continent by the number of occupied developers after Asia and Europe. The guys over there have everything from top-notch tech expertise to excellent management. However, the price for their job is going to be accordingly higher.
The average rate for software development is around $100-150 per hour depending on the city, level of experience, and the project requirements.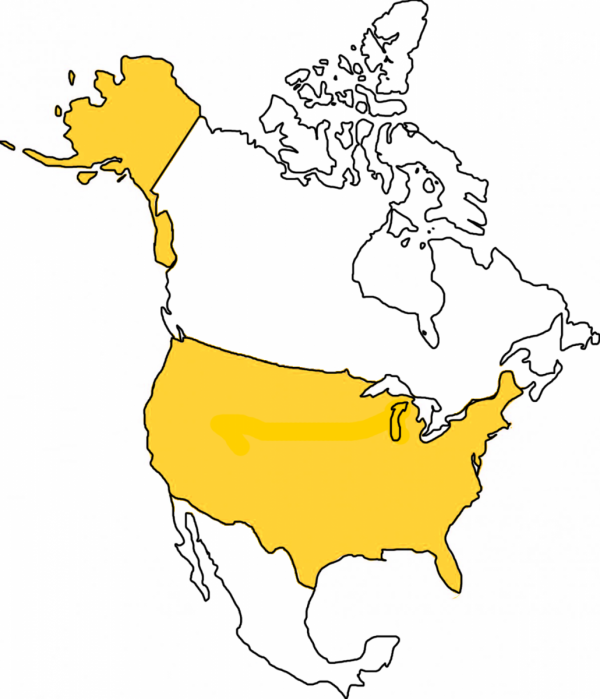 North America
2. Europe, Western Europe
Now, moving further to Europe. If you are looking for the same management quality in the sphere of mobile development, but closer to your local office, consider calling out to the dev-capacities of the UK and German.
According to A.T. Kearney, Britain and Germany are the absolute leaders in the European mobile software development, but hiring their specialists is going to be pretty pricey.
The average rate is $40-75 per hour.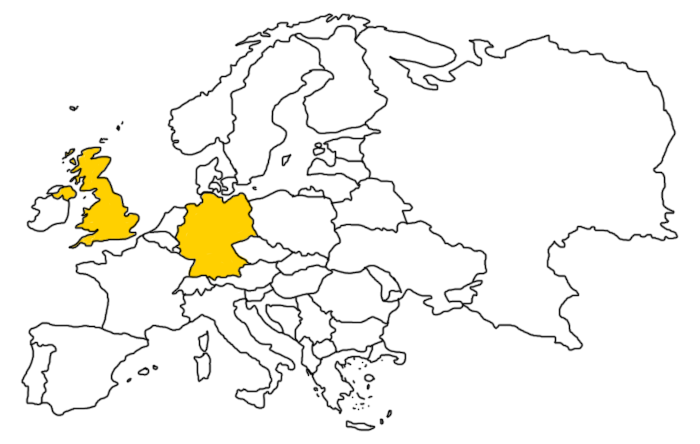 UK and German
3. Europe, Eastern Europe
The Eastern part of Europe also has its fair share of skilled techies, but with significantly lower rates. Ukraine, Poland, and Romania are the leaders in the IT market in the Eastern Europe, while their specialists are highly desired all over the world.
Poland is often chosen as an outsourcing destination because of the high English proficiency among their stuff, and stable political and economic situation. That's why their rates are generally higher than in other countries of the Eastern Europe.
The average rate is $45-50 per hour.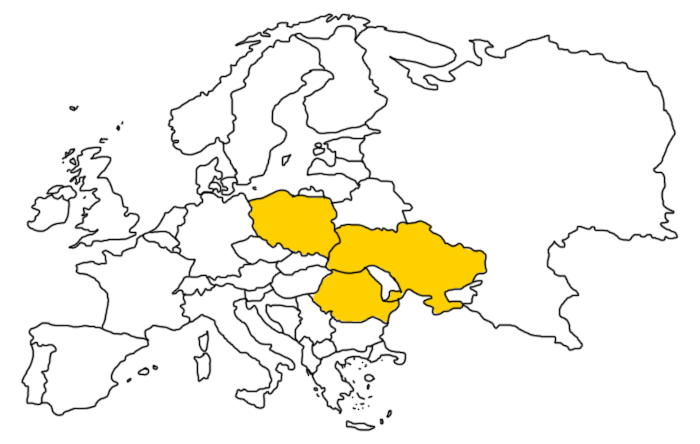 Ukraine, Poland, and Romania.

As for Ukraine, the ongoing military conflict in the East has caused some damage to the development of the IT market. Nonetheless, almost every 10th biggest IT-outsourcer has retained its office or an R&D center in there. Thus, not without losing clients or profits. While Ukraine remains a talent pool of IT professionals with excellent tech and soft skills, the charging policy has changed gradually.
Ukrainian IT outsourcing hubs have become much more affordable. If you want to hire a team of professional software developers and look for long-term cooperation, the hourly rate difference may be significant.
The average rate for Ukrainian IT companies is about $25-35.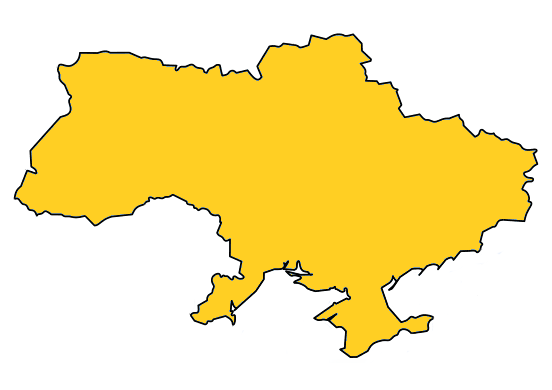 Ukraine

4. Asia Pacific
China and India are the absolute leaders of IT-outsource in Asia-Pacific region. India currently has over 300K specialists occupied in the IT industry, with Bangalore becoming the perfect counterpart to the American Silicon Valley. While their affordable, and sometimes rather cheap ($15-20 p/h), rates keep attracting projects, the absence of qualified management and tech expertise may cause unforeseen expenses.
The average rate is about $15/20 per hour.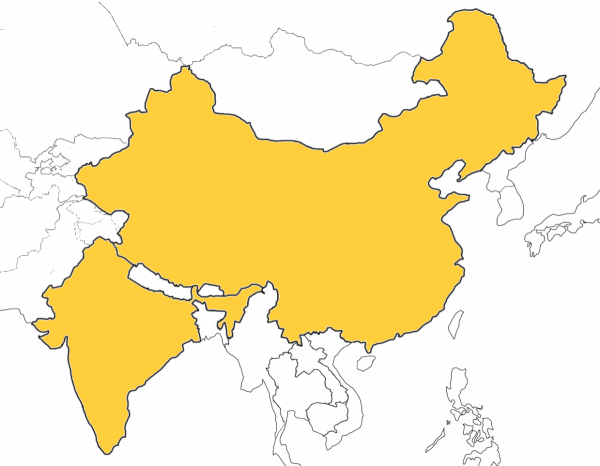 India and ChinaThe rates given are relevant only for companies with high-quality and tech expertise. Of course, you can find cheap app developers everywhere, but are they going to provide you with a good product? Hint: no.
Time-zones and communication restrictions
The time-zone makes a big difference when you are building IT-solutions. It can cause additional expenses and communication restrictions that will affect your business and the final product. Before looking for a suitable developer company give proper and planned out answers to these questions:
Does their staff have a comprehensive level of English?
Can you meet and talk, or schedule Skype calls for an acceptable time?
Can you meet and talk, or schedule Skype calls for an acceptable time?
Do you have means to travel for a real meeting?
I bet you did not think how such a small issue like time-difference can drastically affect the efficiency of your work. Unfortunately, cost-efficiency begins with regulating these matters before getting down to the actual process.
Let's not forget about overall cultural differences, public holidays and other customs. For instance, there are 18 public holidays in India, meaning that for 18 days you will not be able to reach your team. Not to mention that the dates of these holidays may differ greatly from the ones in your country, which makes it more than a month of work-loss.
Moreover, language proficiency matters. Period. If the company of your choice fails to provide you with a qualified English-speaking manager that will be able to answer your calls and emails at an acceptable time, then it is better to try some other places.
You should remember that choosing a cheaper service on the other side of the planet is going to cost something more than money. It will require time to communicate the idea of the business, additional travel expenses and sleep you're never getting back.

The Pros and Cons of Outsourcing Mobile App Development
Pros of Outsourcing App Developers
Price. Working with an offshore development team from Ukraine may be the most cost-effective and affordable solution. As a rule, it's much cheaper to develop an app in Ukraine than to develop it in-house, for instance, somewhere in the U.S. The main reasons for that are different living standards, but not the quality.
No HR Stuff. You don't need to hire and manage developers. An outsourcing agency will do everything for you. Instead of investing both time and financial resources in finding and hiring professionals, you can focus on the core business needs.
Wider Choice of Developers. While outsourcing, you aren't limited to one country. Thanks to the Internet and modern collaboration tools, the world is your oyster. You can hire developers from all over the world – be it Germany, Poland, Ukraine, or India.
Full Control. If you hire the right developers, you'll get full control of the development process as well as transparency. For example, we provide access to a wide range of tracking tools such as Jira, Harvest, RedMine, etc.
Cons of Outsourcing App Developers
Data Privacy. It's your top responsibility to protect your app idea. And while outsourcing, there are much higher risks associated with jeopardizing the data privacy. Mainly, it's a problem when you are hiring freelancers, but not an outsourcing company. At IDAP, we go above and beyond to secure your data. Before assigning a project, we'll sign a Non-Disclosure Agreement (NDA) to minimize the risks of data leak.
Time-Zone Differences. There can be an instance when your team and you work under different time zones. Such time differences may cause a wide range of problems such as communication gaps, blowing deadlines, etc. While outsourcing in Ukraine, there are high chances that working hours (or at least some of them) of your company and your outsourcing partner will fall in the same time interval.
Language Barrier. One of the offshore clients' concerns is a language barrier. But again – companies that provide upscale outsourcing services speak English fluently. You don't have to worry about any misunderstandings caused by poor English.
Find a suitable mobile app development company
There are lots and lots of ways you can search to hire a perfect app developers team to work on your app. The first thing to try is:
1. Personal Connections

If you're not on a tech-side and haven't got a clue on where to begin, try your personal network to find someone you can hire to make an app for you. While you may lack the knowledge to understand whether the team can be trusted, maybe there is someone in your social environment to confide in and ask for recommendations.
Or what's even better, maybe some of your friends, business partners, acquaintances or Facebook connections have someone they can recommend in the sphere of app development.

2. Surf the Net

Unfortunately, there are times when you're on your own and have to browse for the potential service provider. Just google "app developers for hire NYC", and you will see lots of mobile app development companies around New York City.
Afterward, everything is up to you. Look through their website or contact a manager to find out more about the team, their experience, and rates.

3. Online directories and Forums

There are lots of specialized online directories like Clutch, ContractIQ, AppFutura, or GoodFirms.
They are especially easy to use when you know what kind of product (mobile application) and what location, rates, tech stuff you want. Just apply the filters and receive a list of development companies that suit your needs.
Such platforms provide an unbiased assessment of the company based on lots of factors, including client list, trustworthy reviews, total experience in the field, market share and so on. There you will be able to find out more about company's history, technologies they apply, look through their projects and get your opinion on the quality of produced software.

In case you're familiar with the IT development industry and know a thing or two it, check out popular dev communities like Koding, NewAppIdea, Polycom, special Facebook groups. There you can easily find freelance mobile app developers for your project.
How Much Does iOS App Development Cost in Ukraine?
How much does app outsourcing cost? Below you can find average hourly rates for iOS development services collected by location. Note, these figures are ballpark.
| | |
| --- | --- |
| Region | Hourly Rate, Avg. |
| North America | $120 – $150 |
| The United Kingdom | $100 – $85 |
| South America | $65 – $50 |
| Australia | $110 – $100 |
| Eastern Europe | $40 – $35 |
| India | $25 – $20 |
Depending on the app type, the cost to build a mobile app may range from $25k to ad infinitum. If you take complexity and scope into account primarily, think of $20k to $50k for a simple app. And a complex app with multiple features would cost around $100k-$150k. But these are general figures. Only after a thorough estimate, you can get the real costs required to build your app.
Depending on the app type, the cost to build a mobile app may range from $25k to ad infinitum. If you take complexity and scope into account primarily, think of $20k to $50k for a simple app. And a complex app with multiple features would cost around $100k-$150k. But these are general figures. Only after a thorough estimate, you can get the real costs required to build your app.
Study the potential candidate

Professional outsourcing companies will be glad to provide you with apps they have built, including those not placed within the portfolio. Find them in the App Store or Google Play, upload to your mobile device and use for some time.
Pay attention to:

UI/UX
Functionality
Social media integration
Loading speed
Interactions between pages
Bugs and crashes
App rating
Reviews
This way you will see whether this company is going to deliver the result you need.
A piece of advice: Look for someone with experience in building an app similar to what your business needs. This way you will be working with people who know what they are building and how it's supposed to look in the end.
However, great design and functionality may only appear to be so. What about the team, technologies they use, their quality standards and the overall working process?
Take your time to study the team and structure of the company you will be working with.

How many people are there?
Do they have enough iOS or Android developers for your project?
What about designers and project managers?
What technologies do they use?
What methodology do they apply?
Who are their past clients?
It's recommended to check the Clutch profile if you want to gather more information about the candidate. It provides an unbiased assessment of the company based on lots of factors, including client list, trustworthy reviews, total experience in the field, market share and so on. There you can find out more about company's history, technologies they apply, look through their projects and get your opinion on the quality of provided product.
Essential questions to cover before hiring an app developer

So you've finally found the one-and-only to work with, but that's no time to relax. You have to make sure that the company you decided on will be able to fully devote their capacities to develop a custom product for your business.
Communication and development process

Working with a remote team is possible only by maintaining regular communication and making sure your thoughts and ideas are clearly understood. An experienced team is going to provide you with scheduled calls, weekly/monthly status reports, access to their managing tools (Jira, Gemini, Jixee, etc.) to make sure you participate in each stage of project development.
Be aware of the companies that do not let you talk directly to the team members or constantly reschedule the calls. It's a sign they do not take you seriously, and your project is not the top-priority.

Pricing

The overall price of the application depends on the complexity, functionality it shall implement, and on what platforms it shall be available. Let's not forget about bug fixing, updates, and support.

Legal matters

Secure yourself with a proper service agreement that provides for:

IP ownership;
Deadlines and what will happen if they are missed;
Schedules and structures of the payments;
Confidential information
Do not go into creating a legalese 30-something-pages-long document that would not be readable without the interpretation from a lawyer. Maintain the balance between a document that protects both parties, but remains readable at the same time.
Summary
Take your time to research and become aware of the current trends and technologies used for app development. The working relationship with a development company is more likely to last more than six months, or even longer if we consider constant updates and app support.
Look for the company that has a story of building successful applications and the expertise needed to cover all the aspects. Meet the managers and the team to know who you'll be working with and at what stage.
Remember, it's your business, so do not settle for less.