The information technology market shows an increased demand for software products, mobile and cloud applications. By 2025, the volume of the IT outsourcing market will reach $397.6 billion worldwide. Spendings on IT services has already grown up to $1.2 trillion with a CAGR of 9.8%. 
To meet the growing demand for IT specialists, companies are opting to outsource some of their essential and non-essential business functions to third-party businesses. Today software development outsourcing has become a way of life for many small businesses as well as international corporations. In 2022, it's not even a question whether to outsource or not. The right question is what country is the best for outsourcing.
It is difficult to make the right choice because the global potential is scattered across five global areas operating in conditions of a rigid market. Here is the result of our global IT outsourcing market analysis, based on the research of global analytical agencies. Using the generally accepted methodology, we have identified the 10 best countries for software development outsourcing.
Please note that the average outsourcing cost can be increased due to extra fees. In each specific case, the cost of a developer's work depends on their qualifications and the task complexity, therefore it can vary.
What is Meant by "Outsourcing"?
Software outsourcing is a type of cooperation with a third-party company i.e. software development vendor or mobile and web app development agency that takes care of every app development process or particular tasks related to software development.
Read also: IT Outsourcing Guide
Reasons Why Companies Opt for Software Development Outsourcing
Each entrepreneur has their own reason to go in for software development outsourcing. According to Statista, businesses call for outsourcing because it can help with:
Talent and skill gaps
Saving money
Freeing time to focus on core business activities
Scalability
Flexibility of resources
Driving innovations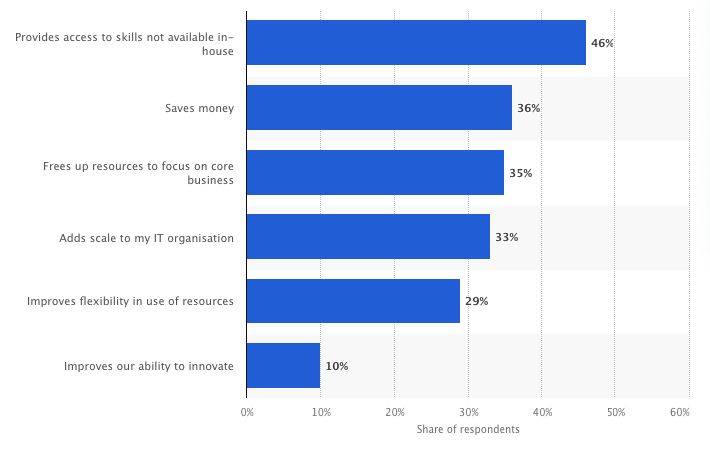 The cost of software development outsourcing is one of the first motivations. 70% of companies opt for outsourcing due to cost reduction. For sure, software development isn't a cheap process, so every entrepreneur wants to get the best out of the allocated budget. Thanks to outsourcing, you can choose the most favorable rates without compromising the expertise of software developers. 
Here are three things influencing the price diversity of outsourcing:
Expertise
Education
Standards of living
Companies can look for developers and other IT specialists outside the U.S, EU, and Canada, where the dev costs are much higher. But the cost isn't the only decisive factor.
Outsourcing offers unmatched flexibility. 46% of companies said that outsourcing helped them find and hire rare talents that weren't available in-house. Outsourcing companies provide access to a much wider pool of software developers.
When hiring in-house specialists, you are restricted not only by expertise and knowledge but by location. In this case, the talent pool gets smaller and smaller. Along with saving costs and larger talent pools, outsourcing allows you to get out in the market much faster. 20% of companies saved time and got to the market faster, bypassing their competitors and getting the full market share. 
Recruiting and hiring an in-house developer may cost up to $50k, covering all the recruitment stages and HR activities like rewards for external recruiters, time of internal recruiters and HR specialists, time of the engineering team spent for interviews, and the onboarding period. In fact, the cost per hire can even triple when it comes to hiring specialists with rare expertise or with skillsets in high demand. 
Luckily, there is outsourcing that can help get to the market in the blinking of an eye. But outsourcing doesn't come only with benefits, there are also some drawbacks. Outsourcing risks are only potential and can be easily eliminated by choosing the right software development vendor.
10 Best Countries for Outsourcing
Central and Eastern Europe, South America, India, and China are top locations for outsourcing IT services. Here's a brief outline of the 10 best countries for outsourcing.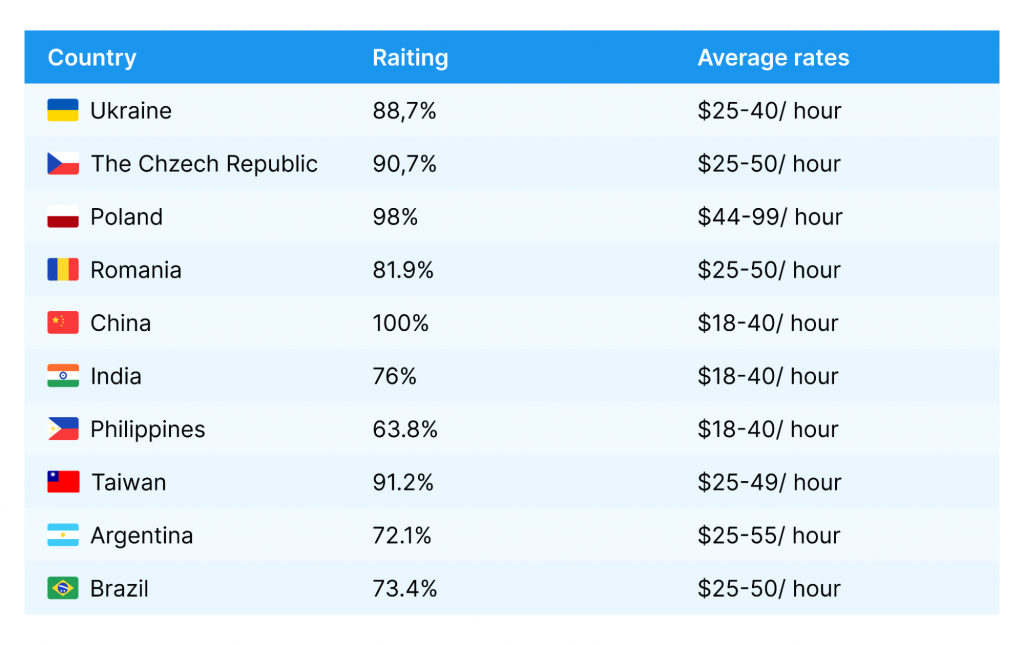 East Europe
Ukraine
It's the largest European country with 200,000 developers and an estimated value of $1.3 billion. Ukrainian developers are skilled, fluent in English, and experienced in a wide range of business domains like custom software development, gaming and gambling, edtech, fintech, healthcare, IoT, e-commerce, and other.
Even under war conditions, IT outsourcing companies display astonishing resilience and quickly adapt to new conditions. In spite of the war, Ukrainian companies have everything they need to deliver products and software solutions as planned. 
Thanks to the global pandemic, it wasn't complicated for most offices to switch to the remote mode. Some Ukrainian companies relocated their R&D centers to the western part of Ukraine and another half transferred their employees to Poland, Slovakia, Bulgaria, etc. Here are some major reasons to outsource to Ukraine in 2022:
The service costs $25-40 on average within the region. Ukrainian software developers are no worse than their North American colleagues in terms of creativity and quality, as well as managerial professionalism. Ukraine is of particular interest due to the plenty of highly educated skilled specialists, while the competition determines a low price range. Over 200,000 specialists in total are employed in the Ukrainian IT industry.
The level of education of Ukrainian developers is one of the highest in the region – 57% of specialists have STEM degrees, and most of them are fluent in English.
The government is taking active steps to create favorable conditions for software development companies.

The Czech Republic
In 2022 the Czech Republic is one of the best countries to outsource software development thanks to its low taxes and 105k specialists. The Czech Republic houses IBM, NetSuite, Honeywell, and Google offices, which proves local IT specialists' experience.
The Czech Republic is famous for building Avast, an anti-virus software system, and Sezman.cz, a Czech search engine. It's a starting point for lots of renowned companies. According to the State of European Tech 2021 Report, the Czech Republic has four current and five potential unicorns, including Avast and JetBrains. 
Czech developers are adept in all major programming languages and frameworks. The dominant tech stack includes CSS, JavaScript, HTML, SQL, C#, and Python. Outsourcing to the Czech Republic has many advantages apart from saving cost and time.


Poland
European companies regard Poland as one of the main Central European candidates for leadership in outsourcing.
The cost of a Polish IT specialist's work is one of the highest among the countries of Eastern Europe and reaches $99 per hour. Though hiring Polish developers is still cheaper than hiring US engineers.
Poland is quite a small country with a population of 38 million people, it cannot boast of a large talent pool. The outsourcing industry employs 87k professionals, most of them work in Warsaw or Krakow. Software development is one of the biggest industries in Poland. 
The high level of English attracts customers. Moreover, Poland is a member of the European Union, which guarantees stability and security for outsourcing customers.

Romania
If you are looking for the lowest prices for outsourcing, Romania is not the best option. In 2022, the country has been showing steady growth in the technology services industry, and outsourcing is characterized by excellent quality.
According to various estimates, IT companies in Romania employ up to 300,000 specialists with all the popular programming language skills. This is around 20% of people across all the countries to outsource software development in Central Europe. An hour of work of such a specialist costs $25 – $99.
The high-level qualification of software developers and fluency in English is a plus. The government supports the IT industry, and the numerous offices of international companies such as IBM, Microsoft and Dell prove it. Romania is a member of the European Union, meeting international standards in the information technology field.

Asian Countries
China
The outsourcing market shows a stable growth by 30% annually. At the same time, the contracts of China's outsourcing companies amount to $223.7 billion. But the government's intentions to turn China into a world leader in IT outsourcing are bothering the competitors, especially India.
The value of specialist services depends on the level of task difficulty. The hourly rate usually does not exceed $50, but the services of a highly qualified developer can cost even more than $100 per hour.
The Chinese IT outsourcing market has practically no protection of intellectual property. This means that your innovations are likely to be used; moreover, they will be used for free. On the bright side, the government is extremely interested in the development of the IT industry and supports software developers with tax benefits.

Philippines
The Philippines are famous for quality higher education. According to statistical information, the literacy rate in the Philippines is 92.6%. The average age of the population is 22.9 years. Many specialists have practically no work experience, but they are ready to learn a lot and work hard.
The Philippines are the cheapest outsourcing option so far. The minimum salary in the country is $10 per day. Recent studies show that Filipino outsourcing is 37% cheaper than Indian on average.
Right now, not many Filipinos are looking for work in outsourcing or prioritizing call centers. But today's surveys show that 46% of IT graduates and working professionals choose outsourcing companies.
The development and promotion of outsourcing in the Philippines is not a new trend. Gradually, outsourcing is making an increasing contribution to creating more jobs in the country and significantly affects the GDP each year, so the government is focusing on the development and reliability of outsourcing in the country.

India
India is a leading exporter of outsourcing services in the world today; its share in the global IT and BPO (business process outsourcing) market exceeds 50%. This activity brings the country $47 billion annually.
It seems unbelievable, but 60% of Indian outsourcing clients are American companies and 30% are European corporations engaging in high-tech, finance, telecom industry, retail, and manufacturing. About 2.5 million Indians are employed in the provision of similar highly demanded services.
Offshore outsourcing has been developing in India since the 80s, it's been gaining momentum, encouraged by the information technology boom in the mid-90s. Western companies transferred their production to India to reduce expenses during the recent economic downturn. India is again helping them to make a "breakthrough" in the years of recovery.
So what is the reason that a former colony, a country with the highest level of poverty, turned out to be so attractive for many leading companies from first world countries? First of all, it's low-paid work and services of Indian specialists: the average American salary exceeds the salary of Indians by 5 or even 10 times. Given that companies spend major costs on salaries, saving on wage differences is a significant source to reduce expenses.
The average annual salary of an Indian young specialist is $5-9k per year. Well-known web and software developers with 10-20 years of experience get about 1/3 of the average salary of a Western specialist of that level – $17-40k a year.
However, India is leading among outsourcing service providers due to its huge staff potential: 500 million specialists! At the same time, the country's universities annually raise 3 million graduates, 16% of them are specialists in science and modern technology. Of course, different Indian universities have different levels, but the Indian University of Technology is highly respected throughout the world, training highly qualified staff.

Taiwan
Taiwan is one of the most promising Asian countries for outsourcing. It's one of the Asian tigers with a fast-growing word economy. Taiwan can boast of a 98% literacy rate and the 4th rank in math and science scores, so Taiwanian developers are the smartest.
The government of Taiwan prioritizes entrepreneurship and business outsourcing by creating a startup-friendly environment, reasonable immigration, and business-friendly legislation. Taiwan is positioned as one of the top 50 cities for digital innovation.
Latin America
Argentina
Argentina is one of the most educated countries in Latin America and takes 21st place in QS Higher Education Rankings. The country has over 120,000 software developers, and many are working in the outsourcing industry. The highest level of English in Latin America attracts customers. Argentina is just 2 hours ahead of the USA, so they have tons of overlapping working hours. It's a great strategic location. 
The hourly cost of a specialist's work varies from $25 to $99. This is slightly more expensive than in Eastern Europe but attractive enough for North American companies. The most popular programming languages among Argentinean developers are Java, PHP, JavaScript, and C. Despite the economic instability, the IT outsourcing market looks quite attractive.


Brazil
According to BRASCOM, 8520 IT companies were registered in Brazil at the beginning of 2012. About a quarter of them focused directly on software development and services. The remaining are engaged in the commercialization of third-party products.
The total number of employees in the IT sector, according to the national association, is 1,200 thousand people, of which 400 thousand work directly in IT companies. The software developer's hourly rate is roughly the same as in Argentina.
Brazil has a rather complicated taxation system. However, competitive prices and good quality software products make IT outsourcing attractive.

How to Choose Where to Outsource?
There is no wrong country to outsource software development. When choosing the best country for outsourcing, it's important to pay attention to the following:
1. The tech stack of the project 
Knowing the needed expertise or tech stack can help you narrow down your search. Some software development focuses on building custom solutions for the healthcare industry, while others cover the needs of the banking sector.
Make a list for your project where you can single out all the important aspects like technology tack, security, and data protection. Remember, your vendor should work with the latest technologies to ensure the scalability and maintainability of your project.
2. Time zones 
If your project is time sensitive, choose closer countries with no or insignificant time differences. The golden rule is max 3 hours of work time difference. If your project doesn't involve real-time cooperation and you know how to manage your remote team, you can choose any geographic location.
In 2022, businesses will focus more on expertise than time zone differences. With modern task management systems, everything goes as planned regardless of work time zones.
3. Culture
The world is bright and different. There is no wrong country or wrong mentality. But there are people who simply don't match and outsourcing to people that you don't understand can result in a project failure. It's better to look for a partner who shares your business vision and cultural values.
4. English 
Communication is extremely important when building custom software solutions. You need to discuss, negotiate, and find ways to solve your problems. Productive communication with your team is one of the keys opening doors to a successful business software solution.
When choosing what country to outsource software development to, it's better to find a country where developers can easily communicate in the English language. A lack of English understanding can give rise to miscommunication and disagreement. Easy and constructive communication is what you should look for while choosing the best country for outsourcing.
5. Business values 
Business values determine the relationship between parties and principles of behavior. They can facilitate project success and seamless interaction. When choosing a software development provider, most companies are driven by cost savings and tend to choose the cheapest option. However, this can play a trick – just a price match isn't enough for fruitful cooperation.
Summary
There is no single criterion for choosing the best IT outsourcing destination. You should make the decision after analyzing the costs, the location, qualifications, and technical capabilities, the political and economic situation in the country of a software developer.
At IDAP, we have everything for your software development. With more than 200 completed projects under our belt, IDAP covers a full cycle of mobile and web app development. We'll be glad to help you with your outsourcing needs. Get a free kick-off consultation.