Intro
No matter how many times we've talked about IT outsourcing destinations, people still have a ton of questions to be answered about it. Where can I find a software development team that won't cost me a fortune? Which country is better for offshore software engineering? How wide is a range to choose from here and there? These questions are at the very tip of the iceberg and the deeper you dive, the more interesting things get for you. Today, we're continuing to explore Eastern Europe and its outsourcing opportunities by digging into Bulgaria — one of the most promising R&D and software development destinations in the region.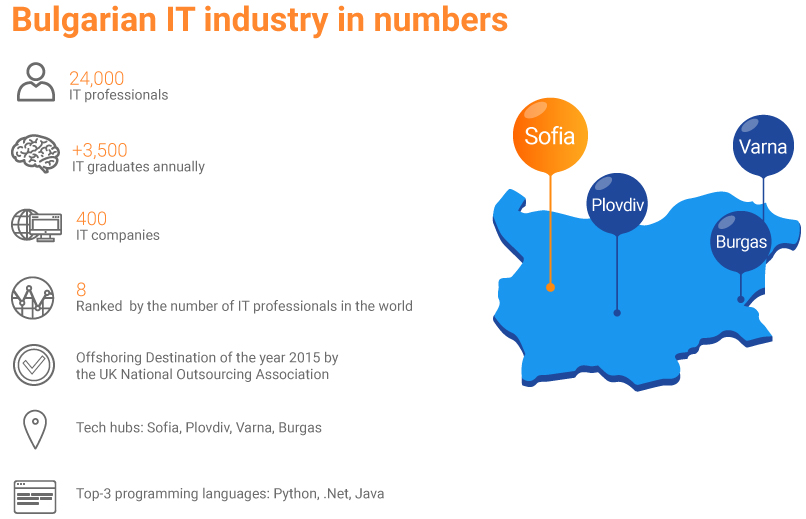 Local Business Environment
The Bulgarian government aims at improving economics in the country, thus promotes tax incentives for both local businessmen and foreign investors. The personal income tax rate in Bulgaria is one of the lowest compared to other European countries. On top of that, Bulgaria also offers fiscal citizenship that comes with extra legal and financial bonuses. For the period from 2019 to 2020 the Bulgarian economy is expected to reach 2.9% growth. Business process outsourcing here delivers about 3% to the state budget annually.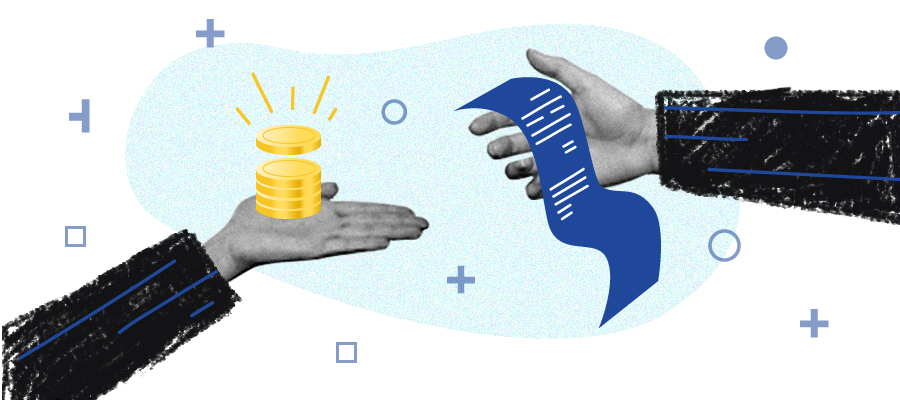 Generally speaking, the software development industry in Bulgaria isn't as impressive as it is in some of the neighbouring countries, especially Ukraine and Poland. Anyway, it shows decent results of stable growth and the government expects this industry to reach more than 2% growth annually. Although Bulgaria has been acknowledged as a beneficial outsourcing destination, numbers prove 69% of local software engineers work for IT companies with a local market focus, meaning foreign clients seeking software contractors would have to choose from the 30% left.
IT Human Resources in Bulgaria
The Republic of Bulgaria is the 16th largest country of Europe located in its Southeast part. It is also a European Union member since 2007. Due to moderate sizes and population (the country accounts for about 7 million citizens), Bulgarian IT talent pool — 24,000 tech specialists — doesn't seem as impressive as, for example, the Ukrainian one with its 160,000 IT professionals. However, it remains an attractive outsourcing destination for a lot of countries due to several strong reasons: rather high English language literacy, strong work ethic, membership in the EU (that comes with legal transparency and stable economics), and beneficial geographical location (on the Black Sea coast, at the crossroads of East and West), and, of course, global recognition in the IT & BP outsourcing sector. Companies having R&D offices in Bulgaria include Hewlett-Packard with 6,000+ employees, SAP, Johnson Controls, Oracle, VMware, CISCO, ProSyst, and Atos. Local IT outsourcing sector generates at least $250 million to the state budget yearly.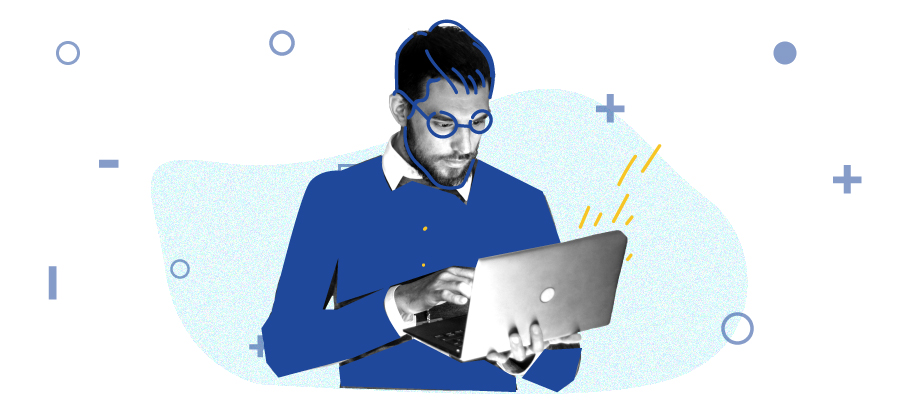 Although local IT pool accounts for 2k specialists annual growth, it is still not enough to cover market demand, which is about 6 thousand new job openings generated per year. The fact that demand for programmers is higher than the market offer doesn't affect the intellectual quality of Bulgarian IT human resources: 53% of all local developers are ICT certified. In 2015, this country was awarded the title of the Offshoring Destination of the year 2015 by the UK National Outsourcing Association. Later on, the country kept up with this positive tendency and got ranked 2nd in Europe and 7th globally among the most attractive IT outsourcing locations in the Business Process Outsourcing and Shared Service Location Index.
Technical Education in Bulgaria
Despite its moderate sizes, Bulgaria locates a decent number of educational entities that offer tech education. Namely, there are 220 high schools offering Information and communications technology curricula combined with solid English language courses throughout all the years of studying. Local entities of higher education are keeping up with the high demand for IT professionals on the market as well. Currently, 15 universities offer ICT majors to applicants. The most prestigious universities of Bulgaria include Technical University of Gabrovo, Technical University of Sofia, and Technical University of Varna.
IT Outsourcing in Bulgaria: Cost & Tech Stack
So, what are approximate amounts to spend in Bulgaria on software development services? The data-driven B2B client reviews platform Clutch reports that the cost of programming expertise in Bulgaria ranges from $25 to $149/hour which is pretty average not only for Bulgaria but its neighbouring countries like Hungary and the Czech Republic. Average salaries of software developers in Bulgaria depend on years of experience and level of expertise, and distribute as follows:

As for the tech stack, Bulgarian engineers are most known for the following programming languages:
On the local IT outsourcing job market, the demand for pythonists is the highest, which is naturally influences the higher salaries amongst them. Senior Python developers typically ask for $2300-3500/month, while Java and .Net senior-level programmers gain from $1700 to $2800 per month.
Software Development Companies in Bulgaria
Bulgaria accounts for more than 400 business entities representing the software development outsourcing in Bulgaria. Below you can find a short list of companies that grabbed our attention due to their professional achievements and contribution towards the rise of the Bulgarian IT sphere.
Mentormate
Mentormate is a Bulgarian software development company that has been on the market for 18 years. Back in 2001, they released a mobile app aimed at helping people who try to learn foreign languages. Since then, Mentormate expanded their area of expertise from mobile applications development to more than 30 programming languages to cover a wide variety of software types. Seven offices of the company are located in different countries including the US and Sweden in addition to Bulgaria. Currently, the company has over 1k projects created and work in the spheres of lifestyle, real estate, education, finance, and e-commerce.
Scalefocus
Scalefocus is another massive player on the offshore software development Bulgaria field. This company positions itself as an R&D facility and advanced software engineering provider for complex technical solutions. Currently, this company employs over 600 people in the 9 offices located globally. Established 7 years ago, today this company has a track record of 500+ completed projects for about 200 customers and 50 awards including BCII's Innovation Award and Forbes Business Award in 2018. Their areas of service distribution include telecommunication, finance, automotive, healthcare, logistics, insurance, government, education, hospitality, and brewing. You can find Scalefocus teams working in Sofia (the headquarters), Plovdiv, Burgas, Varna, London, Munchen, Washington, Zurich, Athens, and Tel Aviv.
Upnetix
Upnetix is a business-oriented software development company of Bulgarian origin established more than a decade ago. The range of services they distribute includes enterprise software solutions, mobile applications, frontend and web development. The distinctive feature of that company is the fact that Upnetix has Google certified developers agency status making it unique compared to all the other Bulgarian IT vendors. Among their clients, you can find such famous names as Bosch and Leica Geosystems. The prominent projects of this company are ALBtelecom, a client-oriented mobile app to represent Albanian Telecom; Pathways — an ERP system for Comac Medical; and Excitel — a web application for an Indian internet provider.
Dreamix
Dreamix is a software development company that has been on the market for more than ten years providing software development services in the field of Java software development, software integration, and tech management services. Tech stack practised in Dreamix include Java, Oracle Fusion Middleware stack, Oracle Forms migration and ADF, Middleware support and cloud, and business intelligence and analytics. Although this company has a smaller scope compared to its competitors described above, it's still a well-known participant of IT industry in Bulgaria.

Summary
Relatively low price rates for software development services overlapped with skilled talent pool and decent English literacy makes Bulgaria an appealing option for Western investors and entrepreneurs. Perhaps the IT industry in Bulgaria isn't as acknowledged globally as the Ukrainian or Polish ones, it's still totally possible to find a good software development team there, especially if you know exactly where to search. If you don't, IDAP is right here waiting for you to build something meaningful together.