Intro
It's been a lot said about how great IT outsourcing to Europe really is. Everybody knows it's cost-effective, time-saving, and to put it shortly, great for any business. However, Europe is a bunch of countries with their lifestyles, cultural differences, laws, and business rules. We have already reviewed some of them from IT outsourcing perspective, including Bulgaria, Belarus, Poland, and, of course, Ukraine. In today's post, we're going to explore one of the most promising IT outsourcing destinations in Europe — Czech Republic. How's it going with software development there? Let's find out.
Czech IT Industry in Numbers
156,000 IT specialists
+7,000 ICT graduates annually
$50-149 average hourly rate
IT services export value $1.78 billion
Top-3 programming languages: Java, JavaScript, PHP
Czech Republic vs. some of the Eastern Europe countries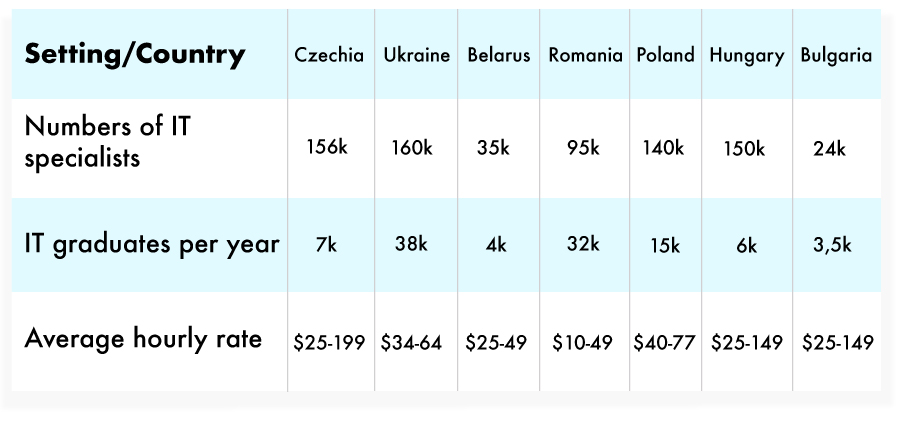 A Look At Czech IT Market
On the IT outsourcing world map, Czech Republic has made its brand name and secured positions decades ago. So, no wonder this country is one of the most attractive IT outsourcing spot highly appreciated by both North America (the US and Canada) and Western Europe. Czech Republic has been continuously showing shockingly high ROI index in the ICT sector, which is definitely has something to do with IBM, Microsoft, Google, and Oracle choosing Czechia as their R&D destination of choice. Deloitte has ranked Czechia as a country with very low-risky economics and business climate (A2), meaning it's a welcoming option for investing.

The list of market leaders enjoying Czech technical expertise doesn't end just there, as well as it's not limited to software development outsourcing. Did you know that Avast and AVG AntiVirus, world-wide famous cybersecurity products, were developed by Czech IT companies? Czech digital products actually are very popular with locals, to the point Seznam.cz — a search engine developed in Czechia — beats Google up by the number of online searches. Aside from the tech skills we'll talk about more precisely a bit later, Czech software developers are known for solid English literacy, Western-oriented mindset, and strong work ethics. These are just a few proofs of Czech Republic being an attention-worthy destination to look at in terms of offshore software development in Europe.

The biggest tech hubs in the country are Prague — the capital of Czech Republic and a globally famous touristic location — and Brno, second largest city by population in the country. Although Prague is more known worldwide and looks a bit more trusted in the eyes of Western investors, lots of software development companies, tech startups, and R&D centers chose Brno to be their headquarters. Slightly less popular Czech city that yet still appears on the radar of people interested in offshore software development Czech Republic is Ostrava — a smaller city in the north-east of the country. Namely, one of the leading European software development vendors Tieto has an office there.
ICT Education in Czechia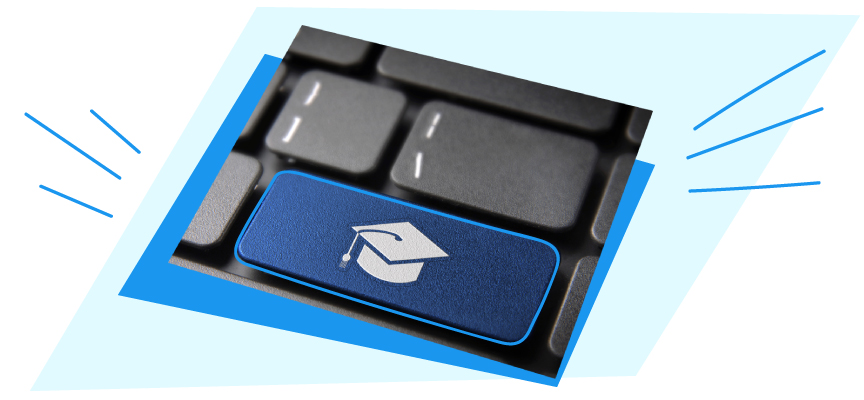 Czech universities attract thousands of high-school graduates annually, including those who seek to acquire higher education in ICT. In 2016, the number of all students learning in higher education institutions reached 90,000. More than 8k of them graduated that same year with Information Technology diplomas, which is a decent add-on to the already existing Czech IT talent pool.

Higher education in Czech Republic has one amazing benefit compared to other European countries, especially those that used to be in USSR. Namely, local universities support effective communication with the Czech businesses to keep an eye on industry trends and market needs. That way, institutions of higher education timely update their curriculum and deliver learning material that's valuable in practice to students. Such an approach results in the Czech labor market being of the most qualified in Europe, regardless of the field of expertise.
As for 2019, the most popular universities in Czech Republic are Charles University in Prague, Prague Czech Technical University, Masaryk University in Brno, Prague University of Economics, and Brno University of Technology. Local IT companies oftentimes open internship programs for tech graduates in order to help them grow into true professionals.
Tech Stack & Costs for Software Development in Czech Republic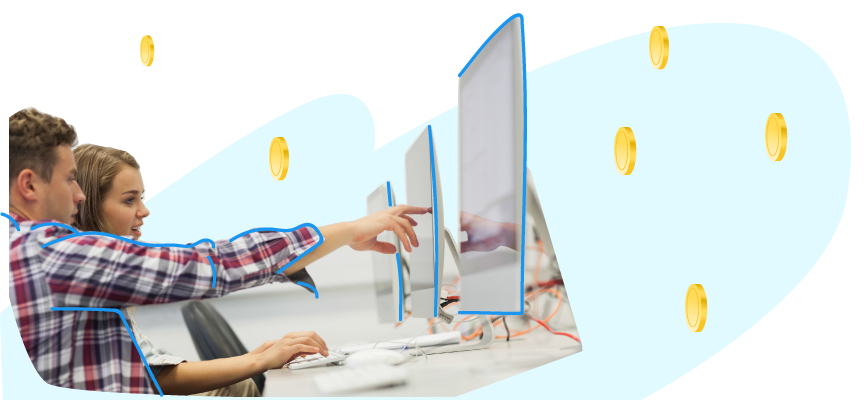 According to the recruiting platform called Techloop, the most popular programming languages in Czechia include:
As for the frameworks, React.js, Symfony and JQuery are the most wanted ones on the tech labor market. In addition to being a famous R&D destination for market giants, Czech Republic also known as a video games development hub. Since the 1980s, many Czech gaming companies built a reputation due to such successful releases as Hidden & Dangerous, Mafia: The City of Lost Heaven ( 2K Czech), ARMA: Armed Assault (Bohemia Interactive), and Euro Truck Simulator (SCS Software).
As for the numbers, Czech Republic can offer 40% to 60% lower costs for programming services compared to those in the countries in North America and Western Europe. However, this doesn't mean a contract with a Czech software development company would cost you a song. Throughout the Eastern Europe region, IT outsourcing companies of Czech origin charge higher than for example Ukraine of Belarus. As Clutch reports, most Czech companies have their rates somewhere in between $50-199 with an option to find a new-to-market service with $25/hour rate. Approximate monthly salaries of software developers in Czech Republic are as follows:
$980 for Junior Developer/Trainee
$2400 for Middle Developer
$2500+ for Senior Developer
$4200 for Team Lead/Software Architect
Czech Software Development Companies
Czechia locates hundreds of IT companies ranging from world-famous software development giants to fresh startups that are here to change the digital sphere. Here's a short list of companies that as we think are worth the attention of people interested in software development Czech Republic.
1. Cleverlance Enterprise Solutions
Cleverlance Enterprise Solutions is an IT company of Czech origin that now has grown into an international software development services provider. Its headquarters is located in Prague and the branch offices are in Brno, Bratislava, and Bremen. The company has been on the market since 2000 and now it employs 250+ people. Cleverlance provides IT consulting, analytical services, and architecture solutions in addition to outresourced software development. In IT outsourcing, Also, this company creates a lot of digital products under its own brand — from IT platforms to apps with virtual and augmented reality technologies applied. In 2017, Cleverlance Enterprise Solutions became a member of the Association of Virtual and Augmented Reality and continues to develop AR and VR software of the highest quality.
2. Strix
Strix is a Czech software development company that provides IT outsourcing and consulting services in e-commerce and omnichannel areas and helps both B2B and B2C clients to go through the digital transformation. It is an official Adobe (Enterprise Magento Solution Partner) partner in Europe with a track record of 10 years implementing Magento-based e-commerce digital products for companies working in automotive, construction, finance, fashion, and electronic appliance manufactory spheres. Their offices can be found in Prague, Krakow, Poznan, and Rzeszów. Currently, Strix company employs 120+ specialists, including software engineers, consultants, UI/UX designers, QA analysts, and project managers. This company is most famous for delivering the world's first Magento 2.3 project with Multi-Source Inventory.
3. Adastra Corporation
Adastra Corporation was founded in 2000 and since then, it has grown into a true industry giant with more than 15 offices worldwide including Prague, the capital of Czechia. Although it definitely can be considered as an IT company, Adastra's primary activity is data management and digital solutions for it. This company provides software development, data government, and analytics services. Currently, the company employs more than 300 people worldwide. The tech stack of Adastra Corp. includes Big Data, Cloud, Blockchain, IoT and mobile applications development. The business focus of this company is solely B2B clients with large-scale products.
Summary
Each time we get to explore another IT outsourcing destination, our finding prove to us that there's no right or wrong country in terms of software development. IT industry in Czech Republic has truly impressed us with its thrive for innovation, investments in higher education, and stable level of growth throughout the years. However, don't forget that you outsource to a team, not to the whole country at once. That's why the research conducted by a person looking for software development outsourcing in Czech Republic has to be much deeper and aimed at evaluating the particular squad. In case you're tired of searching, our well-established team with a proven track record of projects is here for you.