An old iPhone.
A used Omega watch.
A dress you wore only once.
Want to make extra cash by selling stuff you no longer need? Then apps for buying and selling used items are a good way to go. They can help you turn unwanted items into money, often as quick as hours.
If you're looking for the best buying and selling apps, check out our selection. These top-rated apps to sell things will surely help you get extra cash.
Best Buying and Selling Apps
eBay: Reach as many potential buyers as possible
5Miles: Good option for nearby buyers and sellers
Vinted: Sell new and secondhand fashion items
Offerup: Sell locally or ship across the U.S.
Craigslist: True-to-form Craigslist experience on mobile
ThredUP: Great for selling women's and kids' clothing
VarageSale: Sell only to verified sellers and buyers
Shpock: Connect with UK-based buyers and sellers
Facebook Marketplace: Best for selling locally
Mercari: YourMarketplace: For shipping instead of meetups
1. eBay Marketplace
Ratings: 4.6 (Google Play); 4.8 (App Store)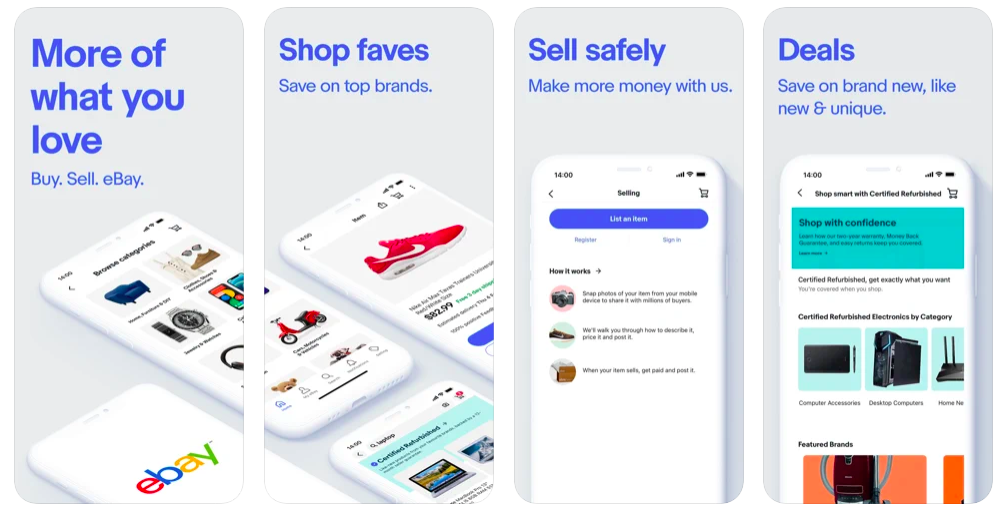 Overview:
eBay tops the list of best buying apps for several reasons. First, you can sell many types of items (clothing, electronics, toys, memorabilia, health products, art, and more) to both local and international buyers. Second, eBay helps with handling payments and protecting sellers. And third, selling is easy for beginners thanks to a user-friendly interface.
Why choose eBay:
Sell your items via auction or fixed-price listings
Get help with selling and shipping with eBay's helpful support videos
Maximize the reach of your listing thanks to eBay's 183 million global buyer base
Choose among multiple payment methods (PayPal, payment on pickup, credit cards)
Get protection from eBay in case buyers duplicate claims or engage in other fraudulent behavior
Our thoughts:
We like eBay because it's very safe and provides access to millions of potential buyers. Also, you get two ways to sell your used items: via an auction (set up a minimum price and time) or a fixed price listing (you define the price). Overall, a great app for selling and shopping both locally and internationally.
Download eBay Marketplace:
2. 5Miles
Ratings: 4.2 (Google Play); 4.7 (App Store)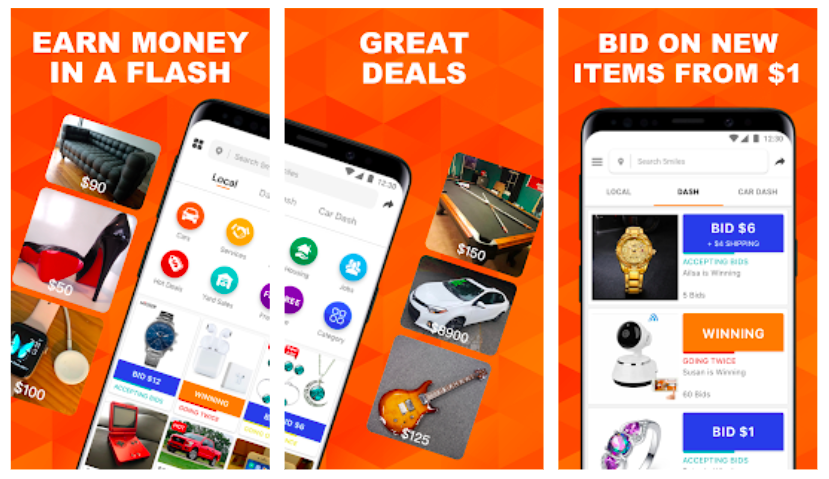 Overview:
If you want a used stuff app for local sales, consider 5Miles. Many users have compared it to having an online garage sale. This buy and sell app offers an auction format, and you can set up listings to fit your time and price preferences (auctions can last as little as 90 seconds). Besides products, 5Miles also includes local services (gardening, tutoring, pet care, moving, and others).
Why choose 5Miles:
Sell a large range of products, from used clothing to cars
Search for local deals quickly thanks to zip code and GPS features
Set up auction time and opening bid amount to get the best deals from local buyers
Choose between shipping and meeting with buyers in Safe Meetup Areas (as indicated by other sellers)
Contact your potential buyers thanks to a built-in messaging system and get notifications about their messages
Our thoughts:
5Miles is a trusted buying and selling app. You can sell almost anything, connect with potential buyers quickly, and get paid via secure channels. If you'd like to get rid of some unwanted items and have locals compete for them in an auction, it's a good one to try.
Download 5Miles:
3. Vinted
Ratings: 4.0 (Google Play); 4.8 (App Store)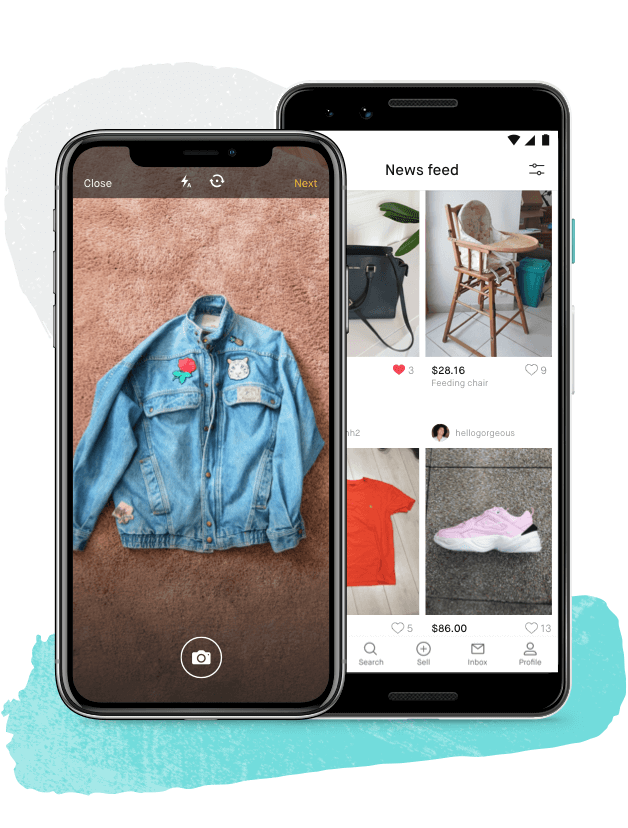 Overview:
Want to sell your used clothes? Consider Vinted. This second-hand app allows sellers to sell clothing, build a community of followers, and communicate with them via a built-in messaging system. Vinted is not an auction, so you create listings for free and set up your prices (but buyers are free to message you with lower offers).
Why choose Vinted:
Sell used clothes easily by taking photos
Create collections, bundles, and discounts
Ship orders yourself by following Vinted's guidelines
Get paid when the buyer confirms that everything is alright
Get Vinted's seller protection coverage in case of fraudulent transactions
Our thoughts:
Vinted is a newcomer among second-hand selling apps, but it's already scored many major milestones (a million Android installs, for example). The app is a good option to try if you'd like to clear out your wardrobe, so it deserves a try. But recent user reviews suggested that Vinted doesn't provide enough security for sellers, which is something to consider.
Download Vinted:
4. OfferUp
Ratings: 4.0 (Google Play); 4.8 (App Store)

Overview:
This used stuff app is great for buying and selling electronics, clothes, furniture, home goods, kids' items, and even cars. As of September 2021, OfferUp had over 50 million installs, so you'll get a great chance to sell quickly. Important thing: this buying and selling app works only for US-based users, so consider it for local deals.
Why choose OfferUp:
Sell a wide range of used items, from toys to cars
Communicate with potential buyers via a secure messaging system
Increase the security of deals by choosing the top-rated sellers and buyers
Get many offers from your area thanks to a location-based listing search feature
Get more money thanks to low commissions (minimum of $1.99, or 12.9% of the sale price)
Our thoughts:
OfferUp is one of the fastest-growing apps to sell and buy used stuff in the U.S. The company has even acquired another buying app, Letgo, which was one of its biggest competitors. With powerful search and built-in security, it's a great option for selling locally.
Download Offerup:
Offerup for Android | Offerup for iOS
5. Craigslist
Ratings: 4.6 (Google Play); 4.8 (App Store)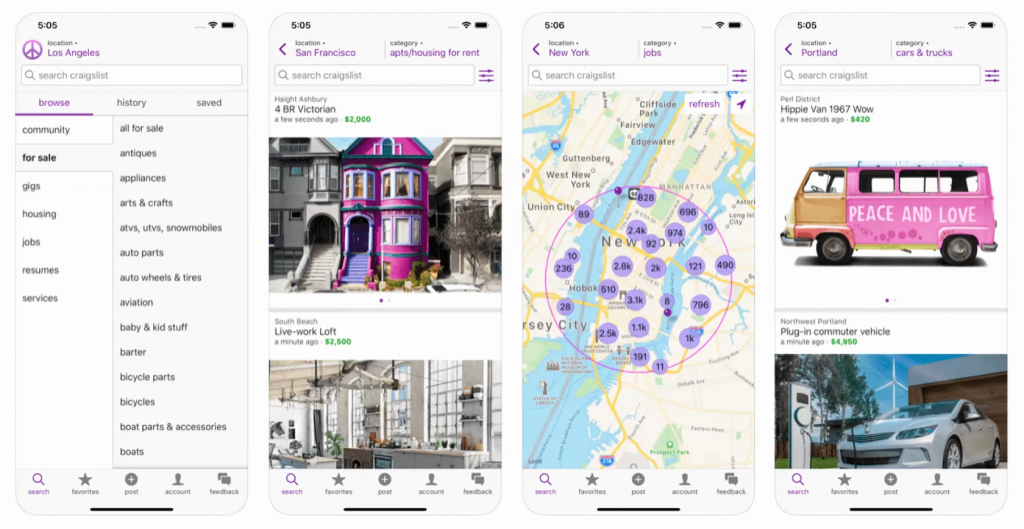 Overview:
Craigslist is the most well-known among the best "buy sell" apps. It has been around since 1995, and its buying app is also going strong, with millions of U.S.-based users. You can sell used stuff, offer your services, and even post your resume. One feature that makes Craigslist stand out among used stuff apps is the total anonymity it provides for sellers.
Why choose Craiglist:
Buy and sell a large range of products, from laptops to trucks
Get your listings up and running within five minutes
Convenient local search thanks to a map view
Enjoy the convenience of a mobile app if you're familiar with Craigslist's website
Sell your stuff to the U.S.-based buyers for free of charge (zero commissions)
Our thoughts:
Craiglist's buying app gets the job done, but it asks for more information than others. The interface is very minimalistic and looks a bit outdated, which can be a turn-off for many. Also, this buying app allows for total anonymity, which increases the risk of fraud. Still, plenty of good reviews from users suggest that it's still a good option for buying and selling locally.
Download Craigslist:
6. ThredUP
Ratings: 4.3 (Google Play); 4.7 (App Store)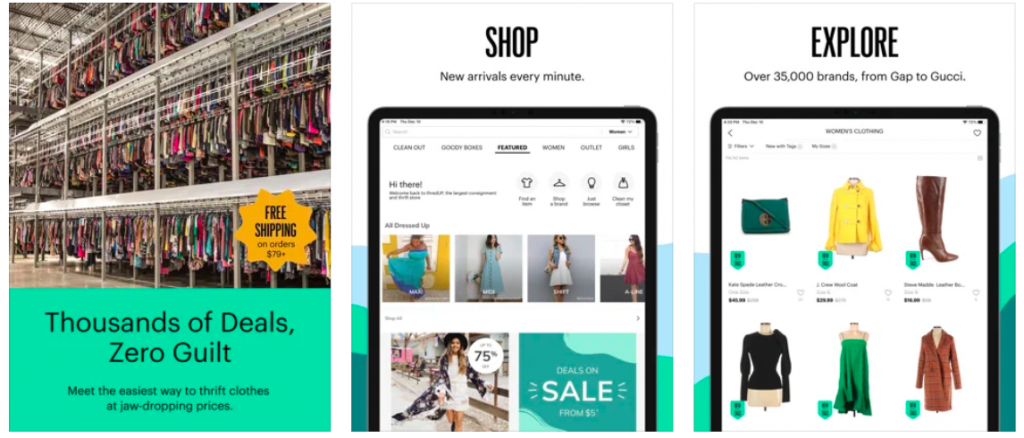 Overview:
This sell and buy app is great for those looking to get rid of unwanted clothing. Unlike other used items apps here, it makes it easier to sell by taking care of creating listings and shipping. Here's how it goes: you order a special bag ("clean out kit") from ThredUP, fill it with clothes, and send it back. When items sell, you get paid according to the company's pricing structure.
Why choose ThredUP:
Sell branded clothing and handbags
Have ThredUP create listings and ship your items to customers
Get your items featured on ThredUP's website visited by over a million customers monthly
Our thoughts:
ThredUp has many satisfied customers, so it's a good option to score quick sales. The company's commission rates are slightly higher compared to other second-hand apps, but you don't have to take care of creating listings. Besides, ThredUp promotes your listings, and it's an established app for many customers to get clothing items.
The biggest drawback of this used clothes app is that ThredUP mostly accepts branded clothes in really good condition. So, many items you send them might not be accepted because of the company's quality standards.
Download thredUP:
7. VarageSale
Ratings: 4.2 (Google Play); 4.6 (App Store)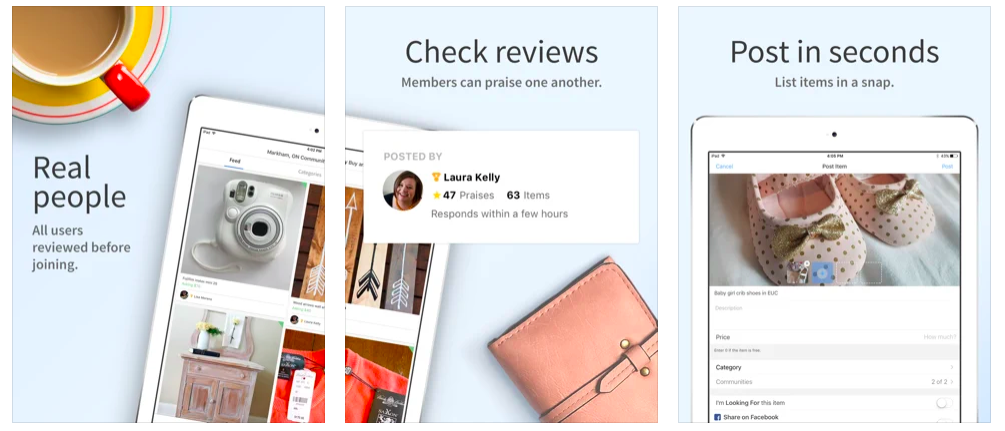 Image source: App Store
Overview:
VarageSale is one of the safest apps for buying and selling used stuff. Every user goes through a manual identity check before they're allowed to use the platform, so the chance of fraud and fake users is lower compared to other apps. The buying and selling experience is easy thanks to a simple interface, which makes VarageSale a go-to virtual garage sale app for many.
Why choose VarageSale:
Create product listings within minutes
Sell or buy from verified users thanks to the app's identity check
Find local deals easily thanks to a straightforward search feature
Organize items you're selling and reserve them for customers with a special feature
Review sellers and/or get reviewed by your customers to build a reputation
Our thoughts:
We like the fact that VarageSale checks every user's identity manually to minimize fraud. This is what sets this buying and selling app apart from competitors. Most reviews from both iOS and Android users are positive, so it's a good option to try for local sales.
Download VarageSale:
8. Shpock
Ratings: 3.8 (Google Play); 4.2 (App Store)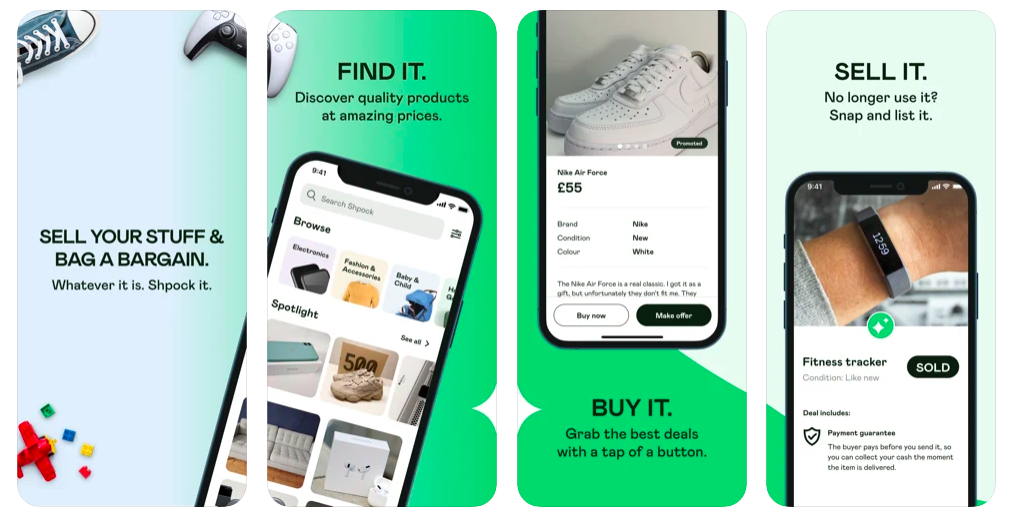 Overview:
If you're looking for apps to buy and sell things in the UK, Shpock is an option to check out. It's a large second hand marketplace with tens of millions of active users, designed for both local and UK-wide sales. Using the app is free—you're paying only when you make a sale. For buyers, this app to buy stuff is great because it gives access to the country's biggest flea market.
Why choose Shpock:
Sell many kinds of products (electronics, fashion, and even property)
List your products for sale in minutes thanks to the app's simple interface
Use in-app payment systems and buyer protection for safer online transactions
Choose between selling to everyone in the UK or only to local customers (available thanks to a "in-person collection only" feature)
Use a built-in Shpock Wallet to manage your earnings and take them out to a designated bank account
Our thoughts:
Shpock has every feature of a good buy and sell apps. Payment Guarantee, Buyer Protection, bargains and instant buy features, straightforward interface, and millions of active users. If you're based in the UK, definitely consider checking out Shpock—it's free to use, so there's nothing to lose.
Download Shpock:
9. Facebook Marketplace
Ratings: N/A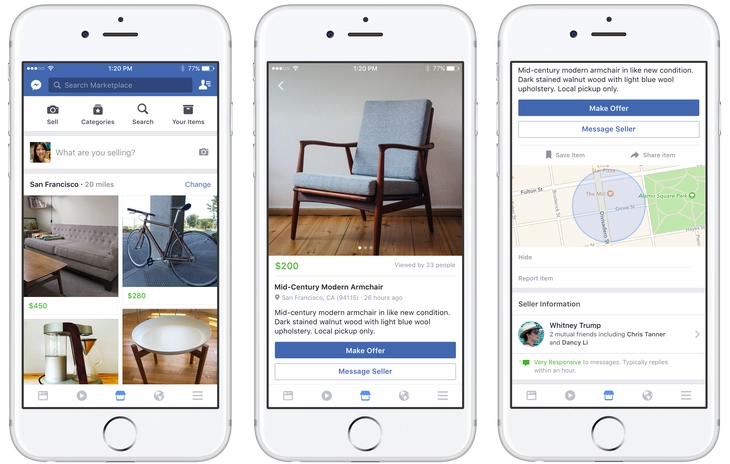 Overview:
With its unmatched reach, Facebook Marketplace gives you access to millions of potential buyers and products. Still, it remains a very neighborhood-centric buy and sell app (or should we say "platform," because it's not a dedicated app). You will have no problem creating listings and selling thanks to the familiar interface. And, of course, using the service is free.
Why choose Facebook Marketplace:
Sell (almost) anything, from home decor to car parts
Create listings quickly thanks to the familiar Facebook's sleek design
Search for deals in your area thanks to an easy-to-use, location-based listing search
Post directly to buying and selling groups to maximize your listing's exposure to potential buyers
Chat with buyers and sellers via Facebook Messenger (so no need to leave the platform to communicate)
Our thoughts:
As with many buying and selling apps, Facebook Marketplace makes the creation of listings and finding buyers/sellers really easy. But what really needs to be pointed out is the level of trust. If someone is interested in buying your stuff, you can look up their profile and get some data about them. This simple opportunity can increase trust in the transaction.
10. Mercari: Your Marketplace
Ratings: 4.6 (Google Play); 4.8 (App Store)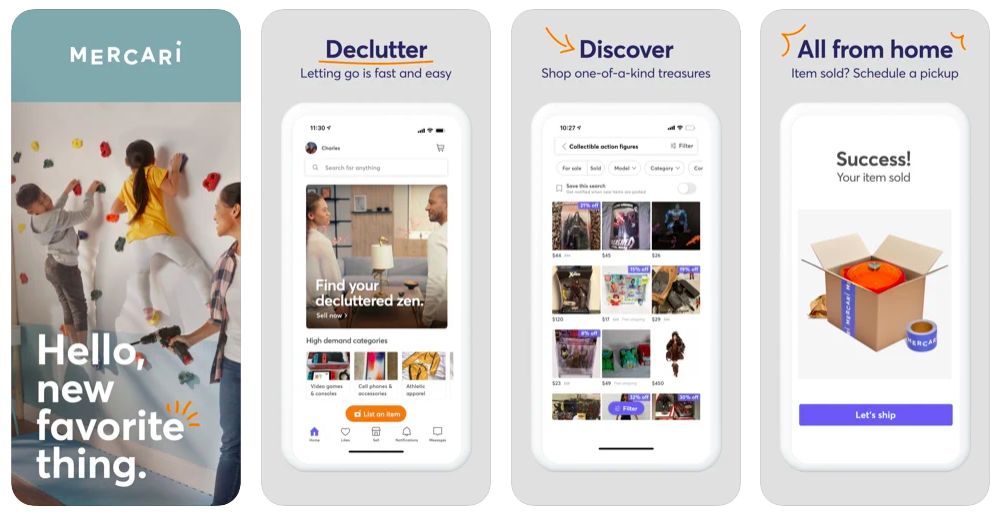 Overview:
Don't want to meet strangers to sell or buy stuff from them? Then consider Mercari. The most distinct feature of this best "buy sell" app is that all items ship. A delivery person from your chosen courier picks them up from your home and takes care of the rest. Also, this buying app is known for high security, as all users get their identity checked.
Why choose Mercari:
Sell many types of products; create listings for free
Low commission of 10% on every item you manage to sell
Have access to many payment methods for more convenience
Ship all items from home to avoid meeting your buyers or sellers
Enjoy buyer/seller protection (payment is released only when the order is delivered and confirmed as such)
Our thoughts:
Mercari is a perfect app for local sales. If you choose to sell in your city, it's very possible to provide same-day deliveries thanks to home pickups (but you can drop your package at your courier's location, too). Identity check also increases trust in both sellers and buyers, which helps to sell quickly.
Download Mercari:
Summary
Hope this list of the best "buy sell" apps helped you get an idea of your options. If you're a U.S.-based user, then consider Facebook Marketplace, Shpock, 5Miles, and ThredUP. If you want to sell locally only, Mercari, OfferUp, and Craigslist could be good options. Reaching international customers requires an app like eBay.
But if you're an entrepreneur considering starting your own marketplace app, feel free to contact us. Our experts will be happy to answer any questions and help make this project a reality.