Introduction
Eastern Europe has become one of the top markets to outsource app development services. Ukrainian, Polish, Belarussian, Bulgarian, and Romanian developers are taking the lead in the European IT market.
Today 4 of the top European outsourcing destinations are listed in the Global Services Location Index by A.T.Kearney. Therefore, offshore companies don't have to go far to hire a reliable software development company.
If you want to find other possible outsourcing destinations, read our guide on where to hire app developers.

Technical Skills of Romanian and Ukrainian Developers

According to Clutch Index, Ukraine offers a much wider labor market because it has twice as many people and a three times larger territory when compared to Romania. Regardless looking for a reliable software partner isn't a picnic either. Note, check the technologies represented in your outsourcing destination before hiring. For example, PHP is one of the most popular programming languages in Romania while Jave and C# top the Ukrainian list according to the survey held by DOU.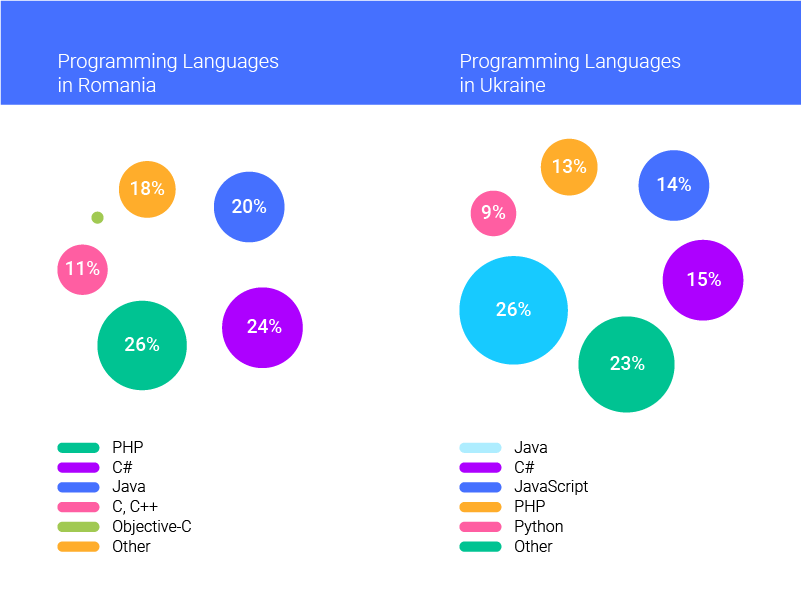 Soft Skills

Mutual understanding between you and your outsourcing partner is a vital element. Without it, there is hardly any chance to develop a top-notch application. In terms of culture, Romania and Ukraine are close to the West European Culture. Thus, partnering with one of the Eastern European countries, you won't face any cultural differences that may burden the work.

Good Command of English

Strong communication skills and a good command of English are big pluses of Ukrainian and Romanian developers. According to EF English Proficiency Index, Romania gets 59.13 and Ukraine scores only 50.19. This means that the Romanians are more fluent in English than Ukrainians.
However, Ukrainian developers are honing their language skills and the companies support them. For example, lots of Ukranian IT outsourcing companies offer on-site English classes to help their employees become fluent in English.

Romania vs Ukraine

Romania as a member country of the EU has created a more favorable environment and facilitated lots of global companies to open their offices. It was not until 1996 when Microsoft opened their two business centers in Romania (Bucharest and Timișoara). Some years later, Oracle also opened several offices in Romania. Along with Oracle and Microsoft, lots of other global companies have jumped on the bandwagon and opened their divisions in Romania. According to Brainspotting data, Romania has over 90k IT specialist concentrated in the main IT hubs (Bucharest, Timisoara, Brasov, and Cluj-Napoca).
In 2015, Ukraine experienced a rapid increase in the total value of development outsourcing export. It reached $2.5 billion. Along with that, Ukraine has established as a reliable development center on the global IT market. Lots of international giants like Cisco, Google, Oracle, etc. have chosen Ukraine to open their R&D offices as well as centers. There are more than 120k IT Ukraine according to the latest data. Hence there is a wide choice of software developers, UI/ UX designers, and other stuff required to build a superb software product.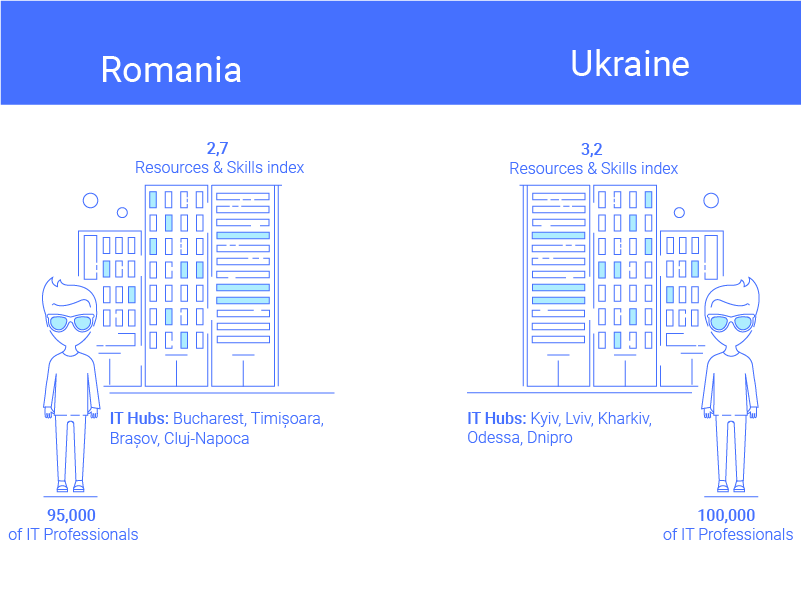 Value for Money

Businesses choose to outsource to Eastern Europe for a wide range of reasons. And the price is one of the main drivers to go for software outsourcing. Ukraine and Romania are known as one of the cheapest outsourcing destination all over the European region. For example, UK developers request around $50 per hours.
Ukrainian developers offer more decent rates than the UK and Romania. Ukrainian developers charge $30-40 per hour while Romanian development rates start at $40.

Summary
Many European and US companies go for outsourcing to Eastern Europe because of the decent price along with the top quality. Romania and Ukraine have become dominant outsourcing destinations. 
But there are some differences in outsourcing to Ukraine and to Romania. Ukraine offers more skilled developers and at a lower price than Romania. Moreover, Ukrainian developers offer a wider pool of technologies and skills while Romania developers are good in PHP and C#. 
Are you looking for app developers who can bring your app idea to life? Just drop us a line and we'll contact you as soon as possible.