Introduction
Technology-focused companies of the developed world countries, experiencing labor market limitations and growing rates of specialists, tend to increasingly transfer projects to destinations with a lower economic development level. These tactics have their pros and cons, but it is still the best alternative when you need to cost-efficiently establish a software development team.

Especially, when the workflow needn't be systematized. Even when you have your own programmers at your side, third-party efforts often help companies to advance their level of success by involving narrow-profiled, highly-qualified experts.

There are, surely, certain risks of outsourcing software development that you need to take heed of. That's why this feature is here to help you avoid the most potentially harmful of them.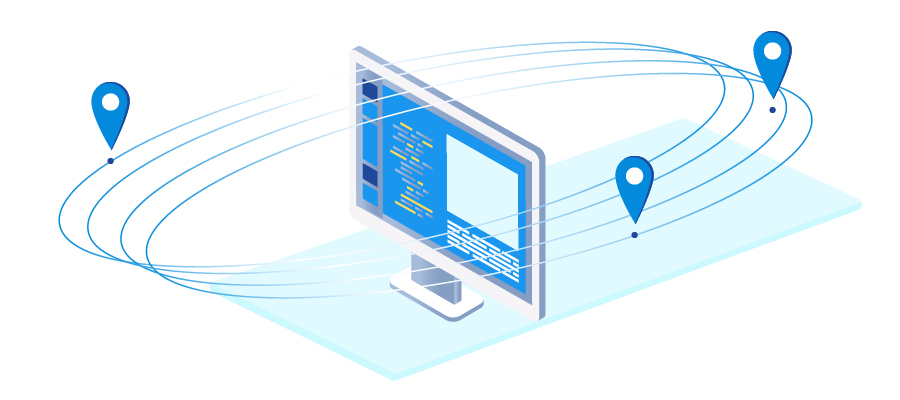 Software Outsourcing Definition
IT outsourcing implies attracting third-party contractors (organizations or freelancers) for taking up a part of non-systematized in-house efforts, which can include:
consulting;
design;
development;
support & maintenance.
With the outsourcing approach, a client gets to save lots of expenses due to the increased workflow efficiency and focus on particular cumbersome parts. Since 2000, the total financial turnover involved with software outsourcing practically doubled and comprises $60-90 billion per year. It is expected to grow up to $100 billion by 2021.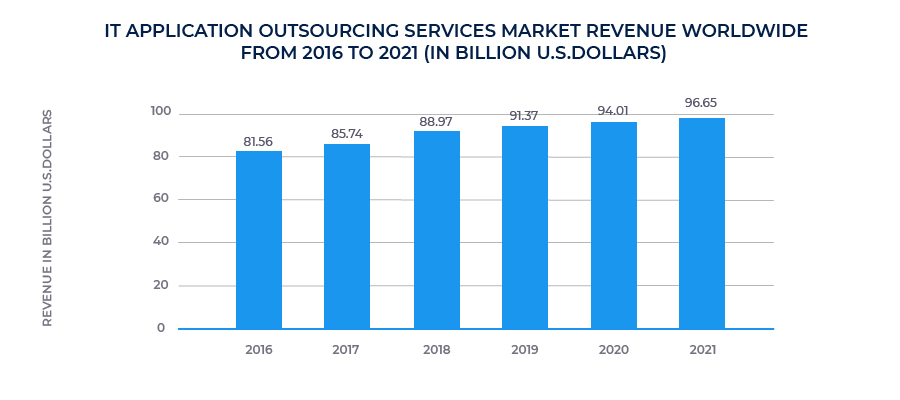 Reasons to Employ Outsourcing
The main motive behind going for software outsourcing is the economy. Hiring, educational, and personnel administering expenses, rent and office management costs – all that can be significantly saved with third-party contractors. We can define even more major reasons in this matter, such as:
a lack of in-house specialists able to provide the required level of qualification;
shortage of narrow-specialized experts (e.g., in low-level development, reverse engineering) on the internal market and their expensive rates;
Non-systematic task handling makes the creation of a full-blown staff quite a time-consuming, expansive, and non-profitable process. Outsourcing helps to solve this issue as a company gets access to worldwide resources and may use them when and as it wishes.
Types of Outsourcing
All types of outsourcing service, despite different terms, have a lot in common. They all imply hiring freelancers or a team of outsource developers that are based outside of the company.

As such, there are:
Onshoring. This is when you hire experts from your own country or even city. Among the key benefits of outsourcing software development in this format is that there are no issues with communication, management, and cultural differences;
Nearshoring. Alternatively, you can look for contractors within the same time zone you're based or with no more than two-hour difference. This has benefits similar to the previous point.
Offshoring. This is when your potential outsourcing candidate is based somewhere far away, within a completely different time zone. The benefits of offshore software development include an ability to find utterly qualified yet affordable work resources and get access to new technologies. The important risks of offshore software development, however, are spawned by the difficulties of managing and communicating with distant workers.
Major Benefits Of Outsourcing Software Development
The efficiency of resource distribution defines the success of any business. Outsourcing allows a client to optimize expenditures, boost the quality of product, and enhance customer support. Among the key advantages of this whole affair are:

Decreased costs
Outsourcing helps to lower both material and administrative company resource consumption. The economy on salaries, social packages, and rent can comprise up to 30% of the project budget.

Advanced experience
A client gets access to new technologies and the reserve of potential employees that are either unavailable or not demanded in the regular performance of the company. As a result, you get to lower time and financial expenses, avoid the need to additionally educate your personnel, and purchase new software products. Moreover, specialists know better which tech concepts should be employed in certain aspects to avoid existing and potential issues.
Focus on the main thing
Employing a third-party contractor, a company doesn't need to concentrate on solving existing tactical tasks anymore and can put a major focus on the strategic results. An ability to follow up the trend is one of the crucial demands in the modern, fluctuating business market.

Accelerated market introduction
An outsourcing client doesn't need to depend on internal resources that can frequently be quite limited. By going for outsourcing, all the deadlines are set according to the strategic tasks and goals at hand.

Security
Limitations in human and material capacities often threaten the safe state of confidential company data. Professional experience and access to the required software that a third-party contractor has helps to significantly reduce such risks.

Support
Any product requires constant updates and technical maintenance. Transferring these aspects to outsourcing, you get systematic support without boosting the workload of your in-house workers and expanding the company staff.
5 Major Outsourcing Risks
Along with some definite advantages, software outsourcing also spawns some significant risks. Let's take a look at the major instances in this matter, which you should focus on avoiding if you want to employ outsourcing most reasonably, without suffering any losses.
1. Chance of increased costs
When you go for outsourcing, always consider all the particular management expenses you may need to cover. A proper choice of the compensation model can help you with that. There are three major pricing models:

Fixed Price – a least flexible, but the most transparent model. It implies clearly defined budget and terms limitations. It also requires further specification and fits best standard tasks' completion.

Time and Material – this one fits projects that don't strictly define the end result. Corrections can be made along the way. It's best to define the utter limit of expenses with this one.

Cost-plus – this is the most fitting model for complex and voluminous projects. It's optimal for long-term cooperation and business scaling as a whole, but it calls for a good budget and flexibility of execution.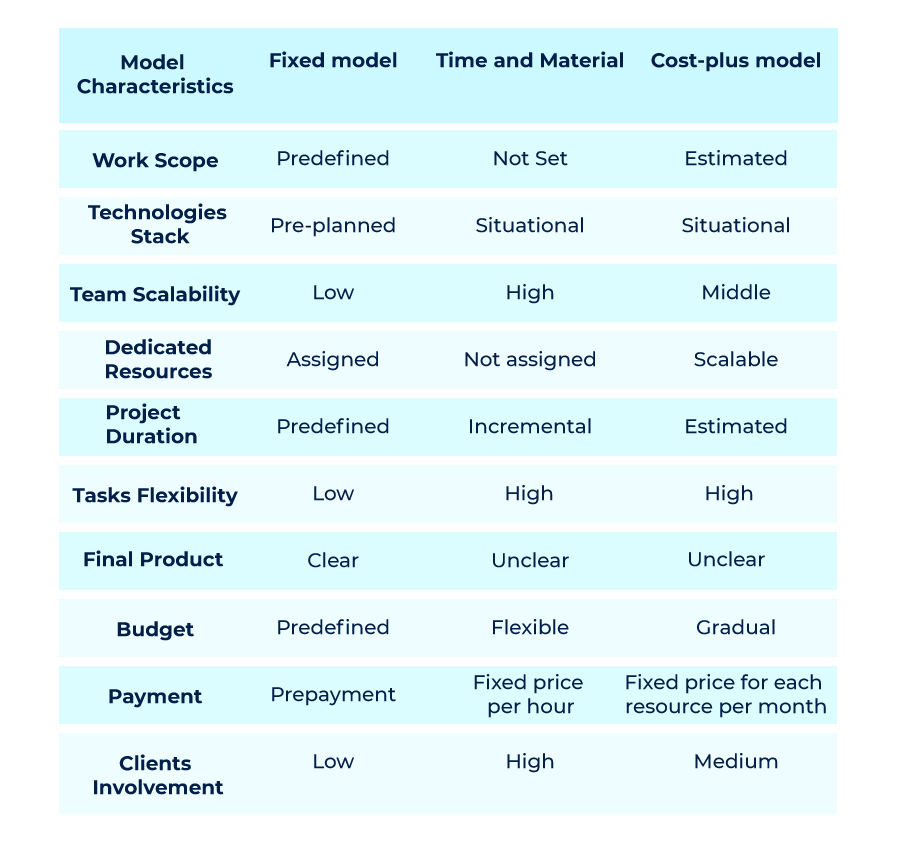 2. Data leaks
Security issues are among the crucial and most relevant when it comes to offshore software development. Experts predict that IT data violations will have comprised 25% globally by 2020. Fields of banking and copyright protection suffer from this one especially.

Make sure to always make deals, specify data confidentiality contract points, ask to sign security protocols and NDA.
3. Human factor & culture
Transferring some in-house efforts to a different country, pay attention to the local traditions and mentality as a whole. More holidays, different views on business management, reputation, differences in jurisdiction and time zones – these are the main aspects to undermine your project execution if neglected.
4. Management & tracking
Organization of the remote team workflow may be challenging. Interaction between in-house and outsourced employees should be highly considered. Otherwise, you may risk postponing a product release and sacrificing its end quality. Fortunately, there are sufficient software capabilities to help you avoid any difficulties here. Make sure to cover them with your budget.
5. Goals
A contractor should understand the target audience and specifics of a particular product. Tech references should be utterly detailed and thoroughly discussed by all sides. The budget should also correspond with the expected results.

Despite the fact that there are fewer risks to outsourcing than benefits, you shouldn't underestimate them. Always take hiring remote contractors most responsibly and cautiously. Analyze your budget and make up the contract. Define all the deadlines, data confidentiality guidelines, and other regulations from the get-go.
Summary
The growth of software outsourcing is as rapid as ever. It provides lots of cost-saving opportunities that don't intend sacrificing quality in a bit. If you are familiar with the major risks of the affair and know what you're doing, outsourcing may be a true game-changer for the financial prosperity and overall success of your business.