Introduction
What do Facebook, Wikipedia, and Flickr have in common? They were all built using PHP – one of the oldest server-side programming language that's been around since 1995. 24 years later, 79% of websites monitored by w3techs use PHP for their back-end.
So, if you are considering developing a web application, chances are high you'll need PHP in your technology stack. And in case you are from a country with high developer rates (such as the US or Western European states), you may be already thinking about outsourcing your project to near- or offshore companies. Should you outsource PHP development at all? And if you do, what country would be a good fit for you? Let us help you answer these questions.
PHP Development Outsourcing: Stats First
There can be nothing more convincing than numbers and facts, right? We've gathered four stats on outsourcing that reflect that it is in high demand and why it is so:
What Countries Are the Best for PHP Outsourcing?
There are estimated 23 million software developers worldwide as of 2018. In 2017, 5.5 million developers were based in European countries, whereas 4.4 million of their counterparts resided in the US. You can see the distribution of developers across Europe in a chart below.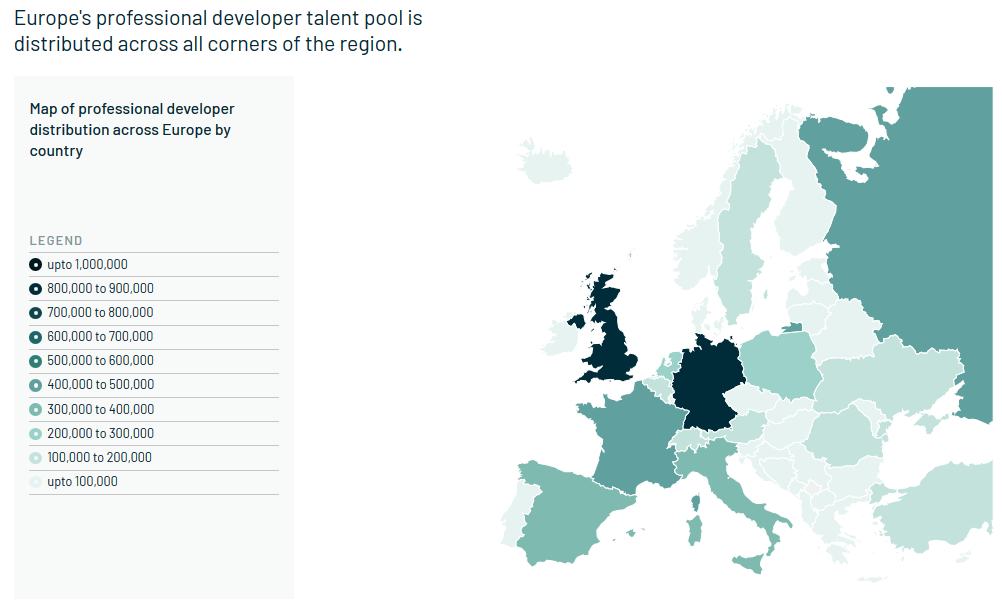 Estimating how many PHP developers are out there is fairly hard. According to some estimates, there are 5 million PHP developers globally; however, the methodology for such studies has proven to be tricky – developers tend to know more than one programming language.
Whereas freeing up resources is the most popular reason to outsource software development, outsourcing it to a near- or offshore company instead of a local one means reduced costs. Let's face it: if the whole idea wasn't cost-efficient, it wouldn't have been so widely spread. One of the popular reasons for businesses to outsource is to reduce costs. You can take a look at software developer salaries in European countries comparison below: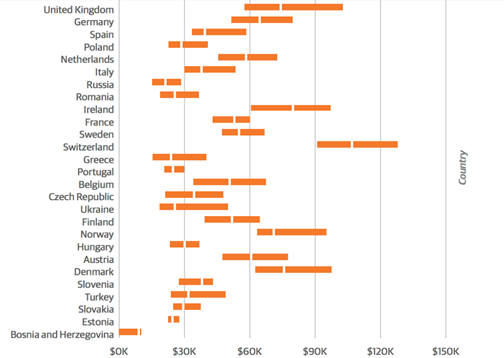 A quick note: an average US-based software developer gets $106,710 in salary.
If you'd like to compare hourly rates, here is a chart with average developer hourly rates worldwide: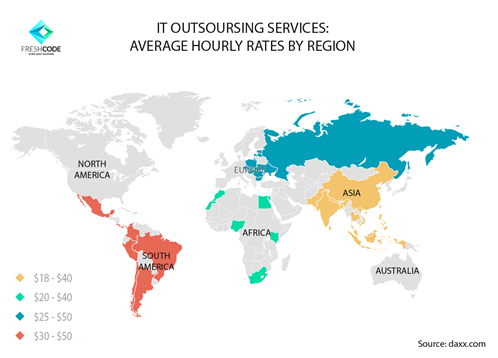 Traditionally, Eastern European, Indian, Chinese, and Latin American developers are among the top choices when it comes to PHP development outsourcing. Of course, there is no 'one-size-fits-all' solution here: some companies may benefit from outsourcing to Argentina, others – from working with a partner from Ukraine.
However, there are still some factors we'll advise you to consider before choosing your outsourcing country:
Hourly rate. Make sure you choose a proper quality-price ratio. Don't chase the lowest rates – you may end up getting the lowest quality as well.
Time zone. If you have zero overlapping working hours per day, this may make your cooperation with a PHP team a living hell, especially in case you know you'll need to keep in touch with them regularly.
Cultural differences. They impact the quality of communication directly – and communication is the key to successful cooperation, as it was stated above. So, make sure you leave as less room to miscommunication as possible.
3 Reasons You Should Consider Ukraine
Ukraine has been named 'The Top Offshoring Destination of 2017', and 18 of its tech companies made it onto the list of top outsourcing companies in Eastern Europe. Its software development market size reached $3.6 billion, which means a 20% year-on-year increase. What drives companies from all over the world to choose Ukrainian companies as their development partners?
1. Qualified Labor Force
Ukraine is estimated to host 185+ thousand developers (204,000+ according to a StackOverflow survey) in total working at 11,000 IT companies, and 13.1% of them are estimated to be PHP developers. So, finding a PHP developer required for your project in Ukraine will not be a problem. Furthermore, 19% of Ukrainian developers have 7+ years of experience under their belts.
2. Cost-Efficiency
A junior PHP developer based in Ukraine earns between $500 and $1,000, so the project development costs are quite competitive compared to North and Latin America, as well as Western Europe. On average, Ukrainian developers' hourly rates are twice as low as those of their US counterparts.
3. Convenience
There are two more perks that come with outsourcing your project to a Ukrainian PHP programmer team: insignificant time zone difference (if you are located in Western Europe) and less room for miscommunication. Let's start with the fact that 40% of developers speak English fluently, while the rest report upper- or intermediate level of proficiency in English. Besides, cultural differences are almost unnoticeable compared to working with Asian or Latin American development teams.

Summary
Outsourcing is, of course, a complicated endeavor – you need to take a lot of things into consideration. Yet, if you approach this task wisely and think through every aspect that requires your attention, you'll reap the benefits of such cooperation.
In case you're looking for a dedicated PHP team, you've already come to the right place. IDAP is at your service to become your reliable software development partner for months or years to come. Reach out to us to lay the foundation of fruitful cooperation!