Into
The global community recognizes Ukraine as be one of the most common and cost-efficient destinations for outsourcing software development. It placed 24th out of 55 countries in the Global Services Location Index by A.T.Kerney, having 18 tech companies mentioned in 2018 Global Outsourcing 100. In 2017 alone, the annual revenue of exporting tech services reached $3.6 billion.
Even the recent political conflict and a rather strained economic situation didn't stop the growing IT field. Ukraine is among the 50 most innovative countries in the world as stated in Bloomberg Innovation Index 2018. Preferring to look out for the best outcome, growing companies and entrepreneurs choose Ukrainian outsourcing companies to make their software, and here we are going to tell you why.
Read Also: Dos & Don'ts of Custom App Development for Startups
#1. Lots of world-famous tech giants pick Ukraine
Offering access to a huge pool of talented software engineers and coders for moderate annual costs, Ukraine became a home for over a hundred of R&D subsidiaries of global tech giants like Opera Software, Samsung, Adobe, Oracle, Ubisoft, and Wargaming.
Of course, the majority of them have found home in Kyiv, but as Ukrainian economy stabilizes, these corporations open more and more offices around the country recognizing its potential. And it's not surprising since the country is widely known for the high number of Unity3D developers, C++ engineers, JavaScript, Scala and Magento coders.
Read Also: Software Development Outsourcing Companies in Ukraine
#2. One of the most promising startup scenes
Ukraine is a place for creative ideas with all available means for their prompt development and market debut. Quite a number of innovative startups present a solid proof for this statement.
Let's just remember Looksery, an application that does a facial modification of photos and videos in real time, that was acquired by Snap Inc. for $150 million. Currently, the project continues to grow, having offices in San Francisco, US, Ukraine and Russian Federation.
Or Petcube? A set of camera and mobile app finally offered a solution for dog-owners whose pets suffer when they are away.
Or Grammarly? It's a super useful tool for checking spelling and grammar that has spread around the world like a plague, only in a good sort of way.
Basically, the Ukrainian tech community knows how to make great, and what's more important – valuable – products.

#3. A well-developed market of software development companies for hire

As mentioned earlier, 18 Ukrainian outsourcing companies have made it to a hundred of the carefully picked Global Outsourcing firms in 2018.
Hence, the, being only the top of the iceberg, as there are more than 1K tech companies in the country that offer a wide range of IT-related services from a full-cycle software development and deployment, to business analysis, consulting, and post-development support.
Moreover, according to the latest survey of the DOU.ua, the largest Ukrainian platform and community of professional software developers, and other specialists occupied in IT field, there are about 130K IT professionals in Ukraine right now. They have a vast tech expertise in various industries (e.g. fintech, healthcare, gaming, automating, manufacturing, managing, IoT, and AR/VR software development). As this number continues to grow, more and more companies consider outsourcing their projects to Ukraine.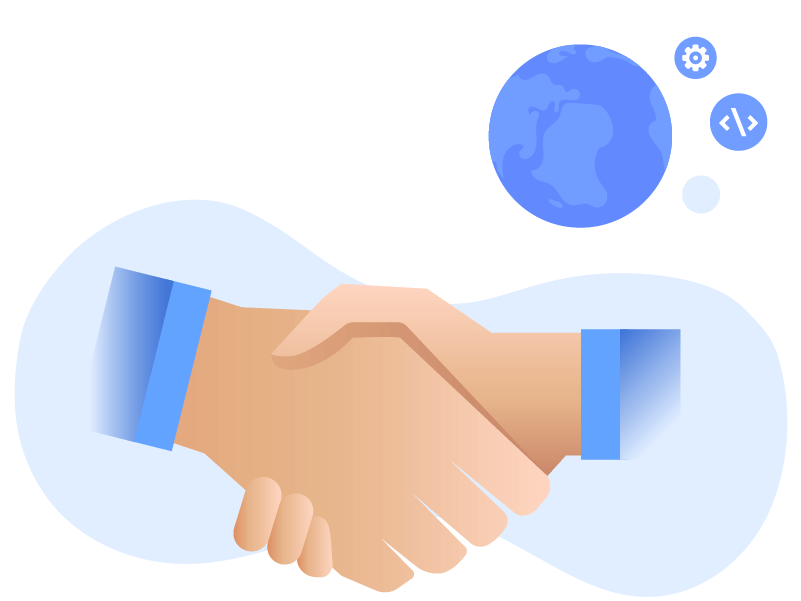 #4. Local offices in the US and Western Europe

It's pretty common for Ukrainian outsourcing companies to have a local presence in the United States and Western Europe to offer clients a more comfortable means of communication with their development team in Ukraine. Instead of flying out to another country, here you will have a nearby solution for your problem.

Read Also: Outsourcing Software Development to Eastern Europe

Aside from just being a more convenient option, you can also rest save about losing a hold of developers or someone stealing your idea since your business partnership will be established under the jurisdiction of the USA.
Therefore, it's pretty unlikely that an outsourcing company you choose to work with here would go M.I.A.

#5. Affordable hourly rates with great quality of code

More often than not startups and established business decide to outsource to Ukraine based because the development of a product in the US would cost several times more than outsourcing it to Ukraine with the same quality of received code.
For example, iOS developer with 5 years experience will cost you around $30K annually in Ukraine, which is 3 times lower than hiring one in the US, not to mention the fee for company service.
However, rates for IT-services can differ according to the company, their location within the country, seniority of developers working on your project, and type of technology they use. On average, an hourly rate of Ukrainian developer would cost you $25-50.
Despite that the cost of hiring a Ukrainian developer is lower if compared to western countries, the quality of developed products is not compromised. That's why the country has managed to become a leader on the global outsourcing arena in such a short amount of time.
If you want to consider other possible locations, read our guide about how and where to look for outsourcing companies.

#6 Great location and English proficiency

Ukraine is just 1 hour ahead of European Countries, and 7 hours ahead of East Coast. It makes it a great choice for nearshoring software development, as the time difference is not as critical as it would be with India or China.
Also, Ukrainian specialists have a good level of English proficiency. Companies provide free English classes and speaking clubs to improve it further. All in all, nearly 57% of Ukrainian developers have a near to fluent English, which is also great for communication with clients.
Therefore, Ukraine would be a better choice if communication is critical. 
Read Also: IT Outsourcing Guide: Everything You Wanted To Know About Distant Software Development
Summary
Choosing a place for creating your own product is as important as choosing who is going to do it. While location matters a lot, the company you end up with matters more.
Here at IDAP, we care about implementing the most challenging ideas so the final product and without a hitch. We treat client's projects as if they were ours, therefore being as strict about quality as it gets.
Check out how we work, and contact us if it fits your way of thinking.