Once one of the three biggest cities of the USSR, today Kyiv is the largest IT-Hub of an independent Ukraine, and one of the best outsourcing destinations in Eastern Europe. It has everything a vendor could ever offer: talented coders and software engineers, proximity to Western Europe and North America, manageable time difference, and high levels of proficiency in English.
Right now Kyiv holds a place as one of the most popular outsourcing spots among European and American companies. Why is that? Let's dig deeper here.
Read Also: Outsourcing Software Development to Eastern Europe
What caused the growth of Ukrainian IT?
The Ukrainian IT industry began growing in the 90s when the country has separated from the USSR. It all started from a small seed of different amateur specialists coming from various engineering specialties that sat around in almost empty offices or their own apartments and risked everything by investing into something that could not promise any profits. Maybe it's all a twist of fate, but this little spark of something has turned software development into a successful business niche on a national scale.
From regular system administrators, maintenance specialists and helpdesks, Ukrainian specialists have managed to grow into high-class software engineers and app developers that build business solutions for international companies hailing from the list of Global Fortune 500.
Read Also: Must-Know: Software Development Outsourcing Companies in Ukraine
So why is Kyiv the Ukrainian center of software development?
For starters, because it's the nation's capital. It's the place for the most opportunities. Also, it's the place of the best Ukrainian technical universities. The place of the power to change!
Annually, this city gives the county about 15 thousand qualified IT professionals, as they graduate with diplomas in computer sciences and engineering. These young and promising specialists don't wait on the sidelines. Instead, they create communities, hold events and share their passion for technology.
It helped Kyiv birth and raise such successful and powerful software companies like Terrasoft, MacPaw, PetCube, Netpeak, Jooble, TemplateMonster and Grammarly. Not to mention the number of Kyiv outsourcing companies that have aced quite some challenging projects for their clients, from simple mobile app development to an all-in business management systems.

What does Kyiv outsourcing has to offer?
A pool of talented programmers
As we have mentioned earlier, the city of the most opportunities, Kyiv now accommodates nearly 47% out of over 100+ thousand tech specialist available all over the country. There you can find a lot of programmers specializing in various technologies and spheres of software development i.e., mobile app development, business software development, game development, etc.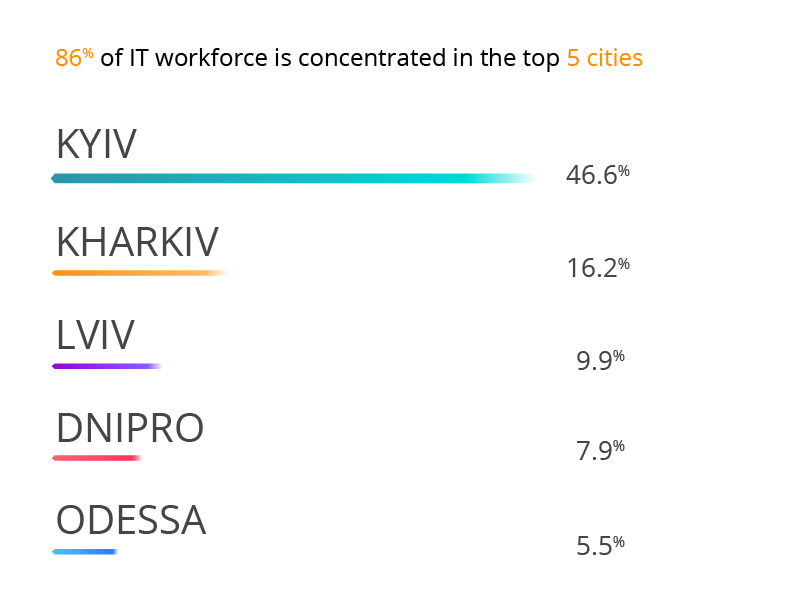 In addition to being a sought after employee in Ukraine, lots of Ukrainian software developers are a desirable asset of the international work market. They get headhunted and hired by international companies like Alphabet, Facebook, Microsoft, CISCO, Oracle and other tech giants. We are sure that Ukrainians, and especially the ones from Kyiv software development companies, understand the importance of following the international standards of coding and efficiently communicate their thought to the client.

Moreover, a lot of companies don't stop at this, and continue to seek and educate new aspiring developers from different parts of the country. Just like them, we at IDAP help people come from zero to hero in Swift and Objective-C, to do our a share for the sake of growing the IT industry in Ukraine.
Close proximity to Western Europe and North America
Kyiv has been lucky with being this close to Western Europe both regarding distance and mentality. It takes only a couple of hours to get from here to Europe, and about 8 hours to get to the USA by plane. The time difference is tolerable, as here, you find the kind of Kyiv outsourcing company that is going to pull all the strings to fully assist and support you in whatever you may be trying to achieve.

Favorable business environment
Kyiv is Ukraine's business center. It attracts businesses of all sizes and models concerning their ideas and well-developed business culture. Especially, when it comes down to the IT Industry.
It is wholeheartedly supported by the state government that assists in the development and encourages cooperation with international companies. Here we can find the R&D centers of Microsoft, Samsung, eBay, IBM, and so forth. All of them run and own offices in Kyiv, as there are more than enough premises to choose from, lots of internet providers, a variety of job candidates, and all types of business services available at the palm of one's hand.

Proficiency in English
And last but not the least- English proficiency. Having to learn off documentation written in English, read books and researches, go through websites (Stackoverflow – vital for any dev), and understand clients – having a strong command of English is a must for almost every Ukrainian developer. Moreover, companies invest in helping their employees learn and begin to speak English so they can easily communicate their thoughts.
After all, communication is the most important part of software development.
If you want to know whether this is enough to look for a vendor in Kyiv, check out our article on how to find and hire an outsourcing company.

Summary
Kyiv is an IT leader of Ukraine with a developer business culture and lots of professionals for hire. Here you are going to find the best stuff and the best managers for your projects. If you want to cooperate with an outstanding outsourcing company in Kriv, just give us a call.