Introduction
IT outsourcing is one of the industry's youngest concepts that has already managed to prove its high efficiency. Outsourcing part of a project development allows you to free up some essential resources by letting hired, third-party experts or teams take a responsibility for certain parts of the process. In general, this way of cutting expenses and optimizing workflow is great – it's promising and can be very, very efficient, but wait: that's not exactly our topic here.
What we are going to help you figure out, is why you should go for IT outsourcing in Asia – home to several increasingly popular global outsourcing destinations.
Software Development Outsourcing In Asia
Asian countries include some of the world's current top outsourcing locations, and their developers are famous for their cheap yet high-quality products. As with many other things concerning IT, Asian app/software solutions market will provide you with all the resources you need if you're able to learn its specifics and act accordingly.
Pros & Cons of Outsourcing to Asia
Eastern countries like Thailand and China have become increasingly popular outsourcing destinations for several reasons:
Cost-Effectiveness

Simply put, Asian workers have a lower pay per hour rate than their Western colleagues. Despite the recent financial crisis, development cost in China and Vietnam stays relatively low, and there are also cheap but low-quality options like India.

Some additional resources/time are still needed to be spent to establish proper communication, so some people might argue that this is a rather inefficient way to save money in the long run. They are mistaken, however: the price difference between outsourcing a development in Asia and, for example, in Eastern Europe more than makes for the resources spent. As a fair notice, an Eastern European country that stands somewhere between Asia's popular outsourcing destinations and very cheap options like India is Ukraine. Ukrainian outsourcing companies offer world-renowned quality at very reasonable, affordable prices.

If you want to optimize the resources of your company, the way you distribute your costs may be the deciding factor.
Quality

So, low cost means low quality, right? Wrong.

Asian companies have surprisingly high standards for the quality of their IT products, and their developers have the skill and knowledge to manage even the highest complexity projects. As everywhere else, in Asia, the quality (speed, etc.) of development depends on the amount of money you're ready to spend on the developers' salary. The benefit here is that the quality-price ratio is better for you than everywhere else.
Availability

Due to how popular outsourcing to Asia has become in the modern times, it's easy to find a developers' team experienced enough to handle your project. It's also fast – with such a huge market, you'll probably see several dozens available options immediately after making a request.
Time Management

This is an interesting one. Normally, the huge time-zone difference would be a difficulty to overcome, but here you can turn it into an advantage. The difference is such that you'll probably be sleeping during your employees' working hours. By planning your schedule accordingly, you can check the current state of your project and make the necessary correction during your workday, and the developers you hire can apply those changes the next night (allowing you to maintain more control over the whole process).

However, there are also some challenges and problems in dealing with Asian outsourcing companies, like:

Clear communication. The first and foremost problem

with

outsourcing your project abroad. You and your employee are speaking different languages and come from different cultures, which make clear communications harder to achieve. And having a clear communication with the developers is, like, rule #1 of having a successful project. If the employee will somehow misunderstand you, in the end, you might get quite a different product from the one you've been paid for. Thankfully, this is becoming less of an issue with each year as Asian outsourcing companies become more proficient in dealing with clients from abroad (who are their main customers).
Legal matters. Outsourcing the development can already be a legal nightmare, and if we're talking about dealing with developers from another country, things become even more complicated. You will probably want a talk with somebody experienced in legal matters before writing down the contracts. Including the Non-Disclosure Agreement is usually a good idea as well, as there is an increased risk to your intellectual property.
Different preferences. This might be considered a part of the 'communications' problem, but we want to talk about it specifically. The trends in the Eastern IT development are not necessarily the same way as they are in the Western ones. This is especially true for the graphic design, so if your contract includes developers creating a visual part of the project, pay the communications special attention.
Common Destinations For IT Outsourcing to Asia

1. The Philippines
The newest and most promising option. The second most popular outsourcing location in Asia, the Philippines is one of the world's fastest-growing economies, not in the least due to countries success as an outsourcing hub.
The main reasons to outsource IT development to the Philippines are:
Fewer Communication Issues
Due to the 40-year period of American colonization, the Philippines were largely influenced by the western culture. Nowadays, the Philippines is recognized as 'the most western of all eastern IT markets', with the huge number of English-speaking developers (nearly 92%!) and overall cultural similarities. For you as a developer, this means less trouble with communications, which is always nice.
Proficient Workers
The major economic growth and constant improvements in the IT development sphere created a market that is really full of competition, and, therefore, provides more than capable professionals.

2. India
Despite the increasing controversial position of this option on the global market, India remains one of the most frequent world outsourcing destinations.
The benefits to gain from outsourcing your development to India are:
Infrastructure & Technology
Being a well-developed country with decade-old outsourcing-focused companies, India offers an incredible level of infrastructure. For example, Indian firms provide their offshore partners with recent information using satellites, deep sea cables, and other modern technology.
Government Support
As IT and outsourcing are among the top 5 priority industries in India, the Indian government is pursuing a pro-IT policy. This translates into lower taxes for IT companies, improved communication systems, less severe legal issues, and so on. In the end, it always means more benefits for you – time, money, and security.

3. Vietnam
The big players of the Asian IT development market are starting to raise the taxing on the foreign enterprises as a means to increase their nations' wealth, and for you, this is really bad news. For example, China's taxing policy is becoming harsher every year, making the country not all that attractive as an outsourcing target. However, this is not the case with Vietnam.
Consider outsourcing the development to Vietnam for:
The Cheaper Alternative
Even the giant corporations like Microsoft have seen the potential of Vietnam IT market as an alternative to the now-pricey development elsewhere.
An average IT developer in Vietnam is still more likely than not to clearly speak English, and have a proper education & experience. The difference is more to the market and competition, as well as the state tax policy.
How to Find a Company to Outsource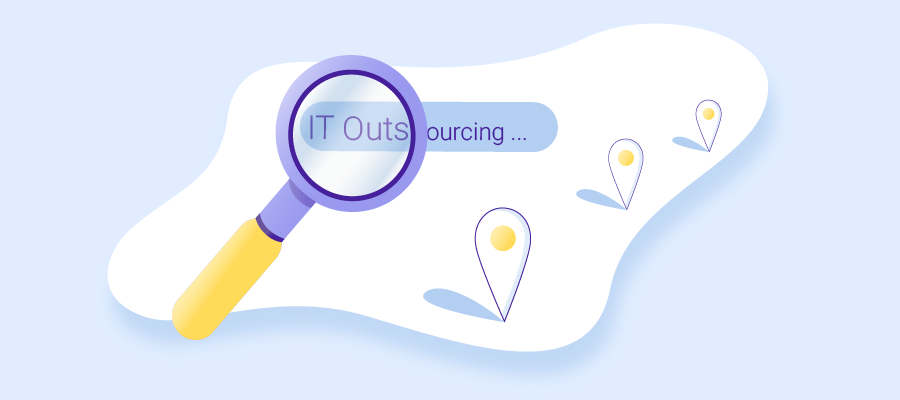 Where To Search?
You'll need to visit one of the specialty websites or Internet boards… or just google it. No, really. While it doesn't have the filter options like the aforementioned websites, Google indeed has the largest database imaginable (however, searching through it is going to take as much time). On the other hand, you've got the option to go for sites like Clutch, with filters and many tools to make your search easier. However, there are a lot of companies who're not presented on such websites, and you run the risk to miss the company you're looking for.
And finally, there is a job board option, with individual freelancer software developers. On the bright side, you can view the reviews left by other users, and judging by them decide (at least in theory) which freelancer is actually trustworthy and reliable. On the downside, the boards are created mainly for the freelancers, so if you're going for the big IT outsourcing project, you'll better look somewhere else. Firms and companies are far more suited for that type of software development.
How To Make A Choice?
First of all, here you need to specify your project requirements. For example, the process of designing several app solutions is totally different from creating an e-market.
Then, you need to make a list of firms and teams that claim to have the necessary skill and experience and start researching.
User reviews, company portfolios, list of previously designed IT solutions – you need to look up everything.
As you progress, your list will start to narrow, and you'll be left with several decent options. The final choice is up to whatever your project needs most – be it low development cost, fast development speed, or whatever else.
Summary
Efficient, fast and fairly priced – that is how the outsourcing process should be, and that's exactly how it looks like right now. Whether you're going for outsourcing looking for an opportunity to get ahead of your competitors, or just want to expand your own business, you'll hardly find the better quality/price ratio with other, more complex approaches. When it comes to the ultimate outsourcing destination, though, if you want to save without harming the end results, consider Ukraine as a home to thousands of qualified IT specialists with good English, no cultural barriers, and consistent approach to work. In particular, IDAP can become your dedicated outsourcing partner! We sure possess enough professional experience to bring the concept of any complexity to life.