The pandemic has changed the business world for a long time, if not forever. Words like sweeping digitalization, remote employment, and digital nomads have firmly entered the lexicon and everyday life of an entrepreneur. Marketing, market analysis, production and, finally, growth rates, sales and revenues are now heavily dependent on the latest technologies.

Which of those technologies is to prevail in the near future? There are a bunch on the tip of an expert's tongue. For instance, a recent Gartner analysis provides a foundation for sound technology planning. IDAP is also committed to using innovation to meet business needs and has been successful in doing so. So let's take a look at the most promising tech directions right now based both on expert research and our own experience and vision..
TOP Technological Priorities
Some of the discussed solutions represent the basic technical capabilities needed to keep above the water in the digital world while others are more about business-focused opportunities to stay ahead of the competition. And both are essential for growth in today's market.
5G/6G Internet
Smart homes, which is a sweeping trend in itself, require high-speed web connection. Infrastructures for 5─6G communication are developing rapidly. Soon, there will be new, completely unique applications for these highly-available and lightning-fast at the same time standards.

Over 380 telecom operators from 35 countries are investing in next generation communications. Elon Musk's Starlink project is already running and will surely expand. This trend is here to stay because the means of communication will be improved endlessly.
AI, IoT, robotics, and hyperautomation
With labor shortages and production optimization, the demand for advanced industrial automation solutions keeps growing. The use of innovative technologies in all underlying processes will be the key to a successful organization of efficient production management.
VR and AR
Immersive technologies will continue to spread in various areas – from entertainment to virtualized business and remote learning. Solutions and capacities such as eye tracking and facial recognition are to be more widely and commonly used for indoor navigation, remote assistants, virtual sports events, etc.
Data Fabric
Truly skilled workers in data teams become more scarce over the years. The solution to the problem is services that facilitate the exchange of data between platforms and users, as well as provide other related benefits, including:
availability of data anywhere in the world,
the ability to create a scalable architecture,
built-in analytics;
shortening the ROI period of newly-introduced technologies.
Data fabric is a fused data approach that simplifies data storage and management, and reduces labor costs for integrating data from systems by different vendors. This enables a more efficient coordination of employees, reducing their time spent on engineering processes. Data fabric design methods help avoid hindrance of business processes in the face of a constant increase in data volume.
Cybersecurity Mesh
To ensure the security of distributed teams, a flexible, composable architecture is needed. Cybersecurity mesh or CM helps create an integrated security fabric and protect all assets, no matter where they are located. A set of decentralized solutions helps organize firm protection of end users, their computers, as well as all assets in the internal network.

By the end of 2023, privacy laws should have covered the personal information of 75% of the world's population. And by next year, organizations that deploy cybersecurity networks will have cut financial losses from security breaches by 90%.

Separation of access, introduction of additional authentication methods, device control, behavior analysis, and other technologies fused will help increase the overall level of security, prevent most of the hacks and information leaks. It is also worth noting the emphasis on decentralization – the creation of solutions that help avoid points of failure and verify the authenticity of data without the need for constant communication.
Contactless delivery
The contactless delivery market will surely continue to grow. For this, drones equipped with satellite navigation, computer vision, and AI will be used more. The field of applications will expand accordingly: from food mail delivery to the shipment of production components and medical organs for transplantation.
Distributed Enterprises
Remote and hybrid distributed office schemes will gradually give way to enterprises whose employees are geographically dispersed. The digital-centric business model will expand to improve interactions with employees, partners and consumers, and further make remote work format a norm.

Large companies that can afford the international format of work will open more offices in Europe, Asia, and America to attract new specialists.
Total Experience
Bringing together the experiences of employees, customers and users will play a key role in creating advanced business strategies. In the fight to attract talent and new clients, the concept will be a priority as it will help develop or improve distributed workforce models. In addition, multi-channel communication will help connect employees across geographic locations.
Telemedicine
Many of the world's best clinics now offer remote services. Doctors and patients (up to 60% in the US) communicate via video chat, AI diagnoses based on images, and medicines are delivered by drones. This is a picture of near-future medicine that will require new, high-yield utilities.

The telemedicine technology market is seen growing by an average of 16.5% annually, with the total market share expected to hit $82 billion by 2028. A big breakthrough is also planned in the field of biotechnology and ML, and AI will be even more actively used in diagnostics, administrative work and the creation of medical robots.
Remote education
Educational institutions of various types are now organizing and conducting classes in the format of videoconferencing. Many have partially left remote options even after reopening after the pandemic. This trend will continue for a long time, as the popularity of remote work and video conferencing is quite high in its own right. Services like Zoom, Webex, Teams, Blue Jeans, Google Hangouts, GoToMeeting and the like are to be further developed.

With solutions like Bluescape, Slab, Eloops, Figma, and Tandem, users will be able to track collaborative learning and documentation, create and share content, connect with peers, train employees, and organize virtual team building events.
Summary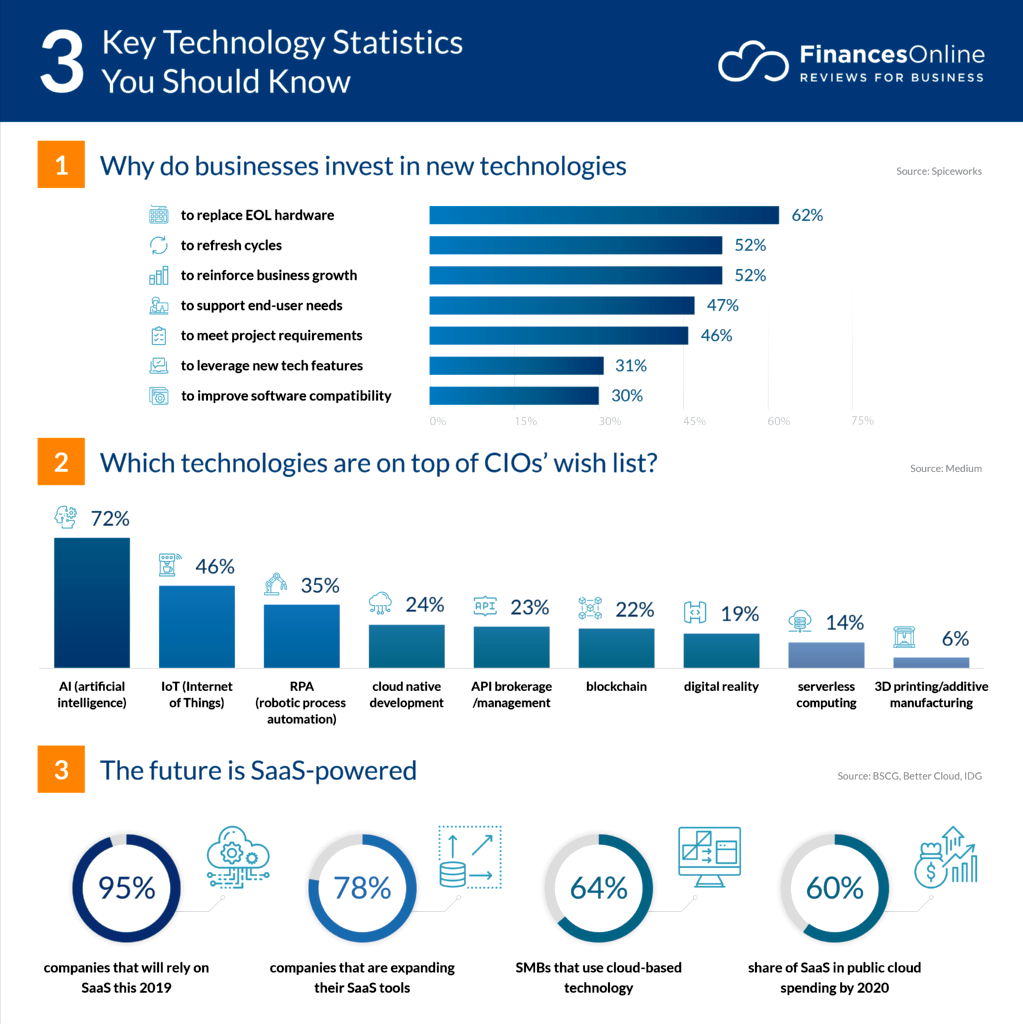 If we look at the statistics, we can see that more and more enterprises and organizations are choosing an innovative path of development. In 2022, new business models will drive technological innovation. Which of them will allow you to stand out from among other market players and become competitive?

If you do not know the answer but are ready to adopt the most advanced technologies, contact the professionals. That is your best bet for getting effective technical solutions that will help you stay up-to-date and grow ahead of the times!