As the world continues to become more connected, an increasing number of everyday activities are digitized, and fitness is no exception. The time has come for all startups and small businesses interested in joining this booming industry to take their first steps toward developing a successful fitness app.

Thankfully, you don't need to be a software whiz or coding genius (although it wouldn't hurt!) to make your dream of creating a high-performance health and wellness tracking mobile app come true. This post will follow step-by-step instructions on developing a state-of-the-art 2023 fitness app!

We'll break down the complexities of designing attractive user interfaces, implementing effective data collection cycles, engineering robust security protocols –and much more– so that you can seamlessly transition from conception into reliable implementation!

Want to revolutionize the fitness industry and deliver a next-gen experience for your users? We can help you with that. Contact us today and get a free kick-off consultation.
What is the fitness app market like in 2023
With fitness trends rising and an increasingly health-conscious society, fitness apps have taken over the market – no surprise. According to Goodfirm's poll, 50%+ of all the respondents prefer home workouts. From yoga teachers to kickboxing coaches, fitness apps offer the perfect solution so exercisers of all kinds can track their fitness routine from the comfort of home or wherever their travels take them. 

With step-by-step videos, motivation, and real-time feedback, fitness app developers are finding new ways to keep users engaged and motivated and help them easily meet their fitness goals.
From fitness tracking to food diaries and health monitoring programs – the fitness app market has transformed from a fledgling idea to one of the most profitable industries in an instant. Not only do fitness apps have special features such as fitness challenges, meal-planning, and fitness game integration, but they're also helping people stay connected as physical gyms have been closed for months due to Covid-19.

With more and more people adopting fitness technology into their lives, it's no surprise that this industry is going nowhere but up! The total revenue reached $26 bn in 2022 and is projected to generate over $43 bn by 2026. 

Impressive, huh?

What's more, health and fitness apps witness the highest retention rates. It means that users are highly loyal, and fewer quit and uninstall apps of this category. The growing retention rate is a good sign for newcomers since the industry isn't overcrowded. 
Related: Healthcare Mobile App Development: Guide & Examples [2023]
Wellness trends for digital fitness products
It's time to ditch those paper workout logs and step into a new fitness level where users can track your progress, view challenges, interact with other fitness followers in real time, and measure your progress with excellent data visuals. Now that's what we call a tech-savvy fitness revolution!

Here's what to expect in 2023:

The rise of wearables

We predict that wearables such as smartwatches and fitness trackers will become even more popular in 2023 than they are today. These devices allow users to track their heart rate, steps taken, calories burned, and more while on the go.

This information can then be fed into a fitness app to give users an even deeper understanding of their progress. We also anticipate these devices will become even more advanced, with features like sleep tracking becoming more commonplace.

AI-powered apps

We also predict that AI-powered apps will take off in 2023. AI technology has been used increasingly over the past few years to provide personalized guidance and feedback to users based on their goals and needs.

This trend will continue in 2023, with AI playing an ever-greater role in helping users reach their targets faster and more efficiently.

Self-care and mindfulness

Self-care is more than diet trends – it's about being mindful of your body, mind, and soul. Taking the time out to care for ourselves has become an essential part of many people's everyday routines – fitness apps help stay on track and motivated.

More social features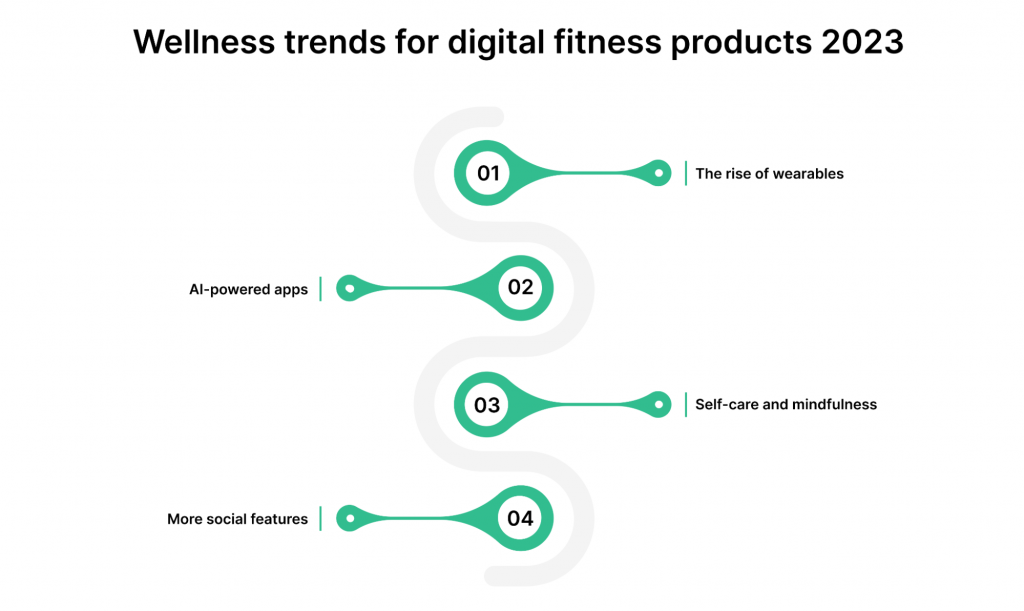 Finally, we expect a greater emphasis on social features within apps in 2023. This could include things such as friend tracking (so you can see how your friends are doing with their workouts), leaderboards (so you know where you stand among other users), or even virtual reality components (to make exercise feel less like work).
All these elements would help create a fun and engaging user experience that encourages them to return for more!

Considering these new fitness trends and a booming app development industry, there are still enough opportunities and niches for promising and profitable products. So, if you have long dreamed about starting your fitness app, it's time to get it rolling!
How to develop a fitness app that stands out from the rest
Developing a fitness app that stands out from the rest can be daunting. However, creating something extraordinary doesn't have to be an arduous process. Instead of focusing on the size of your fitness app, think about its quality and uniqueness.

Address the needs and pain points of your target audience

Before coding so much as one line, take some time to address the needs and pain points of the people using it. Identify what fitness goals everyone has, what diet issues need to be handled, and precisely how users will track results.

Load the app with one-of-a-kind features

Offer features that aren't found in other fitness apps, so users will not only download your fitness app but also keep coming back.

Offer a smooth and highly-intuitive user experience

Design an interface that's intuitive and easy to navigate, with eye-catching visuals that draw your users in and keep them coming back for more.

Add some tips and motivation

You could even get creative with fitness tips or daily workout challenges – anything to make sure it's worth working up a sweat!

Focus on adding features that allow users to track their fitness goals and make suggestions tailored to individual fitness levels.
​​Top-notch well-being software by IDAP: a real-life example
It's crucial for business leaders to be inspired by the best-of-breed app examples before starting the development. This approach allows us to evaluate a market and create software that unifies well-known applications' best features. Recently, the IDAP team has designed an innovative app Keto, and we're thrilled to share the details with you.

Name: Keto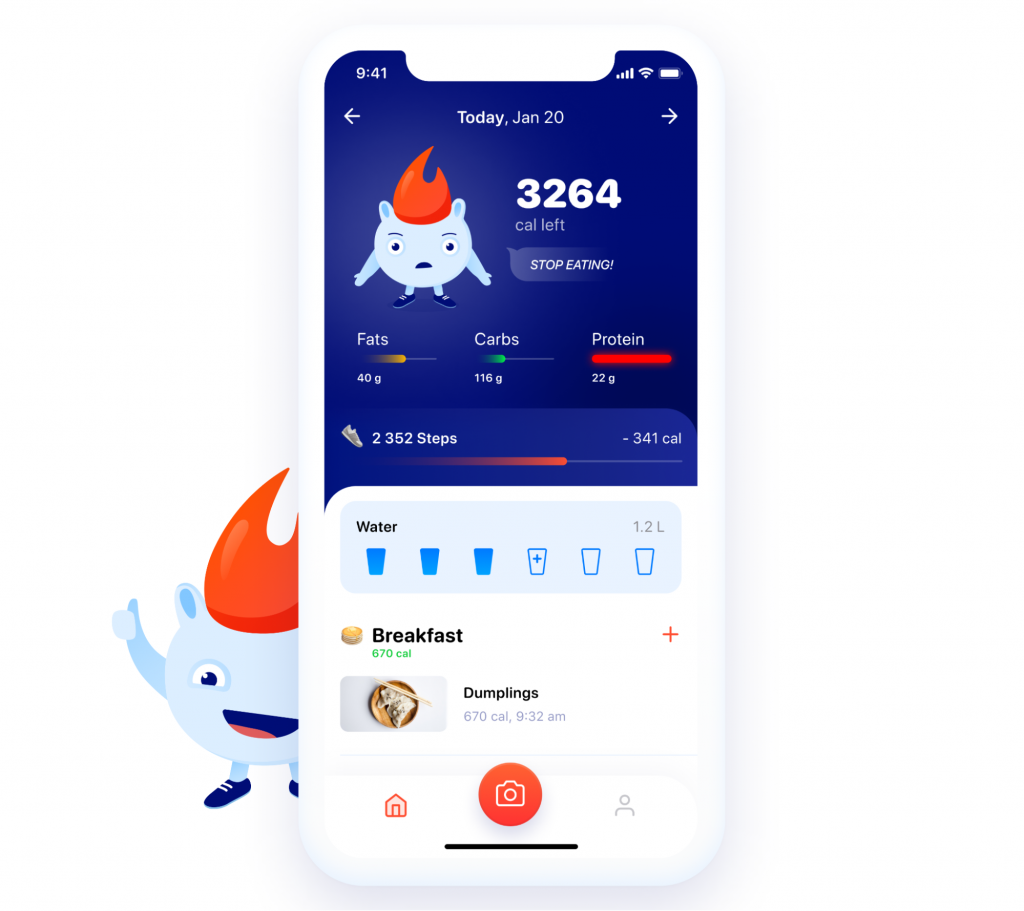 How it works: Keto is a meal-tracking app that eases keeping to a healthy diet via auto-logging of daily food and liquid intakes. The app can count the calories taken/ burnt and more beautiful things to help you care for your body. The core features are Auto Food Logging, Water Intake Tracker, External Trackers Support, and many more.

To explore more, see our portfolio:

➡️ Portfolio
➡️ Contact us

What features should be included in a fitness app?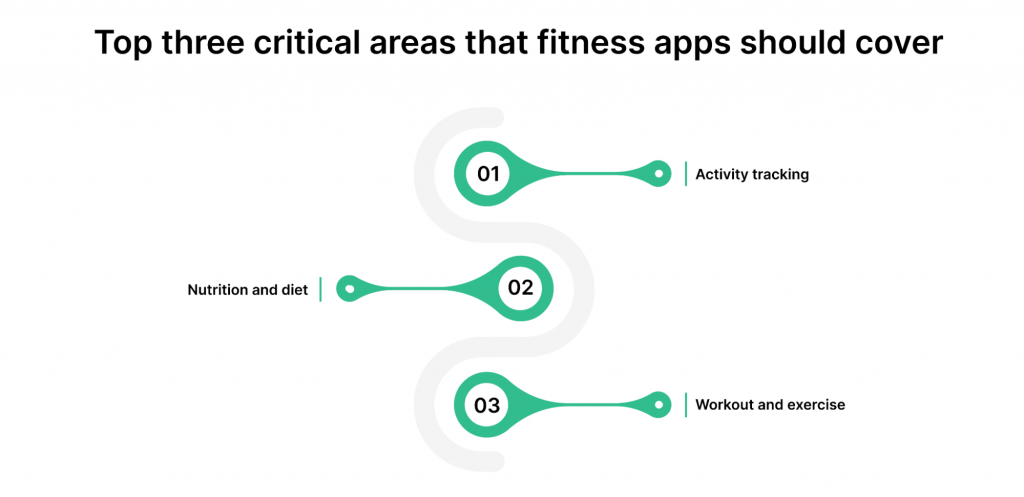 Top three critical areas that fitness apps should cover

Activity tracking
Nutrition and diet
Workout and exercise
User profiles

One of the most critical features of any fitness app is the ability for users to create profiles. This allows users to track their progress over time and gives them access to all their customized settings, preferences, and data. Additionally, having user profiles sets up other valuable features, such as social media sharing.

Workout catalog

Every good fitness app includes an extensive workout catalog with options for beginner and advanced-level workouts. This allows users of all levels to find something challenging and satisfying. Plus, it keeps users from getting bored with their routine by giving them many new exercises and ideas to try out!
Maps with routes and geolocation
For those who like running or walking outside, maps with routes and geolocation are essential. They give users an idea of how far they traveled during their workout and provide safety precautions such as tracking where the user is located in an emergency.

Meal plans and calorie tracking

Keeping track of your diet is as essential when working out as exercising! Having meal plans and calorie tracking integrated into the app will keep users on top of their nutrition goals while allowing them to enjoy delicious meals.

Integration of a music streaming service

We all know that listening to music can help boost motivation during workouts. Any good fitness app must integrate with popular streaming services such as YouTube Music, Spotify, or Apple Music!

Connect to wearables

Wearables have become increasingly popular over the years due to their convenience factor – why carry different devices when you can just wear one on your wrist? As such, having support for wearables built-in is an essential feature for any decent fitness app today!

Add some social

Last but not least, having social media sharing capabilities integrated into your fitness app can be incredibly beneficial in more ways than one. Not only does it allow users to share their successes with others (and get positive reinforcement in return), but it also serves as free advertising for your business!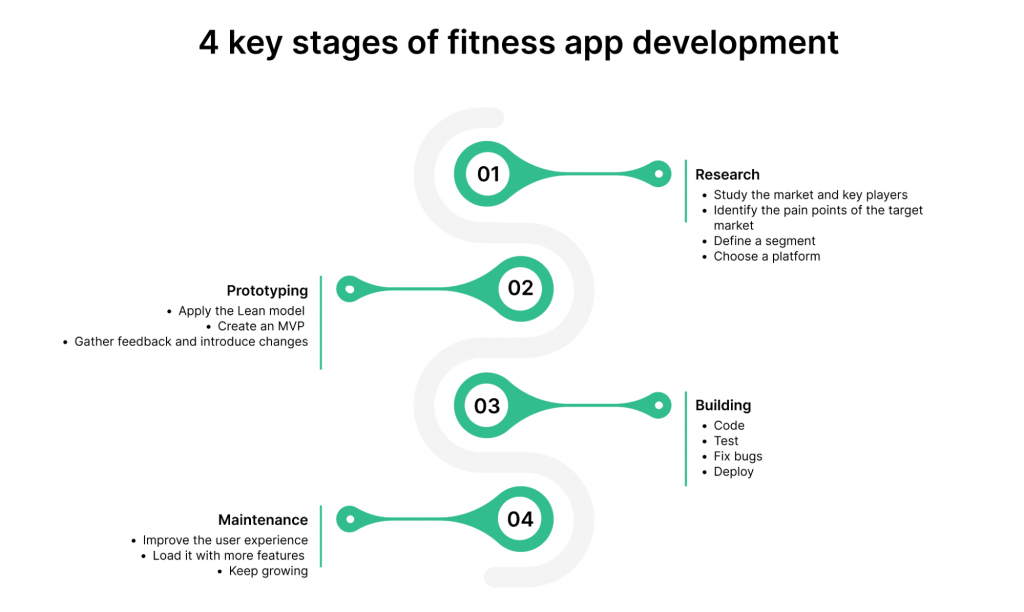 There you have it – these are some of the most important features that should be included in any decent fitness app today! From user profiles and workout catalogs to integration with streaming services and support for wearables – these are all critical components if you want your product to stand out from the competition!

Five key stages of fitness app development
Step 1. Research the idea or product discovery at IDAP
It's a step when you need to discuss your fitness app idea with your development team, research the market and study your key competitors. At this stage, you describe the general idea of what you want to make with your fitness app. During discussions, the team gets all the necessary information, and based on the outcomes, the team starts building the roadmap and estimates how much it will cost to develop a fitness app.

Step 2. Prototype your idea
Prototypes are used to visually represent the flow and structure of the app. They can help you show the arrangements of menus, buttons, and fields. Some prototypes can be clickable and help you check even the logic of your app and simulate user interactions.
Also, you can even test your prototypes with real users and make changes if necessary. Prototypes don't require much work, so making changes at this stage will be cheaper.

Step 3. Code
At IDAP, we recommend starting your app journey with a minimum viable product (MVP). There are a range of advantages to building an MVP. So, it's faster to make and requires less effort for development. Thus, you can save time and money and test your idea with an MVP first.
It's a workable representation of your app with all the necessary features and functions. So, it allows you to see how people use your product and what they want to improve. To add more, pitching your app idea to angel investors or venture capitalists will be easier with an MVP.
At IDAP, we apply the best project management practices. A dedicated product manager oversees all the tech processes and streamlines the communication between the client and the team.

Building a software product from scratch, we move in iteration. This allows for faster changes at any stage.

Step 4. Testing
When the last line of code is typed, quality assurance engineers knuckle under to deliver a bug-free user experience. At this stage, we perform code reviews and refactoring for your app's fast and stable work.

Step 5. Maintenance
After the launch, the development team provides the necessary support and maintenance of the product. This helps ensure the smooth running of the app on different platforms and devices.

How much does it cost to develop a fitness app with IDAP?
Developing a fitness app can be expensive, but IDAP makes the process much more cost-effective. Factors such as the type and complexity of your fitness app will determine the final price tag; however, IDAP's team of experienced professionals is well-equipped to ensure you get a good return on your investment.

Get a free, precise estimate of your fitness and wellness app!
​​Here's some basic info about the fitness app development cost:
Multiple factors influence the end cost of the product, such as time, the number of software engineers involved, the number of platforms, the features, and the integrations required.
The average time needed to build an MVP starts from 3 months.
You need at least $90k for one platform to create a fitness app.
Summary
And that's a wrap! We hope this guide has given you some insights into what it takes to develop a fitness app in 2023. If you're feeling inspired and ready to start your project, we'd love to help. 
At IDAP, we specialize in fitness app development and have a team of battle-tested experts who can bring your vision to life. Contact us today to get started!