Road trips.
Commutes.
Weekend getaways.
With prices for ride-hailing services skyrocketing and public transport options often limited, people turn to car rental apps for these needs.
We don't want you to cancel your plans, so we picked the best car rental apps with the highest ratings from Android and iOS users.
In this post:
Top apps to rent cars
User reviews of the best apps
Want to hire developers with a 4.9-star rating to build a car sharing app? Book a free meeting with us.
The Best Car Rental Apps
1. Turo — The Airbnb of the car world
iOS rating: 4.8
Android rating: 4.9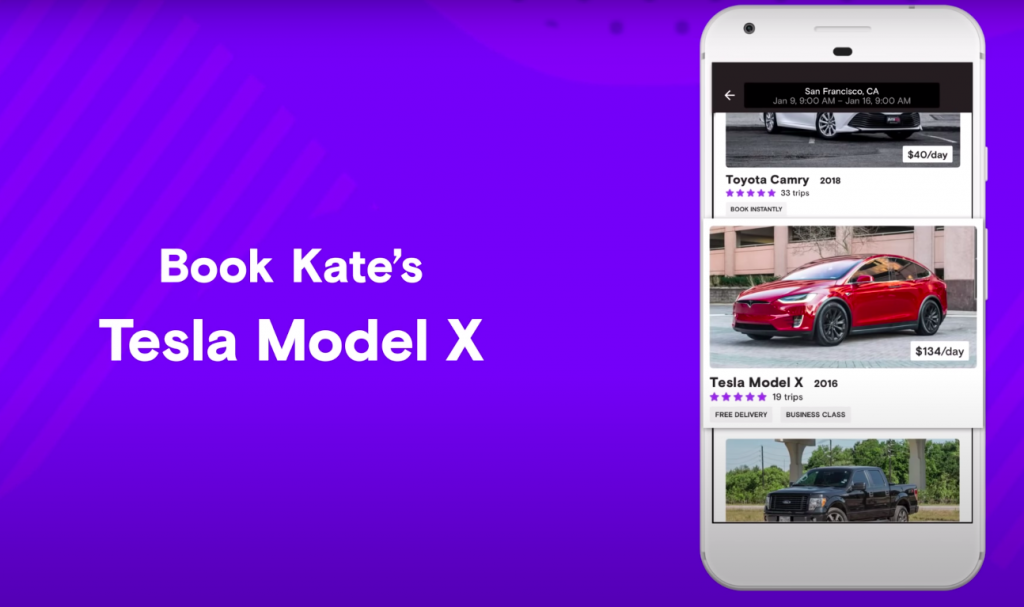 Turo is the world's largest car sharing marketplace for many reasons. All car owners are verified and rated, the prices are clear, and booking is very easy. The app is suitable both for riders and car sharing businesses.
Pros:
Large selection of vehicles
Less waiting and hassle compared to others
Cheaper than other renting car apps (prices start at $25/day)
Setup takes a few minutes (driver license upload + account creation)
Bad reviews mostly come from users who rented cars from owners with poor ratings
Cons:
New drivers have to pay "young driver fees"
Download Turo:
---
Want to see what apps are popular among startups right now?
Find more here: App Ideas For Startups
---
2. Kayak — Cars, hotels, and flights in one place
iOS rating: 4.8
Android rating: 4.5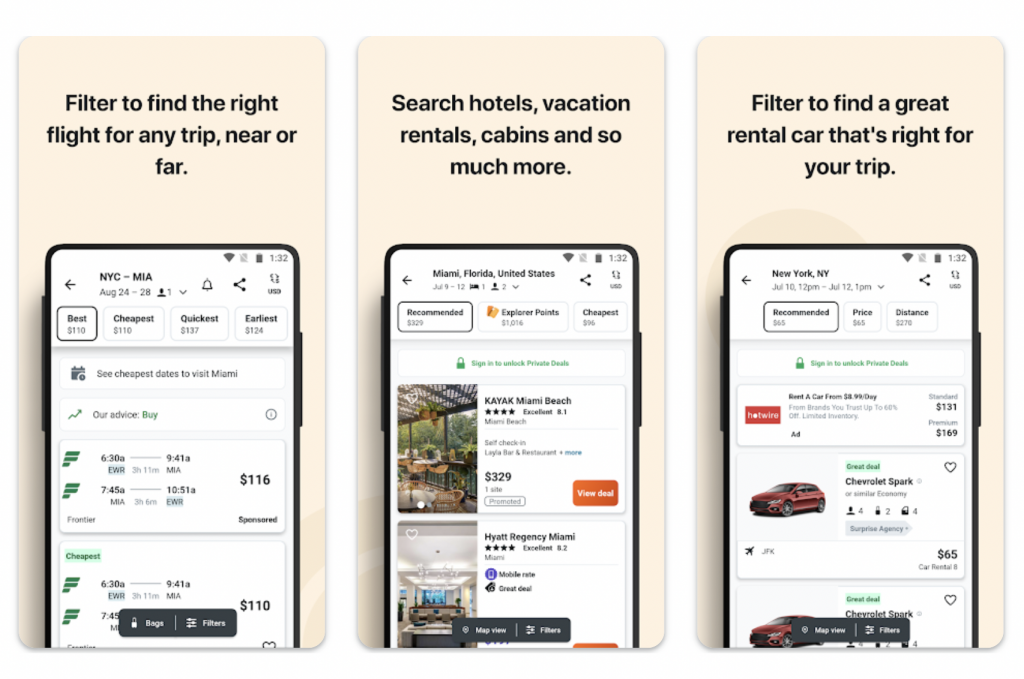 Kayak is a big platform where you can book stays, flights, and, of course, cars. The service scans hundreds of car rental platforms from all over the world. The best thing about this best car rental app is the easy-to-use search engine that gives good deals.
Pros:
Prices are average
Nice choice of vehicles
Simple and quick car rental process
Customer support is mostly responsive and helpful
Cons:
Users report occasional bugs in the apps
Download Kayak:
3. Free2Move — Car rental in both the EU and the US
iOS rating: 4.5
Android rating: 4.2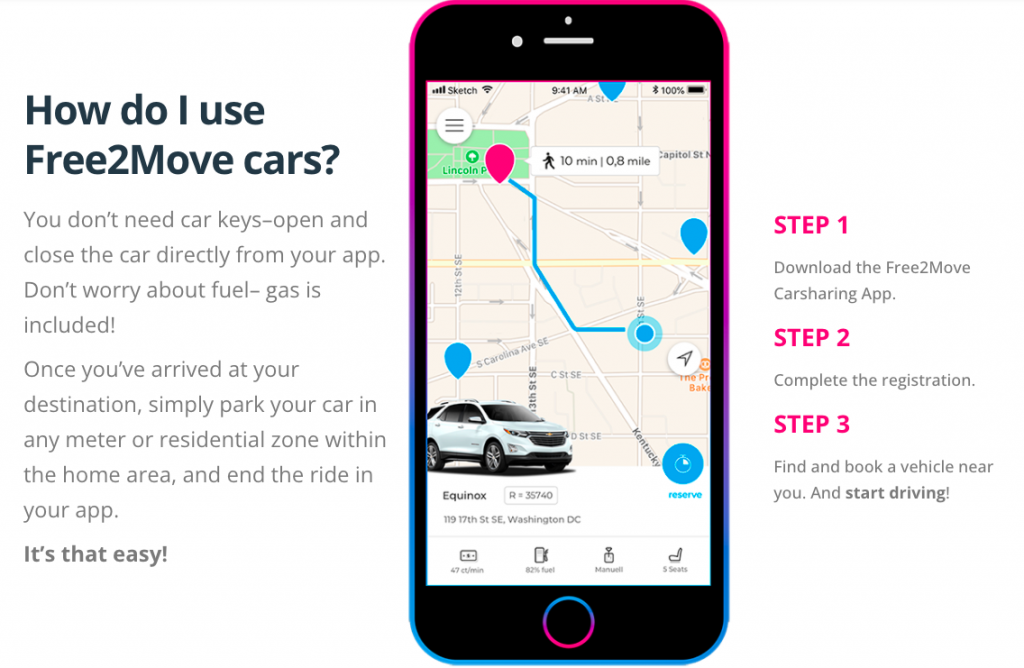 This app for car rental was designed for carless urban dwellers who like to leave the city once in a while. Free2Move offers plenty of car choices, especially for both quick trips. Besides car sharing, this top app also has info on parking and EV charging stations.
Pros:
Prices are average
There are regular discounts and promo offers
Car selection is limited but slowly increasing (the service is adding 3,000 cars in the US, mainly the iconic Fiat 500e)
Cons:
Occasional problems with customer support
Download Free2Move:
4. Enterprise — Low prices for short-term rentals
iOS rating: 4.9
Android rating: 4.6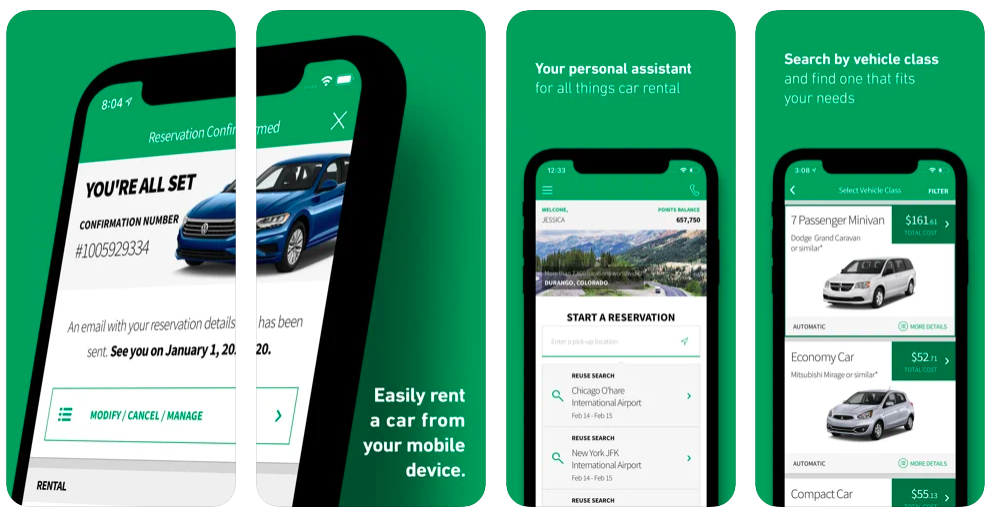 Enterprise is a reliable and straightforward car rental app that works in 7,000+ locations worldwide. The service has been active since the 1950s and scores some of the highest ratings in the industry today. The company's app is also one of the top-rated ones to rent cars thanks to its simplicity and plenty of choices.
Pros:
Outstanding customer service
Good selection of cars for rental
Bonus points for premium accounts
Easy-to-use search feature with useful filters
App is updated frequently and works smoothly
Cons:
Reward points are harder to learn compared to other car rental apps
Download Enterprise:
5. Getaround — Flexible peer-to-peer renting
iOS rating: 4.6
Android rating: 3.5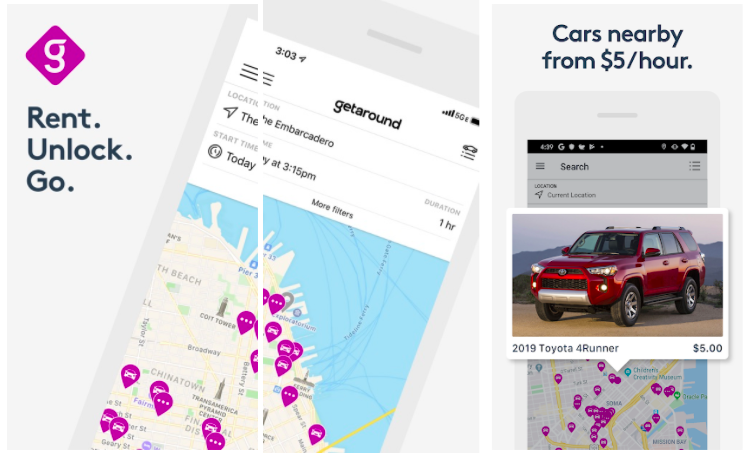 Prefer to borrow cars from people, not companies? Then Getaround is a good car rental app for you. The prices start as low as $5 per hour, so you could give it a try for a budget-friendly car rental. The selection is great, too, as you'll find plenty of options.
Pros
Wide variety of cars for every budget
You can share your car to earn money, too
Most cars arrive clean and with pre-agreed fuel levels
Prices can be a little bit lower compared to other rent car apps
Cons:
The Android app is not as stable as the iOS one
You'll pay more as a driver under 25
Download Getaround:
6. Priceline — Online travel agency with car rental included
iOS rating: 4.8
Android rating: 4.7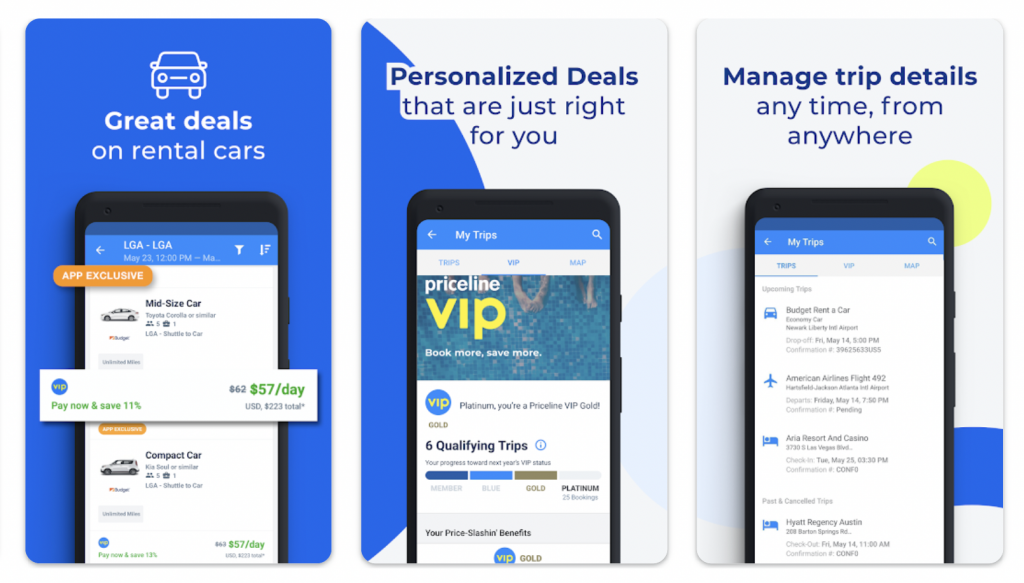 Priceline is super easy to use thanks to a simple search engine. The app combines the functionality to plan entire tips, so hotel and flight booking features are also included. With Priceline, you have access to 290 car rental brands in 28,000+ locations.
Pros:
A lot of options to plan trips
Most cars arrive in excellent condition
Car rentals are available in most major airports worldwide
Cons:
Fewer locations compared to other best car rental apps
The bundle offers shown in Priceline are not often cheaper than buying services separately (despite being advertised as such)
Download this best rental car app:
7. Share Now — Biggest range of EVs in the EU
iOS rating: 4.8
Android rating: 3.8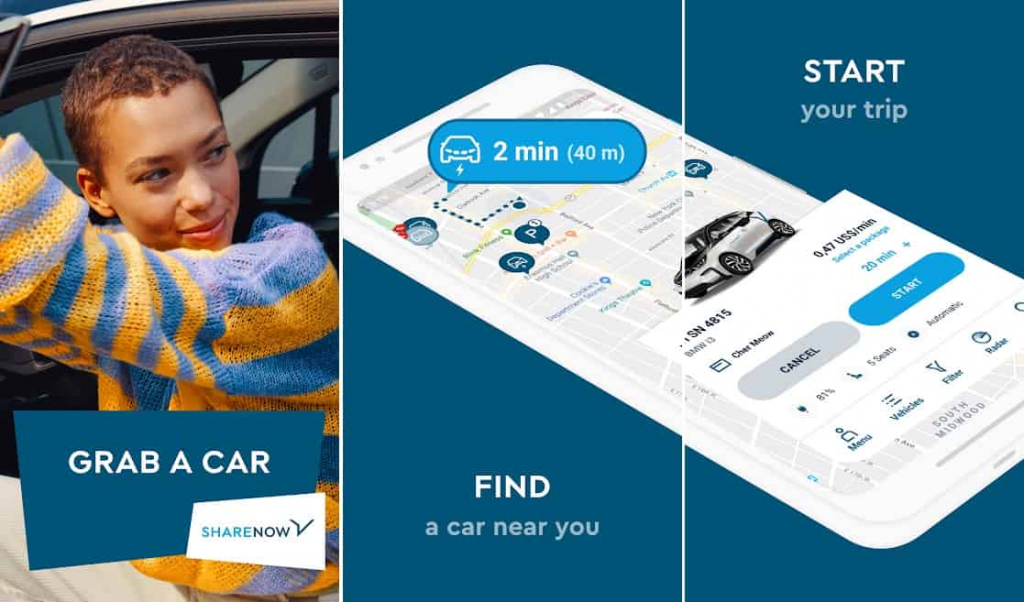 Planning a trip to Europe? Share Now is the best car rental app to book rides in many major city centers and airports in the EU. The vehicle selection is good, and you're free to use your chosen car for both short and long trips. Also, the app gives you access to the largest EV fleet among car sharing apps in the region.
Pros:
App is regularly updated
Fast and secure booking feature
You can book cars on hourly and daily basis
Good option if you're looking for premium vehicles
Cons:
Customer support can be slow for non-EU driver license holders
Download Share Now:
8. Alamo — Best prices for unlimited mileage
iOS rating: 4.9
Android rating: 4.8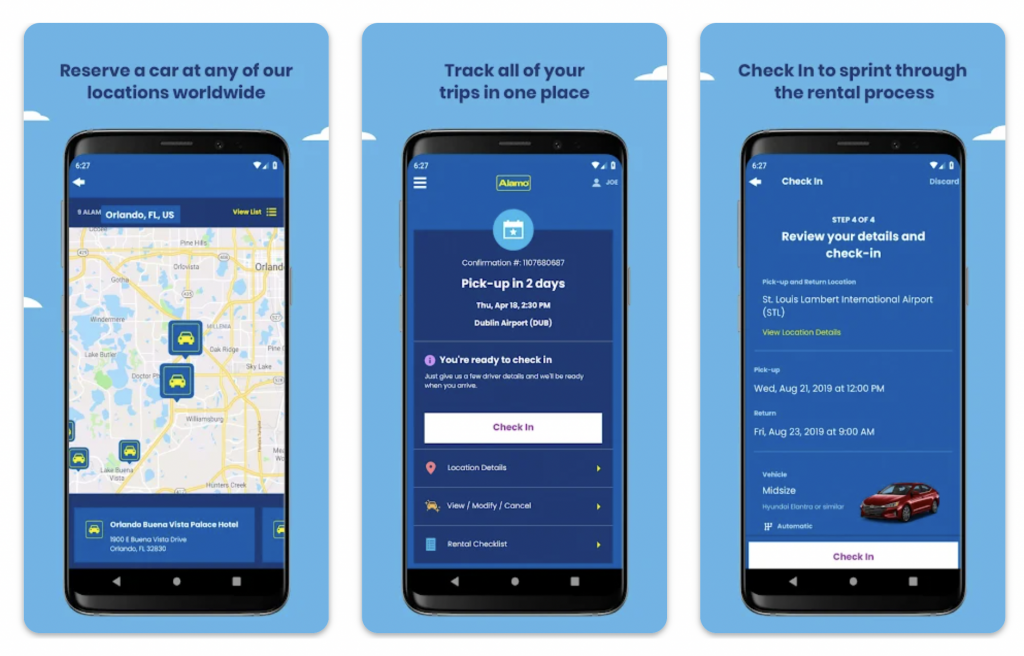 Alamo is the highest-rated online car rental app on this list. The search is easy and the app gives you directions to the rental location, which makes the whole experience very convenient. Plus, there are nice features like Accelerated Check-in, which guarantees that the car will be ready for you when you arrive.
Pros:
Prices are average
Car availability is great
If the service is out of your preferred car size, you might get a free upgrade
There's a loyalty program Alamo Insiders with perks like priority service
Cons:
Smaller fleet of cars compared to other big car rental companies
Download Alamo:
9. National Car Rental — Expensive but reliable
iOS rating: 4.8
Android rating: 4.6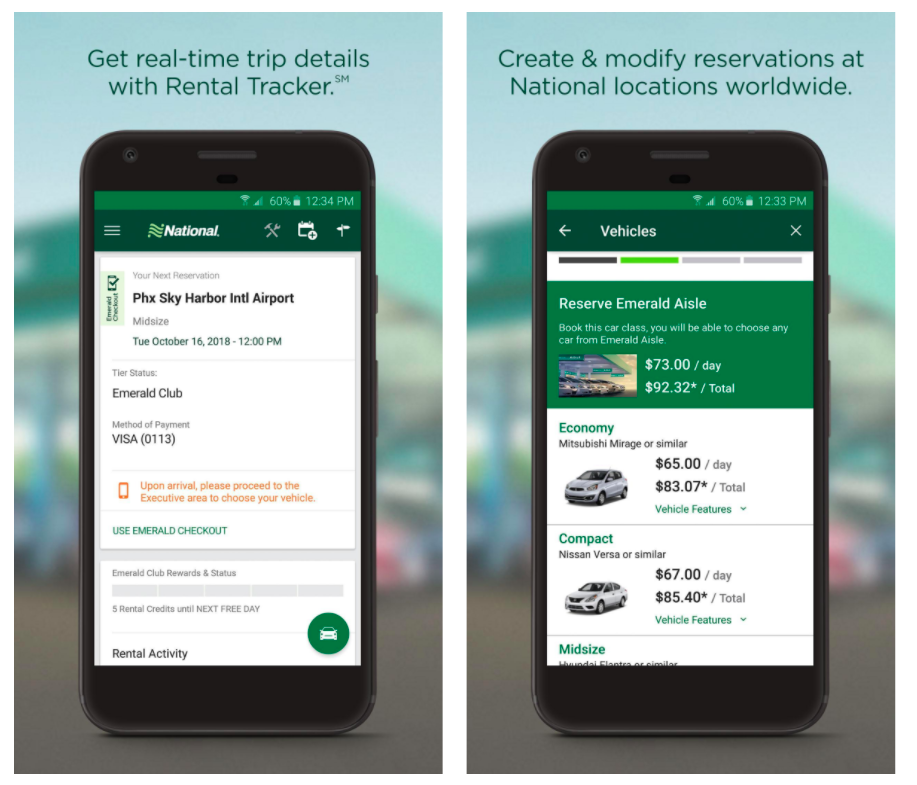 National Car Rental is a well-established, international car rental platform, so their app is a good option for trips in the U.S. and abroad. There's plenty of models to choose from, and you can contact the company to extend the rental from the app by choosing a new date.
Pros:
Car selection is great (includes trucks and vans)
Renting experience is easy and intuitive
Available worldwide (1,500+ locations)
Special deals and promotions on a regular basis
There's a rewards program, "Emerald club" with plenty of perks
Cons:
Prices could be higher than average if rents lasting a week or longer
Download National Car Rental:
10. Zipcar — Low-cost special deals for businesses
iOS rating: 4.5
Android rating: 4.3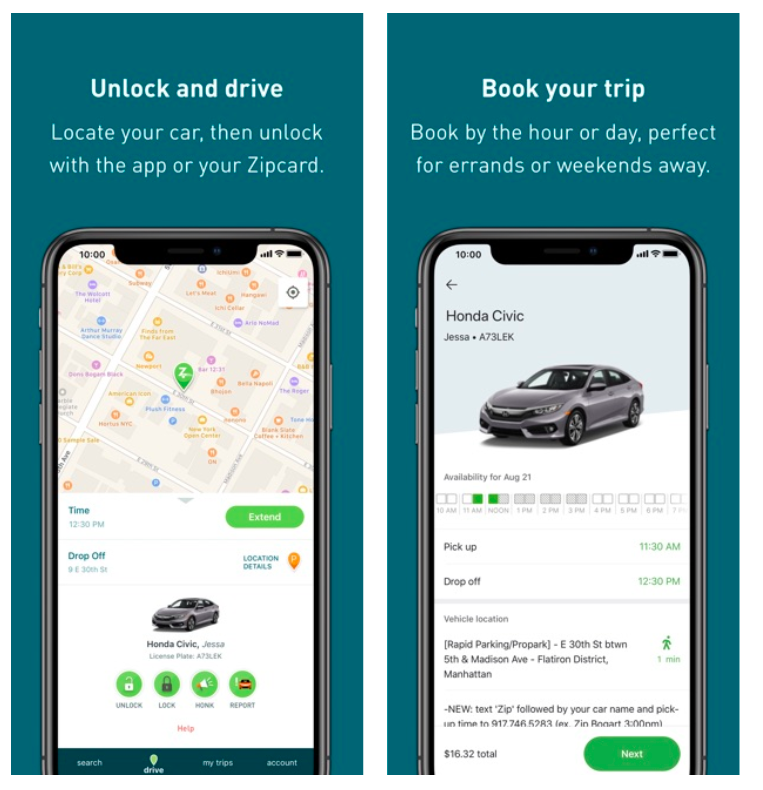 Zipcar is a growing car sharing network that AVIS created to counter the competition. The cars are available in 500 cities across seven countries, which is a good range. Users also report good availability—sometimes "Zip cars" are the first to come through (especially in the U.S.).
Pros:
Most cars arrive clean
Customer service is mostly reliable
iOS app is more reliable than the one for Android
Good car selection (vans, sedans, hybrids, EVs, etc.)
Special rates for businesses and universities
Cons:
Sometimes cars don't start in underground garages due to poor satellite connection
Download Zipcar:
Summary
You have a good selection of apps for car rental, and they're perfect for a short journey outside the city, a quick trip to the suburbs, or a day-long holiday in a national park.
To us as a software company, this also means that—
A car borrowing app is a promising business idea. If you want to create a car rental app or any app to manage the auto fleet, feel free to get in touch with us.
We're a software company that can build a renting car app according to your requirements. If you're interested, see our portfolio or check out reviews from clients.