Streaming is the best way to communicate with people in real time. No matter where your viewers are – you can easily get in touch with them by going live.
Really, sharing significant moments of your life has never been as easy. All you need is a smartphone and access to the Internet – and you can start broadcasting video online at once. What is more, live streaming can be used for much more than just socializing. Now, it covers a wide range of fields from social media to gaming. Live streaming can play the role of advertisement, communication tool, and mass media. In addition, a successful broadcast can give you a healthy profit.
However, if you are looking for the app for streaming, you may become entangled with the number of offers. There are multiple options to choose from on the web. The more natural way is to start from social networks, which are available and common for every person right now. On the other hand, a specialized live-streaming platform may have some helpful features like multi-source video broadcasting. Some apps have been available on the market for years, while others only appeared recently.
Yes, it can be hard to choose one from such a variety. But don't be all scared, we will guide you through this! Later on, we will describe 15 of the best applications for streaming videos live in our opinion to make your ultimate choice easier and efficient in the long run.
So, let's get started!
The best apps to stream video live
#1. Periscope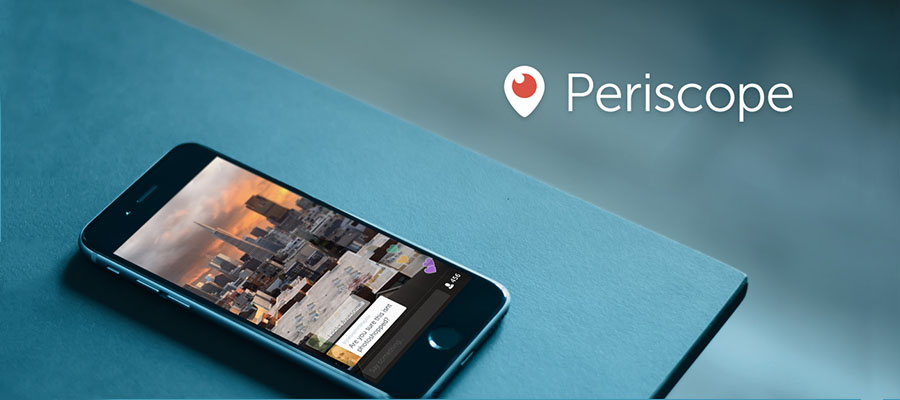 Periscope is one of the most popular platforms for streaming. It makes streaming video as simple as possible. Periscope provides all necessary functions for live streaming and it is free to use. Moreover, it is integrated with Twitter, which makes the app convenient for users of this social network.
Periscope has a plethora of features which contribute to its popularity. It is indeed simple in use. There are only a few steps separating a user between the installation and your first stream. However, such simplicity has the flipside. Periscope doesn't support some useful features like ads or closed captions.
You can make your live videos available to the public, or accessible through a private link only. While Periscope is owned by Twitter, you can also share links in other social media platforms (Facebook, YouTube).
Periscope allows broadcasting in both portrait and landscape video formats. It supports live 360-degrees video (this option is available for 'selected partners' only). Another point is that the quality of streams with this app is limited.
Periscope has an excellent functionality for socializing. This app provides a user with a list of the most recent 15 streams. What's more, the trending videos will appear on the map, including recent events and recorded broadcasts.
Overview
free to use

provides the map with trending videos

easy to connect with Twitter

an absence of monetization tools

limited quality of streams

Platforms
#2. YouTube Live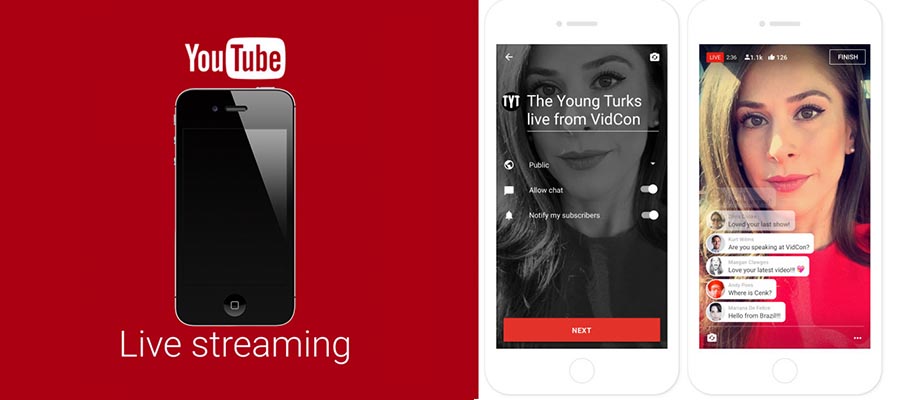 Youtube is a well-known video platform. It was one of the first online services with streaming capabilities ever. Officially launched back in 2013, Youtube Live suits excellent both individual streamers and successful video bloggers. It is remarkable for the widest audience and strict policy rules.
Youtube live appears in this list due to several factors. First of all, everyone knows about this platform. Such a popularity allows streamers to easily find interested viewers. Even if you don't have many subscribers, your video will undoubtedly get some views.
Yes, the major advantage of Youtube Live is the search potential other platforms cannot offer this. What's more, this app provides many tools to make your streaming experience more exciting. It allows you to have live chat with viewers, or automatically record your video. Another great option is a preview. You can check the picture from the viewers' side before broadcasting it live.
Youtube Live supports monetization and ads, so you can apply them to streams to get profit from your video content. Youtube has strict policy rules, thus, you will have to wait 24 hours for approval to get access to the streaming feature. This approval may fail if your account had broken some restrictions within the past 3 months. So check it before you decide to start streaming here.
Overview
has advanced features like live chat and preview

wide audience

free to use

supports monetization and apps

24-hour approval procedure

Platforms
#3. Facebook Live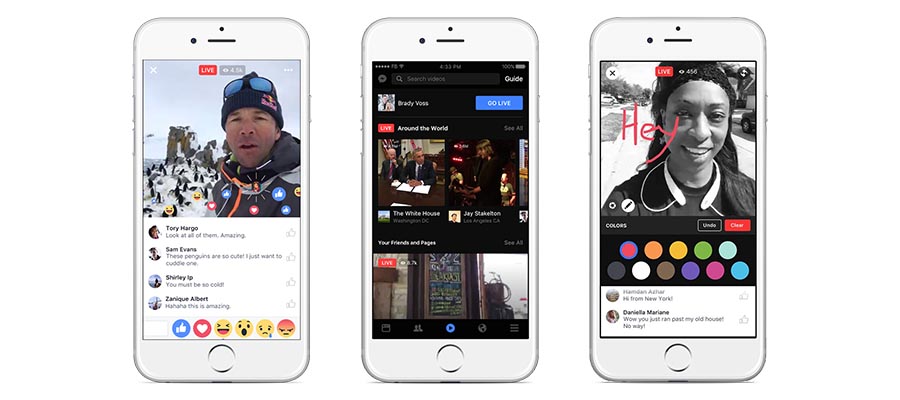 Facebook wasn't the first to provide users with the streaming feature. However, the major advantage of using this platform for streaming is that Facebook is one of the most popular social networks worldwide. It has all the necessary tools to easily broadcast live.
Let's be honest, posting a link to the social network is the easiest way to get your video seen. Streaming on Facebook is available both from smartphone and desktop. All you need to do is open your Facebook page and choose the status update. Streaming on this platform is as simple as possible.
Facebook Live allows starting live broadcasts for personal profiles, groups, and events, in public or private access. You can live stream for up to 4 hours! After the stream ends, the video will be published to the page so your viewers can watch it later. Moreover, Facebook Live is compatible with many different broadcasting devices and software. Therefore, you can use them to provide your viewers with a fantastic picture.
Recently, Facebook had focused more on video bloggers and even provided them with a new platform called Facebook creator app. This app has more advanced streaming features, such as creating intros, analytical tools, etc. However, it is not as popular as the basic Facebook app.
Overview
simple to use

has a great user base

can be integrated with numerous platforms and tools for streaming

launch from the Facebook app only while using external software

Platforms
#4. Instagram Live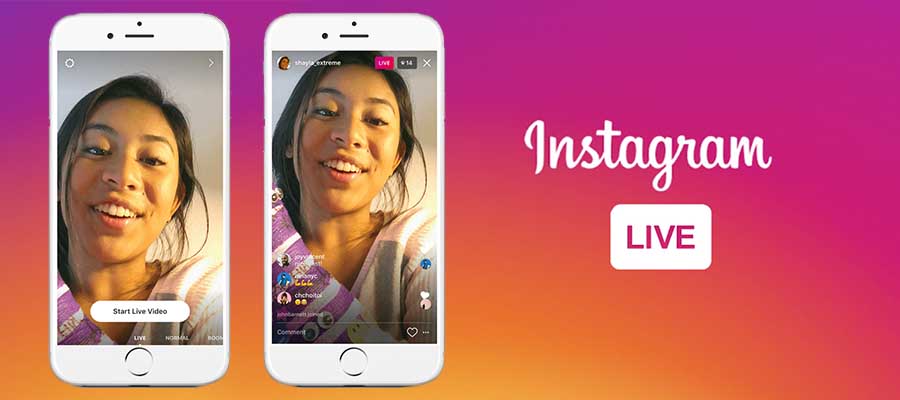 We all know Instagram as a social network for sharing photos. Live stories on Instagram appeared only in 2016. Instagram Live has no advanced tools for streaming, however, due to the extreme popularity of this social network it has a great potential.
Instagram has a very simple navigation: you need just a few swipes and taps to start your live broadcast. The maximum duration of live streaming is 1 hour. Instagram Live provides you with several filters, enables live chatting with the viewers.
Followers can find out about streams by notifications or the 'Live' tag on the Instagram story. You can easily check the number of viewers on the top of the screen.
Instagram Live also provides no analytics; it is just a basic streaming app. And unlike Facebook Live, it cannot be connected with broadcasting devices, which limits Instagram Live's scope of application.
Another specific feature is that your video will disappear from stories after some time. It can be considered as positive because you can be sure that nobody will get access to your shared information. However, we all know that that is not what the streaming was created for.
Overview
simple and usable platform

free to use

stream directly to the popular social network

videos cannot be replayed when the stream ends

streams are unavailable from a browser

Platforms
#5. Stream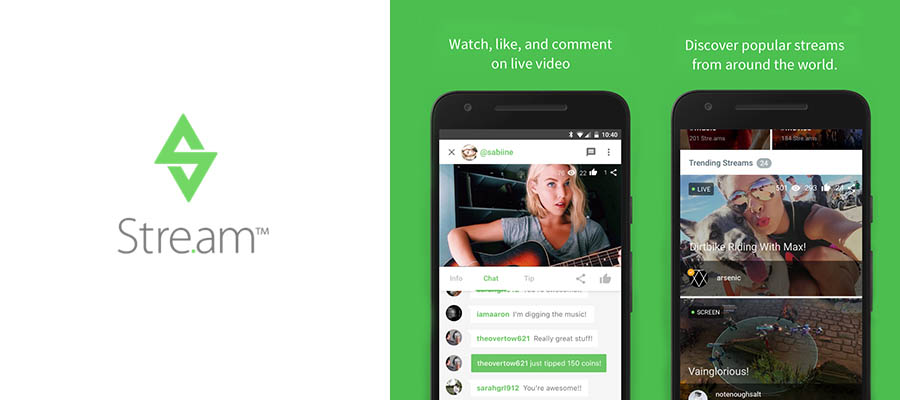 Stream is much more than just an app. It is a streaming community, which provides a great user experience for both viewers and streamers. Stream can be easily connected with other broadcasting equipment and software, which can grant you more space to create amazing live streams!
Stream certainly puts emphasis on the whole user experience. One remarkable feature of this mobile application is a simple drag-and-drop interface. You can quickly learn how to start your first stream and how to communicate with others. This app provides recommendations, lists of trending broadcasts, which helps users to effectively discover interesting stuff. With notifications, your followers will never miss your stream.
You can import contacts from other social networks like Facebook or Twitter to make your audience wider. Like any other social network, Stream enables communication and subscriptions on the platform. Moreover, with the 'Stream coins' feature, you can get more value-driven authority among your viewers.
Stream has many handy tools. For example, it lets you connect short fragments of streams into one video product. The videos on Stream can remain replayable for up to 24 hours. Stream allows you to stream from the screen of your smartphone or even other external devices. For example, you can stream from GoPro or iVue Horizon pro glasses.
Overview
has monetization features

integrated with different devices and software

oriented at the user experience

–
Platforms
#6. YouNow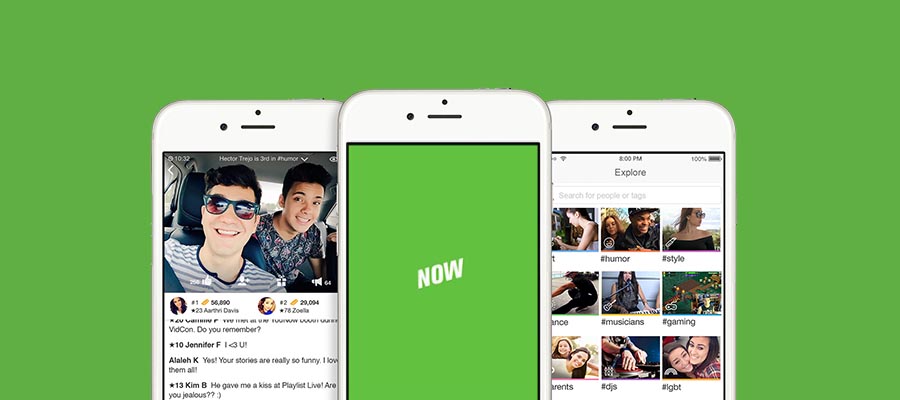 YouNow is an app which is not as popular as all the previous ones. The main reason is that YouNow is oriented at individual live streamers. It is popular among creative people like artists and musicians. YouNow is a great app to get some fun with your friends, by the way.
This platform is easy to use. The simple interface will help you to start streaming in seconds. You can also add a hashtag to your live broadcast to help viewers find your content conveniently. Trending videos are listed in the 'explore' section. There, you will find the most popular broadcasters and user profiles.
You can easily share your streams within social networks (Twitter, Instagram, Tumblr, and Snapchat). You can communicate with your audience, however, the option to block chat is also available. While you're live, you can choose certain viewers to add them as fans.
YouNow provides some comment stickers for live chats to make communication with followers more exciting and fun. Also, it has a built-in reward system. It is a good trick to engage users with the app.
Another great feature of this app is monetization. YouNow also allows users to watch streams in the browser if they don't have access to their smartphone at the moment.
This app is free to use, however, with a subscription to Priority access (costs $4.99 monthly), you will have more advantageous features. They include priority capabilities in chat, replays and much more.
Overview
has both mobile and web-based interface

can be integrated with social networks

monetization is enabled

Platforms
#7. Livestream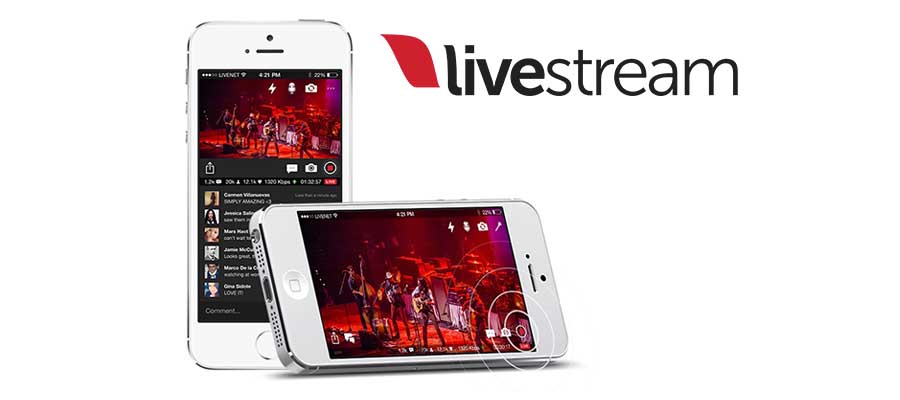 Livestream is a more complicated platform. Targeting professional video bloggers, it provides a variety of cool tools and features. Livestream ensures that your viewers get high-quality video at any place. However, it is less convenient for individual streamers.
Livestream is a more complex platform; you may need some time to understand how to use all its tools. The great thing is that Livestream supports new users 24/7, which is very helpful at the beginning.
With Livestream, you can broadcast video to friends on Facebook or place stream on your webpage. This app is integrated with many devices for streaming and other software. Livestream provides many excellent tools, which can allow you to control all streaming aspects from audio to graphics. With some additional equipment, you can even create a multi-camera stream!
Livestream enables live chat and monetization. You can also use lead capture to get data from your viewers, which will help you build further strategies. Moreover, this platform provides powerful analytics, which can gather information from multiple sites.
Keep in mind that it is a paid-for tool, so be ready to make some investments. Livestream provides a 30-day trial for free. After that, you must pay from $75 to $199 per month to use it. Subscription to this platform will have some additional benefits like the prize Mevo (small event camera).
Overview
has numerous advanced tools

high quality of the video

has cross-platform analytics

a bit complicated in use

pricy

Platforms
#8. Ustream/IBM Cloud Video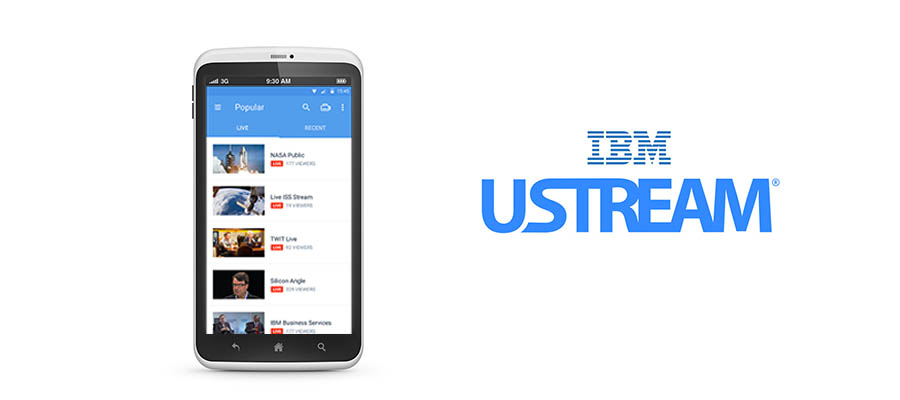 In 2016, Ustream won the Reader's Choice Award. Now, it hosts about 2 million live events per month and is known as IBM Cloud Video service. This platform is excellent for both streaming and hosting videos. Ustream has a massive number of users, which makes it a great platform to start your live streaming.
Ustream is a platform focused on streaming, with a possibility to keep your content in cloud. It provides numerous tools and solutions for a wide spectrum of cases, from video marketing to organizing live events.
For streamers, it gives access to many post-event options. One of them is a possibility to upload old videos, and they won't lose their quality. The significant advantage of Ustream is the wide subscribers' base, which means that you will have more potential viewers.
Ustream provides notifications for users. From push notifications, your subscribers will know when to start watching the broadcast. Unfortunately, Ustream has a lot of ads, which can be removed only by in-app purchases. There are many such ads in other applications; however, the users of Ustream had characterized them as very annoying. Moreover, ads can even interrupt and crash your streaming.
This app is free to use but has a paid premium version with some additional benefits (like removing of ads).
Overview
wide audience

has cloud service for storage

possibility to upload old videos in original quality

Platforms
#9. BroadcastMe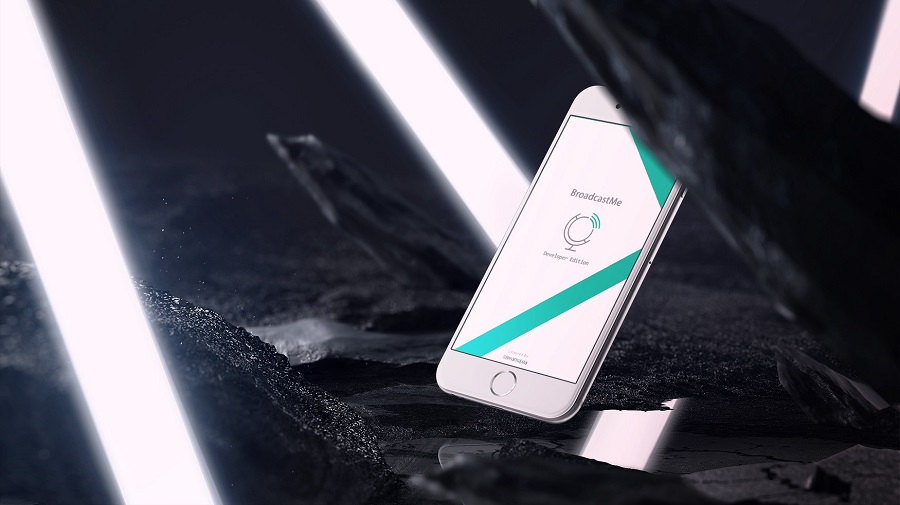 BroadcastMe is not just a platform for streaming. It is a media source with the dedicated cloud service. BroadcastMe consists of three major components. The first one is dedicated to gathering news in the form of streams. The second one is the newsroom available in a browser. Finally, BroadcastMe provides support for further video editing.
With BroadcastMe, you will have an access to complex media community. You will be able to not just stream video, but feel as though a real journalist. BroadcastMe allows you to stream on all popular social networks like Facebook or YouTube. It is integrated with several other platforms for broadcasting. However, the starting process on the BroadcastMe is more complicated.
The primary advantage of this platform is that you can access unlimited streaming. You will pay once $5.99 and then can use this feature at any time. Notice that your live stream will have low quality. At the same time, this app records and saves your high quality broadcast on the device and it can be uploaded to the Cloud later.
You can also use some specific tools within this platform, like cloud archive or infographics. In the newsroom, a user can get access to any video uploaded. Editors can always revise the content, they check through the archive to find the most exciting stories. Moreover, the news is always distributed geographically.
Overview
unlimited streaming

media-oriented process

Platforms
#10. Streamago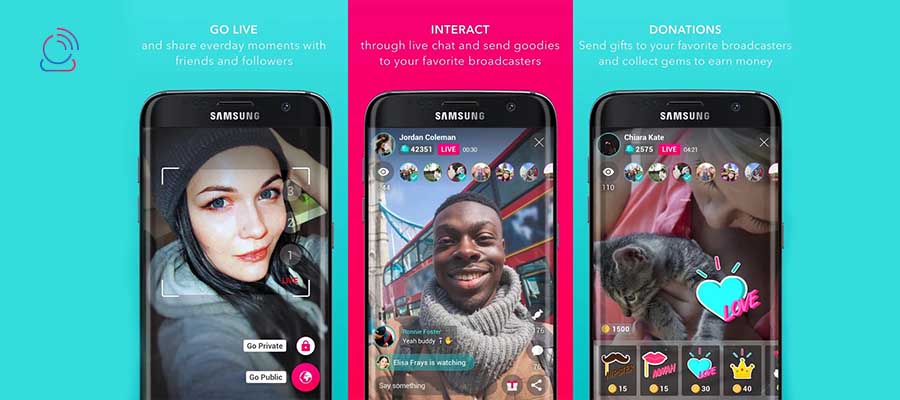 Another great mobile app for streaming is Streamago. It is a simple app which can be a great starting platform for a beginner. Streamago has an intuitive interface, all required tools for broadcasting, and many dedicated users all over the world.
In fact, Streamago has a limited amount of tools, but that is enough for an individual streamer. With its simple interface, you will have no doubts on how to use it. This app also enables both private and public streaming. Streamgo gives you a possibility to choose video quality: it can be low, medium or high.
Another great feature of Stramago is that the streams can be shared on social network platforms. So be sure that any of your friends and followers from Facebook or Twitter won't miss the new live video.
With the replay feature, viewers can watch broadcasted video again. Another excellent tool is Streamago TV, which shows videos from users all around the world. Here, you can apply filters like language or country, or search the streamer by name. Your viewers can comment on your stream, add it to favorites, and even present you virtual gifts using real money. It is great that Streamago supports monetization, right?
You can use Streamago for free; however, some features require additional purchases.
Overview
easy to use

can be connected to other social networks

supports monetization

lack of advanced features

Platforms
#11. Twitch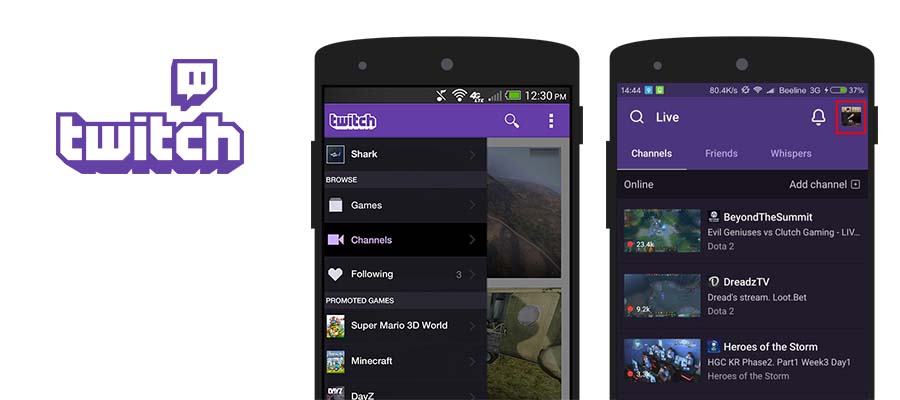 Twitch is a unique platform. It is a web source dedicated to the streaming of video gaming lives. Twitch has a high popularity among gamers; however, it covers pop culture and sports as well. With 15 million active users per day, it is a great place to start you streaming career.
Twitch can seem overwhelming from the first glance. However, when you get familiarized with its interface, you will understand what extensive possibilities are hidden there. Within this app, you will have access to a great variety of tools for streaming. You can broadcast while playing and chatting with other gamers. Any user can seta  price for the game and start earning money while streaming (commission to Twitch will be 5%).
Twitch offers many innovative concepts, for example, peer to peer payment. It also allows you to use most of the existing broadcasting software. As it is targeting the gamers, it goes without saying that Twitch supports PlayStation, Xbox, and PC.
With the premium version of Twitch, you will get exclusive game content and the disabled ads. This version comes with an Amazon Prime membership.
However, you may understand that the Twitch has a very narrow type of audience, with very specific interests and needs. It is excellent for a fan of video gaming; otherwise, you better search for another app.
Overview
great app for video game fans

has various useful tools and features

supports monetization

an absence of monetization tools

limited quality of streams

Platforms
#12. DaCast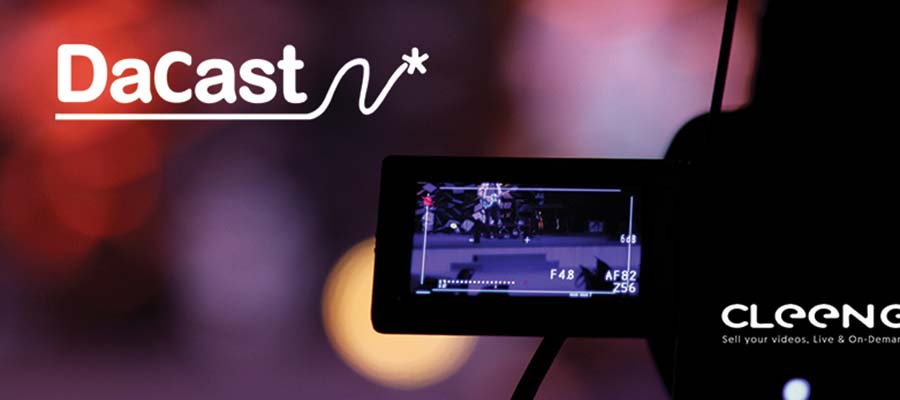 DaCast is not as well-known streaming tool, however, it has a great potential. It combines video hosting and streaming service in one platform. DaCast has good security tools and impressive analytics capacities. However, this service requires payments.
DaCast has earned its popularity among business professionals. This platform is integrated with the Akamai Content Delivery Network system. Therefore, it provides the excellent quality of video and avoids network downtime.
This platform has a dynamic, user-friendly interface. You can quickly start broadcasting content in a good quality. It is remarkable that there are no restrictions for a number of channels on DaCast.
While it is a paid service (from $19 per month), it also supports advanced monetization features, pay per view, for example.
Dacast has useful security tools, which you can manage according to your needs. Advanced analytical tools will help you control how effective your channel is performing.
Another interesting feature of DaCast is its API. It grants all users access to the code of every feature on the platform so they can keep the streaming process under control. Moreover, it is possible to create a personal streaming platform via the DaCast service. You can use it for your own purposes – or sell for other streamers.
Overview
provides many useful tools

has advanced API

Platforms
#13. StreamShark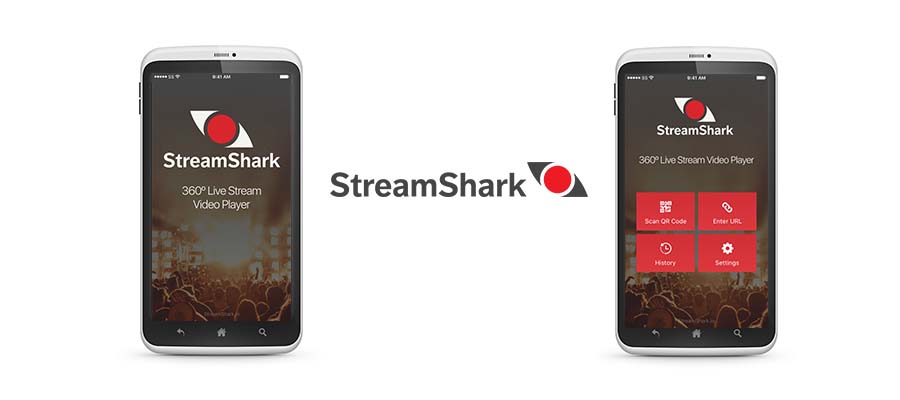 StreamShark is another paid platform, which provides a wide range of tools for professional streaming. This service has excellent privacy services and analytic capacities. All these features made StreamShark valuable for people who want to be sure that their streams will be protected.
StreamShark combines a significant number of video tools with storage capabilities and powerful analytics. This app is integrated with Google Analytics and Facebook Live. It allows the options of monetization. What is more, you can manage the privacy for your streams. That is the reason why StreamShark is essential for the broadcasting of closed events.
Read Also: 15 Best Google Cardboard Apps for iOS and Android
It provides multiple advanced features to widen your streaming experience. One of them is a possibility to broadcast the 360-degree video for immersive effect.
The service is available in more than 100 locations around the world. The StreamShark's team provides 24/7 support for their users. Previously, StreamShark was available only as a desktop application, however, recently, the company has launched an iOS mobile app.
StreamShark grants you the possibility to try all this wide range of tools for free. But only until the 7-day trial ends, after that you will have to pay $50 for Lite and $100 for Pro versions monthly.
Overview
has numerous tools, which cover all aspects of streaming

supports monetization and privacy control

Platforms
#14. Hang w/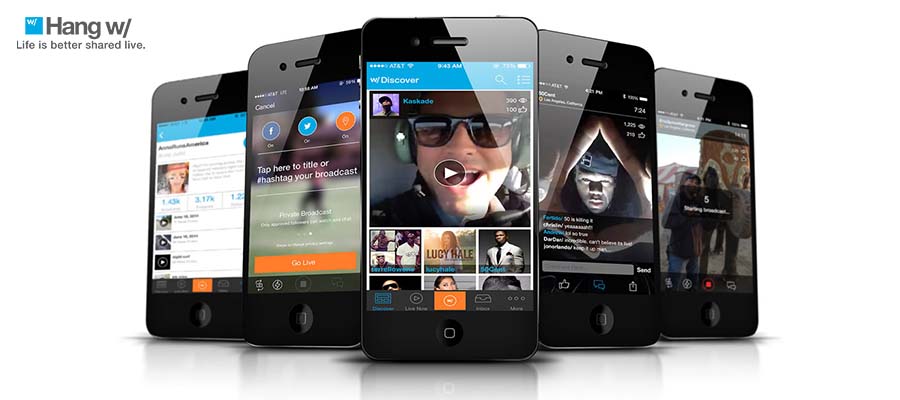 Hang w/ is another helpful tool for a live stream. It provides users all tools to view and create online videos. It was created as a platform for streaming for more or less famous people. From the one side, it provides excellent content. On the other hand, it is not an app for the beginning video blogger.
This app is more oriented on existing streamers. For them, it is a great platform to get an audience. However, it would be hard for you to start here unless you already have a wide followers' base.
This app allows you to live stream privately or for the public. When your stream ends, you will have a possibility to keep it on the webpage and provide your followers with the link.
What is more, among other amazing features is an option to zoom your broadcast while you are live. It allows streaming from cameras with web-connection (like GoPro) to get the more advanced picture.
For viewers, the search is enabled through different categories (sport, music, popular).
Hang w/ supports monetization. Moreover, you can create a 'digital ticket' for your planned stream. It is a great way to earn money for your videos.
However, this app has a more complicated navigation due to such advanced features.
Hang w/ is free to use with in-app purchases. Sadly, but now it is available only for iOS users.
Overview
supports monetization

integrated with video devices

now available only for iOS

Platforms
#15. Bigo Live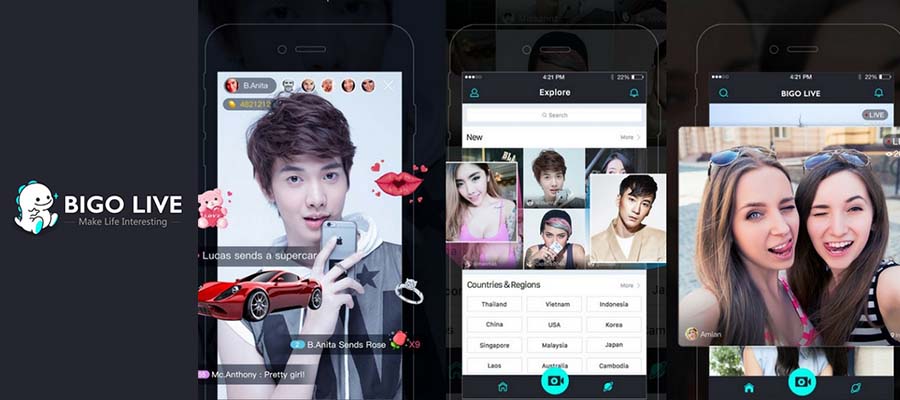 Bigo Live is another streaming app developed by the Singapore-based team. It has a high popularity in Southeast Asia. Bigo Live is a streaming platform for young people; therefore, content there is concentrated on different life aspects.
The Bigo Live app is popular among teenagers in Asian countries. In 2016, it became the top free app in the Singapore App Store.
You may say that the interface of Bigo Live is very similar to Periscope's. And this app enables all basic streaming features. It is successful because Bigo Live has a stable performance. Therefore. all streams have a good quality and can be quickly uploaded.
However, the key to Bigo Live's popularity is in the gamification elements. You can get experience coins, climb levels, and earn rewards while streaming and communicating with your followers.
Some rewards and gifts within this platform can be converted to money later. This scheme is straightforward: the more popular you are, the more gifts (and money) you get. What is more, Bigo Live allows you to share your live streaming with co-hosts. That is the excellent way to get some fun – and to widen your audience.
It is also noticeable that Bigo Live allows you to get in touch with celebrities using Star Broadcaster function.
Overview
addictive game-like performance

is both a streaming platform and a social network

is focused more on the Asian market

Platforms
Summary
We have described 15 of the best apps for live streaming in our opinion, but there are many others out there on the web.
You can choose any application according to your needs, but remember about safety when downloading a new app. Choose only official stores or web pages, otherwise, your device may be infected with harmful software.
Revise the permissions for the new app and trust only well-known companies.
Whether you are a beginner or a professional streamer, we hope that our information will help you to find the safe and effective platform for your videos