Introduction
Video is one of the most descriptive and expressive ways to present information. With the rise of social media websites like Instagram, YouTube, and TikTok, and with the improvement of widely available video capturing tools, editing tools have risen to popularity and evolved as well. Now they offer much better user experience with much better quality for the same price. Features that were previously available only to professionals are now accessible to everyone.
With such tendencies on the rise, it is obvious that more and more companies are aiming for this niche in the market. As a result, a lot more software options have become available. Desktop and mobile, free and expensive, amateur and professional solutions – the list goes on and on. If you're looking for the best video editing software solution, you're in luck. Read further and find out which programs suit your goals the best.
List of the Best Video Editing Tools
1. Adobe Premiere Pro CC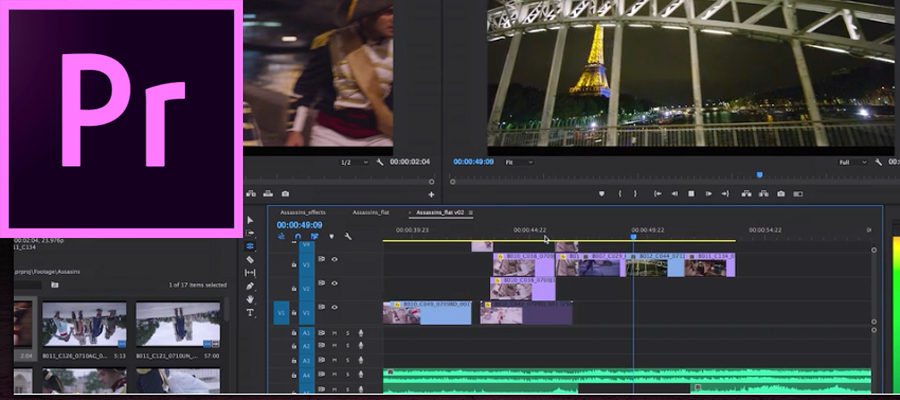 Let's start our list with one of the most talked-about video editors for PC. There is a multitude of reasons for its popularity. First of all, it allows its users to work with a variety of formats and apply a wide variety of tools. There are even instruments that allow you to seamlessly edit footage from multiple cameras and to work with 360 VR videos.
Secondly, Adobe is known for their support. The developers regularly update the Premier's interface to make it more receptive and easier to use. It is also great to use as a team to share your work and collect feedback. If you subscribe to Creative Cloud, you will also gain access to a wide range of programs that will help you with other aspects of video editing.
Unfortunately, the subscription model is also the downside of this software. You cannot pay for it once and use it for the rest of your life: if you're planning on using it regularly, you will need to make a payment every month. While this is not a problem for big companies, you shouldn't pick it as your YouTube video editing software if you are on a budget.
Another thing that might be an issue for amateur users is that the platform is very taxing on your hardware. It requires a lot of resources, even your hard drive needs to be rather spacious to support it. Overall, it's a great tool for professional editors, and easy to learn for beginners in the industry, but not the best choice for complete novices.
2. Apple Final Cut Pro X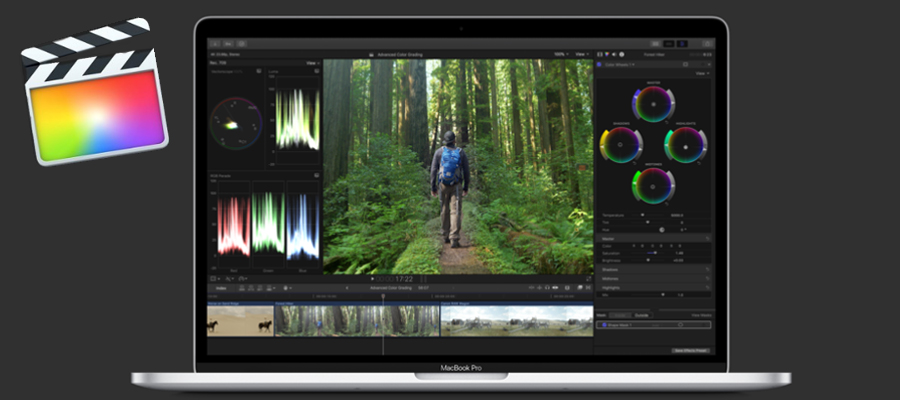 Next on our list is a Mac alternative to the best video editing software for Windows. It's a powerful and flexible tool that surpasses many of its competitors. Final Cut is developed in all the traditions of Apple software development: slick-looking, easy and intuitive to pick up, but with a lot of depth to it.
The amount of organizational and editing tools the program has to offer rivals that of Premier. The most recent version also added the support of such professional tools as HDR and HEVC editing, advanced color grading and multi-cam editing. However, unlike Premier, it was made to work on one platform, and is optimized for it perfectly.
Unfortunately, the great performance and support of Touch Bar don't make up for the program's greatest flaw. Unlike most other editing tools, Final Cut Pro doesn't use separate tracks in the timeline. While it is fine if this is the first editing software you use, it can be confusing and disorienting for advanced users.
In addition, other features this software has are not flawless. For example, there is a lack of support for stabilization and in some cases motion tracking. In traditional Apple fashion, there is also no built-in backward compatibility for previous app versions.
3. CyberLink PowerDirector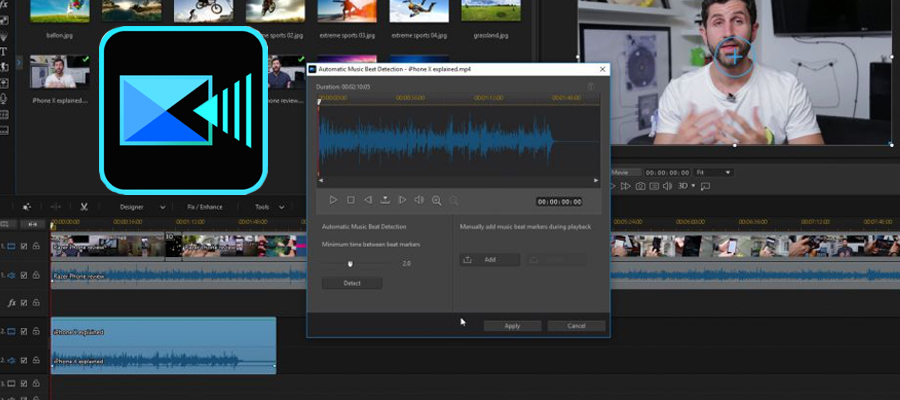 Cyberlink PowerDirector is one of the best professional video editing solutions that are also affordable for the general audience. As it was the first solution to bring 360 VR editing option to the table, the developers have managed to perfect it and to add much more tools to the mix.
The number of tools and options and the professional level of effects you can apply doesn't limit the editor at all. PowerDirector is known as one of the fastest editing programs on the market, and if speed is of the essence to you, then it is the best choice for your project.
The same number of options, however, make the program's interface a bit too crowded. At times, it is too hard to navigate even for an experienced user. While it is trying to be a solution for both experts and newbies, there is sometimes just too much going on on the screen.
While there are video tutorials for most of the features, the program is definitely the least popular of the three. So, it might be challenging to find a more detailed answer to your question, as the community is not as big or active. All in all, this program offers great performance at a great price but is rather hard to navigate for a first-time user. So, try the free trial before you choose it as your go-to option.
4. Corel Video Studio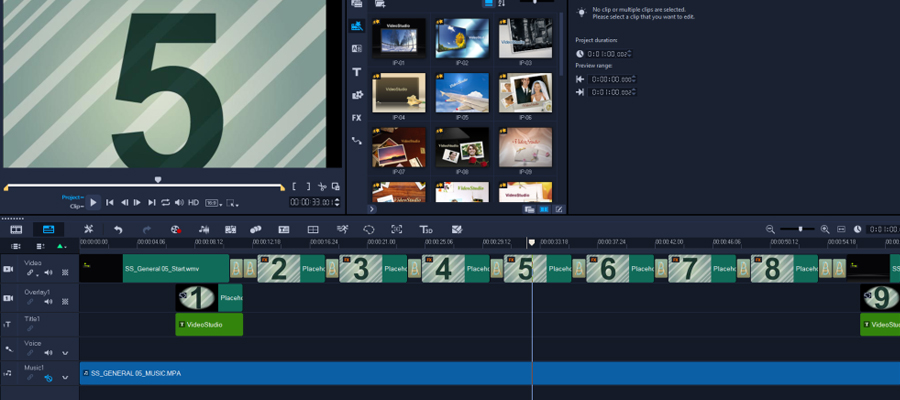 This program is often referred to as the best video editing software for beginners. It is no wonder: Video Studio is a great middle-of-the-road editor with a simple and intuitive interface and an array of features. You can definitely pick it up while knowing nothing about editing and still get the job done.
What's even more impressive is that after the first look you'll notice that there is some depth to the features Corel has to offer. You can use built-in templates, simple transitions, basic trimming tools and create complex videos, apply motion blur and other effects, and customize the movement of multiple objects.
While the looks are often deceptive, they are not in this case. Video Studio's interface looks basic because the multitude of features it offers are presented in their most basic form. That's why some of them can feel a bit clunky and overall imperfect (for example, pixelation).
This editor is definitely one of the best options for a beginner, but not as suitable for a professional. No matter how flawed it is, though, it still performs great and is awesome for a small-scale project, like editing a video for your family.
5. Nero Video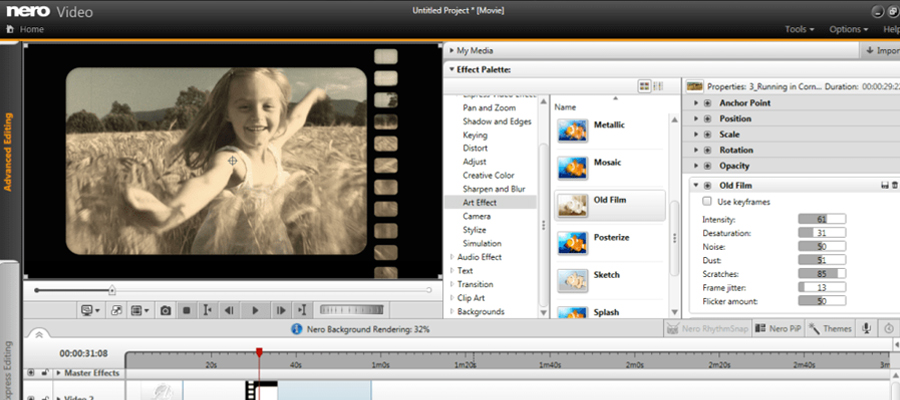 The next point on our list is one of the best deals for video editing software you can get. Nero Video is definitely not a perfect product. Firstly, it lacks some of the features other programs provide right out of the gate. The tools you will probably miss the most include motion tracking and multi-cam editing.
In addition, while the program is regularly updated, many users point out that the software interface feels outdated. While it is relatively intuitive and supports the simple drag-and-drop, it is different from what you might see in other solutions and thus not as suitable for industry professionals.
Despite these flaws, Nero Video still has a lot to offer. Many high-quality effects and detailed templates will make your video beautiful and unique. Audio is an important part of video editing as well, and Nero offers access to a large database of royalty-free soundtracks for your clips.

One of the most important benefits of this program is its price. While it is not free, it is very accessible to everyone. So, if you're on a tight budget, Nero Video is one of the best choices you could make.
6. Filmora 9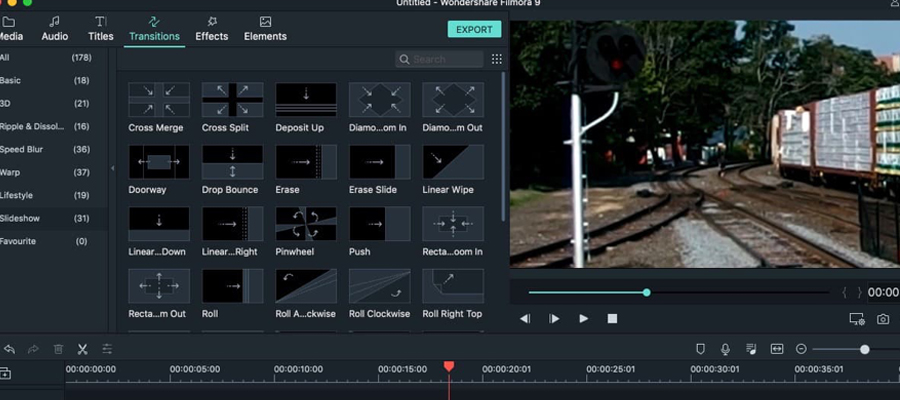 Filmora is a popular video editing tool made primarily for beginners in the industry. However, no matter what your skill level is, you will definitely appreciate the simple, yet elegant and intuitive interface. The great split-screen feature it is equipped with allows you to pull up multiple clips on the screen at the same time, each with their own effects and unique text pop-ups.
The text editor is another place where Filmora shines brightly. Not only can you insert text wherever you like, but you can easily edit and add multiple effects to any part of the video that contains said text. The amount of options you have for stylizing the text is also extensive and highly customizable.

Unfortunately, Filmora lacks in some other features you might come to expect from modern video editing software. For example, you cannot use it to edit VR videos, and there is no multi-cam support at all. Another important feature that Filmora needs is motion tracking.
There are a few pricing options available for this software, and overall, they are kind of confusing. You can choose between a one-year payment plan, a lifetime one and an unlimited one. Sounds complicated, doesn't it? The difference between the options is that the unlimited plan offers more effects and access to a stock library.
7. Pinnacle Studio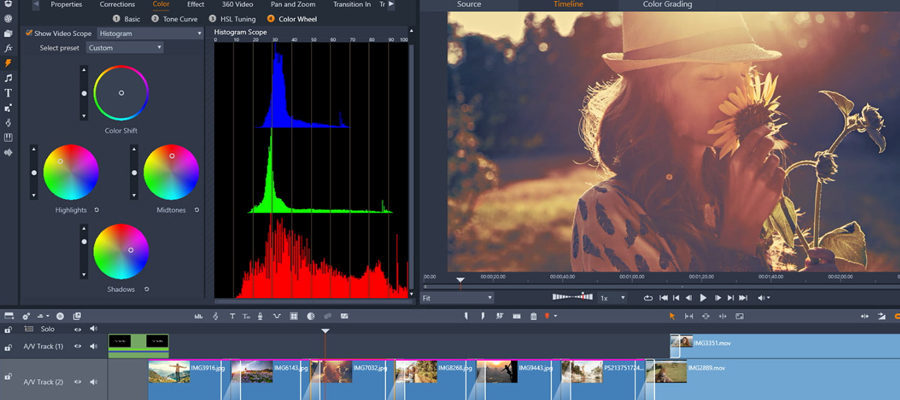 Pinnacle is another fast and efficient tool, perfect for you if you have time constraints. Unlike PowerDirector, it is not too crowded with features. At the same time, it offers most of the components you might need for detailed and masterful editing.
One of the greatest things about it is that it combines storyboard and timeline editing on the same screen. Most programs allow for easy switching between the two mods. However, using them both at the same time is much more productive and allows for a more dynamic editing process. In addition, you can make use of more than 20 different audio and video tracks.
While it is fast and full of features, there are still some disadvantages to using this program. It allows you to edit 360 VR footage, but the implementation of this feature is not the best compared with the competitors. The same can be said about motion tracking.
Besides, even if your hardware is powerful enough, Pinnacle Studio is known to lag from time to time. Some users have even experienced repeated crashing. While this doesn't seem too impactful on the first glance, just imagine working for hours and losing your progress in a single second.
8. Lightworks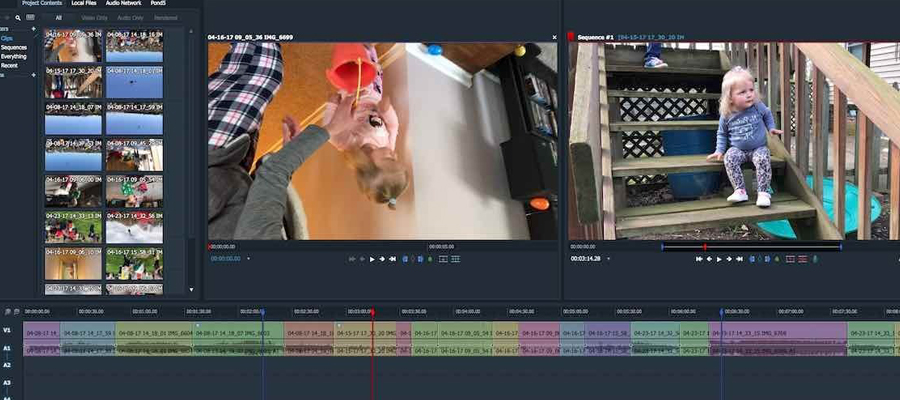 Lightworks is the first free video editing software on our list. Moreover, it is one of the oldest and time-tested programs here. Its developers can say with pride that some of the biggest Hollywood blockbusters could not have been made without their product.
As you might've guessed, Lightworks is a professional tool. However, due to the fact that it's free, there are hundreds of video tutorials dedicated to it. So, even if you don't need an editing software with many features, you can still easily pick it up and give it a try. Also, the software doesn't require a lot of resources, so you can install it on your desktop and start using it right away.
However, Lightwork requires at least beginner level skills. While online tutorials are a huge help, the interface is still not as easy and intuitive as some other examples on this list. While they allow for detailed control over each element, the general audience might not need such a complex tool in everyday use.
Furthermore, Lightwork offers a premium version in addition to the free one. This means that there are some features hidden behind the paywall. While most of them are non-essential, the fact that you can't edit 4K footage without paying for it is disappointing.
9. Apple iMovie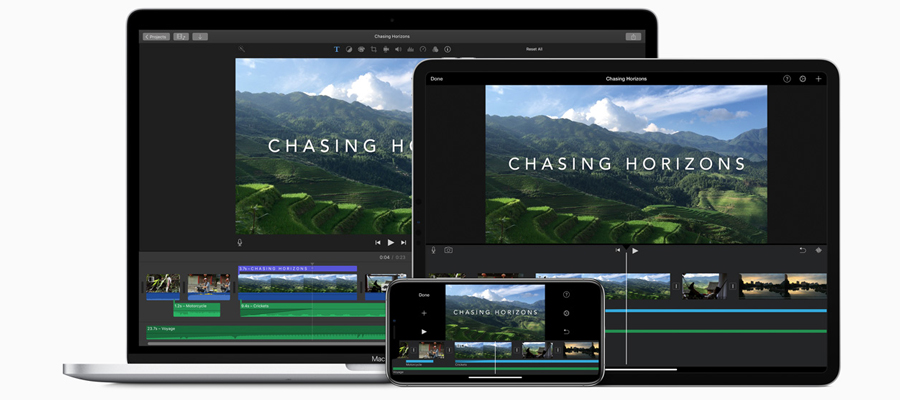 Next on our list is another free application, this time for Mac users. iMovie is made specifically for inexperienced users that want to create and share their experience in video format. Its interface is beautiful and simple, you can start making Hollywood-level clips from the comfort of your couch without any lessons or tutorials.
The application also takes full advantage of Apple's support. Beside the full-fledged desktop version, there is also a mobile one. So, you can easily capture a video with your iPhone and edit it right away. Plus, you can easily share the results with your friends or streamline it on your laptop and finish the job there later.
As the program is free, it is obvious that there are not as many features as a more expensive alternative may have. For example, you don't have as much control over the timeline of the video. To make it simpler for new users, the developers have decided to make the tools easier to use rather than more precise.
In addition, if you're working with a large number of clips, you won't find it too comfortable to use. The main reason for that is that there is no tagging feature available. If you need to find all the clips that correspond to a specific keyword, it's better to choose another software for your project.
However, you can still enhance your editing experience by utilizing quality AE templates, which can provide professional and visually appealing effects to your videos, elevating their overall quality.
10. KineMaster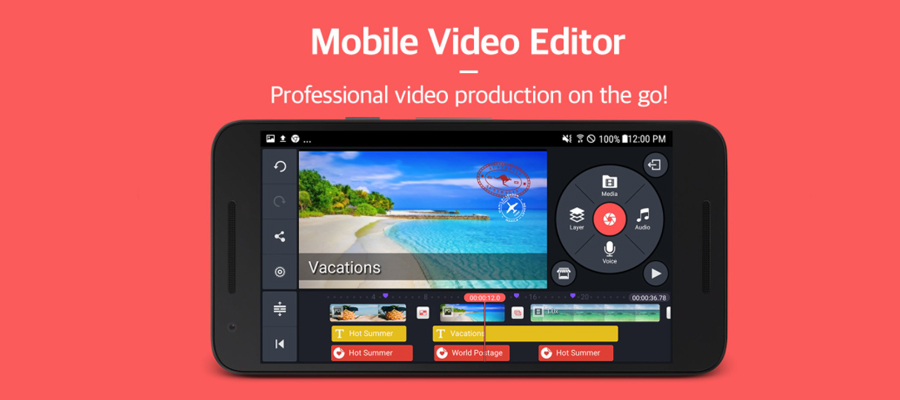 From an iOS application let's get to an Android one. KineMaster is considered to be the best tool for mobile video editing. The developers have managed to include all the desktop video editing settings you might need in a simple and easy-to-use mobile version. Different templates and audio snippets allow you to create the best video to post on any social media right away.
That's another great thing about this application: it integrates seamlessly with all your favorite social media websites, like YouTube, Facebook, and Instagram. Furthermore, with its help you can capture additional video or audio clips and start editing them without any additional tools!
While KineMaster provides a mobile editing experience you would not expect from an Android application, it still cannot be compared with a full desktop experience. While you can edit multi-cam recordings and add them to multiple tracks, the number of said tracks is limited. So, if you need to work with multiple layers, choose software for your desktop, not your phone.
Just as a couple of other options on this list, KineMaster works on a freemium model. This means that there is a free version of the app, but some features are available only in a paid version. In this case, the free version of the app leaves a watermark on the edited clip. If you want to get rid of it, you will have to pay.
Summary
All in all, the video editing software market continues to evolve and change. In a few years, this list may look very different from what it is today. However, we can safely say that with the current state of affairs the options presented on our list can help you with any video editing project you might have.
Whether you're trying to edit a home movie or a professional clip, one of these applications will provide you with any tools you might need. Consider your hardware power, the level of your skill, and the goal you have in mind and choose your program wisely.