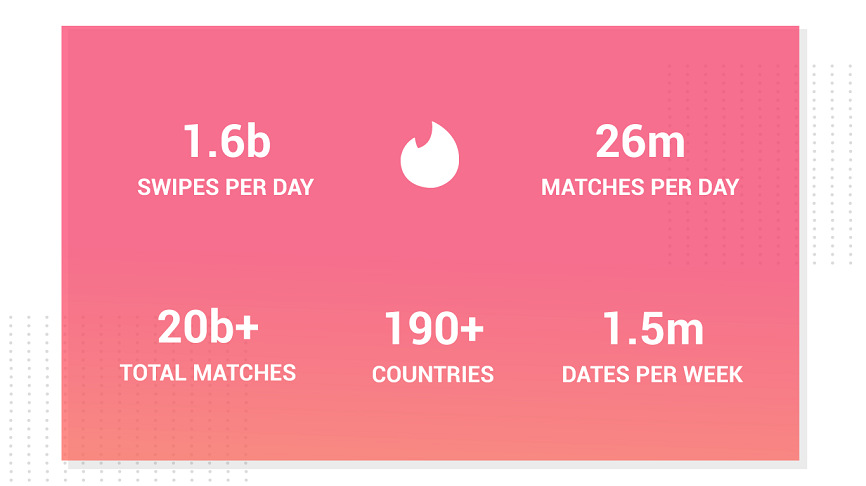 Until recently, the online dating experience was slightly dull as all of the available online services resembled one another. The Tinder appearance has stepped up the users' dating game. Since its launch in 2012, Tinder has become the most popular mobile dating application because of an outrageously simple interface and legendary swipe.
Unlike other services that claim to find user's soulmate based on secret automagic and compatibility algorithms that analyze profile information, the only promise Tinder makes is to show the user all possible matches in the local area.
Over the whole time of its existence, Tinder has made over 20 billion matches with some of them turning into marriages and long-lasting relationships.
Even today, after hearing the success stories of online startups, many see a development of similar app as a profitable business investment. But how much does it really cost to develop a dating app just like Tinder?
Recently, IDAP decided to join the market of dating applications and released HEYYY! — a user-friendly app that links users with their possible partners regardless of location. In this article, we're going to share with you our expertise in creating this type of apps to help you understand the process better.
How does it work
Tinder, available for both iOS and Android, is location-based dating application that allows users with a mutual interest in one another to chat. All it takes is one look at the potential partner and swiping either left (to dismiss) or right (to like).
Tinder requires users to register through their Facebook accounts. However, the app does not use personal information for other purposes than matching and does not post anything on user's Facebook. Tinder profiles are very limited. They contain just a name, age, interests, and a short bio. Thus, users can also connect their Instagram accounts to show more photos. Thus, it may lower the level of users' anonymity.
After user turns on the app, their location is reported to the app's servers and provide a set of profiles to match them with. To connect them with possible partners, the app uses user's Facebook account information such as name, age, a number of friends, interests, occupation taken together with geographical location, and even a number of matches user gets after some time passes.
After matches were found, the user sees a picture of the nearby users with a name, age, and profession given below. This screen contains 5 large buttons:
Back arrow for returning to the previous pic;
Large cross (= to "swipe left") to dismiss the pic;
Lightning bolt to increase user's visibility in the app;
Heart (= to "swipe right") to like a pic and hope for a match;
Star to super like a user.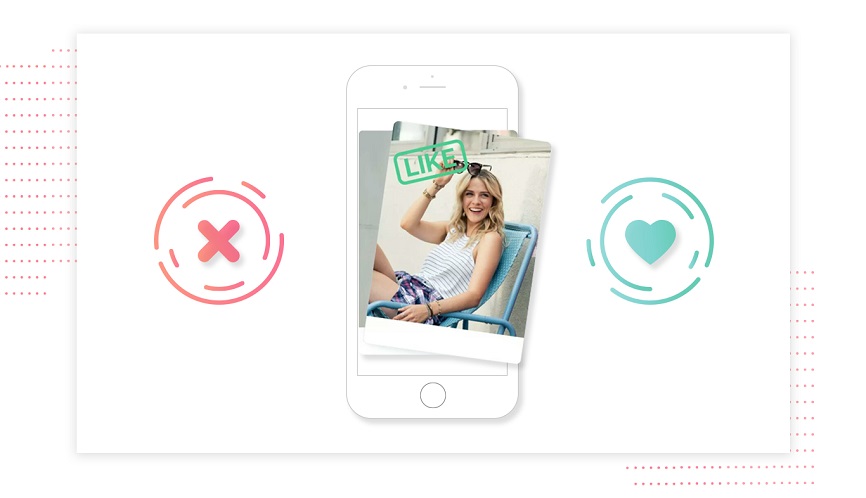 The main idea of the Tinder was explained by one of it creators Sean Rad "No matter who you are, you feel more comfortable approaching somebody if you know they want you to approach them." Users can chat only after matching with one another. Otherwise one cannot contact someone they've liked on the app.
That is the limit of the app's functionality. In fact, it does not figure out what a user wants their future partner to be like. Therefore, it can also be used for making new contacts and meeting new friends.
Cost forming factors of making Tinder-like dating app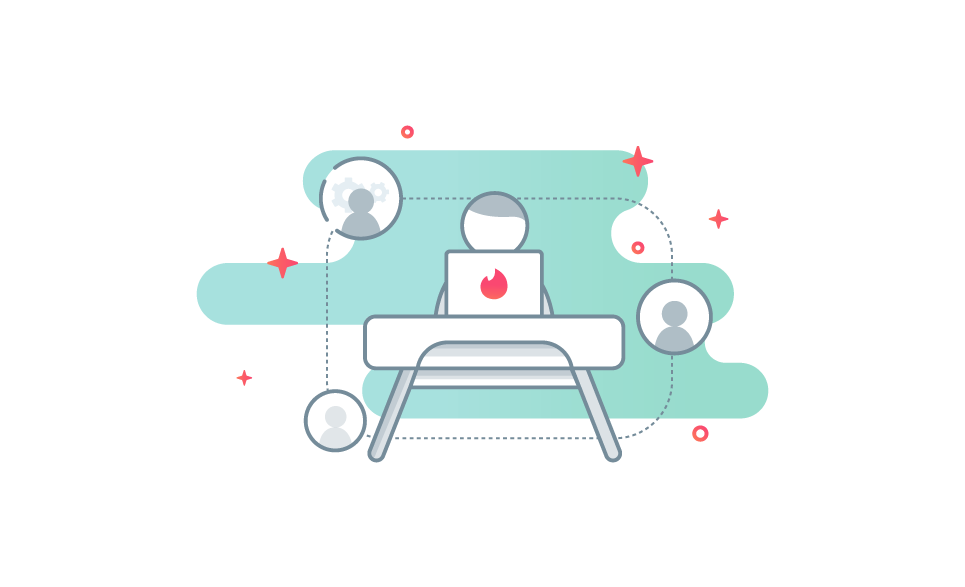 Time and cost planning for building a dating app
Valuable projects take time. If you aim to create an outstanding online dating experience to outrun Tinder, you have to be prepared for long nights of planning and calculating. Research the main competitors, get to know their strengths and weaknesses. All of it should help you understand the industry, what it lacks and what it expects for a new app to be successful.
Of course, not everything in online dating market has been invented so far. There are lots of niches to be taken. Thus, to get to the top, it is necessary to grasp what kind of people are going to use the app. What is their age? How do they spend every day of their lives? What do they need the app? The product should be tailored to match the everyday needs of its target audience.
Also, think about how much money you are willing to invest in the app, or where to look for investors. Making another app with an exquisite design is not a cheap affair.
Finding a technical vendor to create a dating app
Okay, so you have come up with a vision of what a final product is supposed to look like. Now it's time to tackle down the tech crew that is going to make you dating app come alive.
Before settling down with a vendor, there are a lot of factors to consider e.g. do their rates correspond with your budget? How far are they located from your office? Can you deal with language and time zone differences that are going to strain the communication between you and the outsourcing company?
It'll be good to investigate the company a little bit, gid up all kind of testimonials and even talk to their previous clients. Is their reputation any good? Do they have relevant experience in building dating apps? Looking up their works in Appstore and Google Play market won't hurt.
Wireframing and UI/UX to develop a dating app
Building a prototype is one of the major price determining factors that decide how much a dating app development is going to cost you.
It is necessary to think through every screen, button, and icon. Every small block has to be planned and placed correctly. Every link has to take user somewhere. Every button has to be where it is useful to the user, and there should be no buttons if they are useless on that screen. All elements have to be consistent to deliver a seamless user experience.
Only about 10-20% percents of time spent on designing is spend on making a final layout, other 80% is spent on thinking about user needs. After all, application design is a key to product's success.
Developing Tinder-like features
The primary cost driver is technical development: how the app is going to function and what features it offers to clients. For example, Tinder is the location-based application, meaning that it uses user's geolocation for matching.
Other dating services may utilize algorithms for the analysis of personal information and surveys user fills in. There are also niche dating applications for people that are a part of a particular group.
Let's look through a list of essential Tinder-like features an app should have: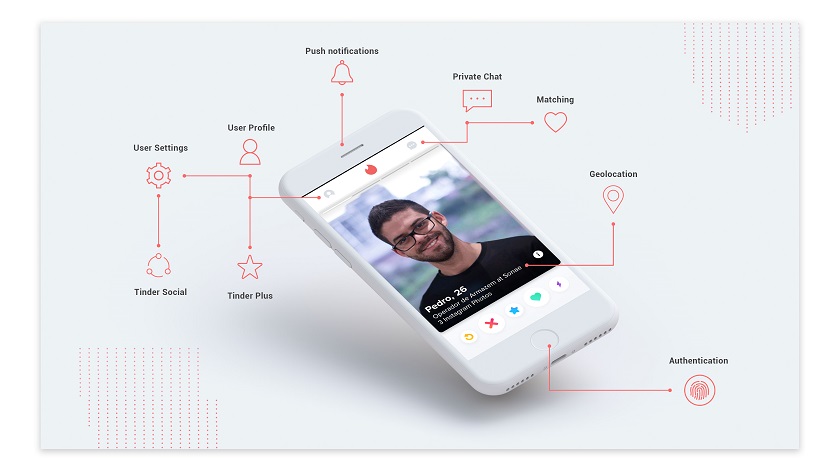 User Profile
Add or edit information taken from user's FaceAuthenticationbook account.
User Settings
Filters user sets to look for people nearby e.g. sex, age, and distance.
Geolocation
As stated earlier, geolocation is a king of Tinder matching. Developing a backend process of processing user's location and finding users nearby is a time-consuming task.
Private Chat
When users match, they get to text each other to continue getting to know each other while their private data remains discreet. Therefore, only users themselves decide what to give out.
Matching
As we covered already, Tinder uses geolocation to match people. But you could go further and add a feature that would analyze users photos and show matches according to their preferences e.g. beard, no beard, eye color, type of face, weight, and so on.
Push notifications
Every time a person gets a new match or a message they a receive a notification.
Tinder Social
A user can connect with a group of friends and swipe together or recommend a possible partner to a friend.
Tinder Plus
Also, there is a premium Tinder Plus package that allows uses to change their age, location, gives an unlimited amount of super likes and rewinds.
Dating app MVP cost estimation
All applications are different, especially when it comes to estimating how much time and money the online dating app development requires. Custom-built applications are not something you can buy at the supermarket with a fixed price tag. Expenses depend on the hired company rates, the complexity of the app development and variety of features you want to stuff into the product.
From the technical point of view, building a simple MVP of a dating app like Tinder can take about 3 to 4 months. It can be more or less depending on the final project plan.
The process of building an MVP for a dating application consists of:
Project planning;
Design for iOS and Android;
iOS app development;
Android app development;
Back-end development;
Quality assurance.
As we have figured out the list of primary features for any online dating application, let's calculate a rough estimate of how much a Tinder-like MVP is going to cost you: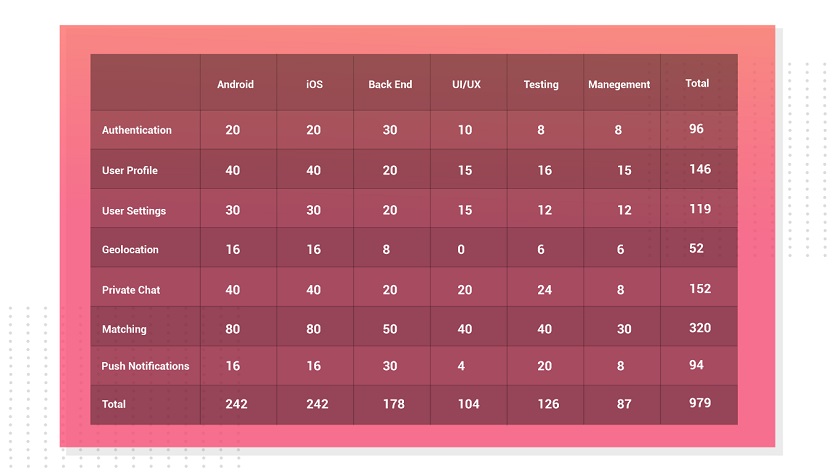 Based on the given hourly plan, the MVP of a dating app is going to cost around $35.000. The more features you would like to develop, the more money it will cost.
How to make money from a dating app?
All in all, the initial cost of building a super simplified version of a Tinder-like dating application starts from $35.000, and is going to increase as you add more features and complex processes of analyzing.
Remember that users would not use something that has an already perfected and available analogue on the market. Study your audience, their needs and habits to come up with something valuable.
IDAP will be glad to join you in building a new dating service for the lonely hearts out there. If you already have an idea and are looking for a tech partner – contact us. We would love to develop for you!
Summary
There are a few ways a dating application can earn money:
Offer user a subscription to use an app for a month, a year or a half;
Show ads to users;
Support in-app purchases of unique content e.g. stickers, likes;
Create premium plans that open up additional features.
Usually, in the case of dating apps, they would get revenue from selling additional features like unlimited super likes, rewinding, hiding age or changing location.
However, despite their popularity, application creators often fail to make enough to cover the maintenance, not even mentioning living off the app. To be successful, the dating apps needs to not only retain consumers but continue to attract new ones. Some users will surely be using more than one dating application, so you have to not only keep the user but also to improve the user experience.
Moreover, if your app actually succeeds in coupling users, you will have to worry about losing clients as they continue to pair up. So think what is more important to you: seeing the world of happy couples or building business.