Web push notification apps are powerful and effective marketing tools. According to Notifyvisitors, pushes can bring you an ROI of up to 2200 percent, as well as increase daily traffic by up to 25 percent.

As an online business, you can use web push apps to update your audience about any important information, announce sales and offers, and drive eCommerce conversions.

There's a huge variety of push notification apps available in the Shopify store which makes it is difficult to find the one that fits your needs best.

That's why we've prepared this list of the best apps to help you find the perfect push notification solution for your online business.

Here are the top Shopify push notification apps we're going to look at:

Firepush
PushOwl
Web Push Notification + Sales
Notifier Web Push Notification
Otis Web Push Notifications
Pushnami: Push Notifications
Kanpai Web Push Notification

Firepush is an all-in-one remarketing app that covers major marketing channels in a single dashboard to help you reach customers easily. Through automated email, web push, and SMS campaigns, Firepush helps you retarget customers and makes cross-selling and upselling simple.

Firepush's abandoned cart recovery campaigns and customer service messages can be used across all channels to help you capture the attention of your potential buyers and encourage them to complete their orders.

Other key features of Firepush include a countdown timer which you can add to your push notification campaigns to create a sense of urgency. You'll also find a campaign booster option and advanced reporting to help you understand and improve your campaign performance.

Best features:

Promotional messages
New product launches
Abandoned cart alerts
Order confirmations
Delivery updates

The PushOwl push notification app was built to help merchants turn their visitors into subscribers by sending highly visible marketing messages to ensure user activation. PushOwl adds a new marketing channel to your acquisition, retargeting, and loyalty strategies.

Your visitors and customers can opt-in with just one click without the need for leaving their contact information. Once opted in, you can send them messages, including abandoned cart notifications. The cart reminders feature lets you set up a sequence of three automated push notifications to help you recapture sales.

And if the user makes a purchase, you can send them order information as a web push. You can send all sorts of different pushes, such as product review requests, sales blasts, and updates.
Best features:

Automated web push notifications
Abandoned cart reminders
Browser abandonment
Shipping notification
Back in stock alerts

The Web Push Notification + Sales push app helps Shopify stores boost their store sales, retarget visitors and increase engagement rate. With this app, you can push perfectly timed personalized notifications to welcome your visitors and notify them about important events, such as a price drop or back-in-stock items.

Web Push Notification enables you to automatically send product images in the cart to help you rescue abandoned carts and recover sales.

With dynamic countdown timer bars, you can create urgency in customers to react to your sales messages. Whereas the sales motivator bars will help you motivate your customers to reach the defined goal of the cart value and automatically offer them a discount.

Best features:

Price drop notifications
Abandoned cart push
Back in stock alerts
Scheduled pushes
Welcome visitors
4. Notifier Web Push Notification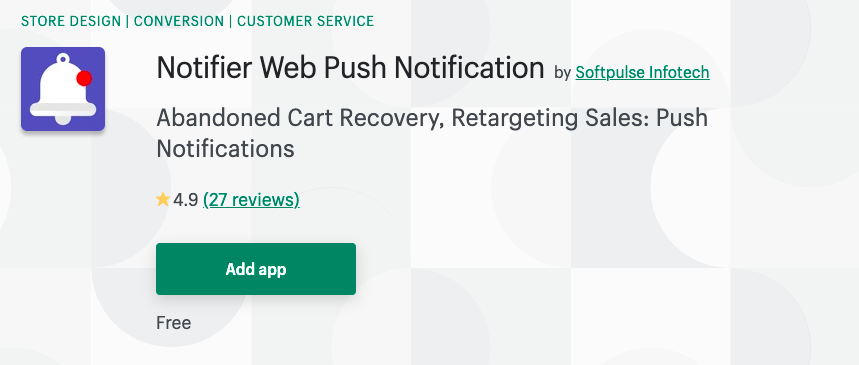 Notifier is a great Shopify push notification app for online stores that want to increase customer engagement and boost conversions. It provides a simple and effective way for recovering users who abandoned their carts or switched to another tab during their shopping.

Notifier will make sure that your store is always on customers' top of mind by keeping them informed about shipping their order, price drops, and back-in-stock alerts. It won't forget about your potential buyers either—the app will send automatic welcome web push notifications to each new visitor which can significantly increase their customer experience.

With this app, you can also create customized marketing campaigns for the selected segments of your audience to leverage the power of personalized marketing.

Best features:

Abandoned browser recovery
Order shipping notification
Abandoned cart alerts
Welcome notifications
Back-in-stock alerts
Otis Web Push Notifications is a great Shopify app meant for increasing sales and customers retention thanks to many useful features. Otis offers a huge variety of automated push notifications for abandoned cart recovery, product launches, cross-sell and upsell. These all will help you land store sales and greatly increase customer engagement rate.

With Otis, you're not limited to just web pushes. You can easily send push notifications to your subscribers' mobile handsets to prompt users to checkout their carts. The cart recovery notifications are customizable which you can schedule to go out any time after the cart was abandoned.

Otis lets you put subscriber list building on auto-pilot—your new and existing subscribers are added as soon as they visit your store.

Best features:

Personalized re-engage notifications
Abandoned cart alerts and analytics
Personalized push notifications
Unlimited subscribers
User segmentation

Pushnami is one of the leading push notification platforms that enables eCommerce brands to quickly capture subscribers, market to them, and grow their revenue. It supports mobile and web push notifications, as well as email marketing.

With the Pushnami notification app, you'll be able to collect new subscribers without having to ask them for their email address or phone number. The app also comes with proprietary machine learning technology, called Pushnomics, that will let you optimize your push messages down to the individual subscriber.

The built-in powerful segmentation feature will help you segment your subscribers based on their location, device, browser, and in-store behavior. You can also create your own custom variables.

Best features:

Flash sales and promo campaigns
Targeted messages and images
Product recommendation
Product announcement
Abandoned cart alerts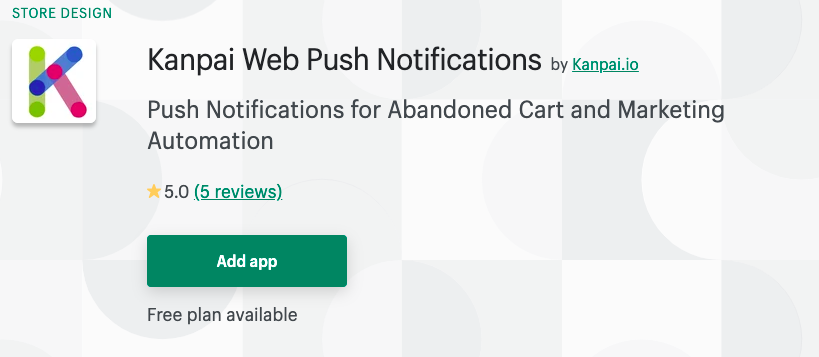 The Kanpai Web Push Notifications app allows you to set up your web push notifications fast and easy and helps you learn more about your customers' needs.

You can track your customers' behavior and then segment and filter them to find the most valuable ones for your business. The segmentation feature is not only helpful for reducing abandoned carts but also allows you to communicate with your customers on a personal level.

Kanpai analytics will give you real data about the profitability of your abandoned cart recovery efforts. Thanks to this feature, you'll be able to improve your strategies and increase the success rate of your push notification campaigns.

Best features:

Abandoned cart reminders
Customer segmentation
Marketing campaigns
Flash sales
Profit data
Summary
Choosing the right push notification app is all about figuring out what kind of features will help you boost customer retention rate, sales, and engagement in your store store. Any of the apps we overviewed offer great functionalities and a range of benefits. 
If, however, you look for an app that would be tailored specifically to your store's needs, you can hire a team of experienced specialists from IDAP who will develop a fully custom Shopify solution for you. Contact us to discuss the details.