When are you going to buy Halloween and Christmas gifts this year? Fun fact: some people start doing it in…July! In 2020, 13% of consumers purchased presents at the beginning of the summer. In 2021, their percentage was only 9%. But the global supply chain crisis 2021-2022 proved that people should take care of gifts earlier. As wisdom says, "Repair your cart in December; in July, your sledge remember." So, this year, 14% of buyers preferred to prepare for the fall-winter holidays.
Meanwhile, they say a happy holiday season is expected for retailers in 2022. The supply chain industry is too close to recovery, so there are no other reasons to worry. But is it true? Here you will discover what pitfalls merchants should overcome to give a present in each hand. Scroll down to explore what holiday season we will experience, how it will differ from the previous one and what engines will drive it.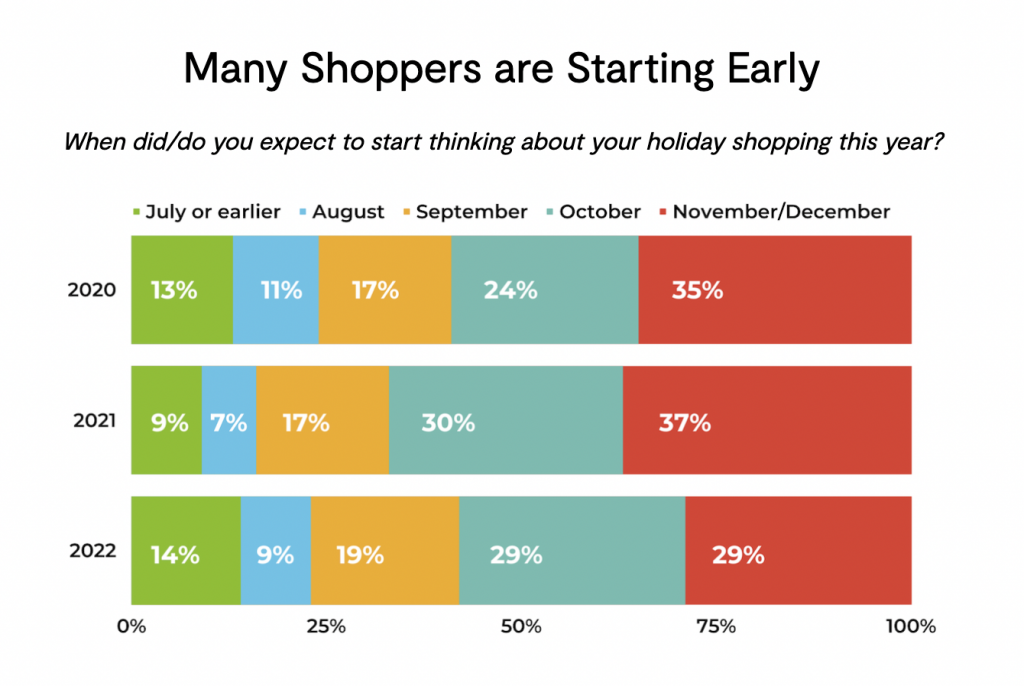 Holiday Season Supply Chain: How It Was vs. How It Will Be
Holiday Season 2021
For me, the previous season was unforgettable because of three things: less generous discounts on Black Friday, the global collapse of toy shipping, and the consequences of a pandemic shock. Yes, merchants couldn't predict COVID-19. So, only a few of them, such as Amazon and Walmart, implemented relevant innovations before the crisis. Most retailers and buyers faced:

​​the shortage of goods
the growth of supplementary costs
troubles with supply chain because of strict regulations
sky-high prices
These issues primarily affected customer experience and made retailers take care of the holiday season 2022 immediately after the end of the previous one. The loss of potential income and audience loyalty pushed retailers to boost their supply chain processes and continue the digital transformation. Following Mordor Intelligence, a global digital transformation market in retail was valued only at $143.55 billion in 2020. Now, it's projected to grow up to 388.51 billion by 2026.
Holiday Season 2022
"We're hoping in the back half of this year, we start to see a gradual recession of the shortages, of the bottlenecks, of just the overall dislocation that is in the supply chain right now. But, I wouldn't think that until 2024, there'll be any kind of return to a normal environment because it has been so dramatically dislocated."

CEO, Kellogg
Mainly, coronavirus and supply chain collapse explained the failure of the holiday season 2021. The first one is no longer an issue since states opened their borders in spring 2022. Following Reuters, the cargo crisis is also in the past, and the industry is close to full recovery.

But one more issue capable of destroying the positive results is the Russian invasion of Ukraine. The war made many retailers change their suppliers and transform routes to avoid consequences or stay on one side with the people of Ukraine. Nobody knows how it will affect retail sales this holiday season, but merchants have already solved this issue and done it times faster based on background.

Businesses place their hopes on this holiday season. Meanwhile, Deloitte warns that retail sales in this period will increase between 4% and 6% in 2022. It is not the 15.1%-growth merchants knew in 2021. Of course, businesses will be able to satisfy demand without titanic effort. But the question is, "Will we see the high demand this year?"
Related: How Technologies Transform the Supply Chain Management
What Will Affect Retail Sales This Holiday Season
Inflation
It seems that nothing can ruin the plans, but there is one more thing that makes business leaders powerless. The case is inflation, making the above growth in retail sales so tiny. The pandemic and the war caused a global economic crisis making people spend less. This year, consumers are ready to pay, on average, $1 802 to save Christmas. In turn, retailers have to spend more to ensure the availability of all needed items.
"Retail sales are likely to be further affected by declining demand for durable consumer goods, which had been the centerpiece of pandemic spending."

Daniel Bachman,
Economic Forecaster, Deloitte US

Cutting-edge software
Despite the obstacles retailers will face, they continue to apply a helicopter view and prepare businesses for the new reality. Retailers invest in IoT, 5G, digital twin, Internet of Behavior, and other best-of-breed technologies helping them to turn well-working companies into mature ones. The tech boom started in 2020. This approach was not affordable for everyone, but most enterprises have already boosted their sales using technology. This year is not an exception, so we should expect that the most significant retail market players are ready to:

predict the future events and prevent failures
surprise consumers with a smooth, personalized approach
offer new services and pleasant discounts to go beyond the competition
Related: Ecommerce Sales Funnel – Business Optimization at its Core

New partnerships
The Russian-Ukrainian war affected the entire world, creating shifts in all areas: geopolitics, business, software development, etc. The main road and railway routes crossed the Russian territory to get to the EU, US, and Latin America. Meanwhile, the situation changed, and any cooperation with Russian companies now is the direct support of terrorism. Therefore, quickly searching for reliable partners ready to produce and deliver goods is a high-priority task for retailers and their stakeholders. Most merchants coped with it, so now the holiday season will show how efficient the new partners are. 

Summary
We will most likely see the holiday season as it should be only in 2024 when both consumers and retailers have happy faces ready for a celebration. Meanwhile, good news: the industry recovers, and any other challenges will not harm it as the pandemic did. The only way to help retailers to withstand and save a competitive advantage is through a digital transformation. Use the IDAP expertise and knowledge to build a robust software ecosystem and make the next holiday season profitable.