Surely, you'd like your commercial website users to fill up their shopping carts and smake orders right away, and that's a natural business owner's desire. Unfortunately, this is not always the case. Why don't some visitors never become real buyers?

The modern consumer leads an active lifestyle and can suddenly jump off the hook. For instance, a person can simply be distracted by a message or call while viewing the product. Be that as it may, but all you have to do today to get a potential customer is involve users in your optimized ecommerce sales funnel. Catching a customer in your "marketing webs" and leading them through the funnel is a major industry challenge.

And it is more difficult than it seems at first glance. One approach to facilitate the task is the Jobs To Be Done concept. In a nutshell, in order to smooth out and optimize the ecommerce conversion rate, you need to focus on what the user ultimately wants to achieve in certain circumstances and help them solve their issues. But let's dig deeper.
What's the Average Conversion Rate in Ecommerce?
According to the official figures, the average ecommerce conversion rate is 1-2%. The baseline goal of the average online store should be a 2%+ conversion rate. With specialized ecommerce sales funnel software, you can analyze customer behavior, improving content and boosting user experience based on it to convert more customers or leads.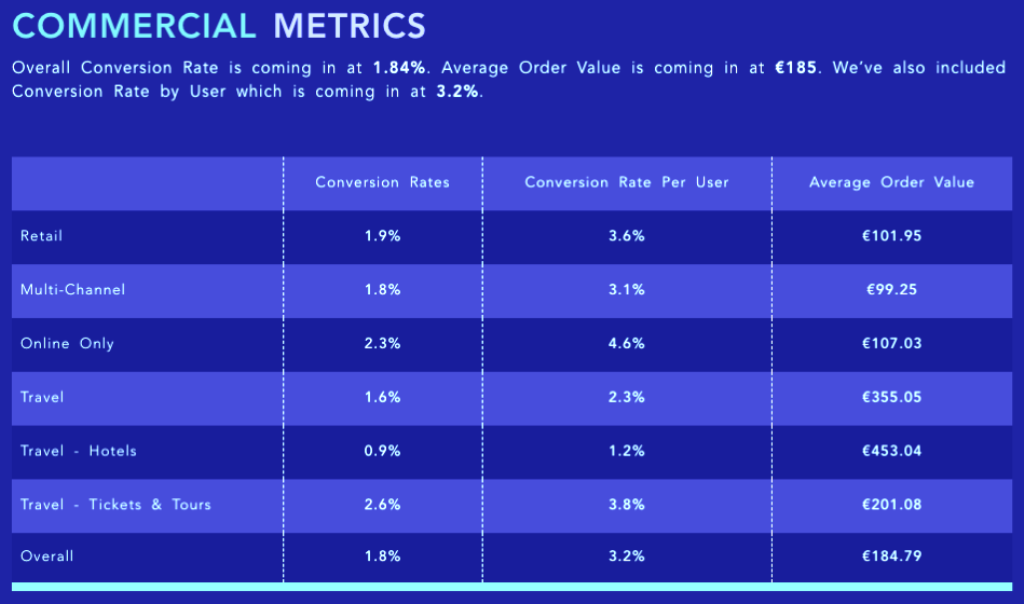 What is a Sales Funnel in Ecommerce? Why Do You Need it?
A sales funnel is a marketing model that mathematically accurately demonstrates the expected movement of a buyer from the first acquaintance with an offer or product to a final purchase. A conversion funnel describes the path of a buyer who came to the site through an advertising channel, via a referral link, from a mailing list, or from a search, and as a result, took a certain action.

A well-optimized conversion funnel helps you get out of the "practically breaking even" situation and start making good profits. That is, it maximizes the profit from your marketing campaigns. Below, is a common ecommerce sales funnel example.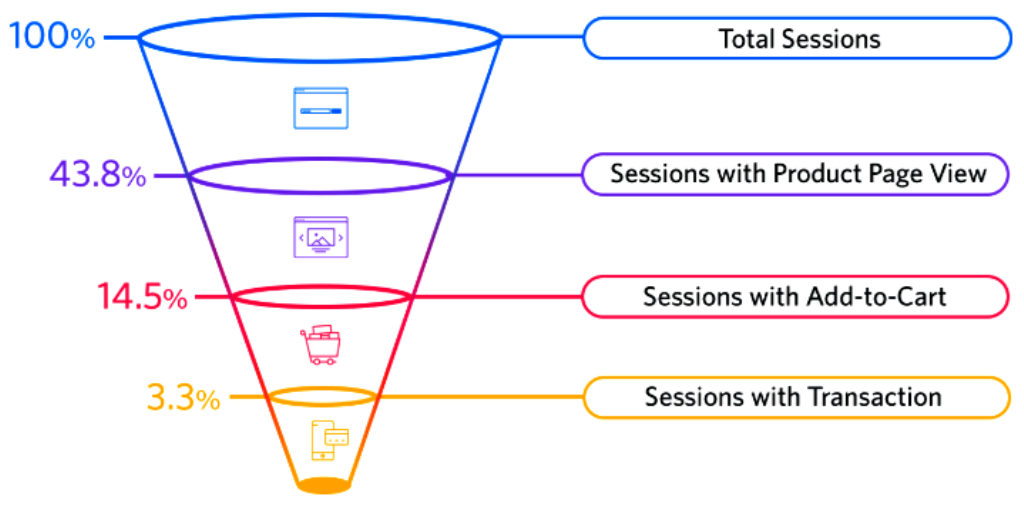 At the top of the funnel are people "just walking past your store". A certain percentage of them (less than half) decide to go in and look at the offers you have. And only about a third of them will put something in the shopping cart while only a fifth will pay for the purchase. The same process, one way or another, manifests itself in any business. You can push and optimize your sales funnel with the help of:
High-quality regular retail (of course);
Sales administration;
Online shopping promotion;
Email newsletter;
Personal consultations.
Any marketing channel can be part of a sales funnel and it can be spread across multiple channels. Why is it important? The funnel graphically illustrates the path that potential customers take. Understanding specifics can help you find places where leads drop out and don't convert into buyers. This makes it easy to understand at what stage your business needs optimization the most.

One of the optimization methods includes uploading POS information to Google so that you can match shoppers in stores with interactive ad clickers, gaining additional insight into the success of your campaigns.

Statistics from Google and Wolfgang Digital say that digital marketers increase sales revenue by an average of 68%. Incidentally, 86% of respondents to this study said they were more likely to make a purchase if they saw a friend or family interacting with a brand on social media.

The detailed version of the sales funnel can be different for different types of business depending on the existing nuances and issues. The main tasks solved using the model include:
assessment of the effectiveness of managers (the result of work for a certain period of time);
definition of business weaknesses and flaws;
user engagement boost (e.g., using ad banners and ads of higher quality);
profits boost (business optimization efforts, analytics, and better targeting help boost sales).
The sales funnel model is beneficially used to organize better advertising campaigns. The data gathered about the customers can be entered into the CRM. Such valuable info also helps work with customer retention, up-sell, cross-sell, and subscription aspects. By knowing which areas are driving conversions the most, you can improve them and optimize your sales funnel.

Based on typical ecommerce conversion rates, companies can dramatically improve their product pages to convince people to add products to carts. More importantly, they can benefit from streamlining the checkout process so that more people actually buy products.

Campaing monitor research says there is an average 20% increase in sales with personalized experiences. And according to a Forbes report, 40% of CEOs say that adopting customer personalization practices has a direct impact on ecommerce sales and profits.

An omnichannel or unified approach also promises good ROI for remarketing – according to Epsilon, about 80% of shoppers return for another purchase only to places where their user experience is personalized.
4 Ecommerce Funnel Stages
A typical ecommerce sales funnel template has four steps. On each of them, the consumer makes decisions based on their own perception of your brand, product, and competitors. If you optimize every step of the conversion funnel, you'll ultimately get more revenue.
Stage 1: Awareness
At this stage, consumers become familiar with the brand and its offerings. That is, they are looking for solutions to their issues, which your ecommerce happens to cover. So this stage is critical, requiring high-quality advertising and useful, expertise-driven content. Dynamic content, by the way, can help improve your conversion rates through visual influence.

Keep in mind that people usually choose from multiple offers. You must convince them that your solution is the best. Perhaps, potential customers know that what they seek may be provided by your brand through social networks, referral, Google search, or just accidentally. Your goal, first of all, is to attract as many users as possible at this stage.

But you need users who are interested in your products so you can easily move on to the next step. Recently released ad formats from Facebook and Instagram, such as branded content ads, have made it easier than ever for customers to evaluate content. A large group of your followers tends to pay attention to announcements of discounts and promotions.
Once you have this data, you can take action by increasing your activity and encouraging visitors to follow you on Facebook. By posting a noticeable CTA, you are taking advantage of the website and bringing people into your field of business reach.

You can get high traffic to your site even without an ad budget. Consumers start their journey with a problem or idea in mind. You know them too, so why not offer them readymade solutions or suggestions? You don't need to study long scientific articles for this. A short YouTube tutorial video or a free tutorial on your site is enough and you can create custom content without a big marketing team.
Stage 2: Engagement
You've managed to drive targeted traffic to your online store through regular and paid channels, the bait is set, but you can't let your audience escape. Continue to provide entertainment and educational value to keep customers interested in your offers.

Perhaps, they are already browsing the site and considering buying something, or have become your subscribers. Your goal is to move them down the funnel and help them complete the next step, such as adding a product to their cart or wishlist.

At this stage, you should remove all doubts and simplify the user's task. Start subtly promoting your content and products with email marketing and turn your site visitors into your followers with compelling copy.

For efficient eCommerce sales funnel optimization, use social proof across all channels. This is a tactic that many marketers use and it works flawlessly. Social proof is applicable to many facets of daily life, and ecommerce is no exception.

Social proof works at all stages of the ecommerce sales funnel and is a particularly great tool to convince website visitors about the quality and reliability of your online store.

One of the most common ways to showcase social proof is through customer testimonials. Reproduce this strategy by posting brand-focused memes, creating useful blog content, engaging audiences with email marketing, and posting YouTube videos.
Stage 3. Desire
When the audience is already interested in a certain offer, help them form a desire. Clarify the particular benefits of your product or service. There is no need to talk about boring specifications (all the features), it is better to note the obvious and not-so-obvious benefits: reliability, gracefulness, elegance, simplicity, and safety of use. Focus your marketing messages on the benefits the end consumer can get.

You need to convince users that your products are the best solution and push them to add products to their cart. At this point, you should reconcile the copy of the product page with typical customer questions and eliminate any doubts.

Start by doing keyword research to understand what your buyer is looking for. Use the generated ideas in your copy and position your products as an answer to those concerns. Strategically structure your calls to action. Instead of focusing on the offer, let the reader know how they will benefit. Optimize product pages to win the hearts of potential customers on the stage of consideration.
Stage 4. Action
Get the store visitor to click on the Buy Now button and close the deal. Explore the checkout process from start to finish. What can make a person refuse to buy? This can be a complex or inconvenient payment algorithm, unexpectedly high shipping costs, or a lack of alternative payment methods.

Try different formats of checkout pages to see which elements are better removed and which added.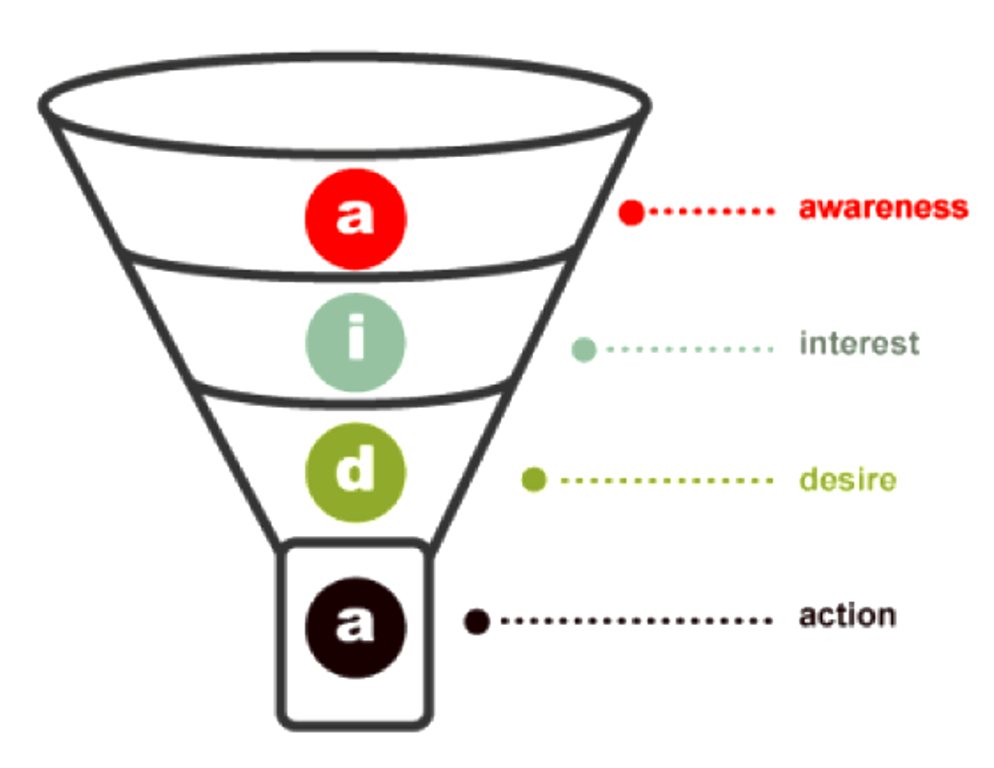 What are the Best Strategies and Examples That Help Convert Better at Each Stage of the Funnel?
You can take three major steps to build the best sales funnel for ecommerce that helps you define what your customers want and need.
Step 1. Outline a customer journey
Google Analytics can help you map your purchase journey using reports such as user flow. Find out what people are doing when they visit every page on your site:
Do visitors behave differently when they first launch your home page than when they find one of your product pages?
Which referring domains bring the most traffic?
And how many touchpoints does the average consumer make before buying something?
Communicating your value proposition with Facebook ads helps users quickly understand what your business is all about and what value you can offer. With a clear value proposition, you give users a reason to think about buying from you. You explain why your products are the best solution and how it differs from the competition.

Another way to raise your brand awareness is to simply explain what customers can find in your online store. If there is no way to list all the products you have, you can group products together under brand names or categories. Using Facebook carousel ads, you can display multiple products and help users learn about your range easily.
Step 2. Juxtapose funnel stages with conversion triggers
Throughout the four stages outlined above, create a plan to drive customers through your sales funnel. For example, list the types of content you want to show at each stage and the pages on your site that you want to test.

Sales promotion and special Facebook discounts work across multiple stages of your funnel. One way to get users' attention during the preview phase is by offering welcome discounts.

During the awareness phase, intensive product promotion should be avoided. Incorporating product marketing into your site content is a subtle way of promoting your product to potential customers at the top of the funnel. And using Facebook ads, you can advertise your content to a relevant audience.

Instead of promoting your products with ads, you can direct visitors to a relevant blog post. If the content gets a response, the user will click on the ad and visit the site.
Step 3. Identify the moment of a user turning into a customer
For most ecommerce businesses, a visitor becomes a lead when they submit contact information, usually an email address. This is where you need a good lead generation strategy.

Decide how you will help consumers move from interest to desire to action. Your email subscribers should receive content that addresses all four stages so that you serve your entire target audience.

Any sale is essentially a contract, which, as you know, consists of two parts: an offer and an acceptance. You are making an offer to your target audience. Consumers decide whether to accept it or not. The email should be a key channel in generating leads during the consideration phase. Social proof and email marketing is the perfect combination to convince a user to take the next action.

By creating a tempting offer, you will tip the scales in your favor. Here, you should use lead magnets, sales and promotions, contests, and more.

Brainstorming is an essential part of this process. Write down your ideas. Later, you can analyze each one, list the pros and cons, and decide which is the most appropriate. Test them to see which ones appeal to your audience the most.

Website Optimization Tips
Let's take a look at some website optimization ideas to help convert your audience into active buyers.
Optimize the major pages
An ecommerce site has a home page, product pages, and category pages. If you sell hundreds of products, you will have more "home pages" than if you focus on one or two main products. Start optimizing them. Consider both SEO and user experience optimization so that Google will drive traffic to you and your visitors will find your content attractive.
Optimize forms
"Lead capturing" input forms can affect conversion rates, too. People should want to fill them out. Short forms often work better than long forms, and removing unnecessary fields reduces filling time and complexity.

Reduce forms to the most important information. If you just need an email address, ask for one. Don't ask a prospect to give you their name, location, or other details when you really don't need them.
Optimize a checkout page
If 15% of visitors put products in the cart, but only 3% checkout, you are losing money. Providing more payment options will make it easier for the customer to purchase. Use double-page checkouts and add progress bars to help your shopper feel safer. Add trust badges to show that you're concerned about privacy and security, and don't add unexpected fees at checkout.

You need to explain the shipping and return/refund processes as clearly as possible in order to make a future customer's life easier. Put yourself in their place. Provide, if possible, approximate delivery date and other important info.
What are the Most Important KPIs for Ecommerce Sales Funnel Optimization?
If you want to make your conversion funnel even better, you must track Key Performance Indicators (KPIs). There are dozens of them, but keeping track of all of them is impractical. Consider the key, most useful metrics to measure the effectiveness of your conversion funnel.
Traffic
Nobody gets into your conversion funnel if they can hardly find your offers online. Traffic can be generated from a variety of sources – social media, search engines, email forwarding, and more, but it needs to keep growing.

Pay close attention to where the traffic is coming from. If the regular search brings the most share of users, take the time and money to create quality content and conduct thorough search engine optimization. If social media like Twitter helps you generate most users, tweet more often and put more value into every post.
Conversion coefficient
Conversion rates tracking shows you how well your audience is accepting your offers. A lead magnet can convince people to sign up for a newsletter or discount and thus drive sales.

Tracking conversion rates across all your offers can help you get to know your audience better. Test different offers to see which one attracts the most, and then apply your business expertise.
Bounce rate
The bounce rate clearly shows how many site visitors leave after visiting just one page. You can lower this rate by using more incentives to open other pages. Creating an attractive, modern, and functional online store design that accurately reflects your brand value is critical to showcasing creativity and stimulate trust in your customers.

If your bounce rate is high, focus on increasing the frontend impact of your site. Include many internal links to other sites on your page, as well as individual CTAs for various offers.
Sales
Total sales should always be tracked. This is the result everyone is focused on. It doesn't matter how many people visit your site, it is important to convince as many as possible to buy your product.

Ideally, sales should increase over time. Of course, there may be some downturns due to factors beyond your control, such as seasonality, but you need an overall upward trend.
Abandoned cart
It's also helpful to know how many people are putting products into their carts and then leave the page without placing an order. A high cart abandonment rate indicates a problem in the checkout process.

In addition to improving this process, consider sending emails about "forgotten" baskets. If someone leaves your site without paying for the items in their cart, send a gentle reminder, subtly invite them back. Possibly with a discount code to recoup lost profits.

Summary
The ecommerce conversion funnel can be daunting, but if you arm yourself with the right data, you can improve user experience and increase sales. This is why it is necessary to constantly collect data and conduct tests.
Optimize your content and pages for each stage of the conversion. Use the subsequent structure to guide your marketing decisions and track the KPIs that matter to your funnel. With all this in mind, you can collect more data with user behavior reports, posts, and A/B tests. 
One of the key aspects of success is including the above-mentioned strategies in a requirements specification document. Just take it step by step and you will surely reach the set goals.