When you are running an online store, you have so many aspects to manage, including marketing, logistics, shipping, security, SEO, and tons more. Luckily, you can benefit from a motherload of available Shopify apps to extend the functionality of your store.
This article will help you make a good choice. It covers 15 handy apps picked from marketing, sales, shipping, customer service, and reporting categories
1. HubSpot CRM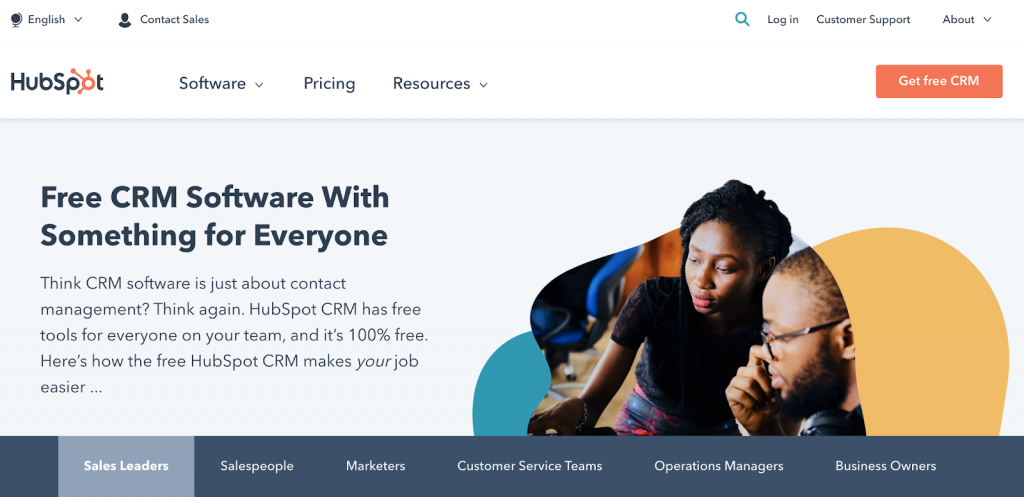 HubSpot CRM is an excellent tool for organizing, tracking, and fueling your leads and sales. This Shopify app syncs data from your online store with HubSpot and uses it to make your marketing campaigns more data-informed.

By tracking all your interactions with customers and collecting the associated information, HubSpot CRM arranges all that data into a neat timeline that helps enhance your customer acquisition.
Benefits
Automate basic customer communication processes and develop a tailored approach in the interaction with your target audience
Send emails to visitors who haven't finished their purchase on your website and encourage them to complete their purchase
Segment your customers into groups to personalize marketing messaging and communication with them
Pricing
The app itself is free but comes with paid options with more features.
2. Firepush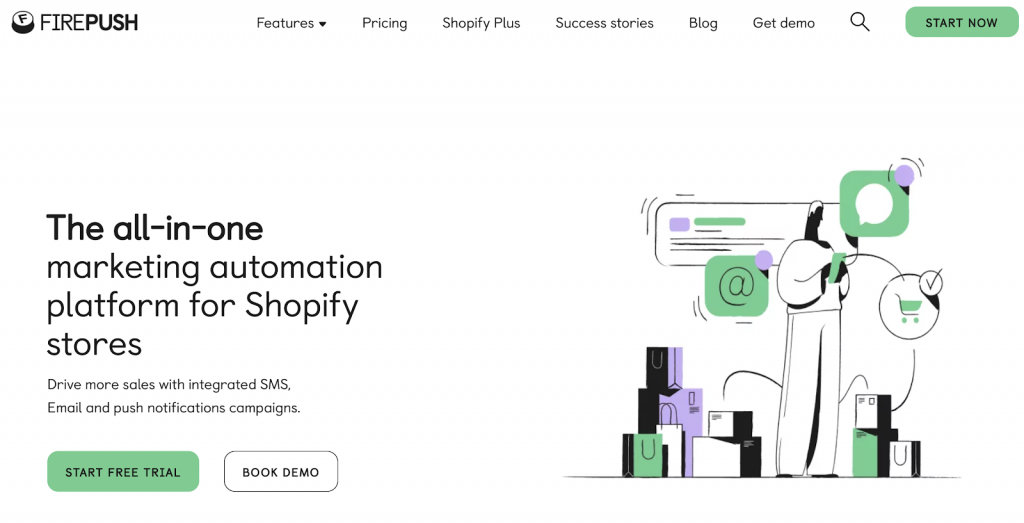 Firepush is the all-in-one marketing automation platform that allows driving up your sales with SMS, email, and push notification campaigns. You can choose any strategy or use all three to engage with more customers on more communication channels.

Firepush is an excellent Shopify marketing app choice for businesses that want to achieve faster growth. You can generate tons of leads and sell more by sharing promotional offers via channels preferred by customers—proven by the app's whopping 4.8 rating on Shopify App Store.
Benefits
Sell with automatic email, SMS, and push notification campaigns
Intuitive segmentation tools that allow targeting highly specific audiences;
Reporting and analytics tools to understand customer engagement, campaign performance, and potential sales opportunities
Recover abandoned carts with email, SMS, and push notifications
SMS, email, and push notifications automation allows doing omnichannel marketing and keep customer experience uniform
Pricing
Firepush has a free plan with basic features. Paid options start from $15 per month, and you can try all features for free for 14 days.
3. Oberlo
Oberlo is the ultimate Shopify dropshipping app with 2,300+ users. It allows importing large lists of products from worldwide suppliers to find popular inventory and start selling it right away.

Apart from relieving you from the hassle of storing, packaging, and shipping, Oberlo includes tools for counting your product range and updating prices. Also, you can receive exclusive access to the Oberlo Supply marketplace that offers hand-picked suppliers, bulk ordering, and shorter shipping times.
Benefits
Made for entrepreneurs that want to set up a dropshipping business
An ability to ship directly from product supplier to shopper, so no need to pay for warehousing
Access to popular products from worldwide vendors allows creating a large dropshipping store
Easy tracking of orders in a few clicks—perfect for excellent eCommerce customer service
Pricing
Oberlo is available for free—users pay only when they make sales. Also, as their businesses expand, they will need to obtain a premium plan with a monthly fee starting at $29.90 per month.
4. Replay Live Session Recordings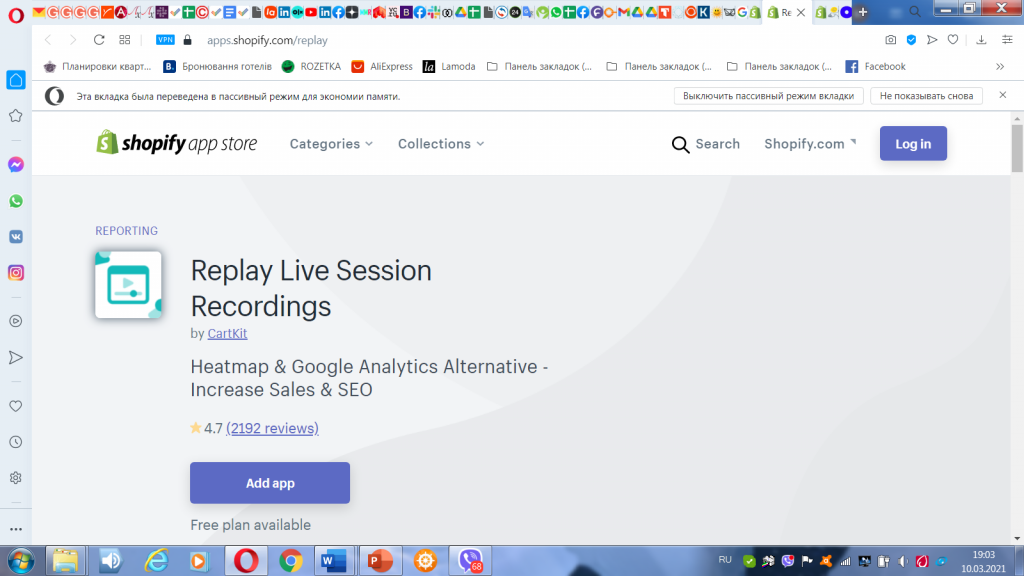 This Shopify app allows getting live recordings of visitors' sessions, showing how they actually interact with your online store. The recordings can show where visitors get stuck and need some help, which could be useful to improve website layouts, etc.

Replay Live Session Recordings could be more helpful than hotmaps because it actually shows visitors' behavior. So, there should be less guesswork involved in website optimization.
Benefits
Discover more about your target audience's shopping behavior
Know more about how to create a more engaging customer experience
Understand the reasons why website visitors walk away without completing a purchase
Pricing
A free plan is available, but it's limited to 100 unique monthly visitors. The only paid plan for 10,000 visitors costs $29/mo.
5. Easyship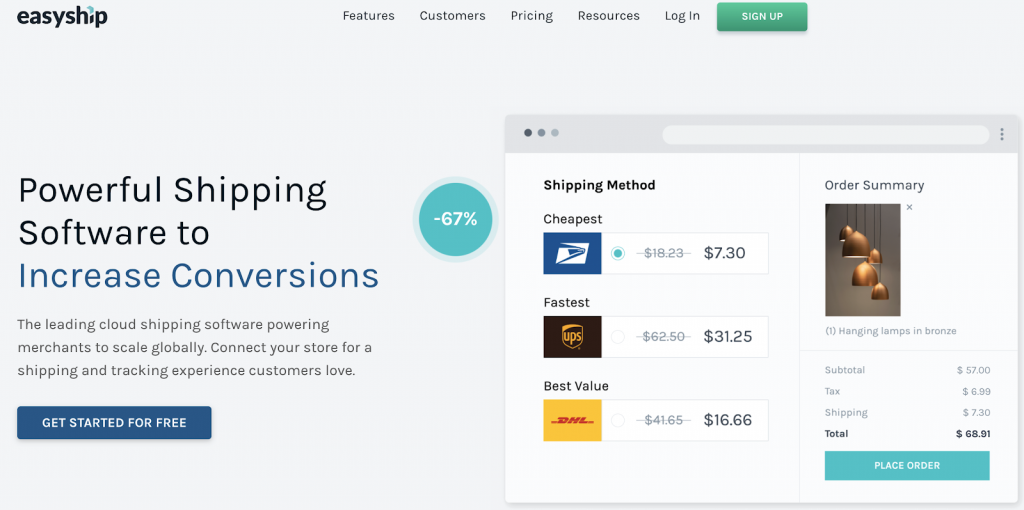 With Easyship, you can sell to international customers, minimize shipping costs, and save tons of time. This top Shopify app helps with shipping automation and making delivery processes more transparent thanks to partnerships with global carriers.

Easyship offers access to more than 250 pre-negotiated shipping solutions at much cheaper rates. Besides, you are getting an opportunity to set your own rates. Easyship also has flexible delivery options, automatically generates shipping documents, informs you about the taxes and other fees worldwide, and provides branded packing slips.
Benefits
Manage shipments easier with automatic document generation
Make your shipping communication more consistent and personalized (tracking documents, landing pages, etc.)
Set better shipping rates at your store thanks to lower prices given by Easyship;
Start making worldwide deliveries thanks to 250+ deals with international shipping companies
Pricing
The installation is free. Users pay only for the shipping of orders.
6: Smart SEO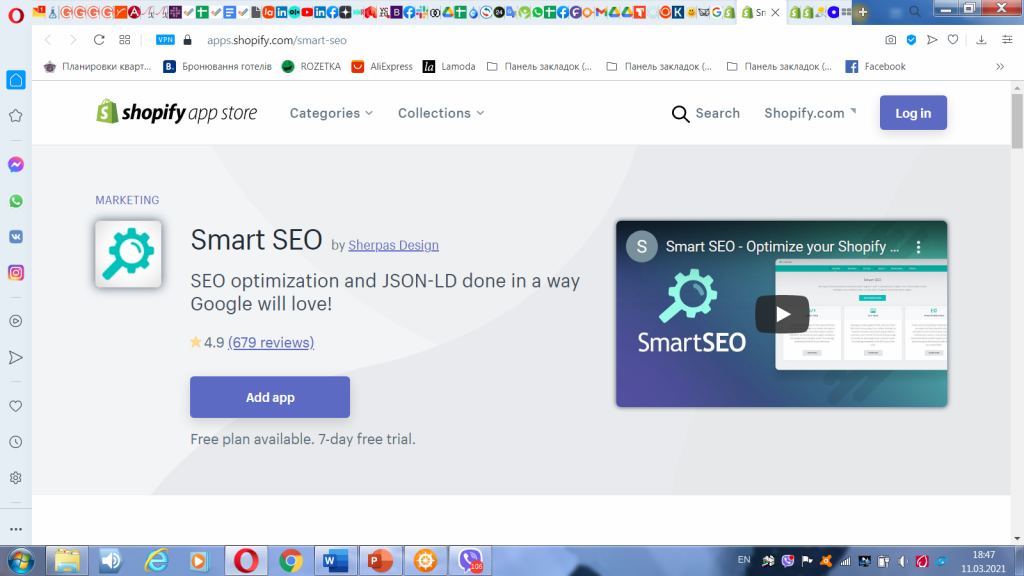 About 37.5% of all traffic to online stores comes from search engines, which makes Shopify SEO a must for getting traffic. Smart SEO could be your saver from the extra hassle.

The app automates SEO optimization and enhances traffic to your Shopify store. Generating meta tags, managing your sitemap, fixing broken links, and delivering structured data to Google – all these processes become automated and optimized.
Benefits
Boost organic traffic to your eCommerce website thanks to SEO optimization
Save time and costs by automating SEO optimization and maintenance
Use the multi-language feature to improve rankings for each language in your store
Pricing
A free plan is available with simple SEO features. The paid plan with extended functionality costs $4.99/mo.
7. Smile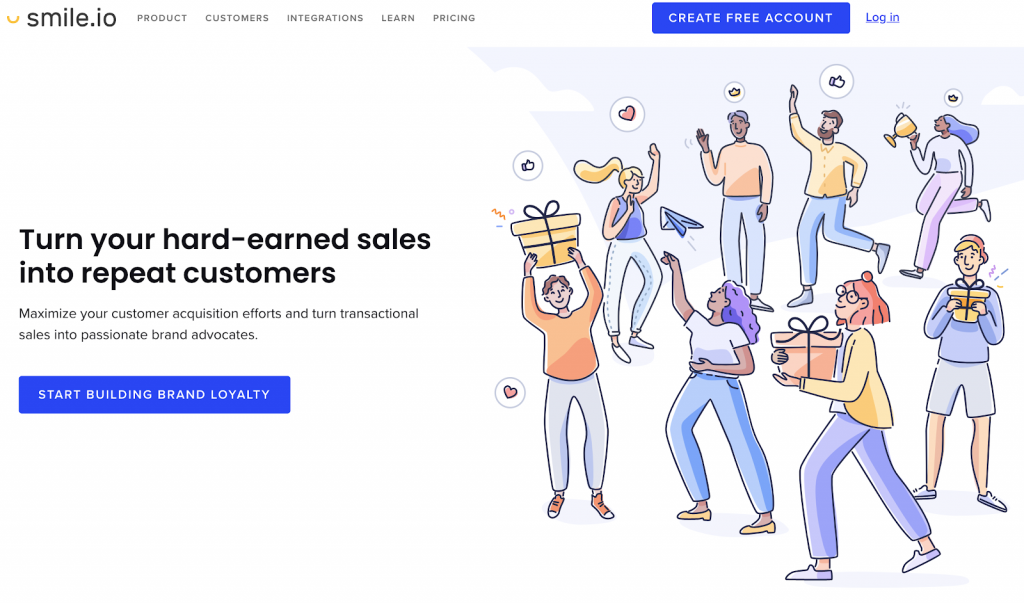 Smile offers its users three types of rewards programs including a loyalty program, referral program, and VIP-based program. Whatever style you select, it will provide customers with the motivation to stay with your brand: discounts, bonuses, exclusive deals, and more.

Smile has a whopping 4.9 Shopify Store rating for a good reason: besides a variety of perks for customers, creating a loyalty program is really simple. Thanks to beginner-friendly interface and tips, you can start your program in several hours.
Benefits
Create a loyalty program for your store and share personalized bonuses with each customer
Encourage word-of-mouth such as social media shares with special bonuses and other perks
Use analytics to monitor the performance of your loyalty programs
Pricing
You can start with a free version containing 10+ reward types and simple loyalty programs, Moving to the Starter paid plan for advanced features will cost $49/mo. There are also plans for large Shopify stores for $199/mo and higher.
8. Return Magic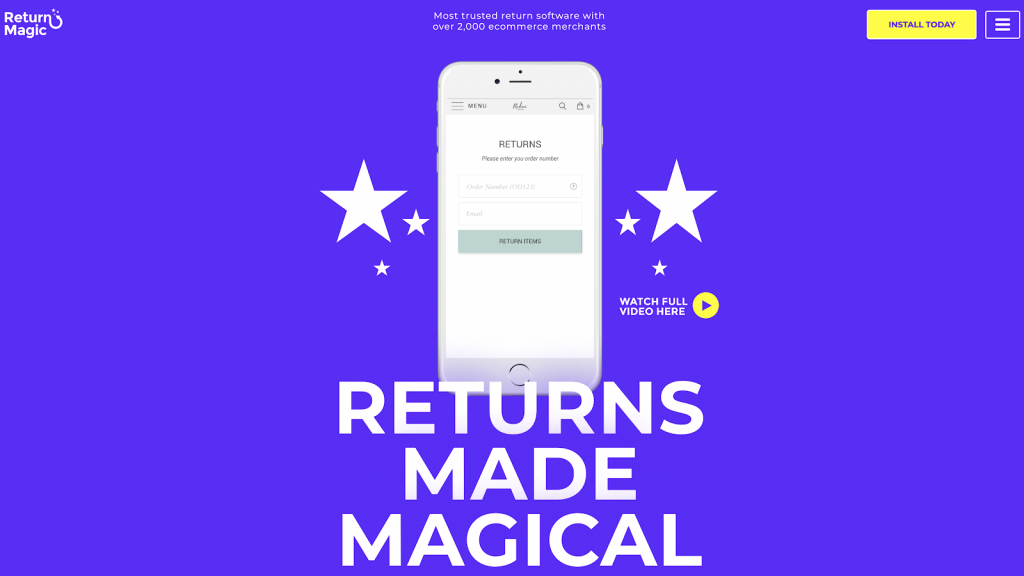 Statistics say that about 30% or even more of merchandise purchased online is likely to be returned. Return Magic helps simplify and automate the return procedure to allow you to focus on other tasks.

The app does so by setting up automatic rules to control the way your returns work. There are automated cash and gift card refunds, exchanges, and automatic generation and printing of return labels.
Benefits
Create your personal returns portal for easier returns
Make a customized and smooth return experience for your shoppers
Turn returns into gift cards, rather than cash refunds
Pricing
Return Magic offers one month's free trial. Paid plans start at $10/mo.
9. Facebook Messenger Marketing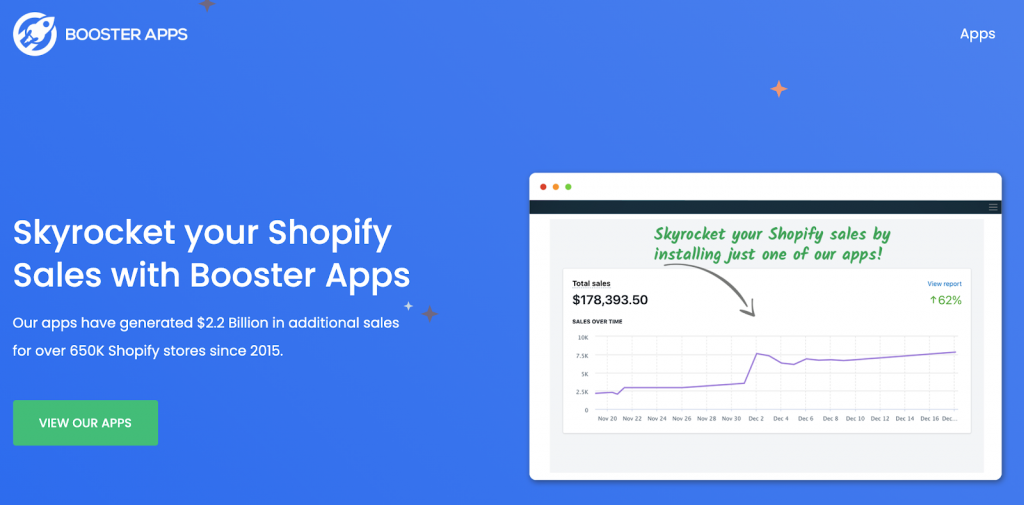 Facebook Messenger boasts as many as 70-80% open rates, which makes an excellent option to send reminders about abandoned shopping carts. Facebook Messenger Marketing does that for you automatically, sending notifications to registered customers.

The app can be integrated with your Shopify store in minutes. After configuration, you can put shopping cart recovery via Facebook on autopilot. There are also helpful options to collect customer reviews from those who bought products from your store.
Benefits
Recover more abandoned carts by sharing reminders via Messenger
Automate shopping cart recovery process and save tons of time
Collect post-purchase feedback with automatic review requests
Pricing
The app is 100% free to use.
10. Parcelify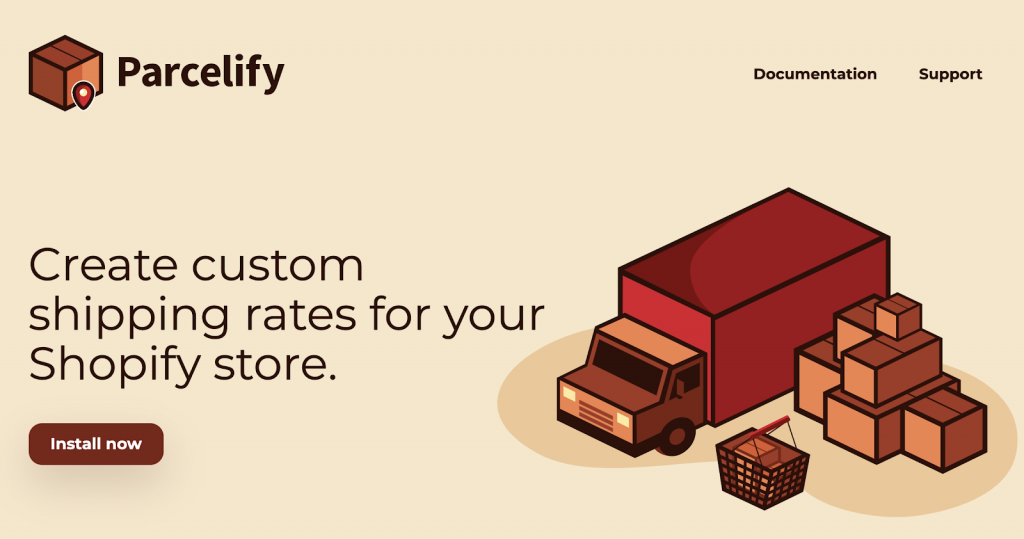 Multiple shipping options significantly influence the likelihood of a purchase. Both local and international deliveries will become easier with Parcelify that allows setting up custom shipping options and rates.

You can specify and control the shipping rates and options that your shoppers see at checkout. Making delivery processes easier for yourself and your customers, you will encourage more orders and positive customer reviews.
Benefits
Create options for local delivery and pick up
Set up free shipping for specific products
Offer dropshipping options
Establish flat rate shipping and weight-based rates.
Pricing
You can enjoy a 30-day free trial. Paid plans start at $7.99 per month.
11. Printful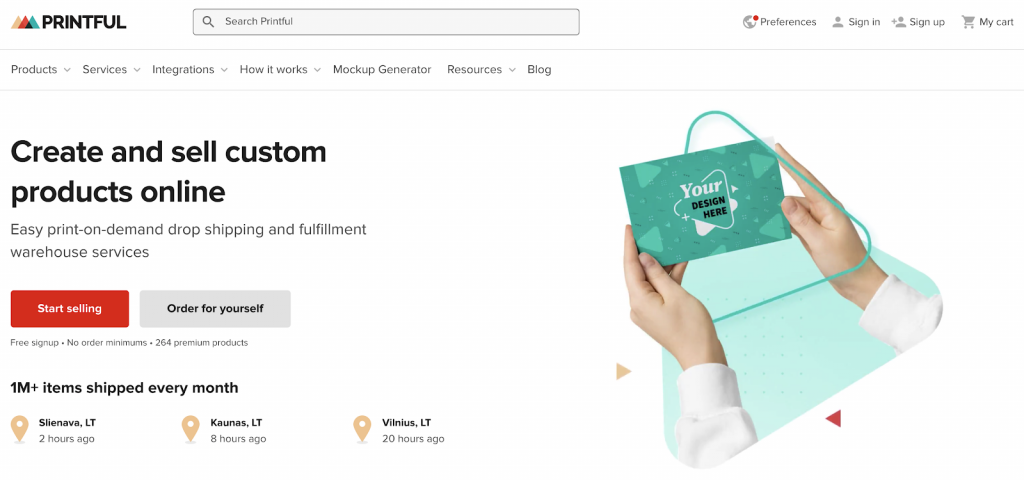 Printful allows to run an online boutique for customized branded products. There's no need to set up inventory, and you can offer custom t-shirts, mugs, pens, posters, and other products.

If you're an entrepreneur looking to create a dropshipping store, Printful is a great option because it takes care of everything. There are no upfront costs, too, so you can start with minimum investment.
Benefits
Sell a wide range of products without keeping inventory and shipping
Create custom products and themed stores
No need to fulfill orders—Printful does everything for you.
Pricing
The installation is free. Every order on your Printful account will be available at a cost of a commission.
12. Form Builder

Thanks to Form Builder, you can create unique and easy-to-fill forms that allow your shoppers to effortlessly contact you, place custom orders, leave feedback, and more. The forms can be placed anywhere in your store.

Simple and convenient in operation, the app empowers you to create beautiful forms to collect customer data and feedback.
Benefits
Get more leads through contact forms
A range of predesigned forms to use and save time
Integration with Zapier for automatic data segmentation and storage
Pricing
Form Builder is available for $1.99/mo. You can try the app for free for 7 days.
13. Referral Candy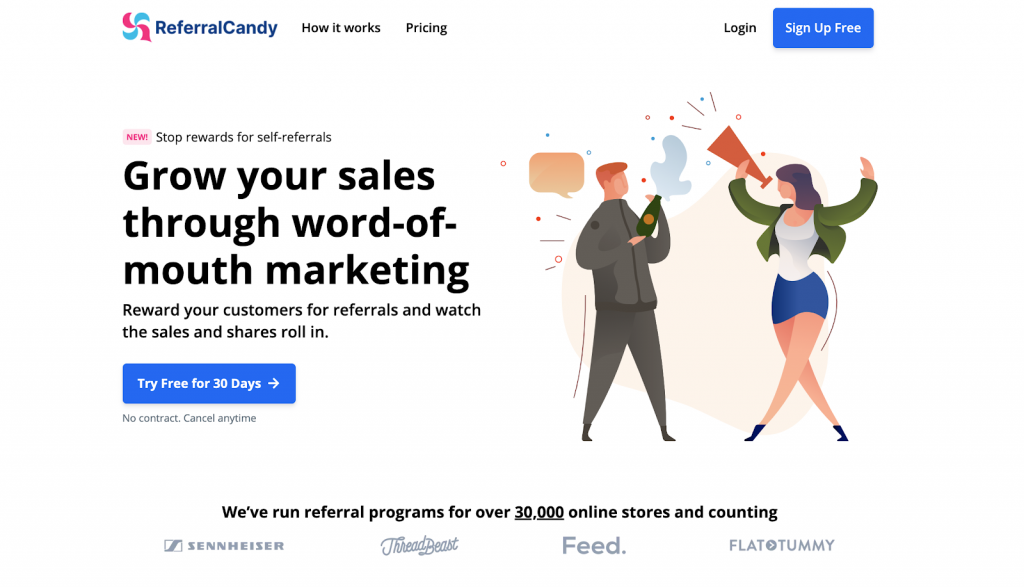 About 77% of online shoppers have made additional purchases motivated by personalized product recommendations. Referral Candy makes the referral process easy by creating custom referral programs that motivate shoppers to leave reviews.

You can also track referrals and sales, and reward your customers for recommendations. Referral Candy gives you space for creativity by allowing you to customize all elements of your brand's visual identity, from pop-ups to referral pages to emails.
Benefits
Organize your referral programs in one dashboard
No limits on brand advocates or redemptions
Generate more sales with custom loyalty and referral programs
Pricing
A 30-day free trial is available. The paid plan with all features costs $49 per month.
14. Thank You Email

Thank You Email empowers you to interact with shoppers after they have subscribed or made a purchase in your Shopify store. You can send automated emails to say 'thank you' and include information about your brand.

You can also utilize the app to arrange the delivery of newsletters and cart recovery emails. A free plan makes this app a good option for small stores that need to
Benefits
Create a personal connection with each customer
Set the most efficient schedule of sending emails automatically
Simple drag-and-drop editor for custom email design
Diversify the types of emails for successful email marketing (newsletter, thank-you emails, congratulations, etc.)
Pricing
A free plan is available for 100 emails and unlimited campaigns. The paid plan costs $7/mo.
15. Bold Sales Motivator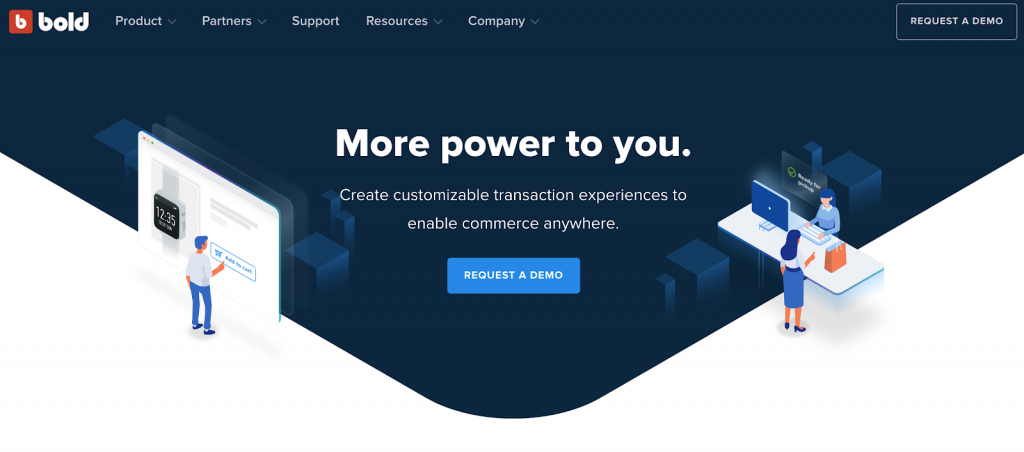 Free shipping is a great bonus that can encourage more customers to buy from your store. Bold Sales Motivator does exactly that: the app adds a bar to your store with a message about free shipping based on your input.

For example, you can write a message like "Free Shipping for Orders Over $80" and display it on all store pages. The app will also show messages about how much more a customer needs to spend to get free shipping when they add products to shopping carts.
Benefits
Generate more orders with free shipping
Raise awareness of your special deals on holidays
Custom promotional messages to create any motivations to display to customers.
Pricing
There are two plans to try—the basic for $9.99/mo and $14.99/mo. The more expensive plan adds scheduling and automatic addition of promo items to shopping carts.
16. AVADA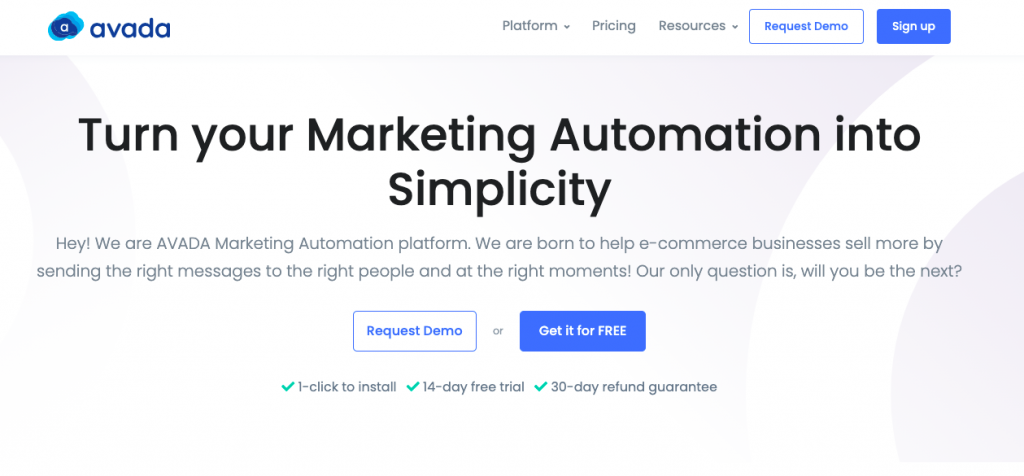 :AVADA is an all-in-one Shopify marketing app for store owners who would like to automate lead generation and marketing. For example, you can send marketing email newsletters, recover sales with automatic emails and SMS, generate leads with website popups, and track performance with detailed reports.
The creators of AVADA say their purpose was to allow Shopify store owners to message the right customers at the right time. Indeed, a suite of marketing communication features — SMS, popups, emails, and spin-the-wheel windows — is perfect to achieve this goal.
Increase Shopify sales with automatic abandoned cart, upsell, cross-sell, and marketing emails
Generate leads with non-intrusive website popups with newsletter sign-ups and discounts
Gamify your website visitors' experience and get more leads with spin-the-wheel campaigns
Segment your customers into groups according to their browsing behavior, purchase history, and characteristics to personalize offers for them
Use SMS to notify customers about product delivery updates, payment, and abandoned shopping carts
Pricing:
AVADA has three plans. The free one works for 15,000 emails and 1,000 contacts. Growing businesses can try the Pro plan for $9 for 1,000+ contacts. There's also a plan for corporate subscribers with custom pricing.

Summary
These best Shopify apps cover all aspects of managing an online store, from inventory processes to shipping orders and from engaging your audience in social networks to creating loyalty programs.
Consider giving these apps a try. All of them come either with a free plan or free trial, so you won't spend anything from your marketing budget.