Best Email Marketing Apps for Shopify
If you want to boost sales in your Shopify-powered online store, you should definitely check out email marketing automation apps that will make your business correspondence and newsletter for existing and potential customers ultimately impactful. Let's take a look through the market's major solutions that managed to gather hundreds of positive reviews.
Top 12 Shopify Email Marketing Apps
For your attention and consideration are the 12 of the best email marketing apps to serve your client base via email. We are confident that you will find the right solution for your Shopify online store here.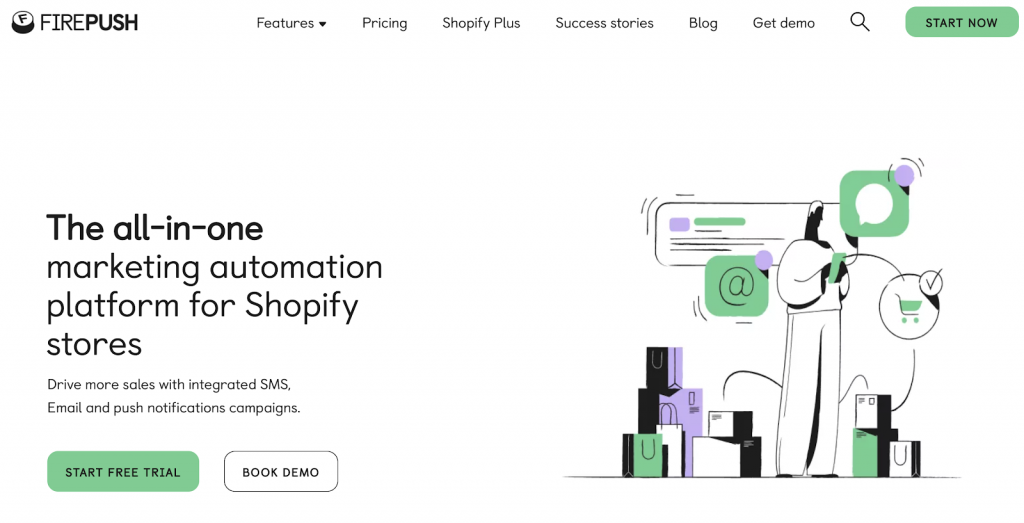 FirePush is an app designed to automate retargeting for Shopify stores. To increase sales, FirePush provides push notifications, SMS, and email campaigns.

FirePush runs abandoned cart recovery campaigns and sends support messages via web push notifications. You also have the opportunity to set up an "abandoned cart" notification with a sequence of three messages that are sent at the time of your choice, thereby attracting the attention of a potential buyer and encouraging them to complete their order.

Another feature of FirePush is a countdown timer for push campaigns that give the customer a sense of urgency. On top of that, you have the option to add an image to the push notification for even more efficiency.

Plus, with push notifications, you can re-attract the attention of customers and encourage them to make a purchase again. You can also redirect visitors who are interested in purchasing a specific product using discount and stock notifications.

We can point out several benefits of FirePush:
supports multichannel marketing with three channels in one application;
includes automated push notification campaigns such as abandoned cart reminders;
provides a wide range of advertising campaign options, such as flash sales and specials;
automates order shipment and delivery confirmation;
includes flexible registration forms for acquiring subscribers;
provides detailed reporting.
Pricing:
free: $0.00/month;
basic: $15/month;
pro: $29/month.
2. Growave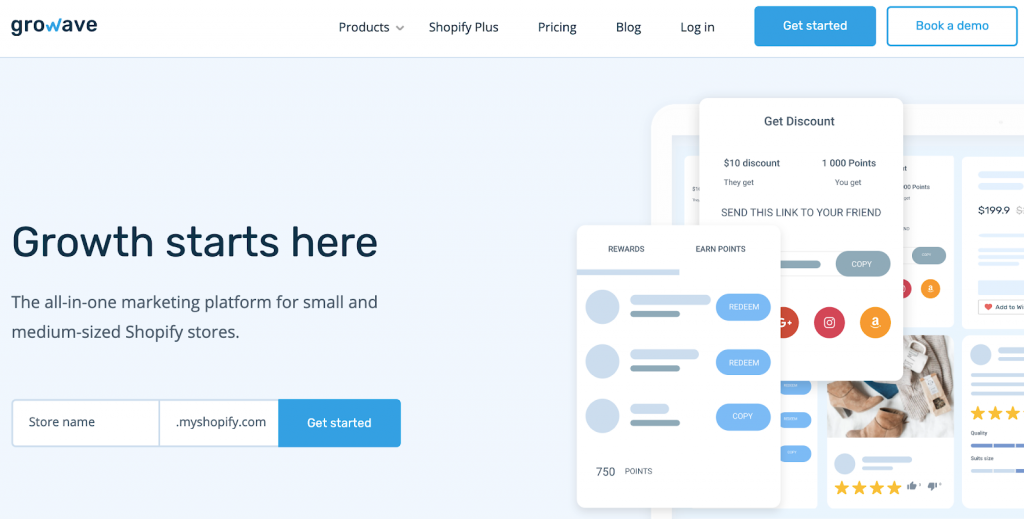 Do you want to enjoy all the benefits of cooperation with an advertising agency without extra expenses? Growave, an all-in-one marketing platform, is your answer. Not only it allows you to execute email campaigns but also create loyalty programs, product reviews, wishlists, referrals, and more, and also leverage social networks.
The app enables you to reach out to your target audience comprehensively and efficiently. Thus, wishlists with reminder emails will help you to recover orders and minimize cart abandonment. Loyalty program and referral program increase customer engagement. Product reviews will become easy to collect and share, which will raise customer trust to your brand.

The key features of Growave include:
enhanced traffic with a referral program;
higher customer involvement with loyalty and rewards programs;
targeted email campaigns;
greater conversion with photo reviews and social proof;
a comprehensive set of tools for more efficient interaction with your clientele;
Pricing:
free plan;
starter plan: $29.99/month;
growth plan: $69.99/month;
enterprise plan: $299.99/month.
Privy is an application that is trusted by both large and small eCommerce companies. This app helps you capture and convert website visitors to customers and subscribers. Privy integrates with Shopify to set up an account in a matter of moments and create your first ad campaign right away.

The Privy app has over 17,000 users and has a great reputation. Together with apps like Omnisend, it's considered one of the best Mailchimp alternatives—which supports its reliability.

Here are some features that Privy can boast of:
pop-ups that motivate to subscribe to the newsletter;
synchronization of contacts with Klaviyo and Mailchimp;
push-notifications about discounts and special offers;
newsletter for re-engaging old customers;
creation and distribution of coupon codes.
Pricing:
free plan: Free to install (free for up to 5,000 average monthly page views);
text plan: $10/month;
email plan: $13/month;
convert plan: $20/month;
4. GetResponse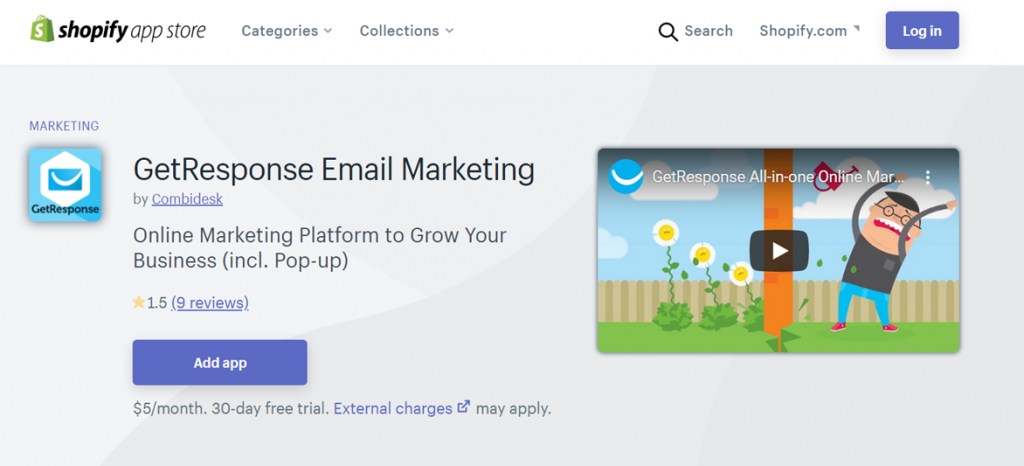 The higher is the relevance of your email campaigns, the greater open rates you will obtain. The GetResponse app uses advanced segmentation tools to create specific target groups based on your contact list. Then, the service empowers you to develop an automated series of email messages designated for each group in the list. As a result, customers get personalized emails reacting to their behavior on the website.
With GetResponse, you can enjoy such tools as Landing Page Creator, Autoresponder 2.0, Email Editor, A/B Testing, 500+ Templates, and more.
Some of the most pleasant features of the app include:
deep data integration allows creating highly relevant campaigns;
enhanced segmentation options;
smart automated follow-up;
an opportunity to create beautifully looking emails.
Pricing:
30-days free trial;
Paid plans start at $5/month.
Jilt eCommerce Email Marketing is an application that is a powerful tool to help store owners increase sales through automated emails. By sending emails, you can reduce the number of "abandoned carts" as soon as you begin to use the application.

Each campaign already contains some content to help you control sales, even if you're a newbie. Jilt also helps you customize emails based on specific customer groups, order amounts, and customer countries.

Jilt eCommerce is a multilingual application that will ease the shopping process for foreign customers. In addition, the application uses advanced segmentation rules and automatically detects your target audience, subsequently sending email notifications to potential customers.

Here are some of the Jilt advantages:
helps boost profits in short terms;
efficient abandoned cart prevention via email;
multilingual newsletters;
simple letter design editing.
Pricing:
free plan;
growth plan: $29/month.
6. ConvertKit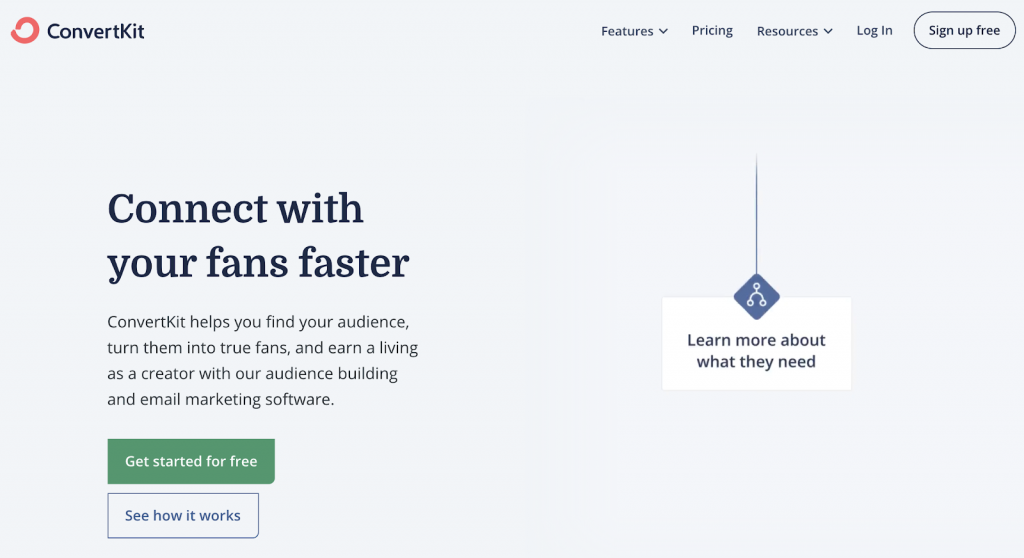 If you are planning to take maximum from your email list by creating meaningful outreach campaigns, Convertkit will definitely come on hand. We know what time and effort it may take to develop an efficient email marketing strategy. Short of time and resources? Try the multiple attractive options offered by Convertkit. Let the app take the burden of your email marketing by smartly automating your emails and enjoy the increased conversion rates.
You can also create personalized emails that look exactly like they were sent from Gmail.
The app provides advanced email autoresponders that react to both blog actions and actions within email newsletters.
The key features of the service include the following:
Smart email automation;
Advanced segmentation tools;
Personalized emails.
Pricing:
The option with up to 1,000 contacts: $29/month;
5,000 contacts: $7/month;
10,000 contacts: $119/month.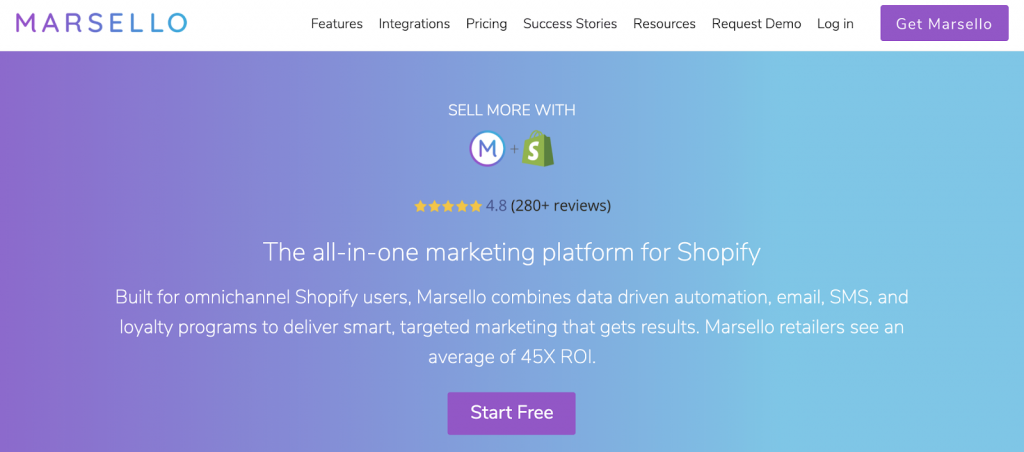 If you spend too much energy and money on marketing predictions, then the Marsello app is for you. This app will help you improve customer engagement through customized loyalty programs, birthday emails, and automated customer data collection.

Marsello also boosts sales among existing customers, returns inactive customers, and attracts new ones through a personalized email program. Such a support system will significantly increase sales and, consequently, revenues, as well as help you maintain a high level of customer satisfaction.

Here are definite advantages of Marsello:
helps get rid of marketing guesses;
efficient email newsletter;
great database of templates;
customer loyalty-boosting opportunities;
high-quality customer support.
Pricing: free to install with paid plans starting at $49 a month depending on the number of subscribers you have.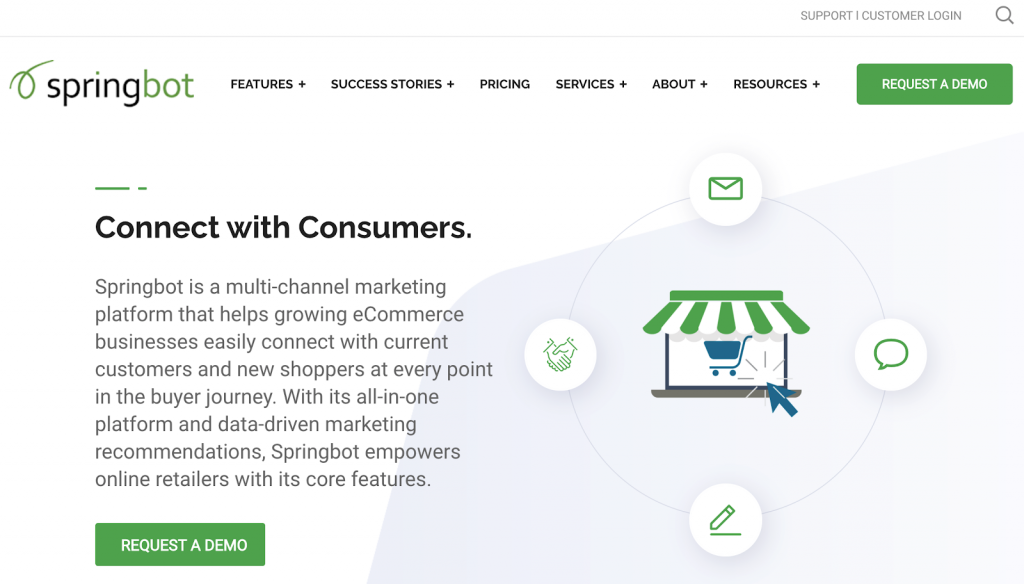 Springbot will suit a store of any size as it gives you access to advanced eCommerce marketing strategies. A key feature of Springbot is that the app integrates with your Shopify to manage analytics data and marketing automation, as well as suggest data marketing recommendations for user needs.

The application will help you to contact customers, send mail on "abandoned carts" or send congratulations on the holidays via email. Springbot is also designed for advertising campaigns on social networks and has support for exchanges such as Audience Expander and Onsite Abandonment.

Other great things about Springbot:
great tools for interacting with customers via email;
tools for organizing ad campaigns and customer motivational elements;
reports and recommendations;
analytics data management.
Pricing: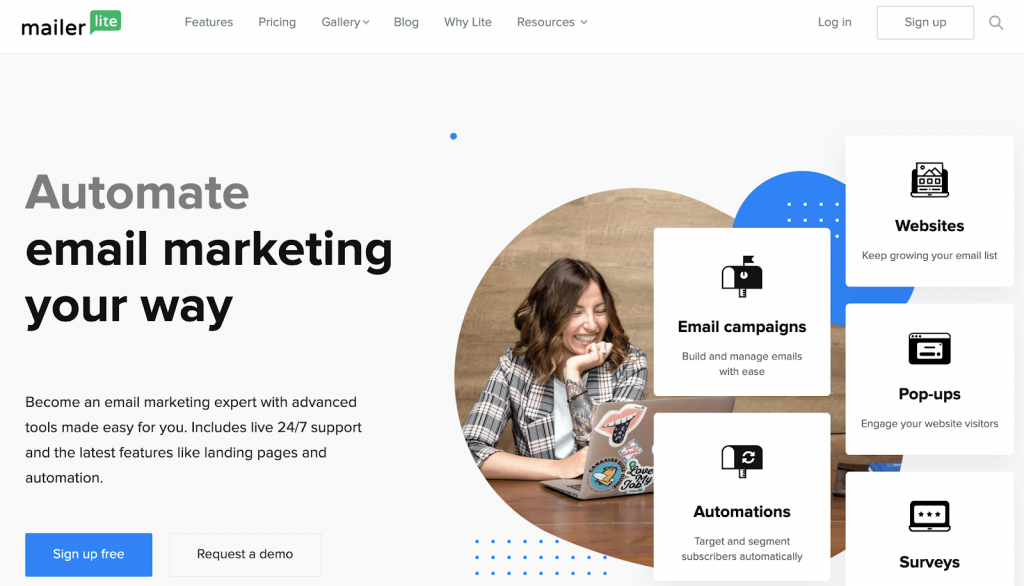 MailerLite is an application that provides great marketing campaigns and customer support via email features. This app allows you to track sales by syncing all Shopify customers and newsletter subscribers to your MailerLite account. In addition, all personal information such as name, address, and email are also synchronized.

Based on personal data, MailerLite will create classified customer groups by segments such as first purchase, repeat customer, high-cost customer, etc. On top of that, you can import product information and images into emails that will be automatically sent to all your customers.

Here's what we can highlight about MailerLite:
powerful data synchronization and sales tracking
product info and images importing to emails;
previous purchase-based newsletter;
Pricing: free.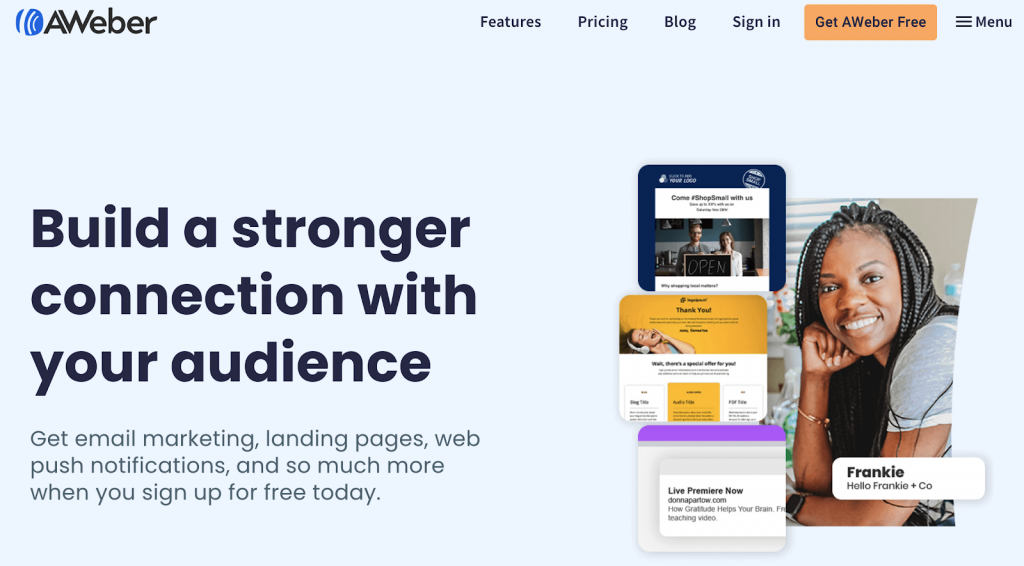 Combidesk's AWeber Email Marketing is an effective email marketing app that provides subscription pop-ups. After installing the app, users immediately see registration push notifications prompting them to subscribe to the newsletter each time they visit your page.

Every 15 minutes, AWeber synchronizes all subscribers' data – names, emails, addresses, expenses, etc. The app boasts over 700 email templates allowing store administrators to customize the look of emails.

The main capabilities of AWeber:
pop-ups displaying;
data sync once every 15 minutes;
over 700 email templates.
Pricing:
30 days free trial;
$5/month.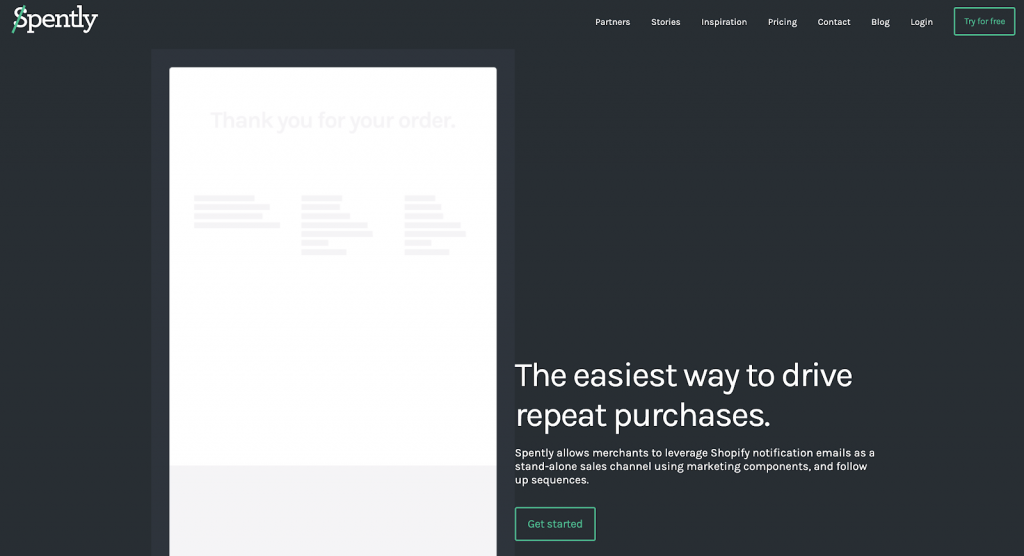 The advantage of using Spently is its powerful email builder and templates. Send recommendation notices about your products to existing or potential customers via email automatically.

The application can also generate and send out discount codes, thereby heating up the interest of users in your store. Spently can help with customer retention by collecting reviews and dealing with abandoned carts through customer engagement algorithms. On top of that, Spently offers complete application analytics and customer information.

The key features of Spently:
beautiful customizable email templates;
promotion code newsletters;
boosts customer retention rates.
Pricing:
starter plan: Free to install;
essential plan: $99.99/month;
growth plan: $199.99/month;
premium plan: $399/month.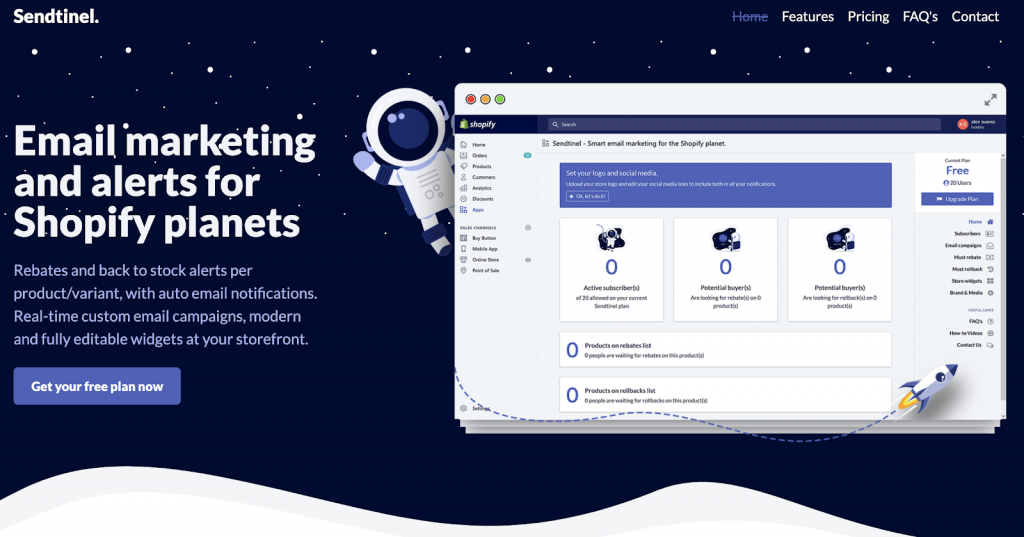 Sendtinel is another email marketing platform for Shopify stores. This app helps you "capture" subscribers and send them automatic email notifications.

The uniqueness of the application lies in the fact that it allows you to set up notifications about discounts and stock balances while making automatic distribution of emails with links to the page of a particular product.

The template builder allows you to create engaging emails by automatically filling in forms and sending them to customers. You can also attach your store logo and links to social networks to all emails. In addition, the app offers quality support in case of any issues arising.

The main advantages of Sendtinel include:
discount coupons and stock description newsletters;
simple media files sharing via email;
customer notification visualization and management.
Pricing:
free;
lite: $14.99/month;
pro: $49.99/month;
plus: $299.99/month.
Summary
When choosing the right tool for your Shopify ad campaign, determining your business goals and needs is an important factor. After that, you will have to decide what features you are looking for.
This overview will help you decide which application you really need in your specific situation. And if you need something more individual, you can hire a team of experienced specialists from IDAP who will develop a fully custom Shopify solution for you. Contact us to discuss the details.