Introduction
In recent years, due to increasing commercial rivalry and complexity of the developed products, company owners have to think about the introduction of tools for automating workflows and end-to-end project management. This allows not only to increase the efficiency of joint work but also levels such restrictions as territorial location of individual company employees. Thus, teamwork becomes extremely comfortable for each of the members of the team, and projects are carried out several times faster than it was possible before.

It is for this reason that we decided to devote our article to a review of 15 best Kanban and Scrum management tools free.
ToDoist is a non-trivial project management product. It lacks the release planning tools and Gantt charts, customary in other modern examples of such software. Despite this, its popularity does not dwindle.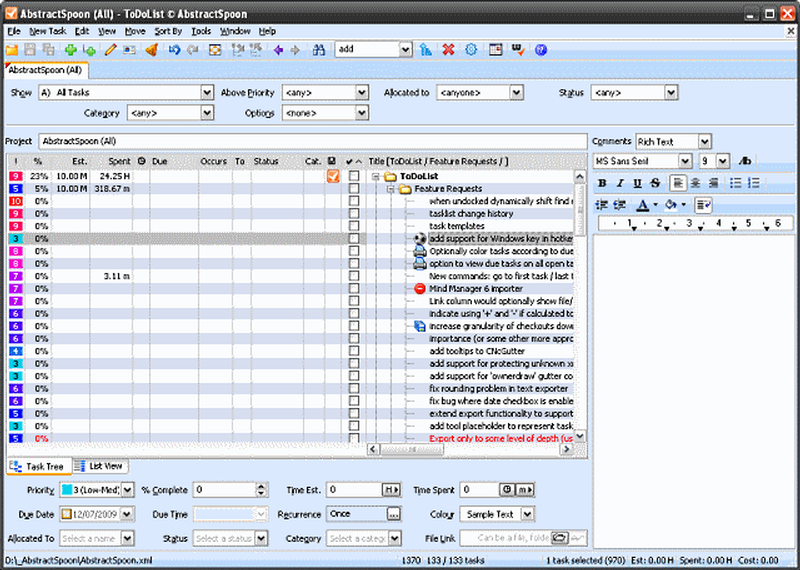 SSo who is the target audience of this unusual solution? First of all, people who distribute tasks to team members and monitor the execution. ToDoist is an ideal choice for small companies with one manager and several contracted workers.

This program allows managing goals, creating parent and child tasks, setting deadlines for their execution, attaching notes, alerts, etc. For even more convenience, the developers provide the possibility of coloring task names and linking certain pictograms to them. These functions are useful for organizing and distributing task flows.

All in all, ToDoist is an easy-to-learn tool for structuring and assigning tasks.

As for the disadvantages, many users note uninformative and very confusing documentation (which, however, you may not need at all due to the extreme simplicity of the interface), and absence of advanced task planning and scheduling settings. The latter is the reason why ToDoist is not recommended for large-scale enterprises with variety of departments, as well as companies that develop several projects simultaneously.
ONLYOFFICE (formerly Teamlab) is renowned for their office suite and tools for project/task management. Among these we must note a separate server solution – ONLYOFFICE Cloud Service, online office suite for business management.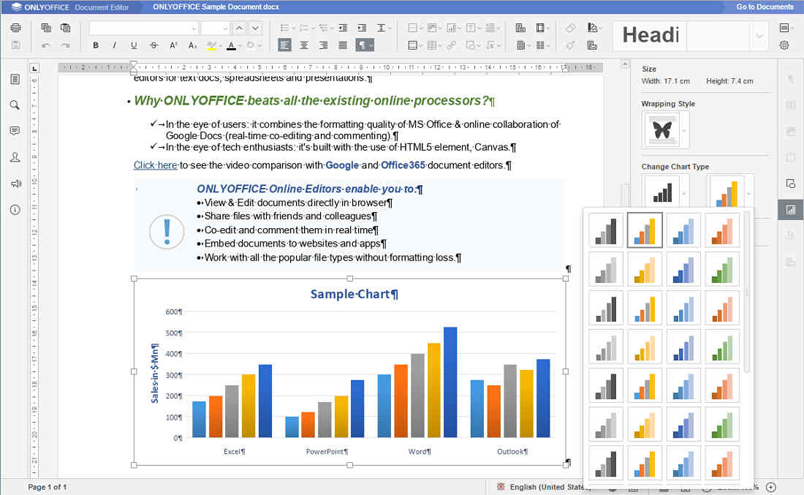 A free community edition includes a mail server, text, spreadsheet, and presentation editors, calendar, chat, activity feed, news aggregator, and tools for the creation of corporate portal. There is also a paid cloud-hosted edition with advanced features useful for larger corporations. These include cloud storage space (starting with 20 GB in the cheapest subscription plan), the ability to create automated backups, administrative panel, desktop client, etc.

ONLYOFFICE contains several modules:
Documents. In essence, this is a centralized document management tool. Here you are given a choice of three levels of access rights for users, and also offered the ability to connect third-party cloud storages;
Projects. This module is responsible for scheduling tasks and tracking their implementation. Also, it contains powerful reporting tools (including graphic visualization);
CRM. It is a system for interacting with a company's customers, which contains a customer database, a list of current and potential transactions, a history of cooperation and other useful data;
Mail. This module is especially effective in conjunction with CRM;
Calendar. With this module you can track events and tasks;
Community. In fact, this module is a corporate platform for the organization of interaction between employees, where they can discuss current tasks, exchange documents and information.
Developers of the product take special pride in the fact that they were the first to employ the HTML5 Canvas at the base of their online document editors. Thus, they presented to their users an office suite that is available online and fully compatible with Microsoft Office, OpenDocument, and other popular file formats.
Zoho Projects is efficient planning, task tracking and collaboration system. It allows making project plans and creating task lists. In addition, it can be used to ensure productive interaction between employees and customers, as well as to compile in-depth reports and graphs clearly displaying the results of the work done.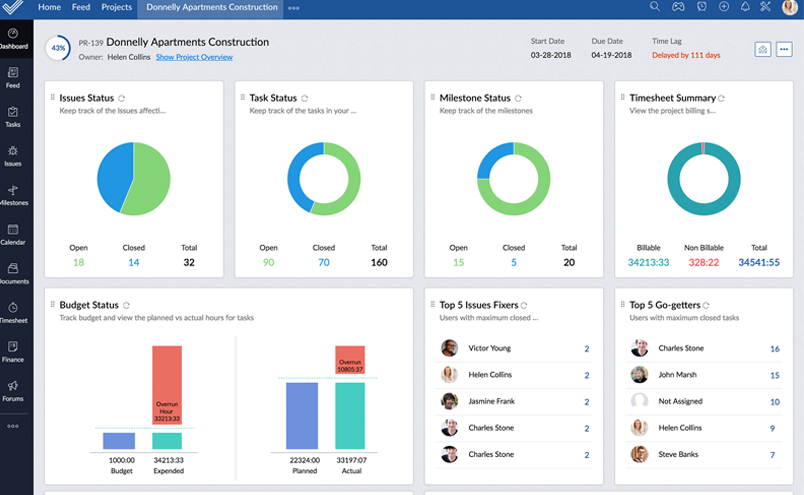 The platform is designed for businesses of any size and orientation. All departments of your company will find advantages here – from accounting (for example, employees of this department will appreciate the opportunity to create invoices and payrolls) to managers who can fully control individual tasks and projects using the report section. On the basis of the obtained data, managers can develop their own approach to the organization of work processes, increasing the level of automation and the quality of interaction between company employees.

But the benefits of Zoho Projects do not end there. This service allows tracking and correcting bugs, code changes or step-by-step actions of project members. All participants get constant access to project documentation, which includes documents, presentations and spreadsheets.

If necessary, you can also connect workers to a time tracker, which makes possible to monitor their labor activity and, thus, calculate wages with more accuracy.

Separately, we should highlight the capability to split complex tasks into lists, report visualization using Gantt charts, and built-in business intelligence tools. And finally, collected data can be exported in XLS, PDF and CSV formats.
For those companies that wish to introduce the so-called issue tracker into the company's current workflows (in particular, this applies to software development teams), the cloud-based Pivotal Tracker may become a real holy grail. Presented in SaaS format, this service is free for teams of up to 3 participants but provides a lot of useful features for project management, implementation of Agile and other flexible methodologies. In particular, this software allows combining all tasks in one place and increasing the efficiency of working with them.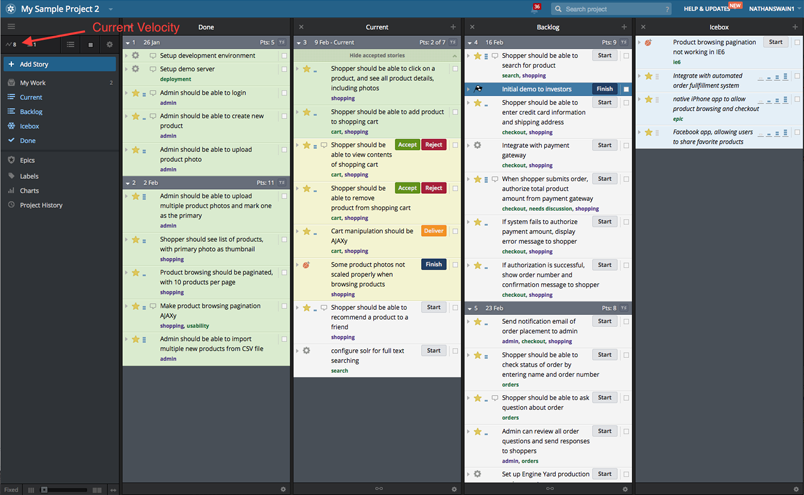 As you may already understood, this product is, first and foremost, directed at software developers. Thanks to its functionality, teams can easily manage workflows, create analytical reports, etc.

Pivotal Tracker operates upon the concept of "stories" – a space where all employee tickets are collected, so you can immediately explore the entire field of work. The main efficiency indicator inside the system is "velocity", which is calculated by the number of iterations and can be configured for a specific project. Labels "Feature", "Bug", "Chore" and "Release" are provided for the tasks. Order states are divided into "Done", "Current", "Backlog" and "Icebox". The software allows you to automatically predict the timing of the work completion based on past data.

In general, Pivotal Tracker can be considered a very convenient and easy-to-use product, designed to maximize the productivity of teams dealing with complex, multi-tasking development projects.
Trac is a free, open source and, at the same time, easy-to-use web-based project management system. This free storyboard software consists of task management modules, repository views, and interaction organization instruments. Extensions allow you to transform Trac into a fully-featured project management system. Trac is based on the so-called SVN repository (which means that it is best suitable for companies that operate on the basis of Subversion workflows).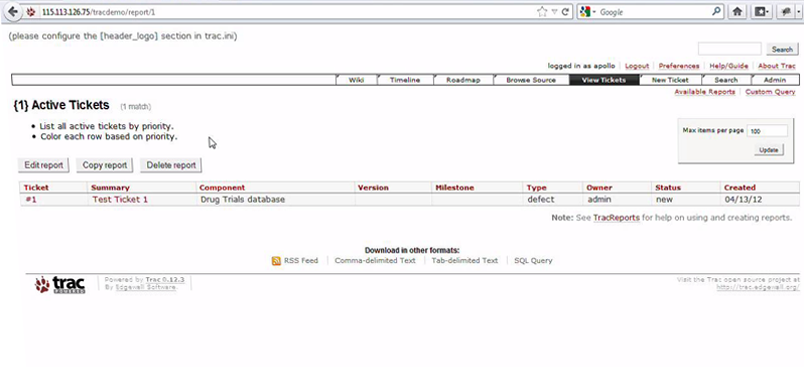 The employee interaction is provided using the built-in wiki engine. Task management is performed using issue tracking, where issue tickets are compared with error messages, change requests, and support tasks.

Key features include:
Division of the project into stages;
Distribution of tasks among team members;
Task control;
Project changes timeline;
Accounting of errors and comments;
Task filtering;
Subversion project repository.
It should be noted that the Trac system was originally developed as a product for bug-tracking. Thus, it lacks the high-level approach to the formation of task plans, usual for traditional project management systems. Because of this, the responsibilities of task splitting into smaller subtasks falls onto the project manager. They are responsible for monitoring the work progress and completed tasks assessment. Thus, Trac is often used in tandem with other project management systems.
This is another convenient service among the best free Scrum tools for instant team interaction. In Wrike, users can create tasks, assign responsibilities and work with a timeline for planning. The service allows editing documents collaboratively, adding files to tasks and leading discussions both from the web version and using mobile applications.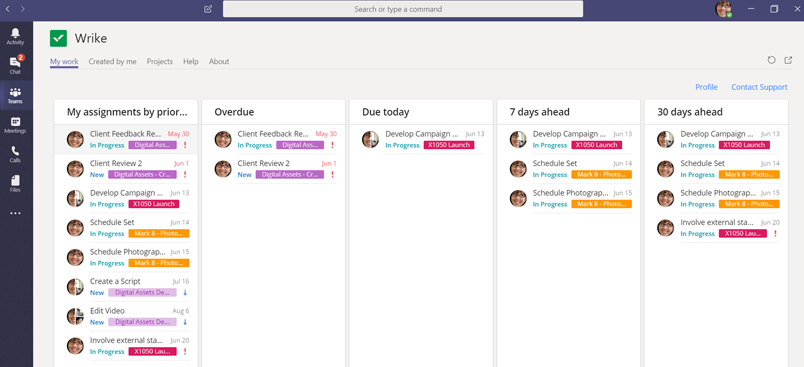 This project management service offers a free version of Wrike Professional for students working in groups of up to 15 people. Relatively recently, a new tool has appeared, called Resource, which helps to plan the team's workload. With its help, managers can get visual representation of the amount of work each team member contributes to the project and how long it takes to solve problems. This provides the opportunity to intelligently distribute the workload between employees and increase the productivity of team as a whole.

Thanks to the flexible scheduling and instant status updates, you get the opportunity to reassign those responsible for performing tasks in real time. This means that if at some point you find that one of the members of your team cannot cope with the current load, then without any difficulty you can reassign a specific task to another performer.

The reporting tools are also very good here. They are fully customizable and contain a variety of visualization tools (for example, using tables or Gantt charts).

On top of that, this product easily integrates with Microsoft Teams.
The creators of YouGile strived to create a product that, thanks to its thought-out functionality, would be able to compete with services that often distract the attention of workers (such as Facebook or Instagram). And, it should be noted that they were completely successful.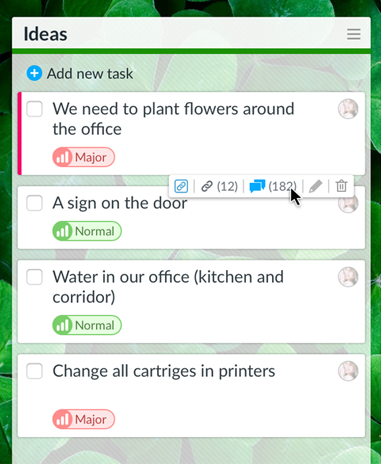 Literally every interface element of YouGile is graphic. In particular, projects here are presented in a form of Agile boards, where you can move task cards from one stage to another using mouse. At the same time, one or several workers can be assigned to each card. Cards have lots of other useful features, such as timer, notes, etc.

As an alternative to Agile boards, you can switch the application interface to a different format – the Gantt chart. It makes sense when the manager has a need to track the dynamics of the tasks' execution over a timeline.

All these functions are also available for mobile users. It would not be superfluous to note the fact that for teams up to 15 participants the service is provided free of charge.

You can set up regular reporting over an email. And finally, the application has a powerful online monitoring system designed to ensure end-to-end monitoring of team productivity.
Open Workbench is one of the open source Agile tools. It is based on the objectification of the resource costs' assessment in relation to a specific project. With this program, not only can you decompose all your tasks but also establish dependencies between tasks and resource requirements. You can assign tasks, allocate resources, and track the progress of the project, and all this in a single compact interface.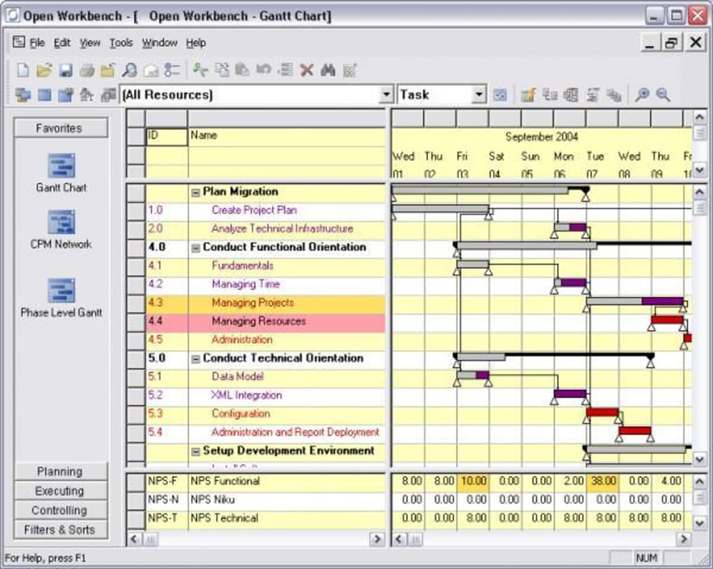 For instance, the time budget allocated to the project, is calculated based on the total number of hours that must be spent finishing all the tasks during a certain period. Thanks to this philosophy, with the help of Workbench it is possible to make extremely accurate subtask schedules for individual team members.

Note that this application is adapted to working with Microsoft Project files, which means that you can easily integrate it into existing Microsoft Office-based workflows.

Open Workbench is highly suitable for medium and large projects, offering teams and their managers a wealth of tools for a detailed analysis of the workflow. Nevertheless, thanks to its powerful functionality, even fairly compact tasks will be "put on the conveyor" and take a lot less time than originally expected (because team members will be able to allocate their working time more rationally).
GanttProject is an application adapted for managing small projects. In fact, this is useful and completely free project management tool (distributed under the GNU General Public License) that may surprise you with its extensive functionality and ease of use.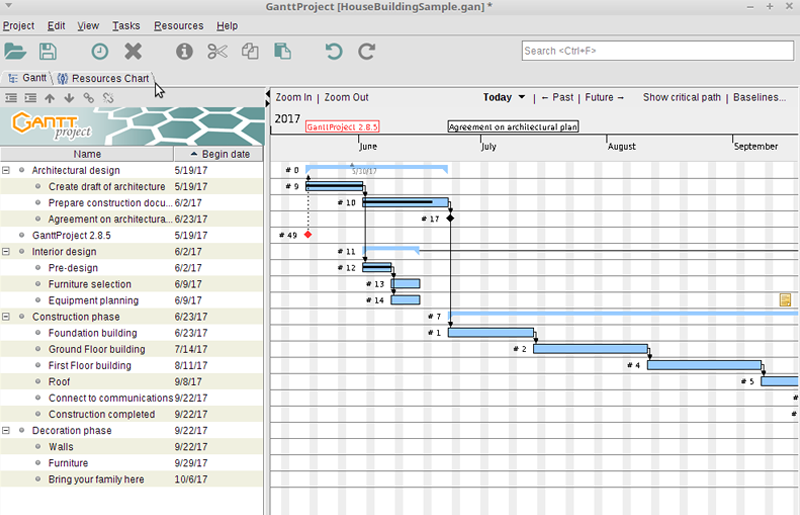 One of the main features of this solution is that it can be installed on any modern desktop OS. Also, as can be seen from the name of the product itself, it is wonderful for building Gantt charts – one of the most effective and convenient tools for planning workflow and creating a comprehensive vision of the intermediate project stages.

Another notable characteristic of this application is the possibility to add a timeline to visualize the level of readiness of specific project stages. This allows monitoring the productivity of each individual team member. In addition, GanttProject allows dividing main tasks into intermediate stages, which is incredibly useful for projects that have very strict deadlines.

GanttProject can export the project state into XML files, making it fully compatible with MS Project services. The only drawback of the application is the absence of capability to attach files to the project subtasks.
Trello is one of the most famous free project management tools. This top Scrum tool is used extensively by more than 35 million people worldwide thanks to its utility, clarity and convenience. Trello is ideal for small teams, although in this case the problem of scaling is very easily solved by purchasing a commercial license or installing extensions to the browser you use.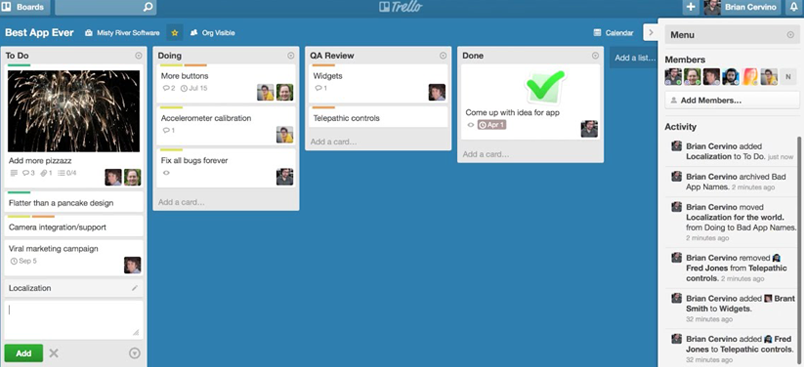 Trello's working panel is presented in the form of Agile dashboard with task cards that include everything needed for effective project management (task status, discussion, voting, files, deadlines, tags, etc.). You can move cards between lists to show progress, leave comments for immediate feedback and download files from your desktop, Google Drive, Dropbox or OneDrive. In addition, Trello can remind its users about important events through notifications.

This is a fully interactive product that provides instant data updates as they are inputted by participants. This means that with Trello's Scrum board online, your team members will never experience any inconvenience even if working remotely.

Particularly pleasing in this software is the interface – bright, simple, and informative. Note that it easily adapts to mobile devices, which makes all the features of Trello available for the users who are currently out of the office.
YouTrack is not only an online bug tracker but also Scrum board software. The free version is available for teams of up to 10 users.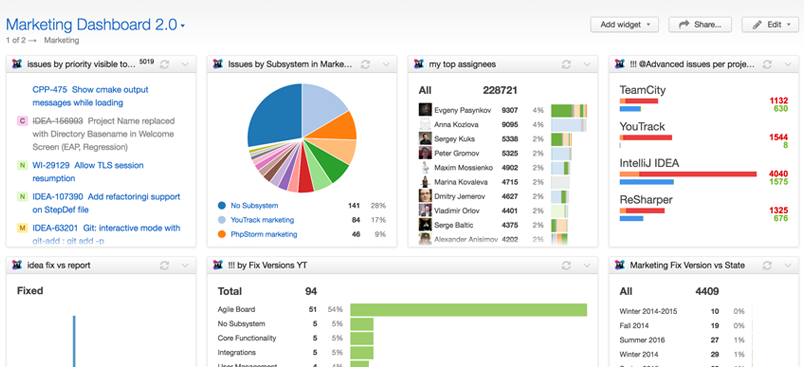 You can also independently create workflows and set rules for them using a special editor. Note that editor operates over the domain-specific language (DSL).

All of the tools in YouTrack are adapted to flexible development methodologies, such as Scrum and Kanban. In the first case, you can visualize the work of your team (using user stories – "swimlanes"), create a burndown chart, and also schedule sprints. In the second case, you get columns that can be filled with tasks in the form of cards. You can drag tasks from one state to another with a mouse. Also, you can employ the Cumulative Flow graph, which will help you quickly and easily identify weaknesses in current and upcoming workflows.

Finally, you can filter out any of the created boards according to needed criteria. This is done as simply as possible, with the help of hashtags or assignments defined through the "for:" instruction.
DotProject is a free open-source web application that is ideal for drawing up plans for the implementation of project divided into subtasks. The central objects of this application are projects, tasks and users.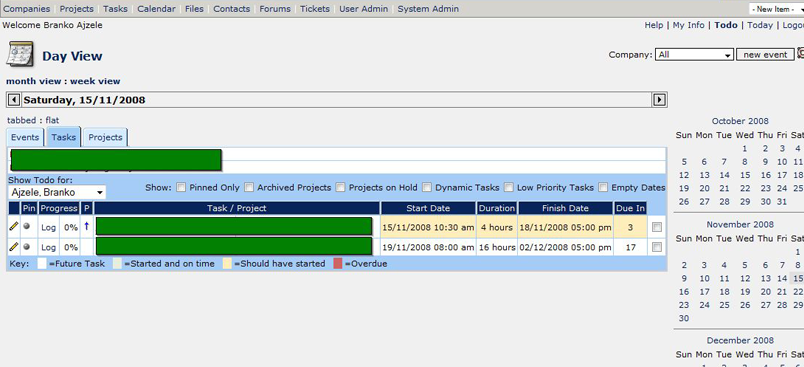 DotProject, equipped with a truly intuitive interface (it is presented in the form of a tabbed menu), will provide your team with convenient and effective task management capabilities. In particular, employees can specify the description, duration, priority, and also assign responsibilities for the tasks. Also such useful features are present as visualizing the work plan through a Gantt chart, general chat for discussing tasks, multi-level access rights delimitation, file sharing, collaborative file editing, email notifications, agenda, and multiple reporting tools.

And last but not least, dotProject also allows creating so-called dynamic tasks, which serve to aggregate the child tasks.
Web2project is a regular project manager, to run which you will need your own web server (Apache or Microsoft IIS, with support for PHP and MySQL). Alternatively, you can use outside web hosting. Because of rather difficult deployment process, this server application is unlikely to appeal to beginners. On the other hand, the software has excellent documentation and a lot of publicly available tutorials.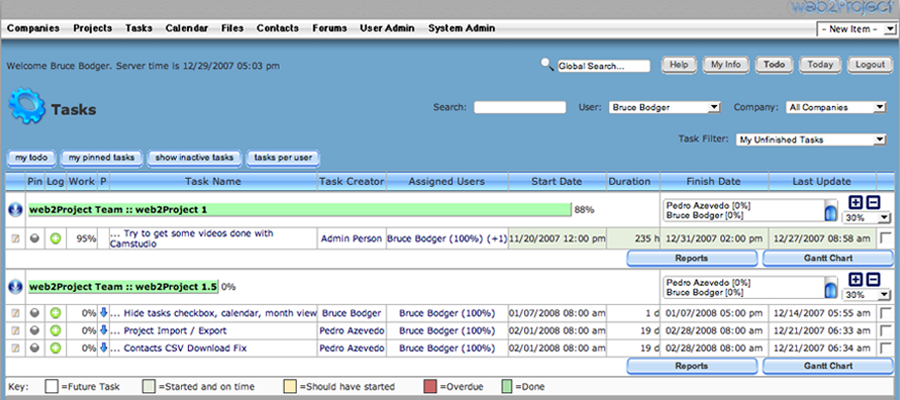 Note that web2project is a fork of the dotProject described above. As compared to the source, the branched version is characterized by an improved interface and additional features. Nevertheless, web2project retains compatibility with the prototype and can be integrated with the habitual MS Project.

The main advantage of web2project is possibility to manage collaborative projects with shared agendas that can be synchronized into Google Calendar and iCalendar. In addition, web2project is highly scalable, so you can use the same product as your organization grows. As with other similar solutions, visual reporting tools (for example, the same Gantt charts) are available here. And finally, web2project contains the risk management module
Targetprocess is a free web-based project management service supporting flexible (Agile) methodologies. It can easily be tailored to the needs of any business and provides users with plenty of opportunities to graphically present data about the managed tasks. This helps to prepare reports and significantly reduce the time spent analyzing the productivity of your team members.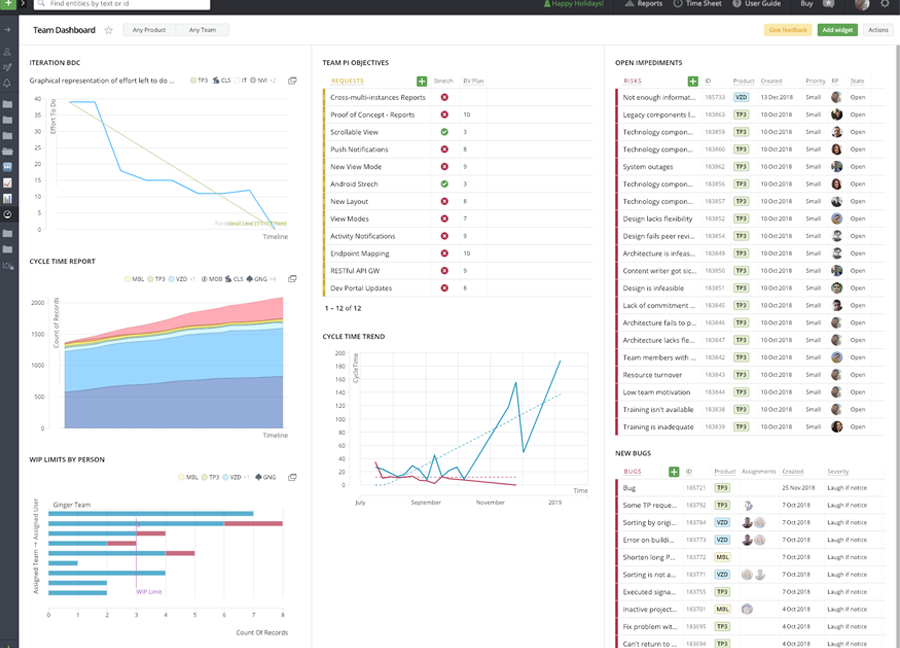 We should indicate that initially the developers of this application positioned it as a product for instant information exchange between remote employees. Thus, TargetProcess is ideal for companies in which employees are dispersed in different offices or work from home.

Also, TargetProcess allows project managers to plan employee salaries intelligently due to the inherent time tracker. Upon need, you can create more and more new projects, add tasks, assign roles to people responsible for performing these tasks, designate requirements for the result, and set up a system for notifying users.

In general, the application contains four entities that can be used by project managers: timeline, list, view, and board. Depending on the chosen methodology, you can use the needed entities.

Users note that this solution has one of the lowest input thresholds.
Our top project management tools list is closed by the Weekdone app. Free for teams of up to 3 people, this software is designed to provide a convenient workflow planning and monitoring.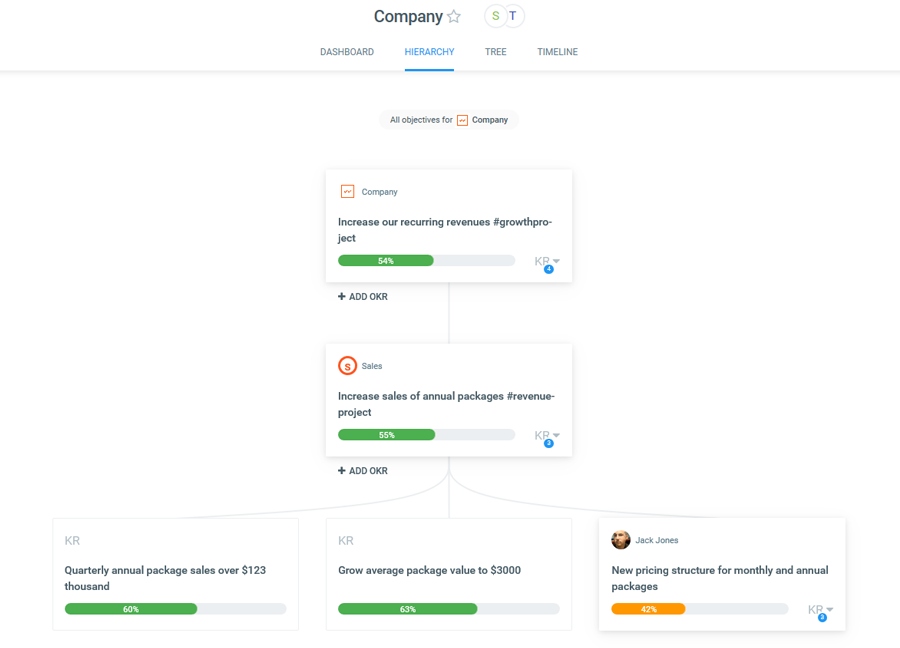 This service has a huge variety of functions. With it, you can monitor the progress of tasks, make plans for the week, month or quarter, and check how efficiently each of your team members copes with their duties. It also features advanced analytical capabilities that allow automating the process of collecting the team productivity data and observe the quality indicators of their work online.

Formally, Weekdone can be divided into four fundamental modules: a platform for setting goals, a task scheduler, a chat for private discussions and a conferencing site. Taken together, all these elements allow project managers to monitor whether tasks are performed in a timely manner, how high are the performance indicators of employees, and who among them currently delays task completion (this, in turn, will allow forwarding the expiring task to a free employee).

Also, the developers provided a REST API to ensure the simple integration of this software with third-party applications. Thus, its users have the broadest opportunities to synchronize almost any web services that your team already uses to perform daily business tasks with Weekdone.
Summary
We really hope this article helpы you decide on your ideal teamwork automation system. And if you still haven't found exactly what you're looking for among the tools we highlighted or if readymade solutions are simply not enough for your project, let's build you a custom tool that will fit your each requirement and target your particular business goals.