Modern business involves many complex, often unrelated applications that are not easy to manage. To ensure effective synchronization of departments at the enterprise level, complex solutions are required.

According to expert forecasts, the global Enterprise Application Integration (EAI) market is expected to grow by at least $78 billion over the next four years, demonstrating an annual growth of about 7%! In this article, we explain how EAI can drive the performance of your business.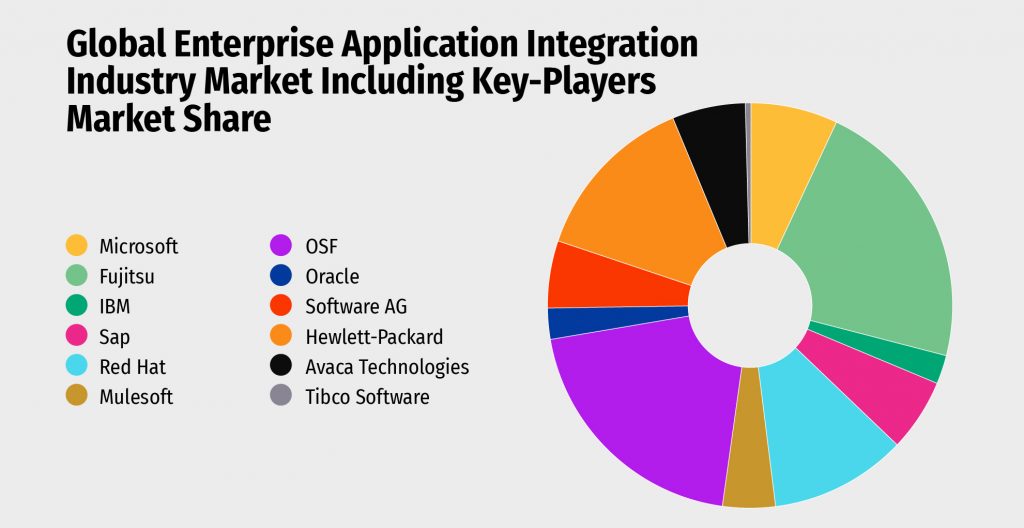 What is EAI?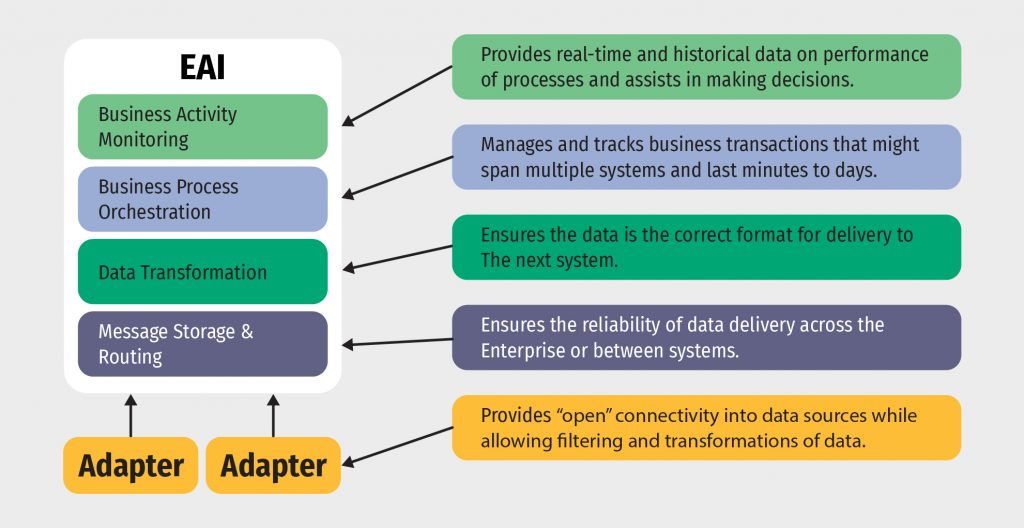 EAI is a collective definition of mechanisms and processes that allow integrating various software and hardware solutions into a common system with the means of exchanging data between applications and even organizations.

EAI promotes the following methodologies:
Object-oriented programming;
Distributed cross-platform interaction of programs using message brokers with a common architecture of the object request broker and COM+;
Modification of ERP in accordance with new tasks;
Distribution of content and data using common databases and data standards implemented using XML;
Middleware, message queue, etc.
EAI is necessary when there are tasks or scenarios for using existing systems in the context of singled-out complex processes. This is especially relevant with the increase in the number of used systems on different platforms, created using different technologies.
How does EAI work?
As a rule, the interaction between applications used in companies is not automated. An enterprise often has legacy applications and databases that need to be reused after adding new features or moving to new technologies.

EAI bridges existing software solutions, simplifying and automating business processes without significant intervention. In this structure, applications are able to remain independently manageable. The organization achieves centralization and optimization using push technology, which is driven by external events (event-driven).
EAI examples
Integration is crucial to modernize underlying office or facility operation activities and ensure business continuity. It allows you to reduce costs and minimize risks when transferring data. And this opportunity can be employed by manufacturers, retail chains, healthcare providers, and educational institutions alike.

For example, in the past, to get balance information or withdraw cash, a customer had to visit a bank. Today, there are organizations that provide services online and through call centers. For such services to work stably at all times, all service delivery channels must be connected to the underlying banking system. Thus, EAI creates a permanent connection between the bank and customers. The scalability and efficiency of the entire structure is increased as an ultimate result.
Benefits of EAI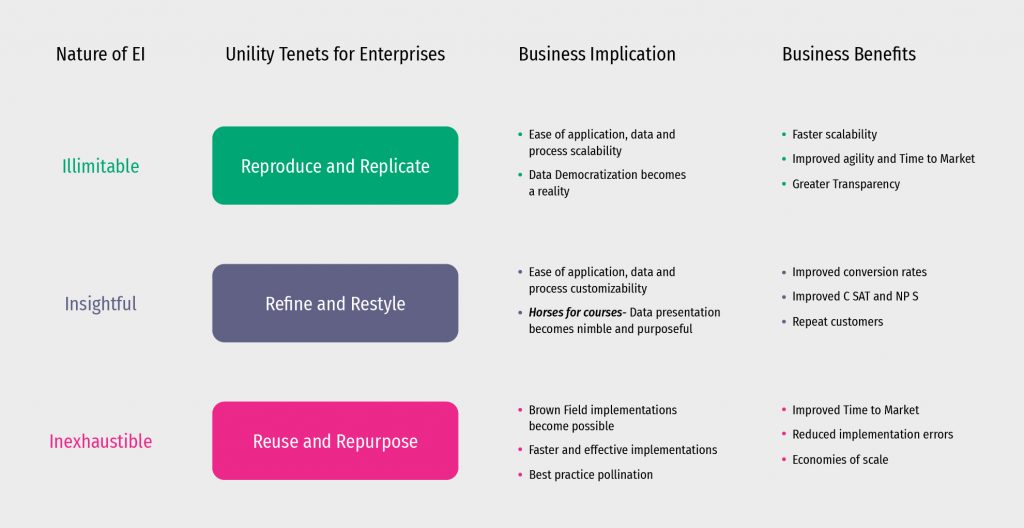 Real-time data sharing
Businesses are enabled to store all the data they need in one place. Employees get 24/7 access to all related files, systems, services, and more, with less time spent searching.

They can view real-time data without having to wait for responses from different departments. By accessing information from a single data bank, it is easier to make informed and accurate decisions that help your business grow sustainably.
Optimization of underlying processes
Any organization commonly benefits from the simplicity and accessibility of IT processes. Providing simplified technologies allows you to win over the trust of customers, which ultimately leads to an increase in their number.

It is difficult to manage the IT infrastructure of large companies, and besides, it is not cheap. EAI simplifies processes by facilitating links between individual applications.
Novel opportunities
It is easier for decision makers to identify new opportunities and respond to emerging threats. A centralized application makes it easier to identify and discuss market trends and issues.
Performance boost
EAI helps improve employee productivity. Enterprise applications play an important role in building reliable communications between departments as well as with your customers.

It provides flexibility in the workplace. Your employees can seamlessly communicate with each other, discuss projects and share data effectively. Access from a mobile or any other connected device further enhances their capabilities.
Less work time wasted
Employees get to spend less time working on repetitive tasks. Cloud-based data extraction and sharing provides freedom in creating and sharing real-time reports, which saves a lot of effort, improves marketing, and boosts other core processes.
High-quality customer support
The overall quality of service depends on how quickly your customer problems are solved. It depends on the speed of response to their requests. At the same time, your employees cannot be in the office all the time. And you don't need to. The corporate application allows you to stay in touch with them around the clock from anywhere in the world. This gives a good increase in their engagement.
Better control
A dedicated enterprise application provides ready-made mechanisms for controlling information flows. By keeping track of the data your employees use, you can prevent leaks of sensitive information. On top of that, managers can easily check whether IT processes and marketing tactics are well established.
Eliminated errors
Manual labor is inferior and, at times, totally inefficient. With the help of automation, however, the number of errors is reduced many times over. EAI saves time monitoring and re-evaluating data to ensure the required accuracy.

Summary
The EAI market is booming, especially when it comes to finance, telecommunications, healthcare, and manufacturing. In the next 4-5 years, the demand for this market's solutions will grow steadily, so now is the right time to digitally transform on your own or in cooperation with the right service provider. But keep in mind that not every type of integration may be suitable for your organization.
If you are serious about ultimately improving your business, turn to professionals. Our savvy specialized team will help you quickly create effective solutions to make your enterprise highly efficient and competitive.