The SDLC or Software Development Life Cycle is a term describing development steps required to build applications. These steps take place between ideation and software delivery stage. We've broken down essential notions to help you understand what the SDLC is and its benefits.
Going Back in Times
A software developer as a profession has appeared since the first computers. But it has undergone lots of changes and improvements. Practices, as well as methods for developing software, have evolved over the decades. However, they are still evolving at a smoking hot pace.
Those methods were adapted to modern computer hardware, development tools, and team management methodologies. With the technological breakthrough, new methods, as well as practices, have grown our of software development efforts all over the world.
It just so happens technologies are advancing as well. More and more features, as well as hardware possibilities, are entering the software development scene. Blockchain, cloud, progressive apps, VR, and AR – these are only a few examples of recent technologies. And software engineers are working days and nights to find how to implement those technologies in mobile app development.
Not only new tech and hardware advancements are the main drivers of new software development methods but also the optimization of app development processes. And the SDLC makes app development processes more nimble and at the same time, organized.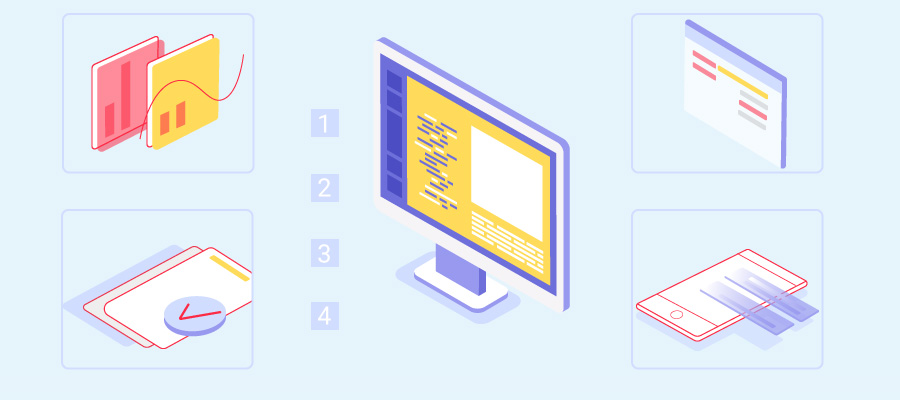 The SDLC In Ten Words
Software development is a multi-stage process involving several stages. As a rule, applications are delivered through a series of steps. But there is one thing that most of the development methods have in common – software like any other product or service starts as an idea.
Then this idea becomes a document or a prototype depending what method is used. It doesn't really matter if it's a document, a prototype, or a diagram, the artifacts you create during the one step become the inputs for the next step. In the end, the software is delivered to the customer. Software development life cycle or SDLC is a sequence of steps used by various methodologies for delivering software to customers.
How Does the SDLC Work?
The software development process seems to have no end. Based on our experience, the first release of an app is never finished. There are always some features to add as well as some bugs to fix.
Reports on usability and bugs give spurs to development of new features and improvements to the existing features. And the SDLC is the most general term used to describe software development methods.
Benefits of the SDLC
It's hardly possible to develop an app without planning. Each software development methodology has its own method for planning. There are lots of debate on which method is better – Waterfall or Agile? Extreme Programming or Dynamic Systems?
At IDAP, we've developed our own development strategy that helps us develop and deliver top-notch software solutions of any size. See "How We Work" to learn about how we work.
However, all methods have one thing in common – plan. It's certain that any time is better than none. And the SDLC blended with your existing development methods lets you experience a wide range of benefits including:
A standardized vocabulary for each step
A list of defined communication channels
Clear responsibilities and roles among software engineers, designers, business analysts, and project managers
Defined inputs and output for each development step
Seven Phases of the SDLC
The following phases are roughly the same for all development methodologies. They tend to appear in one and the same order, but sometimes they're mixed together. Agile tends to mix up all the steps into a tight and repeating cycle. And Waterfall tends to take all these stages in turn.
Planning
Planning focuses on the scope of the project. The outputs of planning include schedules, project plans, roadmaps, cost estimations, and procurement requirements.
Requirements
The development team or a project manager gathers requirements from business owners and business analysts. The output of this stage is a document listing all requirements.
Design
Once requirements are gathered, it's time for UX/ UI design and prototyping. Outputs include design documents, patterns, and components, etc.
Software Development
This phase produces the software under development. The development process can be in sprints (Agile) or in a single block effort (Waterfall). The output of this phase is a fully-functioning app.
QA Testing
It's one of the most important stages while developing apps. Testing ensures that the app is bug-free. The output of testing is software ready for deployment.
Deployment
Deployment is an automated phase. It's almost invisible for customers. The output includes the deployment of software to a production environment.
Maintenance
This is the final stage of software development lifecycle. But it doesn't mean that the SDLC ends here. The maintenance outputs include adding new features, improving the existing, and bug fixing.
The Most Popular SDLC Frameworks: Agile and Waterfall
Agile and Waterfall are two best-known development methodologies within the SDLC. Below you can find their brief explanation and how they are related to the SDLC.
Waterfall
Waterfall is known for its rigid, predetermined paths for software development. This method was developed based on traditional engineering. It's a common and fairly standard method for developing software all over the world.
Waterfall methodology is all about long planning and design phases. Once the app is built with the Waterfall method, it goes through phases of testing, and then it's deployed for use. The method is considered too rigid to adapt to changing requirements. Within the Waterfall methodology, no one collects feedback while the development process is ongoing.
Such a rigid process leads to an inability to change requirements during the development effort. Since Waterfall can't provide the developers with the flexibility they need, this led to the development of more flexible development methodologies, such as Agile.
Agile
In 2001, a group of software developers signed the Manifesto for Agile Software Development. Reading the manifesto, you can see the contrast between Agile and Waterfall. Agile is a newer approach for software development than Waterfall.
The Agile Manifesto addresses key problems that have burdened the software development within Waterfall. Agile is a more flexible development framework than Waterfall. It allows changing the development direction whenever needed. Agile emphasizes teamwork, prototyping, and collecting feedback.
Since the signing of Manifesto, several variants of Agile have appeared. Kanban is a simple and flexible Agile's variant with fewer prescriptions. Scrum defines particular roles and events called ceremonies as a part of its practice. However, Agile teams often combine these two methods to adjust the development process that fits them best.
Best Practices of the SDLC
Waterfall is the most widespread development methodology all over the world. Despite its highly standardized approach to app development, lots of software development companies are still using it. Agile is gaining the ground because of its unmatched flexibility and enhanced team collaboration practices.
Regardless of the methodology used to streamline the development processes, there are some practices that can minimize the risks and increase the chances of success. Today we're going to discuss two of them – Source Control and Continuous Integration.
Source Control
A central source control repository is extremely important. When development teams don't use source control, they take risks associated with their code as well as the development process.
Source code can minimize the risks gathering the code in a single place. Even if a file server fails or developers' computers go dead, the central repository saves everything. State-of-the-art source control systems also support Continuous Integration.
Continuous Integration
The key purpose of Continuous Integration (CI) is to keep the code in a functional state. Before CI appeared, developers used to write thousands of code lines, and then integrate them. The process of integration was prone to errors, tedious, and challenging.
CI makes all the integration things look differently. CI automated the process of integration by building the software every time the code is changed. If there is any problem, the CI system will notify the developers.
Summary
All software starts as an idea and goes through a series of development phases until it becomes a fully-functioning app ready to release and deployment. The SDLC of an app or a system continues with maintenance and updates. It takes place until the app is decommissioned or replaced.
At IDAP, we take care of every development phase from ideation to deployment. Taking advantage of Agile methodologies, our developers are good at building apps of any size and for any industry from square one. Have you got an idea for your app but don't have developers? Contact us today and let's build apps for your business together!